From just being a hobby, playing video games has turned into a lucrative career for hundreds of gamers. Over the past decade, eSports has grown into a billion-dollar industry where those possessing the right skills, discipline and dedication are earning six or seven-figure incomes as professional gamers.
The astronomical payouts that sometimes dwarf that of professional athletes is certainly impressive, but even more compelling is the fact that you can rise from a video game enthusiast to a highly paid competitive gamer very, very quickly – often before the age of 18. Intrigued by the exceptional prospects of an eSports career, the team at SuperBettingSites looked at the official tournament earnings of the richest gaming pros to find out exactly how long it takes to become a millionaire in the world of electronic sports. The answer is almost inconceivable – some players reach millionaire status within 2 or 3 years of making their professional debut. Looking at the top 20 eSports millionaires, it took an average of 3.85 years from their debut on the professional scene to earn their first million in prize money. This equals 3 years, 10 months and 6 days. Moreover, many of them achieved this impressive feat before turning 18.

How Profitable Is а Career in eSports?
With the development of online gaming platforms and streaming services, electronic sports have exploded in popularity, leading to the creation of massive developer-backed tournaments with huge prize pools. In 2021, Valve's The International, an annual Dota 2 competition, offered a prize pool of over $40 million, the largest single-tournament prize pool of any eSports event in history. In comparison, the World Athletics Championships in 2022 had a total purse of $8.5 million.
Along with the prize money from regional and international competitions, top gaming pros earn six-figure salaries from their teams, receive millions through sponsorships, and are also paid well if they are popular Twitch streamers.
Although Dota 2 is, by and large, the most profitable eSports game, brands from Nike to Ralph Lauren pay handsomely to see their products worn by famous players who are now seen as icons in the gaming communities. Companies such as Airbus, Coca-Cola, BMW, and RedBull are among the largest team sponsors. Surprisingly, even the US Air Force jumped on the bandwagon in 2018, sponsoring Cloud9's CS: GO roster. As part of the deal, the Air Force logo was displayed on the players' jerseys.
Whether a competitive eSports player is paid well or not depends on a range of factors from the team he is in ("he", because gaming pros are predominantly young men) and the game he mostly competes in, to his achievements and overall performance on tournaments. Earnings from streaming could also be astronomical, with most streamers making between $2,000 and $5,000 per month (although the amount is several times that for the top streamers). Of course, this includes up to 40 hours of play each week.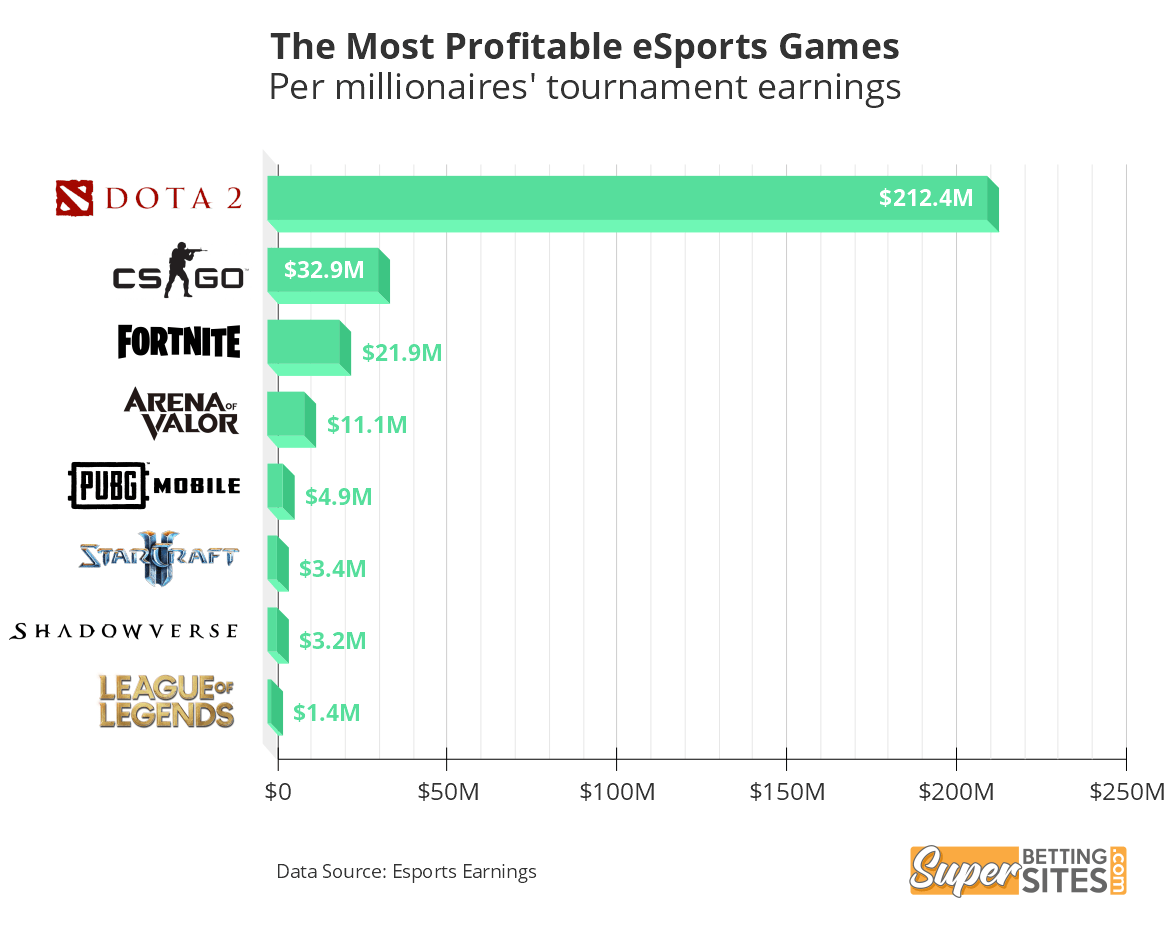 How Long Does It Take to Become a Millionaire in eSports?
It is nearly impossible to keep track of eSports players' total career earnings because of the multiple streams of income described above. We focused instead on the winnings from official competitions as reported by Esports Earnings, a community-driven competitive gaming resource. According to the data, there are currently 150 gaming pros who have earned millions in prize money from tournaments alone.
We looked at the top 20 earners, and while for some, including the highest-paid gamer, Johan "N0tail" Sundstein, the journey to the first million took 8 long years, for others, financial success was almost instant.
"Sumail", or Sumail Hassan, did not own a computer but loved playing Dota 2 in the local Internet cafe while living in his home country of Pakistan. Once his family moved to the United States, he started playing in the North American Elite League and made his LAN debut three years later as part of the EG roster for the Dota 2 League Season 5 finals in Las Vegas in 2015. Although he performed poorly, he managed to redeem himself later that year and secured several victories for his team while simultaneously becoming the youngest player ever to surpass $1 million in eSports winnings.
This Is Where the Most eSports Millionaires Are Born
It is a common belief that the biggest gaming nations are Japan and South Korea, but gaming is not synonymous with eSports. In 2022, Korea and the United Kingdom were the countries with the highest video game user penetration rate – 58% of the general population played video games, according to the Statista Digital Market Outlook. When it comes to competitive gaming, things are very different, however.
The country with the most eSports millionaires as of May 2023 is China. It is home to 42 out of 150 millionaires, twice as many as the United States, the nation with the second-highest number of gaming pros with more than $1 million in tournament earnings. With $3.9 million in earnings, Wang "Ame" Chunyu is the richest eSports competitor from China, while in the overall ranking, he is in the 17th place. Although the US comes second, it does not have a player within the top 20. The highest-earning player from the US, currently in the 22nd spot, is Kyle Giersdorf, also known as "Budha" with $3.5 million in prize money won at Fortnite tournaments.
With 10 eSports millionaires each, Denmark and the Russian Federation come next, followed by Canada and Ukraine with 6 players in the ranking each. The nations, represented in the top 20, are Finland (3 players), China (3 players), Russia (3 players), and Ukraine (2 players), as well as Denmark, Australia, France, Germany, Jordan, Bulgaria, Lebanon, Estonia, and Pakistan, each being home to one of the top 20 millionaire gamers.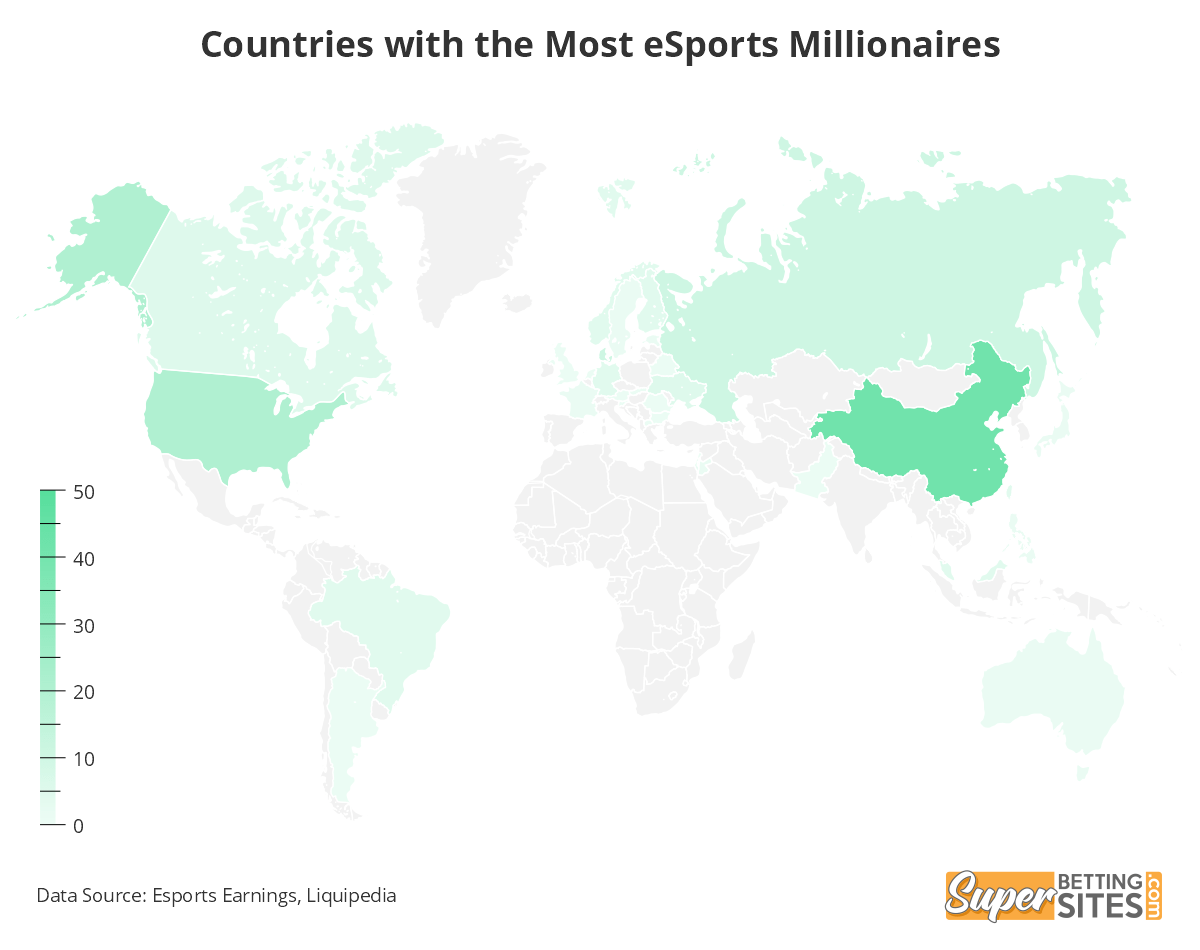 Countries with the Most eSports Millionaires
Country
Number of eSports Millionaires
China
42
United States
21
Denmark
10
Russian Federation
10
Ukraine
6
Canada
6
Brazil
4
Finland
4
Malaysia
4
Germany
3
Korea, Republic of
3
Norway
3
Taiwan, Republic of China
3
Australia
2
Estonia
2
France
2
Israel
2
Japan
2
Jordan
2
Phillippines
2
Sweden
2
Argentina
1
Austria
1
Bosnia and Herzegovina
1
Bulgaria
1
Lebanon
1
Macao
1
Netherlands
1
North Macedonia
1
Pakistan
1
Poland
1
Romania
1
Singapore
1
Slovakia
1
Slovenia
1
United Kingdom
1
The Most Lucrative eSports Games
As eSports are entering the mainstream sports and entertainment industries, competitions are watched by increasingly large audiences, not only live at the physical venues, but also online and on TV. The massive popularity draws corporate sponsorship and as a result, tournaments are becoming larger and their purses are growing.
As mentioned above, the Dota 2 competition The International in 2021 had a record-breaking prize pool of $40 million. The winning team, Team Spirit, took home $18,208,300 or more than $3.6 million per person. In fact, Dota 2 is the most lucrative game in the world of electronic sports – tournaments so far have paid out roughly $315 million. Moreover, this is the game that has produced the most millionaire players, much more than the rest of eSports games.
As of May 2023, Dota 2 tournaments have produced 83 millionaires with combined earnings of $212.4 million. Counter-Strike: Global Offensive (CS:GO) has produced 24 millionaires who have a combined $32.9 million won in prize money, followed by Fortnite with 14 millionaires and their respective earnings of $21.9 million.