The Irish are quite fond of their sports betting, so much so, that it is estimated that more than 10% of the population engages in some form of sports betting on a weekly basis. As a result, the betting scene in the country is alive and well, with multiple platforms operating at any given time. With the Gambling Act of 2015, the Irish online gambling market has seen unstopped growth and many new operators are launching campaigns targeting the Irish customer base.
While this is all well and good, the laws surrounding sports betting in the country may not be clear to all. For your convenience, we have gathered all the important information and presented to you in a clear and understandable manner. Below, you will find a brief and concise overview of Irish online betting laws, which will no doubt prove useful for you.
Legalities of Online Sports Betting in Ireland
Overview
History
Legalization
Software
Historical Betting Overview
Sports betting has always been a popular activity among the Irish, with this trend continuing into the present day. This is evident with the introduction of the Gaming Act of 1845, which put in the first regulations into effect. Over the years, multiple pieces of legislation were drafted to manage the sports betting scene. With the Betting Act of 1931, the recently established Republic of Ireland decriminalized sports betting entirely and also place a new set of regulations to ensure fairness. The new act brought in standardized working hours for sportsbooks, minimum bet values, a specific licensing process and more.
Over the years, the Betting Act of 1931 has been refined multiple times to better reflect the present sports betting scene. The Betting (Amendment) Act of 2015 was meant to address the rising online sports betting industry and it introduced the framework for licensing and taxation that is currently in effect in the country.
What You Need to Know About Sports Betting in Ireland
In spite of the fact that the gambling industry of Ireland does not perform as well as in some other European countries, the revenues it generates have marked a significant increase over the past few years.
Ireland lists among the countries where gambling has been regulated for centuries, and the laws that surround the industry, and sports betting in particular, are clearly stated. Betting on sports is legal, no matter if punters prefer to partake in such activities remotely or offline, which leaves them with a slew of options to select from and goes to show that punters should not worry that they might violate the law.
Pari-mutuel betting also gets proper oversight in Ireland under the provisions of the Totalisator Act 1929. After it was presented, the state held a monopoly over the Irish Tote, but things changed after the Bord na gCon was introduced.
It is safe to say that the most sweep-staking change in the gambling industry of Ireland took place when the Betting Amendment Act 2015 was introduced. Because of these legislative changes, operators can cater to punters from Ireland only if they have obtained a license from the Revenue Commissioners. As of now, the UK Gambling Commission does not have an equivalent in Ireland.
To engage in gambling activities, residents of the country need to be at least 18 years old.
Odds Format in Ireland
Decimal Odds
Fractional Odds
American Odds
Calculations
Of the several odds formats commonly supported in the online sports betting scene, Irish sportsbooks use the fractional format by default. It is the most popular seen across Ireland and the United Kingdom, being the one that Irish punters are most familiar with. It is presented like this:
Bet Option: 5/1 or Bet Option: 5-1
Reading the odds is quite easy once you understand them. The fractional format only shows the profit you stand to gain from a bet. Therefore, if you wager $100 on a 5/1 bet, winning it will give you $500 in profit and $100 as you base amount, for a net value of $600.
Of course, many platforms also support the alternative formats – American and Decimal, giving you the option to change them at any time. So if the fractional format is not right for you, you can always switch between the three.
Ireland Betting Laws and Legislation
As far as online sports betting is concerned, Ireland is one of the countries that has readily accepted the practice. All forms of sports betting are legal and regulated in Ireland, giving punters a lot of options in this regard. Operators are free to accept bets on a wide range of events, as long an appropriate license is acquired.
Certifications are issued by the Irish Revenue Commissioners after all requirements have been met on behalf of the operator. This entails them to legally offer online sports betting to the Irish public. The license has to be visible at all times and failure to do so, likely indicates a lack thereof. Moreover, entities accepting bets without a license are liable to receive a six-figure fine, doubled for repeated offenses.
Irish customers, on the other hand, have the option to gamble at both domestically-licensed and offshore sportsbooks. There is no repercussion for punters who register with non-regulated gambling websites, though considering the number of government-approved platforms, this is hardly necessary.
It is worth noting, that alongside traditional sports betting, Irish sportsbooks can also accept bets on horse and hound races. This is regulated under the terms of the Horse and Greyhound Racing Act of 2001.
Ireland Betting Restrictions
While betting has been accepted by the Irish public and thrived over the years, there are certain restrictions that one has to consider. For one, there is a minimum age required to participate in betting. Specifically, this is 18 years old. This has to be verified by the sportsbook at some point after opening an account. Both parties are liable if this law is broken. Betting platforms face fines and possible closure if they accept bets from persons under the minimum age, whereas minors providing false documentation risk punishment, as well.
Something else that you also need to know is that gambling debts are not enforceable under Irish law. This applies to both sportsbooks and punters, though platforms face punishment if they fail to provide payment. Specifically, this will affect the operator's chance of obtaining or renewing a license.
Online Betting Regulatory Body in Ireland
Sports betting in Ireland is regulated by the Irish Revenue Commissioners. This institution dates back to the establishment of the Irish Republic and has managed the customers, taxes and other related matters for the country. The Irish Revenue Commissioners is also the government body which issues sports betting licenses for both land-based and digital operations.
Before a license is issued by the Irish Revenue Commissioners, operators have to obtain a tax number with this institution and register with the Revenue Online Service. There is no limit to the number of gambling licenses that can be issued by the Commissioners, but there is a fee for renewing a license which can amount to anywhere between €10,000 and €500,000 per year. The betting turnover is taxed 2% starting from 2019 while betting intermediaries are taxed 25%.
Popular Betting Markets in Ireland
Football
Horse Racing
Boxing
Ice Hockey
The Irish are heavily into betting on sports to such a great degree that they are the fourth-biggest gambler in the EU. Online sports betting is the most chosen option by residents of the country, with football being the sport, which ranks the highest on the agenda of fans and punters. The League of Ireland Premier Division is the top-level division within the football league system of the country, and as such, it attracts a large volume of betting action.
Horse racing and greyhound racing continue to be an inseparable part of the lifestyle of the Irish, and these are exactly the two sports residents of the country were associated with in the past.
Golf, athletics, and rugby also hold the lead in terms of popularity, and these sports are among the top picks of the Irish. Throughout the years, the Irish have cultivated a huge love for rugby, which comes as no surprise considering that the team has emerged among the leaders in a number of competitions.
It is easy to see why the Irish have such a love for golf as the county is home to several golfers that have made a name for themselves on the world scene. In fact, Ireland is also celebrated for its golf courses, with the Royal County Down being one of the finest courses outside the USA.
Gaelic games also rank among the fan-favorite sports in Ireland, and these are played under the supervision of the Gaelic Athletic Association. Gaelic football is the best-liked option, but Gaelic Hurling and handball also enjoy great viewership. When it comes to the premier competition for Gaelic football, the All-Ireland Senior Football Championship is the most highly anticipated event.
Boxing has now started to regain its popularity in Ireland, all the more so after the country has a lightweight female world champion. Unsurprisingly, the popularity of cricket is also rapidly growing, which also applies to the appeal of tennis and cycling.
Popular Betting Markets in Ireland Summary
Football
The League of Ireland Premier Division, NIFL Premiership, Women's National League, Ulster Senior League
Rugby
Rugby League Ireland and United Rugby Championship
Gaelic Football
National Football League and All-Ireland Senior Football Championship
Hurling
National Hurling League
Basketball
Super League
Baseball
Irish Baseball League
Ice Hockey
Irish Ice Hockey League
Golf
Irish Open
Ireland Online Betting Bonuses
Promotions
Match Bonus
Free Bets
Enhanced Odds
One aspect of the online betting experience are bonuses and the benefits they provide. Bonuses are one of the primary ways for online sportsbooks to compete with each other, trying to beat the value that they can offer to punters. Customers have the opportunity to claim a number of promotions at most online sportsbooks and these come in a large variety.
Most commonly, you will be offered a match bonus of some sort. This type of promotion will match the size of your deposit up to a certain sum and add that amount as bonus money. You will be asked to wager the bonus amount several times are set odds before you are allowed to cash it in.
In the world of online sports betting, free bets are always a boon. Sportsbooks are known to offer customers the opportunity to place a wager at no cost. If you lose, it is not a problem, since you never staked any real money. However, if you win, you get to keep the profit.
Another interesting promotion is available in the form of improved odds. Certain sportsbooks will boost your odds by a certain percentage. This will also increase your winnings on those particular bets if you happen to win.
Mobile Betting in Ireland
Mobile Play
Download App
Browser In-Play
Download via QR
With the capabilities of mobile devices reaching unprecedented highs, it is no surprise that sportsbooks are beginning to adopt mobile betting at a rapid pace. Nowadays, punters have the option to make their bets while on the go. The only requirements being a stable Internet connection and a working mobile device. Modern betting websites are fully prepared to accommodate any and all punters, including those who want to use their smartphones and tablets.
The mobile sports betting experience is just as good as its desktop counterpart. Online sportsbooks put in a lot of effort to ensure that you have a great time no matter what your platform of choice is. More often than not, you will have access to the full entirety of the sportsbook, which includes all betting markets, all promotions and you may even get some exclusive mobile bonuses, as well. Moreover, the sportsbook will allow you to use all supported payment methods on mobile platforms, whereas customer support will always be at your disposal. It is not difficult to conclude that mobile sports betting is just as enjoyable on mobile platforms as it is on desktop one. With this in mind, you can easily place a bet while on the go, whenever the time allows for it.
Popular Betting Banking Methods in Ireland
Bank Transfer
Credit Cards
E-Wallet
Prepaid Cards
When you join an Irish online sportsbook, you will have multiple banking methods at your disposal. There are several services that are quite popular with the online betting community and are nearly universally accepted.
Credit cards are always on the top of any online betting platform's priority when it comes to payment method. Not only are they in the hands of almost everyone, but punters are quite fond of them, as well. Visa and MasterCard are always in demand and you too will be able to manage your bankroll with these brands.
If eWallets are more to your taste, you will be pleased to know that Neteller and Skrill are universally supported, whereas ecoPayz also enjoys a presence at many gambling websites. These banking solutions allow you to maintain a bankroll and to easily move funds between it and your sportsbook balance. Easy to use and convenient, eWallets are the banking method for millions of punters all over the globe.
Prepaid methods also enjoy some level of support from the online gambling scene, though their usefulness is not as high as the previous two types. Specifically, Neosurf and Paysafecard are the two most commonly seen prepaid cards at online sportsbooks. The main benefits of prepaids are instant deposits and high privacy. However, this is offset by an inability to withdraw your balance and low transaction limits.
Overall, there is a good deal of banking solutions accepted by modern online sportsbooks and these will vary between the different platforms. You can always read up on the most popular banking solutions we have covered to see which one is right for you.
Popular Banking Methods in Ireland
Payment Method
Fees
Deposit Limits
Deposit Times
Withdrawal Limits
Withdrawal Times
Visa
Varies
Min €10-Max €40,000
Instant
Min €10-Max €100,00
3-5 working days
Mastercard
Varies
Min €10-Max €40,000
Instant
Min €10-Max €100,000
3-5 working days
Maestro
Varies
Min €10-Max €40,000
Instant
Min €10-Max €100,000
3-5 working days
Skrill
Varies
Min €10-Max €10,000
Instant
Min €10-Max €10,000
A couple of minutes
Neteller
Varies
Min €10-Max €10,000
Instant
Min €10-Max €10,000
A couple of minutes
PayPal
Varies
Min €10-Max €10,000
Instant
Min €10-Max €10,000
A couple of minutes
Paysafecard
Varies
Min €10-Max €1,000
Instant
N/A
N/A
Neosurf
Varies
Min €10- Max €5,000
Instant
N/A
N/A
ecoPayz
Varies
Min €10-Max €10,000
Instant
Min €10-Max €10,000
A couple of minutes
Trustly
Varies
Min €10-Max €10,000
Instant
Min €10-Max €10,000
Up to 3 working days
Bank transfer
Varies
Min €10-Max €100,000
Instant
Min €50 – Max €50,000
Between 5 and 7 working days
What To Watch for When Picking an Ireland Betting Site
Security
Customer Support
Mobile Compatibility
In-Play Betting
Punters who are ready to dive into picking an Ireland-friendly sportsbook should know that doing this headfirst is not a good approach as there are a number of things to pay closer attention to.
In spite of the fact that there is a huge number of bookies that accept punters from the Emerald Isle, sports bettors should not forget to examine the licensing details of the operator to ensure that it is regulated by the Revenue Commissionaire. The measures that are in place in order to keep punters' sensitive information safe are also among the things they should watch for while being on the lookout for a sportsbook to register for an account at.
Naturally, punters want to ensure that the sports the operator provides lines for are not far and few between. Because of this, while evaluating the performance of the bookie, gambling enthusiasts should see to it that the bookie provides lines for sports and events that are popular not only in Ireland but in other territories as well.
Gambling enthusiasts who want to enjoy greater freedom while betting on sports are advised to look for bookies that have recognized the significance of mobile play, no matter whether there are downloadable apps or an in-browser one only. The rewarding bonus incentives can also be used as a distinctive trait of the decent sports betting portals that accommodate the Irish.
Even though punters prefer to view the odds using the fractional format, it is good to know that the operator has covered decimal and American odds as well. Speaking of variety, gambling enthusiasts should see to it that such is offered also when it comes to the accepted banking solutions. Punters are advised to check whether the sportsbook accepts payments through digital wallets, debit cards, prepaid cards, and payment methods that work as intermediaries between the betting platform and their bank account.
In-play betting and live streaming are also among the key features proper Ireland-oriented betting sites normally offer. The bet building feature is also among the most sought-after options interactive bookies tend to offer.
Finally, punters should pay closer attention to the channels of communication they can rely on to get in touch with the customer support team, as well as its working hours.

10 Best Betting Sites in Ireland
The Irish have always enjoyed betting on sports, but it may well be argued that picking the best such portal can be quite challenging. Because of this, we have done the heavy lifting and have created a list of ten of the leading bookies that accommodate gambling enthusiasts from Ireland.
Now, let's get straight to the point and give more details about the sports they provide coverage for, the overall experience they offer, their features, and other key elements of the high-end experience.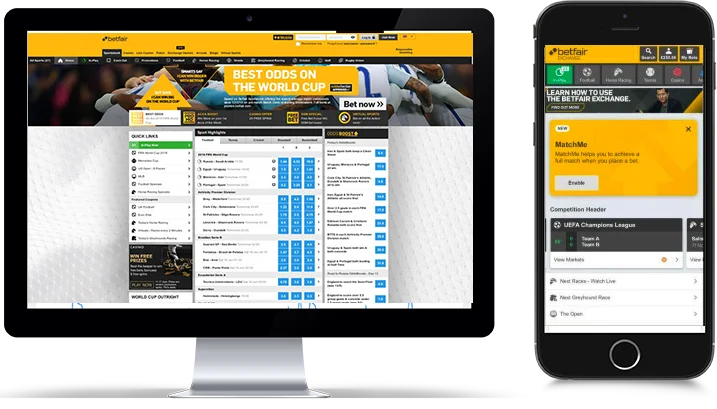 Betfair is easily a household name not only in Ireland but in a number of other markets. The operator has made a name for itself, thanks to its thoroughgoing list of products as aside from betting on sports, bingo, casino games, poker, and exchange are also available.
The most standout feature of the sportsbook is the huge variety of sports it provides lines for, as the Irish will see odds for football, rugby, tennis, athletics, and basketball, among others.
The operator is dedicated to providing its customers with the best user experience, and to achieve this, Betfair strives to offer competitive odds at all times and a number of betting features, including cash-out and live betting.
To ensure that its users can place their bets anytime and anywhere, the operator has provided two fully functional mobile apps punters can get on their tablet and smartphone.
Betfair delivers also when safety and reliability are concerned, as the operator is fully licensed by the Gambling Commission of the UK, the Malta Gaming Authority, and has the approval needed to operate in Ireland as well.
Live betting and cash-out feature
Fully-licensed operator
Downloadable apps for play on the go
Multi-language platform
Limited range of covered sports
Limited range of payment solutions
The Live chat does not work around the clock
Betvictor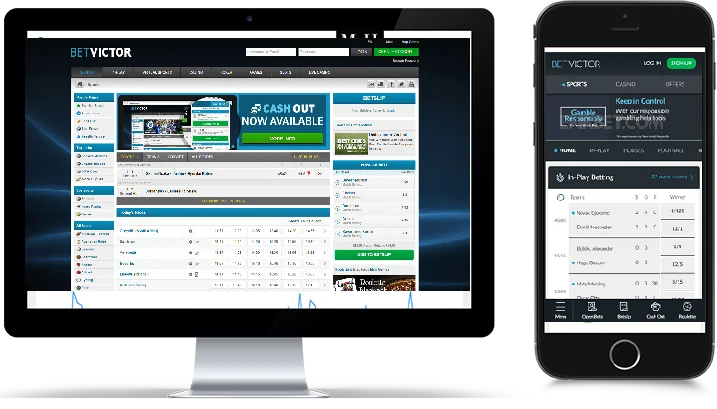 BetVictor is another sports betting platform, which will appeal to punters from Ireland because of its user-friendliness, trustworthiness, and impeccable reputation. It has what it takes to cause a stir among gambling enthusiasts from the Emerald Isle as the sportsbook offers odds for horse races, football, tennis, basketball, and virtual sports, among others. The be types punters can choose between are wide and varied, and the best thing is that they are given the opportunity to place different exotic bets.
It will be exceptionally easy for punters to wrap their heads around the sportsbook, and what might grab their attention right from the gate is the availability of live betting and the bet-building feature. A bet calculator is also within reach, and punters can use it whenever they want to work out their potential winnings. Say nothing of the fact that gambling enthusiasts will be impressed at how easy it is to place their bets even when they access BetVictor on the go.
Members of the portal who want to take a break from betting on sports can do so as playing bingo and casino games are also possible. Another reason why BetVictor is worth considering as a sports betting platform to join is that it is licensed by the Gambling Commission of the UK, the Government of Gibraltar, and the Revenue Commissionaire.
A slew of covered sports and bet types
Different features like bet builder and bet calculator
Dedicated apps for Android and iOS-based devices
A number of contact venues to get in touch with the support hosts
Licenses by three regulatory bodies
The accepted deposit and withdrawal methods are slightly limited
Cashouts might take longer at times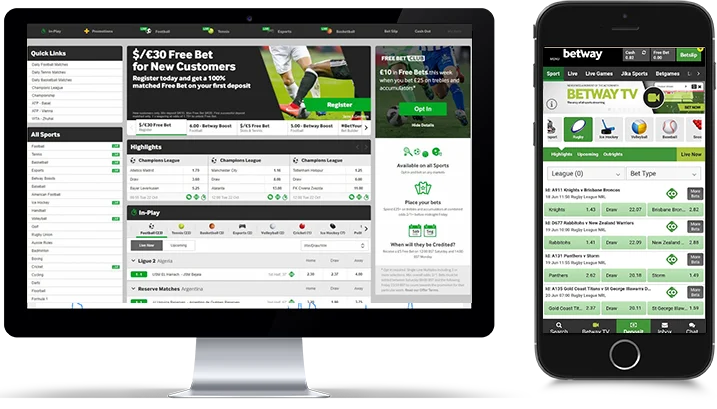 Since it popped online, Betway has been one of the most preferred betting Ireland-friendly sportsbooks, and there is a good reason why. To ensure that punters will have a whale of their time, the operator has covered everything they might wish for in this department as lines are offered for basketball, football, tennis, Gaelic sport, esports, horse racing, virtual sports, and hockey, to name just a few. In-play betting is easily among the highlights of the bookie, and the best thing is that this opinion is available for a great number of sports.
When they are welcomed on board, gambling enthusiasts will get access to several intriguing features, and along with the cash-out one, they can also benefit from Betway Boosts that are offered for football, basketball, and baseball, among others.
The multi-language platform allows punters to switch between decimal, fractional, and American odds. There should be no qualms about the way Betway operates as the sports betting platform has the approval of the UKGC, Malta Gaming Authority, and the Revenue Commissionaire.
Broad sports coverage
Competitive odds
A wide selection of deposit and withdrawal methods
Several useful betting features
Apps for play on the go
A limited range of contact venues
The cashout limits could be more generous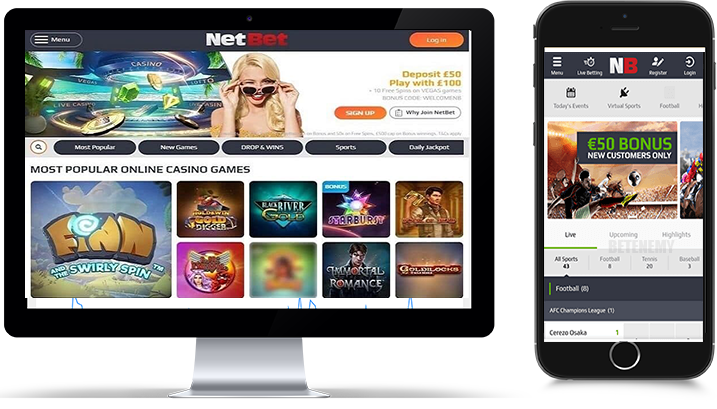 Gambling enthusiasts who are looking for an established sportsbook with a proven track record should consider heading over to NetBet. The sportsbook was made available around two decades ago, and presently, it is preferred by gambling enthusiasts because of its generous bonus deals, extensive sports coverage, the opportunity to place their bets on the go, and the above all, its competitive odds.
The platform is worth visiting by gambling enthusiasts who do not feel like sticking to betting on sports as it has what to offer when poker, lotteries, and casino games are concerned as well.
There is much to expect in terms of betting features as registered users of the sportsbook can take advantage of the snapbet and bet-building features. Additionally, in-play betting is available to all punters who feel like placing their bets while the action in the chosen football, tennis, table tennis, esports, or darts game unfolds. The sportsbook has introduced several unique features like the Add2Bet that will easily attract the attention of punters.
The operator has passed strict testing before it got its stamps of approval granted by the MGA, UKGC, and the Revenue Commissionaire of Ireland.
Extensive sports coverage
Results, statistics, in-play betting, cash-out feature, and Add2Bet feature
Supports all three main odds formats
Betting on the go is offered through dedicated and browser-based apps
The available bonus deals are slightly limited
The live chat is available to existing users of the sportsbook
32Red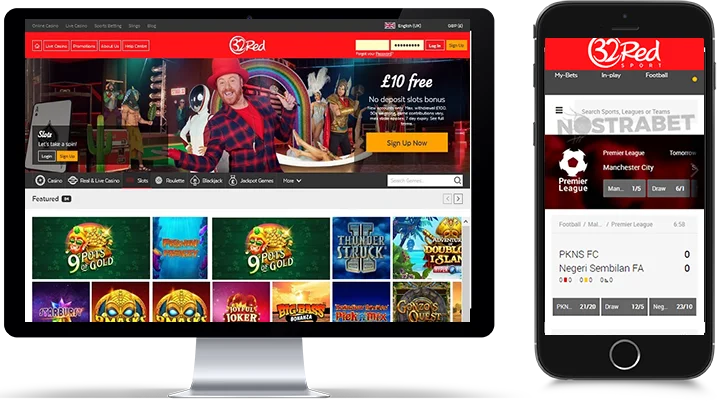 When it comes to the bookies that normally go with heaps of thumps up, 32Red is undoubtedly one of the names that should be mentioned. Fully licensed by the Government of Gibraltar, the UKGC, and the Irish Revenue Commissionaire, 32Red offers the security, fair gaming, and trust punters insist on when betting on sports over the Internet.
The operator does everything well as existing and newly registered users of the sportsbook will have a number of generous bonus deals lavished upon them. Punters can have the full confidence that they are onto something good as 32Red has an extensive line-up of sports that enjoy great popularity in Ireland, including football, horse races, and rugby.
Live streaming is also available to gambling enthusiasts who prefer to watch and bet on all top leagues and competitions while they are taking place.
Plenty of sports and good odds
Bonus deals oriented to new and existing users of the sportsbook
Properly regulated betting site
The support team can be reached around the clock
Withdrawals are not processed on weekends
Cashout might take longer because of the limited banking hours of the sportsbook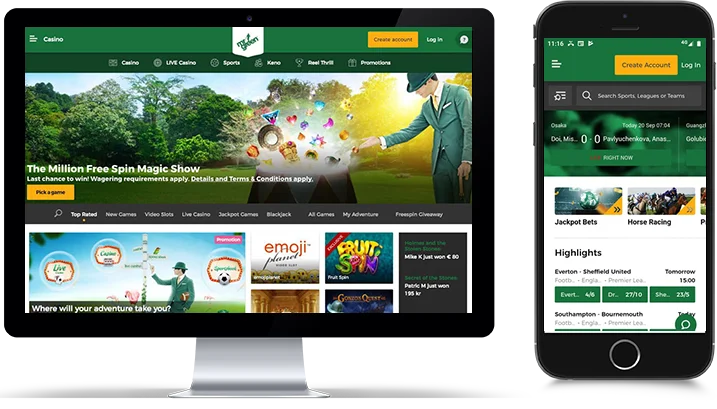 When sports betting is concerned, Mr Green is a bookie which needs no introduction. Offering everything from bingo and keno to betting on sports, Mr Green knows how to grab and hold the attention of the Irish. The ever-growing popularity of the sportsbook in the country can be easily justified with extensive coverage of fan-favorite sports it provides, including baseball, soccer, golf, greyhounds, horse racing, and esports, among others.
Punters who decide to engage in the betting action the sportsbook offers are bound to enjoy their stay as they can benefit from multi-betting, flexi betting, live betting, and spread betting, among others.
Mr Green deserves plus points also because of the exclusive deals that are designed with sports bettors in mind. The best thing is that users of the bookie will be offered some perks to enjoy almost every step of the day, and no matter the device they are using to land at Mr Green.
The multi-language sports betting portal offers assistance around the clock, which is great news to hear, especially when punters are in a pickle.
Punters can bet on their favorite sports using one of the dedicated mobile apps for iOS and Android
Punters are offered regular promotional deals
The help desk works around the clock
A variety of betting features
The deposit and withdrawal methods are slightly limited
The sports line-up is not as varied as with other sportsbooks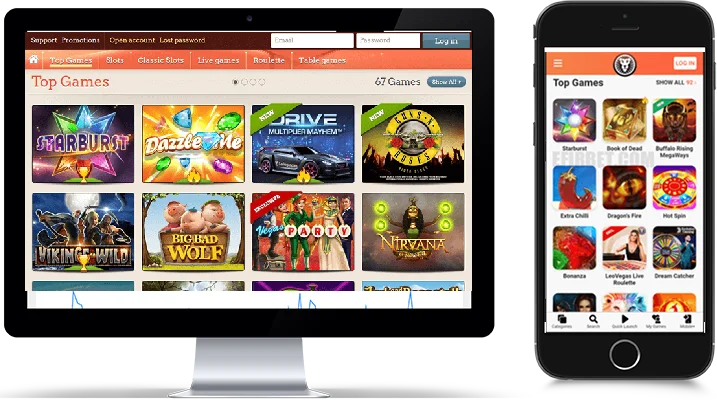 LeoVegas is another leading provider of casino and sports betting services, which has managed to carve a niche for itself in the Irish gambling market in next to no time. The sportsbook offers something to everyone's taste as punters are offered the chance to bet on cricket, football, tennis, basketball, esports, volleyball, and hockey, as well as on a number of niche sports.
Live betting is undoubtedly among the most hugely enjoyed options LoeVegas offers, and the best thing is that such is offered for the majority of the above-mentioned sports.
Gambling enthusiasts can make the most out of their betting session even when they are out and about, and all it takes to do this is to download the app for iOS or Android-run devices. To get an idea of what to expect in terms of user experience while using the apps, it is enough to say that LeoVegas took the prize for Operator of the Year at the EGR Nordic Awards.
Checking the available bonus offers on a regular basis is a must as aside from the token of appreciation punters will receive when they start using the bookie, they can get to benefit from multiple other incentives along the road.
The bet settlement is a walk in the park
The live chat can be used without registration
Plenty of live betting opportunities
Dedicated apps for play on the go
Lots of niche sports
Bonus terms are sometimes restrictive
Withdrawing funds might be challenging at times
The available sports are not that many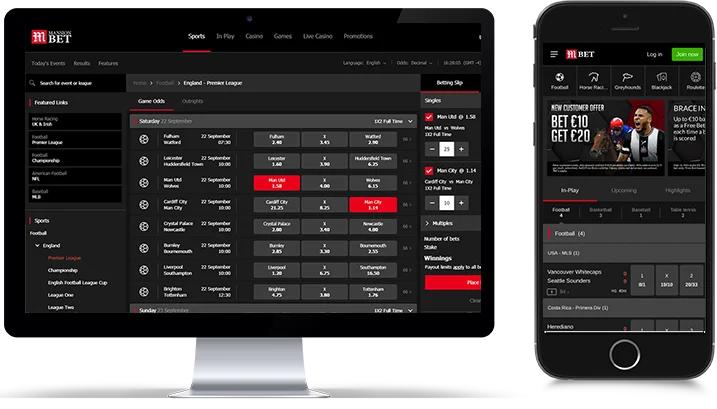 MansionBet is a sports betting and casino portal, which burst into life back in 2003. Properly regulated and following the customer-first approach, MansionBet deserves the attention of the Irish also because of its thorough sports coverage. The operator has made sure that no fan-favorite sport is left outside its agenda, and some of the betting highlights include baseball, tennis, American football, football MMA, esports, and Aussie rules, among others.
The bet placement is easy, and when punters want to ensure that they will make an informed decision, they simply need to head over to the results page. The in-play betting page should also be given due attention as it holds a plethora of options for punters to enjoy.
One of the best things about the sportsbook is that it retains its classy and user-friendly design also when punters power it up on their tablet or smartphone. The award-winning operator has introduced apps punters can make use of if they do not want to face any hurdles to place their bets whenever and wherever they prefer.
Offers in-play betting and results
An extensive list of sports
Offers all main customer support contact venues
Multiple deposit and withdrawal methods and wide-ranging transaction limits
Slightly limited range of promotional deals
Withdrawals might be time-consuming
Smarkets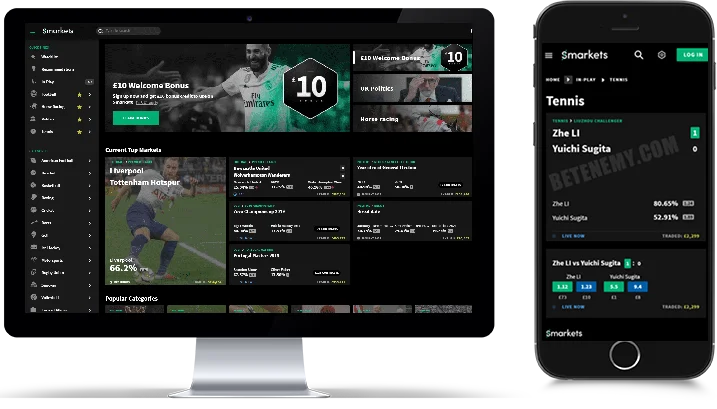 Smarkets is yet another betting site, which has got permission to accept punters from Ireland. It is worth giving a try when punters are looking for a new bookie to use as it combines reliability, user-friendliness, fairness, and safety.
No matter what kind of punter you are, you can have the full confidence that you will find the preferred sports as some of the categories that are featured at Smarkets include horse racing, football, cricket, darts, motorsports, TV and entertainment, and golf, among others. As they switch to the in-play section, punters will see lines for football, cricket, baseball, and basketball, to name a few.
The extensive events coverage is not the only reason why Smarkets is a noteworthy bookie as the operator has not overlooked the role mobile play or bonuses play. To contact the help desk of Smarkets, gambling enthusiasts can use several contact venues, and best of all, they are all operated around the clock, and even on weekends.
A well-known and reputable operator
A good line-up of covered sports
User-friendly website
The help desk operates 24/7 and on weekends
Cashouts might take up to 6 or 10 days with some payment methods
The live chat is unavailable prior to registration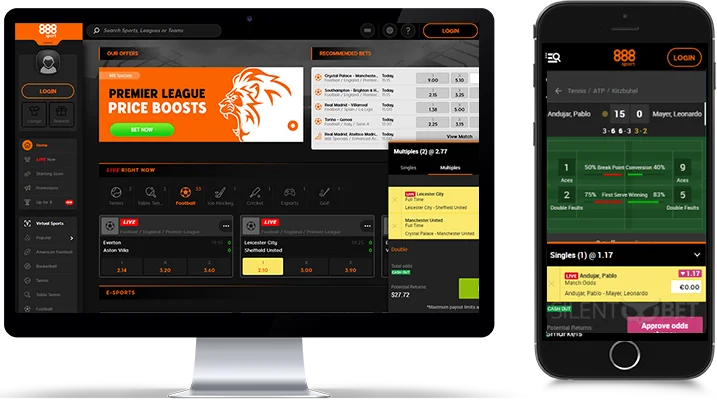 Being a multi-national online sports betting platform, 888sport has not overlooked the Irish market. The operator has grown to prominence on a number of markets, thanks to the seals of approval its has obtained from the MGA, UKGC, the Government of Gibraltar, and Ireland's Revenue Commissionaire.
To place their bet at any point throughout the game, users of the sportsbook simply need to head over the section designed for in-play betting. There is nothing more to be desired in terms of the variety of sports as the operator has covered all the bases here, offering lines for football cycling, Aussie rules, basketball, baseball, golf, greyhounds, and not to mention the 888sports specials.
Sports bettors might be eager to register for an account at 888sport also because of the wide variety of bonus deals they will be given access to from the off. There are also different challenges the completion of which will bring punters extra rewards.
If there is something gambling enthusiasts want to ask the representatives of the sportsbook, they simply need to pick the most convenient contact venue.
A wide array of bonuses and promotions
A fully-licensed operator
Dedicated apps for play on the move
Lots of covered sports
Lots of deposit options
The website design is not that user-friendly
Payment times can be slow
The live chat is hard to find
Ireland Betting Sites FAQ