With the advent of online sports betting, the need for reliable and discrete methods of payment has never been greater. It is true most virtual sportsbooks support card transactions but this is not a viable alternative for bettors who want to retain their privacy and avoid sharing their card details.
Currently, a new breed of banking solutions rules the online betting market, with Skrill leading in terms of availability, frequency of use, and fluidity of the payment process.
This type of digital wallet and e-commerce platform saw the light of day in 2001 and has been making waves in the online betting circles ever since.
One year later, it became the first FCA-regulated electronic-funds issuer in Europe. It was branded as Moneybookers at the time of its arrival but was officially rebranded as Skrill in 2013. Two years later, Skrill was acquired by The Paysafe Group, which remains the digital wallet provider's parent company to this day.
Headquartered in London, Skrill is listed in the cashiers of hundreds of online sportsbooks. Some of its biggest partners from the betting industry include bet365, Betway, Ladbrokes, 188BET, and William Hill. It allows for hassle-free deposits and withdrawals in more than 40 currencies.
Above all, it furthers payees' privacy since it does not require them to reveal any personal or banking details when using its platform. Instead, they pay straight from their e-wallet balance. This is excellent for gambling aficionados in terms of security as well, because punters tend to wager at multiple bookmakers and casinos. The more websites have access to your financial information, the more likely you are to fall victim to vulnerabilities and for your information to be compromised. Skrill is a great solution to this problem.
This is a truly global payment services provider that operates in 200 countries or so. As such, it supports a platform that works in twelve languages.
Skrill Overall User Experience
The designers of Skrill evidently value ease of use when it comes to the customer experience. Upon registration, users are met with a clean interface that clearly lays out the service's main features. Changing the language is not a hassle, and finding important pages such as the FAQ section or Skrill's Terms and Conditions is effortless.
This e-wallet can also be used on mobile devices. Seeing as the practice of making websites and tools available on smartphones continues to grow, it is no surprise that digital wallets such as Skrill have followed suit. Furthermore, what Skrill has to offer to its mobile users is very well-made. We were pleased to find that there is a dedicated application available for both iOS and Android devices and that it can be downloaded either from the App Store or Google Play. Moreover, the app is just as easy to use as the desktop website.
The layout is optimized for smartphone screens, which means that the menus are compact and comfortable to navigate. The app boasts an elegant look as well since it follows the website's predominantly white and purple palette.
Registering an Account with Skrill
Before you can start using Skrill for transactions to and from your online sports betting balance, you need to set up a free account for an e-wallet. This is where you store the funds you will later transfer to your sportsbook of choice.
The registration process is not a hassle at all. It will require but a fraction of your time since you only need to fill in the sign-up form with your details.
These include your first and last name, a valid email address of yours, the country you are permanently based in, and your currency of choice. You also need to choose a password to access your Skrill e-wallet with.
Skrill Registration Requirements
Copy of ID/DL
no
Utility Bill
no
Link bank account
no
Link bank card
no
All in all, this is the outline of a typical registration process:
Visit Skrill's website and click Register. You can find the button near the upper-right corner of the web page.
Fill out all of the required information.
Click the register button at the bottom.
If you decide to register through the app, the process is fairly similar:
Download the application from Google Play or the App Store and open the app.
Tap Register.
Input the necessary information and tap the register button at the bottom.
Enable fingerprint login or opt for a 6 digit pin.
Once the initial registration process is complete, you must fund your new e-wallet.
Navigate to the Pay Online section.
Click Get Started.
Complete your registration fully by providing the following information: address, city, postal code, date of birth, phone number. Click next, and you will be sent a verification code via SMS. You can opt for receiving it by email instead.
Input the code and click Verify.
Choose one of the options from the Add Money section and deposit money into your account.
All that is left to do afterward is confirm the transaction, and you are done. Note that the payment options you can use for the purpose include:
Bank transfer
Credit or debit card
Rapid bank transfer
Trustly
Fast Bank Transfer
Paysafecard
Paysafecash
Klarna
Giropay
In addition, once you have added money into your account, you will be able to use your funds to trade cryptocurrencies such as Bitcoin and Ethereum.
Another alternative is to use Neteller provided that you already hold an account for its e-wallet service. You will need to use Neteller's "money out" feature to conduct the transaction.
It is recommended to validate your Skrill account as this will lift the restrictions on your transactions. Do not worry, the verification process is not as scary as it sounds. The requirements are to upload a legible copy or scan (in color) of an identification document.
For this purpose, you can use your driving license (front and back), your passport, your national ID card (again front and back), and a utility bill to confirm your permanent residence address.
A selfie is also needed so that they can ensure your face matches that on the identification document you sent.
Once you process $15,000 or more to online sportsbooks and other merchants via your Skrill wallet, they will automatically upgrade your account to VIP status.
The $15,000 in transactions must be transferred within a single quarterly period. You can also apply for more accounts that use different currencies once you reach Silver or Diamond VIP status.
Supported fiat currencies punters can set up Skrill accounts in – AED, AUD, BGN, BHD, CAD, CHF, COP, CZK, DKK, EUR, GBP, HKD, HRK, HUF, ILS, INR, ISK, JOD, JPY, KRW, KWD, MAD, MYR, NOK, NZD, OMR, PLN, QAR, RON, SAR, SEK, SGD, THB, TND, TRY, TWD, USD, ZAR
Depositing to Sportsbooks with Skrill
Punters who have never used Skrill before will be surprised by the fluidity this payment platform ensures. It works for deposits as well as for withdrawals. Both processes are equally time-efficient and free of hassles.
Best of all, most of the established sportsbooks on the market do not charge additional fees on payments conducted with Skrill.
If you like to redeem welcome bonuses and free bets, we recommend you first take some time to go through the promotional terms of your sportsbook(s) of choice.
Some bookies do not allow customers to claim any deposit-related perks if they have made their payment with Skrill or other similar e-wallets like Neteller, ecoPayz, and WebMoney.
The limits on deposits and withdrawals conducted with Skrill vary across online bookmakers. Check the cashier system in advance to see whether the allowed limits for Skrill coincide with your personal betting needs.
Below is a step-by-step explanation on how to conduct your first Skrill deposit to a web-based bookie.
Log into your sports betting account if you have one already. If not, fill in the registration form with details like your name, birth date, valid email, telephone number, and residence address. The sportsbook will send a link to your email to complete your registration with. Some websites prefer to text customers the activation codes on the mobile numbers they have provided.
Once you have set up your account, you must navigate to the mobile cashier where you needto select the Skrill logo from the list of supported banking alternatives.
Enter the amount you want to transfer to your sports betting account in the designated field and click the Confirm/Deposit button.
If you intend to use a welcome or reload bonus that requires an opt-in, tick the opt-in box or enter the promo code that applies to your chosen bonus.
A new window will open prompting you to enter your Skrill log-in credentials, i.e. the email you registered your e-wallet account with and your Skrill password. Click the log-in button.
A new pop-up window will appear where you must provide a six-digit security code. This is required for the purpose of preventing automated hacking attempts.
Go through the details of your payment once again to ensure everything is correct and confirm the money transfer from your e-wallet balance.
The funds will be instantly added to your sports betting balance so you can start punting immediately.
Depositing with Skrill Summary
Timeframe
Instant
Minimum per transaction
$10.00
Maximum per transaction
$38,000
Fees
Free
Available currencies
AED, AUD, BGN, BHD, CAD, CHF, COP, CZK, DKK, EUR, GBP, HKD, HRK, HUF, ILS, INR, ISK, JOD, JPY, KRW, KWD, MAD, MYR, NOK, NZD, OMR, PLN, QAR, RON, SAR, SEK, SGD, THB, TND, TRY, TWD, USD, ZAR
Withdrawing from Sportsbooks with Skrill
The process of withdrawing with Skrill is rather similar to that of depositing with the method. There are some differences, however, especially if you have registered a new account with an online sportsbook.
If this is your first withdrawal from the website, they most certainly will request you to send documents to verify your identity, residence address, and age. This procedure is rather similar to verifying your Skrill account.
Afterward, the sportsbook's financial department will require some time to review, assess, and approve your Skrill withdrawal request. The exact approval timeframes vary between several hours to three business days depending on the policies of the bookie, so it is a good idea to check the time frame beforehand. The withdrawal limits will also differ depending on the bookie.
The beauty of using Skrill for withdrawals is that the funds hit your e-wallet balance almost immediately after the sportsbook releases them from your cash balance. Go through the step-by-step process below for further clarification.
Open the online sportsbook's withdrawal page.
Select Skrill as the chosen method for your withdrawal. Some bookies would automatically return your money via the same banking solution you have used for deposits.
Enter your details in the form as well as the sum you want to cash out.
Confirm the payment and that is it. All you have left to do now is wait for the sportsbook to approve the payment and send the money to your Skrill balance.
Withdrawing with PM Skrill Summary
Timeframe
Within 24 hours
Minimum per transaction
$10.00
Maximum per transaction
$38,000
Fees
Free
Available currencies
AED, AUD, BGN, BHD, CAD, CHF, COP, CZK, DKK, EUR, GBP, HKD, HRK, HUF, ILS, INR, ISK, JOD, JPY, KRW, KWD, MAD, MYR, NOK, NZD, OMR, PLN, QAR, RON, SAR, SEK, SGD, THB, TND, TRY, TWD, USD, ZAR
Fees Related to Skrill Betting
We previously explained there are usually no fees associated with Skrill payments on behalf of the sportsbooks themselves. Of course, it all depends on which bookie you punt with.
We have seen bookies charging as much as 5% on top of the requested withdrawals for Skrill. Sending money from your e-wallet account is not charged extra by Skrill itself, though.
However, some fees may result from using this e-wallet service, particularly when you load funds into your Skrill balance. Fees related to bank transfers can vary between 0% and 1% while using Trustly can result in fees up to 1.25%. Fees when conducting deposits via debit and credit cards can also reach 1.25%, while Paysafecash and Paysafecard fees are 2.50% and 5.00% respectively.
Skrill Deposit Options
Bank Transfer
0.00%
Fast Bank Transfer
up to 1.00%
Rapid Bank Transfer
up to 1.00%
Trustly
up to 1.25%
Paysafecash
up to 2.50%
Paysafecard
up to 5.00%
Visa
up to 1.25%
Mastercard
up to 1.25%
Card JCB
up to 1.25%
Card Diners
up to 1.25%
Klarna
up to 1.25%
Giropay
up to 1.25%
The money is instantly added to your e-wallet balance with all supported top-up options bar the manual bank transfer, in which case you will have to wait up to five business days.
As for withdrawing funds from your Skrill account, again the fee amount will vary. If you decide to use Neteller, a fee of 3.49% will be deducted from your sum. Crypto wallet fees are 2%, while you will be charged a 3.99% fee for withdrawing to credit or debit cards. Last but not least, bank transfers will result in €5.50 fees.
Skrill Withdrawal Options
Neteller
3.49%
Crypto Wallet
2.00%
Mastercard
3.99%
Visa
3.99%
Bank Transfer
€5.50
Swift
€5.50
Skrill also charges currency conversion fees of 3.99% but the exact percentage may vary depending on the status of your account. In addition, keep in mind that while using the account itself is free, not using it is not. If you are inactive and do not conduct any transactions for more than 6 months, you will be charged a monthly fee of €5.
Fees Related to Skrill Summary
Initial setup
no
Account review
no
Maintenance fee
no
Inactivity fee
€5 if the user is inactive for more than 6 months
Benefits of Betting with Skrill
There are plenty of benefits of using Skrill for the purposes of sports betting.
Skrill is privacy-oriented.
Immediate deposits to bookmakers.
Excellent availability, both in terms of bookmakers that accept this payment method, and countries where the service is available.
Helpful customer support.
Security is prioritized.
To elaborate, we will start with the fact that Skrill allows you to keep your personal and banking information private. Transactions are kept strictly confidential since your name and residence address are never revealed to the online sportsbooks you punt with.
Another advantage is that you have real-time access to your sports betting bankroll. Deposits to online sportsbooks are instant with this e-wallet, enabling you to punt immediately after you confirm the transaction.
The method is broadly available across most sports betting sites. If you sign up for a Skrill account, you will experience no issues with finding a sportsbook to bet at unless you are from the USA.
Moreover, the e-wallet is offered in more than 200 countries and supports 40 different currencies. If you are one of those punters who prefer to use a payment solution that accepts their currency, Skrill is most definitely the right option for you.
Another good reason to choose Skrill for your sportsbook payments is the marvelous customer support it provides. There is a detailed help section with frequently asked questions on the website where Skrill users can find comprehensive information about account management, security, payments, and fees.
Also, you can always give them a ring or email them at help@skrill.com if you happen to experience a more complex issue. The method supports toll-free phone lines for international customers. It will cost you nothing to call and receive assistance.
Finally, this e-wallet is incredibly secure to use. Your details are kept confidential, not to mention all the information you send to your online sportsbook of choice is SSL-encrypted.
Drawbacks of Betting with Skrill
Although there are many benefits to using Skrill, the e-wallet is not entirely lacking in disadvantages. Some online punters consider the registration process a nuisance and prefer to use other payment alternatives that do not require them to sign up. The positive here is that the registration is free of charge.
Furthermore, you have to verify your account by sending them a bunch of documents to prove your identity and residence address. If you skip on the verification process, you will have to suffer limitations on your payments. This is especially detrimental to professional bettors who frequently put large amounts of money at stake.
Although many online sportsbooks process Skrill payments at no cost, there are small charges on behalf of the e-wallet company. Most methods you can top up your e-wallet balance with involve charges. If the sportsbook you punt with does not support the currency of your Skrill account, you will also be charged for the conversion.
Promotional incentives are important for many sports bettors, especially rookies who are trying to build a sports betting bankroll. Unfortunately, an increasing number of sportsbooks are beginning to exclude e-wallets like Skrill from bonus redemption. It is not unheard of Skrill users to deposit only to find out they cannot redeem a welcome bonus with this method.
To sum up, these are the things bettors should keep in mind if they wish to use Skrill:
The registration is cumbersome to some users.
Frustrating verification process.
Failing to verify one's account will leave the player's account at a Skriller level, in which case the customer incurs larger fees and has tighter limits to work with.
Top up and currency conversion fees.
No access to sportsbook bonuses and promotions at certain bookmakers.
Regulation and Availability with Skrill
Sports bettors who use Skrill for gambling transactions can have their peace of mind where security is concerned. This e-wallet is regulated by the Financial Conduct Authority (FCA), which is the institution users can turn out in the event of a dispute.
The latter is responsible for the oversight of the conduct of more than 58,000 payment services companies and financial markets across the UK. This alone is enough to assure you Skrill is a secure method to use for online betting transactions.
The e-wallet is available across hundreds of web-based sportsbooks including major players in the industry like Ladbrokes, William Hill, Betway, and 888sport. You will be hard-pressed not to find a website to punt for real money on if you are using this e-wallet.
On a side note, the method is available for use in the United States but it is impossible to implement it for online gambling transactions at foreign-licenced sportsbooks. This is due to local restrictions under the Unlawful Internet Gambling Enforcement Act (UIGEA) of 2006.
The UIGEA prohibits banking institutions and payment services providers from processing financial transactions to gambling sites licensed and based outside the country. Basically, US residents can use Skrill for anything else but online gambling.
As we pointed out earlier, this e-wallet solution is available across an impressive number of countries, over 200 to be precise.
Some of the locations punters can set up Skrill accounts from include Canada, China, Australia, the UK, Finland, France, Ireland, Italy, Mexico, the Netherlands, New Zealand, Norway, the Philippines, Portugal, Russia, Singapore, South Africa, Spain, Sweden, Switzerland and Thailand.
Available languages punters can open Skrill accounts in – English, German, Greek, French, Spanish, Italian, Polish, Romanian, Turkish, Czech, Russian, Chinese.
On the other hand, Skrill does not offer its services to Cuba, French Guyana, Iran, Japan, Lebanon, Macao, North Korea, Sudan, Turkey, and Zimbabwe among others.
Skrill Security
As you would expect from a payment services company subjected to the oversight of the Financial Conduct Authority, Skrill offers incredibly high levels of security.
It all starts with the fact there is no need for you to reveal any sensitive information to your online bookie when you process payments via the Skrill platform. This means that Skrill is far more secure than simply using your debit/credit card or bank transfer.
When you initiate the payment, you are redirected to your e-wallet account without the need to input any card or bank account information.
Of course, everything is encrypted with SSL both on the side of Skrill and the online sportsbook you are using. In particular, the e-wallet platform relies on 128-bit encryption with a certification of VeriSign.
Customers' security is a priority of Skrill. The e-wallet implements in-house-developed tools to monitor every transaction that goes through its platform. The payment company does not share any of your sensitive details with third-party retailors or online sportsbooks in this case.
In the end, however, bettors need to remember that a website is only as secure as its users are responsible. In other words, you need to follow basic security measures in order to keep your account safe and to comply with Skrill's terms regarding online safety. Take care not to share your password and pin code with anyone, and be wary of phishing emails that will seek to steal your information. Additionally, change your password on a regular basis, and if you ever believe anything is amiss, contact Skrill immediately. Last but not least, ensure that your email itself is secure as well, seeing as it can be used to reset your Skrill password.
Skrill Security Summary
SSL
yes
Two-factor authentication
yes
Face ID
no
Touch ID
no
App/SMS Notifications
yes
Skrill Loyalty Program
Skrill has created a couple of special promotions for its users: account levels, a VIP membership club, and Knect, a point-based loyalty program.
First things first, we will take a look at the account levels outside of the VIP program. There are two: Skriller and True Skriller. All new users start at Skriller by default, but leveling up is very simple. All you need to do is download Skrill's mobile app, make a deposit, verify your identity, and you are good to go. This level comes with perks such as lower skrill-to-skrill transfer fees, and soon, True Skriller users will be able to take advantage of extra Knect loyalty points and a referral bonus.
Next, it is important to be informed about the VIP program. You will become a member automatically once you have deposited a total sum of $15,0000 to bookmakers and other merchants, provided you have achieved this within a calendar quarter. This will land you on the Silver Vip level. Leveling to Gold involves reaching €45,000 in transactions, while the highest level, Diamond, starts at €90,000. Once again, these requirements need to be met within a calendar quarter.
As for the VIP perks, there are plenty. Firstly, VIP users can enjoy lower fees when it comes to Skrill WalletFX rates. What is more, members are exempt from paying fees related to sending money or bank withdrawals.
Speaking of things that are off-charge, VIP customers also receive a Prepaid Mastercard for free. There are no annual card fees, and users can enjoy higher transaction limits in terms of withdrawals and POS transactions compared to non-VIP individuals. The lack of card replacement fees and ATM withdrawal fees make the entire deal all the better.
As for Knect, it is a loyalty program revolving around you earning points by using your Skrill account. To participate, you need to have a verified account, visit the Knect web page and join.
There are a plethora of opportunities to gain points, seeing as you receive them by depositing funds, withdrawals, purchases made with Skrill's Prepaid Mastercard, transactions done with support cryptocurrencies, and transfers. As for what you can get, things like electronic money, gift cards, and merchant vouchers are what you can trade your points for. These rewards are subject to change, however, so you can check what is available within the Rewards catalog,
Skrill Customer Support
If you ever run into a problem while you are using Skrill's services, you have a couple of choices to pick from in terms of seeking assistance. Your first option is calling a customer service representative via telephone number 855-719-2087.
The other two methods can be accessed from Skrill's "Contact Us" section. The first is a web messaging option, while the latter involves sending an email to Skrill's staff. Customer reports are a bit mixed regarding the quality of the customer service, but in general, it will not take too long to reach a representative and they tend to be quite helpful.
Although it is unfortunate that live chat with an agent is unavailable, Skrill has provided a virtual assistant AI named Sofia. She is quite advanced and can help you out when it comes to various issues, provided you stick to short messages. She also provides an easy way to look for information. If a problem or query proves too complicated, however, she can redirect you to a representative of Skrill's customer support department.
Lastly, keep in mind that you can always use Skrill's excellent FAQ before moving on to one of the previously mentioned options. It covers a broad range of possible questions and has laid out valuable information in a clear and concise manner.
Skrill Reviews from Around the Web
Payments via e-wallets are extremely popular as they offer a lot of perks that other options cannot provide. This is why e-wallets are also commonly accepted at a wide range of gaming and betting sites, giving players and bettors an easy way to handle their money. Skrill is definitely one of the popular options you can come across at a large number of sportsbooks. If you are having a hard time making up your mind on whether it is the right payment solution for you, you can check the Skrill reviews available across the web.
Many betting experts have covered the advantages and disadvantages of utilizing Skrill as a payment method at virtual sportsbooks. This will help you decide whether the e-wallet can be of help when you want to deposit to your betting account or withdraw your winnings.
You can also read numerous customer reviews on Trustpilot which will allow you to see the general sentiment on Skrill's service. As of writing this segment, Skrill has received a total of 19,383 reviews, giving the payment method 3.9 out of 5 stars.
Negative Skrill Reviews
Looking at the reviews left at Trustpilot, we can conclude that most people had a great experience with Skrill, with hardly any bad reviews left on Trustpilot's platform. That being said, there were still some people who were not entirely satisfied with the service of Skrill.
Most of the negative reviews about the e-wallet came from customers who were unable to transfer money and were not given any reason for the failed transactions. Others had issues with sending money via Skrill as they were unable to verify their accounts, despite providing the documents to do that.
Positive Skrill Reviews
Most of the Skrill users who have rated the service on Trustpilot's website have given the e-wallet a positive rating. Out of all reviews left on the website, 70% gave the service an Excellent score, 7% rated it as Great, and 2% gave it an Average score. The Poor rating came from 1% of the reviewers and another 20% rated Skrill as Bad. These numbers make Skrill's average rating at Trustpilot Great.
The positive reviews came from users who were glad to be able to initiate payments with ease. Many enjoyed the mobile app of the e-wallet, enabling hassle-free payments. Some users also praised the reasonable fees of Skrill, allowing them to enjoy budget-friendly payment solutions.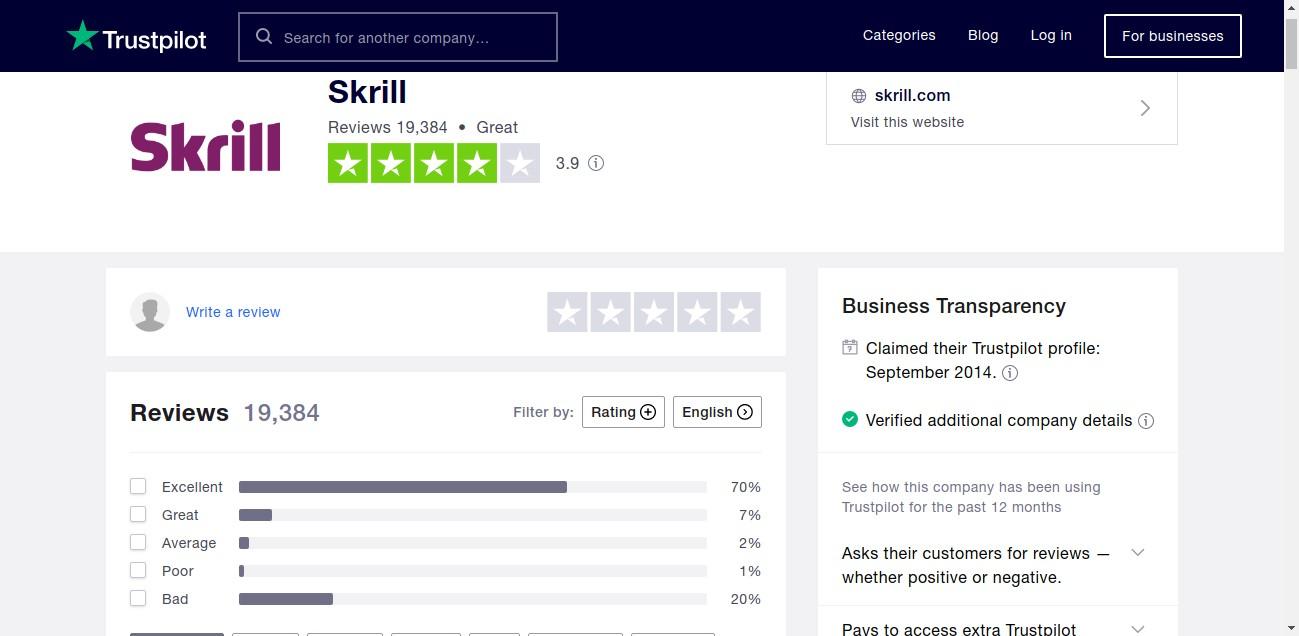 Trustpilot Rating of Skrill
Excellent
70%
Great
7%
Average
2%
Poor
1%
Bad
20%
Conclusion
Skrill has over 36 million customers worldwide and this is no coincidence. The method offers great flexibility and is particularly useful to sports bettors since it allows for strictly confidential and well-protected payments.
This e-wallet is highly popular among punters because it is accepted across hundreds of licensed sportsbooks including industry veterans like William Hill, bet365, and Ladbrokes. Deposits with Skrill are processed instantly and typically at no extra cost for sportsbook users.
Withdrawals are also rather time-efficient since the funds become available into your e-wallet balance right after the betting operator releases them from your account. The method is cost-effective, highly secure, and very flexible. Check out our list of Skrill sportsbooks if you are looking for a trusted betting site that supports the method.