Tennis is a very old sport and is considered classy. Enough so for even royal families to attend tennis games. The sport is very intense and physically strenuous and there are many factors that could lead to a player's victory or loss. Additionally, the complexity of the sport makes it alluring and together all of these things make tennis an interesting and challenging field for punters.
More Articles From This Guide
Understanding Tennis
History
Rules
Bet Types
Strategy
To be able to bet on tennis you must first understand tennis. To do that, you need to familiarize yourself with the main features of the sport. It has a long history, as well as interesting rules and point system.
History
Tennis is the descendant of the 11th-century French game named jeu de paume. This was a game played with bare hands as rackets were still not invented. After their invention in the 16th century, the game started to change. Tennis as we know it now was developed in England during the 1870s. The name is derived from the French word for 'here it comes' which is 'tenez' and which would be shouted to the opponent when a player would serve.
The game was initially played on grass, so the invention of the lawn-mower also aided its development. Once the game really took off, a rubber ball started being used. Not much later the game was played on all sorts of surfaces. Around the end of the 19th-century clay courts were introduced and much later hard courts made out of concrete or acrylic were also introduced.
The rackets themselves went through a bit of an evolution as they were initially made out of wood, which, as you may imagine, was not the most appropriate material and so rackets would often break. It was used all the way until the 1980s when new materials were introduced. Graphite, carbon, steel, and titanium weigh less and offer more power.
Another grand historical change is women's involvement in the sport. It came pretty quickly and despite the fact that women had to wear hats and dresses that covered their entire bodies, in 1895 Charlotte Cooper won her first Wimbledon title at the age of 25. She was an attacking player, one of the few female ones at that time to serve by throwing the ball up and on July 10, she won the final of the mixed doubles with Reginald Doherty. As for Doherty himself, he remains the most medalled male tennis player of all time.
At the 1984 Olympic games in Los Angeles, 15-year-old German player Steffi Graf won the women's singles in the same year as winning four other major tournaments. This made her the only person to have ever achieved the 'Golden Slam' in one season.
Rules
A very simple rule of tennis, but one that is essential, is that the decision as to who will serve first is made by a coin toss. The person that wins it gets to decide whether to serve first or to receive a serve by their opponent in a selected by them area. The server will continue serving the ball until the end of the set. Then they will switch and alternate for each subsequent set.
After that has been settled, the server is given two chances to serve. If they fail to serve the first time, i.e., if they fail to serve the ball in the diagonally opposite section of the service court, this is called a fault. When this occurs a second consecutive time, it is called a double fault and the receiver earns a point. If the ball hits the net, however, which is called a net serve, the server is entitled to another serve.
Establishing whether a ball is in or out is another important thing in tennis. In fact, this is the reason why many professional players lash out at match officials. In a game of singles, the ball must fall within the service courts, back court, and alley line for a point to be scored. If it falls outside of them, the opponent gets a point. In a doubles game, the ball must land within the boundaries of the service courts, back court, alley line, and side line.
Another thing to note about tennis is that the number of sets may vary. The maximum number of sets is usually three for women and five for men. However, sometimes it is three for men too. The player to win six games first usually wins a set but if the score is too close, there must always be a difference of two games for a player to win. So if the score reaches six-games-all, a tie-break is played to determine the winner.
Point System
The point system in tennis can be a bit tricky at first, but with this guide, we strive to make it as clear as possible. So, first of all, here is how points are counted in tennis:
0 points are called Love
1 = 15
2 = 30
3 = 40
4 = game
Additionally, for a player to win a set they must have at least a two-point advantage over their opponent. If the score is a tie of 40/40 this is called Deuce and for either player to win, they must earn two consecutive points. The first one is called an Advantage Point, the second – a Point. A set is won when a player has a minimum advantage of 2 games.
Tennis Tournaments
Wimbledon
French Open
US Open
Australian Open
Naturally, a game of such a scope and age has called for the creation of multiple tournaments for players from all over the world to compete. The four most prestigious tennis tournaments are the Grand Slam ones, which are as follows:
Wimbledon
Wimbledon, officially known as The Championships, Wimbledon, is considered the most prestigious of all four Grand Slam tournaments. It was founded before any of the rest and so it has a long and rich history. It remains the only one of the four major tournaments to be held on grass courts. It holds five main events annually with additional junior and invitation events.
The five main events it hosts are Gentlemen's Singles, Gentlemen's Doubles, Ladies' Singles, Ladies' Doubles and Mixed Doubles. The junior events are separated by sex, therefore being only four – Boys' Singles, Boys' Doubles, Girls' Singles, and Girls' Doubles. The invitation events are Gentlemen's Invitation Doubles, Ladies' Invitation Doubles, Senior Gentlemen's Invitation Doubles, which are all Round Robin events with 8 pairs. Additionally, there are Gentlemen's Wheelchair Singles, Ladies' Wheelchair Singles, Gentlemen's Wheelchair Doubles, and Ladies' Wheelchair Doubles events.
French Open
Regarded as the most challenging tennis championship in the world, the French Open is a premier clay court tennis championship. The championship's official name is Roland-Garros or Championnats Internationaux de France de tennis and Tournoi de Roland-Garros, derived from the location at which the event is held in Paris, France. By the way, the location is named after a French aviator. Currently, the French Open is the only Grand Slam event organised on a clay court.
It holds five main events which are Men's Singles, Women's Singles, Men's Doubles, Women's Doubles, and Mixed Doubles. Despite it not having additional events, the tournament presents players with some pretty interesting side-awards – the Prix Orange and the Prix Citron. The first one is given to the player demonstrating the best sportsmanship and most cooperation with the press. The second one is awarded to the player with the strongest character and personality.
US Open
The United States Open Tennis Championships, simply known as the US Open, is a tennis tournament held on acrylic hard courts. It is the only Grand Slam that employs tiebreakers in every set of a match and also the only one where women's draw has 16 qualifiers instead of the regular 12. It was also the first Grand Slam tennis tournament to use the Hawk-Eye Computer System.
The US Open, similarly to Wimbledon, holds five main events – Men's and Women's Singles, Men's and Women's Doubles, and Mixed Doubles. Additionally, there are tournaments for senior, junior and wheelchair players.
Venus Williams had her Grand Slam debut at the US Open, marking it by being the first woman after Pam Shriver to reach a US Open singles final on her first attempt. Both she and her sister are considered by many to be the most successful tennis players of all time.
Australian Open
The Australian Open is the other Grand Slam tournament held on hard courts. It is similarly constructed to other Grand Slam tournaments, having five main events – Men's Singles, Women's Singles, Men's Doubles, Women's Doubles, and Mixed Doubles, and additional junior and wheelchair players events.
It gave the Grand Slam beginning of Serena Williams, and on her first participation, she lost to her sister. However, she now holds 7 Australian Open titles and overall the most Grand Slam titles in singles, doubles, and mixed doubles combined, making up the number of 39 titles altogether. She has been ranked the world's No. 1 player on a few separate occasions and has held the title for 186 consecutive weeks, tying the record that was previously set by Steffi Graf. She has set multiple records in Grand Slam tennis categories not only for female players but for both male and female.
Olympic Tennis
Tennis has been a part of the Summer Olympic Games for decades. Winning a medal at the Olympics has become just at prestigious as winning all four Grand Slam events. A player who has both won all four Grand Slam events and the Olympic gold is said to have won a Golden Slam. So far, Steffi Graf is the only one to have achieved this. However, the Williams sisters hold the record for most medals won, with both Serena and Venus holding 4 golden medals each.
Others
The Indian Wells Masters is the second most prestigious tennis tournament after the Grand Slam championships. Also known as the BNP Paribas Open, the tournament is held on hard courts. Moreover, the Indian Wells Masters has the second biggest permanent tennis stadium in the world. It is, however, also well-known for the so-called Williams Sisters Controversy. The two Williams sisters refused to participate in the tournament until recently because of racial slurs that were thrown at their father.
The ATP Finals comes second in men's tennis tournaments only to the Grand Slams. It is played on hard courts and indoors. It is one of the oldest tennis tournaments and currently Roger Federer holds the record for most single titles.
The Miami Open, or Miami Masters, is another highly rated tennis tournament for men and women. It has also been known as the Ericsson or Sony Ericsson tournament in the past. It is also played on hard courts and is very physically challenging as the games go slowly and are held despite extremely hot temperatures. The Williams sisters have left their mark on this tournament too.
There are many more tournaments you may be interested in, some of which are held at a different location every year, some which offer possibilities that others do not, and so on. As with all other sports, there are events on a smaller scale too.
Betting on Tennis
There are many factors to be taken into consideration when betting on tennis. One of them is the court on which a game is played. This is important because the speed and bounce of the ball depend on the type of court. So this way, some players that do very well on hard courts, fail to perform well on grass courts. There are some tennis players who have mastered playing on all three types but still favor one type more than others.
Grass Courts
Grass guarantees speed, however, not bounce. Despite its slippery surface, the ground is usually soft and absorbs blows well. So for a player to thrive on this surface they need to be strong. Only a violent server can succeed on grass. A baseline player usually does not do too well on grass courts as the ball moves too quickly for them to catch up.
Hard Courts
They are usually made of concrete or asphalt and coated with something smoother and softer. Their surface provides speed and bounce, less speed than grass but definitely more bounce. Players who do well on grass tend to be able to easily adjust to this type of court too. In fact, most players do well on hard courts. Those whose specialty is playing on hard courts, though, will ultimately win.
Clay Courts
These are the slowest courts to play on. They slow down the ball, however, they create an incredible bounce. The difference between this type of court and all others is very palpable and not many players can master playing on this surface. Baseline players do well on it precisely because of the slow speed of the ball. They have the time to move and chase down a ball that would have otherwise been impossible to catch.
Another thing to take into account is the player's history. For instance, if a player has competed against the same opponent multiple times and has mostly lost – they will probably lose again unless there has been a noticeable improvement in their play. Once again, the importance of the court plays a part so you should consider both factors.
Something else that is of utmost importance is a player's medical history. If a player has suffered an injury recently their chances of winning are significantly slimmer. Of course, that does not mean that it is impossible but it is definitely worth your consideration. It is not uncommon for a tennis player to drop out of a tournament because of a recurring injury.
It is very important to do your research before placing a bet as there are even more intricacies to tennis, like a player's style, their serve win percentage, or how they perform under pressure. There are many factors to consider when betting on tennis, so use the data available to your advantage.
Types of Bets
Like with all other sports, there are multiple bets you can place when it comes to tennis. Precisely because of their large number, they may be a bit confusing at first. Here, we will explain some of the main bets you may encounter.
Outright Bets
Outright bets are placed on the player you think is going to win a given competition. They are placed at the beginning of said tournament, and therefore you will not know whether you have won or not for another week or so. You have to be quite careful with such bets as the outcome of an entire competition is not easy to predict.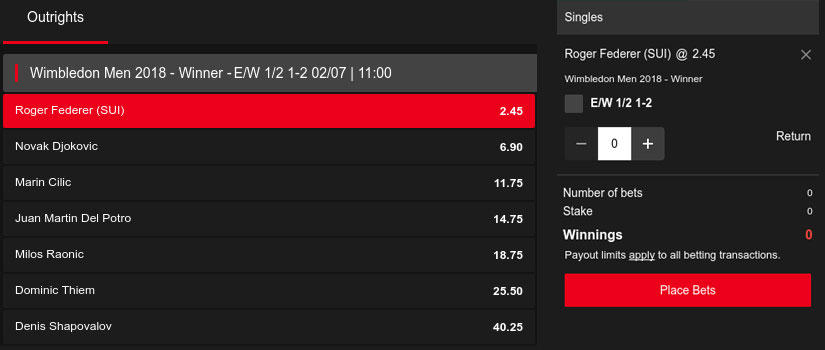 Correct Score
This is as simple as it sounds – if you think you know what the exact score at the end of a game will be, you can bet on it. It is pretty basic, you simply pick the score you consider to be correct and wait until the game is over to find out whether you were right or not.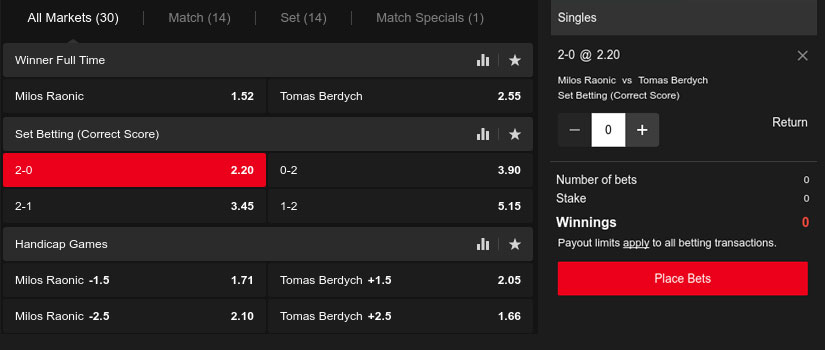 Match Bets
These are based on the winner of a single match and not an entire tournament. They are more general and not specific like correct score bets. You simply pick either one player or another. You can base your bet on the presented odds, or not.
Handicap Bets
Handicap betting is also known as spread betting in other sports and is a wager made on whether a player will perform better than expected or worse. Here, you need your player to win by a certain number of points or more, or, lose by a certain amount or more.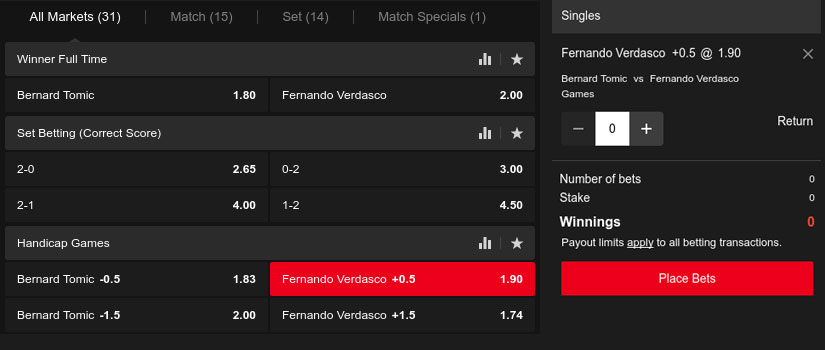 Over/Under Bets
Over and under bets are placed on the number of games or sets that will be played and not on the specific score or outcome. There are certain numbers provided and you can bet on whether a game will go over or under that number.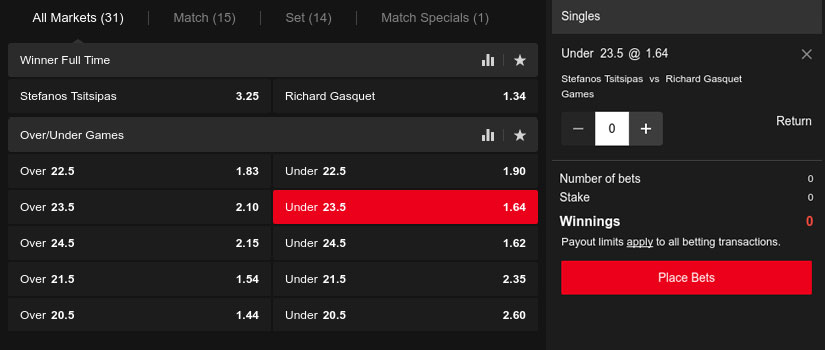 Parlay
A parlay is one of the most popular types of sports bets available at the moment. This is a bet composed of other individual bets, called legs. You can usually combine from two to up to twelve separate bets in a parlay. This bet offers higher payouts, so if you made a single over/under bet, it would pay less than if it was a part of a parlay bet. However, there is a twist – all of your leg bets must be correct for you to win even a single dime from the parlay bet. If even one individual bet is wrong, the parlay bet is void.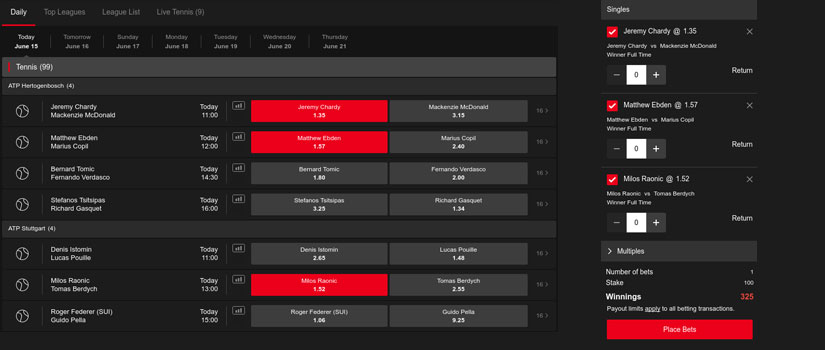 Live Betting
There are many positives to betting in-game – you get to see which way the wind is blowing, so to speak. There are also many possibilities when it comes to placing bets. They range from the usual, like, who will win the game, to something that only has momentary importance like who will score the next point. The odds change as the game progresses which gives you a chance to place a more accurate bet near the end of the game. This type of betting is growing in popularity precisely because this is allowed.
Tennis Betting Strategy
To create a viable tennis betting strategy, you must take into account all the points listed above. Of course, the bookmakers offer stats on all bets and you can see all the odds too but they are not always accurate. So, if you want to make a one-time bet on a tennis game, then you can probably rely on the odds and you will win. However, for a long-term strategy, you need to really familiarize yourself with the game and the players you want to bet on.
As we already noted, the most important factors to consider are the surface on which a game is played, the history of the two players, and their styles. If there is a player or players you are more familiar with, then stick to betting based on your knowledge. With that said, you can never predict an injury so you should always keep that in mind when placing a bet. Like with any type of gambling, you should set your limits and bet responsibly.
FAQ
You can bet online as well as in some casinos, or other venues created specifically for this purpose.
You should place a bet based on what you know about the players. For instance, if you are familiar with one player and are confident in the outcome of a single match they are playing, you should place a match bet. And if you are more familiar with tennis than most and are very confident in the outcome of multiple games, you should consider placing a parlay bet.
Depends on your location. Sports betting sites are legal in some jurisdictions and illegal in others. You can usually find out whether it is legal within your jurisdiction quite easily.