PayPal is a popular e-wallet service that enables online sports bettors to fund their sportsbook accounts without revealing any sensitive financial information. The service is supported across all major licensed sportsbooks and furthers easy, fast, and flexible payments to and from your betting balance.
Founded in December 1998 in California, PayPal is the oldest and most trusted digital wallet in the world. Upon its initial launch over twenty years ago, the company was branded as Confinity. This was a small enterprise that went on to gain the trust of more than 200 million active customers worldwide, becoming the most used online payment processor ever.
PayPal is currently available in more than 200 countries around the globe, giving customers a choice from 25 currencies and a massive range of languages. The payment platform has won more than twenty awards for excellence over the years and boasts a market cap of over $125 billion. As per statistical data, during the second quarter of 2021, PayPal's net payment volume reached approximately $311 billion.
Although it was not initially geared towards online gambling, PayPal's convenient features were quickly embraced by operators in this sphere as well. It provides online sportsbooks with a simple and safe way to accept deposits from their customers. The method can be used for withdrawing as well. Utilizing it mostly comes with no extra fees for punters.
This guide to PayPal online sportsbooks will help you learn everything you need to know about this payment service. We cover the registration process, fees, security, availability, deposits, and withdrawals with PayPal.
PayPal Products
Over the years, the brand has developed a range of different products, but its e-wallet solution remains the most popular one. Holders of Paypal e-wallet accounts can make use of several additional products, including PayPal Cashback Card, PayPal Prepaid MasterCard, PayPal Credit Card, and PayPal Debit Card, among others.
PayPal has also developed a native mobile app for users of Android and iOS mobile devices, to be able to meet the requirements for mobile responsiveness in the contemporary world. The PayPal app for iOS requires a version that is 11.0 or later, while the minimum system requirement for Android is 5.0.
Registering an Account with PayPal
If you are reading this, you have probably already made up your mind to try PayPal for online betting transactions. To get started, you need to visit the PayPal website and set up an account for the service. PayPal offers two registration options, personal and business accounts.
While personal accounts allow users to shop online in their country and around the globe without sharing their financial details with sellers, business accounts provide convenient opportunities for accepting payments and sending invoices to customers.
As a sports bettor, the personal account is probably the best option for you. It costs no money to sign up. The registration process is relatively hassle-free and quick as you can complete it in less than two minutes. This is how it goes:
You access the PayPal website, pick a region, and initiate the registration of the account type you have chosen, personal in this case. Then you have to enter the required information in the sign-up form, including your name, your permanent address of residence, a valid phone number, and your e-mail.
They will also ask you to choose a password to access your PayPal account with and provide answers to two different security questions. This protects your account from password loss and card fraud.
The payment services platform would then send you a confirmation link to the email address you have provided. Once you activate your account with this link, you will be able to accept payments into your balance.
At this stage, you must link a credit/debit card or a bank account to your PayPal, or else it would be impossible to send money yourself. To add a card of your choice, you will need to enter its number, expiration date, and code. Users should be aware of the fact that the name of the card owner should coincide with the name of the Paypal registered user.
Making a transfer via your bank account or card is done by clicking on the Add Money button, once you are in your digital wallet. When you initiate a sportsbook deposit that exceeds your current PayPal balance, they will deduct the difference from the card or the bank account connected to your PayPal.
You can also validate your phone number with the confirmation code PayPal will send you as a text message. To fully lift the limitations on your account, they might ask you to provide legible copies of some documentation to verify your identity.
There are two ways to link your bank account to your PayPal account. You can do that with the log-in credentials for your online banking or link it manually. In the second case, they will deduct two small payments from your bank account balance for verification. The sum will later be debited back to your bank account. When linking cards, you must confirm your card with a 4-digit code.
PayPal Registration Requirements
Copy of ID/DL
yes
Utility Bill
yes
Link bank account
yes
Link bank card
yes
Depositing with PayPal
Deposits with PayPal are highly time-efficient and simple to conduct. In the following lines, we are going to outline the main steps of the process of depositing to online sportsbooks via PayPal.
The very first thing you need to do is choose a betting site that supports PayPal as a deposit option. Feel free to check out our list of credible sportsbooks. All of them are reliable but each one offers a different betting experience due to variations in the design, the available promotions, sports, and betting markets. After you have made your pick, you should proceed to open a free account with your online sportsbook of choice.
Thankfully, the process is quick. You must enter your chosen username, password, phone number, and email to link to your sports betting account. Make sure you input all the required details correctly since the sportsbook will send confirmation links or codes, either to your email or as a text message.
Once you activate your sportsbook account, you can start depositing through your PayPal. Log into the betting site and look around for a button that reads "Banking", or "Deposit". Click it to open the website's cashier, go through the supported banking solutions, and click on the PayPal logo.
Then, you enter the amount you want to deposit. The sum you transfer should comply with the minimum and maximum deposit restrictions your sportsbook enforces. If you are unsure of these limits, you can always contact the site's customer support team and request some information.
The sportsbook will then redirect you to the PayPal platform where you must log in with your email and PayPal password. This prevents you from exposing any sensitive information to risk while making PayPal payments.
You can transfer funds from your existing PayPal balance, if you have any, or through the method you have linked to your PayPal account, either a card or a bank account.
If for some reason the sportsbook fails to redirect you to the PayPal platform, check whether your browser has any enabled pop-up blockers. Deposits with PayPal are instantaneous and normally free of charge on the betting operators' side. Once punters are done topping up their accounts, they are free to start betting right away.
As far as deposit and withdrawal limits are concerned, they tend to vary from one sportsbook to another. Punters should check the individual limitations of the relevant sportsbook and comply with them. Usually, sportsbooks allow minimum deposits of $10 or the currency equivalent, while withdrawal minimums may start a bit higher, at $20, and maximums may reach $5,000 per transaction.
Depositing with PayPal Summary
Timeframe
Instant
Minimum per transaction
10 or currency equivalent
Maximum per transaction
5,000 or currency equivalent
Fees
Free of charge
Available currencies
AUD, BRL, CAD, CNY, CZK, DKK, EUR, HKD, HUF, ILS, JPY, MYR, MXN, TWD, NZD, NOK, PHP, PLN, GBP, RUB, SGD, SEK, CHF, THB, USD
Withdrawing with PayPal
Since PayPal is a two-way online banking solution, it enables users to initiate withdrawals from their sports betting accounts. The process of withdrawing funds from your betting account is quite straightforward and largely coincides with depositing. We briefly outline the steps you need to follow to initiate withdrawals via PayPal:
Again, you need to navigate to the banking section of your betting site and pick PayPal as your preferred method to cash out.
Specify the sum you want to receive. The cashier platforms of most sportsbooks will display the minimum and maximum limits on withdrawals along with any applicable fees, although in most cases the payments are handled at no extra cost. It makes sense that you need to have enough withdrawable balance in your betting account before you can cash out with PayPal.
Another thing to bear in mind is that certain sportsbooks can lock your withdrawals back to the same banking method you used for deposits. If that is the case, your withdrawal requests will be returned to your PayPal account.
Withdrawals conducted with PayPal require a bit more time but are still rather fast, especially when compared to some of the other banking methods. They are typically handled within 2 business days. This small delay can be attributed to the sportsbooks' verification procedures.
Before a payment can be released from your available betting balance, the sportsbook's financial department must examine and approve the withdrawal request. If this is your first withdrawal from the respective betting site, they most certainly will subject you to identity and age verification.
The process is not as scary or time-consuming as it sounds. They will ask you to upload some documentation like scans of your ID and a recent utility bill. This is a standard procedure at trusted sportsbooks which aims to protect you as a punter. Shortly after the withdrawal has been released from your balance, it will be credited to your PayPal.
Withdrawing with PayPal Summary
Timeframe
2 business days
Minimum per transaction
$20 or currency equivalent
Maximum per transaction
$5,000 or currency equivalent
Fees
Free if there is no currency conversion
Available currencies
AUD, BRL, CAD, CNY, CZK, DKK, EUR, HKD, HUF, ILS, JPY, MYR, MXN, TWD, NZD, NOK, PHP, PLN, GBP, RUB, SGD, SEK, CHF, THB, USD
Fees Related to PayPal Betting
PayPal is a relatively cost-effective method to use for online sports betting purposes. To begin with, they do not charge you for setting up a PayPal account. Since your PayPal can be linked to your bank account, there is no need to fund your PayPal balance to deposit money into your sportsbook.
PayPal can debit the sum directly from your card or bank account when you initiate the deposit. Moving funds from your bank account to your PayPal account comes at no cost on behalf of the payment processor.
If the payment is funded by a credit or a debit card, you will be charged 2.9% of the transferred amount and a flat fee which depends on what currency you use. You will be charged in cases where there is currency conversion.
PayPal features a currency calculator where you can select the two currencies involved in the conversion. The calculator will automatically show you the current exchange rates.
Most online sportsbooks lift the extra charges on PayPal deposits and are glad to cover any additional costs. However, if you choose to cash out with this method, you may have to pay extra for the transaction. Withdrawals are cost-free with many sportsbooks, as long as no currency conversions are involved. Some bookies though may charge up to 2.4% of the transferred amount.
Users of PayPal should also be aware of the fact that there is an inactivity fee amounting to £9 for accounts that have not been used within a period of 12 months. To avoid this fee, customers of the brand should make sure that they simply log in to their accounts on a regular basis, or have made a recent payment, withdrawal, or donation.
Fees Related to PayPal Summary
Initial setup
Free of charge
Maintenance fee
Free of charge
Inactivity fee
£9 inactivity fee for accounts that have not been active in the past 12 months
Deposits to PayPal account
Card deposits – free of charge; Deposits with bank accounts – free if there is no currency conversion
Withdrawals from PayPal account
Withdrawals to card – 2.9% plus fixed fee for domestic transactions; 5% plus domestic fee for international transactions; Withdrawals to bank account – free for domestic transactions; 5% fee for international transactions
Benefits of PayPal Betting
PayPal offers online punters several major benefits, especially when compared to more conventional payment methods like credit or debit cards.
Security
One of the biggest pluses here is that you do not have to reveal any financial information to your betting site. Your financial details are stored solely on PayPal's servers, and the online bookmakers receive only your e-mail address.
Flexibility
Moreover, PayPal ensures high levels of flexibility with your payments. It is usually accepted for both deposits and withdrawals, giving you instant access to your sports betting budget.
Broad availability
Due to its broad availability, you will not experience any issues when transitioning from one PayPal sportsbook to another. You only need to set up an account with the new PayPal bookie and you are good to go. Deposits are instant, which further adds to punters' convenience.
Reputation
Many online punters prefer to use PayPal because of its outstanding reputation. PayPal is a global payment company that adheres to the highest security standards in the financial industry. This payment processor securely handles transactions that amount to billions of dollars every year.
Available in regulated jurisdictions
Another advantage results from the fact PayPal allows for betting-related transactions in jurisdictions that strictly regulate their gambling industries. For punters, this means that if they sign up with a PayPal-friendly sportsbook, they can rest assured they are betting at a licensed website, one that adheres to strict security, fairness, and data protection protocols.
A lot of free services
Many PayPal services, such as opening an account, monthly and annual maintenance are free of charge.
Customer-oriented company
PayPal delivers its customer support in 27 different languages which is yet another factor adding to the overall great performance of the brand.
Mobile compatibility
The platform has been optimized for use on mobile devices. This is yet another advantage because it enables you to deposit or withdraw from your sports betting balance on the fly. Managing your finances from the comfort of your surroundings provides an even greater level of flexibility and ease of use.
Drawbacks of PayPal Betting
Despite offering high levels of security and fluidity, PayPal is not entirely exempt from disadvantages.
Additional account set-up
To start with, you need to go through an additional account set-up to benefit from the full capabilities of this payment platform. Some punters frown at the idea of having to waste additional time to set up a PayPal account. In our opinion, this is nothing to cry about, especially since the registration requires under two minutes to complete.
Additional fees
When using PayPal for sports betting, you may incur some additional fees. All online bookies that are worth their salt cover any extra costs associated with deposits. However, punters might sometimes incur fees for withdrawals on behalf of PayPal. Fees are charged by PayPal for currency conversion as well. Because of this, it is recommended to set up both your PayPal and sportsbook accounts in the same fiat currency, if possible.
Ineligibility for some promotional offers
Some sportsbooks impose limitations on the eligibility of deposit methods when it comes to their promotional offers. PayPal deposits are sometimes part of those methods that do not classify as suitable for bonus retrieval.
Cases of locked accounts
This last thing is more of a nuisance than a drawback. Punters who use PayPal sometimes report their accounts have been locked without notice. Both deposits and withdrawals are impossible when this happens. What is the reason for this?
All transactions that go through the PayPal platform are closely monitored in real time. The platform's algorithms are constantly checking for suspicious activities and behaviors. In some cases, this can be something as harmless as moving a bigger-than-usual sum through the PayPal system or entering your PayPal password several times in a row.
While annoying, account freezes are for your own protection. PayPal will unfreeze your account as soon as it establishes all is good. You might have to contact them and undergo a brief vetting process to confirm you are the rightful account owner. They will unlock your account as soon as you assist them with all the necessary information.
Regulation and Availability of PayPal
Headquartered in California, USA, PayPal is authorized and regulated by the Financial Conduct Authority.
As we mentioned at the beginning of the article, PayPal is one of the oldest online payment systems in the world, and as such, it reaches customers from all four corners of the earth. The platform is available for use in more than 200 countries worldwide.
However, it does not allow for gambling-related transactions from some locations, including the larger part of the United States and other jurisdictions where online betting is expressly restricted by local laws.
The platform does business with approved and licensed sports betting operators only, in places where such activities are legal and regulated. To become approved, the operators are expected to demonstrate to PayPal's satisfaction they can effectively block gambling transactions from jurisdictions where said activities are considered illegal.
The US Supreme Court lifted the countrywide ban on sports betting in May 2018, which brought legal, licensed sportsbooks to the territory of states like New Jersey, Indiana, and Pennsylvania. Punters based there can use PayPal to bet on sports as long as they sign up with a locally licensed bookmaker.
Other locations where PayPal is available for betting purposes include Belgium, Germany, Portugal, the United Kingdom, Finland, Greece, Ireland, Italy, Sweden, Denmark, Austria, France, and Spain. In these jurisdictions, sports betting is regulated under local laws. The brand has not still expanded its services to countries such as Afghanistan, Cuba, and Turkey. PayPal may further extend its reach to other locations in the future if there are any changes in their national gambling regulatory frameworks.
PayPal Security
PayPal has over twenty years of experience in providing reliable and secure payments over the Internet. First and foremost, it does not require punters to expose bank account or card information when initiating payments via its platform. This alone is a major plus where safety is concerned.
Another level of security is added by the fact PayPal does not share your full banking information with sellers, or in this case, with the sportsbooks you punt at. The platform operates in full compliance with the PCI-DSS standards for data protection.
Additionally, all transactions that go through the PayPal system are strictly monitored around the clock. If they detect any suspicious activities, they will not hesitate to restrict or entirely lock your account until the issue is settled.
The payment platform also takes several other technical measures to protect its customers. All information that goes to and from punters' PayPal accounts is encoded with sophisticated SSL encryptions, which makes it illegible for hackers.
Every time you make a deposit or receive a withdrawal to your PayPal, the platform sends you an email to authenticate the transaction. You can further protect your account with the PayPal Security Key.
This is a unique code they send you via a text message. You need to use it in combination with your email and password to access your account. The code is different for each log-in. They also offer Buyers Protection but it does not cover gambling transactions like sports betting.
PayPal Security Summary
SSL
yes
Two-factor authentication
yes
Face ID
yes
Touch ID
yes
App/SMS Notifications
yes
PayPal Reviews from Around the Web
Since e-wallets offer a convenient way to make online payments or handle your money, they have been widely accepted by various online merchants. Payments carried out via e-wallets have also become common among online bettors, with many of them enjoying the convenience of handling their money via digital wallets. Among the various e-wallets supported by betting sites, PayPal is commonly accepted by trustworthy and licensed sportsbooks.
To make sure that PayPal can also be of use for your betting payments, you can check the numerous reviews on the e-wallet you can come across online. Many sportsbook experts have covered PayPal as a payment option for betting, exploring all of its advantages and disadvantages.
PayPal has also been reviewed by Trustpilot users who have provided their unbiased opinion on the e-wallet service. Based on 992 customer reviews, the payment solution has received an average score of 1.6 out of 5 stars.
Negative PayPal Reviews
If we take into consideration the reviews left on Trustpilot's platform, we can say that most users had a bad experience with the payment service. Out of all reviews on PayPal, only 9% gave the method an Excellent rating. Meanwhile, 2% rated it as Great, 3% as Average, and 4% as Poor. The majority of reviewers left negative comments, with 82% rating PayPal as Bad. The average score of the service, based on these ratings, is Bad.
Some of the negative reviews were given by customers who had their accounts restricted, not being able to withdraw their money before their profiles are reactivated. There were also complaints about PayPal's customer support, with some users being unable to receive proper assistance with their issues. Many individuals have also found the PayPal payment system to be too complicated, making payments less convenient.
Positive PayPal Reviews
Despite receiving many negative reviews, PayPal has also been praised by some users who have left reviews at Trustpilot. Some customers find PayPal payments to be very convenient as they allow them to protect their money by avoiding the step of providing card or banking information when initiating a payment. What is more, some individuals ensured that even when they had some issues with merchants, they were refunded thanks to the service of PayPal.
Some customers enjoyed the buyer's protection feature which applies to a number of items one could purchase online. Many appreciated PayPal's help whenever they had disputes with merchants and were able to get refunds thanks to the company's support.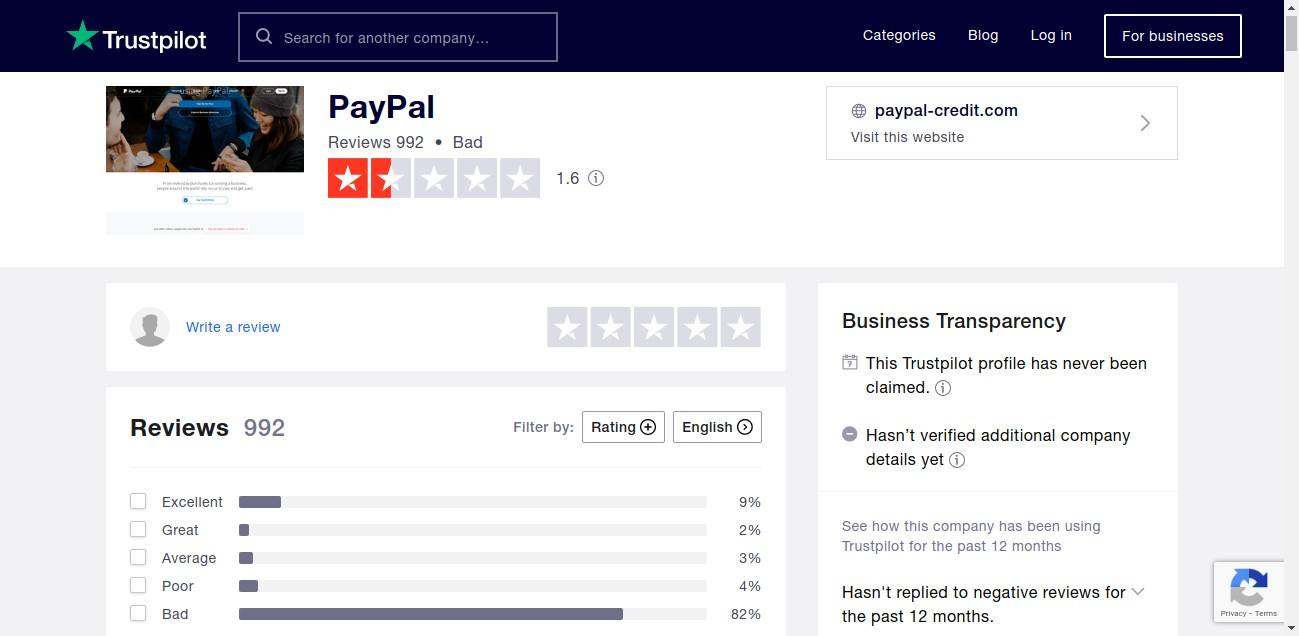 Trustpilot Rating of Paypal
Excellent
9%
Great
2%
Average
3%
Poor
4%
Bad
82%
Customer Support
PayPal provides various customer support channels at the disposal of its users. First of all, PayPal account holders are able to research the Help Center, containing information on a variety of issues. There is an extensive range of instructions regarding passwords and access, payments, account profiles and setup, disputes and account limitations, etc.
Other available options include the PayPal Community Forums and the Resolution Center.
Alternatively, customers may opt for calling the support agents over the telephone (1-888-221-1161) or via the Live Chat functionality.
Conclusion
PayPal has established itself as one of the most reliable banking solutions for sports betting, offering those who implement it exceptionally high levels of safety, convenience, and flexibility. It is the preferred method of payment of many punters who insist on quick and easy deposits/withdrawals.
PayPal is accepted by licensed and properly regulated sportsbooks. Seeing its logo in the cashier of your betting site is a good sign, even if you have no intention of using it for your payments. It offers full compatibility across devices, allowing sports bettors to punt on the fly via their smartphones and tablets.