When you first hear about sports betting, you may think of traditional sports like soccer/football, tennis, basketball, rugby, and many major sporting events with fans around the world. While such an assumption is not wrong, in recent years, there has been a niche that has also earned its spot among sports you can bet on. As eSports gained massive popularity among people around the globe, punters also became interested in betting money on major eSports events.
If you are not familiar with eSports and how you can bet on them, you can take a look at our guide. We will provide information on the basics of eSports betting, the different features you can enjoy, and how you can have fun and possibly win money while betting on eSports.
The term eSports is used to define the competitive gaming of video games by professional players. With video games accumulating massive popularity in the last several years, there are huge tournaments where professional players compete against each other. These events are also covered by numerous huge bookmakers, with punters having the chance to shop for lines and pick the eSports teams or even players to bet on.
Although the betting options for eSports are not as many as the ones traditional sports can offer, there are still enough features to make use of. What is more, as eSports grow as one of the mainstream markets you can find at online sportsbooks, the options you can bet on also grow in number.
One thing is for certain – eSports and professional players should not be underestimated. If you are interested in the games and the teams that compete in eSports tournaments, good research can lead to a very fruitful eSports betting. Finding a proper virtual sportsbook that offers the best eSports odds is also a lot easier in the past few years. This is why you can enjoy a fun betting experience anytime you decide to and even improve your potential wins by utilizing sportsbook promotions.
Types of Esports Bets
If you enjoy keeping track of eSport tournaments, you will have different ways to bet on your favorite games and teams. You can make the most basic bet and predict the winners of a Dota 2 tournament or you can bet on the result in a CS:GO match. Some of the most popular betting options can be found in most major online sportsbooks that offer the best odds and the most generous types of incentives.
Moneyline Bet
One of the most common betting options that can be found at any proper interactive bookie is betting on the winner of an eSport tournament. You will be able to pick the team you believe will win a tournament and place your wager on it. Although it may be difficult to predict the winner of an entire tournament, proper research may give you an idea about the favorites that are considered the potential winners of a certain tournament.
Another similar bet is picking a match-winner, which is the simplest betting option that you can find at any sportsbook. The moneyline is one of the easiest bets that can be made on any sport, including eSports. If you are new to betting, you can start by making an outright bet on the winner of a match. By looking at the odds for each team, you can easily spot the favorite and place your money on them if you also believe they have good chances to finish as winners.
Sometimes two teams may have very similar odds as they both have the same chances of winning. In such cases, bettors are required to make a thorough research of the teams, take a look at statistics and choose their favorite team, based on the knowledge they have gathered.
As an example of a Moneyline bet, we can take a look at the CS:GO match between Endpoint and Galaxy Racer.
Endpoint 1.83
Galaxy Racer 2.38
You will simply need to pick your favorite team, click on the odds and the wager will be added to your bet slip. You will end up winning if you have selected the right winner of the match.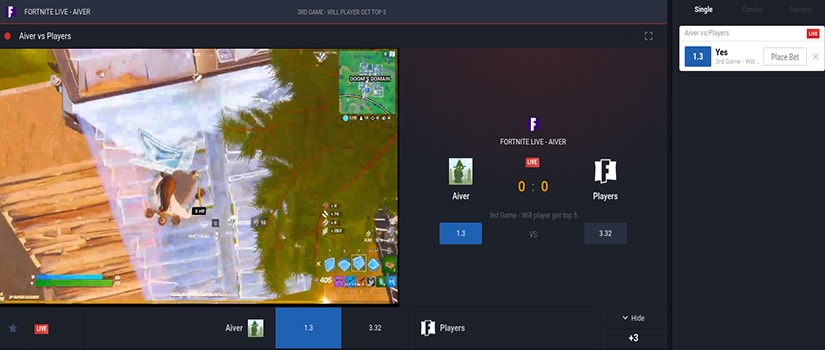 Point Spread Betting and Handicap
When you opt for betting on the point spread in eSports, you will be able to choose between two options – Match and Map. Whenever you choose to bet on Match, the spread considers the number of maps that will be won. Meanwhile, the spread on Map is related to the number of kills that will be done by each team on a specific map. While the two types of spread betting are very similar, some games may allow different options to bet on.
Bettors who make a point spread bet, place their money on the possibility of one team winning and going over a set number of kills/maps. The option is to bet on the other team winning or losing with not more than the set number of kills/maps.
If we take a look at the CS:GO match between FATE and Apeks, we may see odds that look like this:
In this case, FATE is the favorite as it is given the handicap by offering negative odds. This is done to even out the leverage and if you decide to bet on the FATE team, they will need to win the match by at least 3 maps. Meanwhile, if you decide to bet on Apeks, they need to win the match outright or they need to lose by less than 2.5 maps.
Over/Under Betting
Also known as betting on totals, this betting option will allow punters to place money on the total number of maps that will be played or the total number of kills that will be done on a specific map. The number of the totals is set up by the sportsbook where you decide to bet. It is up to you to decide whether the total number of kills/maps will go Over or Under the set number. Keep in mind that the number concerns both of the teams that will participate in the match.
If we take for an example the previous match between FATE and Apeks, we may see odds for the Map 1 Total Rounds such as:
In this case, an Over bet would mean that you are placing your money on the possibility of all kills on Map 1 to be more than 26.5. Meanwhile, going for the Under option means that you believe the kills of both teams will not exceed 26.5.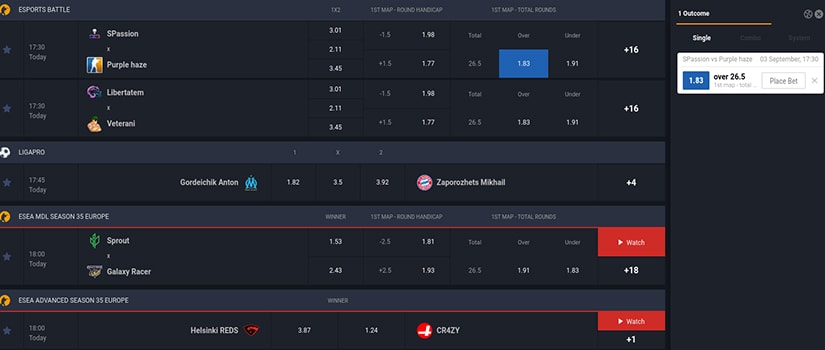 Odd/Even
You may also come across Odd/Even bets at some sportsbooks. They will allow you to place a bet on the number of rounds won, players killed, or the overall number of played rounds. You can pick whether that number is going to be odd or even. This is definitely a tricky bet and it is most suitable for punters who are just looking for some extra thrill and rely purely on their luck.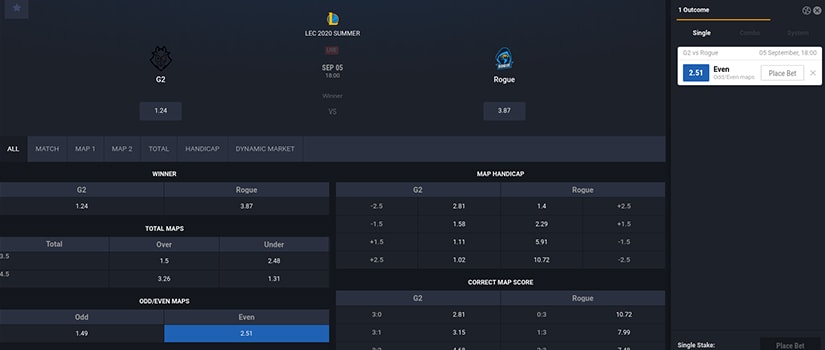 First Map
Depending on the game you are betting on, you can also place your money on some special betting options that are specific only for certain games. One such option is First Map that can be found when placing wagers on first-person shooters like Counter-Strike: Global Offensive. Instead of betting on the overall winner, you can opt for an in-play bet and place your money on the team you believe will win the first map of the match.
If you are a fan of the game, then you might know that a certain team has a big chance of winning the first map of a match. This will be a perfect opportunity for you to make a First Map bet and enjoy a fun betting experience.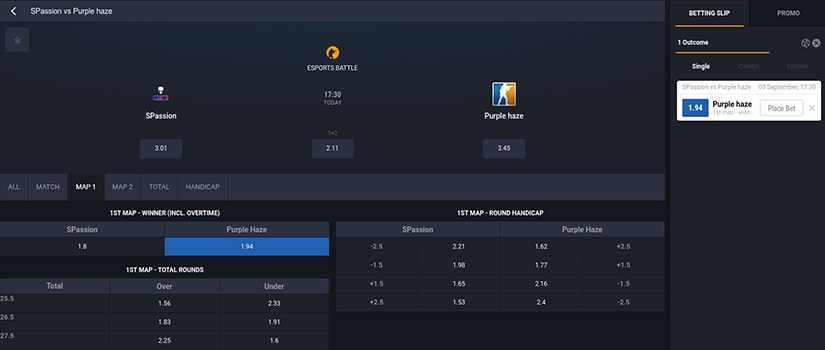 First Blood
Another special bet is First Blood which always applies to a specific map of a match. As the name of the wager hints, you will be placing your money on the team you believe will score the first kill. As live streaming has become immensely popular, you can watch a few streams of the teams in advance and do more thorough research about the upcoming match. This will give you a better idea on which team is more likely to win you the First Blood bet.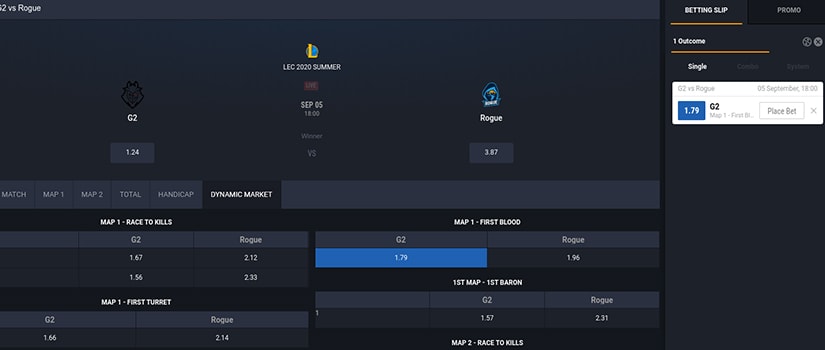 Race to Kills (1st to 5 Kills)
Just like the previous bet, this wagering option also applies only to a specific map of the match. It will allow you to bet on the team you believe will score the first 5 kills on the particular map. This is yet another wager that may require better knowledge of the teams that are competing and you can benefit from more thorough research on the players' skills.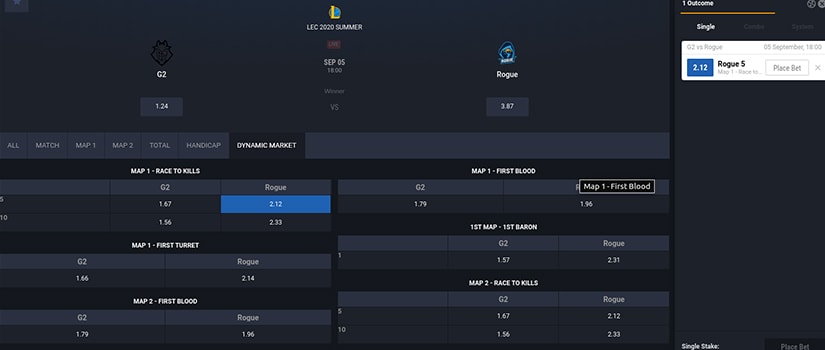 Most Kills
This type of bet can be found when you are betting on MOBA (multiplayer online battle arena) games. These include League of Legends or Dota 2, where the winning team is not necessarily the one with the biggest number of kills. This is why the Most Kills betting option is very interesting as it allows you to bet on the team you believe will do better in scoring more skills, rather than betting on the team that will win the match.
While you are not required to know much about the teams, having a good idea about the characters used in the game as well as the way the game itself is played, may help tremendously.
Top Player/ MVP
Some sportsbooks may allow their members to bet on a particular player. This type of betting may be a bit more difficult as you will have to pick from a list of players. While it is much easier to pick between two teams, it may be hard to select the top player of a match or a tournament. This being said, several individuals are referred to as the top players in the world and you have pretty good chances of winning if you are placing your money on them. If you are well aware of the individual skills of the players, you might have the upper hand but it is still a difficult choice to make. Nevertheless, betting on an MVP is a fun eSports betting option that you can find at some sportsbooks.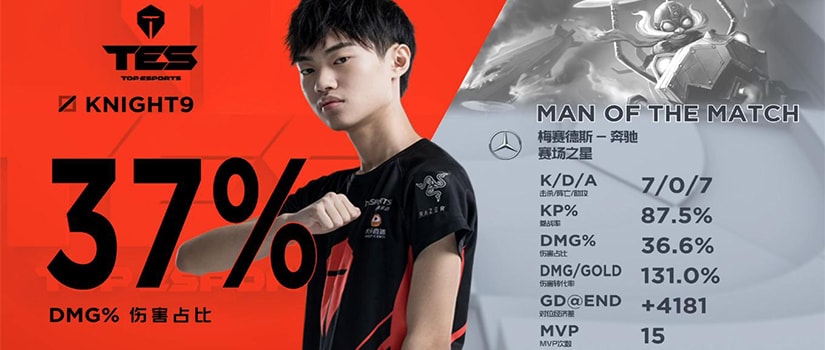 Accumulator Bets
Accumulators, also known as parlay bets, allow punters to combine several betting options into one bet. This means that you can place your money on various eSports events at the same time or combine different bets on a particular match or tournament.
In order for an accumulator bet to be successful, you must win all of its legs, i.e., the wagers that comprise the parlay bet. Even if one of the legs ends up unsuccessful, you will lose the entire accumulator bet. While this is a risky betting option, it can be also very rewarding if you end up with a successful accumulator bet.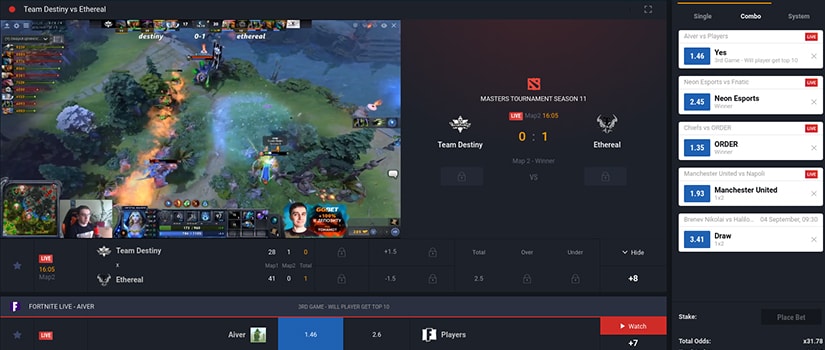 In-Play Betting
We cannot miss mentioning in-play or live betting when we list the eSports betting options you can find online. This is one of the most thrilling ways to bet on your favorite games and the teams that participate in different eSports tournaments.
Many virtual sportsbooks allow their patrons to place simple moneyline bets on CS:GO, Dota 2, LOL, and Overwatch tournaments. Thanks to in-play betting options, you will have the opportunity to make these bets in real time, as the tournaments are being played. What is more, some sportsbooks may even live stream the event which will give bettros a better idea of the course of each match.
Popular Esports Tournaments to Bet on
Dota 2 The International
Counter-Strike: GO Major Championships
League of Legends World Championship
Overwatch World Cup
If you are interested in betting on eSports, then you should know that there are a few major eSports tournaments that are covered by the majority of reputable sportsbooks. As there are only a few games that are popular among eSports bettors, the tournaments you can bet on are not that many. This being said, the biggest events in this field are often covered by most major bookies.
Dota 2 The International
As Dota 2 is one of the most popular games among eSports fans, it is also one of the top betting markets at many sportsbooks. The International tournaments for Dota 2 are among the most common betting options that you can find online and bet on. Many consider The International as one of the biggest events in the eSports field and this is far from being an overstatement. This is why it is easily found at the betting sections of many sportsbooks where punters can make different bets on the matches played in the tournament.
Bettors usually have the chance to make wagers on all The International stages that include Open Qualifiers, Main Qualifiers, Group Stage, and Main Event. The International features 16 of the top Dota 2 teams in the world and it offers a massive prize pool each year. This is understandable as Dota 2 is one of the most popular eSports and earns sponsors, including sportsbooks, a massive profit.
Counter-Strike: Global Offensive Major Championships
Another very popular eSports game is Counter-Strike: Global Offensive, or CS:GO for short. It is also one of the markets that enjoys the most coverage by sportsbooks and punters all over the world enjoy betting on CS:GO matches.
Due to the popularity of the game, you can also find the CS:GO Major Championships events covered by numerous bookies. The top-tier tournament is held twice a year and punters can make bets on all stages of the event. Those include The New Challengers Stage, The New Legends Stage, The New Champions Stage, and CS:GO Majors.
League of Legends World Championship
The next game that ranks as one of the tops among gamers around the world is League of Legends, or LoL for short. While Dota 2 is a major eSport, played by numerous professional gamers, LoL enjoys a massive popularity among numerous recreational players. This is why it is also a popular betting option among punters all over the world.
While LoL events cannot compare to the massive scale of Dota 2 tournaments, are still pretty big LoL competitions to bet on online. One of the biggest events that is covered by many virtual sportsbooks is the League of Legends World Championship. The first LoL Worlds event is what many consider to have sparked the massive popularity of the eSports industry.
Each year, 24 of the top LoL teams around the world compete for the grand prize of the World Championship and the Summoner's Cup. The stages of the championship you can bet on include LoL Worlds Qualifications, Play-In Stage, Group Stage, and Playoffs.
Overwatch World Cup
As Overwatch gained massive popularity in the past few years, it has also become one of the eSports covered by many sportsbooks. This is why Overwatch events have also made their way to the list of popular eSports tournaments that bookies allow you to bet on. You can place your bets on the matches played at Overwatch League and also support your favorite teams who will qualify for the Overwatch World Cup.
While the first Overwatch World Cup had 16 teams competing for the grand prize, each year that number was lower. In the 2019 Overwatch World Cup, a total of 10 teams were playing for the first place, with the US team winning the grand prize. Like in many other eSports, South Korean players are among the top performers in Overwatch tournaments. Currently, they have won the most titles in the history of Overwatch World Cup and it is pretty interesting to follow the future events after they have lost to the US in the last big tournament.
How to Bet on Esports Online
Odds
Statistics
Bet Types
Strategy
If you have been a fan of eSports for a while but you have no experience in betting on eSports, you do not have any reason to worry. The majority of big sportsbooks cover the most popular eSports events and will provide the best odds for each match. What is more, placing a bet is extremely easy and you can become an expert in online betting in no time.
One of the most important things to remember when betting online on an eSports game, is to find a proper sportsbook. This means that you need to make sure that the bookmaker is offering the best odds and you are guaranteed a safe and fair betting environment. A good sportsbook should be properly regulated and licensed in order to offer its members eSports and other forms of betting. In addition to that, you should be able to choose from several secure and convenient payment options that will allow you to make real-money bets with ease. To make your betting adventure even more exciting, many sportsbooks offer generous offers that can help you stack up wins easier.
Once you have done your research, you can register at the sportsbook of your choice. If you wish to be able to line shop, you can open an account at a few sportsbooks and bet at the one that offers the best odds for the events you are interested in. The registration at a virtual sportsbook is usually a simple and fast process and you can quickly start your betting journey.
When you have created your account, you will need to top up your sportsbook balance. Often, your first deposit may qualify you for a generous Welcome Bonus that you can use for your first eSports betting. After you have a sufficient amount in your betting account, you can check the odds for the event you are interested in. Click on the team you would like to support and your bet will be automatically added to your bet slip that you can personalise. Once you confirm your bet, you can sit back and relax while waiting for the results.
Esports Betting Strategy
There are certain steps you are recommended to take when you start betting online on eSports events. Meanwhile, you should also avoid some mistakes that may cost you losses that can otherwise be prevented. As mentioned above, one of the most important things about betting online is choosing the right bookmaker that will allow you to fully enjoy your eSports betting.
Setting Up a Budget
Depending on your budget, you should take into account whether you can afford riskier bets or you will enjoy the best long-term outcome if you stick to smaller bets. This will allow you to enjoy your eSports betting instead of constantly worrying about your budget. There are several systems you can look up online and determine which one will fit your betting style the best. Whichever staking method you choose, keep in mind that you should never chase losses. If you have reached the limit you have predetermined for your eSports betting, you should stick to your bankroll and refrain from betting more than you can afford.
Do Your Research
To improve your success chances, it is best to do your research before placing a bet. While it may be fun to support your favorite teams, you should make decisions free of any bias. If you know that a certain team has the biggest chance of winning a match or a tournament, you are advised to place your money on them, even if they are not your favorites.
Make Use of Promotions
Keep an eye out for the promotions that virtual sportsbooks offer their members. A good offer may significantly help you enjoy better results when betting on eSports events. It should be noted, however, that you must be careful when redeeming a promotion as some offers may be deceiving. Make sure that you can meet the terms and conditions that apply to the promotion and it will be beneficial for your betting to redeem the offer. If that is not the case, however, you will be better off without the sportsbook's incentives.