Online gambling and sports betting, in particular, have remained a vexed question for quite some time in various territories worldwide, including Germany. Apparently, the legislation of the country, which has to do with the legal status of online gambling has been in mild chaos for quite a while because of the absence of that austere regulations.
Although Germany has a fertile ground for wagering on sports over the Internet, the authorities have found it a bit hard to come up with proper regulations as some of the limitations they have imposed have eventually turned out to infringe the legislation of the European Union.
Despite the fact that online gambling is in something of the sort of a limbo at the moment, gambling enthusiasts are presented with a decent variety of online bookies. That way, gambling aficionados who live in Germany and who would like to engage in online sports betting can have a great time while doing so.
Legalities of Online Sports Betting in Germany
Overview
History
Legalization
Software
Historical Betting Overview
As long as you are intent on partaking in online sports betting, it might be a good idea to get familiar not only with the legislation of the country but also with the changes it has seen so that you could get a clearer idea of the current state of affairs.
The reason why gamblers might find it a bit challenging to figure out how the German market works at the moment is that it has seen much turbulence throughout the past few years. Interestingly enough, gambling has quite a long history in the country as the very first land-based casino in Germany opened its doors back in 1765.
It turns out that up until 2008, the enforced regulations, which have to do with the gambling environment were thin on the ground. This rings true, especially when it comes to online gambling due to the fact that this form of making real-money wagers was not touched upon.
Since that time, many changes were brought about, and some of the most momentous took place with the introduction of the Interstate Treaty on Gambling back in 2012. According to it, online casinos are banned, while the licenses of sportsbooks are limited. Of course, the attempts of the state to impose a monopoly were met with great opposition by sports bettors and bookies alike.
What You Need to Know About Sports Betting in Germany
Germany's history with gambling has been the antithesis of what someone would call smooth sailing, at least in terms of what was deemed legal and what was not. Should you want to pursue gambling as a hobby in Germany, the most crucial piece of information to take note of as a potential player today is that regulations generally operate on a state level, and you must thus familiarise yourself with the restriction in your respective area of residence. We should point out, however, that despite this peculiar situation, Germans have always had a decent selection of online venues to choose from and that has not changed.
Speaking of venues, another piece of information that is important pertains to bonuses. Namely, how the ones offered by betting venues all over the world often tend to have strict wagering and rollover requirements, and operators that provide their services to German residents are no exception. This is why it is crucial to read the terms of conditions sections that concern the website's bonuses if you would like to know whether or not you are eligible for an offer, or what not to do in order to remain qualified for the bonuses.
Odds Format in Germany
Decimal Odds
Fractional Odds
American Odds
Calculations
Gambling enthusiasts who are about to embark on their sports betting adventures should not only focus their attention on finding a proper virtual sportsbook as they should also make sure that they are familiar with the inner workings. One of the things punters should be at home with are the formats, in which odds are posted. The reason why gamblers should figure out how the different formats function is that this will help them estimate the profit they can potentially get if their bet is a winning one.
When making their wagers over the Internet, gambling enthusiasts are likely to stumble upon bookies, which support all the three main odds formats, which include decimal, fractional, and American odds.
The odds format, which is highly popular in most European countries, including Germany, is the decimal one. As likely as not, the straightforwardness of this format is what makes it so preferred by sports bettors from Germany. Calculating the profit punters might potentially get is a breeze as the value of the odds indicates the potential profit of gamblers for every $1 they wager. Thus, when punters see odds of 3.00 for example, this will mean that they will get back $3 in return for every $1 they put on the line.
Although the fractional format is popular with gambling enthusiasts who are based in the UK and Ireland in the main, there are also German-friendly sportsbooks that support it. As one can guess by the name, this odds format is represented by fractions, which may make the calculation of your potential profit a bit rocky. If the odds punters are presented with are 6/1, for example, this will mean that they will scoop $6 for every $1 they bet.
The other way, in which odds can be posted is using the American or moneyline format. The strange thing about this way of displaying the odds is that the odds of the favorite have a negative sign before them, while the odds of the supposed loser are preceded by a positive sign. The negative sign indicates the amount punters need to venture in order to earn $100, while the positive one shows the amount one will get for every $100 staked.
Germany Betting Laws and Legislation
When speaking of the betting laws and legislation of Germany, one of the first things we should clear up is that the country has far-reaching legislation when gambling is concerned. Still, what makes the situation so controversial is that sometimes, the states have a different approach towards it.
The first Interstate Treaty on Gambling took into effect back in 2008, but a few years later, it was revoked by the European Supreme Court as there were certain inconsistencies with the legislation of the EU.
One of the greatest changes the legislation of the country saw was back in 2012 when the improved version of the Interstate Treaty on Gambling was put into effect. The main purposes of the treaty were to set up the elements and main objectives of the regulations, which have to do with the different forms of gambling. Interestingly enough, it was adopted by all states, but Schleswig-Holstein.
Speaking of Schleswig-Holstein, it assumed a slightly different approach as it came up with a Gambling Act of its own back at the end of January 2012. According to it, 25 sportsbooks, along with 23 casinos were given legal permission to provide their services.
Another crucial shift took place back in 2013 when the members of the 18 Bundestag were elected. The circumstances called for Schleswig-Holstein to join the Interstate Treaty, which entailed the repeal of the Gambling Act the state has already come up with.
An important detail about the Gambling Act is that the gambling operators who have achieved licensure back then were permitted to operate until their seals of approval expire. The parliament of Schleswig-Holstein attempted to deal with this predicament by passing a law in May 2019, according to which the licenses of the operators are revalidated.
There is also a Third Amendment Treaty that lifts any limitations, which have to do with the number of licenses. It is expected to solve the dilemma, which pertains to sports betting, but whether it will work effectively is yet to be seen.
What turns out to be an issue is that the treaty does not define online gambling. For that reason, any games of chance, which are advertised and operated across the web can be referred to as online gambling.
Regardless of the obstacles, lovers of sports betting from Germany have found a way to bypass them, thus being able to gamble on the sports they relish to their heart's content when and where they prefer.
Germany Betting Restrictions
As one might guess, the adoption of these treaties goes hand in hand with various restrictions as for the forms of gambling punters can enjoy. As mentioned above, the very first Interstate Treaty on Gambling was enacted back in 2008, and it stipulated that all forms of online gambling are prohibited. So as to ensure that Germans will comply with the regulations, the government made it illegal for Internet suppliers and banks to partner with gambling operators. Stiff penalties were imposed on those who were found to infringe the law. The intervention of the EU alleviated the imposed restrictions, thus disallowing the full ban on online gambling.
Things improved after a few amendments were introduced to the Interstate Treaty, and it took effect in its new form in 2012. According to the revised version of the treaty, punters were allowed to take part in online sports betting and to wager on lotteries, while the ban on the majority of the other forms of gambling was not lifted.
As it was already mentioned, all states got along with the revised version of the treaty save for Schleswig-Holstein. This was the only state to shift gears by issuing licenses to more than 20 bookies and numerous casinos. An important detail is that the seals of approval of these operators were said to expire within 6 years. Although Schleswig-Holstein revoked the Gambling Act it has adopted, the operators, which have already got licensure were permitted to keep on providing their services.
Online Betting Regulatory Body in Germany
When trying to figure out how matters stand with gambling in Germany, it is only natural that punters will ask themselves which are the regulatory bodies that are in charge of the supervision of gambling.
An important thing punters should have in mind is that each state is allowed to come up with its own set of laws and regulations, thus determining its gambling environment. In other words, the regulation of the market will be executed at a state level and will be determined by the laws in the state they are based in.
In the majority of the cases, the Senate of the Interiors or Ministers is the one that holds the key responsibilities for all gambling-related matters. There are also local authorities and state-based regulators that play a key role in the control of gambling-related activities. While some regulatory authorities are accountable for issuing TV and online advertising permits for sports betting, others are responsible for the implementation of payment blocking measures.
The Gambling Committee of the Interstate Treaty also plays a key role in the decision-making. That being said, its role was brought into question a couple of times.
Popular Betting Markets in Germany
Football
Horse Racing
Boxing
Ice Hockey
Germans are very vocal and passionate sports fans, and that is a fact no one can deny. This, of course, contributes to the popularity of sports betting in the country, and it is why sportsbooks entertain a large number of German players.
No one can deny just how much Europeans adore football, and Germany is no exception. The sport is extremely popular there through and through and the country is home to many leagues such as the Bundesliga and Oberliga. This is why pretty much all reputable betting venues provide a generous catalogue of football leagues and markets to choose from. Punters can try their luck on a variety of bets such as both teams to score, match outcome and many more.
Horse racing also receives a lot of love from German punters, seeing as the country does have a history of appreciation for the sport, being home to some of the greatest racecourses in Europe. The country hosts the annual Deutsches Derby which is held in Hamburg, and bettors do not pass up on the opportunity to be part of this event by wagering on markets such as match-winner, place markets and so forth.
Ice hockey is yet another greatly appreciated sport that enjoys a lot of attention on bookies. Germans have fun placing stakes on events organised by the Deutsche Eishockey Liga, as well as international events, NHL markets and bet types such as money line, first/last/next goalscorer, total match goals are all pretty popular.
Germany is well known for its cars and vehicles, so it should not come as a surprise that the country is full of people who are passionate about sports that involve these powerful machines. German punters, of course, also enjoy motorsports which is why you will often find them wagering on bet variations such as the race winner, podium finish, head-to-head betting and other popular markets.
Popular Betting Markets in Germany Summary
Sport
leagues
Football
Bundesliga, Oberliga, Landesliga
Horse-racing
Deutsches Derby
Ice-hockey
Oberliga (ice hockey), Deutsche Eishockey Liga
Motorsports
Deutsche Tourenwagen Masters
Germany Online Betting Bonuses
Promotions
Match Bonus
Free Bets
Enhanced Odds
One of the greatest perks of wagering on sports over the Internet is that bookies will go out of their way to court German punters. Operators are certainly aware that one of the working formulas of keeping its users satisfied and to ensure that they will continue to return to the online bookie is to lavish upon them various prizes. That way, gambling aficionados are likely to enjoy their online gambling adventures much more, and potentially, to enjoy a more fruitful betting session.
In the majority of the cases, the lucrative bonus structure of bookies begins with a sign-up offer, which is granted as soon as punters establish an account with the operator. Such special offers might come in the form of a deposit match, which means that gamblers need to upload a specific amount to their balance so as to qualify for the bonus.
Another special deal, which is exceptionally popular with gamblers from Germany is the risk-free bet as thanks to it, punters will get their stake back or a certain portion of it either as bonus funds or as a free bet, provided that their selection has ended up as a losing one.
While wagering on sports, punters might also be presented with cashback and reload bonuses, which might turn out to be quite advantageous as well. As for the cashback bonuses, they are a specific predetermined percentage of gamblers' losses, while the reload bonuses are offered when punters load their accounts with cash.
Sports bettors who visit their bookie of choice with regularity should also inquire whether it has a loyalty program as there might be even more irresistible perks coming their way.
Although the exclusive deals gambling operators have in store pose as a great way to lure punters in, they should always go over the fine print with a fine-tooth comb to ensure that they will enjoy a smooth betting session. Gambling aficionados should be constantly on the alert for restrictions, which have to do with the payment methods they can use, with the minimum amount they need to upload to their account or the cashout limits they need to abide by.
Mobile Betting in Germany
Mobile Play
Download App
Browser In-Play
Download via QR
Not only will German punters have the chance to make real-money bets on the sports they are fond of, but they will be able to do this when and where they prefer. The majority of the betting sites give punters the chance to lay their wagers without any hassle even when they are using their tablet or smartphone, thus paving the way for a fun-filled betting session.
While some web-based bookies have native apps for gambling enthusiasts to download, others have ensured seamless access to the service they boast through an in-browser app. So as to make sure that your German-friendly bookie of choice passes muster, you should check out how its mobile version looks and feels, and whether it is easy to interact with it. The interface of the mobile bookie is certainly of paramount importance as it will have a say in the way punters will get around with the gambling website.
The decent mobile sportsbooks are instantly recognizable as they allow punters to handle their wagers without any hassle and to make use of all betting features, which are available through their desktop version. Another thing, which gambling enthusiasts should be on the alert for is whether there are any analysis tools as they can be instrumental in snatching some nice payouts. While looking for a proper mobile sportsbook, German punters should also check out whether the gambling operator offers live streaming and live betting as these features can also make their gambling adventures more thrilling and lucrative.
Popular Betting Banking Methods in Germany
Bank Transfer
Credit Cards
E-Wallet
Prepaid Cards
One of the features, which make the good German betting sites instantly recognizable is the profusion of payment methods they have on offer. When wagering on sports over the Internet, gambling aficionados strive to ensure that their funds will remain in safe hands and that they will be able to conduct their deposits and withdrawals on the nail.
Credit and debit cards remain a fan-favorite banking solution for gambling aficionados from Germany because of their quickness and simplicity. Punters who are reluctant to experience any delays when depositing might be comfortable with using their Mastercard or Visa debit/credit card as that way, they will have their funds added to their balance on the spot.
Digital wallets have also gained popularity with German sports bettors as they are user-friendly and support deposits and withdrawals at that. Their promptness, especially when cashouts are concerned, renders them a perfect fit for punters. More often than not, sports bettors will see Neteller, PayPal, and Skrill on the list of the accepted payment processors by bookies.
Bookies, which value their user base might also have on offer banking solutions the likes of Giropay, Klarna, and Sofort Banking, among others, which cater exclusively to the needs of punters from Germany. Gambling enthusiasts who do not feel like exposing their sensitive data might enjoy the idea to handle their deposits via paysafecard. Deposits via the e-voucher are instantaneous at that, which might make it a great way of payment for lovers of sports betting.
Finally, gamblers can always rely on bank transfers, but they should take into account the fact that such transactions are a bit more time-consuming and sometimes, they might incur larger fees.
Popular Banking Methods in Germany
Payment Method
Fees
Deposit Limits
Deposit Times
Withdrawal Limits
Withdrawal Times
Maestro Debit Card
Free
€5 – €40,000
Instant
€5 – €30,000
1- 5 days
VISA Debit Card
Free
€5 – €40,000
Instant
€5 – €30,000
1- 5 days
Mastercard Debit card
Free
€5 – €40,000
Instant
€5 – €30,000
1- 5 days
PayPal
Free
€15 – €8,000
Instant
€15 – €8,000
Within 24 hours
Paysafecard
Free
€5 – €1,000
Instant
€5 – €2,500
Within 24 hours
Skrill
Free
€5 – €35,000
Instant
€5 – €35,000
Within 24 hours
Skrill 1-Tap
Free
€5 – €10,000
Instant
N/A
N/A
Neteller
Free
€15.00 – €37,500
Instant
€15.00 – €37,500
Within 12 hours
Bank Wire
Free
€100 – €150,000
2-10 days
€10 – €50,000
2-10 days
Cheque
Free
€150 – €70,000
5-28 days
€150 – €70,000
5-28 days
Ecopayz
Free
€5 – €20,000
Instant
€5 – €20,000
Within 12 hours
Giropay
Free
€5 – €2,000
Instant
N/A
N/A
Klarna
Free
€15.00 – €8,000
Instant
N/A
N/A
What to Watch When Picking Germany Betting Site
Security
Customer Support
Mobile Compatibility
In-Play Betting
German punters have a good variety of gambling sportsbooks and casinos to choose from, and there are a few things they should be on the lookout for when searching for the perfect betting site. First, it is important to look into the types of bets offered by the website in question and whether a variation you are fond of is available. Live betting, in particular, is widely desired, as it can prove to be very entertaining.
Another thing to pay close attention to is what types of bonuses the venue offers to its customers. Welcome bonuses are a good indication that the website is eager to attract new bettors but do not forget to see what is available to users who frequent the venue as well. Longevity is an important factor when choosing a casino and if regular clients have access to promotions such as weekly bonuses or a loyalty program, you can be sure that you will be well taken care of.
Odds formats are an additional thing a potential customer would need to get familiar with, as this is something that will be helpful when trying to determine the potential profit a wager could net. Typically, most websites will feature fractional, decimal, and American odds formats. Europe, Germany included, tends to favor the decimal method as it is a bit easier to estimate potential wins with it.
Other than that, clear and concise information regarding the payment and withdrawal methods available is also vital, and it is important to check if the casino or sportsbook utilizes your payment method of choice. German betting sites tend to offer a great selection of options, and typically you will be able to find what you need regardless of whether your preferences lie with credit or debit cards, e-wallets, prepaid cards, direct transfer services or bank transfers.

Best 10 Betting Sites in Germany
Although we previously established that the relationship between gambling and the country's legislation has been rocky, this does not mean that German punters are prevented from enjoying the engaging form of entertainment that is sports betting. In fact, there are many reputable websites that do provide services to players from Germany.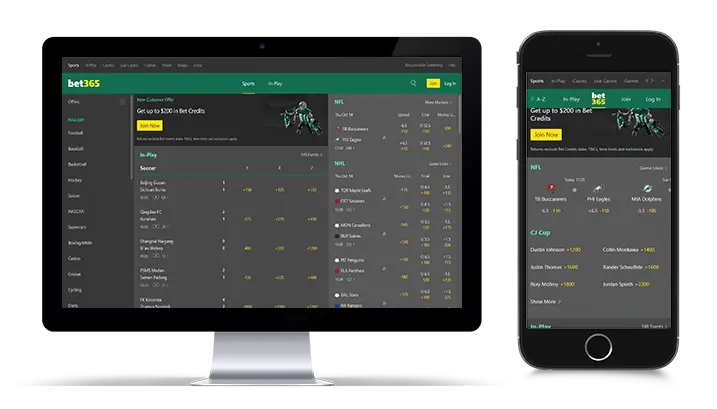 Established in 1974, bet365 is an oldie but a goodie in the world of sports betting that offers a lot to its customers, which is evident when you browse through its extensive catalogue of markets. In fact, you will find that the website provides a variety of more exotic bets among the more popular markets, so you are always certain to find something interesting when browsing through its library. This sportsbook has earned a good reputation among punters and remains a very popular venue to this day.
One of the most extensive libraries of markets and sports
Well-organized and accessible information for new players
Good mobile compatibility
An abundance of payment methods
In-play available
Frustrating and tedious verification process
Deposit limits can vary and be too low for some customers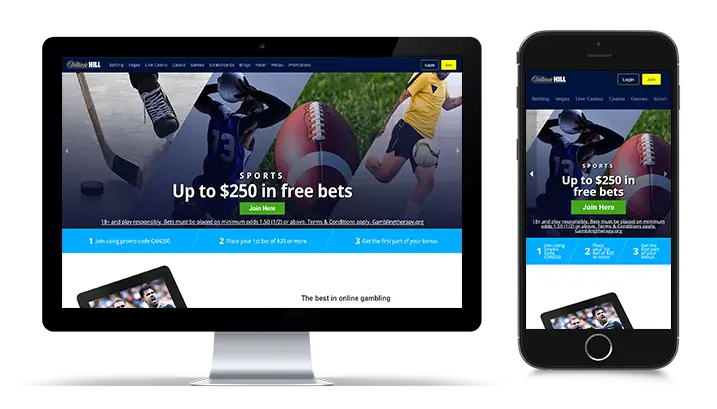 From utilizing postal and telephone services as betting methods back in 1937, to providing a great online experience to both computer and mobile users in the modern-day, William Hill has always strived to make betting accessible to as many players as possible. Upon visiting the website, you will be met with a convenient layout and a variety of bets to choose from.
Additionally, William Hill also offers radio and podcast programs to enjoy while you place your wagers.
Broad selection of bets
Good mobile compatibility
In-play available
Trustworthy reputation
Responsive and helpful customer support
Withdrawal times can vary and may take long
Mixed customer experiences with website functionality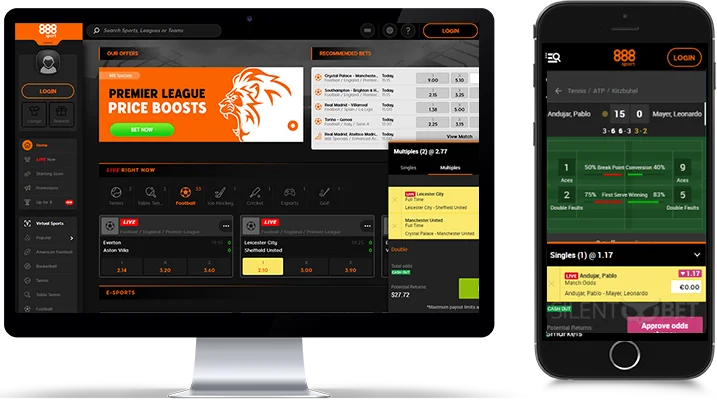 The parent company of 888sport, 888, is one of the very few gambling companies to be registered on the London Stock Exchange, which is a testament to its reputability in addition to the fact that 888sports itself is licensed by the Gibraltar Gambling Commission and the UK gambling commission.
This venue offers a generous number of games as well as bet types for punters to wager on, and the overall user experience is very snappy and responsive thanks to the website's own betting software and very well-organized design. The website could do better in the customer support department, however, as some users report that the process of receiving help via live chat has been drawn-out and complicated.
Excellent betting software
Wide range of payment options
Customer support available 24/7
Intuitive interface
Works well on mobile
Limited number of currencies
Limited number of withdrawal methods
Live streams in the in-play category are often restricted depending on users' location
Customer support can be cumbersome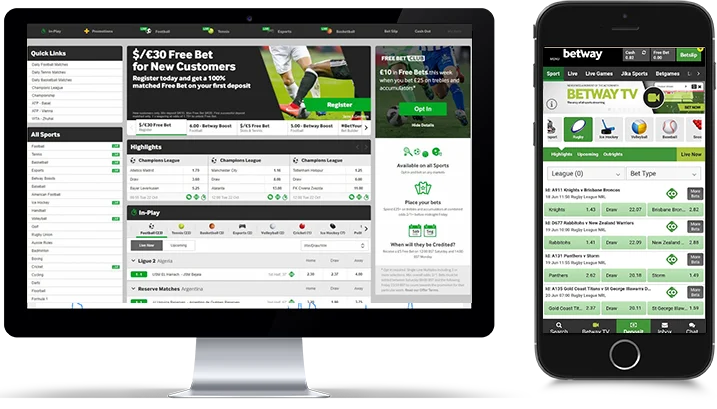 Few websites are as well known and as reputable as Betway. The venue has been hard at work providing gambling aficionados with a safe and overall satisfying betting experience and it certainly delivers on the expectations attached to its name nowadays. In addition, Betway lets its customers utilize an impressive range of payment options, which is a definite advantage to keep in mind.
Wide range of payment methods
Android and iOS apps available
Well-sized catalog of games
Good mobile compatibility
In-play availability is dependant on customers' location
Accessing live-chat support is not easy
Interwetten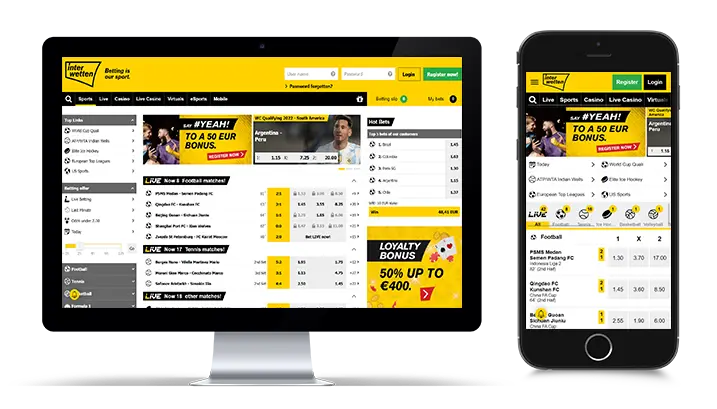 Interwetten is a well-established competitor in the European market with a clean and user-friendly interface. In-play lovers are in for a treat upon accessing the venue as the website's live-betting section enjoys a great amount of attention from the company. Regardless of whether you prefer these types of wagers or your tastes lie elsewhere, you will find that Interwetten offers a great variety of markets to satisfy most bettors, although the absence of horse racing and greyhound racing is unfortunate.
In-play available
Well-made betting software
Dedicated Android and iOS apps
Support is available 24/7
Good number of banking solutions
Account verification is lengthy and complicated
Live-chat support not available
Horse racing and greyhound racing not available
Merkur Sports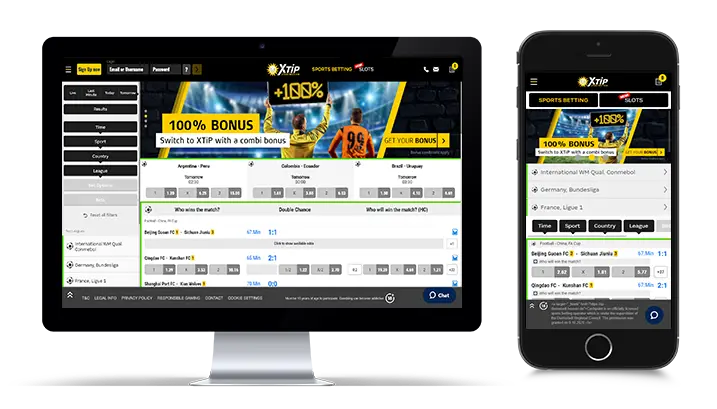 Merkur Sports is yet another popular venue that provides betting services to European countries. This venue offers a variety of sports for punters to wager on, and although the absence of horse racing and greyhound racing is notable, some typically rare to stumble upon options such as airplane skiing and ski jumping are a welcome find. Users who prefer to play on the go can take advantage of the same functionality offered to PC users thanks to Merkur sports' mobile applications.
Licensed by the Malta Gaming Authority
Dedicated mobile applications available for both Android and iOS
Website has a good number of language options
Well organized library of sports and markets
Cluttered user interface and design
No live chat support
Limited number of payment options
Lack of horse racing and greyhound racing
HPYbet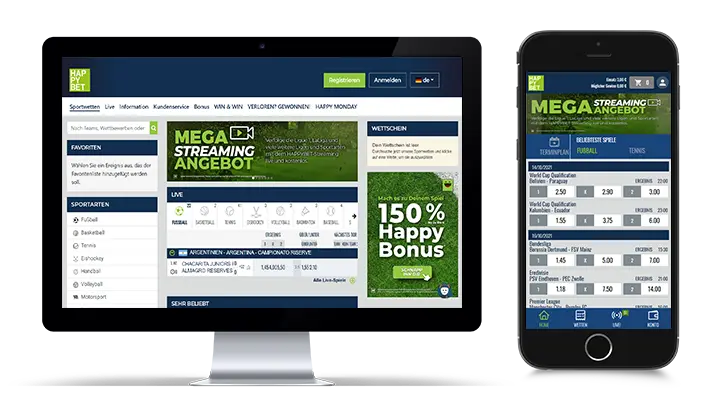 HPYbet is a relatively new sportsbook that was founded in 2011 and is licensed by the Malta Gaming Authority. The website performs well overall. Its design is intuitive and easy to navigate and there is a sufficient array of sports and markets available, with football being an understandably prominent presence in the website's catalog. The company has made sure that the betting experience is easy and entertaining.
Straightforward and elegant interface
In-play is available
Descent range of markets and sports
Recurring technical issues with withdrawal and payouts
Customer support services are cumbersome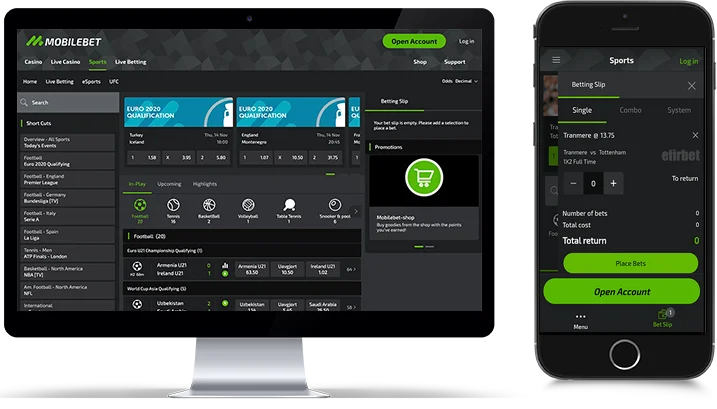 Established in 2014, Mobilenet is a new but promising sportsbook that has much to offer to experienced and novice bettors. The website boasts a good variety of sports to wager on and said betting experience is very enjoyable thanks to the bookmaker's intuitive web design. Should you run into any issues or would simply like further information than what is provided, Mobilenet's customer support has been known to be swift and helpful.
Streamlined registration process
Fast and efficient customer support
Well-designed website layout
In-play available
Banking solutions are slightly limited
Support availability is not 24/7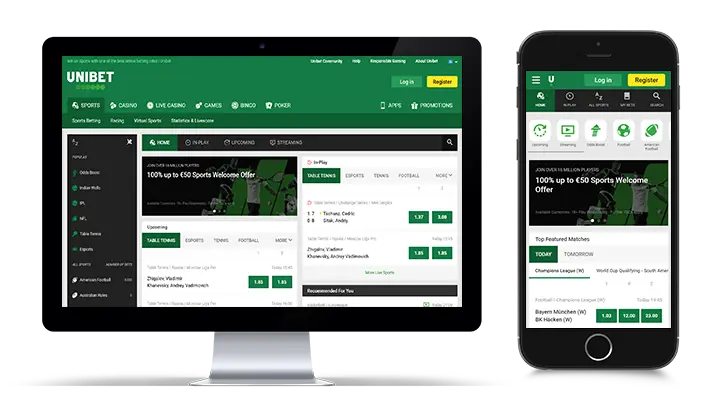 Unibet provides an expansive library of sports and bet types gambling enthusiasts can enjoy, offering even selections such as futsal which is fairly niche when it comes to its availability on sportsbooks. More mainstream options like football and esports are, of course, accounted for as well, and customers can also enjoy live betting. Unibet's website layout is convenient overall, but finding contact information is not easy, and this is an area the venue can improve upon.
Dedicated Android and iOS apps available
Good variety of banking solutions
Vast selections of sports to choose from
Accessing the website's contact information is unintuitive
Cumbersome verification process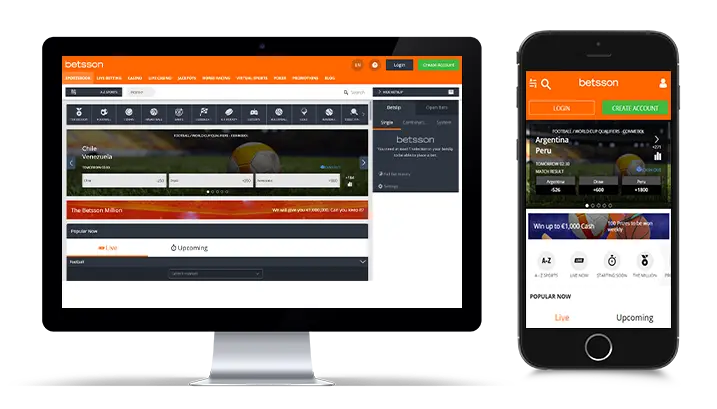 Betsson is a major player among sports betting venues these days, and a well-rounded one at that, with over 50 years of experience. The website's sportsbook is a joy to look through as there is an array of options available. You will find the experience entertaining and pleasant regardless of whether or not you are in the comfort of your own home or outside, seeing as both the website and the dedicated mobile apps function splendidly.
Live chat support is available
Great selection of sports and markets
Sufficient number of deposit solutions
No greyhound racing
Withdrawal options are limited
Germany Betting Sites FAQ