Prepaid cards are quite popular among the online gambling community. Accepted at practically all online betting platforms, prepaid cards are certainly quite beneficial to the user as far as utility is considered. There are plenty of prepaid services supported by the online gambling industry, including Paysafecard, Neosurf, prepaid Visa and Mastercard, among others. Each service is unique in its own right, but all follow the same core principles. This allows us to have some broad idea of how the entire process functions and to reach a conclusion whether or not prepaid cards are right for us.
To put it simply, prepaid cards can be considered bookmaker gift vouchers as they have a predetermined value that can be laid out for funding your sports betting account. This is the perfect payment method for those punters who prefer spending cash only and keeping their banking details private.
As is usually the case, prepaid cards come with a whole slew of features, which can be both negative and positive. Moreover, different users will have different experiences with this type of service, some seeing more benefit in it than others. Below, we will take a look at how prepaid cards work, the primary advantages and disadvantages they offer, and how they can be used for the purposes of online sports betting.
Obtaining a Prepaid Card
Getting your hands on a prepaid card is quite easy and anyone can do it. Prepaid cards are one of the most accessible payment solutions in today's world, not just for the online gambling scene, but for the Internet in general. You can easily purchase one from a whole slew of retail locations, including supermarkets, gas stations, newspaper stands, and more.
If you have a hard time finding a shop selling your preferred prepaid cards, you may visit the provider's website as most of them have detailed guides on reaching the nearest location.

What is more, some brands like Paysafecard for example, have an online shop where you can buy an eVoucher with the desired value. Thus, punters can start betting as soon as they feel the desire to and anonymously top up their account balance without leaving their home, office, or vacation villa.
The best thing about this type of payment method is that practically nothing is required of you. You simply pay in cash and get to walk away with a prepaid card holding the same amount. By contrast, most online payment methods require some form of identity verification which can take a while to process. If you choose to use a prepaid card, you can spend your money from the moment you walk away from the retail location.
Prepaid cards come in many shapes and sizes, available as prepaid Visa or MasterCard cards, Paysafecard or Neosurf vouchers, or something else entirely. Regardless, the process it mostly the same with each. You can always pick one up at a local retail location during your commute and use it to fund your sportsbook balance.
Registration Requirements
Copy of ID/DL
no
Utility Bill
no
Link bank account
no
Link bank card
no
Depositing with a Prepaid Card
Once you pick up a prepaid card you will be able to immediately use the money on it. There is usually no downtime since the service does not need to process the card top-up. As a result, you can make a deposit directly after purchasing the card. The process to doing it may be slightly different with each individual service, but the base principle remains the same.
At your online sportsbook of choice, you will need to find the Cashier page and select the prepaid card option, be it Paysafecard, Neosurf, or something else.

From then on, you will need to enter the appropriate card information. This is likely printed on the receipt or, if it is a physical card, on the card itself. Enter the amount you wish to deposit and then confirm the transaction.

Usually, prepaid card payments go through instantly and the money will appear in your balance right away. It is important to take note of the prepaid card's balance and the transaction limits set by the gambling website. Typically, the whole process will not take more than a minute and once you do it one time, it will only get faster from there.
Some online sportsbooks impose certain payment method restrictions on the promotional offers they provide. These usually do not include prepaid card-funded accounts, but to be on the safe side, read the terms and conditions before opting in for a particular bonus.
Depositing with Prepaid Cards Summary
Timeframe
Instant
Minimum per transaction
Between €5 and €10
Maximum per transaction
Varies according to the sportsbooks' policy
Fees
Free
Available currencies
EUR, USD, and all local currencies where the payment provider is accepted
Withdrawing with a Prepaid Card
When it comes to withdrawals with prepaid cards, things tend to become a little tricky. Typically, this type of service is designed to make payments in one way direction. Unlike eWallets and bank accounts, prepaid cards are not supposed to be reused. More often than not, customers use prepaid cards to make small purchases on the Internet, such as, subscription payments, digital goods purchases, etc. As a result, withdrawing your balance to a prepaid card is rarely an option.
However, that does not mean that your balance is lost. You will be able to cash it in, one way or another, just not to a prepaid card. Usually, online sportsbooks will offer you an alternative way to get your money. At most websites, this will be available in the form of bank transfers. You will need to supply all the relevant information for the transfer to be made. After that, it can take several days for the transaction to process and the money to appear in your bank account.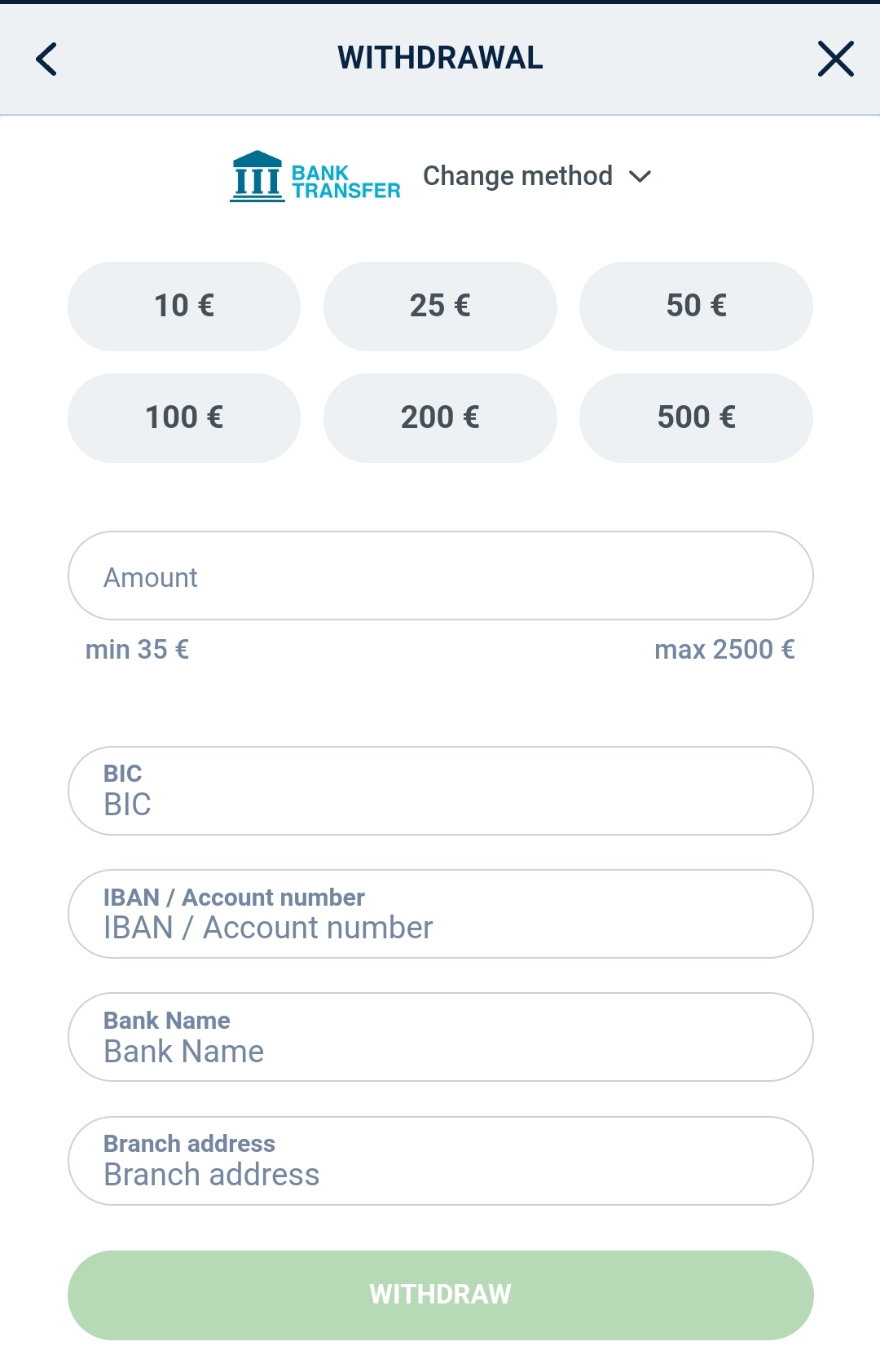 Given the significant number of online bettors who use prepaid cards, some top betting operators allow their users to cash out via this type of payment solution, although this is still a rare option. Currently, such a transaction is available to the holders of Paysafecard accounts. All they have to do is provide the bookie with the email they have registered with and the money will soon arrive in their account balance. Then the funds can be used for online purchases or for making a subsequent deposit to the user's betting account.
Withdrawing with Prepaid Cards Summary
Timeframe
Up to 7 business days if withdrawal is enabled
Minimum per transaction
Between €5 and €10
Maximum per transaction
Varies according to the sportsbooks' policy
Fees
Depends on the particular withdrawal process
Available currencies
EUR, USD, and all local currencies where the payment provider is accepted
Fees Related to Prepaid Card Betting
As far as the fees are concerned, this is also a difficult topic to tackle. Each service is different in its own right and the fee structure will also be unique. Of course, there is also the possibility that the payment method will be free, at least partially, as is the case with Paysafecard.
While we cannot speak to the specifics of prepaid card fees, more often than not, you will find that these services are free of charge. It is one of the primary reasons why so many punters utilize them and so many gambling websites support them. One aspect in which you may encounter fees is when you want to withdraw the balance of the card to your personal bankroll. In such cases, you will be asked to pay a flat fee or a percentage of the total sum.
Keeping in mind that the respective fees may differ from one country to another and that they are subject to change from time to time, take a look at the current fees charged by Paysafecard and Neosurf:
Paysafecard Fee Summary
Initial setup
Free
Maintenance fee
From the 7th Month, users are charged a monthly service fee of €2 that is deducted from the remaining credit.
Inactivity fee
A monthly fee of €6 will be charged if no transactions have been carried out in the last 12 months
Conversion fee
The fee in case of currency conversion is between 3 and 6.09%.
Refund fee
Users are charged €7.5 in case they make a transfer to a bank account
Neosurf Fee Summary
Initial setup
Free
Maintenance fee
Free
Inactivity fee
A monthly fee of €2 will be charged if a Neosurf voucher is unused for more than 12 months
Conversion fee
The fee in case of currency conversion is between 2 and 3%.
Refund fee
Users are charged 1.5% of the transaction amount in case of a transfer to a bank account.
Additionally, some online gambling websites are known to charge transaction fees for deposits and withdrawals. While this is a dying practice at the top-tier sportsbooks, some are still abiding by it. If this bothers you, you can always switch to a different gambling website that will happily accept your deposit without eating away at your bankroll. One of the best aspects of the online gambling industry is that there are always more betting platforms to choose from, preferably, such that fit your criteria.
Benefits of Betting with Prepaid Cards
Of course, why should you choose a particular banking method without knowing the ins and outs. Specifically, the benefits that it offers you over other similar services. In the case of prepaid cards, it is quite easy to see the advantages that they provide.
Instant transactions
The main benefit of using prepaid cards is the ability to issue instant deposits to your bankroll. The payment is processed right away and the money will appear in your balance as soon as you confirm the transaction. By contrast, traditional bank transfers may take some time to clear, be it one business day or several. The efficacy of prepaid card transactions is unquestioned and with good reason.
Wide availability and high level of privacy
We also have to take into account the accessibility of prepaid cards. Anyone can acquire one easily, without having to provide a single piece of identification. This also plays into the privacy features of prepaid methods. Since no personal information is required to acquire a prepaid card, no data can become compromised. As a result, your identity will be kept safe in all cases.
Limit on the amounts spent
Prepaid cards and vouchers are a great way to control the sums you spend on online betting. As each of them comes with a particular amount, there is no way to overdraw. The combination between prepaid card deposits and the responsible gaming tools implemented by all reputable betting operators is the best way to prevent problematic gambling behavior.
No extra costs
Last but not least, prepaid cards are usually cheap and will not require you to pay excessive fees, as with other payment methods. Bank transfers and eWallets all come with some sort of charge for transactions and over time this can amount to significant sums. But even if there is some fee, it is more likely to be smaller than what you would normally pay for other banking methods.
Drawbacks of Betting with Prepaid Cards
Naturally, no service is perfect and prepaid cards are not exempt from their share of issues. It is important that you aware of these before settling on a prepaid service, as thus you may avoid some headaches down the line.
Limited or no opportunity for withdrawals
The first drawback of using prepaid cards for the purposes of online gambling is that you will likely not be able to withdraw your balance to the prepaid card. This is unfortunate as far as features go and is the main thing stopping you from using this type of service. While you are able to withdraw your money via other means, these are often much slower and will take some time to process before you have access to it.
Low transaction limits
Something else that you have to take into account is that prepaid cards often feature low transaction limits. While this is not detrimental to casual bettors, those who like to wager more serious sums will undoubtedly be hindered. There is no way around the inherent limits and if they do not work for you, it is best to seek another more appropriate service.
Inconvenient location of shops selling prepaid cards
It may sound paradoxical, but to use one of the fastest methods of depositing to an online betting account, you may have to spend hours reaching the relevant physical shop. This can be quite annoying unless you plan your betting experience and always have a loaded card or voucher on hand. The solution of this issue is to buy a virtual prepaid card, but then the advantage of anonymity is lost, as you must make a registration and share some personal information.
No transaction cancellations
The two main advantages of prepaid cards, quickness and anonymity, lead to one of the few significant drawbacks – you cannot cancel a transaction made by mistake. As soon as users enter the relevant serial code, the deposit is considered executed. Even if this wasn't so, as the physical prepaid cards are nameless, there is nobody to return the amount to. Fortunately, in the case of deposits to betting accounts, you won't lose your money, but it may take a long time to access them.
Regulation and Availability of Prepaid Cards
One of the better aspects of prepaid cards is that they are universally available. Every country has some form of prepaid service at their disposal, with Visa and MasterCard prepaids being among the most widely available. This means that the prepaid cards available to you will support your local currency, thereby helping you avoid any exchange fees. As for the specific services you will have access to, we cannot provide any concrete information. Certain prepaid cards are only available in select jurisdictions, while others are featured on a global level.
Regulation is also something that you should be concerned about as that is the only way to verify whether a prepaid service is legitimate or not. Popular prepaid cards, such as Neosurf or Paysafecard are regulated by trusted government institutions, such as the United Kingdom Financial Conduct Authority. Both payment solution providers have a European background (France and Austria, respectively) and over 16 years of presence on the market.
Visa and MasterCard vouchers, on the other hand, are part of the global debit and credit card networks billions of people use around the world. You cannot go wrong with any of these and you can always rely on them to provide you with the necessary features. As a rule, if a certain prepaid card brand is available in a particular country, the company's website will have the relevant language version. For example, users can explore the Paysafecard webpage in 28 languages including English, French, German, Croatian, Russian, Italian, etc.
Prepaid Cards Security
Of course, when it comes to your money, security is always a top priority. It goes without saying that you should never be careless with your funds and only trust services capable of managing them safely. Most prepaid cards are perfectly acceptable as far as their security features are concerned. These use modern technology to the best of their advantage, allowing you to store and spend your money online without issues.
Moreover, all prepaids use some form of encryption to protect personal information, if any was submitted, and to prevent anything important from falling in the hands of unauthorized individuals. You will be able to trust any of the major prepaid service providers with your money, since they are all regulated and have to abide by government laws and rules regarding the handling of money. As a result, prepaid services are quite advanced as far as security is concerned and you should experience no issues in this regard.
When comparing prepaid cards or vouchers with classic bank cards in terms of security, they have one evident advantage. In case of a loss or misuse, there is no chance to end up with a depleted bank account or damaged credit history since the card can be used only up to the amount it is loaded with.
Prepaid Cards Security Summary
SSL
yes
Two-factor authentication
varies, depends on the provider
Face ID
no
Touch ID
no
App/SMS Notifications
yes
Conclusion
Overall, prepaid methods certainly have theirs ups and downs and it mostly boils down to personal preference whether prepaids are right for you. Arguably, casual punters are more likely to see the benefit of prepaid cards, as high-rollers will be dragged down by the low transaction limits. However, all will see the advantage of the security and privacy features offered by this payment service type. Of course, the almost universal acceptance of prepaid cards is hard to ignore, as is the utility that comes with that. All in all, you should compare and contrast with other service type to ensure that you have the best possible experience and only choose a payment method that works for you personally.