Sports betting is popular all over Europe and many countries have an established culture for bookmaking. However, some states have only recently embraced the idea of free-market gambling. One of those is Portugal, which only legalized gambling in the last few years. While it took tremendous effort for the country to achieve this, it is not at all clear what the future of gambling in Portugal is.
Portuguese betting regulations only came into existence in the last 3 to 4 years and the private market is still new. That being said, perhaps not all punters are familiar with the legal situation in the country. For your convenience, we will take a look at the history of sports betting in Portugal and what the current laws are regarding our favorite pastime.
Legalities of Online Sports Betting in Portugal
Overview
History
Legalization
Software
Historical Betting Overview
Portugal has had a contentious history with gambling and until recent years, the whole sports betting scene was closed off. It was only recently that the government gave up its monopoly on sports betting activities. Since 1961, bookmaking was a monopoly enterprise ran by the government. The profit from it was used to fund various social programs and the like. However, in the 2000s, as online sports betting was increasing in popularity, many international operators began to covet the Portuguese market. So much so that Bwin even contested the monopoly in the European Court of Justice back in 2009. Bwin lost, but it was clear that demand was rising and companies were looking to move in.
Only in 2013, in the wake of the global financial crisis, the Portuguese government made steps to open the sports betting scene and other forms of gambling to private companies. In 2015, the regulatory institution was established to oversee the sports betting scene of Portugal and to make legislation clear and concise.
What You Need To Know About Sports Betting in Portugal
In spite of the fact that betting on sports is freshly decriminalized in Portugal, the gambling industry of the country now sees continued growth. The gambling market is said to be promising, and rightfully so, as figures show that the revenue of gambling in Portugal was around $7,11 billion back in 2010, and back in 2018, it amounted to around $9,720 billion.
In fact, Portugal is among the countries that have brought their legislation up to this day and age as back in 2015, legislatures passed the Decree-Law No. 66/2015, 29 April, which addresses online gambling in particular. Another thing punters should be aware of is that casino games fall under the purview of the Portuguese Gambling Regulatory Authority (which is known under the abbreviation SRIJ), along with fixed-odds betting, and lotteries. That being said, betting on fantasy sports is not regulated in the country, while pari-mutuel betting is regulated by SCML.
In order for gambling operators to provide their services over the Internet, they need to go through an administrative procedure and get a license from the Portuguese Gambling Regulatory Authority. This also applies to operators that are based overseas, and betting platforms that do not hold a seal of approval from the SRIJ will be blocked. The SRIJ can grant four types of licenses that are determined by the gambling product the operator offers, and normally, they are valid for three years.
The SRIJ is looking to guarantee that the operators that provide their services in Portugal offer security mechanisms when it comes to payments, registration of accounts, identification of gambling enthusiasts, and the way information is stored and processed. The principles that are laid down in the gambling-related legislation of the country are introduced to guarantee the protection of gambling enthusiasts and provide strict control over unregulated gambling activities.
In spite of the fact that Portugal's tax regime was amended back in 2020, the prize money won by gambling enthusiasts is non-taxable. As in most other European countries, the minimum age for gambling in Portugal is also 18.
Odds Format in Portugal
Decimal Odds
Fractional Odds
American Odds
Calculations
There are three major odds types used in the online bookmaker scene – American, Fractional and Decimal. Each gives you a different way to read the odds, though they all convey the same information. By default, most sportsbooks available to a Portuguese customer base will utilize the Decimal format. It is presented like this:
Bet Option: 1.75
What this means is that a $100 bet will return the base value of the wager and $75 in profit, for a net total of $175. The decimal odds are preferred by punters from all over the globe for their simplicity. Of course, if you prefer either the American or Fractional format, you will have the opportunity to change it. This does not affect the bets themselves, rather how they are presented. It all boils down to personal preference and the bookmakers are ready to accommodate for it.
Portugal Betting Laws and Legislation
The betting scene in Portugal is under the supervision of a government institution called Serviço de Regulação e Inspeção de Jogos of Turismo de Portugal. This government body oversees most forms of betting in the country, including casino gaming, sports betting, bingo, poker, etc. In order to provide any of these services to a Portuguese public, operators are required to acquire a license. All gambling licenses will last for 3 years, at which point they have to be renewed.
To get one in the first place, a company has to prove that it is fair and reliable when it comes to sports betting or other types of gambling. There is a process to verify this includes a slew of audits and tests, which have to be passed. Moreover, the SRIJ also imposes strict taxation on the operators, with bookmakers being asked to pay between 8% and 16%, depending on specific factors. This is quite high considering the policies of other regulatory institutions in Europe. Additionally, operators have to put a performance bond of €500,000, as well as, €100,000 extra which will guarantee the payment of taxes. All in all, some of these measures are considered draconian by betting companies and not many are pleased with them.
The laws regarding the minimum age required to gamble in Portugal are also somewhat interesting. Tourists are permitted to place bets at 18 years of age, however, citizens of the country have to 21 years old or older.
Portugal Betting Restrictions
Strictly speaking, there are restrictions on what online betting platforms are allowed to offer their services to the Portuguese public. In theory, only licensed and approved sportsbooks are permitted to operate. However, due to the high tax rate, many have chosen not to go that route. Instead, certain websites have continued to accept Portuguese customers, even without a valid license. The government has tried to crack down on these platforms with ISP bans, however, this has proven ineffectual. At present, unregulated sportsbooks are not stopped from offering their services in Portugal, while Portuguese punters are not punished for placing bets at them.
Something else that one has to consider is that there is no tax on winnings generated from sports betting. It is speculated that this is due to the inefficiency of the Portuguese government when it comes to unlicensed sportsbooks, which are hard to track.
Online Betting Regulatory Body in Portugal
The regulatory institution responsible for the oversight of online gambling in Portugal is the Gambling Regulation and Inspection Service, or Serviço de Regulação e Inspeção de Jogos of Turismo de Portugal in Portuguese. This government body has established itself as the authority on all forms of online gambling, including casino gaming, fixed-odds sports betting, poker, bingo and others.
It is the role of this institution to monitor the online gambling scene and to introduce new regulations whenever necessary. Since online betting became fully regulated in 2016, the SRIJ has come out with multiple revisions on existing laws regarding the various forms of gambling allowed in the country.
Popular Betting Markets in Portugal
Football
Basketball
American football
Futsal
Football is not only the most practiced sport in Portugal but also the sport, which attracts the greatest viewership and betting action. The popularity of football is unlikely to start waning any time soon, considering that Portugal is the place of birth of a number of footballers that have acquired worldwide recognition, the likes of Ricardo Carvalho, Cristiano Ronaldo, Luis Figo, Pepe, and Andre Gomes, among others.
While all major football teams pit their wits against each other in the Primeira Liga, the rest of the teams vie in the LigaPro. The football competition of the country is made up of several other leagues, including the Portuguese Super Cup and the Portuguese League Cup. As you might already know, the Portuguese national team lists among the highest-ranking teams not only in Europe, but on a global scale. Currently, according to the FIFA ranking, the national team of the country ranks seventh, and they have ranked third a number of times in the past few years.
Cycling is another sport the Portuguese are intrigued by, and the Volta a Portugal is the annual multi-stage racing competition, which attracts huge crowds. The state has great traditions also when athletics are concerned, and it is the country of origin of a number of renowned athletes including Manuela Machado, Carlos Lopes, Vanessa Fernandes, Nelson Evora, and Rosa Mota.
Although it might come as a surprise for some people, basketball is yet another sport, which is a drawing power for fans and punters alike. It is interesting to point out that Portugal is one of the co-founders of FIBA, which is the world governing body of this sport.
Portugal's national futsal team has got worldwide recognition after it triumphed during the UEFA Futsal Euro back in 2018. Martial sports have also grown in prominence in Portugal, which is only natural, considering that they have brought the country lots of medals, including such from the Olympics 2020 and 2016. As for the other sports the Portugues give particular attention to, motorsports, rugby, tennis, table tennis, and water sports are all worth mentioning.
Popular Betting Markets in Portugal
Sport
League
Football
Primeira Liga, Liga Portugal 2, Portuguese League Cup, and Portuguese Super Cup
Basketaball
Liga Portuguesa de Basquetebol and Proliga
Handball
Andebol 1
American football
Liga Portuguesa de Futebol Americano
Volleyball
Portuguese Volleyball First Division
Futsal
Portuguese Futsal First Division
Portugal Online Betting Bonuses
Promotions
Match Bonus
Free Bets
Enhanced Odds
Those who register at online bookmaker websites will often get the benefit of promotions and bonuses. Undoubtedly, these will add some form of value to your sports betting experience. Bonuses come in several different types and you will see many of them if you stick around for long enough.
The match bonuses are the most common variety and have the largest potential reward. Match bonuses are quite simple, you get a bonus based on your deposit up to a point. This type of promotion features a turnover requirement, which needs to be fulfilled before a withdrawal is permitted.
Another excellent bonus comes in the form of free bets. Not only will you stand to win money, but you will do it at no risk to your bankroll. A free bet is placed with bonus funds granted by the sportsbook at a set amount. If you get it wrong, your bankroll will remain intact. However, winning will entitle you to the profits, with the original bet value being removed.
You should also take into account the odds boost programs, offered by the betting sites. These are commonly applied to parlay wagers, where each additional leg will increase the overall winnings potential. Moreover, these can also be offered on specific events or matches, depending on the sportsbook's preference.
Mobile Betting in Portugal
Mobile Play
Download App
Browser In-Play
Download via QR
The betting scene evolves over time as all things do. First, it moved from dedicated bookmaker shops to our desktop computers. In recent years, the trend has moved from desktop to mobile devices. Smartphones and tablets are becoming much more functional and convenient, allowing punters to enjoy their favorite activity from just about anywhere.
Mobile sportsbooks have become quite advanced in recent years, giving us the opportunity to reap the rewards of the technological developments from the past 10 years. Nowadays, you simply load the website of any modern bookmaker website and start placing bets. Everything is polished from top to bottom, ensuring that one has an excellent experience with their respective platforms. You will quickly discover that you are not denied any aspect of the desktop sportsbook. Of course, this includes all available betting markets, the full selection of supported payment methods, promotions, customer support, and so on. Sportsbooks make sure that every customer is taken care of, regardless of their platform of choice. In practice, there is no difference between the mobile and desktop versions of most betting websites and you will be able to thoroughly use whichever serves you best.
Popular Betting Banking Methods in Portugal
Bank Transfer
Credit Cards
E-Wallet
Prepaid Cards
Of course, engaging in online sports betting is not as straightforward as walking into a bookmaker shop cash in hand. You will need to set up a reliable and suitable online banking method, which will allow you to easily move funds between your personal bankroll and your sportsbook balance. As it happens, there are plenty of these services supported by the online betting scene and below, we will do a brief overview of the most popular used by Portuguese punters.
Credit cards are always in fashion and online betting sites agree to the use of this payment method. You will hardly find an online sportsbook that does not accept some form of credit card. Specifically, most platforms support Visa and MasterCard, the two most popular credit card brands out there. Either one will allow you to make instant deposits, whereas withdrawals are also quite quick.
If credit cards are not to your liking, you can always try out one of the various eWallets accepted by the online betting scene. These services give you the benefit of maintaining an independent balance from your bookmaker and bank accounts. Money transfers are quick, easy, and most importantly, cheap. Among the more worthwhile eWallets in the industry, we count Skrill, Neteller, ecoPayz, EntroPay, PayPal, and others.
Naturally, there are other banking options that you may try out. Prepaid cards are a good alternative to credit cards and eWallets, though some utility is lost. When in doubt, you can always rely on Neosurf and Paysafecard to see your deposit through.
Popular Banking Methods in Portugal
Payment Method
Fees
Deposit Limits
Deposit Times
Withdrawal Limits
Withdrawal Times
Visa
Depends on the betting site
Min €10- Max €100,000
Instant
Min €10- Max €10,000
Up to five days
Mastercard
Depends on the betting site
Min €10- Max €100,000
Instant
Min €10- Max €10,000
Up to five days
PayPal
Depends on the betting site
Min €10- Max €5,000
Instant
Min €10- Max €40,000
A couple of minutes
Multibanco
Depends on the betting site
Min €10- Max €1,000
Instant
Min €10- Max €400
Up to three days
ecoPayz
Depends on the betting site
Min €10- Max €15,000
Instant
Min €10- Max €15,000
A couple of minutes
Skrill
Depends on the betting site
Min €10 – Max €10,000
Instant
Min €10- Max €15,000
A couple of minutes
Neteller
Depends on the betting site
Min €10- Max €10,000
Instant
Min €10- Max €15,000
A couple of minutes
Paysafecard
Depends on the betting site
Min €10- Max €100
Instant
N/A
N/A
MBWay
Depends on the betting site
Min €10- Max €1,500
Instant
Min €10- Max €2,500
Up to three days
Fast Bank Transfer
Depends on the betting site
Min €10- Max €50,000
Instant
Min €50- Max €100,000
Up to five days
Bank transfer
Depends on the betting site
Min €10- Max €50,000
Instant
Min €50- Max €100,000
Up to seven days
What To Watch for When Picking a Portugal Betting Site
Security
Customer Support
Mobile Compatibility
In-Play Betting
There are a couple of things punters should consider before they hit the registration button of the preferred sportsbook if they want to be sure that their betting session will be worry-free. First and foremost, avid sports bettors are advised to examine the licensing details of the operator to ensure that the gambling portal has got the approval of the SRIJ.
Once they have done this, gambling enthusiasts should check if the operator will keep them covered depending on the sports they are keen on. To tell the decent bookies apart from the rest of the sportsbooks, punters only need to check the sports the operator offers lines for, the available be types, and of course, the competitiveness of the prices.
Naturally, punters attach great importance to the special features they can make use of while betting on sports, and the bet-building one is among the most talked-about such options. The improved flexibility this feature offers is what intrigues punters as thanks to it, they can combine bets and hopefully, collect more handsome payouts than they can get when placing the bets separately.
The cash-out feature is also widely available across most Portugal-friendly sports betting sites, and punters insist on its availability because it allows them to exit their bets partially or completely before the event has ended. Live streaming and live betting are two more features that make the decent Portugal-friendly betting sites stand out from the crowd. As for the live streams, punters should bear in mind that sometimes, accessing them is possible only after they have logged into their accounts and, on some occasions, after they have placed a bet on one of the events.
Since each sports betting platform is different, gambling enthusiasts should also take their time to examine the deposit and withdrawal methods they can make use of. The processing times and whether fees are charged are also among the things to examine closely. Additionally, punters should check if payments can be processed in EUR.
While looking for a Portugal-oriented sports betting site, gambling enthusiasts should focus more attention also on the bonus incentives that are designed with newcomers in mind, as well as the extra perks existing users of the sportsbook will get to benefit from.
Mobile play gains more and more ground, and punters who assign priority to it should check if the sportsbook has introduced downloadable apps for iOS and Android-powered devices or betting on the go is possible straight from their device browser.
The last port of call for sports bettors should be the Help section of the sportsbook, and what they should check is what contact venues are offered and whether assistance is offered around the clock.
Best 10 Betting Sites in Portugal
Fining a sportsbook, which offers services that are up to scratch and caters to the Portuguese market might be a stretch, especially when one considers that there are so many choices available these days. Picking a sports betting portal might be a daunting task for gambling enthusiasts because there are too many things to consider and pay attention to. Fortunately, we have done this for you and have compiled a list of ten of the best sports betting sites that operate in Portugal.
BetClic
Betclic is a Portugal-friendly sportsbook with plenty of experience behind its back, which is celebrated for its extensive sports coverage, competitive lines, and a whole slew of bonus incentives. Aside from its sports betting section, Betclic also prides itself on its casino, which also offers a wholesome experience.
In an attempt to keep all its users satisfied, the operator has added a number of fan-favorite sports to its agenda, and gambling enthusiasts can bet on football, Formula 1, baseball, basketball, snooker, rugby, motorcycling, and ice hockey, among others. The top competitions are featured right above the line-up of sports, and these include Bundesliga, La Liga, and Serie A.
The bet placement with Betclic is made a walk in the park and once punters add the preferred selections to their ticket, they can switch between single, multiple, and system bets with just a few clicks. The live betting section of the sportsbook attracts a great deal of attention because of the wide range of options it contains.
Another great benefit from registering for an account at Betclic is the extensive list of promotional deals gambling enthusiasts can claim from at the off of their stay and subsequently. Such are offered on a regular basis, which is to say that this section is worth giving a once-over more often.
As for regulations, Betclic operates under a stamp of approval from the Maltese Gaming Authority, and it is allowed to operate sports betting in Portugal, thanks to the license granted by the SRIJ.
Punters are offered statistics, live streaming, and live betting
Punters are offered statistics, live streaming, and live betting
Lots of limited-time and recurring promotional deals
Fully licensed to operate in Portugal
There are downloadable apps for tablets and smartphones running on Android and iOS
The available sports are not as many as with other bookies
The available deposit methods are not many
A limited number of channels of communication
Bwin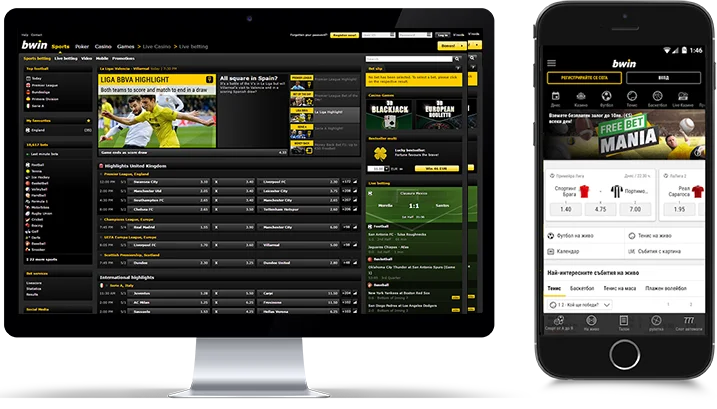 Bwin is another established bookmaker, which caters to the Portuguese market, and this is made possible, thanks to its seal of approval issued by the SRIJ. The operator is celebrated for offering premium-quality sports betting services, and rightfully so, as the sports that are added to its agenda exceed thirty. Not to mention the long list of bet types, which is unveiled before punters once they pick an event to wager on.
The operator has added a slew of additional features to improve the overall experience of punters, and the statistics and live streaming are among the most appreciated options. Gambling enthusiasts who are looking for something a little more thrilling should head over to the live betting section, where they will get to choose from a sheer variety of options. The ease with which bets are placed is also worth mentioning, and gambling enthusiasts can access the statistics and watch the preferred events straight from their betslip.
Bwin is dedicated to providing punters with a worry-free betting session at all times, and to achieve this, the operator has covered all banking solutions the Portuguese prefer using, including Mastercard, Visa, PayPal, and MBWay, among others.
One of the best things about Bwin is that punters do not need to wait until they go home in order to bet on their favorite sport, as the bookie has presented dedicated apps that work like a charm on Android and iOS-based devices.
Punters can benefit from a number of features, including statistics, live streaming, and live results
Extensive sports and bet type coverage
Several promotional deals that are designed with sports bettors in mind
Offers two downloadable apps for play on the go
Wrapping your head around the website might be a bit challenging
Limited range of banking methods
A limited number of ways to contact the support agents
Betano
Betano is a well-designed Portugal-oriented sports betting platform, which stands out from the competition. The international company, which is behind the betting platform, has a local approach, and, because of this, it has applied for a license from the SRIJ before it started providing its services to punters from Portugal.
Punters will have the dibs on most sports they might think of as the roster of options Betano offers includes football, tennis, volleyball, basketball, golf, and Formula 1, to name just a few. Another reason why gambling enthusiasts might be eager to register for an account at Betano is the availability of several unique betting features, including bet builder, request a bet, cash-out, and fast markets.
The live betting page of the sportsbook will undoubtedly grab the attention of gambling enthusiasts as esports are also added to the list of the sports they can follow while the action unfolds.
The interface of the website is clean, which makes it possible for punters to wrap their heads around it in next to no time. The availability of dedicated apps for play on the go might also significantly improve the betting experience of gambling enthusiasts, and if the downloadable ones are not your thing, then using the browser-based version is the alternative, which might work better for you.
The operator has seen to it that all banking solutions the Portuguese prefer to use will be within reach in the cashier as PayPal, Boleto, Mastercard, Visa, and bank wire, among others, are all accepted. If there is something punters want to ask the customer support staff of the casino, they can do so via email, live chat, or by requesting a call.
A large number of covered sports and markets
Native apps for play on the move
Punters can benefit from statistics and a number of useful features
The least deposit amount is just €5
Only one odds format is available
A limited number of fee-free cashouts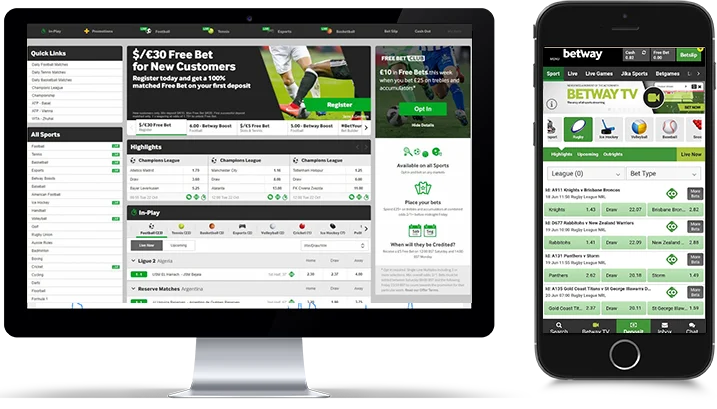 Gambling enthusiasts from Portugal who are on the lookout for a proven sports betting website should consider using Betway. The operator penetrated the local market, thanks to its stamp of approval sealed by the SRIJ.
One of the things bettors might enjoy most about the sports betting portal is the large array of sports they can bet on even when they are out and about, thanks to the dedicated apps Betway has rolled out. The sports selection of the bookie is indeed impressive, and along with everybody's favorite sports like football, basketball, tennis, boxing, and cycling, the operator has not left niche sports outside its portfolio.
Fans of live betting might be happy to hear that this option is available for most of the above-mentioned sports, and they can rest assured that they will not miss an event as there is a coming live soon section. Yet, if they doubt about one of their bets that are still in progress, punters might appreciate the cash-out feature. The results and statistics pages are also accessible at all times, and even prior to registration.
Getting in touch with the help desk of Betway cannot be easier as punters can send the agents an email, chat with them using the live chat functionality, or give them a call, no matter the time.
The methods of payment registered users of the sportsbook can make use of guarantee that moving funds to and from Betway will be a five-finger exercise.
Several bonus deals designed for sports bettors
A vast number of sports and markets
Punters can make use of live betting and the cash-out feature
The customer support agents can be reached out around the clock
Downloadable apps for betting on the go
Punters cannot view the banking page before they register for an account
Bonus terms are restrictive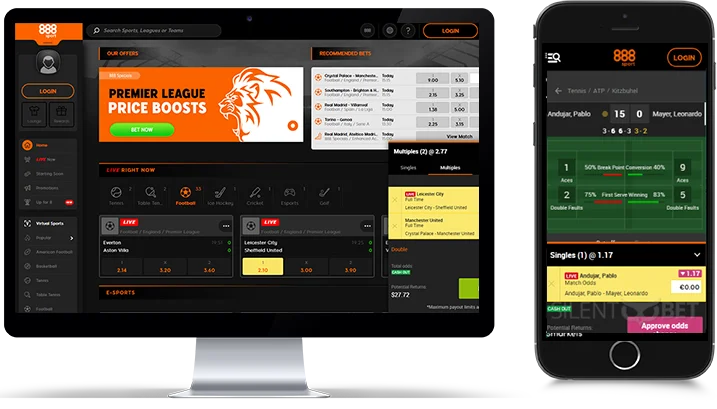 Offering everything from casino games to bingo and sports betting, 888 is a brand name gambling enthusiasts might have come across many a time. It is an innovative and dynamic sports betting platform, which welcomes punters from Portugal and from a great number of other jurisdictions.
In spite of the fact that the website of the bookie might seem slightly unappealing at first, the information it carries is organized with convenience in mind, which is greatly appreciated, especially by mobile users.
As for the roster of sports, 888 covers events from all parts of the globe, which promises that gambling enthusiasts can have a flutter on their favorite sport. Users of the sportsbook can bet on all major sports, including football, American football, baseball, basketball, cricket, cycling, and horse racing, among others. Live betting, cash-out, and the bet-building feature are tremendously popular among punters, and fortunately for users of 888, it offers all of them.
The quality of the promotional deals should not be overlooked, and the bookie has made sure that it will deliver in this department. Aside from the bonus deals that are aimed strictly at newcomers, the operator has provided a number of regular bonus deals that promise to keep punters interested.
Plenty of sports and markets to wager on
Plenty of bonuses and special incentives
The bet placement is easy
A trustworthy and reliable bookmaker
Supports all main odds formats
Limited range of supported currencies
The navigation around the website is not always smooth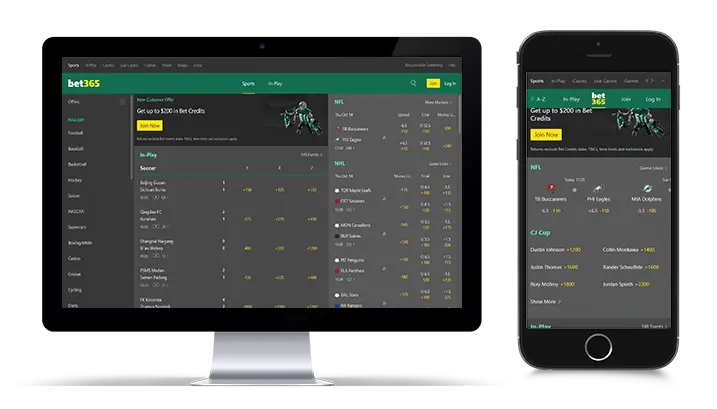 Another bookmaker, which has acquired worldwide recognition and accommodates punters from Portugal, is bet365. The operator strives to live up to its reputation as one of the best sports betting platforms, and to this end, provides gambling enthusiasts with a thoroughgoing list of events and competitions to bet on.
The bookie caters to punters who want to focus on wagering on greyhounds, football, ice hockey, snooker, cricket, tennis basketball, esports, among others. Betting mid-game on events is also an option users of bet365 might appreciate, and, to explore the available markets, punters only need to switch to the in-play betting category. The operator does not disappoint also when it comes to the features gambling enthusiasts can benefit from during their betting session as getting the best deal for their bet is possible, thanks to the cash-out, bet-building, and edit-bet features.
Using the mobile version or one of the dedicated apps is what it takes for punters to get seamless access to bet365 whenever and wherever they want. The operator ascribes great significance to the safety of its users, and because of this, protects all their sensitive information through an encryption system.
The live chat is indeed the quickest and the most efficient way to get in touch with the representatives of bet365, but punters should know that assistance is available also via email and over the phone.
Reputable operator with years of experience under its belt
Lots of betting features
Several sports-related bonuses
A decent line-up of covered sports
Available for play on the go
The available bonuses could be more rewarding
The cashout feature can be slightly improved
The available banking solutions are not that varied
Placard.pt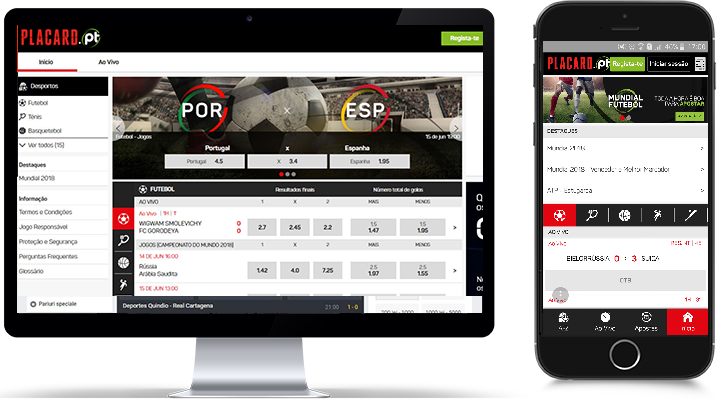 Placard.pt is a worthwhile betting platform for the Portuguese as, along with betting on sports, it is home to a wide and varied selection of casino games.
There are more betting markets punters can explore in one sitting, which is a major plus, considering that gambling enthusiasts have different preferences. Football is easily one of the sports the Portuguese flock to, but the operator also offers lines for tennis, basketball, baseball, American football, handball, ice hockey, and rugby, among others.
The operator has also accounted for the preferences of fans of live betting, and although the sports punters can bet on are not that diverse, Placard.pt has covered fan-favorite sports like football snooker, baseball, and tennis.
Users of iOS and Android-run devices can enjoy the ultimate freedom to engage in the betting action the sportsbook offers at their convenience, thanks to the in-browser and dedicated apps the operator boasts.
Last but not least, the execution of payments to and from Placard.pt is quick and safe, thanks to the accepted banking solutions, including Mastercard, Visa, MBWay, and bank transfer, among others. If punters have any concerns or questions, what they need to do is to decide if they prefer to use the live chat to get in touch with the support hosts, or they will rather give them a call or write them an email.
Many sports to wager on
The operator is properly licensed
The help desk can be reached out through all main contact venues
Supports mobile play
The live chat does not work around the clock
Limited range of deposit and withdrawal solutions
The available bonus deals are just a few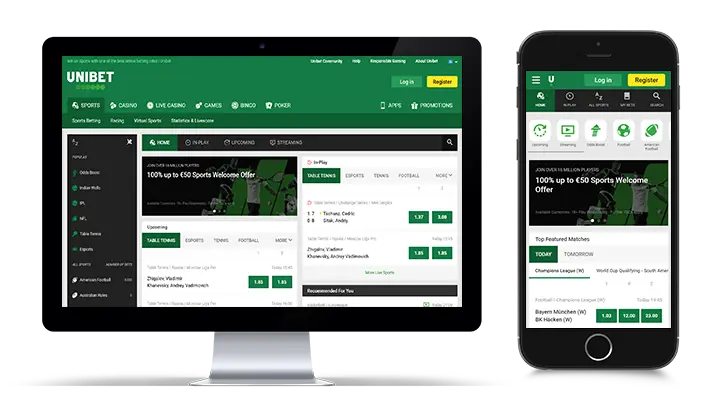 Another sports betting platform, which gets perfect scores for its performance and is therefore worth stopping by is Unibet. It is safe to say that the operator bodes well, and it is a particularly appealing betting platform for the Portuguese because it offers odds for all their favorite sports. Betting is possible on golf, handball, hockey, MMA, football, box, tennis, and volleyball, among others. Besides, there is a lot going on also in the live betting section.
The sports betting platform stands out with its uncluttered design, thanks to which even first-timers will wrap their heads around in next to no time. The user-friendliness of the sports betting platform is carried over its mobile variant, and the downloadable apps gambling enthusiasts can take advantage of in order to gain access to the full roster of options Unibet provides anytime and anywhere.
There are no grounds to complain when it comes to the available bonuses as the section designed for them is overflowing with incentives for first-timers and returning users. Unibet ticks all the right boxes when it comes to deposits and cashouts as the accepted methods of payment include Paysafecard, Mastercard, Visa, PayPal, Neteller, Skrill, and bank transfer, among others.
A plethora of bonuses
A large variety of betting options
Multiple betting features
Unibet can be accessed on the go through an in-browser and downloadable app
Limited range of currencies
The live chat does not work 24/7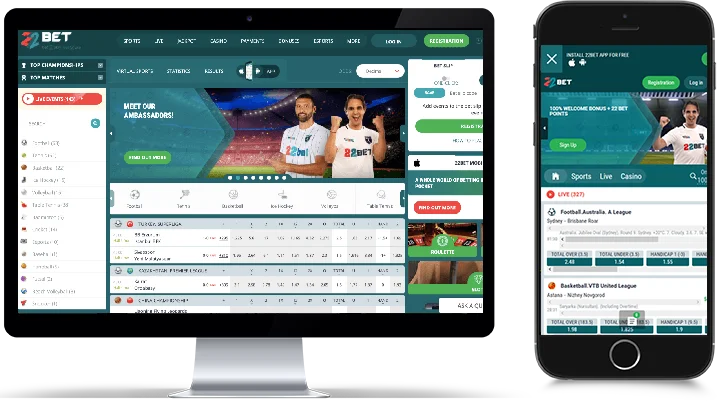 Another up-and-running sports betting site, which has the needed accreditation to operate on the Portuguese market is 22Bet. Although it set up shop just three years ago, the sportsbook started to climb in the chart of the leading Portugal-friendly bookies, thanks to its rewarding bonuses, comprehensive sports list of products, and reliability.
Speaking of sports, there are quite a lot of them to choose from, and lines are offered for everything from MMA and table tennis to football and basketball. The operator is not only looking to grab the attention of gambling enthusiasts with the variety of sports but also with the betting features that will be within reach once they are greeted on board. Live betting is a hugely enjoyed option, so is the cash-out feature, and best of all, they are available to mobile users.
The operator has taken special care to ensure that there will be payment solutions that will work best for punters who live in Portugal, as card payments, prepaid vouchers, and digital wallets are all available in 22Bet's cashier.
Lastly, aside from being safe, the sports betting platform does not shy away from rewarding its customers, the newly-registered ones included.
Offers lines for virtual sports and esports
Accepts payments through multiple banking solutions
Offers lines for many sports
Allows play on the move
Assistance is not offered over the phone
The available bonuses could be more rewarding
ESC Online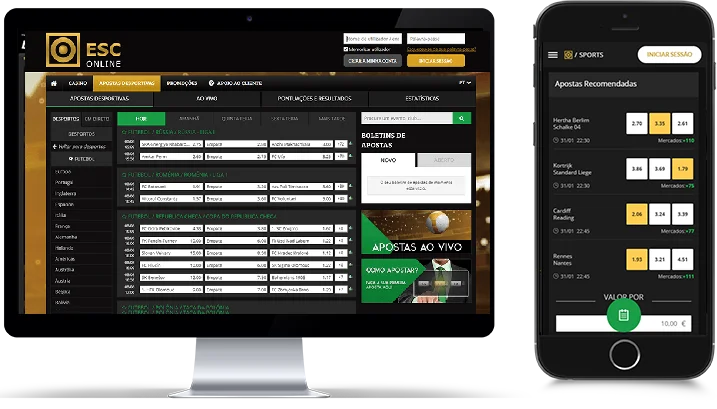 ESC Online is a sports betting platform, which is welcoming to punters from Portugal, and which allows them to bet on a wealth of sports at their convenience. Having the approval of the SRIJ, the operator has what it takes to offer casino games and betting on sports in the country.
Considering that football is the most well-liked sport in Portugal, it makes sense that this is the sport with the greatest coverage at ESC Online. The operator provides lines for all most followed international leagues, as well as the domestic competitions in more than thirty countries. If betting on football is not what you are most heavily into, then you should check the markets offered for tennis, basketball, MMA, rugby, or golf, among others.
Obviously, the operator has wanted to ensure that its users will not find it challenging to place their bets as statistics, live results, and scores will be readily available at all times.
ESC Online accepts the majority of the payment solutions the Portuguese prefer to use while betting on sports over the Internet, and when they would like to load their account with cash quickly and safely, they can rely on Multibanco, Teleingreso, Visa, Mastercard, MBWay, Paysafecard, Neteller, and Skrill, among others.
Offers live betting, statistics, scores, and results
The sports coverage is extensive
Short processing times for withdrawals
Allows play through handheld devices
The live chat is available only on working days and not around the clock
No telephone support
Portugal Betting Sites FAQ