Nowadays, sports betting has become one of the most preferred ways of entertainment for punters all over the globe. In fact, sports betting is now even more popular thanks to the technological advancement which enabled millions of people to place their bets in numerous web-based betting operators. The popularity of these websites can be attributed predominantly to the fact that they provide punters with the desired levels of both convenience and flexibility. The excessive demand for such websites led to the emergence of a mind-blowing number of online bookmakers.
If you live in the UK and you enjoy sports betting, you have definitely noticed that there is an abundance of such websites. In fact, in the UK online sports betting is legal and there are not any grey areas, meaning that the online gambling industry is well regulated. This, on the other hand, enables punters to choose from a wide array of trustworthy bookies where they can place their bets without bothering about security issues.
If you are new to sports betting, there are probably numerous questions you are asking yourself. You may wonder which are the best sports betting websites, how to decide whether web-based bookies are reliable or not, what to look for in such websites, and various others. Here, we have tried to provide you with as detailed information about online sports betting as possible, so keep on reading in order to find out more.
Legalities of Online Sports Betting in UK
Overview
History
Legalization
Software
Historical Betting Overview
Sports betting in the United Kingdom has a long and exciting history. In spite of the many ups and downs, nowadays, the industry generates immense profits, and it is strictly regulated by the UK Gambling Commission. Although sports betting is now completely legal and supervised, this has not always been the case.
In the middle ages, people would bet on cockfighting, 'Fox and Geese' hunting games, horse racing, and similar activities. However, the first one to introduce some regulations into betting was King Richard I of England. The reason behind this was gambling's growing popularity and the intention of introducing limits on who could gamble and how much. Later on, the 1541 Unlawful Games Act practically rendered all gambling activities illegal.
Horse racing bets have always been Britons' widely popular pastime, with the Ascot Racecourse and the Epsom Derby races, whose rise to popularity could be traced back to the beginning of the 18th century. This has not changed much over the centuries, as horse racing, along with greyhound racing and football find unrivaled popularity in contemporary online sportsbooks.
With the passing of the Betting and Gaming Act of 1960, over 16,000 licenses were granted to betting establishments. Later on, in 2005, the Gambling Act was adopted and led to the establishment of the UK Gambling Commission, which is in charge of issuing the licenses for the gambling and sports betting operators.The Gambling Act also serves to ensure that gambling is completely lawful and not associated with criminal activities. Furthermore, it protects the rights of children and vulnerable individuals. The act also makes sure that gamblers are provided with fair and open conditions by strictly regulated operators.
What You Need to Know about Sports Betting in the United Kingdom
The United Kingdom is a global leader in terms of sports betting popularity. This multi-million industry is strictly monitored and regulated by the United Kingdom Gambling Commission, and it is completely legal, as long as the minimum age of 18 years is observed. All sportsbooks are closely supervised by the commission with the purpose of delivering bettors with safety, security, and fairness in all respects.
The gambling market in the United Kingdom is one of the world's most competitive ones, which can be a very positive feature for punters, as they can easily find online gambling services of excellent value. Simultaneously, bettors need to be on the watch-out, in order to select the best offers in terms of odds, promotions, and bonuses, as well as sports events coverage.
The plethora of betting markets is not the only appealing feature of sportsbooks that accept punters from the United Kingdom. They are also treated to an abundance of in-play options, as well as various e-sports, whose popularity is constantly growing nowadays.
After the short introduction to the main specifics of sports betting in the United Kingdom, we will now move the focus to a couple of tips outlining the characteristics of the odds formats, as well as the major laws and regulations in the country. We will also describe in detail important aspects such as popular betting markets, bonuses, mobile betting, and others. And last but not least, we will present to your attention 10 top-ranking sports betting operators that cater to the various needs of bettors, and offer great value for money.
Odds Formats in the United Kingdom
Decimal Odds
Fractional Odds
American Odds
Calculations
If you are not familiar with the various odd formats and the way they work, you should definitely take your time to read more about them prior to making any real-money bets. Inexperienced bettors may get confused when they want to wager on their favorite sport but they do not understand the way odds are expressed.
The decimal odd format or European odds as it is also known shows the potential return after a winning bet. Here, the odds are written in a decimal form and look like this 2.2, 1.5, and so on. This odds format enables punters to estimate their potential profit by multiplying the odds and their stake. For example, if you wager £100 and the odds are 2.1, this will mean a winning bet will bring you £210. It should be noted that your initial bet is included in this amount. The bigger the number is, the bigger payout you will get.
Still, the oldest odds format is the fractional one. This format is most popular in the UK and it shows both your profit and your stake. That is how the odds look like 5/1, meaning that punters will get five pounds for every pound they have wagered. If you have wagered £100 at odds 5/1, you will get £500. It should be noted that here, the stake is not included.
The American odds format can be found in almost every web-based bookmaker and represents the odds with positive and negative numbers. The negative numbers show how much you need to wager in order to get £100 profit. The positive numbers, however, will show you your profit after betting £100. Punters need to bear in mind that they are not required to wager an amount that is equal to the money line. If the odds are -150, for example, this will mean that you will get £100 as long as you wager £150. If the odds are + 150, however, you will need to wager £100 in order to get £150.
United Kingdom's Betting Laws and Legislation
Sports betting in the United Kingdom is an immensely popular form of entertainment and recreation, contributing millions to the economy. The regulations that focus on this industry are in favor of its development and future prosperity, as long as sports betting providers act lawfully and fairly.
The main act which is currently supervising sports betting activities in the United Kingdom is the Gambling Act of 2005. It is actually the first piece of legislation to regulate online gambling, apart from the land-based establishments. It has also determined the Gambling Commission as the main regulatory body of the industry.
The first amendment to the act was introduced in 2014. One of its purposes was the requirement imposed on off-shore gambling operators to obtain a license from the UK Gambling Commission. Additionally, 15% of their gross profits became subject to taxes.
At the beginning of 2019, the Government, along with the Gambling Commission took some additional measures, aiming to tighten the rules and regulations relating to both online and land-based operators. The identity and age checks that the operators had to perform became stricter.
In an attempt to minimize the negative effects of gambling and potential financial harm, the government also banned payment methods via credit cards. Sports betting operators are also compelled to make sure that e-wallets such as Skrill, Neteller, and PayPal are not funded via credit cards. The ban applies both to land-based and online operators, except for the lotteries.
It is widely accepted and believed that betting can be a very relaxing and pleasant activity, as long as it is practiced safely and in moderation. It is a lucrative industry, which brings massive profits to the economy and serves to enhance the popularity of many sports and other industries. The laws and regulations in the United Kingdom strive to create a balance between the users' personal choices and the protection of vulnerable groups from society.
UK Betting Restrictions
Gambling laws in the United Kingdom are primarily focused on the legality and trustworthiness of sports betting operators, rather than the individual bettors. All land-based and online bookmakers should operate in full compliance with the Gambling Act of 2005. Otherwise, they risk losing their licenses.
Individual bettors may become subjects of investigation only if their betting is believed to be related to criminal activity. What is more, bettors should make sure that they use only licensed and trustworthy sportsbooks, because otherwise, they jeopardize their funds in the event of prosecution of the operator by the Government.
The most severe penalties in the industry are related to underage betting. The minimum age when it is legal for individuals to place bets is 18 years. Sports betting operators are obliged to perform thorough verifications of the users' identities and ensure that this major condition is met.
It should also be noted that bettors are not allowed to deposit funds into their accounts prior to providing their verification documents.
Additionally, a ban on gambling advertising was adopted in 2019. It was added to the Gambling Industry Code for Socially Responsible Advertising. It prohibits bookmakers' ads during televised sports events before 9 p.m.
Another restriction, which was already mentioned in the previous section is the one relating to the use of credit cards for gambling activities. In an attempt to curb possible financial losses and debts for bettors, the United Kingdom's Government banned the funding of accounts through credit cards.
Online Betting Regulatory Body in the United Kingdom
In order to keep up with the technological progress and the dynamics of the gambling industry, the UK Government decided to liberalize its approach to it back in 2005 by adopting the Gambling Act.
All gambling providers, including online sports betting websites in the United Kingdom, operate in accordance with the regulations of the UK Gambling Commission. Every single bookmaker who intends to operate lawfully should obtain a license by the commission.
This is a great privilege for bettors from the United Kingdom since they enjoy an unprecedented diversity of online operators in a meticulously regulated and completely legal environment. The online betting market is more competitive than ever and as a result of this punters have a great selection of top-rated bookmakers to choose from.
In contrast to other countries, where online betting and gaming laws are quite obscure, the United Kingdom provides the perfect conditions for gambling enthusiasts. The UK Gambling Commission outlines its regulations in a clear and understandable manner and does not leave room for ambiguity.
In short, online betting in the United Kingdom is readily available, as long as punters have access to the Internet, and of course, comply with a major regulation – that of the required minimum age of 18 years.
Popular Betting Markets in the United Kingdom
Football
Cricket
Rugby
Tennis
We would like to bring to your attention our shortlist of 6 top-rated sports betting markets in the United Kingdom.
Undoubtedly, football is the sport providing UK bettors with the greatest abundance of leagues to choose from. Both on a national and a global level, football leagues such as the Premier League, the English Football League Championship, the English Football League One, UEFA Champions League, and many others are the top-rated sports events to follow and bet on.
Cricket ranks second in our list of sought-after betting markets in the United Kingdom. It is deemed to be the national sport of England. The United Kingdom's cricket clubs compete against each other in a total of 29 Premier Leagues, governed by the England and Wales Cricket Board. Some of them are the Birmingham and District Premier League, Cornwall Cricket League, Essex Cricket League, etc.
Rugby, also known as Rugby union, is a sport originating from England, which has consequently gained popularity all over the world. Apart from the Rugby World Cup, which is organized every four years, bettors may choose to wager on other locally-based leagues such as the Super League, the Championship, the National Conference League, etc.
Yet another sport that garners much attention from punters in the United Kingdom is tennis. Bettors will surely be delighted with the abundance of premier tennis leagues to follow and bet on, such as the US Open, Wimbledon, ATP Tour, and the Australian Open.
Badminton may be considered a low-key discipline in some parts of the world, but it is much favored in the United Kingdom and enjoys ever-growing acclaim. The National Badminton League, the Premier Badminton League, and the Worcester Badminton League present just a small portion of the badminton leagues available in the United Kingdom.
With a reported attendance of approximately 6 million people on an annual basis, horse racing is surely not last in our listing. Among the popular horse racing events in the United Kingdom are the Royal Ascot, the Grand National, and Epsom Derby, among others.
Popular Betting Markets in the United Kingdom Summary
Sport
Leagues
Football
Premier League, English Football League Championship, English Football League One, English Football League Two, National League, National League North, National League South, FA Cup, etc.
Cricket
Birmingham and District Premier League, Cornwall Cricket League, Essex Cricket League, Hertfordshire Cricket League, Kent Cricket League, Liverpool and District Cricket Competition, North East Premier League, North Wales Cricket League, West of England Premier League, etc.
Rugby
The Super League, the Championship, the National Conference League, Conference League South, London & South East Men's League, South Wales Premiership, the Rugby World Cup, etc.
Tennis
Wimbledon, Australian Open, French Open, US Open, etc.
Badminton
National Badminton League, The Premier Badminton League, Worcester Badminton League, Oxfordshire Badminton League, Essex County Badminton League, Nottinghamshire Senior League, the Leicestershire Badminton Association League, Worcestershire League, etc.
Horse Racing
William Hill Racing League, Royal Ascot, Cheltenham, Epsom Derby, the Grand National, Ladbrokes Trophy.
United Kingdom Online Betting Bonuses
Promotions
Match Bonus
Free Bets
Enhanced Odds
It is easily understandable why UK bettors have the benefit of a huge selection of tempting bonuses, offered by online sportsbooks. Several years ago, it was a tough task to find a web-based bookmaker who offers plenty of bonuses. Taking into consideration the competitiveness and diversity of the sports betting industry on the Island, it is not surprising that the range of incentivizing bonuses nowadays is quite astonishing. Let us present to you the most popular bonuses that are offered by UK sports betting operators.
The initial deposit bonus, or the one luring newly-registered punters to online sportsbooks, has become an industry standard. The sign-up offers have conditions attached to them and they need to be reviewed in detail. After punters are done with the set-up of their accounts, they are required to deposit money into their accounts.
Once the deposit is made, they are free to claim the welcome bonus. Different wagering requirements may apply, and the time frame for the fulfillment of the bonus may also vary. The maximum amount of the bonus is also mentioned by the sportsbook. Some operators also state minimum odds that are applicable to the welcome bonus.
Another type of welcome bonus that is offered by UK operators is the so-called Free Bet. Basically, it is a sum of money that the bookmaker deposits into the punters' accounts, which however cannot be withdrawn straight away, but should be used to bet on pre-defined betting markets or specific bet types. In case the bet loses, this does not involve a financial loss for the punter. Accordingly, winning bets return only the profit, without the stake.
The loyalty bonuses are designed for committed users of the online betting platforms, those who use them on a regular basis and have proven to be dedicated and loyal patrons. Most sports betting providers have ensured that they have at least one loyalty bonus in store for their long-standing customers.
The ACCA insurance is yet another exciting feature offered by UK sportsbooks. If just a single selection of an accumulator bet is losing, punters that have selected the ACCA insurance will have the stake returned to them, in the form of a free bet, for example.
Speaking of bonuses, we should also note that bettors need to pay extra attention to the conditions that are usually attached to each type of bonus. These conditions most commonly concern the wagering requirements, as well as the timeframe determined for the duration of the bonus.
Mobile Betting in the United Kingdom
Mobile Play
Download App
Browser In-Play
Download via QR
Nowadays, punters are not required to go all the way to land-based bookmakers in order to wager on their favorite sports as they can do this even via their smartphones. The gambling industry is also among the fields that were influenced by the advance in technologies. Over the past few years, gambling fans were presented with several innovations. The two greatest innovations were the introduction of online betting websites and mobile gambling apps.
Most of the bookies provide their customers with full-blown mobile versions of their products or with mobile apps. As a matter of fact, presently, almost every sportsbook has a mobile version that comes with an extremely slick interface and enables bettors to wager from almost every location, irrespective of the time.
Punters are given the opportunity to load the software of the preferred sportsbook from the browsers of their smartphones and then they will be redirected to its mobile version immediately. You will only need to sign in your account and you can start wagering on the sports you prefer right away without downloading any additional software.
Still, if they consider that the mobile app is the more suitable option for them, they can always take advantage of it and download the app for free. Still, both options will provide you with the desired convenience and flexibility of wagering even while you are on the move which means that it is all up to you to decide which option is more suitable for you.
Popular Betting Banking Methods in the United Kingdom
Bank Transfer
Credit Cards
E-Wallet
Prepaid Cards
Technological innovations and improvements have led users to seek a variety of payment and withdrawal solutions in the process of picking a reliable UK sports betting operator. Online sportsbooks are expected to provide complete security and trustworthiness when it comes to the financial aspect of betting. The minimum and maximum amounts both for deposits and withdrawals may vary with each sportsbook and should be checked in the relevant section of their website.
A lot of punters prefer to use debit cards in order to make deposits or withdraw funds from their accounts. With Visa Debit, deposits are initiated instantly, while the withdrawal times may vary between 1 to 5 working days.
The rise in popularity of digital wallets should not be underestimated. A growing number of punters have become aware of the security and trustworthiness of deposits and payments made via e-wallets. Some of the most popular brands in this field are Neteller, Skrill, ecoPayz, and PayPal. UK bettors can also opt for payment solutions such as Apple Pay and Google Pay.
Pre-paid vouchers are yet another option that is much preferred by UK bettors. A reliable provider of this online payment solution is Paysafecard. The method is quite simple and secure and bettors do not need a bank account in order to use it.
Payment and withdrawal solutions via bank wires and checks are preferred by some punters due to the high maximum limits that they offer. However, both methods can take quite some time in order to initiate deposits and withdrawals.
Online transactions carried out via cryptocurrencies have proven to be the most secure method of all. Not all UK sportsbooks are supporting this method though, but it is worth checking if it is available.
Popular Banking Methods in the United Kingdom
Payment Method
Fees
Deposit Limits
Deposit Times
Withdrawal Limits
Withdrawal Times
Visa Debit
Free
Min £5.00/Max £20,000.00
Instant
Min £5.00/Max £20,000.00
1-5 Banking days
Apple Pay
Free
Min £5.00/Max £5,000.00
Instant
Min £5.00/Max £2,000.00
2-3 working days
PayPal
Free
Min £10.00/Max £5,500.00
Instant
Min £10.00/Max £5,500.00
Within 24 Hours
Google Pay
Free
Min £5.00/Max £5,000.00
Instant
N/A
N/A
Paysafecard
Free
Min £5.00/Max £770.00
Instant
Min £5.00/Max £2,000.00
Within 24 Hours
Click to Pay
Free
Min £5.00/Max £5,000.00
Instant
N/A
N/A
Bank wire
Free
Min £100.00/Max £100,000.00
2-10 Banking days
Min £5.00/Max £100,000.00
1-5 Banking days
Cheque
Free
Min £100.00/Max £50,000.00
5-28 Banking days
Min £100.00/Max £50,000.00
5-28 Banking days
Neteller
Free
Min £10.00/Max £50,000.00
Instant
Min £10.00/Max £100,000.00
1-7 working days
Skrill
Free
Min £5.00/Max £5,000.00
Instant
Min £250.00/Max £2,500.00
1-7 working days
What to Watch when Picking a UK Betting Site
Security
Customer Support
Mobile Compatibility
In-Play Betting
There are a number of fundamental factors that punters need to take into consideration in the process of choosing a UK sports betting provider.
First and foremost, punters should check if the bookie accepts registrations from the United Kingdom. Do not forget also to pay attention to the range of currencies on offer in the sportsbook, and if the pound sterling is among the possible options.
The security of your personal information and financial resources is of paramount importance. For example, a state-of-the-art Secure Socket Layer (SSL) encryption technology protects your data during transmission, so checking the sportsbook's trustworthiness should be top-ranking in your list of priorities.
Every sportsbook that is worth its salt will offer bettors some lucrative bonus or promotion, and that is completely okay. They are usually accompanied by specific terms and conditions, which should be observed and completed, in order for the bonus to be claimed afterward. Bettors should be careful in this respect and opt for promotions that offer reasonable and feasible conditions.
The payment and withdrawal methods, offered by the sportsbook, are another major factor, which bettors need to investigate in detail. Punters from the United Kingdom should be aware of the fact that credit cards are not among the possible options to fund their accounts. Furthermore, some e-wallets used for payments do not qualify for certain bonuses.
Top-performing, thriving sportsbooks, the ones that really make a difference in the super-competitive gambling market, have one feature in common, and that is customer support featuring an outstanding quality. Bettors should check if all channels to reach a rep are available and easily accessible.
Best 10 Betting Sites in the UK
With the ever-growing number of online sports betting providers, and the diversity of many sports and leagues on the Island, UK punters may find the task of choosing the right sportsbook a daunting one. This does not have to be so, as long as you stick to a sport, which you like and understand, as well as to a trusted and regulated provider.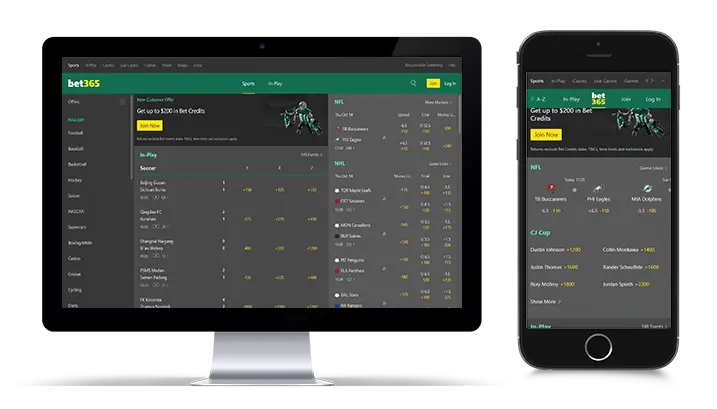 A global leader in the sports betting market, bet365 is sure to provide punters with unparalleled gambling experience.
The in-play section of the sportsbook features an impressive quality and coverage of major sports markets such as football, tennis, badminton, cricket, greyhound racing, and many more.
Other important advantages of bet365 are the cash-out, live betting, and live streaming features. The Bet Builder feature allows punters to create the bet they want on any football match. In order to create a unique bet, they can make up to 12 selections.
Bet365 offers also other handy tools such as football statistics, a horse forum, UK and Irish Racing Archive.
Online bookmaker of global prominence
Impressive coverage of sports
A good range of payment and withdrawal methods
Round the clock live chat service
Bonuses could be a bit more generous
Loading times of the website are occasionally slow
Limitations on accounts of winning bettors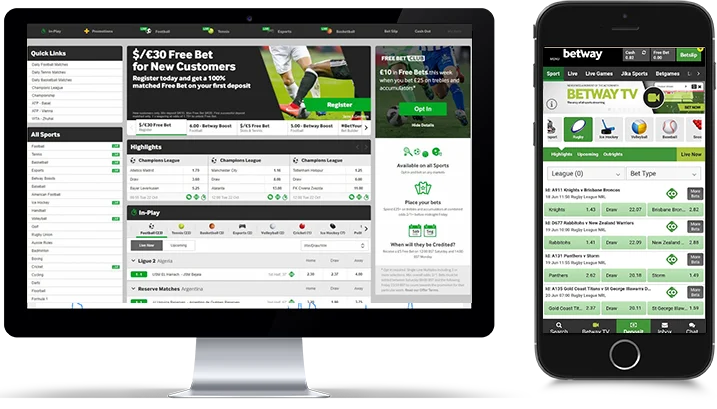 Betway started its journey in the sports betting industry back in 2005 and currently holds licenses both from the UK Gambling Commission and the Malta Gaming Authority.
The number of sports markets included in its portfolio exceeds 30, and UK punters' favorites such as football, tennis, cricket, and horse racing find great coverage there. Fast and stress-free payouts are often reported by winning customers.
Betway has always been at the forefront of e-sports betting. Fans of this type of wagers will be pleased with the variety, as well as the competitive odds and the various blog posts with in-depth analysis.
Betway Plus loyalty program
Mobile app live streaming
User-friendly interface
E-sports variety and betting tips
Mobile app design might be improved
Sportsbook bonuses could be a bit more generous
Weekly limitations on cash-outs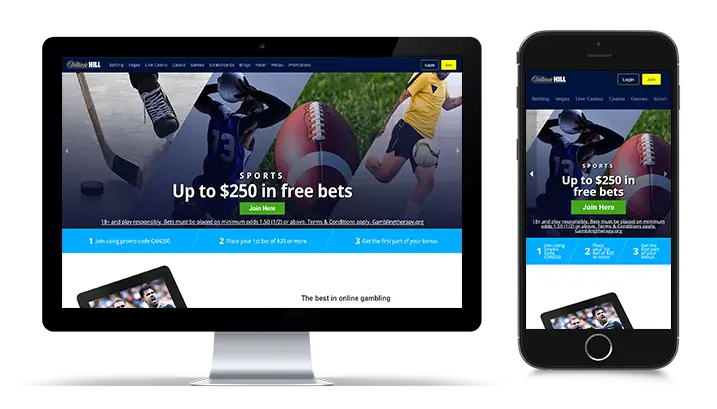 With over 1400 operating betting shops and a powerful online presence since 1998, William Hill is without a doubt among the market leaders. The sportsbook has constantly been refining its services and mobile apps over the long years of its online presence.
Once you navigate through the long list of sports markets on offer, you can quickly scroll down to the types of bets available.
Bettors who are engrossed by in-play betting will find it very easy to pick a sport of their liking and wager at the spur of the moment.
The live streaming software of William Hill features an exceptional quality all over the globe, and in case your chosen sport does not offer this feature, an animated play-by-play analysis visualizes what is happening at the moment.
A brand synonymous with longevity, trustworthiness, and security
A massive portfolio of sports
An in-play sports section clearly visible on the front page
Swift live chat service
Bonuses are less competitive compared to other bookies
The website is a bit cluttered, but still user-intuitive
Verification of accounts might be a bit slow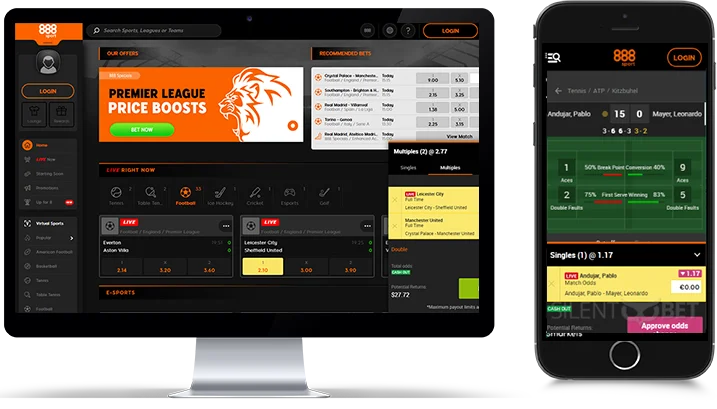 UK punters in search of their favorite sports to bet on will surely not be disappointed with the markets offered by 888sport. Football, golf, tennis, cricket, and rugby are just a few examples of what the sportsbook has in store. Live betting also adds to the list of thrilling options.
With a bookie that is as strictly regulated as 888sport is, punters may rest assured that they will have a smooth and worry-free experience, as far as deposits and payments are concerned.
The software looks pleasing to the eye, and there is no negative feedback from users in terms of lagging or crashing.
A reputable and safe brand
Detailed betting rules for each sport
VIP program
An elegant and pleasing website design
Payout limits might be a bit clearer
Live streaming service could be improved
Customer service is not available 24/7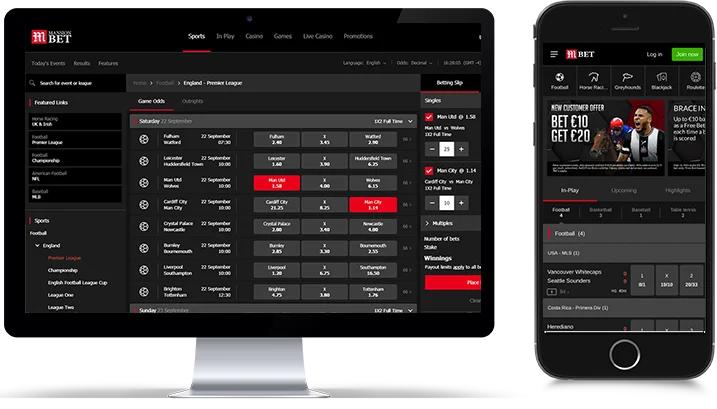 MansionBet is a relatively new sportsbook, which however is managed by the well-known Mansion Europe Holdings Limited. The bookie enjoys high acclaim amid bettors due to the abundance of sports markets on offer, and the comprehensive coverage of both major and less-known sports leagues.
The reputation of the sportsbook is further enhanced by the numerous in-play options to choose from. What is more, punters may take advantage of the informative and well-structured sections dedicated to the rules of betting, the statistics, as well as the blog section.
The odds formats supported by the sportsbook include American, decimal, and fractional, and switching between them is effortless.
A comprehensive coverage of all major sports leagues
User-friendly betting slip
Abundance of regular and in-play markets
Betting rules, statistics, live results, and a blog section
Insufficient range of deposit and payment options
Unregistered bettors cannot make use of the live chat functionality
Some users report slow withdrawal times
Coral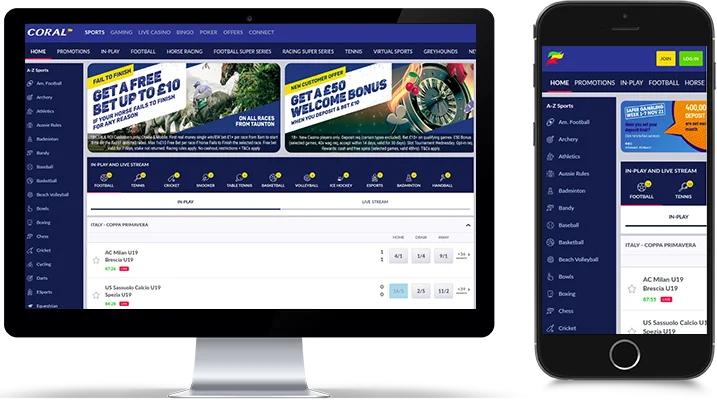 The astonishing variety of sports offered by Coral reflects its long presence on the sports betting market since 1926. Operated by LC International Limited, the bookie bears the seal of authorization by the UK Gambling Commission and the Gibraltar Gambling Commission. It launched its website in 1999.
The sportsbook is a number one choice among UK bettors when it comes to horse and greyhound races. Football does not lag behind either.
The design of the website is of high class – appealing to the eye and user-intuitive.
Some great features supported by the sportsbook are the Bet Builder and Request a Bet feature, as well as the full and partial cash-outs.
Bet builder and Request a Bet features
The horse and greyhound markets are exceptionally diverse
Over 200 football markets
Round the clock customer support via live chat, e-mail, and phone
No VIP program
Auto cash-outs are missing
Tennis markets are rather scarce
BetVictor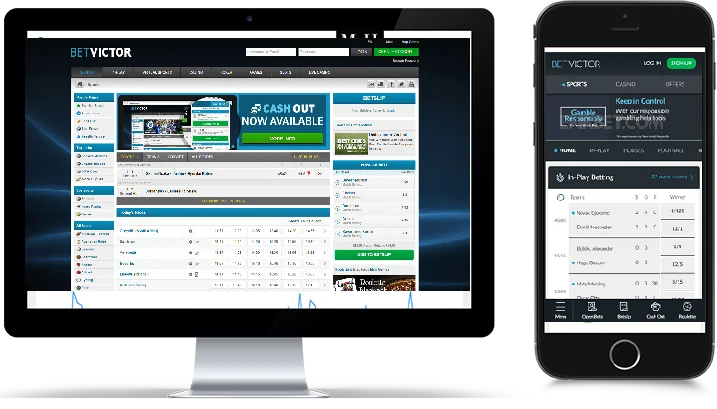 If you are residing in the United Kingdom, and you are on the lookout for a trustworthy and reliable bookie, then BetVictor would be a perfect fit. The sleek organization of the website speaks volumes about the quality service that this sportsbook offers to punters.
Within the exceptionally ample portfolio of sports, UK punters will have the chance to choose between an abundance of both major and less popular leagues. The types of bets on offer for each sport are equally diverse. The live streaming and in-play features are also on par with the overall quality.
The ACCA insurance is a great functionality, allowing bettors to get a losing bet refunded in the form of a betting ticket to place another comparable bet.
ACCA Insurance
Bet calculator
Fast payouts
User-intuitive, neatly organized website and mobile apps
Live streaming applies only to horse racing
Occasional withdrawal issues reported
The bet-slip is hard to navigate, according to some users
Betfred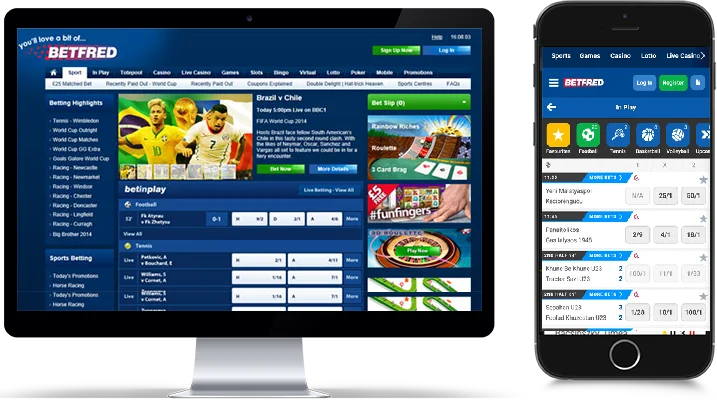 Betfred ranks fourth among the largest UK bookmakers on a global level. Its portfolio is largely dominated by sports markets that are popular with UK punters, such as horse and greyhounds racing, tennis and rugby, cricket, and many others. Furthermore, football is one of Betfred's specials and finds a particularly impressive representation.
The website and the mobile applications are designed with user-friendliness in mind. The selection of payment and withdrawal methods is rather satisfactory and the payout times are fast.
As far as security and fair play are concerned, Betfred will not disappoint you either. Customer support is quick, friendly, and responsive.
Over 50 years in business
Competitive odds for top sports
A lot of regular and valuable bonus offers
A major focus on English and Irish markets
In-play markets' variety could be improved
Limiting winning bettors
The website loads slowly sometimes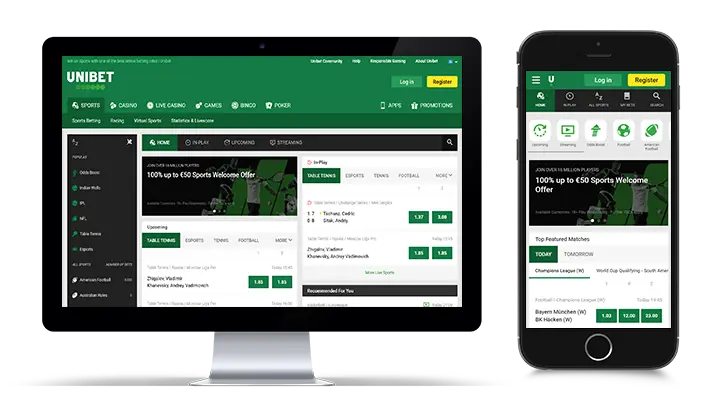 A sportsbook of the highest class, Unibet offers UK punters a great quality in terms of betting features, mobile compatibility, and security. Since its inception in 1997, the sportsbook has never ceased to upgrade its services, in order to be on par with the dynamics of the industry.
Unibet's website features a clean and well-structured design, as well as a bet slip that is intuitive and easy to handle.
Aside from the handy statistics feature, the bookie also offers the popular and much sought-after in-play betting option, allowing punters to place wagers as the game unfolds.
The odds formats supported by the bookie are Decimal, Fractional, and American.
Top live streaming service
Incredibly fast payouts even for substantial amounts
Easy-to-navigate mobile apps
Competitive odds on the biggest sports events
Verification processes might sometimes take a while
Some punters reported dissatisfaction with the live-chat service
The website is occasionally slow
Ladbrokes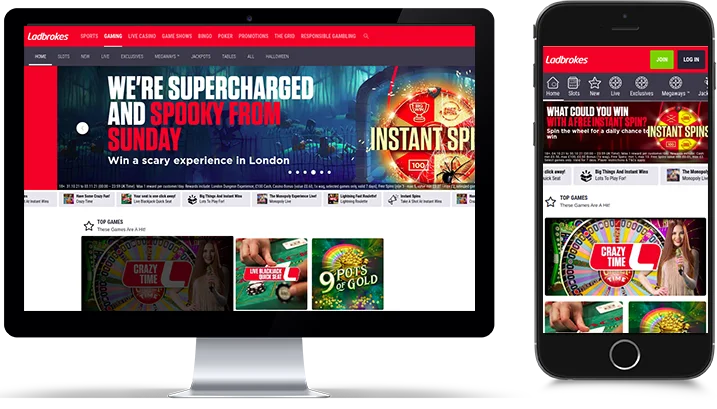 Founded back in 1886, Ladbrokes is one of the pioneers in the sports betting industry. Originally functioning as a horse racing agent, Ladbrokes launched their website at the beginning of the 2000s.
Although the betting odds as a whole might not be as competitive as those offered by other prominent sportsbooks, the ones for horse racing and greyhounds are unparalleled.
As far as payouts are concerned, those on horse racing reach a maximum of £1 million, while the greyhounds are capped at £500k.
Customer support is accessible via live chat, e-mail, and phone. Apart from English, other supported languages are German and Swedish.
Impressive payouts for horse racing, greyhounds, and football
In-play betting
A variety of payment and withdrawal options
Quick withdrawals
Odds are not as competitive, compared to other top-rated sportsbooks
The layout of the website could be refined
More obscure market sports are not very well covered
United Kingdom's Betting Sites FAQ