Canada plays an important role in the online gambling industry, being one of the most favorable countries to do business in and with a population that is always fond to place a bet. Canadian gamblers are some of the most active in the world and the size of the Canadian gambling market is growing with every quarter. While this is true for the gambling industry in general, sports betting, in particular, has experienced a dramatic rise in popularity over the past few years, more specifically on the Internet, where Canadian users have a plethora of websites at their disposal.
Online gambling has always been big in Canada, and it shows no signs of slowing down. The size of the market is in a state of perpetual growth, and users have never had more options at their disposal. In this article, we would like to better explore the Canadian online sports betting scene and give you some insight into some of the more important aspects of it, such as legalities, odds types, bonuses and promotions, payment methods, and more.
Legalities of Online Sports Betting in Canada
Overview
History
Legalization
Software
Historical Betting Overview
Gambling activities have been part of the lives of Canadians for years, and the first event on which bets were accepted was a horse race, which was held back in 1767. As is the case with the gambling industries of other countries, Canada also had its ups and downs throughout the years, but, to a large extent, it has retained an even-handed stance when such activities are concerned. All forms of gambling were prohibited with the introduction of the Canadian Criminal Code 1892. Fortunately for gambling enthusiasts, this did not last long, and gambling, betting on raffles, and horse racing were all made legal at the beginning of 1900.
The long-standing prohibition on gambling activities was partially lifted after state-run and state-licensed lotteries were added to the small-scale list of legal forms of gambling. Gambling started to become even more deeply rooted in Canadian society after these legislative changes, and the industry quickly started to thrive.
The further steps towards the liberalization of the market were made back in 1985 when parlay betting was made legal. Gambling enthusiasts were offered the chance to wager on their favorite sports through the provincial lotteries and to thwart match-fixing, operators were required to take at least two selections per bet.
The legal aspect of online gambling for Canadian residents is nothing if not overly complicated and generally confusing because electronic, digital, mobile, or online gambling are not specifically addressed in the legislation of the country. This means that the availability of the different gambling products online and offline will be determined by the same pieces of legislation.
What You Need To Know About Sports Betting in Canada
Like many other countries around the globe, Canada also has a legislative regime according to which legal forms of gambling can be told apart from the illegal ones. What might be a challenge to catch wind of the market is that Canada is divided into ten provinces, and each of them is a self-governing entity. This is to say that the gambling-related legislation might vary from one province to another.
The Criminal Code of Canada is the overarching statute, which dictates the legality of the different forms of gambling, sports betting included. In spite of the fact that sections 201 through 206 state that gambling in Canada is against the law, there are several activities that are exempted from these limitations. Under the provisions of the Code, the illegal forms of gambling in the country include lotteries, bingo, slot machines, lottery terminals, card games, casino games, sports betting, and betting other than pari-mutuel.
Up until recently, all forms of sports betting, except for parlay betting, were illegal. This is to say that Canadians were prohibited from betting on single games and other sports events. Parlay betting is also not widely available, and it is only legal in six of the Canadian states.
Another essential thing, which should be mentioned is that when digital sports betting is concerned, almost no restrictions are in place. This means that overseas operators can provide their services on the territory of the country without facing restrictions imposed on a federal or provincial level. Presently, no legislative changes are passed to curtail the access of Canadians to offshore betting sites when it comes to payment processing. Although it is still not in force and effect, Quebec was the first province to introduce legislation, which should prevent foreign operators from accommodating its residents.
The popularity of betting on sports is expected to surge even more after single-game wagering was made legal earlier this year. That being said, punters should not forget that the provinces are still given the freedom to regulate the market in the way they see fit. What should be noted is that esports and fantasy sports are among the unregulated gambling products.
Another thing, which is worth mentioning about Canada is that it is where the Kahnawake Gambling Commission is established.
Odds Format in Canada
Decimal Odds
Fractional Odds
American Odds
Calculations
Sports betting websites include three different types of odds, which allows Canadians to use the format they fy find most convenient for themselves.
Fractional Odds
Fractional odds are popular with British and Irish punters, but they are also available at most online sportsbooks that target the Canadian market. They are written with a slash or a hyphen and look something like this: 3/1 or 3-1. They are quite easy to read and understand, which explains their popularity. Basically, for every CA$1.00 that you wager, you will receive CA$3.00 if you win. Moreover, these odds only showcase your profit potential and do not include the original bet. What we mean is that CA$3.00 will be pure profit and when combined with the CA$1.00, your bankroll would stand at CA$4.00.
Decimal Odds
Decimal odds are most commonly found at European sportsbooks, but punters from different countries such as Australia, New Zealand, and also Canada like them quite a bit. A decimal odds be will look like this:
These odds tell punters how much they can make if they bet on one of the teams. For example, a CA$5 bet on Team A will net us a bankroll of CA$15 at the end, whereas a bet on Team B will result in our bankroll swelling to CA$7.50. Unlike fractional odds, decimal odds also include the bet in the calculation. So when looking at the figures we posted here, know that that would be your final bankroll.
American Odds
Americans like to have their own system for just about anything and this also includes betting odds types. The team favored to win will be indicated by a minus (-) symbol, while the other will be marked with a plus (+) symbol. Moreover, the number shown after the + indicates how much we can expect to win if we wager CA$100. However, the numbers after the – show us how much we have to bet to win CA$100. For example:
These odds indicate that if we place CA$100 on Team A, we can expect to win CA$200 if they do. But if we wager CA$100 on Team B and this team wins, we will receive CA$105. Similarly to fractional odds, American odds feature only the profit that you stand to make. So if you win a bet on Team A, you will have CA$100 as your original bet and CA$200 as profit, bringing your net bankroll to a total of CA$300.
Canada Betting Laws and Legislation
In order for punters to get proper knowledge of the gambling-related legislation of Canada, the first thing they should be aware of is that, while the federal level regulations are determined by the Criminal Code, the provinces can regulate the different forms of gambling on their own. Still, under its provisions, the majority of the gambling activities, with a handful of exceptions, are illegal in Canada.
Pool-selling, bookmaking, and wagering on sports are specifically addressed in the Code, and according to it, taking part in such activities or offering such is an offense. The operation or provision of video lottery terminals, slot machines, poker, card games, bingo, lottery tickets, and betting are all activities that are described as gambling, no matter if they are offered digitally or offline. Fortunately for gambling enthusiasts, things might change very soon as earlier this year, legislatures passed Bill C-218, which has to do with single-game betting.
Currently, the Federal or provincial statutes do not address fantasy sports, and this form of gambling has turned into a hot topic in Canada because, while some people see such activities as entirely skill-based and therefore legal, while others consider them pure gambling, and illegal. Speaking of skill-based games, no mention is made about this form of gambling, which is the reason why operating and taking part in such is freely available.
While the Code is the statute, which provides details about the legal and illegal forms of gambling, The Competition Act is yet another piece of legislation, which should be given a once-over. In fact, this is the only statute, which has to do with contests and competitions.
Canada Betting Restrictions
According to the provisions of Section 204 of the Criminal Code, pari-mutuel betting on horse races is among the activities that are not described as gambling. While the legality of the different forms of gambling is determined by the Code and provinces can introduce gambling-related statutes, pari-mutuel betting is the only form of gambling, which is regulated separately and is overseen by the Canadian Pari-Mutel Agency.
As we explained already, prior to the passage of Bill C-218, Canadians were only allowed to engage in parlay betting, no matter in which of ten states or the three territories they live. Yet, this is not to say that gambling enthusiasts did not place such bets at all as they simply turned to the services of offshore bookies. Things might change soon as single-event betting was made legal earlier in 2021. As a result, the lottery commissions will be able to expand the scope of the offered services, and along with parlay-betting, they will start offering single-game betting as well.
With this in mind, it will be up to the provinces to regulate and administer this form of sports betting.
Online Betting Regulatory Body in Canada
In order for operators to provide gambling services on the territory of the respective provinces, they first need to register, which is how the licensing scheme of the country works. When it comes to online betting on sports, gambling companies can supply their services if they offer the services to a provincial operator, which will then offer them to the residents of the specific state. Yet, this only applies to operators that are based in the country and are looking to accommodate Canadians.
That being said, no laws that prohibit private companies to offer their services to Canadians are currently passed, and which is to say that overseas operators are not caught by the provisions of the Code.
As we explained already, the current gambling-related legislation of Canada does not differentiate land-based from online gambling, which is the reason why there are no authorities that oversee exclusively the operations of interactive sportsbooks. It is important to note that each province has a regulatory body, which oversees the available forms of gambling. Thus, gambling-related activities in British Columbia are overseen by The Gaming Policy and Enforcement Branch of the Ministry of Finance, while, in Ontario, such activities are overseen by the Alcohol and Gaming Commission of Ontario.
Betting on fantasy sports is not formally addressed in the legislation of the country, which is the reason why there is no regulator, which oversees such activities.
Popular Betting Markets in Canada
Football
Ice Hockey
Basketball
Baseball
Gambling is a particularly popular activity among Canadians, and just a couple of years ago, Lotteries were the most chosen option, and it is interesting to point out that this applied to all people at legal age. It is safe to say that Canadians are avid gambling fans as more than 60% of them have engaged in some form of gambling during the last year. The prevalence of sports betting is likely to grow even further, thanks to the legislative changes that were given the nod in August this year.
The question you might be asking yourself at this point is which are the most popular betting markets in Canada. It can safely be said that ice hockey is a sport, which is deeply ingrained in Canadian culture, which is the reason why the NHL enjoys such a great viewership and betting action.
Team sports are also exceedingly popular among Canadians, and baseball and basketball continue to be immensely popular even today. When it comes to baseball, the national team of the country has not missed an edition of the World Baseball Classic. Basketball is one more sport with deep roots in Canada for a reason, as the creator of the sport, James Naismith, was born in Ontario. Interestingly enough, the game between the New York Knickerbockers and Toronto Huskies was the first game in the history of the NBA.
Naturally, Canadian football also attracts lots of attention, and the history of the sport dates back to 1861, when the first game was held. The only such professional league, which takes place on the territory of the country is the Canadian Football League, with the Grey Cup being the highlight of the competition.
Much like in a number of other countries around the globe, football is also on the list of the increasingly popular sports in Canada. In fact, it is the sport with the highest participation rates in the country, and the number of clubs registered across the country is nearly 1,500. The Canadian Championship is an annual professional competition, which makes lots of people flock in stadiums and in front of their TVs.
The Rugby league and the Rugby union should also be mentioned while discussing the most followed sports, and the ones that attract the biggest betting action on Canadian soil. The national rugby union team has not missed an edition of the Rugby World Cup, but it has not seen much of a success.
Other sports Canadians are intrigued by include curling, lacrosse, Aussie rules, cycling, boxing, tennis, and motorsports, to name a few.
Popular Betting Markets in Canada Summary
Sport
League
Ice Hockey
NHL
Baseball
MLB
Basketball
CEBL, NBA
Football
CFL
Soccer
CONCACAF Champions League, MLC, Canadian Premier League
Canada Online Betting Bonuses
Promotions
Match Bonus
Free Bets
Enhanced Odds
A common feature of the online gambling industry, which includes online sportsbooks, is the offering of promotional incentives to prospective and loyal punters. This is where bonuses and promotions come in, and punters from Canada will see that these will come in all shapes and sizes. Deposit bonuses are one of the most common promotion types in the online gambling industry. These are offered when you are about to fund your sportsbook bankroll and they involve a match of your real-money deposit in bonus money. Bonus money can only be withdrawn after completing a turnover requirement and abiding by the terms of the promotion.
For example, you take a 100% match on your deposit of CA$20 and you receive CA$20 in bonus money. The promotion comes with a turnover requirement of 4 times. As a result, you will need to place CA$80 in wagers ($20*4) before you are allowed to cash that money out. Moreover, you will also have to play at certain odds dictated by the sportsbooks and your maximum bet size may be limited. It is important to read the entirety of the bonus terms and abide strictly by them, as any deviation from the norm may result in your bonus being taken away.
Free bets are another common promotion type and you can receive them at most online sportsbooks. A free bet means that you can take on a certain bet free of charge to you. If you win, you will receive a certain amount in bonus funds, and if you lose, it will not affect your bankroll. Free bets require practically no investment on your end of things and they can a nice way to win a few bucks. As usual, the winnings from the free bets will be subject to certain requirements, similar to those that we discussed above.
Bet refunds are available at a large number of online sportsbooks provide punters with the opportunity to recoup the losses from a lost bet. Every now and then, the sportsbook may decide to refund a lost bet and credit your account with the whole sum, but in bonus funds. As such, you will have to wager them a certain number of times before you can withdraw that amount. Bet refunds are also entirely cost-free and you are given the chance to win your money back, which is by no means a bad thing.
Mobile Betting in Canada
Mobile Play
Download App
Browser In-Play
Download via QR
With the rise of smartphones and tablets in our day-to-day lives, we have constant access to the Internet no matter where we are. This has also led to an increase in the number of punters who place bets while on the go, and Canadians are not an exception. In fact, a significant portion of the online gambling community exclusively uses mobile devices to meet their sports betting needs. As a result, many gambling websites have begun supporting mobile versions or dedicated applications to satisfy this part of their user base.
The vast majority of online sportsbooks allow punters to bet while being out and about without losing out on the available features or the betting action desktop users are offered. Most companies choose to take the route of adapting their website to be usable on a smaller display, giving users the opportunity to access the sportsbook directly from the browser of their mobile devices.
Others, particularly larger brands, may also provide dedicated applications that can be installed on supported mobile platforms. In any event, you will find that the mobile version of a sportsbook is generally very well built and you will have access to all features available on the desktop version, such as the sports variations, odd types, promotions, banking options and more.
Popular Betting Banking Methods in Canada
Bank Transfer
Credit Cards
E-Wallet
Prepaid Cards
Of course, since you will be placing bets on the Internet exclusively, you will not have the option to use physical cash. This would be an issue were it not for the many payment services supported by the online sportsbook. Luckily, sports betting sites accept deposits via a plethora of Canada-friendly payment methods that are easy-to-use, commission-free, and quick. and you will be able to use them to fund your online bankroll. Since there are a lot of different services out there, we will list some of the more popular ones below.
Credit cards are an excellent way to fund your online sportsbook balance. You will be able to use them at nearly any gambling website, as they are one of the most widely supported services out there. Not only are they widely accepted, but credit cards are also quite easy to acquire, being offered at nearly every bank. This makes them one of the easiest and most convenient methods of funding your balance.
Deposits made via credit card will clear instantly, giving you the opportunity to immediately start placing bets without having to wait for the payment to be processed. Moreover, you will be able to withdraw your winnings via the same method. At most sportsbooks, you will be able to use Visa and Mastercard to make your deposit.
A good alternative to credit cards are the multiple electronic wallet services supported by sportsbooks. An e-wallet is an online payment solution where you can control your finances on the Internet. When using an e-wallet, you can make deposits in a matter of seconds, allowing you to place your bets instantly. Moreover, you will also have the benefit of the fastest withdrawals in the industry, since an e-wallet transaction takes only a few hours to process, once the sportsbook's staff approves it.
An excellent perk of this payment method is the added anonymity. Since your e-wallet is kept completely separate from your personal bank account, the gambling website will receive no concrete information about you and this is a feature that many punters appreciate.
When it comes to digital wallets, some of the most popular choices include ecoPayz, WebMoney, and MuchBetter, among others.
Prepaid cards are one of the most readily available payment methods out there and you can acquire one with incredible ease. There are several advantages of using prepaid cards, one of which is the incredible speed at which transactions are carried out. Deposits made via a prepaid card will clear through almost instantly.
Yet, due to the nature of this payment method, you will not be able to withdraw any winnings. However, punters will enjoy unrivaled anonymity when using a prepaid card. A commonly accepted prepaid service is Paysafecard, available at thousands of retail locations and widely accepted in the online gambling industry.
Online banking does not enjoy the attention that it deserves as this is an excellent payment service with quite a lot of versatility. Using one such service, you will be able to efficiently and seamlessly control your bankroll, funding it, and withdrawing money as you see fit.
There are many top-tier online banking services out there that will allow you to instantly deposit to your online sportsbook balance directly from your bank account. Moreover, withdrawals are also quite speedy, clearing much faster than a standard bank transfer. Among the more popular online banking services for Canadian punters, we find iDebit, Instadebit, Interac Online, and others.
Cryptocurrencies are the fastest rising payment method in the online gambling industry and many websites in Canada are starting to accept them as a valid means of funding a bankroll. This payment service is a form of electronic money that exists only on the Internet and comes with its own set of advantages and disadvantages. For example, transactions are carried out in a matter of seconds usually and users enjoy great anonymity since cryptocurrencies are not connected to you in any significant way.
However, since they are also decentralized there is no customer support to rely on if things go wrong. Moreover, many gambling websites may opt-in to pay your winnings in traditional currency rather than in cryptocurrency. Popular cryptocurrencies supported by online sportsbooks are Bitcoin, Ethereum, Bitcoin Cash, Dash, Litecoin, and others.
Popular Banking Methods in Canada
Payment Method
Fees
Deposit Limits
Deposit Times
Withdrawal Limits
Withdrawal Times
Visa
Depends on the betting site
Min $10- Max $50,000
Instant
Min $10- Max $40,000
Between three to five days
Mastercard
Depends on the betting site
Min $10- Max $50,000
Instant
Min $10- Max $40,000
Between three to five days
Instadebit
Depends on the betting site
Min $10- Max $10,000
Instant
Min $10- Max $5,000
Between three to five days
MuchBetter
Depends on the betting site
Min $10- Max $10,000
Instant
Min $10- Max $10,000
Up to two days
WebMoney
Depends on the betting site
Min $10- Max $3,000
Instant
Min $10- Max $4,000
Up to three days
Flexepin
Depends on the betting site
Min $10- Max $1,000
Instant
N/A
N/A
MiFinity
Depends on the betting site
Min $10- Max $2,500
Instant
Min $10- Max $5,000
A couple of minutes to complete
ecoPayz
Depends on the betting site
Min $10 – Max $5,000
Instant
Min $10- Max $15,000
A couple of minutes to complete
Interac Online
Depends on the betting site
Min $10- Max $5,000
Instant
Min $10- Max $10,000
Up to three days
Interac E-Transfer
Depends on the betting site
Min $10- Max $5,000
Instant
Min $10- Max $10,000
Up to three days
Paysafecard
Depends on the betting site
Min $10- Max $1,000
Instant
N/A
N/A
iDebit
Depends on the betting site
Min $10- Max $5,000
Instant
Min $10- Max $2,500
Between three to five days
Instant Payments by Citadel
Depends on the betting site
Min $10- Max $3,000
Instant
Min $10- Max $2,500
A couple of minutes to complete
Fast bank transfer
Depends on the betting site
N/A
N/A
Min $30- Max $50,000
Three working days
Bank transfer
Depends on the betting site
N/A
N/A
Min $20 – Max $50,000
Two to five working days
What To Watch for When Picking a Canada Betting Site
Security
Customer Support
Mobile Compatibility
In-Play Betting
As an avid sports bettor, you will undoubtedly want to make the most out of your betting session, and to achieve this, there are a number of factors that should be considered while picking a bookie to join.
First off, punters should make sure that the chosen sportsbook is available in the province they live in, as some operators tend to limit their services exclusively to specific areas. Bettors should also have the full confidence that they are up in front of a reputable and worthy-of-trust operator, which has the needed accreditation to offer its services.
The next thing armchair sports fans should do is check the markets the operator offers action on. One of the distinctive traits of the decent Canada-friendly bookies is that they pay attention to sports that are popular in the country, but do offer betting action on sports and events that take place in all corners of the globe as well. The bet types punters can select from are just as important, and they should check whether single, combo, and special bets are all offered.
While looking for a sportsbook, which measures up to their requirements, gambling enthusiasts should ensure that the operator has made payments secure, time-efficient, and commission-free. The variety of the accepted banking solutions is no less significant, and punters should check whether the bookie processes payments through any of the above-mentioned Canada-friendly deposit and withdrawal methods. Additionally, punters should check whether CAD is among the currencies the operator works with and that all main odds formats are supported.
The tokens of appreciation gambling enthusiasts will be offered at the off of their stay at the chosen bookie are also among the things they should focus on. Besides, punters should also see to it that there is enough variety of sports-oriented special deals that are given to them if they decide to stick with the sports betting platform.
Canadian punters should also take their time to check how the sportsbook looks and feels on their computer and their smartphone in order to ensure that they will be offered a wholesome betting session while being out and about. No matter whether betting on the move is offered through a downloadable or a browser-based app, mobile-friendliness is among the distinctive features of good Canada-friendly sportsbooks.
The variety of the offered betting features also makes the worthwhile sports betting platforms stand out from the crowd. The features punters should look for include live betting, live streaming, statistics, live results, cash-out feature, and bet-building feature, among others.
The quality of the customer service is also a key feature good Canada-friendly sportsbooks have in common. The things punters should check are the available channels of communication, the languages in which assistance is offered, as well as the working hours of the help desk.
Best 10 Betting Sites in Canada
Canada is among the countries that have a thriving gambling industry, for which reason, more and more gambling operators want to be placed on the market. It goes without saying that this works to the advantage of punters as they will have much of a choice when it comes to the bookies they can use the services of. Yet, settling on one of the bookies might be a challenging task, which is the reason why we have showcased ten of the Canada-friendly sports betting platforms that are worth giving a chance.
Sports Interaction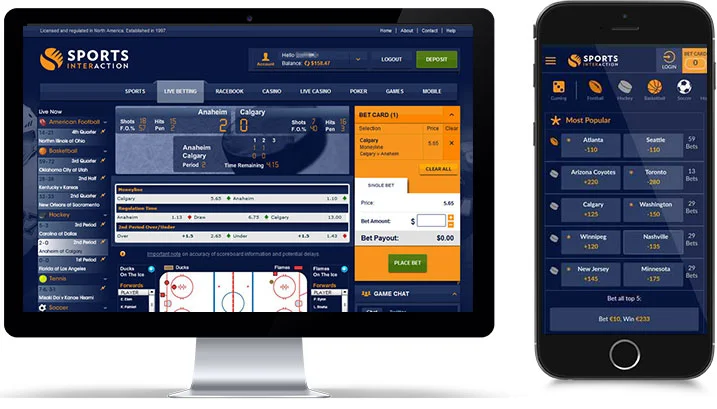 Sports Interaction is one of the best-known Canada-friendly sports betting platforms, and rightfully so. The presence of the bookie on the online gambling scene spans over more than 20 years, and it is interesting to point out that it is the very first sportsbook to get permission to operate on this market.
The excitement in-game betting brings is not overlooked by the operator, and registered users of the sportsbook can go for this option for most of the covered sports. The competitiveness of the odds and the broad sports coverage are also among the things the bookie is praised for, and punters will see lines for everything from Aussie rules and football to ice hockey and volleyball. One of the best things about the sportsbook is that the betting action it offers to desktop users is available to gambling enthusiasts who prefer to place their bets through their tablet or smartphone.
The sports-first focus of the operator becomes evident right off, but, fortunately for punters, Sports Interaction has not overlooked any of the other important areas, including customer care, payments, and promotional deals.
Secure and simple, the sportsbook has made the transfer of funds a smooth sailing as punters can handle their transactions through Paysafecard, Instadebit, MuchBetter, iDebit, Mastercard, and Visa, to name just a few. There is a 24-hour live chat functionality, but members of the sportsbook can contact the support agents also via email and over the phone.
Supports all main odds formats
Available for betting on the go
Broad coverage of sports that are popular in Canada
The help desk operates around the clock
Limited range of deposit and withdrawal methods
The website of the sportsbook could be more user friendly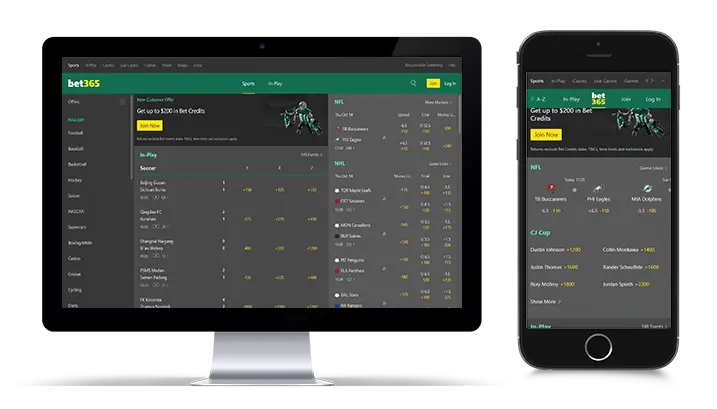 Listing among some of the longest-running sports betting platforms, bet365 is also one of the most chosen sites by Canadians. It is not a surprise that the bookie is one of the favorite stops of people who are enthusiastic about casino games and betting on sports alike, as its comprehensive portfolio is one of its strong suits.
Canadians are bound to have a whale of a time immediately after they get on board as all sports they might be interested in are covered. To offer a glimpse into the variety punters will be offered, it might be enough to say that they can bet on golf, football, horse racing, Aussie rules, and basketball, among others. Best of all, gambling enthusiasts can place their bets virtually anywhere, either through the dedicated or browser-based app. Fan-favorite leagues and competition, the likes of the NBA, MHL, MLB, and NFL, are normally among the most extensively covered at the sportsbook.
To make the stay of its users more enjoyable, the operator has prepared an extensive line-up of promotional deals that can be triggered at any point of their betting session. The operator has covered much ground also when it comes to betting features, and gambling enthusiasts will be provided with most options that might be on their list, including bet builder, cash-out, and edit-bet features. As it befits a sportsbook of this standing, bet365 allows its customers to watch the preferred events on their computer, tablet, or smartphone while the action unfolds.
Making a deposit and withdrawing your funds is made a problem-free and quick process, thanks to the wide variety of available Canada-friendly banking solutions. That being said, if they face any difficulties, punters can always head over to the help section and ask for assistance through live chat or via email.
A reputable and trustable operator with plenty of experience
Offers a wealth of promotional incentives
Broad coverage of sports, events, and markets
Premium-quality in-game betting
User-friendly interface
No promotions for mobile users
Cashouts might have long wait times
Bodog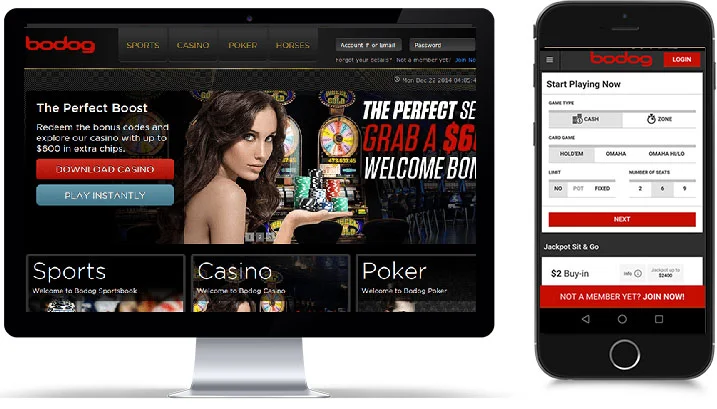 Celebrated for its long presence on the online gambling scene, Bodog is a name, which will almost certainly ring a bell with most gambling enthusiasts from Canada. It is a go-to site for gambling enthusiasts who not only hone in betting on sports but enjoy playing casino games and poker as well.
The variety of the covered sports is easily one of the areas the operator has put a lot of importance on, and punters can add sections to their betslip if they have a liking for MMA, tennis, basketball, football, or American football, among others. Engaging in live betting is also an opportunity gambling enthusiasts might wish to seize on. Fortunately for Canadians, the operator has covered all major leagues and competitions they tend to follow closely, including the NFL, NCAAF, and the MLB, among others.
Betting on sports at Bodog is made enjoyable, and the available betting features like bet builder and the cash-out one are among the biggest contributors. Live betting is another hugely enjoyed option Bodog has not failed to include.
When it comes to its deposit and withdrawal methods, Bodog has catered to the needs of Canadians and has covered the majority of the payment processors they prefer to use, including Interac Online, Mastercard, Visa, and bank transfer, to name a few.
It is safe to say that newcomers will be offered a warm welcome at the sportsbook because of the generous sign-up deal they will be in for. This bonus incentive is by no means everything gambling enthusiasts should expect in this department once they join the community of the sportsbook, as the operator is set out to provide rewards on a regular basis.
Offers all main odds formats
Offers lines for the most chosen sports by Canadians
A rich selection of promotional deals
Lots of betting features
A fee is sometimes charged when withdrawing funds
The range of the supported payment solutions is limited
The live chat is available after registration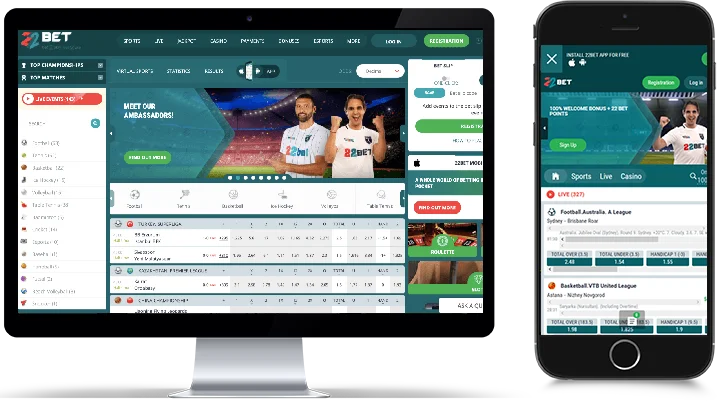 Although it accepted its first customers back in 2017, 22bet quickly started to turn heads on a number of markets, the Canadian included. It is a bookie, which is worth stopping by if punters are after a seamless, safe, and rewarding experience, as this is exactly what 22bet strives to guarantee. The bookie has the approval of the Kahnawake Gambling Commission, which means that it is fully authorized to accommodate punters from Canada.
Punters from Canada might have a hard time picking the game to wager on as the operator offers lines for well over 1,000 events. Major competitions, the likes of CFL, NBA, MLB, and NHL, among others, are all added to the roster of events 22bet offers action on. Not to mention that the markets per event gambling enthusiasts can pick and choose from often exceed 30. Betting on esports is also among the fan-favorites, and punters are allowed to go for pre-match and live wagering.
The operator is perfectly aware that mobile betting is the feature of the industry, and to satisfy the growing demand, 22bet has introduced downloadable apps for devices based on Android and iOS. Alternatively, gambling enthusiasts who want to place a few dollars on their favorite team can make use of the browser-based app and still keep up with the betting action.
To keep its users interested, the operator has introduced a number of sports-oriented promotional incentives that are worth taking a look at, no matter if punters have just landed at the sportsbook or they have been using it for a while now.
Available for betting on the move
Offers six odds formats
Offers dedicated apps for iOS and Android-run devices
Offers in-game betting, statistics, and results
A thorough list of covered sports
A limited set of deposit and cashout methods
The sports betting lobby is slightly cluttered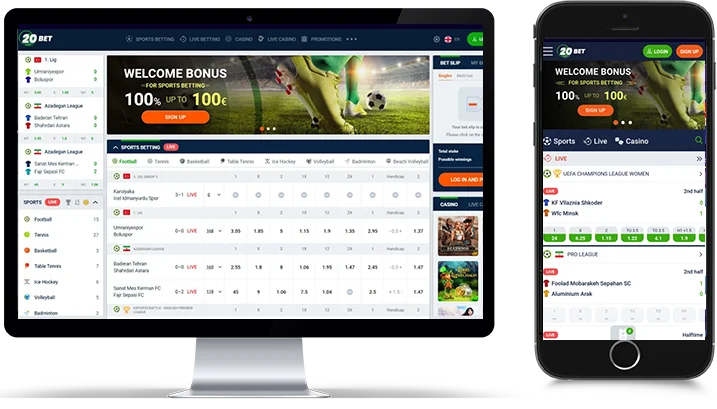 Dedicated to offering everything punters might wish while betting on sports, 20bet is another of the most frequented Canada-friendly platforms for betting on sports. It has been operating for more than a decade, and, currently, it is licensed by the Kahnawake Gambling Commission and the Government of Curacao, which allows it to cater to a huge number of markets, including the Canadian.
Gambling enthusiasts who do not want to fuss around the desktop variant of the sportsbook simply need to switch to the in-browser or one of the dedicated apps the operator has introduced. The best thing about the downloadable apps is that they hold all sports betting options and casino games together, thus allowing users to switch between the platforms with ease.
Sports bettors might be happy to see that major competitions, the likes of the NBA, NHL, Serie A, Premier League, and LaLiga are all accounted for. There is a strong focus on a number of other sports that are popular on Canadian soil, including baseball, American football, volleyball, handball, and boxing, among others. The live betting section also attracts a great deal of attention, and for a reason, as it contains lines for esports, snooker, volleyball, badminton, cricket, as well as all the above-mentioned sports.
Offers statistics, scoreboards, and live betting
Massive sports and market coverage
Using the live chat is possible without registration
Allows betting on tablets and smartphones
Properly licensed operator
The accepted payment methods could be more
Some bonus deals have terms that are hard to complete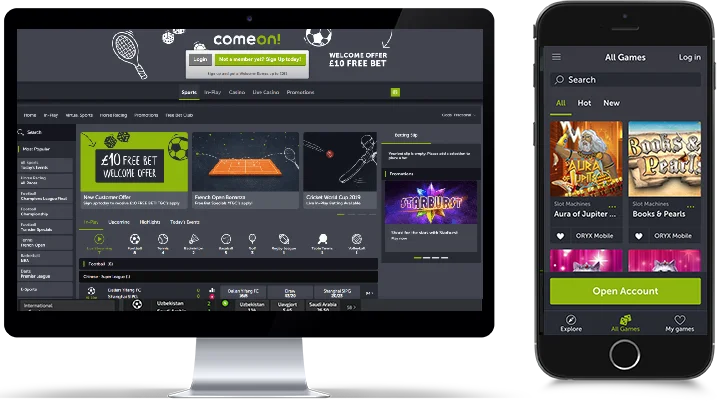 Whether you are interested in casino games or betting on sports, ComeOn is a platform, which offers both of these. Offering all main odds formats, lots of promotional incentives, and a thoroughgoing list of sports to bet on, the services of ComeOn can live up to the expectations of the choosiest punters.
The roster of sports ComeOn boasts is indeed extensive, and the competitions that are listed on top of it include the CPL, NBA, NFL, MLB, NHL, and Premier League, among others. The sportsbook offers action on a plethora of other sports, and lines are also featured for boxing, volleyball, speedway, golf, rugby, MMA, handball, and tennis, among others. With most of these sports, there is the opportunity to go for in-game betting, and to ensure that they will not miss an event, punters should check the live schedule.
A number of features are made available to users of the sportsbook, and once they join its community, they can go for the bet builder, cash-out feature, as well as the unique pulse bet.
The sportsbook is heavily oriented towards the Canadian market, and the accepted payment options reflect this. To load their accounts with cash or take their winnings off their balance, avid sports bettors can rely on MuchBetter, iDebit, Instadebit, Paysafecard, Mastercard, and Visa, among others.
Punters who have got involved in the betting action or are about to do so but face difficulties with the bet placement or the bonus redemption can address their queries using the live chat or via email.
The live chat is accessible prior to registration
Offers decimal, fractional, and American odds
A plethora of bonus deals
Extensive coverage of sports Canadians have a liking for
Multiple betting features
No telephone support
Sometimes, cashouts take longer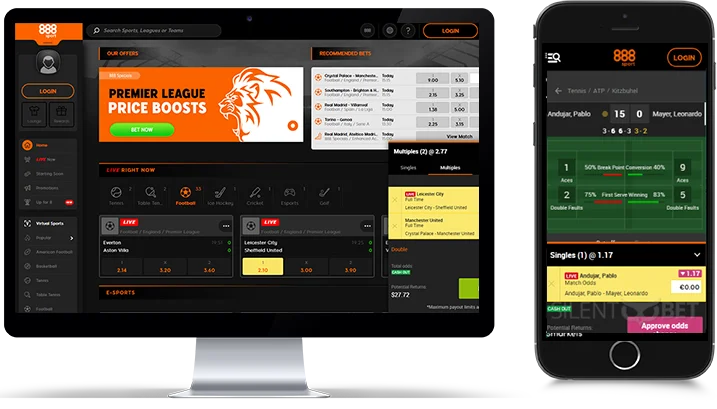 While discussing the premier destinations for sports bettors from Canada, 888sport is invariably on the list of the options. The confidence in the quality of the offered services is reasoned, considering that the operator has been on the market for more than 20 years ago.
The bookie is mostly known for its broad portfolio, which contains all most followed sports and events in Canada, the likes of the NFL, NHL, NBA, and CPL, among others. Betting action is offered in a number of niche sports, with darts, Gaelic football, surfing, trotting, and water polo being among the prime examples. The live betting section also deserves closer examination because of the diversity of options it features and the live schedulе, thanks to which punters can stay posted about the current and upcoming events.
Punters should not get carried away by the variety of sports they can bet on and forget to check how the operator does in the other departments. When they examine closely the sports-oriented special deals, gambling aficionados will see that there are tailor-made incentives for first-timers and returning users.
Users of the sportsbook will face no issues while placing their bets through their tablet or smartphones, no matter whether they prefer to download and install one of the dedicated apps or like the in-browser app of 888sport better. Getting assistance is also made worry-free, no matter what contact venue gambling aficionados will settle for.
A reputable and licensed operator
Available for betting on the go
A plethora of bonus incentives
The sports and market coverage are up to par
Some hitches might incur while navigating around the betting site
The terms of some bonuses are quite restrictive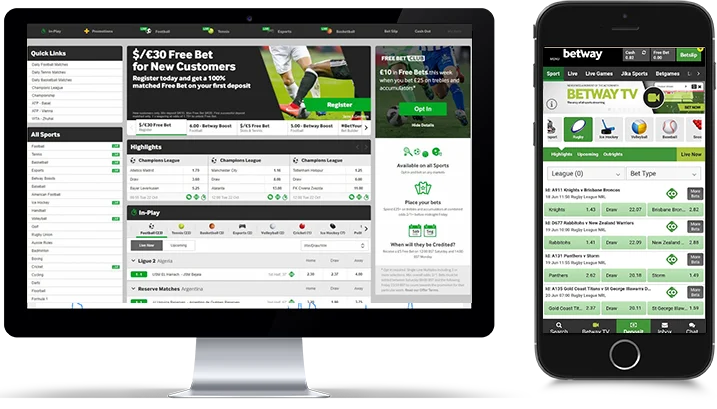 Betway is a brand name, which has become synonymous with betting on sports and casino games of the first water. The presence of the operator on the online gambling scene dates back to 2006, and, since that time, it has significantly expanded the scope of its operators in order to reach a swath of jurisdictions, including Canada.
When looking at the sports betting platform from every angle, gambling enthusiasts will see that there is nothing to improve upon, especially when the event coverage is concerned. Bets are accepted on everything from football and basketball to Martial sports and boxing. Naturally, the best-liked leagues in Canada are also featured, and punters will have the opportunity to wager on the NBA, NHL, and MBL, to name a few.
Additionally, the operator has provided in-game betting for everything from the tennis court to the football pitch. To spice up the stay of its users, Betway has introduced features like the cash-out one, but the Betway Boosts are also worthy of attention. The same also applies to the promotional deals that are gettable by newly registered and returning users.
Payments to and from Betway are not in the least a headache, and this is so because the support banking solutions include iDebit, Interac Online, Mastercard, Visa, MuchBetter, and Instadebit, among others.
Betting while being out and about is not something punters should be troubled for as, along with the browser-based variant of the bookie, there are two fast-performing apps, thanks to which they can always hold all the betting action the sportsbook offers in the palm of their hand.
Available for betting on the move
Lots of betting features
Covers all most-preferred sports and events by Canadians
Fully licensed operator
Offers in-game betting
Punters might need to wait longer to get their winnings paid
Low cashout limits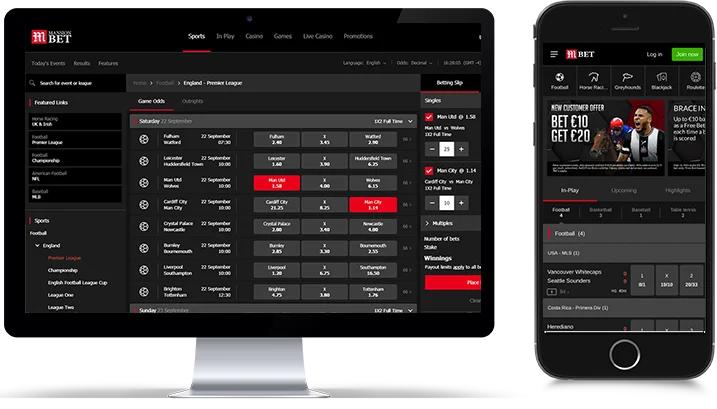 MansionBet is an all-in-one betting platform, where sports bettors and fans of casino games are bound to have a good time. In fact, MansionBet is a world-famous betting platform, which has also gained much ground in Canada.
It is not a surprise that the sportsbook has such a massive following in Canada, as the operator has given particular attention to cover all events from the NBA, NFL, MLB, NHL, MLS, and a number of major football leagues. Gambling enthusiasts who do not feel like limiting themselves to betting on these sports only will have a rich variety of other options to choose between, including table tennis, handball, horse racing, rugby, darts, esports, cricket, and chess.
Speaking about the highlights of the sportsbook, its in-play section should undoubtedly be mentioned, together with the event review, results, live schedule, results, and statistics tabs.
To make the transfer of funds to and from MansionBet hassle-free, the operator allows its users to set up their accounts in CAD and handle their payments in a number of Canada-oriented banking solutions.
Another reason why punters tend to choose MansionBet is that it facilitates betting on the move. To go for this opportunity, avid sports bettors need to use the dedicated apps or enjoy the betting action through the in-browser version of the platform. If there is anything punters want to ask the support staff, doing so is possible over the phone, via email, or through the live chat.
Multiple betting features
Offers lines for fan-favorite and niche sports
Offers several bonus incentives
Support is offered through all main channels of communication
Supports several odds formats
The live chat is within reach only after registration and does not operate 24 hours
The Canada-friendly banking methods are slightly limited
PlayOLG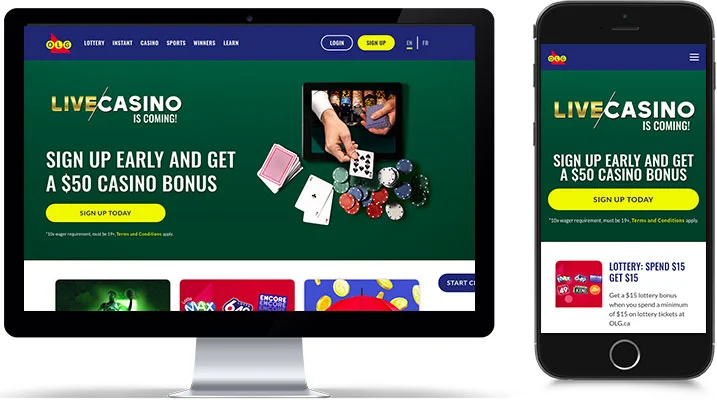 Available to sports bettors from the Province of Ontario, PlayOLG is also among the shortlisted platforms. It is an all-in-one betting site as playing poker, casino games, and wagering on sports are all available there. Navigating to the sports betting section of the platform means that what punters will be up against is betting on football, basketball, baseball, and hockey.
The scope of the options the sportsbook offers continues to expand as now, gambling enthusiasts can go for single-game betting and live betting and will benefit from dynamic competitive odds. Naturally, in order for punters to go ahead with their real-money bets, they should top up their accounts with cash, which can be done through their Mastercard or Visa-branded debit or credit card or Interac Online.
To stay relative, the sports betting platform offers a generous sign-up deal to all gambling enthusiasts who decide to join its community. If they are not sure about the steps they need to follow to redeem the bonus incentive, avid sports bettors should contact the support agents via email, over the phone, or through the live chat.
Offers a generous welcome deal
Provides a decent sports and market coverage
Payments are fee-free
The accepted deposit methods are a few
Sometimes, cashouts are time-taking
Available only in Ontario