Major League Baseball is the largest professional baseball league in North America. Established in 1903, MLB has long been one of the most popular baseball championship series in the world and millions of fans watch the games. There are 30 teams that play each year, one Canadian and 29 from the United States. Out of those, 15 play in the National League and the same number in the American League.
Baseball is one of the most watched sports in the world and its popularity carries over to the sports betting scene. Many retail bookmakers offer to take bets on MLB matches and the same can be said about online sportsbooks. In this article, we will cover everything you need to know about MLB betting, which includes the most common bet types, odds types, promotions and more.
Common MLB Bet Types
Online sportsbooks generally offer the same types of bets for a particular sport, with little deviation from the norm. As a result, we can paint you a fairly clear picture of what bets you can place at sports betting websites.
Spread Bets
Spread bets are quite common in the online gambling industry and they are also very popular with the general user base. They are taken by players who feel like they can predict what the differences in score might be between the two teams. A spread bet does not take into account who wins a game, rather what the teams end up scoring. For example, a spread bet will look like this:
Team A: +3.5 -100
Team B: – 3.5 – 100
From this spread, we can draw quite a lot of information. For instance, it is clear that Team B is favored to win and the sportsbook expects that it will have a score higher by 3.5 points or more. The exact score does not matter as long as it is higher by 3.5 points than the one of Team A. As far as Team A is concerned, we see that they are the clearly the underdog in this situation and are mostly expected to lose. As such, if we bet on them, their final score has to be no lower than 3 points of that of Team B. Team A does not have to win the game for you to have a successful bet but if they do, you will still win it.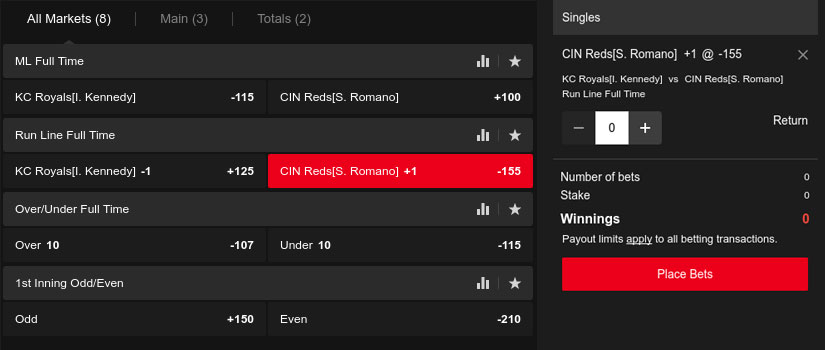 Moneyline Bets
A moneyline bet is the traditional win or lose wager that anyone will be familiar with. There is little complexity to it, simply one team wins and the other losses, with the success of your bet being dependent on the success of your chosen team. However, what you should concern yourself with is the different payout ratios for each team. In most cases, there will be a clear winner and a clear loser. Since no one would bet on a losing team, sportsbooks adjust the payouts so that a bet on the underdog will provide a significantly better profit than on the other team. A moneyline bet will look like this:
Team A: +200
Team B: – 120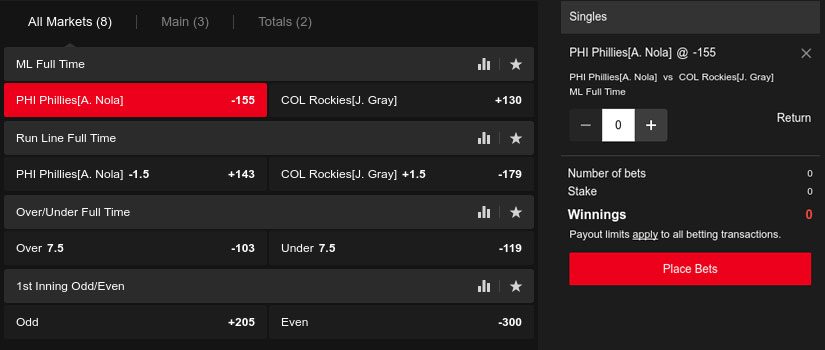 Over and Under Bets
Over and under bets are one of the most common on baseball games and they take into account the combined number of runs that both teams will do over the course of the whole game. The winner of the game is not of importance, instead, the performance of both teams is taken into consideration. For example, if the teams are known for their excellent pitchers and bad offenses, then an under bet will likely be the appropriate one. However, if both teams have good offense then you might want to place an over bet since the total will be much higher.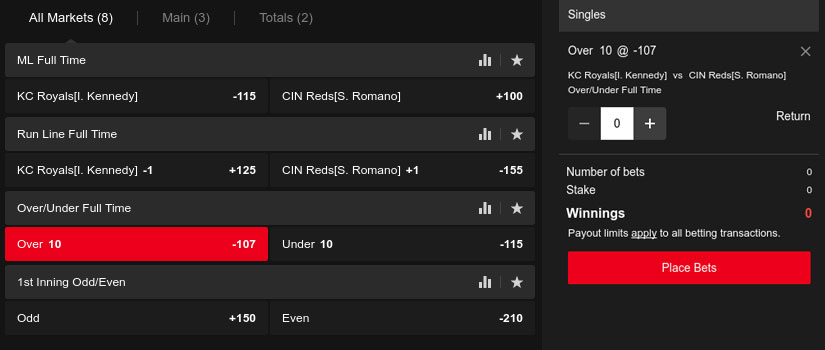 Proposition Bets
Proposition bets include a wide range of betting option, each attributed to a certain scenario during the course of a game. This type of bet mostly deals in specifics and can carry a significant risk factor, but also high reward potential, as well. For instance, you can place a bet on how many successful pitches a certain player will achieve in that game or how many hit a batter will have. The possibilities are many and you will only be limited by your own imagination and what the sportsbook is willing to take on as a bet.
Futures Bets
Futures bets are wagers on an event that will happen in the future with a significant gap in time the between when the bet is placed and when the event will take place. Futures bets are quite diverse and can cover a lot of scenarios. Moreover, they can also net you a decent chunk of profit you make a futures bet well in advance. For instance, you may bet on which team will win the championship or which player will have the best performance. The possibilities are many and futures bet can be both high- and low-risk. This is based on the fact that performance can be measured in the long run to a certain extent and punters who keep track of games can calculate the odds of something happening fairly accurately.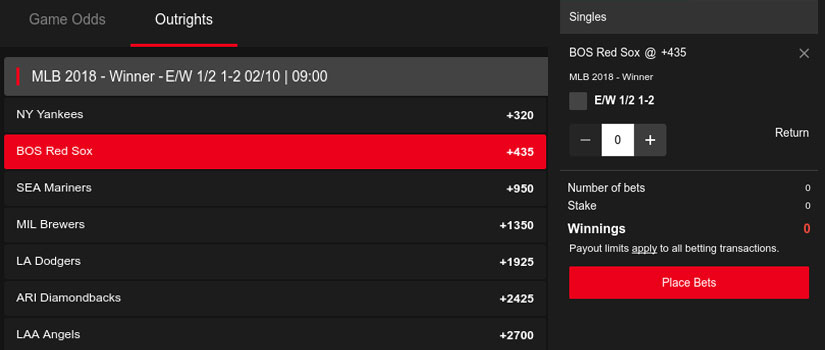 Parlay Bets
Parlay bets are a mix of multiple other bet types and can include any of the other wagers listed above. Rather than placing three different bets separately, you can opt to place them as a single bet with multiple factors. Of course, this carries a high degree of risk, since you will have to predict each event of the parley correctly. If even one of your predictions is false, you will lose the bet. However, if you manage to guess correctly, you will be in for a much higher payout, than if you had placed these bets separately. Parlays are available all over the sports betting scene and they have become one of the prime ways for punters to wager their money.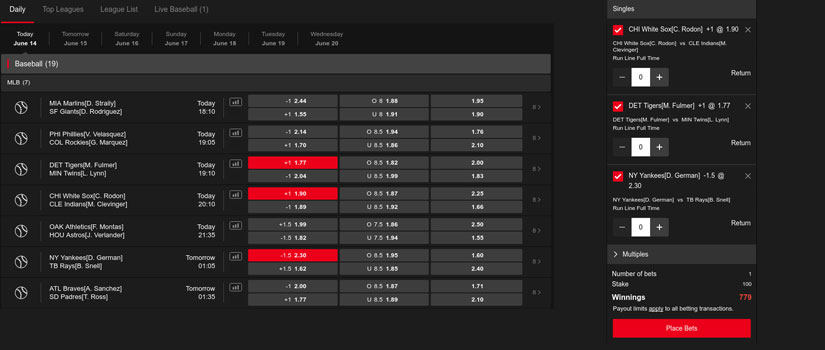 Odds Types
Decimal Odds
Fractional Odds
American Odds
Calculations
The payout odds of a certain match can be presented in multiple different ways. The types of odds featured at most online sportsbooks are usually decimal, fractional and American. They all convey the same information but go about it in different ways. To this end, we will explore how each odds type can be beneficial to you and how to read them.
Decimal Odds
Decimal odds are quite common among European punters and they are presented with a colon (:). A bet presented in decimal odds will look like this:
There is a lot of information that we can take from this. For one, we can tell which team is favored to win, judging by the lower payout, in this case, Team B. Moreover, we also see the amount of money that we can make by placing a bet on a particular team. When we bet $1 on Team A, we will receive $2 if they win. This sum will also represent our net bankroll, while other odds types feature only the profit margin. A bet of $1 on Team A will bring us $1 in profits, while the same wager on Team B will only bring in $0.30.
Fractional Odds
Fractional odds are most often used by gamblers in the United Kingdom and Ireland. They are written with a slash (/) or a hyphen (-) and are read as 'X-number to Y-number'. For example,
Team A: 2/1 or 2 – 1
Team B: 1.2/1 or 1.2 – 1
Unlike decimal odds, fractional odds only show us how much we will make in profit, rather than the whole sum we will receive. More specifically, a $1 bet on Team A will make us $2 in pure profit and when combined with the original sum of the bet, our bankroll will stand at $3. It is important not to get the two odds types confused as you might make an error in the size of your bet.
American Odds
American odds differ from the other two types and are presented in a unique manner. Unlike decimal and fractional odds, American odds give you an idea of much you will make when you wager $100. For example:
The plus (+) and minus (-) symbols indicate different things. In the case of the plus, it shows us that this is the underdog and by betting $100 on them we can win $300. The minus (-) on the other hand, indicates that this is the team favored to come out ahead and the number next to it is how much we have to bet to win $100. Moreover, American odds only feature the amount that we stand to make in profit, rather than the net value. So if we make a $100 on Team A and win, we will have $100 as our original bet and $300 in profit, bringing our total bankroll to $400. In the case of Team B, a $200 bet will bring in $100 in profit and when we combine our original bet with the profit, the result is $300.
Bonuses and Promotions for MLB Betting
Deposit Bonus
Free Bets
Bet Refunds
Jackpots
The online gambling industry is well-known for its use of promotional incentives to entice prospective gamblers. Since most gambling websites come with nearly identical features, one has to judge them by different merits. This is where bonuses and promotions come in. Each website provides punters with its own unique offers and it is up to the individual gambler to judge and compare. Naturally, the one with the better deal is more likely to draw in the larger number of players. Below, we will list the most common promotion types that you can expect to encounter on the Internet.
Free Bets
Free bets are one of the primary methods for online sportsbooks to draw in new members. Every now and then, they will run a promotion giving away free bets to users. Free bets come with a designated value and punters are expected to use them on certain matches. Free bets are a good way for new gamblers to get their foot in the door and possibly make some cash at no cost to them. If a free bet is lost, punters' balances are not affected in any way. However, if they bet correctly the winnings from the wager will be paid out in bonus money.
Bonus money is considered cash that you are not immediately allowed to withdraw. Instead, you will have to meet a certain wagering requirement before you are allowed to do so. A wagering requirement, also called sometimes a turnover requirement, demands that you place X-amount of money in bets before you are allowed to withdraw a bonus. This amount usually is several times the value of the bonus and you will almost certainly have to pick bets with designated odds.
Bet Refunds
Bet refunds are also available at a large number of online sportsbooks. The way they work is quite simple. After placing a bet and losing it, the website will give you the opportunity to recoup your losses. If you choose to take advantage of the promotion, the sum of your lost bet will be credited to your balance in bonus money. As such, you will have to meet the wagering requirement before you are allowed to cash it in. Bet refunds are an excellent way for you to make back what you lost and this generally comes at no cost to you.
Deposit Bonuses
Deposit bonuses are usually offered on a regular basis and they provide punters with a certain amount of bonus cash based on the size of the deposit. Deposit bonuses are quite common in the online gambling industry and they are one of the best ways to receive a great boost to your bankroll. The bonus cash must naturally be subjected to a turnover requirement which you will have to fulfil before you cash that money in.
Banking Options for MLB Bettors
Bank Transfer
Credit Cards
Cryptocurrency
Prepaid Cards
Banking options are very important in an industry where cash transactions are practically non-existent. In order for punters to be able to control their sportsbook balances, the companies that run the websites support a large variety of deposit and withdrawal methods for their users to utilize. Using these services, you will be able to quickly and seamlessly fund your online balance and start placing bets on your favorite baseball teams.
eWallets
Electronic wallets have become a staple in the online gambling industry and they are widely supported by sports betting websites. These services are quite accessible and are able to provide you with quick deposits and some of the fastest withdrawals in the industry. Moreover, they offer a high degree of anonymity as they are completely separate from your bank account. With an eWallet, you will be able to place bets at the vast majority of sportsbooks and later withdraw your winnings with ease. The most popular services of this type are Skrill, Neteller, ecoPayz and others.
Credit Cards
Credit cards have long been the most popular payment method on the Internet and countless users have used them to pay for various services online. Sportsbooks have not passed the opportunity to support the most popular credit card brands and provide their users with instant deposits and relatively quick withdrawals. There are hardly any online gambling websites that do not accept payment via credit card and those that do not, are not worth your time anyway. For the purposes of MLB betting, you will be able to use Visa and MasterCard at most online sportsbooks.
Cryptocurrencies
Cryptocurrencies have recently become all the rage among some Internet circles and in the field of online gambling we are seeing an unprecedented rise in popularity. Cryptocurrencies are still a relatively obscure idea for most users, but gambling websites are taking actions to change that, with some offering exclusive promotions to those who deposit via cryptocurrency. Generally, this type of payment service can provide you with quick deposits and withdrawals are just as fast. Currently, the sportsbooks that support cryptocurrencies accept Bitcoin, Ethereum, Bitcoin Cash, Litecoin and more.
Prepaid Cards
If you are not ready to commit to any single payment service but still wish to place some bets, then you can always consider prepaid cards. This payment solution has been quite popular for a while now and many gambling websites support multiple prepaid services. With a prepaid card, you will be able to immediately deposit to your online balance, but unfortunately, you will not have the opportunity to cash in using the same service. Since they are not connected to you in any way, prepaid cards offer a higher degree of anonymity than other payment methods, thus allowing you to maintain your secrecy. Generally, sportsbooks accept several prepaid card brands, usually, Paysafecard is a safe bet.
FAQ
If you have reason to doubt that a certain online sportsbook is not to be trusted, you can always look for some form of certification. Generally, all legally-operated gambling websites have to go through a regulatory commission appointed by the state to prove that it is indeed a legitimate operation. All high-profile gambling websites all licensed and regulated by several highly respected institutions and all display their gambling licenses somewhere on the homepage. If you fail to find a link a to license, contact the customer support to inquire about this. In most cases, we recommend that you only place wagers at accredited gambling websites and to avoid those who appear shady.
The online gambling industry is heavily regulated and there are strict rules that each gambling website has to follow to remain on the right side of the law. Typically, before a website allows you to cash in your winnings, you will be asked to supply some form of identification. This could anything ranging from a government-issued ID card or a driver's license to a utility bill with your name on it. The sooner you provide this information, the sooner you will receive your funds.
There are rare circumstances in which a deposit might fail to process. In this event, we recommend that you contact customer service and let them handle this issue. Likely, you are residing in a jurisdiction in which the sportsbook does not do business. Alternatively, it could be an error of the payment provider.