Sports betting has come a long way since the days of betting in bars filled with cigarette smoke and sweaty men, shouting and drinking beer like their life depends on it, however, for Americans, its development has been hindered by the Professional and Amateur Sports Protection Act.
It is time to celebrate as the PASPA was finally overturned and Delaware has become the second state to fully legalize sports betting, giving Nevada a run for its money. More states are days away from fully legalizing sports betting within their jurisdictions too, so here is all you need to know about this type of gambling.
Legalities of Online Sports Betting in the USA
Until recently, sports betting was illegal in all states of America, with the exception of only four – Nevada, Montana, Oregon and Delaware. As of May 2018, however, every state has the right to make sports betting legal within its jurisdiction. As of yet, it is only fully legal in Nevada and Delaware but more are on the way. The federal Professional and Amateur Sports Protection Act from 1992 was the one that used to forbid states from legalizing sports betting and it only took two decades to bring it down. Now, each state has the authority to decide whether they should allow this form of gambling or not.
Overall, gambling has had a rough time in the US. Online gambling is legal only in four states – Delaware, Nevada, New Jersey and Pennsylvania. In other states, it is mostly strictly forbidden to operate an online casino and as for playing at one, the lines are blurred. As most laws concerning gambling in all shapes and sizes, in the US the restrictions applied to it are aimed at operators rather than gamblers. Unless, of course, tax evasion is concerned.
What the future holds for sports betting in the US is still unclear, though one thing is for certain and it is that at the very least, more states will allow it and anything is better than nothing. Despite the fact that organizations such as the NFL, MLB, NBA and the collegiate organization, the NCAA, have voiced their support of the 1992 ban, the states have continuously fought for their right to decide whether an activity should be banned within their jurisdiction or not.
In states with legislation, you will not be relying on some shady character to regulate your bracket. The problem with this is that the legislation leaves basically everything in the hands of casinos. This means that casinos would have all the authority over sports betting regulations, which may not sound that bad but this would mean that sports betting will most likely occur strictly on casino grounds. This is definitely in their interest but not in yours. The future, as well as the current state of sports betting, is online and on mobile.
And if anyone is worried about whether sports betting is worth it and if it would even be successful, Delaware just reported that only on the first day of its legalization the accepted bets amount to over $300,000. This goes a long way to show how popular this type of gambling really is and how its decriminalization will lead to profits in many spheres.
Mobile Sports Betting in the USA
At the moment there are only a handful of accessible Sports Betting sites in the US and so playing on mobile is not really an issue when you cannot play at all. But for the potential future growth of sports betting in the US, we will explain the difference and the possibilities it holds. Otherwise, readers from Delaware will know that theirs is the only state where sports betting (completely and not only partially like other states) is legal, so this is mostly information relevant to them.
In Nevada, more than 60% of sports bets are placed through mobile apps. Of course, since it is only partially allowed to continue its sports betting operations, this is only partially evident as to what a sports betting mobile app is truly capable of. As anything nowadays, gambling and betting online are key elements to the success of operators. It is an easy and accessible way to place a wager, not to mention much more attractive than going all the way to a casino to place a bet.
At this point, the development of mobile software is so advanced that mobile sports betting is no challenge at all. In fact, different software providers have been developing products that have completely transformed what we thought of as sports betting. Compatibility is a problem that has been almost fully eradicated and usually, you can place bets on sports on mobile with any operating system and even directly through your browser.
Sports Betting in the USA
Naturally, when you think of the possibility of a full-scale sports betting operation the first thing that comes to mind is all the big games. After all, the US is widely known for its gigantic sports events and their part in American society. Who is not excited about the NBA finals? Not a fan? No problem then, football and baseball perhaps?
The point is, that in any case, these events reach close to everyone in one way or another and gamblers are no exception. Giving them the ability to participate in their way in something they admire or at least enjoy is a big step forward for America.
Most Popular Sports in the USA
Football continues to stand miles above all other sports in terms of popularity. For almost half a century now, more than 35% of Americans have stated that this is their favorite sport. Since it first became a public favorite in 1972, it has not stopped. Perhaps an important part of that is the fact that NFL players are no mere athletes.
It is well known that the players help their communities in every way that they can and are not afraid to show their political stand. NFL protests are no news to anyone and maybe this is why games between different teams are so attractive. It is not just a sport but something that involves people who actually care about what happens around them. Players have been known to call attention to all sorts of social issues, most recently, police brutality was brought up by NFL player Malcolm Jenkins.
However, there has been a decrease in the number of people who would say that football is their favorite sport. It had reached its all-time high in 2006 with over 40% of Americans saying that this is their favorite sport. As you can see, there has been a change since by about 5%. This may be due to the fact that recently some new information has come to light. For instance, recently it was established that a large portion of football players are actually abusive. Another such blow to the community was the recent study showing how harmful the sport actually is to the body.
Basketball is the second sport most loved by Americans. Unfortunately, it is third in popularity in regards to money. Unfortunate, because it is the team sport played by more Americans than any other. In fact, over 26 million Americans play basketball and the NBA is the world's premier men's professional basketball league in the world. It also has the highest percentage of African American players of any major professional sports league both in America and Canada. Both teams of men and women have won gold medals at the Olympics. Despite the WNBA and Women's NCAA Basketball's lack of popularity, the women's national team has actually won more awards both at the Olympics and FIBA World Cups than their male counterparts.
Baseball has been an American favorite for as long as it has existed until recently. There has been a significant drop in its popularity with merely 9% of Americans saying that this sport is their favorite. This is its lowest point so far and it does not seem like this decline will change any time soon. In fact, it has been dropping in popularity since even before the 1960s. There is no exact explanation for this, however, it is certainly showing Americans' change and development during the last half-century.
Interestingly enough, soccer has risen above baseball in popularity. It is now the favorite sport of 11% of Americans. The sport's growth in popularity amongst Americans may be explained by the fact that in 1994 the US hosted the FIFA World Cup. Since then the interest in the sport has been increasing slowly but steadily. It is now one of the fastest growing sports in the US.
Another sport that is growing in popularity is MMA. There have been a number of tournaments held on US grounds and during the past couple of decades, MMA championships have risen in popularity worldwide. It is actually the fastest growing sport in America.
Best Banking Methods for USA Players
Even though sports betting is only now starting to get legalized, it is important to know which banking method is most suitable for you beforehand. Here, we will give you some basic information about the different ways to make a monetary transaction when it comes to betting on sports.
Credit and Debit Cards
Naturally, credit and debit cards are a quick and efficient way to make any payment and sports betting is no different. Online sportsbooks usually accept Visa and Mastercard and the process for placing a bet with either is really simple. However, you should keep in mind the fact that you are providing your information to a website nonetheless and so, you should always make sure that everything is legitimate and secure.
E-Wallets
E-Wallets, also known as Web Wallets, allow you to make monetary transactions without having to disclose your personal information to any third party. In this way, it is more secure but of course, usually, you must first create an account and transfer some funds to it, before using it. However, this is a small price to pay for a higher level of security as you do not need to provide your financial details to multiple websites.
E-Vouchers
E-Vouchers or Pre-paid cards are another popular option among many. They are a very good option as they are available to people who do not have access to a bank account or any line of credit. All you need is some cash and a store that sells e-vouchers. Usually, the companies that provide them have a list of the stores where you can find their product. Additionally, these cards are even more secure as you do not disclose your financial details to anyone this way, and you can also remain entirely anonymous.
Direct Bank Transfer
This is typically accepted everywhere and is perhaps the easiest way to transfer funds, however, you are providing your financial details directly to the operators of the sports betting website you have chosen. This is far from the most secure way to make an online payment, however, if you are confident in the website's level of security there will not be a problem. If you are uncertain, consider any of the other options we have presented you with.
PayPal
PayPal is a well-known American company that as of 2018, operates in 202 markets with over 200 million accounts. It allows users to make monetary transactions as well as receive payments. It can also hold funds in 25 currencies. It has a great security system and allows for one-click transactions. With it, you do not have to disclose any of your personal information to the bookie, much like with web wallets.
Safety Concerns
Naturally, when people think about gambling and sports betting online, many think that there might be fraudulent activities going on and it is therefore not safe. Since the old days, the gambling industry has taken the issues of fraud very seriously and has developed multiple ways to discern whether a website or even a game, is fair or not.
Along with that, there have been great developments in online security systems and most gambling websites use only the latest encryption systems. SSL encryption scrambles your personal data so that no third party can gain access to it.
Odds
The odds in single-bet sports betting can be presented in different formats. There are three main types which are European, or decimal, UK, or fractional, and American, also known as moneyline odds. Basically, this means that the number can either be positive or negative. The way to read them is by understanding that each positive figure quoted is the amount you would win if you had made a $100 bet. The negative ones are the amount you must wager to win $100. Both of these are true only if the odds are not even which is usually displayed as either +100 or -100.
The way to calculate your potential win for underdogs, or in other words, one with a positive figure quoted, with this type of odds is by dividing the moneyline number by 100 and then multiplying that number by the size of your bet. For favorites, or those with a negative figure quoted, it is by dividing 100 by the moneyline number and then divide that by the size of your bet.
Moneyline odds are not concerned with the point spread in a game, but only the actual outcome. So it is only logical that the team that is more likely to win will have negative moneyline odds because betting on it is safer than betting for the underdog. Therefore, the moneyline odds for the underdog is usually positive as it is a risky bet. Another thing to consider, though, is that sometimes both teams will have negative moneyline odds. This is due to the house take.
Types of Sports Bets
Moneyline wagers are the most popular type of sports bet partially because they are the simplest of all, but also because they are considered the traditional way to bet on sports. It involves simply picking who will win in any sports event. In some cases, you can bet on a draw as well.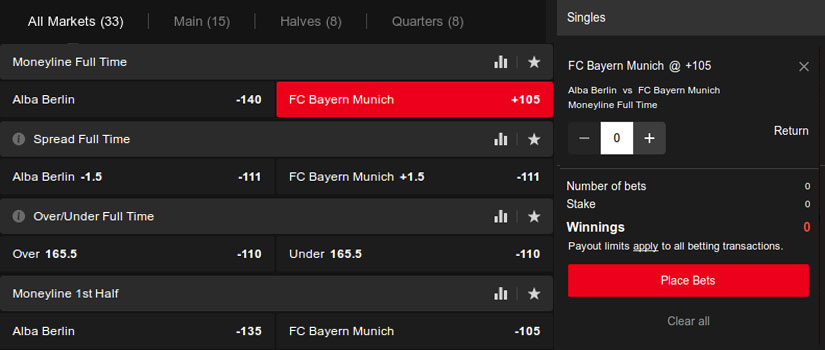 Straight bets, or point spread wagers, are bets on which participant will cover the spread. The spread is a number created by the bookmaker and the way this type of bet works is best explained by example. So, imagine you have two teams – team A and team B. The spread is 7 points and team A has +7 next to its name, while team B has -7 points.
This tells you that team A is the underdog while team B is the favorite. So, if you bet on team A, you will win if they won the game or lost by less than 7 points. If they lost by more than 7 points you lose, and if they lost exactly by 7 points you will get your stake back. If you bet on team B, you would win if they won by over 7 points. In any other case you lose, unless they won precisely by 7 points which would also result in a push. Handicap betting is very similar to point spread bets and is popular in Europe and specifically the UK.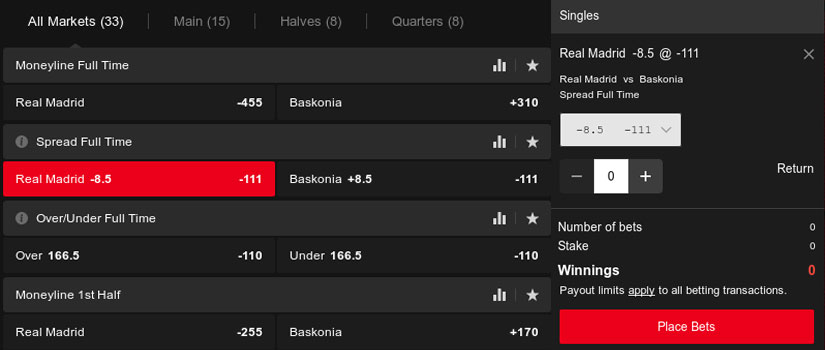 Totals or Over/Under bets are another option you are likely to be presented with. The bookmaker sets a line for the total of a game, goals, points, runs, anything. You can bet on whether the game will exceed that number or the result will be below the given line. Sometimes there are multiple over/under betting options.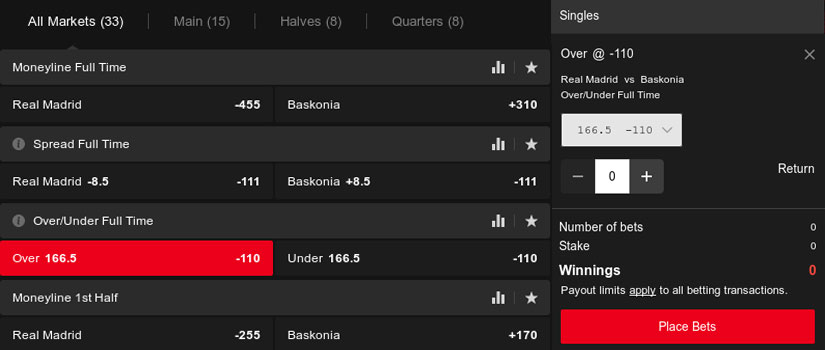 Props bets, short for proposition, are bets on things that usually have nothing to do with the actual outcome of a game. They are bets on smaller, more specific things like for instance who would score the first point of a game. There are all sorts of different prop bets and usually, they can be found in the hundreds when it comes to soccer games.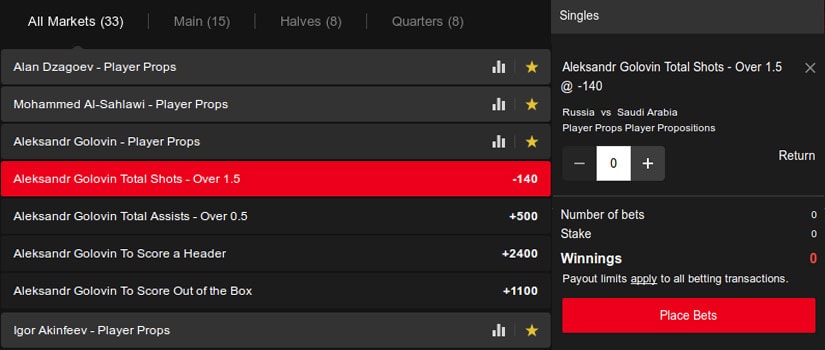 Futures or outrights are bets placed at the beginning of a league, for instance, and are placed on the team you think will win the league. This is a risky bet as it is placed in the beginning and world championships usually have way too many participants for a clear winner to be discernible. Naturally, this means that if you guess correctly, you will win big.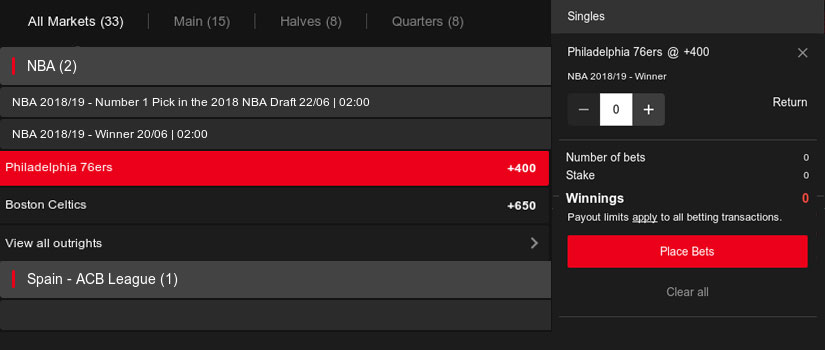 Parlays, accumulators, or multiples are all the same bet. They involve making more than one selection as a part of a single bet and if all of your selections turn out to be correct you win. The more selections you have, the bigger your win would be. However, if even just one of your 15 selections is not correct, you lose.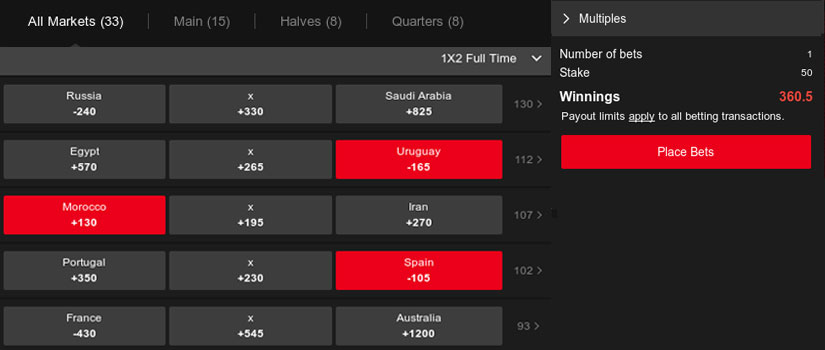 Progressive parlays are basically the same as parlays except that they allow for some losses. For instance, if you have made 10 selections, 2 mistakes will still generate a profitable result for you. Here the minimum number of selections for a bet is 4, unlike with regular parlays where the number is 2.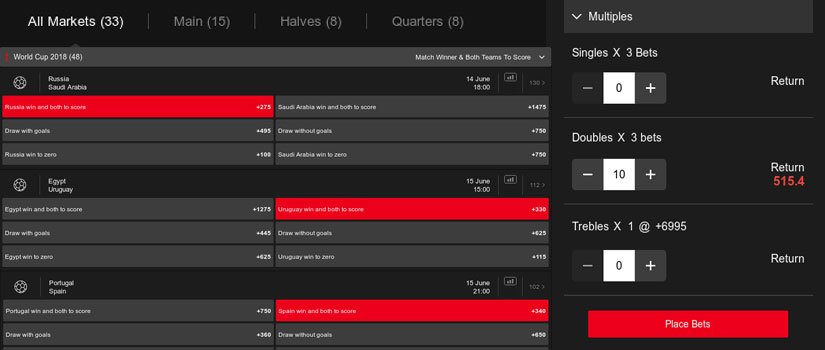 Full cover bets are mostly used in the UK but you may still stumble upon them elsewhere. They are a bet that covers all options, which means that if the options are A and B, placing a full cover bet in this case would mean that you have placed a single bet on A, a single bet on B and a parlay on A and B. If one of these bets loses, the parlay loses too but you would still get a win for the other single bet. Full cover bets can cover up to 6 selections usually, which would mean 63 different bets, but sometimes you can find such that cover up to 8 selections.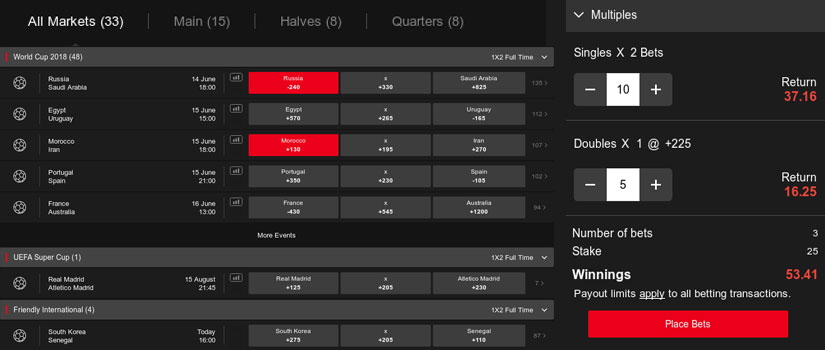 Pleasers and teasers are another type of bet, one of which moves the points of the spread against our favor and the other in our favor. Pleaser bets deduct points from the teams you have picked by a number of your choice. Why would anyone want to do that, you may wonder. Well, because if the teams you have selected still manage to win, your payout would be a lot bigger. Teasers are essentially the opposite – you give your teams points in your favor, however, this results in a far smaller win.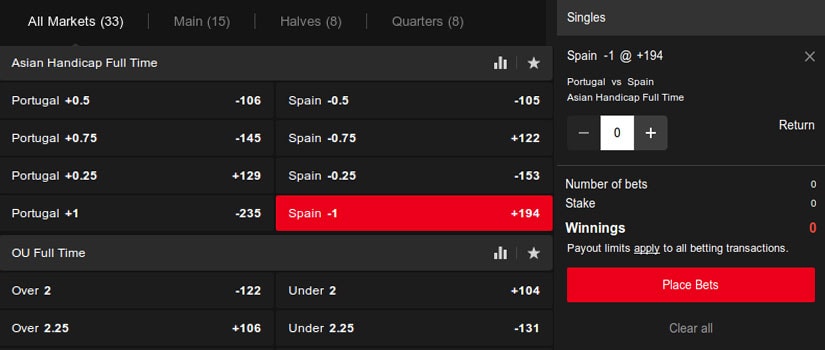 These are some of the main sports bets you can make, however, they are not even close to all. There are many more types of bets, some specific to a type of sport or a specific event, or two. Some of those are If bets, Reverse bets, Grand Salami, Run Line, Puck Line, and many, many others.
FAQ
Only in some states for now. As we explained, it is fully legal only in Delaware and Nevada. More states will soon join as the PASPA was finally overturned.
Both online and in a casino, if you are in Delaware or Nevada.
Unfortunately, no. The end of PASPA only means that every state has the right to either legalize or ban sports betting within its jurisdiction. But do not worry, because there are multiple states moving to legalize it as soon as possible.