Whether you call it football or soccer, the worldwide popularity of this sport is undeniable. For those who are passionate about the game and the various football tournaments, sports betting has always been an exciting way to enjoy the fan-favourite sport.
Since football fans live in different parts of the world, there is a whole new way to gather numerous betting enthusiast in one place. Nowadays, there are various web-based sportsbooks that allow punters from different locations to make bets on football events.
Some of the best online bookmakers offer wonderful bonuses and promotions that can make the betting of every punter more lucrative. What is more, online bettors can easily have access to numerous markets that offer some of the best odds online. This way punters can choose the bet they would like to make and they can enjoy generous payouts if they make the right choice.
Football is one of the most popular sports that punters like to bet on. There are various football bets that appeal to different types of bettors and the so-called Specials give even more opportunities to wager on football.
Since football is an international sport and the seasons are different for every location, online bettors can benefit from always having matches they can bet on. With major leagues and competitions such as the World Cup, virtual wagers have become even more popular among football betting enthusiasts.
Thanks to the popular in-play betting, many online punters have the chance to watch popular matches live and make bets as the game progresses. The majority of online sportsbooks are constantly updating the odds of games, depending on the way they are played. This allows in-play bettors to make the best choice and make stakes that can bring them generous payouts.
More Articles From This Guide
Types of Football Bets
The reason why so many punters prefer to put their money on football bets is that there are plenty of wagering options that the majority of online sportsbooks are offering. Compared to other sports that support only a few types of bets, football is definitely a game that can appeal to numerous sports betting enthusiasts. Although many of the football bets are quite easy to understand, it can be helpful to get familiar with the more intricate wagering options that this sport is offering.
Single
This is one of the most simple bets that you can make on a football match. With singles, also known as straight bets, you are required to simply predict the outcome of the game as the goal difference is irrelevant in this case. Let us assume that you put your money on team A winning the match. If your guess is correct, you will be paid, without taking into consideration with how many points did team A beat team B. One of the most simple examples for a straight bet is money line.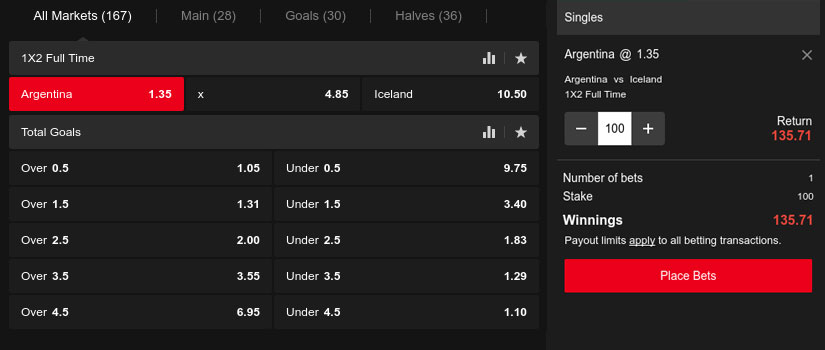 Match Odds (Money Line)
This type of bet is also known as 1×2 and it is the easiest to understand. Being one of the most common bets, money line gives punters three opportunities. They can either bet on a home win (1), away win (2) or a draw (x). We can take as an example the upcoming World Cup match:
Argentina: 1.35
Iceland: 10.50
Draw: 4.85
Once you have decided on the amount you would like to wager, you can choose the line you would like to bet on. If your guess is correct, you will get your bet stake back along with your winnings. Let us assume that you would place $100 on Argentina at odds 1.35. If Argentina really wins the match, you will get your stake of $100 back plus your winnings $33 (100 x 1.35). The sportsbook accredits $135 to your account which means that you have made a profit of $35.
Point Spread (Handicap) Betting
The point spread, or handicap as some call it, is the head start that the bookmaker is giving the underdog. This way the odds of the two teams are evened out. When it comes to football betting, placing your bet on the point spread is quite exciting. This is because the team who is likely to win has to score higher than the point spread in order for the bet on the favourite team to be winning. You will notice that the odds for the underdog would look something like + 1.0 while the favourite team will have – 1.0. If we take for example the World Cup match between Germany and Mexico the betting line would look something like that:
The point spread gives Mexico 1-point head start. In this case, if you place your money on Germany, they will have to win with more than two goals or reach a score which will be higher even if you subtract 1 goal from it. If you bet on Mexico, you will be paid if the game ends with a 0-0 tie or if the underdog team wins the game outright. If Germany wins the game by 1 goal, this will be considered a push and you will receive your stake back.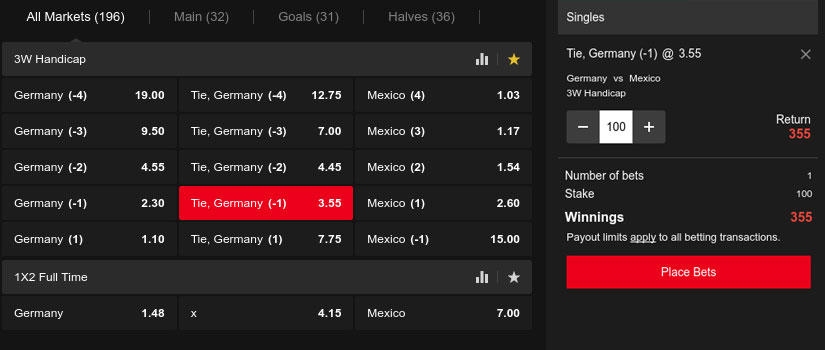 Parlay Bets
Parlay bets allow you to combine two or more straight bets into a single multi bet. In order for your bet to be a winning one, all of the legs must be successful. Double and treble are types of parlay bets. A double bet is made of two different bets. In order for you to get paid, both of your bets must be successful. If you pick France and Peru as your winning teams at the World Cup matches and you make a double $100 bet on both of them, you will receive your stake back plus your winnings only if both of the teams beat their opponents. As you can assume, a treble bet would mean that you will have to make 3 different bets and hope that all of them are successful in order for you to be paid.
If a parlay bet includes four or more bets, it is called an accumulator. The odds multiply with every leg added in the multi bet. This, of course, can lead to massive payouts of all of the best you have made are winning. However, if even one of the bets in the parlay is not successful, you will not be paid. The winnings from previous successful legs as well as the initial stake are wagered in the next leg.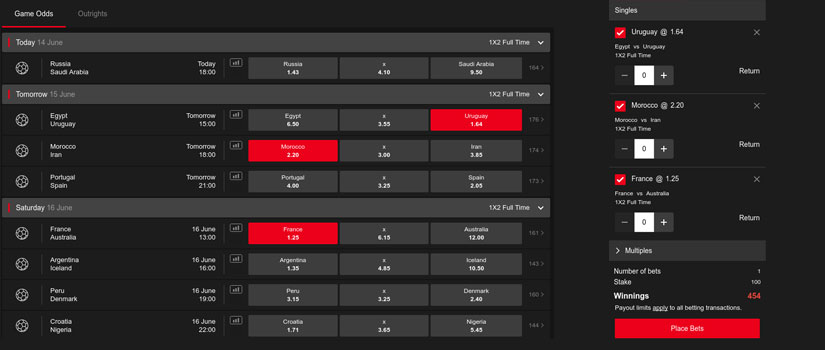 Over/Under Betting
Over/Under bets are also popular as totals. This is because punters are trying to predict whether the final score of both of the teams will be 'over' or 'under' the number suggested by the online sportsbook. We can take as an example the total score of 2.5. In order to win an over bet, each of the two of the teams must score at least 3 goals. Respectively, to win an under bet, both of the teams must score 2, 1 or 0. In football betting, there is an opportunity for the over/under bet to be quite profitable if the right handicapping strategy is applied.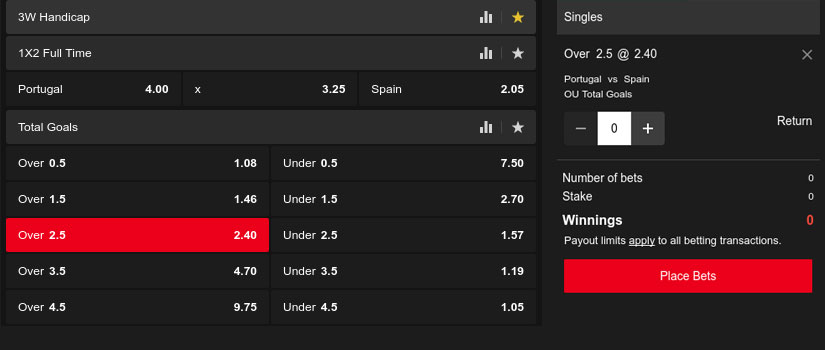 Futures Betting
This type of bet is slightly different compared to the aforementioned ones in the sense that it does not include predicting the outcome of a single match. Instead of that, punters are making bets on who will win a whole tournament. Usually, futures are made before the season starts. The majority of online sportsbooks allow bettors to put their money on one team to win Premier League, World Cup and European Championship.
This type of bets requires quite a long time of commitment and it can be quite difficult to pick your favourite as there are many teams that have the potential to win the tournament. Not to mention, that there is always the possibility of an unexpected winner. Futures are quite entertaining and players can expect odds of around 5/1 for teams that are expected to win and around 500/1 or higher for those considered underdogs.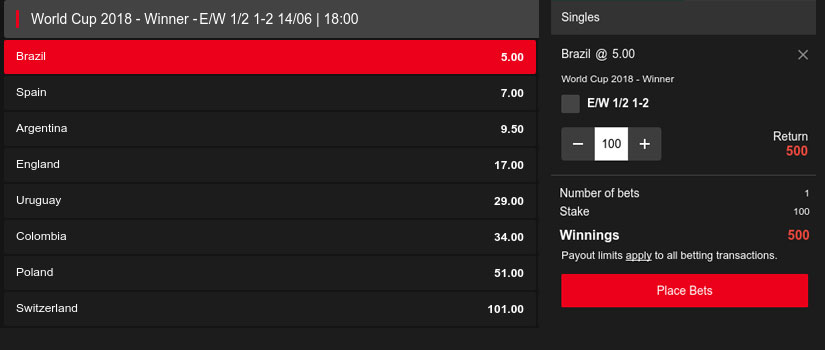 Propositions Bets
Propositions bets, or just props, give punters the freedom to bet on the performance of a certain player on the team. Props rarely have anything to do with the outcome of the game and the list of possibilities can be endless. This is why punters can only rely on their luck when it comes to props. The majority of web-based sportsbooks offer their own variations of props and online bettors have the opportunity to choose from a wide range of exotic bets.
For example, for the 2018 FIFA World Cup, you can see props bets such as the teams that will reach the final of the tournament or who will win the Golden Boot of the World Cup this year. Other popular props are top team from each continent, group props, the stage of elimination of each team, the highest scoring team in the World Cup, top goalscorer from the countries that participate in the tournament. Punters can also put their money on the goalkeeper of each team as there are propositions bets where punters either put their money that the goalie will save a penalty or score an own goal.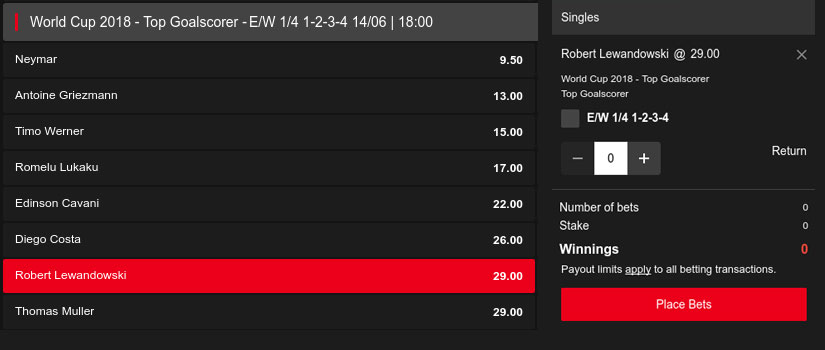 In-Play Betting
One of the most exciting betting options that online punters can enjoy is live betting or in-play as some call it. This is a betting market that opens once the football game starts. This allows punters to watch the match and make bets as the game is played in real time. The way the football event is evolving will affect the odds They will change several times throughout the game and bettors can place their money at the moment they believe will bring most profitable results. The major online sportsbooks are constantly updating the odds data so that bettors can place the most lucrative bets.
In-play betting allows punters to be more flexible with their wagers. For example, when the in-play market opens and one of the teams scores a goal early in the game, the odds on this team to win the match will lower their value while the odds of the opponent will increase in value. By using the live betting option, punters can trade their position and choose the odds they believe will result in a more lucrative betting.
Many sports betting enthusiasts use the in-play betting so that they can enjoy their favourite games to the fullest. Various online sportsbooks stream live the football games they are offering bets on. This way punters will be able to watch the match and make successful bets as they carefully follow the results of the event.
Popular Football Betting Tournaments
Premier League
La Liga
Champions League
World Cup
It is worth noting which are the major football leagues that sports betting fans like to put their money on. You should know that there are some online bookmakers that offer bets on significantly smaller football tournaments and leagues. This is done so that local punters can enjoy their betting during the football season of their countries. A good example of that is Poland's Ekstraklasa football which is the most popular tournament in the country but does not really have many fans around the world. This, however, does not mean that Polish punters are not enjoying plenty of betting options when their favourite football tournament is in season.
European Football Leagues
Some of the most major football tournaments that most sports enthusiasts like to bet on are administrated by Union of European Football Associations (UEFA). It is as expected the largest of FIFA's confederations and it is a home to one of the biggest and most sponsored football leagues, the English Premier League (EPL). Thanks to its popularity all over the world, EPL attracts betting actions from more than 150 countries worldwide.
Sports betting is legal in England for many years and as it was mentioned earlier, EPL is one of the heavily sponsored football leagues. This is why many of the football teams have their own official online betting partner. There are also some countries that follow English football teams more passionately than their home ones. This is especially true for football fans from Asia. This explains why teams such as Chelsea, Liverpool, and Manchester United are internationally popular.
There are also other popular European football leagues that are strong competitors with EPL. La Liga from Spain, for example, has two of the most popular football teams in Europe and those are Barcelona and Real Madrid. Serie A from Italy and the Bundesliga from Germany are also very popular among international football fans.
The UEFA Championship League is considered a major tournament in which the top countries of UEFA compete to determine which team is the best one in the Championship League.
International Football Betting
There is no football fan who is not excited about the international competitions that determine who are the top football teams across the entire world. The most prestigious tournament that every football fan and betting enthusiast is eagerly waiting is the World Cup. Russia is the host for the 2018 FIFA World Cup and punters have already started betting actions.
Other popular competitions are the regional tournaments which include the Copa America (CONMEBOL) and the European Championships (UEFA). The Asian Cup (AFC) is also included in the popular international football competitions. It includes countries such as Japan, Korea, but also Middle East nationals Saudi Arabia, Iran, Qatar and even Israel and India. In addition to these countries, since the 2007 version AFC has also included Australia.
Among the fan favourites, there are also the OFC Nations Cup competed for by small Island Nations of the Asian Pacific (Oceania) region and New Zealand, the CONCACAF Gold Cup that includes top North America, Central America, and the Caribbean national teams and the African Cup of Nations governed by the Confederation of African Football (CAF).
The great thing about betting at online sportsbooks is the fact that even if the previously mentioned tournaments are out of season, there are always other pretty big competitions that punters can bet on. One of the tournaments that are also pretty famous is the Major League Soccer (MLS) from the United States. Its season runs from March to December and European punters who are on the lookout for football games to bet on can place their money on MLS games.
How to Bet on Football Online
Odds
Statistics
Bet Types
Strategy
Whether you have been betting at land-based bookmakers for a while or you are new to the sports betting scene, you will have no trouble figuring out the way to wager on football online. All major virtual sportsbooks offer easy and fast ways to fund one's account and choose the best possible odds.
Make sure that the web-based bookie you have chosen offers a secure and fair betting environment. What is more, it is always great if you can use some promotional offers that will make your betting more fruitful.
After you have chosen the interactive sportsbook where you will make sports bets, you will have to create your account. This is done in no time and all you will have to provide is some personal information and follow the registration instructions of the online bookmaker. Once you have set up your account, it is time to upload some funds to your betting balance.
To make a deposit, you will have to head to the cashier of the sportsbook and pick the payment method you prefer for topping up your account. The majority of online bookies accept payments via credit/debit cards, e-wallets, prepaid cards and bank transfers. This guarantees that you will be able to choose the banking solution which is most convenient for you.
Once you have made your deposit, you are ready to bet at the online sportsbook. In order to place your wager on a football match, you will have to choose from the numerous markets that offer different odds for the current games. Punters have the chance to calculate their possible win if their bet is successful. After choosing the line you would like to bet on, simply click on it and enter the amount of the stake you would like to make. Once you have confirmed your bet, you can enjoy the game and wait for the results.
Football Betting Strategies
When making online sports bets, it is always a good idea to make a research and look for strategies that can help you enjoy better payouts. Although there are no set rules on how to outsmart the bookmaker, you can try some strategic methods and see if they will work for you.
Value of Football Bets
This strategy means that you will have to carefully follow the markets a bookmaker has provided and see if there are some odds that were undervalued by the bookie. Let us assume that you have come across a team that the sportsbook has estimated to have odds of 4/1 to win a game. By doing a thorough research of statistics, you may come to the conclusion that the bookmaker has undervalued the odds of that team. This will give you the opportunity to take advantage of the bookie's 'mistake'. This method is quite time-consuming since you will have to read about the teams that are playing, look through the results of their previous games, as well as check the condition of the players. This being said, if you came across significantly undervalued odds, it can bring you quite the payout.
Making Over/Under Bets
Of course, as it is with any other betting strategy, nothing is set in stone with betting over or under the goal line. However, this type of wagering offers a 50/50 chance to guess correctly which is a lot better than putting your money on bets with a lower chance of a successful bet. This is why it is recommended you make over/under bets if you want to play with a lower risk of losing your money.
Betting Exchanges
This is a great feature that some online sportsbooks offer to punters. It allows them to back a certain selection in a game and during the in-play betting they can make a wager on another section that will go against their initial bet. This way, by laying the right kind of bet, punters can enjoy a profit no matter the outcome of the game. Thanks to betting exchanges and the in-play feature, online bettors have the opportunity to improve their chances of enjoying a fruitful virtual sports betting.