When it comes to gambling, Aussies are definitely some of the most passionate players. Although the country has long past of regulations and laws banning gambling, nothing can keep Australian punters away from the betting scene. Although the Interactive Gaming Act of 2001 forbids Australian players to get involved in any online casino gaming, sports betting is completely legal both at land-based and online sportsbooks.
As the popularity of sports bets keeps growing in Australia, there have been plenty of interactive sportsbooks appearing on the scene. This has lead to a serious competition between local sports betting sites and offshore ones. It cannot be denied that Aussies prefer betting at home-based online bookies since they provide a betting experience exclusively tailored to suit the taste of Australian punters. This means that the focus is directed to games that are more popular in the country and these include Aussie Rules Football (AFL), Rugby (NRL and Rugby Union), Basketball and Cricket. Australian punters can also bet on horse racing and make various wagers at online sportsbooks.
Online punters have the chance to make various types of bets and even enjoy the option of placing wagers that are typical only for Aussies. Due to some legal restrictions, however, local Australian sportsbooks do not offer in-play bets. This being said, there are plenty of offshore online sports betting sites where Aussies can take advantage of this specific betting option. The best part of betting at virtual sportsbooks is that punters are often offered bountiful bonuses that can make their wagering more fruitful and rewarding.
Sports Betting Legalization in Australia
Sports betting is legal in Australia and there are many punters who enjoy making bets on their favourite sports teams, major sports matches and other sports-related events. Not only are Aussies allowed to wager on sports at land-based bookies but they can also legally place bets at online sportsbooks.
In 2001 the Interactive Gaming Act was passed as a law and it forbids promoting or offering any type of interactive gambling to Australians. The online activities considered as illegal include online poker and casino games. This law applies to both offshore casino operators and Australian-based virtual casinos.
Although the Interactive Gaming Act forbids online gambling, this does not include betting on sports. As long as punters bet at licensed virtual sportsbooks and place their bets before the event has begun, they are not breaking the law. The rule of making bets prior to the start of the game, however, means that Australian-based online bookies are not allowed to offer live in-play betting. Online lotteries are also legal, with the exception of those that offer 'instant win'.
Australian online bookies oppose the law that does not allow live in-play betting and they have been trying to make some changes that will allow them to offer legally this type of bet. In-play sports bet is very popular among punters, especially those who reside in Europe. However, for now, Aussies can make this type of bet only at offshore online sportsbooks. This is because if any legal actions are being taken, the virtual bookie will be the one to be penalized.
Despite everything, there are numerous state-licensed online sportsbooks that are offering punters many betting options. Aussie sports fans have the chance of choosing the best odds, make a research about each game prior to making any bet and enjoy the entire experience in the comfort of their own homes.
The Best Sports to Bet on in Australia
Australian punters are permitted to make real-money bets online on sports and racing. These include the traditional pari-mutuel horse racing as well as sports that allow straight bets, parlays, teasers and futures.
The online sports and racing options for Australian punters are numerous and they can even expand their options by betting at foreign bookies. There are many major offshore online sportsbooks that accept punters from Australia which makes the entire sports and racing experience even more exciting.
Despite the fact that Aussie punters have the chance to bet on various sports at both local and foreign virtual sportsbooks, there are several sports that are the most popular ones among Australians. One of the sports that stands out as a preferred betting option is football, or if we have to be more accurate, Aussie Rules Football. The game has a massive following in Australia, with numerous fans of the Australian Football League. The A-League and the national team, also known as the Socceroos, intrigue many sports betting enthusiasts in the country. Betting on the World Cup has also become very popular among punters in Australia.
Although it cannot be compared to Australian Rules Football, rugby is also a quite popular game that many Australian punters enjoy betting on. The majority of sports bets are made on National Rugby League matches.
American Football is also among the sports that spark interested in Australian punters. Although most Aussies prefer betting on AFL games, those who have joined foreign sportsbooks often choose to place money on American Football. College and pro football are known to be among the games that catch the attention of Australian online punters.
Another game that appeals to a large number of Australian bettors is cricket. The game that has become popular in many countries around the world is also one of the favourite sports to bet on at Australian virtual sportsbooks. The extremely popular Ashes series are among the events that Aussie punters enjoy tremendously.
Basketball is not that popular among Australian punters. In spite of that, the sport has some loyal fans who regularly place bets on Australian Basketball League matches. This is the reason why Aussies will be able to place bets on basketball games at numerous online sportsbooks.
As it was mentioned earlier, Aussie bettors can place 'in-play' bets only at offshore online bookies. However, this betting options is very popular among Australian punters and it is the reason why so many of them enjoy betting on tennis. In addition to the 'in-play' wagers, the game allows various other betting options. Australian Open in Melbourne is an annual tennis tournament that attracts many fans of sports betting. Thanks to the popularity of the sport, numerous Aussie punters are partaking in betting actions at online sportsbooks.
How to Choose a Proper Sport Betting Site
If you are wondering what are the criteria for choosing a good betting sports site, then you can read the following few tips. Once you learn what to look for at online sportsbooks, you will be able to spot the good virtual bookies with ease. Every time you are looking for a fun and lucrative betting adventure, you should pay attention to the following points.
First and foremost, you should always be sure that you are placing your bets in a safe environment. This is why you should bet only at licensed online sportsbooks that are permitted to operate by trustworthy jurisdictions. Whether you choose to bet at a local-based virtual bookie or you want to try your odds at foreign sportsbooks, you should always do a background check of the operator that offers the services. Look for the licenses that the sports betting site is holding and make sure that they are valid.
Another important factor that makes online sportsbooks a good place for Australian punters is offering safe and fast payment solutions. When you make real-money bets, you should always be sure that you will be able to transfer your money instantly without putting yourself at risk. If you are interested in making sports bets online, make sure that the virtual bookie accepts several payment options that will help you manage your funds in a hassle-free and safe way.
Betting on sports online should always be fun. This is why so many web-based sportsbooks offer punters impressive bonuses and promotions. Thanks to these offers, bettors can improve their chance of getting better payouts. This is definitely a feature which can make your virtual betting more exciting and entertaining. So, make sure that the online bookie of your choice offers great bonuses and promotional deals.
Since you are making real-money bets online, you have to be sure that your money and personal details are always protected. Make sure that the web-based sportsbooks you have chosen use the latest encryption technology. This way you can be certain that any data that leaves or enters the website of the bookie is protected and no one will be able to read it.
Last but not least, you should choose a virtual sportsbook that has a reliable and responsive Customer Support team. This way, even if you have some kind of issue while betting online, you will be able to resolve your problem in no time. A proper sports betting site should offer several options to contact its representatives and ask them the questions that are concerning you.
Mobile Sports Betting in Australia
With the online sports betting industry growing in popularity, there is always a demand for better betting conditions and easier access for punters. This is how mobile bets came to life. Since everyone is living a hectic life and is on the lookout for mobile apps that will grant them access to anything, it is natural that sports betting has also become available for mobile bettors.
Nowadays, punters have a couple of options when they want to make sports bets even when they are on the go. With the latest HTML5 technology, punters have the chance to load numerous virtual sportsbooks on their mobile devices. All they need is an internet connection and a smartphone or tablet. The majority of mobile bookies are compatible to run on almost every Android, iOS and Windows portable device. This gives bettors the freedom to bet on their favourite sports events even when they are on the go.
One of the options to access virtual sportsbooks is to use the browser on your mobile device. This way you will be able to see the betting options of the website right away. This is very convenient for punters who are trying to save space on their smartphones or tablets. Sports betting sites that are compatible with mobile devices are optimized to run smoothly on various smartphones and tablets. This way mobile bettors will have an easy time navigating the website and choosing the bets they would like to make.
There are also mobile applications of various sports betting sites. This allows punters to download and install the software of the sportsbooks on their mobile devices. Once they log into their accounts, they will be one tap away from making bets even when they are on the move. Those mobile apps can be found at the PlayStore for Android users and the App Store for those who use iOS devices.
Common Types of Sports Bets
When you are making sports bets, it is important to know what type of wagering options you have. This way you will be able to choose the best bets and enjoy a better outcome of your sports wagering online. Although you cannot control the games you bet on, you can always manage the way you bet.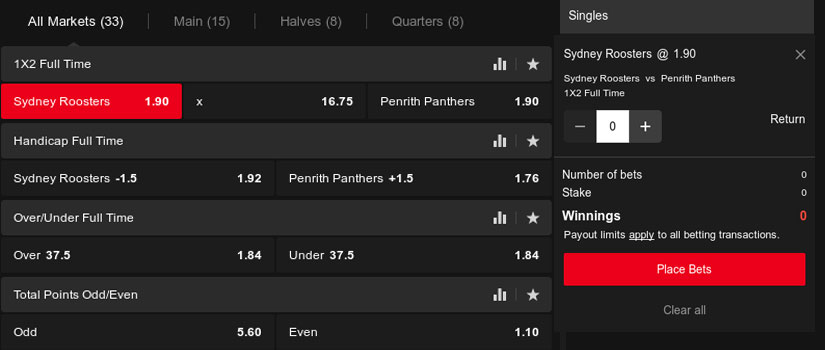 Some of the most favourite and common bets that Aussie punters like to make are those on AFL and NRL games. If you are a sports betting enthusiast, then you have probably noticed that there are a lot of markets for AFL and NRL bets at online sportsbooks. This is because there are plenty of wagering options for these games. One good example of a common type of wager is Margin Bet. In this case, bettors must not only bet on either one of the teams but they will also have to pick the right margin.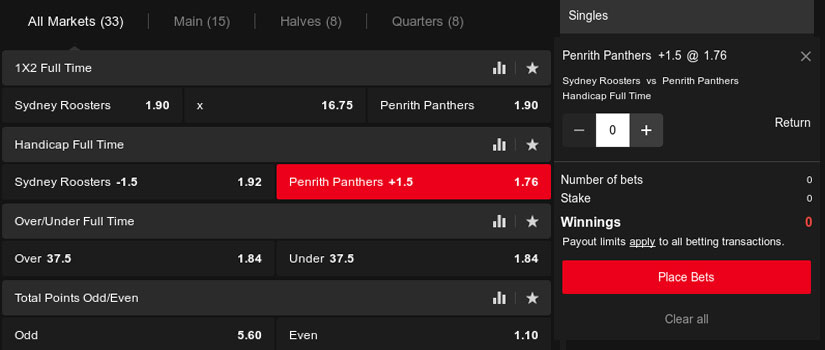 Another betting variation that has become pretty popular is multi-betting. This allows punters to place two or more bets under one single bet. There is also the opportunity to combine different types of wagers. This definitely makes the sports betting of each punter more exciting. Another popular variant is line betting. In this case, the bookie uses handicapping to make the odds of both teams even.
Live betting also has a lot of fans. It allows punters to place bets while the game is being played. Even though this is a very exciting feature, Australian online sportsbooks are not allowed to offer live in-play betting options. However, as there are plenty of foreign virtual bookies, Aussies can still enjoy making this type of sports bet.
Betting exchanges have also become very popular. To fully understand the concept of betting exchanges, you can use stock exchange as a reference. Let us assume that you believe that team A will win the game but there is another punter who thinks that team A will lose. Both you and the other bettor trade at a price that is acceptable for both of you. Betting exchange introduces the Lay Bet which essentially allows punters to back an outcome not to happen or a team to lose.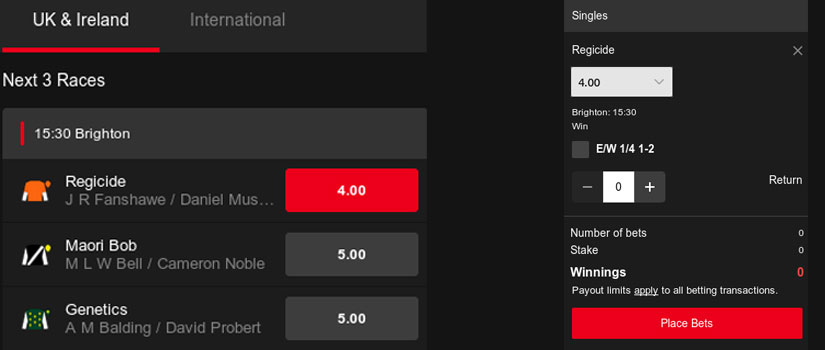 Horse racing also has many fans and there are plenty of innovative race betting options to be found at the online sportsbooks. One of the most popular racing bets is the Top Fluc. It guarantees bettors the best payout for the runner they have chosen to place their money on. Instead of waiting for the fixed prices to go out, punters can simply choose to make a Top Fluc bet. A few years after the introduction of Top Fluc, bettors were given a better value by using the best of 3 totes betting option. Nowadays, sportsbooks also offer a combination of the two aforementioned racing bets by giving bettors the chance to place money on Best of the Best.
There are also plenty of exotic bets available at various online bookies. This way punters can expand their wagering options and pick bets that can bring more generous payouts. The sportsbooks that offer exotic bets use the parimutuel betting system where all money that has been bet on a race go into a pool. The winning dividend is determined by the total pool size divided by the number of winning tickets.
Banking Options for Australian Punters
When it comes to uploading money to the sportsbooks of their choice, punters most commonly have several fast and safe deposit options. Withdrawing winnings is also easy and secure at the majority of regulated Australian online bookies. This is done so that bettors can have an easy time managing their funds and enjoy fast and safe transactions.
One of the most commonly used payment methods is utilizing a credit or debit card. Those who use VISA or MasterCard-branded cards will have easy time uploading money to their betting account. This payment option is extremely fast and punters can place their wagers as soon as they top up their sportsbook balances. Australian bettors will also find this banking solution for very convenient, especially since it can be used both for deposits and withdrawals.
Another option that online punters can utilize while betting at virtual sportsbooks is using e-wallets. There are plenty of services that allow their customers to transfer money in a fast and safe way. The majority of web-based bookies allow their members to use PayPal, Neteller and Skrill to upload funds to their accounts and withdraw their winnings. Using e-wallets will also allow punters to make instant deposits and make real-money bets right away. What is more, this type of payment solution is extremely safe and easy to use.
Those who enjoy betting on sports online will also have the chance to upload funds to their sportsbook accounts via prepaid cards. Thanks to this payment option, punters will be able to top up their betting account without revealing any type of personal information. A lot of punters who prefer to stay anonymous while betting online, choose to use prepaid cards for their deposits. The only downside is that this method can be used only for making deposits.
Bank transfers are also commonly used in virtual sportsbooks. Even though this method is considered for a secure way to manage one's funds while betting online, transactions via bank transfers may take up to 48 hours to process. This is a lot slower compared with the other payment options.
Sports Betting Tips
For those who want to try betting in the comfort of their homes, there are several tips that they might follow if they want to enjoy the best time while placing money on their favourite sports. The most important thing to remember is that sports betting is supposed to be fun and if you are feeling stressed out, you should change the way you bet online.
First and foremost, you should be well-aware of the basics. You cannot start betting online and expect good results if you are not familiar with the sport you are placing your money on. You should also make a research about the betting options that you have. This way you will know which bet to choose and you can expect good results at the end of the game.
The next tip is very important. You are advised to always set a budget and stick to it. Overspending is a common mistake that most betting rookies make. After all. Sports betting is preliminary a source of entertainment rather than a way to earn money. This is why it is strongly recommended quitting placing bets once you have reached your budget limit.
One of the biggest advantages of betting at online sportsbooks is that you have the chance to make a research about the teams you are betting on/against. So, take advantage of this opportunity. Make sure you are familiar with the teams that are playing, their history, as well as the condition of the players. This way you will be able to make the best betting decision.
Choose your bets carefully. It is better to make a couple of big bets on a game you have done your research, rather than betting aimlessly on matches you know nothing about. Also, it is a good idea to search for the best odds. Since there are various online sportsbooks, punters have the chance to pick the one that offers the best odds.
Since you are betting at a virtual bookie, you might as well use the promotions and bonuses it offers. This way you can improve your chances of winning better payouts. When you are choosing the online sportsbook where you can place your bets, pick one that provides generous promotional offers.