When it comes to gambling, Aussies are definitely some of the most passionate bettors. Although the country has a long past of regulations and laws banning gambling, nothing can keep Australian punters away from the betting scene. Although the Interactive Gaming Act of 2001 forbids Australians to get involved in any online casino gaming, sports betting is completely legal both at land-based and online sportsbooks.
As the popularity of sports bets keeps growing in Australia, there have been plenty of interactive sportsbooks appearing on the scene. This has lead to a serious competition between local sports betting sites and offshore ones.
It cannot be denied that Aussies prefer betting with home-based online bookies since they provide a betting experience exclusively tailored to suit the taste of Australian punters. This means that the focus is directed to games that are more popular in the country and these include Aussie Rules football (AFL), rugby (NRL and Rugby Union), basketball and cricket. Australian punters can also bet on horse racing and make various wagers at online sportsbooks.
Sports Betting Legalization in Australia
Overview
History
Legalization
Software
Historical Betting Overview
We can safely say that sports betting is part of the Australian culture since 1810 when the first organized betting event was recorded – a horse race held in Hyde Park. In the beginning, wagering was concentrated mainly on horse racing. In the late 19th century, there were tracks in most major cities and betting on greyhound and harness racing was starting to gain popularity as well.
Sports betting started to grow increasingly as time went by. This activity was initially carried out through local bookmakers who would take and place bets on behalf of the bettors and pay out the winnings if any.
Around 1890, betting terminals began to be used in competitions, which lead to an increase in attendance. The interest in betting on major equestrian events like the Melbourne Cup also grew.
The first mechanical totalisators were introduced in 1913 and soon became the device that displays the number of bets placed on a particular race and their accumulative value. Interestingly, the invention was originally intended to record election results, but after the government rejected it, George Julius reworked it for sports betting.
The emergence of the telephone and radio broadcasting allowed bookmakers to start off-course businesses. These were called "Starting Price" bookies. Back then, there were no casinos or sports betting centers the way we know them today, but rather special rooms in pubs or other buildings where bets could be made.
The first steps to legalize any type of gambling activity in Australia date back to 1961 when the government decided to start imposing taxes on this growing industry. By 1970, sports betting had become one of the most popular forms of gambling, and by 1980, it was already legal.
What You Need to Know about Sports Betting in Australia
Nowadays, the sports betting sector in Australia is considered to be one of the fastest expanding industries as more and more local punters prefer gambling that requires skill and experience. Although the field of sports betting is regulated by various local authorities, the provision that everyone complies with is the minimum legal age of 18 years. According to the Australian Gambling Research Centre (AGRC), more than half of local punters are men.
As in other parts of the world, most bettors in Australia prefer using online sportsbooks. Their layout and the services on offer usually do not differ from those generally applied, with one significant exception – in-play betting. In Australia, betting on sports events that are in progress is illegal over the Internet. The only option left for punters is betting over the phone.
A fact that is favorable to local bettors is that they do not owe any taxes on their potential winnings since sports betting is not considered a profession but a hobby. However, the revenue of the owners of betting businesses is taxed.
The sports betting market in Australia is highly regulated, but punters, especially if they are beginners in this field, must choose their bookmaker very carefully. The safest way to check if an operator is legal is to look it up in the register of the Australia Communications and Media Authority.
Odds Formats in Australia
Decimal Odds
Fractional Odds
American Odds
Calculations
Most of the Australian sportsbooks display the results in decimal format (eg. 1.4, 1.8, etc.) by default. As this format is widely popular in Europe, you will find it labeled as "European" within some bookies' settings. Apart from Europe, decimal odds are popular in Australia, New Zealand, and Canada.
This odds format is quite easy to understand and work with. The number in the decimal odds represents the amount you win for every $1 placed as a bet. For example, if you place a $100 bet with odds of 4.0, you can make a total payout of $400.
The American odds are known as the moneyline. They have a negative sign for the favorite (eg. -100), indicating the amount you must bet to win $100. The odds for the underdog come with a positive sign (eg. +100), showing you how much you can win for every $100 you risk.
The first number in the fractional odds format (5/6) shows the amount you can win, whereas the second number shows the amount you need to wager.
A greater variety of odds formats is offered by the big brands, which are not aimed only at the local market. Some of them allow bettors to choose from decimal, fractional, American, Hong Kong, Indonesian, or Malaysian formats.
Australia Betting Laws and Legislation
Online sports betting in Australia is regulated by the Interactive Gambling Act which was enacted in 2001. It regulates all gambling that takes place online, through a website or app, and via a telephone. The Act only deals with the actions of companies offering gambling and betting services but has no specific provisions for the punters.
The Interactive Gambling Act underwent some changes in 2016 and 2019 when the National Self-Exclusion Register was introduced.
Gradual revision of the legislation is being discussed in the country, but what we can currently say for sure is that sports betting, racing, and lotteries are legal forms of online gambling in Australia.
Sports betting in Australia is regulated both at state and federal levels. The government allows individual territories to introduce their own regulatory frameworks. Interestingly, most such control bodies are also responsible for alcohol regulations (e.g. the Victorian Commission for Gambling and Liquor Regulation).
In order to operate legally in Australia, each sportsbook must have a corporate bookmaker license or an on-course bookmaker license. They differ in that the corporate bookmakers are licensed within the whole Northern Territory, while the on-course bookmakers have a license for the relevant state.
Australia Betting Restrictions
Restrictions on sports betting in Australia are not that many. The Interactive Gambling Act prohibits the local online sportsbooks from offering real-money online interactive gambling services. This is the reason why many local online bookies may not provide in-play sports betting, as this is considered an interactive activity.
Well aware of the preferences of online bettors, some online bookmakers have found a way to overcome this ban by introducing live betting over the phone.
The other services banned by the Interactive Gambling Act are betting on the outcome of a lottery and sports betting services that do not hold an Australian license.
Australian sportsbooks are not allowed to provide any betting service if they have not preliminary followed a strict Know Your Customer (KYC) procedure. They must always check the customers' identity by collecting and verifying information via online forms and copies of identity and financial documents.
Online Betting Regulatory Body in Australia
The entire betting industry is monitored by the Australia Communications and Media Authority (ACMA). It is responsible for media and communications throughout the country, including all kinds of gambling online and over the phone. ACMA is entitled to initiate civil proceedings and inform the border protection authorities about the names of the directors of illegal offshore operations.
ACMA maintains a register of all licensed betting providers, which is the most reliable source of information on this subject. The institution's website has detailed information related to protection from illegal betting operators.
Apart from the Australia Communications and Media Authority, each state/territory of the country has its local authority that monitors sports betting within its borders. The following regulators currently act in Australia:
Australian Capital Territory (ACT) — ACT Gambling and Racing Commission
Northern Territory — Licensing Commission
New South Wales — Office of Liquor, Gaming, and Racing
South Australia — Independent Gambling Authority
Queensland — Office of Liquor and Gaming Regulation
Victoria — Victorian Commission for Gambling and Liquor Regulation
Western Australia — Department of Racing, Gaming, and Liquor
Tasmania — Tasmanian Gaming Commission
Popular Betting Markets in Australia
Football
Cricket
Rugby
Golf
Australia itself is a unique country and even the popularity of sports differs from that in other parts of the world. In terms of the number of viewers, the undisputed favorite is Australian rules football (Aussie rules) although rugby is ahead of it in the Sydney area.
These two sports are present in the portfolio of every Australian online sportsbook along with cricket, American football, and golf, which also enjoy great interest. Then come soccer, tennis, and basketball, which occupy the leading positions in Europe.
What is specific about Aussie rules is that there are not many competitions to bet on as the sport is not played anywhere else in the world. The main bet types are line bets, margin bets, as well as exotic bets like Player to Score First, for example. In terms of rugby, the variety of betting markets is greater. Futures betting is available for all the biggest domestic and international leagues and tournaments for both Rugby League and Rugby Union.
Soccer fans in Australia have no reasons to worry since the local online bookies feature hundreds of events from main international tournaments like the UEFA Champions League and the World Cup as well as from the Australian NPL and many others.
A proof of the great popularity of cricket in Australia are the many leagues featured by the online sportsbooks and the variety of bet types. Punters can place their bets on events from the ICC World Twenty20, the Indian Premier League, the WBBL, etc.
Popular Betting Markets in Australia Summary
Sport
Leagues
Aussie Rules
AFL, AFL Brownlow Medal
Rugby
NRL, Challenge Cup, Super League, State of Origin Series
Soccer
Australian NPL, Australia Reserves League, UEFA Champions League, FIFA World Cup, English Premier League, etc.
Cricket
ICC World Twenty20, WBBL, CSA Provincial T20 Cup, ICC Cricket World Cup, Twenty20 Big Bash League
Golf
ZOZO Championship, US Masters, Mallorca Golf Open, USPGA Championship, US Open, Ryder Cup
Australia Online Betting Bonuses
Promotions
Match Bonus
Free Bets
Enhanced Odds
According to the Australian legislation, the advertisement of sign-up bonuses, free bets, reload bonuses, and other sports betting promotions is prohibited. Of course, this does not mean that no bonus offers are available.
Punters can benefit from different promotions, but only after they complete the registration process and verify their accounts. The currently available bonuses and their corresponding terms at Australia-licensed sportsbooks become available to punters only after a log-in.
There are several types of welcome bonuses Aussies can claim, starting with the sign-up offer that typically comes in the form of a free bet or a percentage-based match of their first deposit. In some cases, customers must also enter a valid bonus code when opting in for a promotion. To qualify, newcomers must place bets on eligible markets at the minimum required odds or higher.
The offers usually come with a specific rollover attached to them, requiring punters to bet a certain amount to release the free credits. More often than not, there is an expiration time to comply with. Punters who fail to meet their rollover or use their free wagers within the designated time will have the freebies removed from their accounts.
The price boost (also known as the odds boost) is another popular incentive Aussie customers can sometimes take advantage of. Punters must again check the promotional terms to see what markets and sports the price boost applies to.
Then they must post a qualifying wager using their boost token and it will increase their returns if the bet is successful. Most sportsbooks prohibit using this promotion in conjunction with other bonuses. Punters are typically unable to opt in for price boosts if they have active free bets in their accounts.
The Acca insurance is a viable option for sports fans who prefer to build parlays (accumulators) with multiple legs. If one selection in the parlay fails, the sportsbook will partially compensate punters with a refund in the form of a free bet. Many bookmakers impose additional requirements on the qualifying markets and the minimum number of selections in the parlay.
Some betting operators would also require you to use your Acca refund in full as a single bet before it expires. Others would allow customers to withdraw only the associated winnings but the free bet itself will be non-cashable.
Finally, there is the best odds guarantee offer, which usually applies to wagers on greyhound and horse races. The bettor accepts an early price for their wager on a specific race. The bookie then pays them out at higher odds if the starting price exceeds the early price.
Mobile Betting in Australia
Mobile Play
Download App
Browser In-Play
Download via QR
With the online sports betting industry growing in popularity, there is always a demand for better betting conditions and easier access for punters. This is how mobile bets came to life. Since everyone is living a hectic life and is on the lookout for mobile apps that will grant them access to anything, it is natural that sports betting has also become available for mobile bettors.
Nowadays, punters have a couple of options when they want to make sports bets even when they are on the go. With the latest HTML5 technology, punters have the chance to load numerous virtual sportsbooks on their mobile devices. All they need is an internet connection and a smartphone or tablet. The majority of mobile bookies are compatible to run on almost every Android, iOS and Windows portable device. This gives bettors the freedom to bet on their favourite sports events even when they are on the go.
One of the options to access virtual sportsbooks is to use the browser on your mobile device. This way you will be able to see the betting options of the website right away. This is very convenient for punters who are trying to save space on their smartphones or tablets. Sports betting sites that are compatible with mobile devices are optimized to run smoothly on various smartphones and tablets. This way mobile bettors will have an easy time navigating the website and choosing the bets they would like to make.
There are also mobile applications of various sports betting sites. This allows punters to download and install the software of the sportsbooks on their mobile devices. Once they log into their accounts, they will be one tap away from making bets even when they are on the move. Those mobile apps can be found at the PlayStore for Android users and the App Store for those who use iOS devices.
Popular Betting Banking Methods in Australia
Bank Transfer
Credit Cards
E-Wallet
Prepaid Cards
Among other factors that punters pay attention to when choosing an online sportsbook, the availability of their preferred payment method is of particular importance. Both mobile technologies and electronic payment methods have developed rapidly in recent years. Bettors in Australia and around the world now have many options to top up their accounts and make withdrawals.
Punters in Australia can use a lot of payment methods, especially when it comes to deposits. The accepted currencies at the local online bookies are usually AUD, USD, EUR, and GBP. Although not the most popular payment option, cryptocurrencies also have their users and some of the sports betting operators take this into account.
The range of payment methods may vary between the different sportsbooks, but all allow bank transfers. Due to its long history, the bank transfer is considered one of the safest options and the slow processing time is its only drawback. In the best case, the transactions are carried out within 3 working days.
Australian punters may make deposits and withdrawals via several debit/credit card brands, including Visa, Mastercard, and American Express. Recently, the number of e-wallet users has been increasing. Popular e-wallet brands like PayPal and Neteller are accepted by most bookmakers. Skrill also works in Australia and has become the preferred banking method of many Aussie punters.
There are also some locally popular payment methods like POLi, BPAY, and PayID. They come with no fees and can be used for instant deposits. Out of these, only PayID allows withdrawals that are again instant and have a maximum transaction limit of $10,000.
Popular Banking Methods in Australia
Payment Method
Fees
Deposit Limits
Deposit Times
Withdrawal Limits
Withdrawal Times
Debit & credit cards (Visa, Mastercard, American Express)
1.0% – 3.0%
Max $10,000 per transaction
1-3 business days
Max $10,000 per transaction
1-3 business days
PayPal
No fee (if no currency conversion is involved)
Min $10/Max $5,000 per transaction
Instant within the sportsbook
Min $10/Max $5,000 per transaction
Up to 3 business days
POLi
No fee
Min $5/Max $10,000 per transaction
Instant
N/A
N/A
BPAY
No fee
Min $10/Max $10,000 per transaction.
Instant
N/A
N/A
PayID
No fee
Max $10,000 per transaction
Instant
Max $10,000 per transaction
Instant
Bank transfers
Varies
Max $2,000 per transaction
1-3 business days
Max $2,000 per transaction
1-3 business days
What to Watch When Picking Australian Betting Site
Security
Customer Support
Mobile Compatibility
In-Play Betting
Diversity and choice are in most cases positive things, but sometimes they can confuse us and we can waste a lot of time wandering between different options. We checked the register of the Australia Communications and Media Authority and found out that currently there are over 40 licensed interactive sports betting operators in the country. So, how to choose the right online bookie?
If at first glance you like an online bookie, but you are not sure if its activity is legal, just check if it is listed in the above register. Its presence there guarantees that the betting activity is regulated by the authorities, which monitor for possible violations and abuses.
If you are a novice in the field of online betting, we advise you to choose a sportsbook with a simplified and user-friendly layout that includes comprehensive help pages with detailed betting rules explanations. Many bookies provide all the necessary information without having to register first, which is great. Thus, you can preliminary check some important features like minimum bets, payment methods, betting markets, and the availability of downloadable apps.
In this regard, we do not understand bookmakers that restrict access to live chat only for registered bettors. Fortunately, many Australian sportsbooks do not apply this principle, so take advantage and ask all the questions you are interested in before you start betting on your favorite sport.
Best Betting Sites in Australia
The number of online bookmakers in Australia is quite large, so we have prepared for you a list of the Top 10 sportsbooks, all of them being legal, and providing punters with a great diversity of sports, betting markets and promotions. Take a look, we are sure you will find at least one bookie that perfectly suits your preferences.
Betstar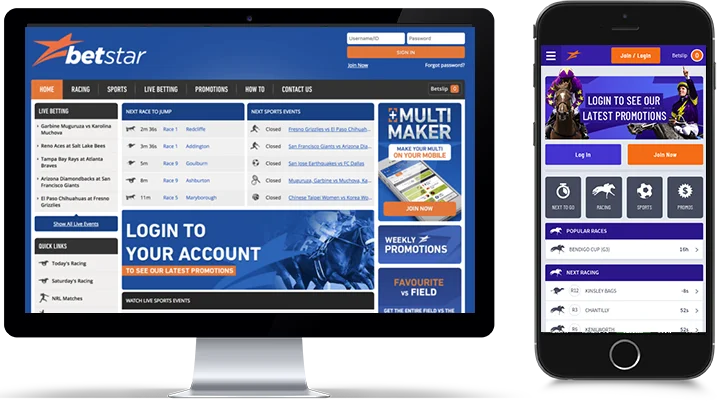 Betstar is one of the most recognizable brands in the Australian sports betting market. It was established back in 2007 by the Eskander family and seven years later it was acquired by the UK bookmaker Ladbrokes. Despite the acquisition, the sportsbook has retained its well-known layout.
The developers have made sure that users have the opportunity to use Betstar no matter if they are at home on their desktop computer or constantly on the go. There are dedicated applications for Android and iOS devices as well as an in-browser app.
Betstar supports different deposit and withdrawal methods, such as Visa and Mastercard, PayPal, POLi, BPAY, and Flexepin.
Horse racing is the leading sport on the Betstar sportsbook which is clear by the Quick Links menu which starts with two options in this category. What is more, the bookie has a separate racing section apart from all the other disciplines where events from this sport predominate.
There are almost 30 other sports that bettors can choose from and most of them cover an impressive number of leagues. This is true even for disciplines like golf, cricket, and handball. Among the popular sports that you can bet on through Betstar, we can point out Aussie Rules, rugby, soccer, basketball, tennis, and some more.
Lots of payment methods
Diverse betting markets
User-friendly interface
Betstar card for instant withdrawals
24/7 customer support
No live streaming
A fee for inactive accounts
Not many promotional offers
Bet Right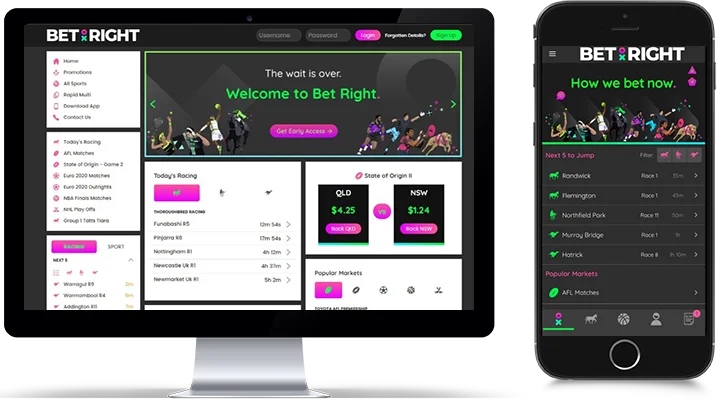 Established in 2021, Bet Right is one of the most recent online bookmakers in Australia. We were glad to find that from the very beginning the bookie has set itself the ambitious goal of satisfying the tastes of as many bettors as possible and its sports library has a diverse selection of disciplines which far surpasses locally popular sports – American football, soccer, baseball, basketball, boxing, cricket, ice hockey, MMA, tennis, etc.
In our opinion, the most appropriate payment method you can use on Bet Right is PayID as it is instant, there are no fees, and it is available 24/7. Currently, your only other options are Visa and Mastercard.
Judging by the innovative characteristics and activity of the sportsbook in social networks, the platform is definitely designed to reach young and more modern-oriented punters. We will only mention the Bet Right Discord where registered bettors can request markets and interact with each other.
Punters should have in mind that due to the current legislation, Bet Right does not provide any sign-up bonus offer, but it does have a dynamic promotional program for existing customers. Many permanent and short-term promotions are available but they are only viewable when punters log in.
A diverse selection of betting markets
Instant deposits
Punters can chat via the Bet Right Discord
Dedicated mobile apps for Android and iOS
Very active in the social networks
No live streaming
Few payment methods
No sign-up bonus
BlueBet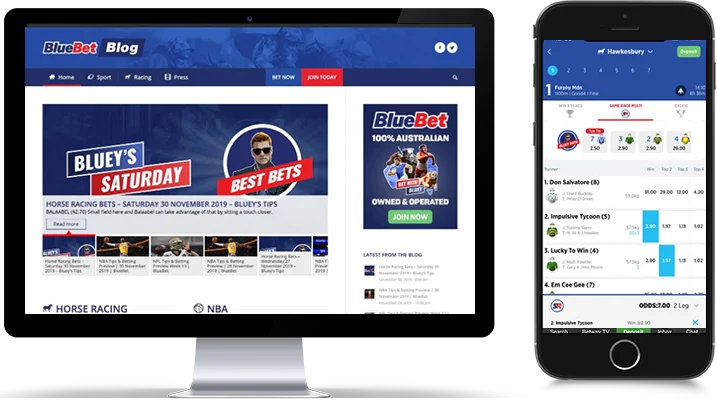 BlueBet is an Australian online sportsbook that has become increasingly popular in the last few years. The bookie brings horse racing to the fore – half of the shortcuts on the home page are related to events in this discipline as well as a large part of the current promotional offers. To find out what other disciplines you can bet on, you need to enter the relevant menu, because they are not visible on the home page.
Apart from the local favorites Aussie rules and rugby, punters can bet on American football, basketball, cricket, tennis, soccer, snooker, etc. There are also a few betting options related to politics and entertainment.
BlueBet does not have an abundance of payment methods but offers the main ones used in the country – debit/credit cards (Visa, Mastercard), BPAY, and POLi. The minimum bet amount imposed by the online sportsbook is just $1 but if you bet via the phone the limit goes up to $25. All betting and transaction limits are subject to change from time to time and therefore must be regularly checked.
A wide range of promotions
Extensive horse racing coverage
Low minimum deposits
Provides useful info about betting rules
Downloadable apps for Android and iOS
Fewer sports than most of the other bookies
No live streaming
Not many payment methods
BoomBet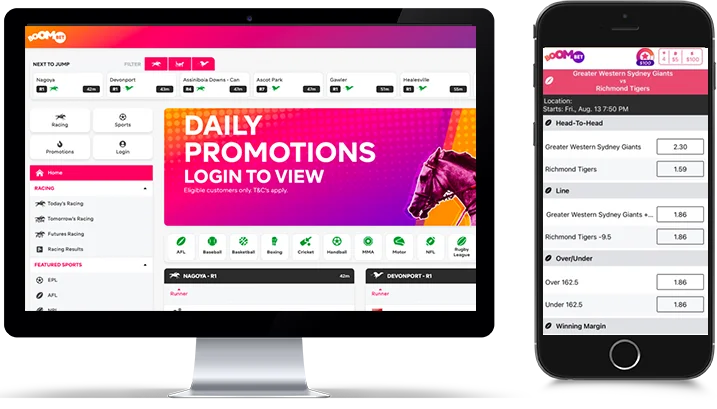 A new name, but a long-time sportsbook, this is BoomBet. The online bookie is the successor of SportsBetting.com.au, which was established in 1998. BoomBet continues to be Australian-owned and operated and is fully licensed and regulated by the Northern Territory Government.
One of the things that makes a good impression is that bettors have several channels to reach customer support. These include live chat, email, and phone. BoomBet could improve their customer care service even more by making it 24/7 as currently, the support staff is available only within specific working hours.
It seems that the coverage of many racing events exhausts a large part of the bookie's resources since the selection of other disciplines is relatively limited. However, soccer fans don't have to worry because the category features some international events and most of the major leagues across Europe as well as the Australian A-League.
Keep in mind that due to legal restrictions, BoomBet does not provide a welcome bonus offer but on the other hand, there are various permanent and temporary promotions that are quite enticing.
Over 20 years of experience
Great racing odds
Dedicated Android and iOS apps
Intuitive and user-friendly platform
Instant deposits
A limited selection of sports
No welcome bonus
Customer support is not 24/7
Ladbrokes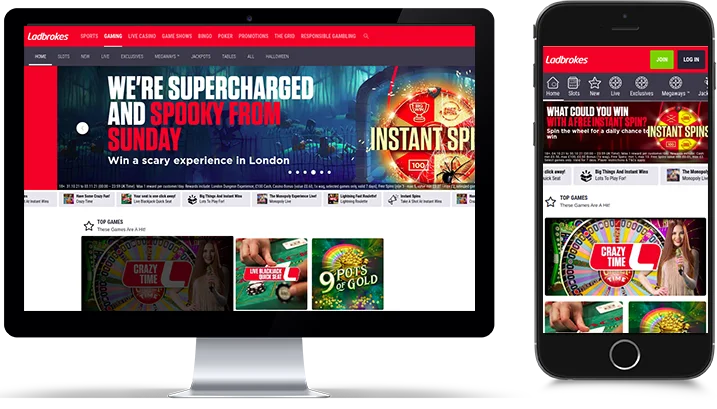 Ladbrokes is one of the foreign online sportsbooks licensed to operate in Australia. This can be considered an advantage in several areas, namely the variety of available sports, betting markets, and payment methods. We do not mean that the locally preferred disciplines are absent. On the contrary, here there is a separate section for horse racing and the list of sports begins with Aussie rules and rugby.
In addition, however, there are more than 20 other disciplines, including a large number of eSports. The soccer category covers the UEFA Champions League, the UEFA Europa League, many national leagues from different parts of the world, and some regional tournaments. There is a wide choice in terms of basketball, where the domestic and regional leagues are about 30, including but not limited to the NBA, the NBL (Australia), the FIBA Eurocup, the Champions League, etc.
The online sportsbook of Ladbrokes provides the following payment methods – debit & credit card, PayPal, POLi, BPAY, Flexepin, and PayID. In cooperation with Mastercard, the bookie offers a special Ladbrokes Card which allows users to access their winnings within seconds.
Instant deposit methods
Ladbrokes Card for fast withdrawals
Various betting markets
Extensive eSports section
24/7 customer support
Slow loading of the mobile app
A long list of restricted countries
Promotions are viewable only by registered bettors
BookMaker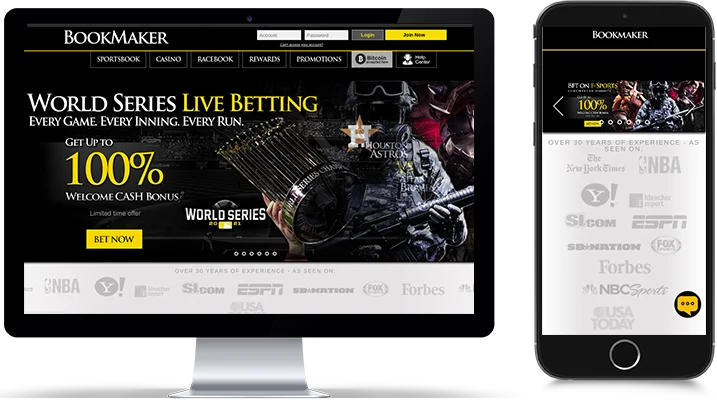 Bookmaker.com.au was initially launched mostly as a race betting platform, but now it offers a competitive number of sports betting markets. This is probably related to their acquisition by Ladbrokes in 2013.
The online sportsbook has a fantastic in-play section featuring events that are currently being played and showing the available live markets and odds. Punters can place their bets on major league sporting events as well as smaller division tournaments. Apart from the A-Z list with all the available sports, there are quick links to the most popular options like Jockey Challenge, NBA, NFL, the UEFA Champions League, NHL, EPL, etc.
Bookmaker.com.au provides its customers with various payment methods including Mastercard and Visa cards, PayPal, POLi, BPAY, Flexepin, and PayID. There is also a special Bookmaker Card that enables loyal punters to make instant withdrawals.
The bookie's customer support is available 24/7 and can be reached via phone or email as there is also a phone number for live betting.
Plenty of betting markets
Multiple events in the in-play section
Conveniently structured information on betting rules
Bookmaker Card for instant withdrawals
Downloadable apps for Android and iOS devices
Promotions viewable only if you are logged in
No live streaming
Too strict rules for successful punters
Palmerbet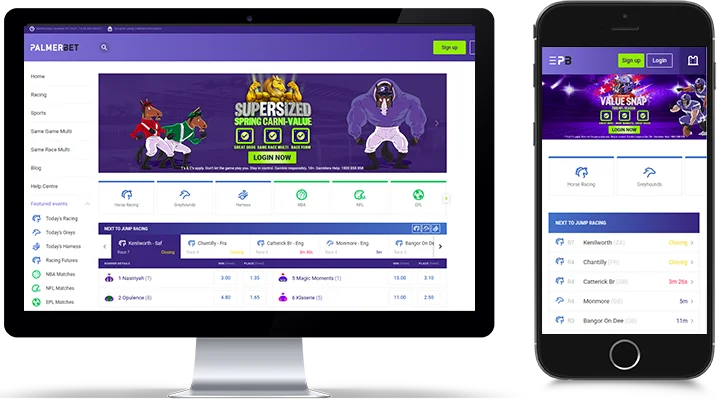 Palmerbet is a 100% Australian-owned sportsbook which, despite its relatively limited portfolio of sports, has a large client base, mainly due to the variety of promotions and some specific features. Both the downloadable apps and the website have a user-friendly layout and extensive help page that are convenient even for completely novice punters.
The available payment options are standard – debit/credit cards (Visa and Mastercard), PayPal, BPAY, POLi, and bank transfers. Unlike some of its competitors on the Australian betting market, Palmerbet does not have a special brand card for faster transactions.
The selection of sports is not something exceptional, but still includes the most popular disciplines such as horse racing, greyhounds, basketball, tennis, soccer, cricket and some more. The soccer category covers almost 90 competitions including the UK Premier League, the UEFA Champions League, the Australia National Premier League, etc. There is also an eSports category featuring CS:GO, Dota 2, King of Glory, and the League of Legends Championship.
For the convenience of bettors, Palmerbet provides two special tabs, Same Game Multi and Same Race Multi. In the sports section of the bookie, the feature can be used for certain leagues from Aussie rules, rugby, basketball, and soccer.
Multiple promotions
Useful and informative help page
Same Game Multi and Same Race Multi features
Dedicated apps for Android and iOS
Easy-to-navigate layout
Not many sports
Slow withdrawals
No live chat
Neds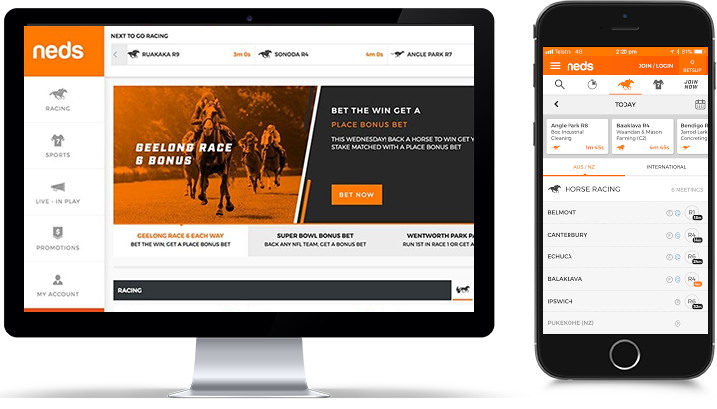 Established in 2017, Neds is already one of the leading online sportsbooks in Australia. This does not surprise us, as its layout looks fresh and easy to navigate, and the range of available sports is not small at all. The bookie has extensive betting options related to sporting events within domestic and international leagues and tournaments.
Another factor for the successful development of Neds is its 24/7 customer support that can be reached via live chat, phone, or email. The sportsbook provides all punters with a very detailed FAQs section as well as with a blog that is packed up with loads of tips, preview publications and interesting news.
Neds has a number of enticing promotional offers for its registered punters that are viewable only if you are logged in. There are downloadable mobile applications both for Android and iOS devices that have their own specific bonuses and promotions.
The Neds sportsbook supports several payment methods including bank transfers, Visa, Mastercard, PayPal, BPAY, POLi, Flexepin, and PayID. Unfortunately, withdrawals are limited only to bank transfers. The alternative is the Neds Card enabling the bettors to access their winnings within minutes.
Various sports and betting markets
Multi Builder feature
Neds Card for faster transactions
24/7 customer support
Detailed FAQs and blog
Too fast at restricting sharp bettors
No live streaming
Only one withdrawal option
PlayUp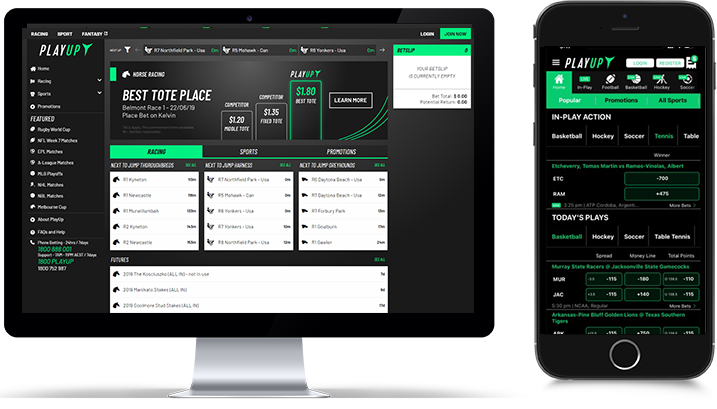 In the field of online sports betting, where bright colors, flashing banners, and loud titles usually reign supreme, it is especially nice to come across a bookie like PlayUp that features a classy-looking layout with a sophisticated dark scheme and white and green accents. The website not only looks good but is also structured in such a way that with just a few clicks you find the information you need and can start betting.
A range of sports markets is offered on the PlayUp website and dedicated mobile applications, with Australian rules, basketball, cricket, soccer, and rugby being the main disciplines for punters to bet on. Some of the other options are MMA, snooker, handball, volleyball, and ice hockey. Something we have rarely seen at other Australian online sportsbooks is the opportunity to bet on the outcome of upcoming local elections.
PlayUp does not have multiple payment options. The sportsbook supports credit and debit cards, BPAY, or direct bank transfers for deposit. Withdrawals are usually processed within 7 days and are possible only via a bank transfer or debit & credit card.
A sophisticated and intuitive design
Variety of promotional offers
Clear and well-structured betting rules
24/7 customer support
Downloadable apps for Android and iOS devices
Very short FAQs section
No live streaming
Slow withdrawals
WinnersBet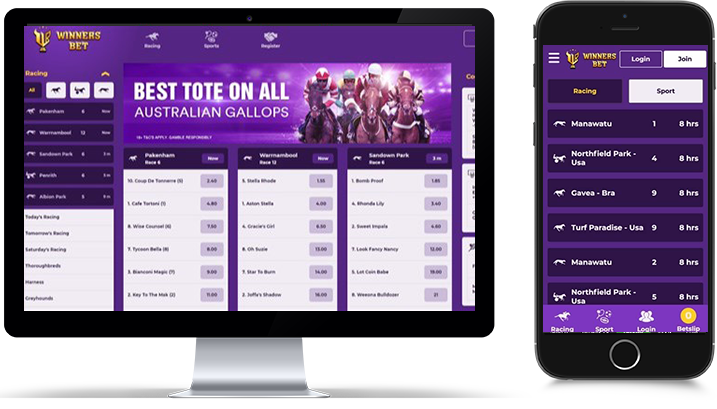 As in other parts of the world, the Australian sports betting market is constantly evolving and more and more online bookmakers are entering the field. Starting its online operation in 2020, WinnersBet is one of the newest bookies in the country. It cannot compete with larger and already established brands in terms of betting markets since its portfolio is still relatively limited.
Despite its inexperience, WinnersBet still offers a competitive betting service, especially for racing (thoroughbreds, harness, and greyhounds). With a great range of races, a solid selection of bet types, and an easy-to-use online betting platform, WinnersBet has a great chance to become a favorite online bookmaker of fans of locally popular sports.
Of the other available sports, soccer has the biggest number of betting options. The category covers over 30 national and regional leagues, including the UEFA Champions League, the American Major League Soccer, the UK Premier League, the Australian A-League, etc.
The only payment methods accepted by WinnersBet are credit/debit card and POLi. Withdrawals are processed between Monday and Friday and may be subject to additional verification checks.
Great coverage of horse racing and greyhounds
User-friendly website
Lots of events in the soccer category
A set of promotions for registered punters
Reliable local license
Not many sports apart from racing
No downloadable apps
Scarce payment methods