When it comes to online prepaid banking solutions, there are plenty of services you can use. Among the more popular ones, we find Neosurf. Established back in 2004, Neosurf has been a consistent option in the online betting scene.
The parent company, Neosurf Cards SAS, is headquartered in France. Featured across more than 50 different countries and thousands of retail locations, Neosurf is one of the most widely available services in the online gambling industry. Besides its broad accessibility, the method is exceptionally secure and easy to use.
Basically, Neosurf has been developed as a voucher-based system, allowing customers to purchase prepaid cards from convenience stores and kiosks and use them for online payments, including for topping up sports betting accounts. Besides the physical vouchers, the brand has additionally developed other products, including Neocash MasterCard and Neocash Virtual MasterCard.
There is a large number of online sportsbooks that accept Neosurf payments and the popularity of the service cannot be denied. In the very dawn of its existence, Neosurf was perceived as a somewhat exotic and unconventional solution. This quickly changed and customers around the globe embraced it due to the unprecedented level of security and anonymity it provides.
Of course, any online banking method comes with a variety of features, as well as a set of advantages and disadvantages. In this review, we will take a look at all aspects of Neosurf, including the good, the bad, how it works, and what you can expect when using this service for the purposes of online sports betting.
Neosurf Products
Apart from the prepaid vouchers, Neosurf customers may take advantage of two additional products offered by the brand – a physical and a virtual Neocash MasterCard.
Physical Prepaid Vouchers
Neosurf vouchers can be obtained in two ways – either by finding a retailer through the search functionality in the website or by purchasing one online. Users are able to open their personal myNeosurf accounts and get a personal Neosurf PIN.
Buying Neosurf from one of the brand's partners is also an option. The list of online retailers is published on Neosurf's website. It may take several days for the card to arrive, so using a physically purchased voucher is a better alternative for punters who would like to start betting right away.
Neocash MasterCard and Neocash Virtual MasterCard
Neosurf has additionally developed two products – a physical and a virtual Neocash MasterCard. The solution delivers instant access to funds and could be topped up online or at any of the designated merchants. Although the card functions just like a regular bank card, allowing users to spend money online and withdraw funds from ATMs, it does not necessitate opening a bank account.
The Neocash card gives access to the available balance in myNeosurf account. To apply for the Neocash card, users must have completed the verification procedure required by the brand.
Obtaining a Neosurf Voucher and Registering an Account with myNeosurf
The process of acquiring a Neosurf voucher is not at all difficult and it only takes a minute. Much like other prepaid cards, you will need to find a retail location which works with Neosurf and offers the vouchers. This can be a gas station, supermarket, bank, newspaper stand, and many others.
There are more than 150,000 different retail locations which offer Neosurf vouchers across more than 50 countries, making this service widely accessible. Additionally, the brand has entered into partnerships with more than 20,000 online businesses.
You give cash or pay with a card at the cashier and you get a receipt, which serves as your voucher. There are no fees to be paid when purchasing the card, giving you the same amount of money as you gave the cashier. On the receipt, you will find a 10-digit PIN code which you will have to enter to make a deposit. Getting the prepaid card requires no personal information or ID on your part. This plays into the extensive privacy offered by this service, which we will go into more details later in this review.
The main product of Neosurf, the physical vouchers do not require registering an account or identity verification. However, signing up to myNeosurf has a lot of advantages, including buying vouchers online and managing several vouchers at once.
The process of registering an account with myNeosurf is easy and straightforward. The registration can be accomplished within minutes, as the procedure is free of any charges. Users can join the myNeosurf service by heading to the Sign-up section in the upper right corner of the website. They are supposed to enter their e-mail address, create a password, and then confirm it.
The next step of the Sign-up process involves entering one's personal details – first and last name, as well as a date of birth. Once users are done with this stage of the registration, they will receive an e-mail with a link, which should be clicked in order to finalize the process.
Customers of Neosurf should take into consideration that the brand imposes certain limitations to unverified accounts such as depositing limits. They can be overcome by providing a government-issued ID and proof of address.
Once the verification procedure is over, customers are free to proceed with the transfer of funds and use them for their sports betting needs. They can top up their myNeosurf account via a number of methods, including Neosurf vouchers, credit and debit cards, and bank transfers.
Opening an account via Neosurf's app is as easy and hassle-free as that via the website. Depending on the mobile device they are using, users can download the brand's app for free from Apple's App Store or from Google Play.
By heading to the Account section of the app, they are supposed to complete the registration procedure. The application is a perfect tool for fans of mobile sports betting, allowing them to make instant deposits from the comfort of their surroundings.
As Neosurf is a service currently available in more than 50 countries, the vouchers are sold in the respective currencies. The list is long, and some of the supported currencies include AUD, BGN, CAD, CHF, CNY, CZK, DKK, EUR, GBP, HKD, HRK, HUF, ILS, INR, MXN, MYR, NOK, NZD, PHP, PLN, RON, RUB, SEK, SGD, THB, TRY, USD, and ZAR. Neosurf vouchers are available in a variety of denominations ranging from €10 to €100.
Neosurf Registration Requirements
Copy of ID/DL
no
Utility Bill
no
Link bank account
no
Link bank card
no
Depositing with Neosurf
For starters, sports betting enthusiasts should make sure that the bookmaker they have selected supports Neosurf as a viable payment method. Before you can place a bet on any of your favorite sports events, you will first need to complete a deposit and top up your bankroll.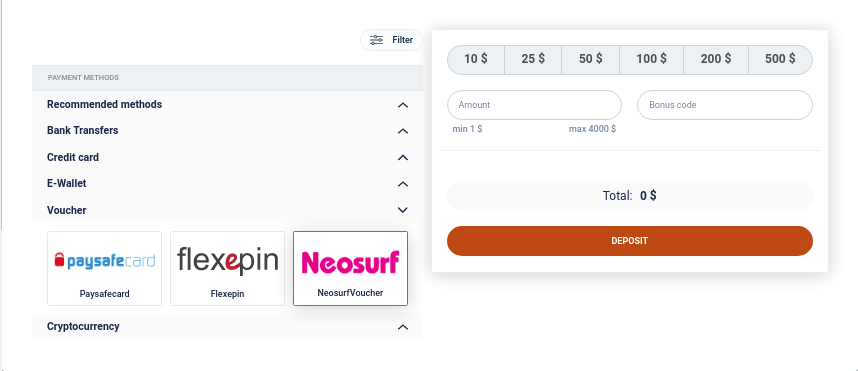 Neosurf gives you the opportunity to make easy and convenient payments. To complete a Neosurf deposit, you will need to find the Cashier page and select the Neosurf option. You will be required to enter the 10-digit PIN into the form and the amount you wish to deposit. This only takes a minute and the process is completely straightforward.
As soon as you confirm the transaction, the payment will be processed and the money will appear in your sportsbook balance. You will not have to wait for the payment to go through, as you would with other banking methods. Neosurf gives you the opportunity to wager your money straight away. This convenience is one of the main benefits of Neosurf and the reason why so many punters choose this service.
As for deposit limits, a single Neosurf voucher can only hold up to $100 or the currency equivalent at once. Therefore, the sportsbook's upper limits will also be similar.
As for deposit minimums, they tend to vary between $5 and $20 with different sportsbooks. There is no way around the inherent limits and you will have to accept them or look for a different banking method. Another option for larger deposits would be to purchase multiple vouchers at once.
Depositing with Neosurf Summary
Timeframe
Instant
Minimum per transaction
5 or currency equivalent
Maximum per transaction
100 or currency equivalent
Fees
Free of charge
Available currencies
AUD, BGN, CAD, CHF, CNY, CZK, DKK, EUR, GBP, HKD, HRK, HUF, ILS, INR, MXN, MYR, NOK, NZD, PHP, PLN, RON, RUB, SEK, SGD, THB, TRY, USD, ZAR
Withdrawing with Neosurf
Every now and then, you will wish to withdraw part of the entirety of your balance from your sportsbook bankroll to a personal one. There are plenty of services which can help you achieve this, but Neosurf is not one of them. This is a prepaid method and as such, it is not designed to move funds in multiple directions. Neosurf, much like other services of this kind, is not capable of handling withdrawals.
This means that you will have to rely on different payment methods to cash out your money. Usually, this is not a problem, and most, if not all, sportsbooks will provide you with a couple of alternative methods to withdraw your winnings.
The first one is withdrawal via bank transfer. You will, naturally, have to communicate with the support staff to inform them about your banking details so that the transaction can be sent. Additionally, the sports betting operator will ask for identification documents for the compulsory verification procedures they are supposed to perform.
When this is done, it can take up to 7 business days for it to process until you receive your funds. Bettors should also be aware of the fact that some operators impose fees on withdrawals via bank transfers. This information is usually available in the cashier, or the terms and conditions section.
Yet another viable option for withdrawal of your funds would be through a credit or debit card. Such withdrawals are handled typically between 3 to 5 business days and the maximum limits vary across different bookmakers.
Withdrawing with Neosurf Summary
Timeframe
N/A
Minimum per transaction
N/A
Maximum per transaction
N/A
Fees
N/A
Available currencies
N/A
Fees Related to Neosurf Betting
Another aspect you need to take into account is the cost of using the service. As far as Neosurf is concerned, you will find this to be one of the most cost-effective payment methods supported by the online gambling industry. Many aspects of Neosurf are outright free. For example, acquiring a voucher or making a payment come completely without any fees. The amount you give at the kiosk is the same that you will have in your voucher and the amount you pay at the Cashier page at the sportsbook will be the same that you receive in your balance.
However, this does not mean that there are no fees at all. If you make transactions in a different currency than your original one, you will be asked to pay an exchange fee. This will amount to 2% of the total transaction, with the exception of PLN payments where it increases to 3%. Moreover, if you wish to cash in the balance of the voucher, you will need to pay 6% of the total sum in fees. Finally, if your voucher remains unused for more than 12 months, you will be charged $2 for each month of inactivity until the balance reaches zero.
In some rare cases, you may also be asked to pay commission on deposits by the online sportsbook. While this is rare, there are still betting platforms that continue this practice. In such scenarios, you will pay a certain percentage or a flat fee, depending on the website in question.
In addition to the above-mentioned fees, there are also some charges related to myNeosurf accounts. Holders of such accounts are able to use several deposit methods. While depositing via VISA cards, Mastercards, bank transfers, and debit cards are free of charge, moving funds to the account via Neosurf vouchers comes with a fee of 4.5%.
myNeosurf Deposit Methods Fees
VISA cards
Free
Neosurf voucher
4.5%
Mastercard
Free
Bank transfer
Free
Debit card
Free
Merchant payout
Free
Withdrawals from myNeosurf accounts via Neosurf merchants and vouchers are cost-free, while withdrawals to a Neocash card involve a 2% fee, and transfers to a bank account are processed against a 1.5% fee.
myNeosurf Withdrawal Methods Fees
Neosurf merchants
Free
Neosurf voucher
Free
Neocash card
2%
Bank transfer
1.5%
Fees Related to Neosurf Summary
Initial setup
Free of charge
Maintenance fee
Free of charge
Inactivity fee
2 monthly fee if the voucher remains unused for more than 12 months
Deposits to myNeosurf account
0 – 4.5%
Withdrawals from myNeosurf account
0 – 2%
Benefits of Betting with Neosurf
When you purchase a Neosurf voucher you can expect to benefit from several interesting features. These advantages are the main reason to use Neosurf over other viable payment methods and will ultimately play a large role in the overall experience. Below, we will mention the most important benefits of using Neosurf.
Instant deposits
First and foremost, you will have the benefit of instant deposits when using Neosurf. You will not have to wait for the deposit to process since the money is instantly transferred to your sportsbook balance. This is a major advantage as other banking methods may take hours or days to complete the transaction.
Broad accessibility
The accessibility of the service is also quite handy since you can pick up a voucher during your daily commute. You do not need to enter any information or wait for approval. As soon as you walk away from the kiosk, you will have the money at your disposal. Furthermore, an ever-growing number of bookmakers support Neosurf as a viable payment method.
Security
Of course, this ease of access also plays into the security offered by Neosurf. Since you are not required to enter any sensitive information to acquire a voucher, it cannot become compromised. This way, you will be fully secure in the knowledge that your identity is protected in all cases.
Registering and verifying an account with myNeosurf is not compulsory
Although registering an account with myNeosurf has its own set of advantages, it is not compulsory. Users who feel reluctant to share their personal data can easily skip the verification procedure. This however imposes certain limitations to the account.
A handy tool to keep your betting under control
Since Neosurf vouchers are available in several fixed denominations, this can help bettors keep a better track of their spending on sports betting. They cannot deposit more than the voucher's value and can wager only the money they have, which is not the case with credit cards, for example.
Drawbacks of Betting with Neosurf
Of course, no payment method is perfect and Neosurf has its fair share of negative aspects, as well. These will leave their effect on the overall experience you have with this banking solution and should also be factored in when making a decision. Ultimately, it is up to you to see if the positives outweigh the negatives and reach your conclusion.
Withdrawals are not possible
The first and most important downside to using Neosurf is that the service cannot handle withdrawals. As such, you will have to rely on a different payment method, most commonly a bank transfer, in order to cash in your balance. This can take anywhere between one to several business days, depending on a range of factors. By contrast, eWallets are perfectly capable of processing transactions both ways, and withdrawals are much quicker than what you are left with.
Tight limits
Something else that you have to consider is that Neosurf has relatively tight transaction limits. Designed as a service to be used for small purchases, Neosurf only allows for payments up to $100 per voucher. Even by median standards, this is quite low and if you wish to bet more than that, you will have to resort to a different solution.
The inconvenience of buying a physical voucher
Even if there is a point of sale, located near to you, you still have to go out in order to obtain a physical voucher. This may sometimes present an inconvenience and hinder punters from betting right away.
Regulation and Availability of Neosurf
As far as regulations go, Neosurf has covered all the right bases. The company behind the service – Neosurf Cards SAS – is headquartered in France, and operates under number 478 502 321. It is regulated under the terms of the Financial Conduct Authority of the United Kingdom. This is great information, by all accounts, since the FCA is responsible for the oversight of some of the most trusted and popular online payment solutions in today's market.
The company can offer prepaid cards to customers all over the European Economic Area. Neosurf operates across EEA and EU under the name Verified Payments UAB. The latter is monitored by the Bank of Lithuania under the Electronic Money Regulations.
Currently, Neosurf is available in a whole slew of countries, specifically, in Algeria, Andora, Argentina, Australia, Austria, Belgium, Benin, Brazil, Bulgaria, Burkina Faso, Cameroun, Canada, Central African Republic, Chad, China, Columbia, Cyprus, Czech Republic, France, Gabon, Gambia, Guinea-Bissau, India, Ireland, Italy, Ivory Coast, Latvia, Lithuania, Luxembourg, Malaysia, Mali, Malta, Mauritania, Morocco, Netherlands, New Zealand, Pakistan, Poland, Portugal, Qatar, Romania, Russia, Saudi Arabia, Senegal, Spain, Togo, Tunisia, Turkey, Ukraine, United Arab Emirates, and the United Kingdom.
Moreover, the prepaid card is available for purchase at more than 150,000 different retail locations and you can easily find one near you on the Neosurf website.
Apart from English and French, the website of Neosurf is supported in several other languages including Spanish, German, Polish, Portuguese, Dutch, Italian, Romanian, Greek, and Japanese.
In cases of more serious disputes, holders of myNeosurf accounts should be aware that they are submitted to the jurisdiction of the courts of Paris.
Neosurf Security
The security of your funds is of the most immediate importance and Neosurf has taken steps to ensure it. For one, the company follows all procedures and regulations set out by the FCA. The standards set by this institution are some of the most stringent and this is done to ensure maximum customer safety.
Moreover, the nature of the service itself makes it highly resistant to potential fraud. In order to use a Neosurf voucher, one must have access to the 10-character PIN on the receipt. Without it, you cannot make a payment. Obviously, this requires physical access to the voucher and with some responsibility, you can avoid having your funds stolen.
All payments to sports betting operators are usually protected by advanced SSL encryptions, making all the financial information transferred very hard to misappropriate.
Furthermore, Neosurf also protects your identity in a way most other services cannot. Since no personal information is required to use Neosurf, you are not trusting your identity and other sensitive data to third parties. As a result, you can use the prepaid cards, knowing that your privacy is ensured.
Unlike owners of prepaid Neosurf cards, holders of myNeosurf accounts may be required to undergo certain verification procedures, involving the provision of personal data. Neosurf operates in strict compliance with the General Data Protection Regulation policy, which imposes protection of natural persons, their data, and the processing and storage of such data. Neosurf refrains from disclosing any relevant information to third parties, unless expressly required by law enforcement authorities.
Neosurf Security Summary
SSL
yes
Two-factor authentication
no
Face ID
no
Touch ID
no
App/SMS Notifications
no
Neosurf Customer Support
Support and assistance over questions related to Neosurf vouchers and myNeosurf accounts may be sent to support.en@neosurf.com for English-speaking customers, and to support@neosurf.com for other languages. There is also a convenient Contact Us form that can be used. Unfortunately, the company does not provide other channels, like a telephone or live chat, for customer support. E-mail queries are typically answered within 36 hours.
On a brighter note, the FAQ section is quite comprehensive. It is conveniently divided into sections delivering detailed answers to queries related to Neosurf Vouchers, myNeosurf Accounts, Buying Neosurf, Spending Neosurf, and Fraud and Security issues.
Neosurf Reviews from Around the Web
One of the most convenient and secure ways to pay for different purchases is via prepaid vouchers. This is also a payment solution that is commonly used by online punters who wish to deposit into their betting accounts in a fast and convenient way. One such service is Neosurf, which enables bettors to make fast and secure deposits into their sports betting accounts.
You may be unsure whether Neosurf is a good option for your betting deposits, which is why we recommend reading several reviews on the service you can easily find online. Many betting experts have covered all of the positive and negative sides of the payment option, giving readers a chance to decide whether Neosurf is the solution for them.
The prepaid card solution was also reviewed by Trustpilot users who have rated Neosurf. A total of 1,248 reviewers have given their unbiased opinion on the service, giving it an average score of 1.6 out of 5 stars.
Negative Neosurf Reviews
It is unfortunate that the majority of the reviewers at Trustpilot did not enjoy the type of service Neosurf was offering them. Out of all reviews left on the website, only 9% gave the service an Excellent score, while 6% rated it as Great. Neosurf was ranked as Average by 8% and another 9% gave it a Poor score. The service received a Bad rating by 68% of the reviewers, making the overall score of Neosurf Bad.
Most of the negative reviews came from users who had a bad experience with solving issues with the support team of Neosurf. Some users had their funds disappear and were not able to restore them, neither were they aware of the reason for missing their funds. Other users complained about taking way too long to withdraw their funds from their Neosurf accounts.
Positive Neosurf Reviews
Despite receiving quite a few negative reviews, Neosurf was also praised by some of its users. Many were pleased with the convenience of payments carried out via Neosurf. What is more, the service is known for offering a safe way to initiate payments.
Some of the positive reviews were left by users who praised the fast reply of the support team, enabling them to solve their issues. The easy access to Neosurf accounts and the funds available in one's myNeosurf profile was also one of the features that many enjoyed.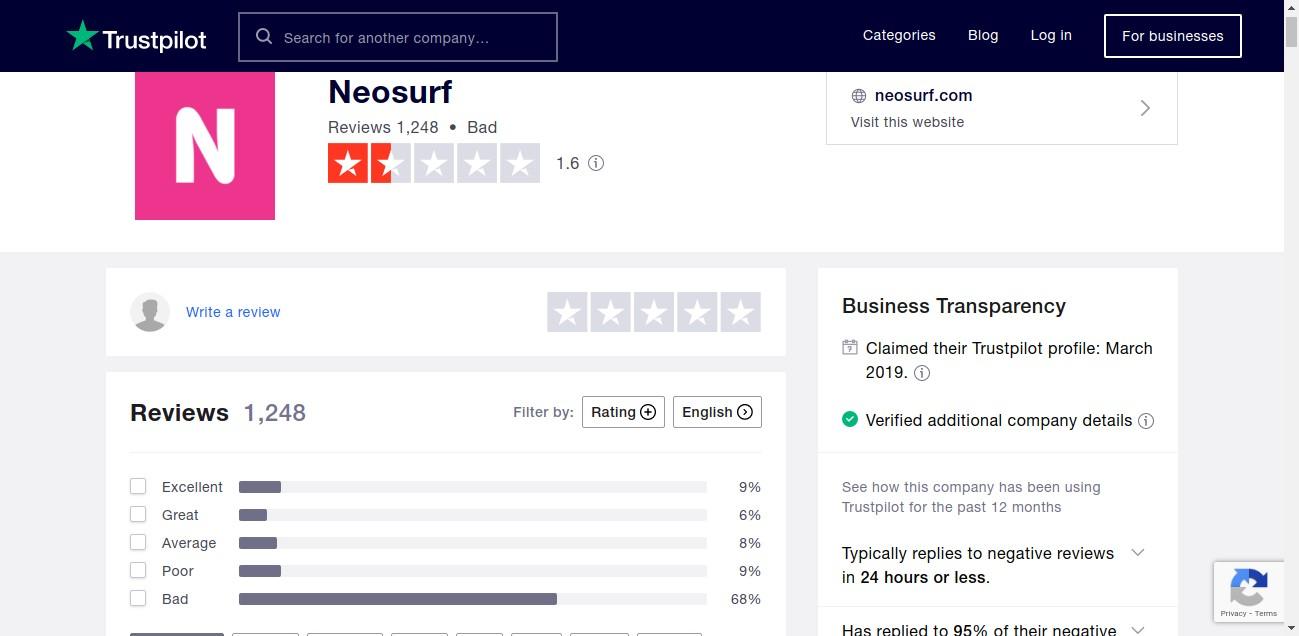 Trustpilot Rating of Neosurf
Excellent
9%
Great
6%
Average
8%
Poor
9%
Bad
68%
Conclusion
Overall, Neosurf has a lot to offer to certain types of bettors. The possibility for instant deposits and the privacy offered by this service are without a doubt its best assets. However, the low transaction limits and the inability to cash out funds will turn off some customers. Ultimately, it is up to you to decide whether Neosurf will serve your needs. However, we believe that this payment solution is best suited for casual punters who do not take their betting activities too seriously.