Inflation has soared in 2022, making high costs of food, housing, and transport increasingly burdensome for millions in the United States. Yet, the rising cost of living has not curbed consumer spending – nearly 1 in 5 Americans admit they spent money on sports betting over the past year.
Betting on sports is more popular in the US than ever, and this multi-billion dollar industry is expected to grow even bigger in the near future. During the third quarter of 2022, revenue from sports betting reached record-high levels at $1.68 billion, up 80.6% from the same period in 2021. The total amount wagered in 2022 (including November) was $79.39 billion, up 37% from the previous year. Even the rising cost of living did not stop this growth – a recent survey among U.S adults shows that 19% have bet money on sports in the past year.
Most will probably continue to do so, which prompted our team at SuperBettingSites to take a closer look at the survey on sports betting published in September by the Pew Research Center and compare data with the stubbornly high inflation rates over the past year. Additionally, we reviewed the latest data on personal consumption expenditure in the U.S.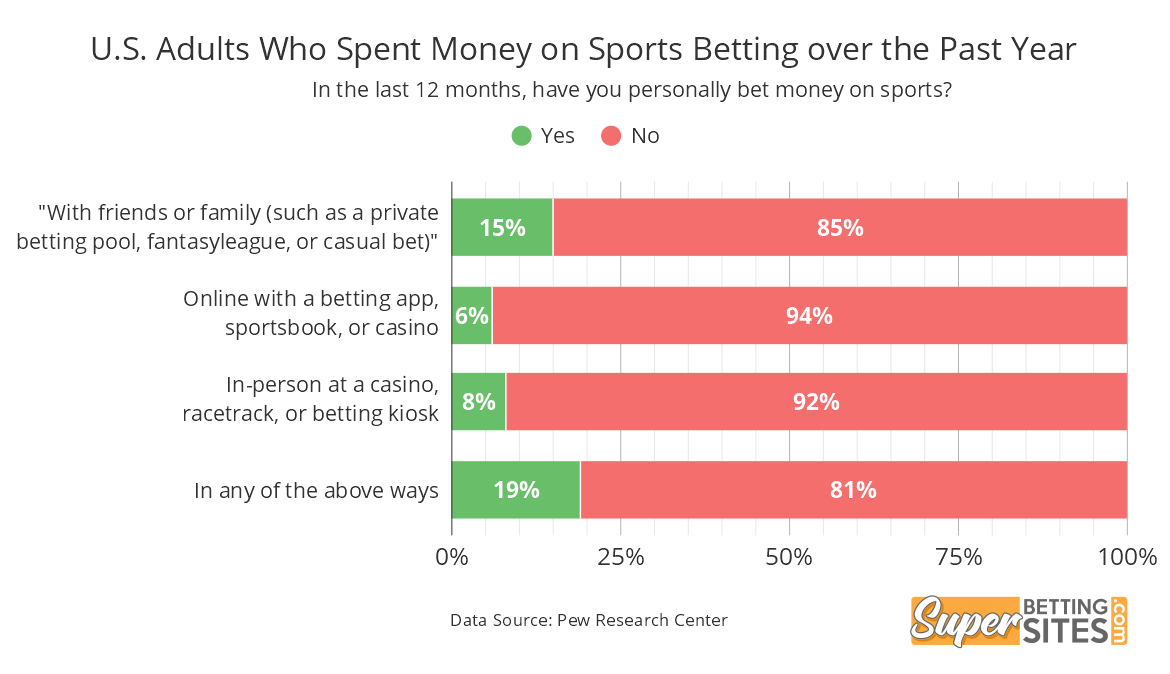 Key Takeaways:
Inflation for 2022 (through the month of November) is estimated to be 8.15%, much higher than the 4.7% in 2021
Despite higher expenses for food, housing and gasoline, nearly 1 in 5 adults in the U.S say they have engaged in sports betting at least once over the past year
Sports betting is often shared with friends and family in the U.S, with 15% of people saying they wagered in private betting pools, fantasy leagues, or casual bets
From January to November 2022, Americans spent a total of $79.39 billion on bets, up 37% from the whole year of 2021
Inflation and Its Toll on Consumer Spending
Inflation has eaten up much of people's discretionary income over the past year. Despite the drop in oil prices in late summer, inflation increased by 0.1%(?) in the month of August, up 8.3% over the past year according to the U.S. Bureau of Labor Statistics. The Consumer Price Index climbed 8.2% on a year-over-year basis in September and by another 7.7% in October. In November, inflation was up 7.1% on the same month in 2021.
Prices continued to climb, though at a slightly slower pace, while the increase in personal income struggled to catch up with inflation. People paid more for food, rent, and transport than they did a year ago. This, of course, took its toll on consumer spending, which increased from 2021.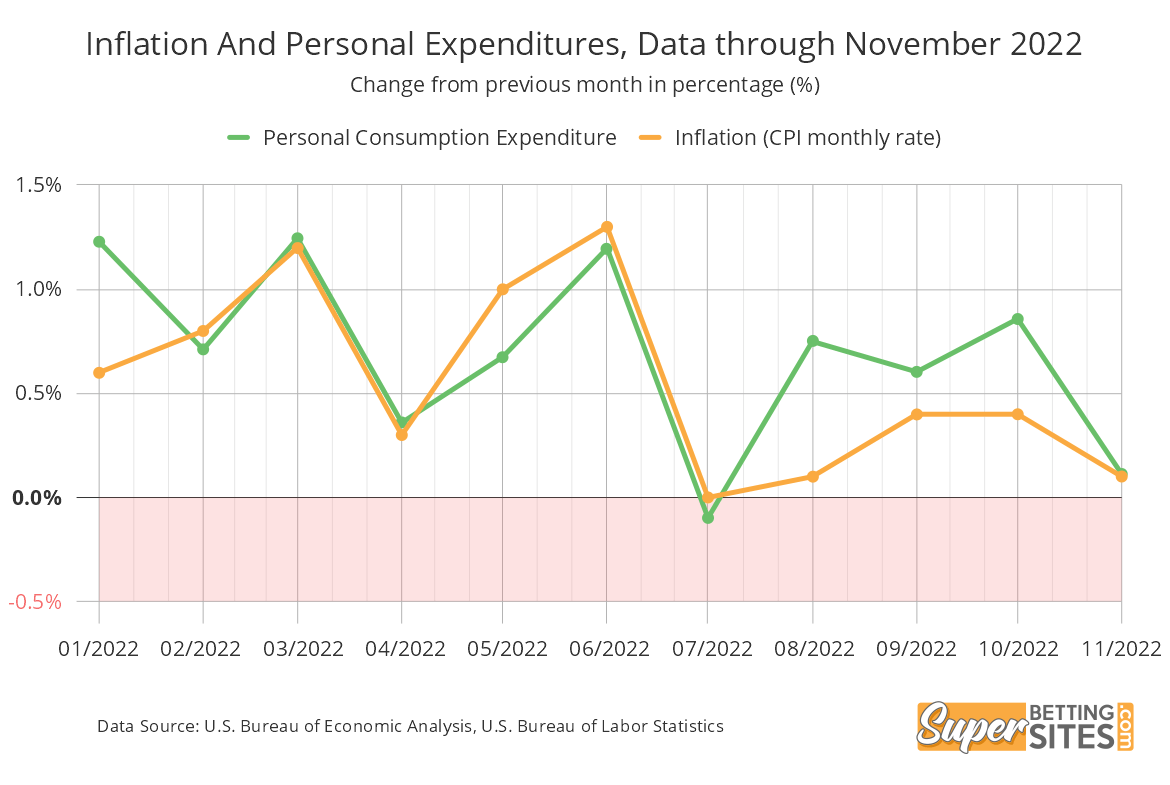 Consumer spending, i.e. the personal consumption expenditure, is the goods and services purchased by U.S residents, and is a key component of the quarterly gross domestic product. According to the latest Bureau of Economic Analysis (BEA), it fell by 0.1% in July from May but then started to increase, which means people began paying more for various products and services than they used to.
The latest figures also suggest that Americans spent 55% more on gasoline in the first quarter of the year compared to the same period in 2021. During the second quarter, the increase was 53% and in the third quarter, 27%. Spending on transportation services also jumped from 2021 – by 39% in Q1 of 2022, by 28% in Q2 and by another 16% in Q3. The graphic below shows how spending changed from 2020 to November 2022.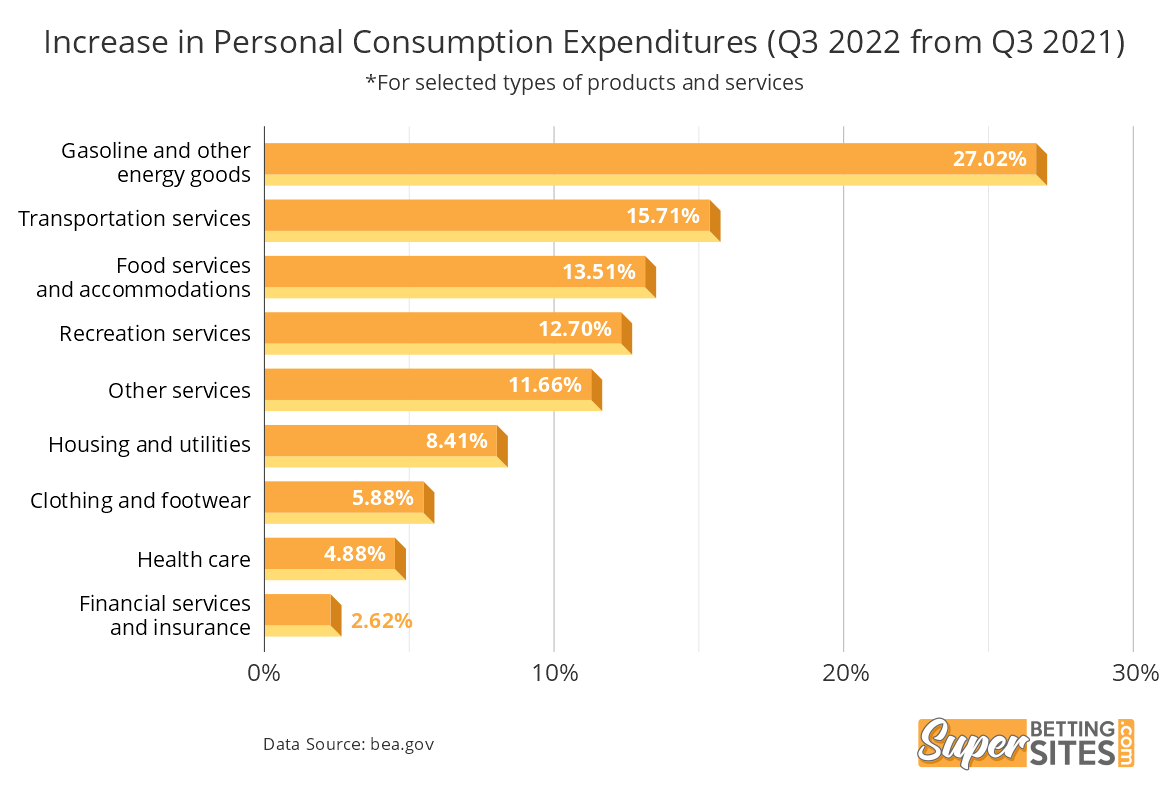 Despite Higher Cost of Living, People Wager on Sports
Normally, when faced with higher costs for food and rent, people tend to cut back on non-essential expenses. Prices have continuously increased over the past year (and more) but according to the latest Pew survey on sports betting, this did not have any significant impact on gambling. Since 2018, when the Supreme Court lifted the state-wide ban on sports wagering, the industry has quickly grown across the country. Most states have legalized the activity in some form – whether at gambling venues, online, or on mobile apps.
The data from Pew, however, shows that the majority of those who wagered on sports events over the past year did so in the company of friends or family. The poll included 6,034 U.S adults and was conducted between July 5 and July 17 of 2022. While 15% of respondents said they wagered money on a private betting pool, fantasy league, or casual bets, only 8% placed bets in person – at a casino, racetrack, or betting kiosk. Another 6% say they wagered money online via a betting app, a sportsbook, or a casino website.
There are significant differences in the results when respondents are divided by gender and ethnicity. Men turned out to be more likely to bet on sports than women – 24% of men against 15% of women say they placed bets on sports events over the past year. Black (27%) and Hispanic (24%) people are more likely to wager on sports than white (18%) and Asian (10%) adults.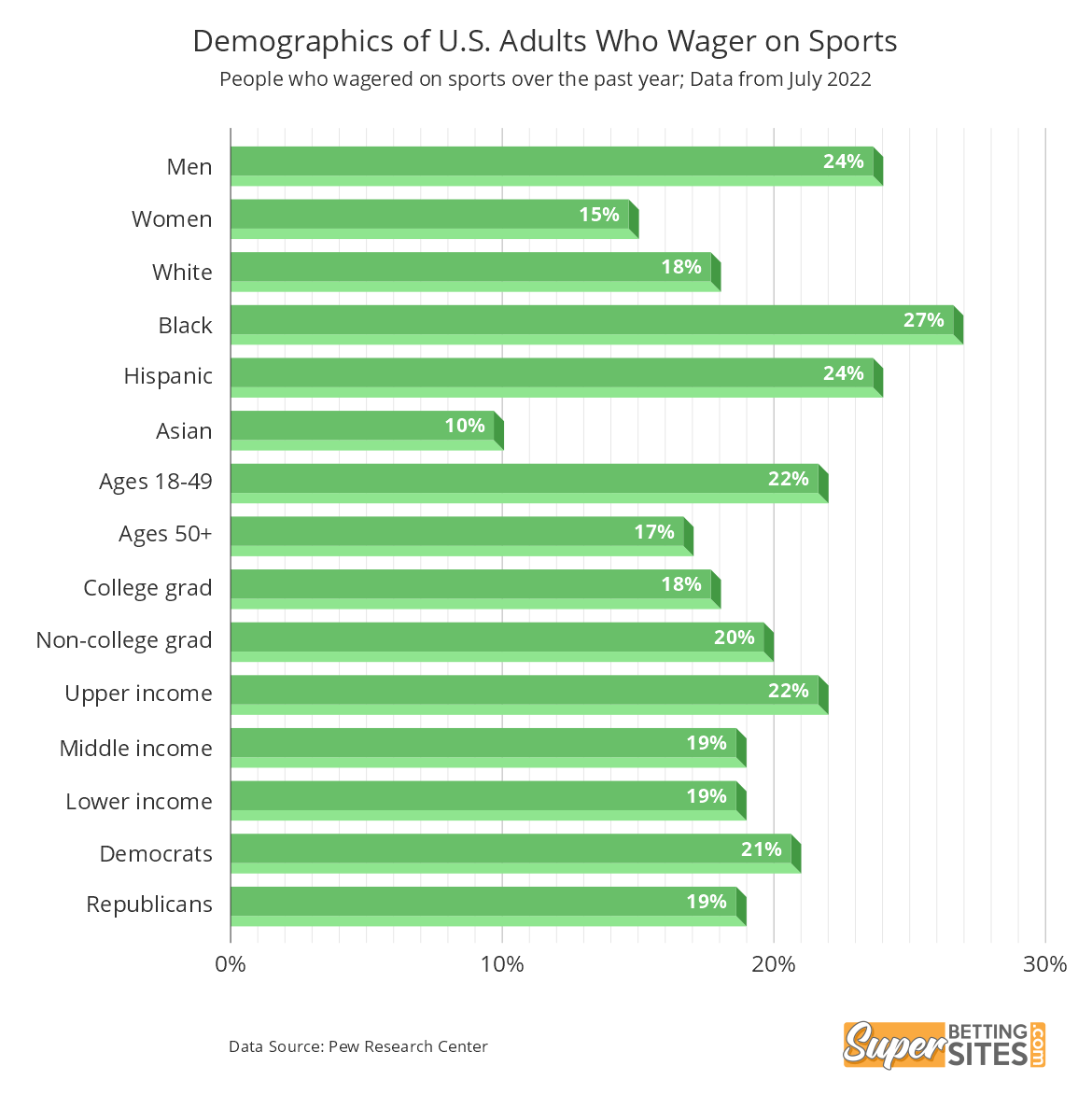 Interestingly, people on average don't see sports betting as something particularly good for the sport or society. Only 8% believe that the legalization of the activity is good for society, while 16% say it is good for the sport. Nearly identical percentages of people, 34% and 33% respectively, think it is actually bad, both for society and sports. The majority of Americans have a neutral stance on the subject, with 57% saying it is neither good nor bad for society, and 49% saying it is neither good nor bad for the sport.
Steady Growth in Commercial Wagering in the US
The booming sports betting market in the US (following the historic Supreme Court decision to overturn the federal ban on wagering outside Nevada in 2018) continued to grow steadily in 2022. Revenue through September was $4.78 billion, beating 2021's full-year record of $4.34 billion, while through the month of November, it was $6.26 billion – an increase of 1.92 billion (44%) from the previous year.
The figures of the total handle from wagering in the US are even more staggering. The handle is the total amount wagered by bettors – the money they spend on sports bets or other forms of gambling. From January to November 2022, Americans wagered the record-breaking $79.36 billion, up 37% from the entire year of 2021 when the total handle reported by operators stood at $57.75 billion.