Cycling enjoys immense popularity worldwide, with a fan base that spans millions of people from different countries. Also known as bicycle racing, professional cycling has been a staple at the Summer Olympic Games since the mid-1890s. It requires great tenacity, dedication, and above all endurance, which makes it one of the most riveting sports to watch.
While cycling's popularity is widespread, it is most prominent in Europe, in places like France, Belgium, Italy, and Spain. In fact, these are the countries that host some of the most exciting and anticipated cycling races in the world like Giro d'Italia, Milan-San Remo, Vuelta a España, De Ronde, and Tour de France.
The latter is associated with tradition and prestige, having produced some of the most famed cyclists in history, including Eddy Merckx, Miguel Indurain, and Bernard Hinault. Competitive cycling holds a great appeal both with viewers and sports bettors. Betting on professional cycling has become very popular in recent years, with fans of the sport now having the opportunity to get in on the action and punt on a variety of races.
If you are new to cycling betting, the following guide by Super Betting Sites might be just the right read for you. Our experts will help you identify the most lucrative betting opportunities for this sport and introduce you to the different types of cycling contests you can punt on. The guide features explanations of the bet types available to cycling fans, along with some useful tips that can help you improve your betting strategy.
Exploring the Different Types of Cycling Races
Cycling Rules
Races
Members
Formats
Before we proceed further, we shall specify that cycling rules vary across different types of races. However, the main objective of the participating athletes remains the same. The goal of each competitive cyclist is to reach the finish line in the shortest amount of time. In some competitions, the cyclists compete against one another on the same track.
There are also time-trial cycling formats where the bikers compete individually and have their time results compared afterward. Rules aside, we can generally distinguish between two main formats, racetrack and road cycling. There are tons of different contests for each format so it is nearly impossible to cover them all here. With this in mind, let's have a look at some of the most common race types in racetrack and road cycling races.
Types of Racetrack Cycling Races
Sprint Races
Points Races
Scratch Races
Madison Races
Pursuit Format
Elimination Format
Track races normally take place indoors on oval arenas known as velodromes. The banking of a velodrome is sloped to prevent the cyclists from sliding off or having to lean at very sharp angles to maintain their balance. The sloped banks also enable the bikers to maintain their speed when making the turns.
The steep banking additionally works to the advantage of bikers who are in the lead. They strive to go the shortest possible distance and normally achieve this when they take the lines that are nearest to the inside. Let's examine some of the most common types of racetrack races.
Sprint Races
Sprint races involve a smaller number of cyclists, usually two to four, who compete head to head with each other. Speed is crucial in sprint races where cyclists ride over a short distance on racetracks that are 250 meters to 1,000 meters long. The exact length of the tracks is race-specific. Another peculiarity here is that instead of using a staggered start, sprint races require all participating cyclists to align together in a line.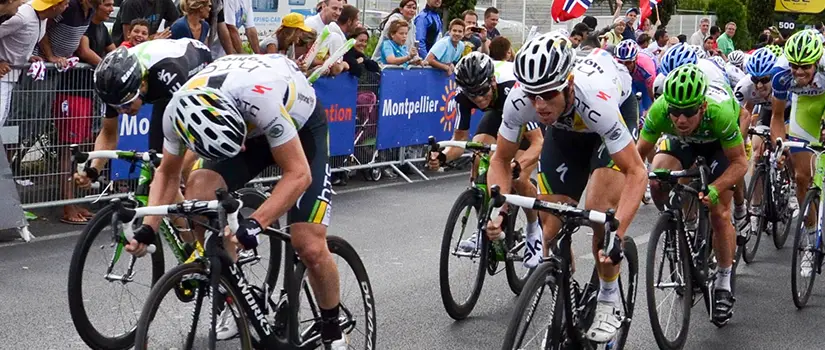 Points Races
Points races are different from sprint ones since they involve a greater number of bikers who compete against each other over a longer distance. The distance cyclists must cover in this case is significantly greater, usually ranging from four to forty kilometers.
Respectively, the participants must complete a fixed number of sprint laps. The top four finishers in each sprint lap receive a specific number of points (5, 3, 2, or 1). Cyclists who lose a lap suffer a twenty-point reduction from their totals, while those who manage to lap the track have twenty points added to their score.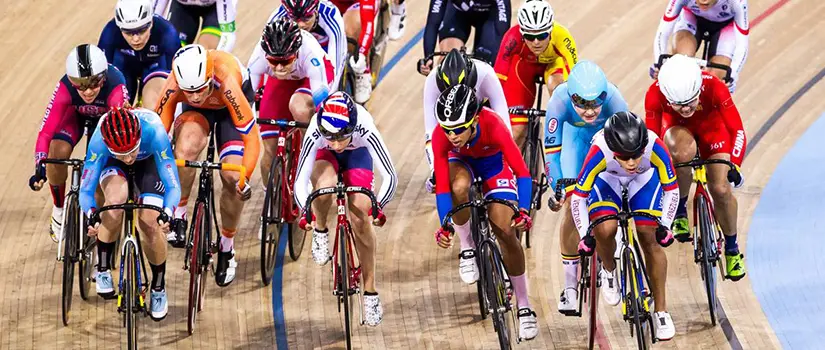 Scratch Races
Scratch races borrow heavily from the sprint format but there are some slight differences between the two. Rather than using a staggered start, the scratch format requires all participating riders to line up together at the start of the race. This is a long-distance format that aims to test the cyclists' endurance, requiring them to complete several laps (usually eight or more) around the racetrack. The winning title goes to the biker who completes the final lap first.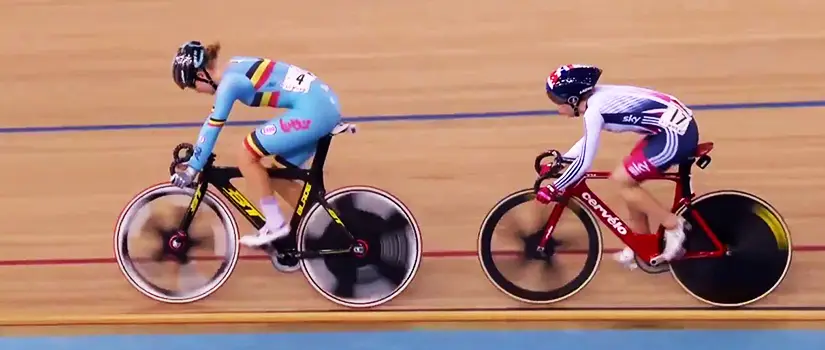 Time-Trial Races
Time-trial races are race-against-the-watch competitions where individual bicyclists ride at intervals and try to cover a certain distance within the smallest amount of time. The format is also implemented in some team races. The cyclist or team with the fastest time emerges a winner. As for the distance, it is usually one kilometer for the men or half a kilometer for the females.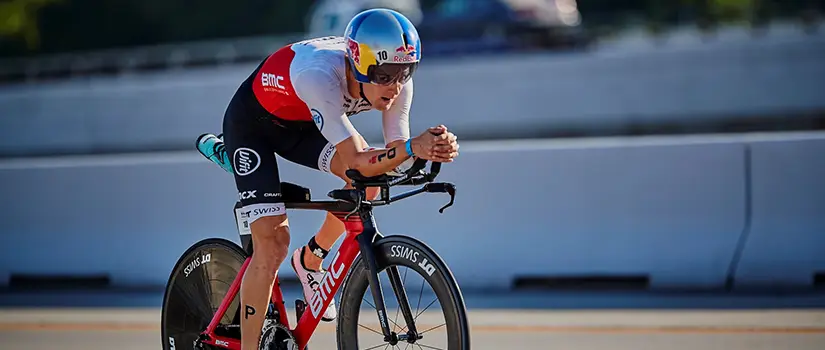 Madison Races
Madison races are among the most riveting racetrack competitions to watch (and punt on). This is a team relay type of race that borrows its name from the original Madison Square Garden arena in New York City. The purpose of each participating team is to complete more laps around the track than the competition.
Each team comprises two or three members who take turns, passing to a fellow rider, resting, and rejoining the race. It is obligatory for the passing cyclist to touch their team member prior to the replacement. Pushing or hand-slinging are two of the most common techniques among relay riders.
Each team chooses the duration of the intervals between the switches in advance. The ultimate objective of each team is to take more laps than their rivals. The riders have points deducted or awarded for losing laps or lapping the racetrack. Men's Madison races usually last fifty kilometers. The ladies must complete thirty kilometers.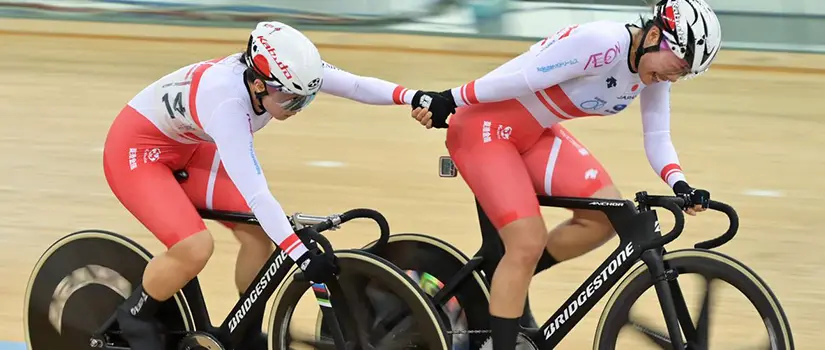 Pursuit Format
The pursuit format is interesting in that it requires the competing cyclists to start simultaneously at the opposite sides of the circuit. In team pursuit races, each side has either three or four team members, who form a paceline on the track, meaning that they cycle in a single file.
The leading cyclist slows down by moving up the track banking at every turn. This allows the other team members to pass underneath before the leader returns to the circuit at the back of the line. The leading cyclist has an important role since he or she sets the pace while the trailing teammates maintain their speed and recover.
A team may win in one of two ways – its bikers should either cover their distance in less time or gain on and overtake the opposition in a final. A team gets overtaken whenever the second or third cyclist of the rival side passes its first cyclist. As for time, the result is recorded when the third cyclist of a side passes the finish line.
You should note that the format also works for individual races where cyclists compete on their own rather than as part of a team. Women in individual pursuit races must complete three kilometers while men typically cover four. The criteria for pulling off a victory in individual pursuits coincide with those for team races.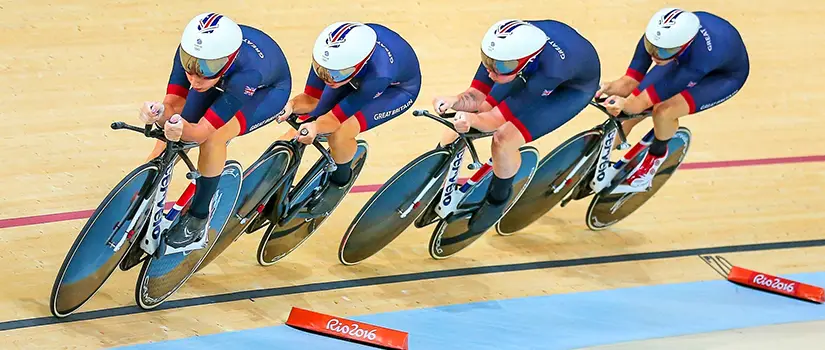 Elimination Format
The elimination format, also known as snap-dragon, is a form of racing where cyclists get eliminated based on different criteria. The format is commonly available in two forms, the first one being the miss-and-out race. This one is usually for individual cyclists – a rider is out when they are the last to finish a lap or series of laps.
When most of the participants are out, the remaining cyclists sprint for the finish line. Win-and-out races are similar but here the first cyclist to pass the line is out and wins first place. Respectively, the second removed cyclist earns second place, etcetera.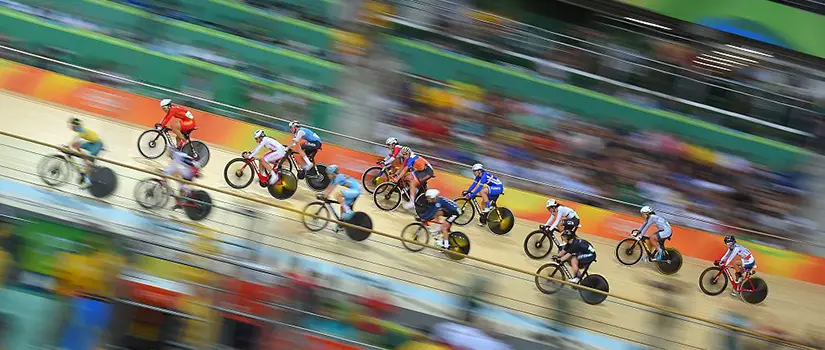 Types of Road Cycling Races
Sprint Races
Time-Trial Races
Stage Races
Ultra-Distance Races
Weather conditions like wind speed and rain are obviously irrelevant in racetrack cycling where the participants' sole purpose is usually to reach top speed. Indoor cycling is not without disadvantages, however, as serious crashes are much more common in this format. Speed and being in great shape are the main prerequisites for winning here. The cyclists who are in top physical condition usually emerge victorious in indoor track races.
By contrast, road cycling takes place outside where changing weather conditions combined with the longer distances can influence the outcome of the races. Speed still matters but riders also need other qualities like endurance and strategy to win.
Respectively, bettors should consider this before staking their money on outdoor events, which generally require more extensive research and analysis. Here are some of the most common types of road cycling races.
One-Day Races
One-day races are pretty much self-explanatory as they require a single day to complete. The cyclist who covers the course in the shortest amount of time usually wins the race. Some of the most popular single-day races include Paris-Roubaix, De Ronde (Tour of Flanders), and Milan-San Remo. Such races may take participants to different places or require them to cover one or several laps as part of a circuit.
The structure of single-day races can also be a combination of the two. The race commences from a starting spot and then takes the cyclists to a multi-lap circuit to the benefit of spectators. Some one-day events are known as handicaps, where cyclists of different age groups and capabilities compete against each other. Slower participants get a head-start while faster contenders start last to try and gain on them.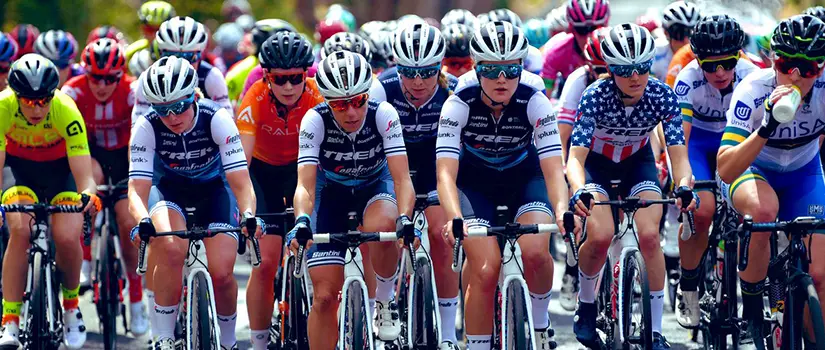 Time-Trial Road Races
Time-trial races are available in two formats, individual and team. Either way, the participants start racing at different times rather than simultaneously so that each person has a fair start. The difference is that cyclists in individual time-trial events are prohibited from drafting behind one another, while team members can implement this technique. Distances for time-trial races range from several kilometers to around 97 kilometers, depending on the specific event.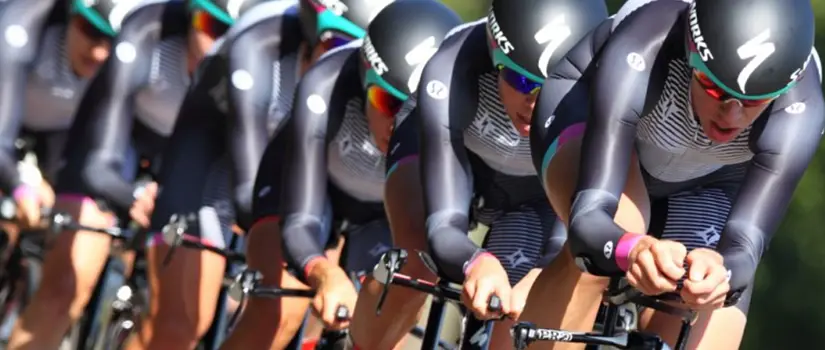 Stage Races
Stage races comprise multiple races ridden in succession over several days. The cyclist with the best cumulative time for all stages goes home as a general classification winner. Cyclists can also win other classifications for points or individual stages. Some cycling competitions that use this format may unfold over a three-week period. These are known as Grand Tours, with some of the most prominent examples being Tour de France, Vuelta a Espana, and Giro d'Italia.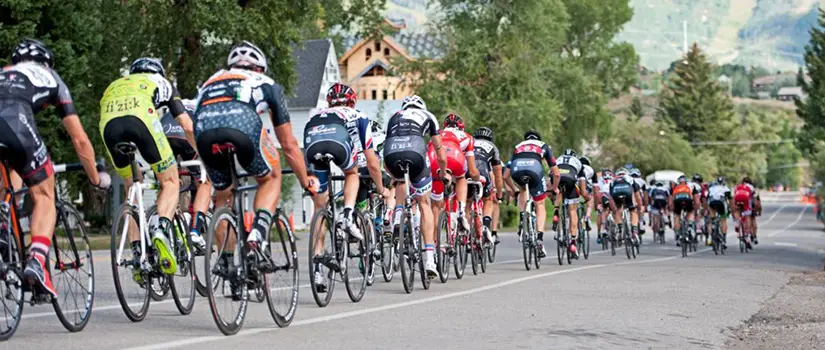 Ultra-Distance Races
Ultra-distance races are the ultimate challenge for cyclists. These are one-stage events that take place over several days, with cyclists taking breaks based on their individual schedules. The winning title goes to the contestant who reaches the finish line first. Some ultra-distance races allow external support where entire teams of staff accompany the individual cyclists throughout the race. Race Across America is one of the most popular events to utilize the ultra-distance format.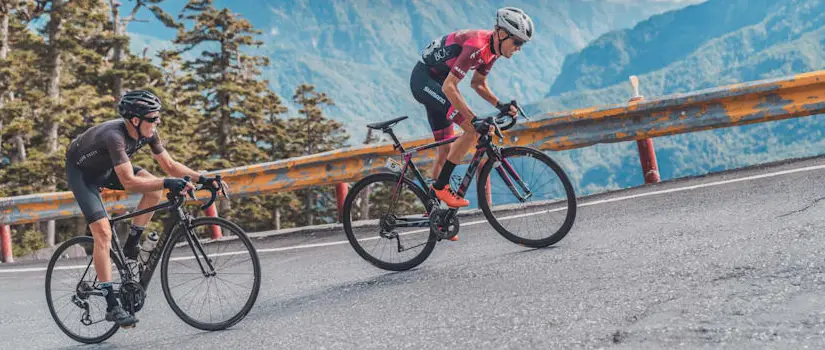 The Biggest Cycling Races to Bet On
Tour de France
Vuelta a Espana
Milan-San Remo
Giro d'Italia
While online sportsbooks take action on a broad range of cycling events, some tournaments are more anticipated than others as they open the door to more betting opportunities. Respectively, such events receive the most extensive coverage, allowing punters to benefit from several weeks of betting action in some cases. Here are some of the races that generate the most excitement among sports bettors and cycling fans alike.
Tour de France
Tour de France is easily the most anticipated cycling race there is, attracting the top cyclists from all four corners of the world. Dating back to the early 1900s, the event is held annually and involves 21 stages that take place over the course of 23 days. The 3,500-kilometer route takes competing cyclists through the Alps and the Pyrenees and finishes on the emblematic Champs-Élysées in the French capital. While the general classification attracts the most betting action, punters also face other betting opportunities like the points, mountains, young rider, and team classifications.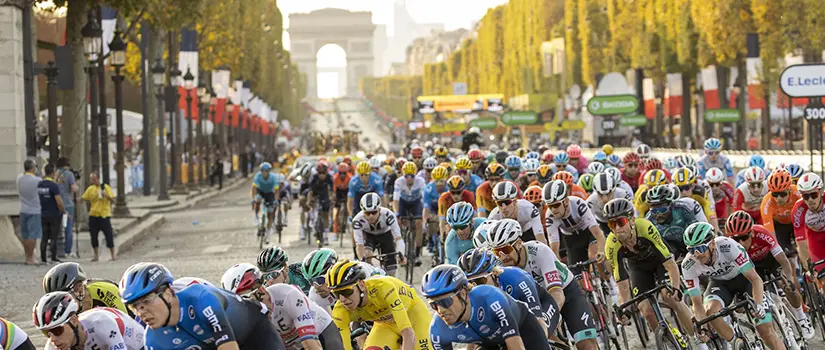 Vuelta a Espana
Vuelta a Espana (La Vuelta) is one of the three famed European Grand Tours alongside the Tour de France and Giro d'Italia. Held annually between late August and September, La Vuelta lasts three weeks and comprises 21 stages over a 3,300 to 3,500-kilometer stretch. Most of the route goes through Spain, although it sometimes passes through neighboring countries. The heat and exhaustive mountain stages make La Vuelta one of the most challenging cycling races to compete in.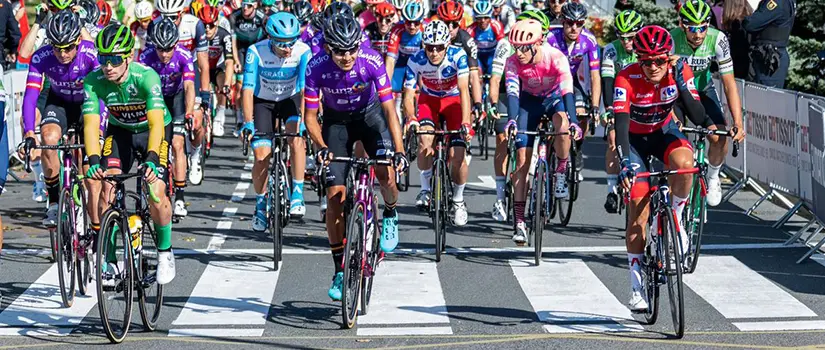 Milan-San Remo
Milan-San Remo is a single-day event that started in 1907, which also makes it one of the oldest cycling races in the world. This is the longest single-day competition in modern cycling as participants must cover a distance of 298 kilometers. Traditionally held in March, Milan-San Remo takes cyclists through a mostly flat terrain with two small ascents only, at the Cipressa and Poggio di San Remo hills.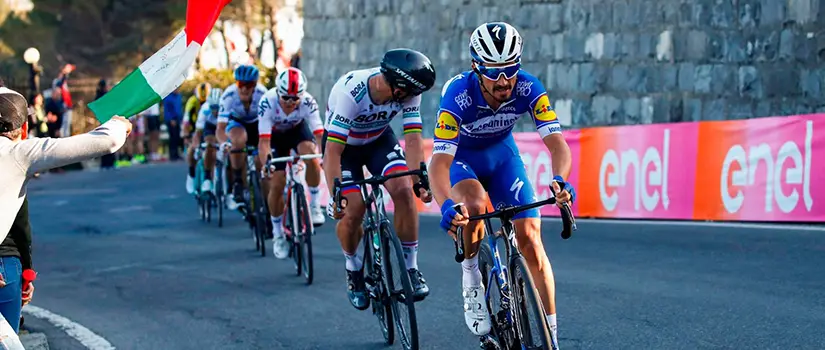 Giro d'Italia
Giro d'Italia's history dates back to 1909 and has been held each year since with the exception of WWI and WWII. Participants face 21 days of cycling on a diverse route that stretches for 3,218 to 3,540 kilometers. Only the Tour de France surpasses Giro d'Italia in terms of difficulty. Participants face multiple grueling climbs through the Alps and the Dolomites, alongside equally brutal dirt roads in the Tuscany region. Usually taking place toward the end of May or in early June, Giro d'Italia lasts for 23 or 24 days but has no fixed route.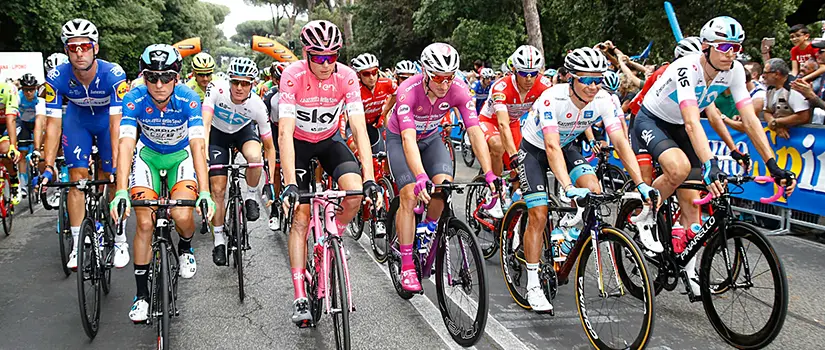 Tour de Suisse
Tour de Suisse is the most popular cycling race in Switzerland as well as one of the oldest ones (it was first held in the early 1930s). Many consider it a training ride for cyclists looking to test their endurance in the Tour de France. The race takes place annually over 9 days in June and consists of 8 stages, with racers having to cover over 1,300 kilometers of Swiss terrain. The Italian cyclist Pasquale Fornara won the Tour de Suisse four times in the 1950s and no one has improved his record to this day.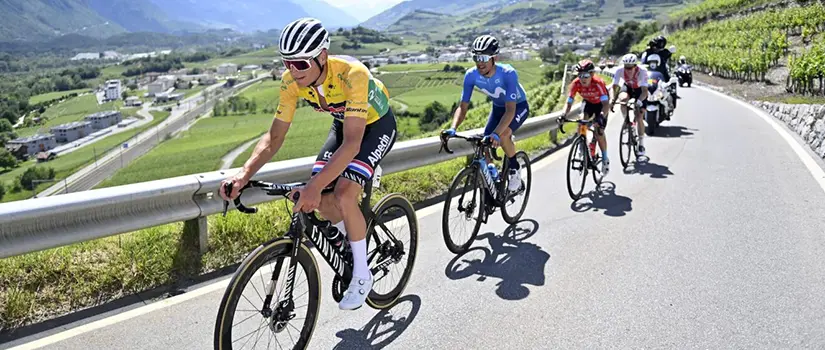 Cycling Bet Types
Options
Winners
Bets
Markets
Some people assume that backing the outright race winner is the only available option for cycling bettors but this is not the case. There are many alternatives for those who seek to bet on this sport, including stage winner, top finish, best young rider, and winner of the King of the Mountains title.
It is important to understand each wagering option before you start punting on cycling races. Let's briefly examine some of the most popular cycling markets to give you a better idea how each one works. Some of these are bets on individual riders, while others are made on entire teams.
Placing a race winner bet is the most straightforward way to punt on cycling events. You simply place a bet on which racer you think will win the entire race and collect a payout if your pick emerges victorious. The alternative is to bet on the team race winner where you are backing the team you think will achieve the best overall result.
Stage winner bets are available for multi-stage events like Tour de France and Vuelta a Espana, for example. Here you are betting on the cyclists you think will win the individual stages of the race.
With top 3 finish bets, you are wagering that your chosen cyclist will finish in one of the first three positions. It is irrelevant whether your favorite finishes first, second, or third. You will pocket a payout as long as your pick is one of the top three cyclists.
Top 10 finish bets are similar but here you are putting your money that your favorite will be among the top 10 riders to finish a race. The exact finishing position is again irrelevant. Keep in mind that you will not rake in substantial profits from this type of wager unless you are backing one of the underdogs in the race.
Matchup bets are extremely popular in the cycling betting community. Many online sportsbooks pit individual cyclists or entire teams against each other and your goal is to predict which side will perform better. Note that the odds for the two sides are often similar since bookmakers tend to pick cyclists of similar capabilities for the matchup markets. Also possible is to bet on how two cyclists will perform during the individual stages of a competition.
King of the Mountains wagers require you to correctly pick the cyclist to receive the prestigious Mountains classification. Queen of the Mountains is the equivalent in women's races. This market is typically available for multi-stage road events like the three Grand Tours we mentioned earlier.
Some bookmakers take bets on the cyclist to win the Best Young Rider classification in events like Giro d'Italia, La Vuelta, and Tour de France. Here punters are putting their money on which cyclist under 23 years old will perform the best. In some instances, the age threshold is 25 years old rather than 23.
Winning margin wagers are usually an option for punters who bet on the in-play (live) markets. The purpose here is to predict the margin between the winning cyclist and the rest of the riders. The checkpoint bet is an interesting alternative for live bettors where they must predict which rider will be the first to reach a checkpoint.
There is a range of proposition bets experienced cycling fans can experiment with. Here you place a wager on the occurrence or nonoccurrence of a specific event that has no relation to the outcome of the race. For example, you can bet there will be a clash during a given stage or that a specific number of cyclists will complete a race.
Cycling Betting Strategy and Tips
Preparation
Strategies
Factors
Tips
Cycling betting seems easy at first glance, but in reality, it requires a good deal of preparation, knowledge, and research, or at least if you want to become a profitable punter. Professional cycling competitions come in different shapes and sizes, so bettors must tweak their strategies depending on the peculiarities of individual races. Here are some tips to get you started.
Consider the specifics of the race. Is it an indoors or outdoors competition? Is it a single-day or multiple-day event? What terrain does the race take place on – flat, mountainous, or a combination of the two? These are all questions you must carefully consider before you make further betting decisions.
Have a look at the weather forecast if you plan to bet on the in-play markets. This is an absolute must if you intend to wager on long races that involve multiple stages and continue for days. Weather conditions can affect the cyclists' performance and, in turn, this can impact the outcome of your bet. Factors like heavy rainfalls and fierce winds can turn the tables against you rather quickly.
Assess the strategy of a cyclist before you back them. It is important to remember that each rider approaches the race in a unique way. For instance, some contenders start slowly to preserve their strength for the decisive stages of the race, while others are early pushers who try to build a bigger lead earlier on. With that said, cyclists sometimes change their tactics based on how the competition performs.
Consider the cyclists' long-term goals if you intend to bet on stage races. Some riders fight for the first place in the general standings, while others are after side classifications and titles like King of the Mountains, for example. These are all factors you must consider beforehand because they influence the cyclists' strategy and performance.
Try to pick out the favorites in each race. The simplest way to do it would be to compare the odds for the involved cyclists in several reliable sportsbooks. Oddsmakers normally know their onions so you can let their assessment guide you. You will get a decent enough idea of who is most likely to finish in the top positions.
Assess all teammates before you bet on team events. We recommend you to check the organizations behind different racing teams as this will give you an idea of whether they receive enough assistance when preparing for high-level competitions. Some teams have access to top-of-the-line facilities, while others prepare for the races in much poorer conditions. The best road racing teams use the services of professional nutritionists and strategists, which also improves their chances of emerging victorious.