Spain has a well-developed sports betting market, with annual gross revenue that has been steadily on the rise since 2014. The bookmaking industry in the country generated €356 million in gross betting revenue in the year 2018 alone.
Soccer is almost like a second religion in this country and it is not difficult to see why. Spain is the motherland of two of the most successful and supported soccer clubs out there, Real Madrid and Barcelona.
The Spanish' love for competitive sports also extends to tennis, basketball, cycling, golf, and motorcycling, all of which are quite popular among local bettors.
This article provides you with an overview of the current legal sports betting climate in Spain and the legislation that pertains to such activities. It also gives you in-depth information about bonuses and the most popular banking options punters from Spain can use.
Legalities of Online Sports Betting in Spain
Overview
History
Legalization
Software
Historical Betting Overview
Spain is a nation of gamblers, with locals spending around 15% of their average household income on wagering. Their cumulative gambling spend per year is estimated at the impressive €1.9 billion. The Spanish wager on anything you can imagine, from lotteries and casino gaming to sports like soccer, pooled bets, horse and greyhound racing.
Despite the huge popularity it currently enjoys on Spanish soil, sports betting has not always been legal in the country. Gambling was decriminalized at a relatively later stage, after the fall of the fascist regime under the dictatorship of Francisco Franco.
The year 1977 saw the legalization of most traditional forms of gambling including casino gaming, poker, and betting on sports. The new Spanish government decided to take a different route compared to the previous regime.
Instead of enforcing new country-wide legislation, the new regime gave each administrative division the power to decide on the legal status of gambling within its territory. Many of the provinces voted in favor of legalizing sports betting and other gambling activities. This caused the landbased sector in the Iberian state to thrive.
With that said, Spanish authorities paid little to no attention to the online betting sector. Offshore virtual sportsbooks operated openly in the country without any repercussions. In the absence of formal regulation, some of the biggest UK-based brands thrived on Spanish soil in the late 1990s.
As a result, Spanish punters poured massive amounts of money into the coffers of foreign betting operators. Soon enough, the country's authorities started to take notice of the fact and began discussions on introducing adequate regulations for this sector.
In 2008, the first legal bookmakers opened shop in Madrid. A new set of laws was introduced in 2011 and since then, the online betting industry has been strictly regulated on a local level. The heavy taxes by the new regulatory regime drove some of the biggest online betting operators (including giants like Unibet) away from the local market.
What You Need to Know about Sports Betting in Spain
Sports betting in Spain is well regulated and as long as you follow a few simple basic rules, you should have no problems. First of all, you have to be at least 18 years of age and register an account with a legal online bookmaker. Upon registration, punters must provide their DNI number and in most cases a copy of an identity document.
According to the current Spanish legislation, recreational punters are not obliged to pay any state taxes which, however, does not apply to professional bettors. Тhe amount of the tax due depends on the volume of profits. The winnings from sports betting in Spain must be declared but the law allows professional punters to deduct their losses. The amount of tax depends on the total income of the person.
In general, Spanish online bookmakers follow the latest trends and offer native apps, in-browser applications, diverse betting markets, and different payment methods. The latter include Mastercard or VISA credit and debit cards, bank transfers, or popular e-wallets such as PayPal, Neteller, and Skrill.
The currency accepted by absolutely all Spanish online bookies is the euro. Cryptocurrencies are also gaining more and more users, with Bitcoin currently being the most popular, and many betting operators have already reflected this trend in the range of payment methods they offer.
Odds Format in Spain
Decimal Odds
Fractional Odds
American Odds
Calculations
Similarly to most bettors in continental Europe, Spanish punters prefer to use the decimal odds format (eg. 2.44, 1.50, etc.). Odds expressed this way are commonly referred to as European odds although the format is also widespread in other locations like New Zealand, Canada, and Australia.
Decimals are the simplest to work with out of the three main odds formats (decimals, fractions, and moneyline). This format makes it easier to spot which side is the underdog and which one is the favorite.
When working with decimal odds, the punter can quickly calculate their return from a winning bet for each unit they have staked, regardless of currency. The decimal number shows your overall return, rather than your net profits. This is so because the initial stake has already been included in the decimal number.
To calculate your potential return, you simply must multiply the decimal odds by your stake. Suppose a Spanish bookie lists the odds for a La Liga clash between Barcelona and Atletico Madrid like this:
Atletico Madrid (Home) – 2.9
Draw – 3.4
Barcelona (Away) – 2.45
These decimal odds simply represent the amount you can win for every €1 unit you stake. So if you decide to back the favorite Barcelona with a €100 stake, your overall potential return should be €100 x 2.45, or €245.
Since your original wager is included in these €245, your net profit would be equal to €145. This also shows that according to your bookie, the probability of Barcelona winning the clash is higher than that for Atletico Madrid.
Spain Betting Laws and Legislation
Until 1977, all forms of gambling, sports betting included, were outlawed in Spain but this all changed after the death of fascist dictator General Franco. The legal situation in the country is a bit complex where landbased sports wagering is concerned.
The reason for this complexity is that regulatory responsibilities are divided between the state government and the authorities of the country's autonomous provinces.
In Spain, there are seventeen administrative divisions and each of these is granted the right to regulate landbased betting on a local level. Because of this, regulatory requirements differ from one autonomous division to another.
However, things got trickier with the arrival of the World Wide Web, which rendered Spain's traditional regulation instruments inadequate.
Cross-border betting activities were not expressly prohibited in the early 2000s. Unauthorized online bookmakers operated in the country without licenses or oversight. Spanish authorities started to outline a regulatory framework for online gambling sometime around 2008.
The main idea behind introducing regulations was to prevent local betting fans from pouring money into the coffers of offshore-licensed bookmaking firms. Setting up the new framework lasted for several years but the legislators' efforts finally came to fruition after the passage of the Spanish Gambling Act.
Formally referred to as Law 13/2011, this piece of legislation officially came into force on May 29, 2011. It regulates online gambling and sports betting on a federal level. Under the new set of rules, all online sportsbooks looking to legally service Spanish punters are required to apply for and obtain valid licenses from the country's regulators.
Locally licensed sportsbooks are expected to adhere to local regulatory requirements and are taxed for their operations. It was precisely this heavy taxation that caused some major bookmakers to bid a farewell to Spain. Some of these departees include established bookies like Unibet and Pinnacle.
Spain Betting Restrictions
The Spanish Gambling Act of 2011 allows for most forms of online sports betting activities to be legally conducted with a local license. These include fixed-odds horse betting, fixed-odds sports betting, betting exchanges, sports pari-mutuel betting, and horse pari-mutuel betting. Wagering on fantasy sports is not regulated at the moment of writing.
Sports betting licenses issued from other jurisdictions, including those from member states of the European Union and the European Economic Area, are not recognized as valid by Spanish authorities. Locally based betting operators cannot service customers outside of Spain with a Spanish license.
Under the jurisdiction of Spain, online sportsbooks can lawfully accept action from punters who are at least 18 years of age. To our knowledge, there is no nationwide restriction on the advertisements of gambling-related content. The Spanish authorities are currently in the process of drafting regulations that restrict such promotional content.
Online Betting Regulatory Body in Spain
The regulatory body responsible for the oversight of digital sports betting in Spain is the Directorate General for the Regulation of Gambling (Dirección General de Ordenación del Juego or DGOJ). This is the authority that issues licenses to all online sportsbooks that operate within the country.
DGOJ operates as part of the Ministry of Finances. There is more to DGOJ than license issuance, though. It is within the body's powers to help with the resolution of disputes between bettors and operators. Another important function of DGOJ is the taxation of licensed betting operators.
This authority can also persecute and penalize the providers of unauthorized betting. Spanish punters are not persecuted for participating in unlawful betting activities at foreign-licensed sites.
However, such unauthorized betting can lead to other infringements of the laws applicable in the country, and particularly those that pertain to taxation. If the punter does not declare their betting winnings to the Spanish tax authorities, they risk charges of tax evasion.
Spanish gamblers are expected to declare gambling-related profits in their Personal Income Tax return. They can deduct betting-related losses as well.
Speaking of taxes, digital sports betting in Spain is taxed at 20% of the overall Gross Gaming Revenue (GGR) of each licensed operator. This tax is collected quarterly. In 2018, it was reduced from 25% in an attempt to attract applications from more foreign operators.
Two types of gambling licenses are granted, a general and a singular one. The first type contains clauses regarding overall technical, financial, anti-fraud, and security requirements. A general license remains valid for ten years, with an option for renewal afterward.
The singular license concerns specifically the type of gambling activity the operator intends to provide to Spanish residents. Its validity is three to five years, depending on the gambling product.
Operators who provide their services without local authorization risk heavy penalties, including seven-figure fines. Spanish residents can access locally licensed sportsbooks via their .es domains. Additionally, license applicants are expected to have their companies registered in a member state of the European Economic Area.
Popular Betting Markets in Spain
Football
Horse Racing
Basketball
Tennis
Spain is known as a country particularly active in the field of sports. We will not surprise anyone by saying that the leading sport is football, given that the country has won 3 European and 1 world title. The Spanish club teams are probably the most successful in European tournaments, as only Real Madrid has won the European Cup 13 times. Logically, this is the most widespread betting market at the local online bookies where punters can place bets on multiple events from the World Cup, the UEFA Champions League, La Liga, Segunda Division, Copa del Rey, etc.
The country has long traditions in tennis as well and Rafael Nadal, Arancha Sanchez Vicario, Carlos Moya, and Conchita Martinez are just some of the successful tennis players. The four Grand Slam tournaments are available for different types of bets, as well as multiple events in the WTA, ATP, ITF, and Challenger tournaments.
Another discipline that enjoys great interest from sports fans and avid bettors is motorsports, especially having in mind that the country is a host of almost a quarter of the MotoGP Grand Prix races as well as of one round of Formula 1.
The possibilities for betting in the field of basketball are diverse and cover leagues such as Liga ACB, the NBA, the WNBA, the Euroleague, etc. The list of popular sports that can be found in online bookmakers is supplemented by cycling, handball, golf, and many others. Bettors can choose between standard betting types such as Over/Under, Handicaps, and Total Score and a set of special bets that can be specific to the sport itself as well as to the particular online bookie.
Popular Betting Markets in Spain Summary
Football
FIFA World Cup, UEFA Champions League, UEFA Europa League, Premier League, La Liga, Segunda Division, etc.
Tennis
Australian Open, French Open, US Open, Wimbledon, ATP Indian Wells Masters, Alicante Challenger, ITF tournaments, etc.
Motorsports
Formula 1, World Superbikes, Moto GP
Basketball
NBA, WNBA, Euroleague, FIBA Champions League, Liga ACB, ABA League, etc.
Handball
Champions League Men, Champions League Women, ASOBAL League, etc.
Spain Online Betting Bonuses
Promotions
Match Bonus
Free Bets
Enhanced Odds
If you are new to the online sports betting scene in Spain, you are probably already suffering from an overload of information at this point. But now that we have gotten the legalities out of the way, it is time to talk about a more pleasant topic, that of the bonuses available to Spanish sports bettors.
Most Spanish-friendly sportsbooks are in the habit of greeting new customers with a sign-up offer. This comes in the form of a free bet or a percentage match of the first deposit of the punter. Percentages vary depending on the sportsbook.
For example, if you are presented with a 50% sign-up bonus up to €100 on your first deposit and load €100 into your account, the sportsbook will give you €50 in free credits on top of your first payment. You will start your experience with a total of €150.
Bonuses are awarded for friend referrals as well. Each of your referred friends who signs up, deposits, and punts in the sportsbook can bring you a bonus. We even know of sportsbooks that do not impose limitations on the number of friends you can refer.
Existing customers are rewarded for their continual action with occasional free bets and reload bonuses that work similarly to the sign-up bonus match. Cashbacks are often offered on the losses punters have incurred with individual single bets or multi-selection parlays. In this case, a certain percentage of the losses is restored to eligible customers' balance.
Most major sportsbooks that accept punts from Spain run rewards programs. These are usually point-based, with customers collecting comps for their real-money betting action. They can exchange them for different perks.
All these promotional incentives come with terms that aim at preventing bonus abuse on the punters' side. Minimum deposit limits apply to most deposit-related bonuses. Eligible customers are granted limited time to use the perks. Afterward, the bonuses expire and are forfeited from the balance.
Last but not least, a rollover applies to most sports betting offers. The bonus value (and sometimes the deposit) must be wagered a designated number of times before a withdrawal. In many cases, there are limitations on eligible odds, markets, sports, and bet types. These requirements all vary between different sportsbooks and are listed in their terms and conditions.
Mobile Betting in Spain
Mobile Play
Download App
Browser In-Play
Download via QR
Mobile sports betting has gained massive traction around the world and Spain is not an exception. All major Spain-friendly sportsbooks provide punters from the country with the option to make punts on the fly.
There are two choices for mobile sports bettors from Spain, the first one being instant in-browser access via web apps. This does not require any additional downloads of software onto your mobile device.
You simply need to tap in the sportsbook's address in your mobile browser and you will be redirected to the mobile-compatible version of the website. The sportsbooks are fully optimized to run on Android/iOS smartphones and tablets.
They offer all functionalities inherent to the desktop versions of the sportsbooks, including diverse selections of bet types and markets, different odds formats, streaming of live events, statistics, live results, and in-play betting.
Some of the biggest bookmakers in the industry give punters the option to install dedicated applications on their hand-held devices. The download will cost you nothing.
Android-compatible native apps can usually be downloaded straight from the sportsbooks' website. Apple users can normally find their applications, if available, in the official App Store.
Popular Betting Banking Methods in Spain
Bank Transfer
Credit Cards
E-Wallet
Prepaid Cards
Before they can jump into the real-money action, bettors from Spain must fund their sportsbook accounts. Operators that welcome customers from this jurisdiction offer a variety of payment options, starting with more conventional solutions like credit and debit cards by the Visa and Mastercard brands.
Punters who are reluctant to reveal their card information have the chance to pay with digital wallet services like those provided by Skrill, Neteller, and PayPal. They will benefit from more flexibility with their payments, instant deposits, and higher levels of anonymity.
Such wallet services can be used for deposits as well as for withdrawals. Another advantage here is that the payments are time-efficient and rarely involve fees on behalf of the betting operators.
E-wallets, however, require Spanish punters to register before they can make monetary transactions. If you want to skip this step, you can use the local Teleingreso.
You must select the method from the cashier, enter the desired deposit amount, and fill in your details in the form. Then you will receive a 9-digit transaction code you must use to complete the money transfer. The downside of Teleingreso is that it is available for deposits only. Withdrawals are usually sent back to punters via bank transfers.
Spanish bettors can also fund their accounts with prepaid solutions like Paysafecard. This one is not suitable for professional punters because it allows for transfers of smaller sums only. Being prepaid, it is unavailable for withdrawals.
Each Spain-friendly sportsbook imposes different minimums and maximums on punters' payments. If you are unsure about these limits, it would be best to inquire with customer support. Deposits are typically instant but the processing timeframes for withdrawals vary between sportsbooks. Spanish customers can conduct payments in their local EUR currency.
Popular Banking Methods in Spain
Payment Method
Fees
Deposit Limits
Deposit Times
Withdrawal Limits
Withdrawal Times
Debit & credit cards (Visa, Mastercard)
1.3% – 2.5%
Min €5/Max €40,000 per transaction
1-3 business days
Min €5/Max €30,000 per transaction
1-3 business days
PayPal
No fee (when no currency conversion is involved)
Min €1/Max €8,000 per transaction
Instant within the sportsbook
Min €1/Max €8,000 per transaction
Up to 3 business days
Bizum
No fee
Min €0.5/Max €1,000 per transaction
Instant
Min €0.5/Max €1,000 per transaction
Instant
Skrill
Up to 5%
Max €10,000 per transaction
Up to 24 hours (Instant within the sportsbook)
Max €10,000 per transaction
Within 24 hours
Neteller
2.99%
Min €5/Max €10,000 per transaction
Up to 2 hours (Instant within the sportsbook)
Max €10,000 per transaction
Within 24 hours
ecoPayz
0-10%
Min €10/Max €1,000 per transaction
1-4 business days (Instant within the sportsbook)
Min €10/Max €1,000 per transaction
5-8 business days
Bank transfers
Varies
Max €10,000 per transaction
1-3 business days
Max €10,000 per transaction
1-3 business days
What To Watch for When Picking Spanish Betting Site
Security
Customer Support
Mobile Compatibility
In-Play Betting
There are two indicators that identify an online bookmaker as legal in Spain. The legitimate operator uses а domain name that ends in .es and has a valid license issued by Dirección General de Ordenación del Juego (DGOJ). The information about the respective license should be easily visible to users and is usually located at the bottom of the respective home page. In addition, the regulator has an official list of all licenses issued, which can be used for reference.
One of the most important things during sports betting is the reliable protection of your personal data and monetary transactions. Preliminary check what security measures the bookmaker of your choice applies and proceed to registration only if they satisfy you.
The competition in the field of sports betting is strong enough, so we advise you to pay attention to indicators such as the range of sports and bet types, competitive odds availability, and promotional offers. The greater variety of bet types indicates better professionalism and more flexibility on the part of the betting operator.
Spanish betting sites are usually set to the Spanish language by default. If your Spanish is not at a high level, you better not rely on automatic translation, but choose a bookmaker that has developed different language versions of its platform. This way you can be sure that you have understood all the terms and conditions correctly.

Best 10 Betting Sites in Spain
We have prepared a list with the Top 10 sportsbooks, providing Spanish punters with a great diversity of sports markets, bet types, and promotions. You are welcome to take a look and choose an operator who meets your personal requirements.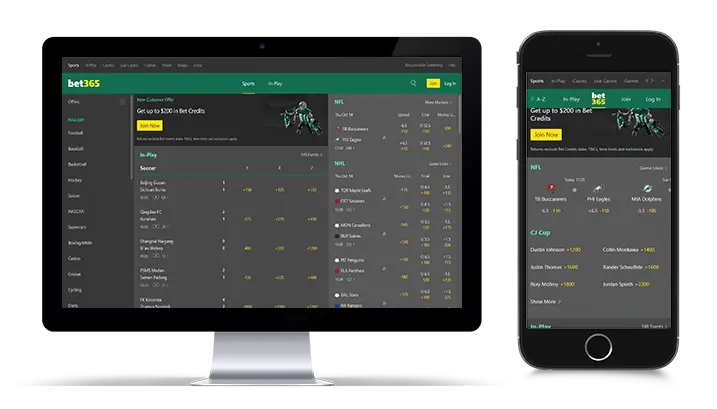 Bet365 is probably the online bookmaker with the largest number of active players in the world. There is a lot of everything here – sports, bet types, payment methods, languages, and accepted currencies.
Some of the offered features are innovative and are not available at most of its competitors. We talk about the Bet Builder and the three types of cashout which allow bettors to make their game even more exciting and at the same time feel confident that they can limit their eventual losses. The in-play section covers both popular and niche sports with hundreds of events to choose from.
The great popularity of bet365 is probably due to the fact that the bookmaker can be explored in many different languages, and in addition, bettors have the freedom to choose between diverse payment methods and currencies.
Keep in mind that the bookmaker is very strict about winnings and can quickly limit your account if it considers that you have won too much in a given period of time.
Diverse in-play betting markets
Available in multiple languages
Numerous payment methods
Special bonus offers
24/7 customer support
Android and iOS dedicated apps
Too strict at limiting punters winnings
Not all features available via the mobile app
Live streaming available only under specific conditions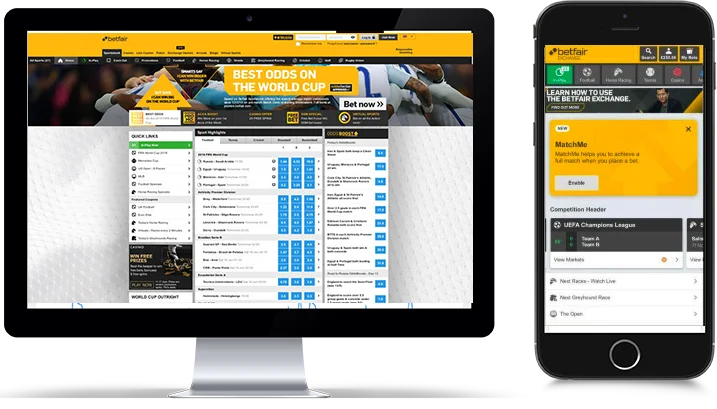 Betfair already has over 20 years of history, which is a good indicator of its reliability and adaptability at the same time. Being one of the largest operators with experience in exchange betting and sports betting, it offers a wide selection of sports.
We were impressed by the depth with which most of the disciplines are represented. Punters can place different types of bets on thousands of events from both major international tournaments and small local championships and competitions. The cashout feature has three forms – full, partial, and auto, and can be used for both the sportsbook and the exchange sections.
If you, like us, are not just punters, but really avid sports fans, you will like the live streaming section which lets you watch, bet and enjoy all the fun on many sports regardless of where you are at the moment.
No matter if you have chosen a bank transfer, debit card, or e-wallet for your transactions on Betfair, always check the terms and conditions as certain fees may apply to both deposits and withdrawals.
Many betting markets
Easy-to-navigate layout
Low minimum deposit
Multiple-channel customer support
Live streaming
Dedicated apps for Android and iOS
Transaction fees
A lot of restricted countries
Slow withdrawals with some payment methods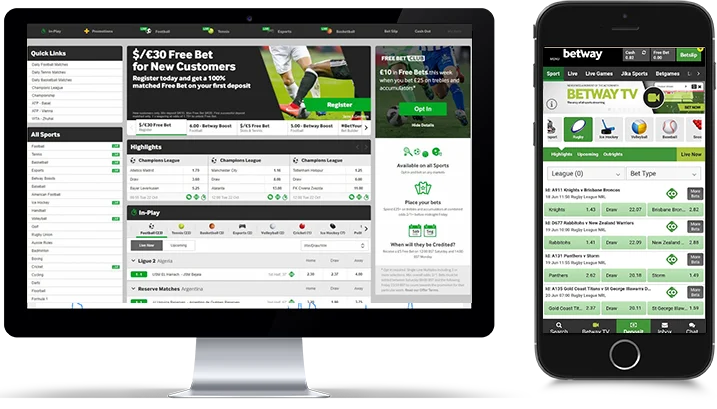 Although not the oldest player on the sports betting scene, Betway has been online long enough to be able to assess its strengths and weaknesses.
After a detailed look at the online sports betting platform, we were pleased to find that it is suitable for both experienced bettors and novices. If you are new to the field you can go to the bookie's Betting Rules section where the bet types for each individual sport are explained in detail, as well as the ways of calculating odds and winnings. This allows building the right strategy and subsequent enjoyable betting experience.
The selection of available sports is quite good, as well as the set of leagues in the respective discipline. You can find everything from football, basketball, and tennis to darts, cricket, greyhounds, and snooker. It is worth noting that here eSports are not only an appendage to the bookmaker's portfolio, but have their own separate section, available also within the In-Play tab.
Betway maintains a set of promotions designed for both newly registered players and loyal users. Specific conditions are subject to change, but a welcome bonus, eSports promotions, and a free bets club are always at hand.
More than 30 sports to choose from
Significant eSports section
Cashout options
Large number of bonuses
24/7 customer support
Available in different languages
Not available to many countries
Slow verification procedures
Too strict with successful bettors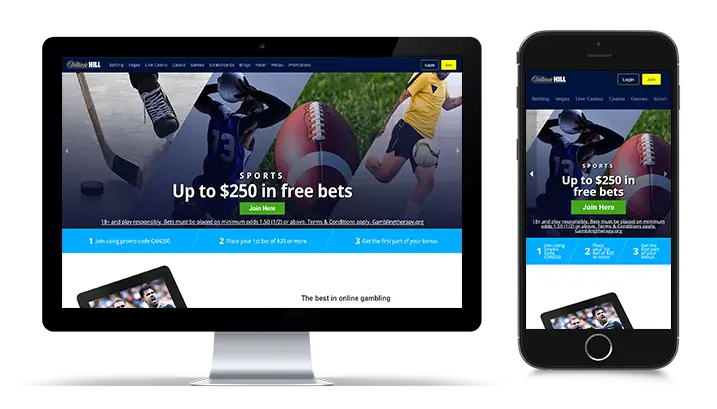 William Hill is a reliable online bookie with long traditions that holds licenses from the UK Gambling Commission and the Gibraltar Gambling Commissioner.
The list of banking methods supported by the bookmaker is really long, consisting of direct bank transfers, debit & credit cards, several eWallets, Paysafecard, and other online payment services. Currently, the online bookie accepts EUR, USD, CAD, CHF, DKK, GBP, and some more currencies. We were glad to find out that William Hill does not charge its customers with transaction fees. However, these can be charged by the respective payment service provider.
William Hill does not offer many opportunities for betting on alternative sports, but categories such as horse racing, football, and greyhounds are packed with hundreds of events every day. In addition to the traditional types of bets, punters can diversify their experience by the features Bet Builder and Request a Bet.
Although it was originally intended mainly for UK bettors, it accepts users from different countries in the world. Furthermore, there are separate country-specific William Hill websites in Spain and Italy.
Available in more than 10 languages
24/7 customer support
Over 30 different sports
Diverse bet types
Multiple payment options
Wide range of accepted currencies
Fast at restricting accounts
Not all features are available through the dedicated apps
Novices have a hard time navigating through the site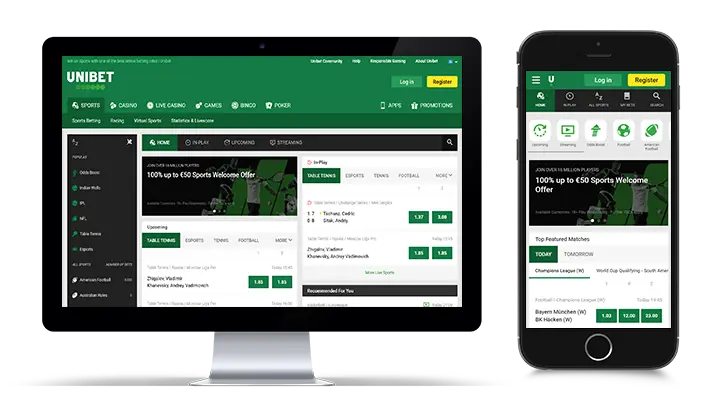 Established in 1997, Unibet is currently one of the biggest European online sportsbooks. It offers a professional and comprehensive online betting platform with very few points on which we would like to see improvement.
We like the design of the site, which is with mild pleasant colors (mainly green and grey), intuitive layout, and containing a large amount of useful information. The sports section has separate in-play and live streaming tabs as well as shortcuts to the most popular betting options and an A-Z list of more than 30 different sports.
Unibet provides all the usual payment methods like debit/credit cards, eWallets, online money transfer services, and bank transfers. All amounts on the site by default are displayed in EUR, but when registering an account you can choose from CAD, USD, DKK, NOK, SEK, GBP, INR, PLN, and some more.
Unibet offers both a welcome bonus for newly registered punters and promotions aimed at the loyal customers of the online bookie. Conditions may vary from country to country, but mainly apply to referring a friend and odds boosts for some of the sports.
A wide range of betting markets
Many promotional offers
Comprehensive statistics section
Fast withdrawals
Extensive betting guide
Decent volume of eSports
Many restricted countries
Slow replies by customer support
Greater charges for more successful punters
Marca Apuestas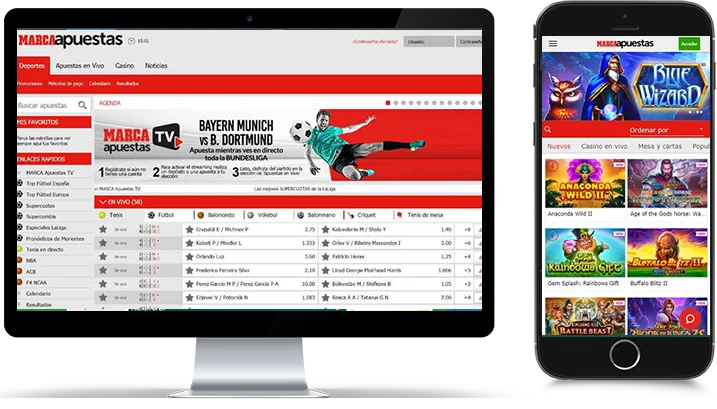 Marca Apuestas is a reliable online bookmaker that provides uncompromising safety and decent sports betting options for bettors located in Spain only. It meets both conditions for legitimate operation in the country – its domain name ends in .es and it has a valid license issued by Dirección General de Ordenación del Juego.
The website as well as the mobile applications of Marca Apuestas are available in the Spanish language only and accept payments in euro. The supported payment methods are bank transfers, credit and debit cards, Neteller, PayPal, and Paysafecard.
The Spanish bookmaker offers just over 20 sports, with those with the highest number of betting markets being football, basketball, tennis, and volleyball.
The FAQ section is quite detailed and punters could probably find there the answers to many of the questions they are interested in. For all other issues, they can address the customer support which, however, is only available at certain hours – from 09:00 to 23:00 every day.
Reliable license
Welcome promotion
Loyalty points
High maximum withdrawals
Dedicated apps for Android and iOS devices
Very limited territory covered
Customer support is not 24/7
Not many payment methods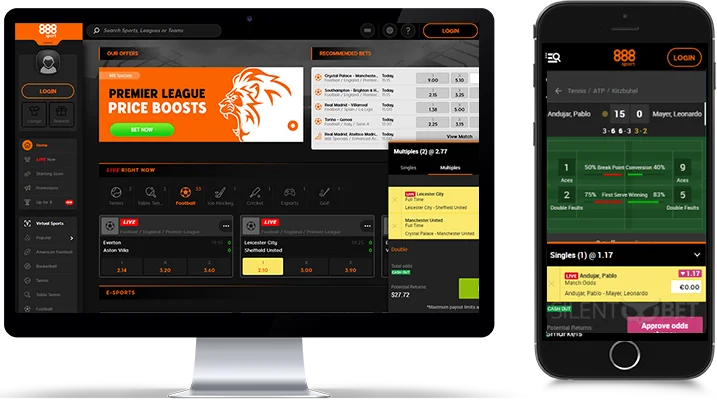 888sport is the sports betting product of the popular and trustworthy 888 brand. It provides its registered punters with the chance to bet on all the usual markets around such as football, horse racing, ice hockey, tennis, snooker, a total of about 30 different disciplines. Proof of the bookmaker's reliability is that it holds several licenses issued by the relevant authorities in the UK, Gibraltar, and Malta.
Apart from the welcome offer available to all newly registered bettors, 888sport has several other promotions related mainly to horse racing and the all-time-favorite football. Fans of horse racing have also the option for live streaming covering UK, Irish, US, French, and Australian races.
Punters have a variety of payment methods at their disposal and no transaction fees imposed by the online bookie. Another convenience is that they can place bets while on the go since there are downloadable apps for both Android and iOS devices, as well as a mobile version of the sportsbook website.
This online bookmaker is available in the Spanish, English, German, French, Finnish, and Portuguese languages.
Multiple promotion offers
Diverse payment methods
Easy-to-navigate interface
Over 30 sports available
Part of the reputable 888 brand
Low limits on sharp bettors
Verification procedures may take several days
Cumbersome procedure for contact with customer support
Casino Gran Madrid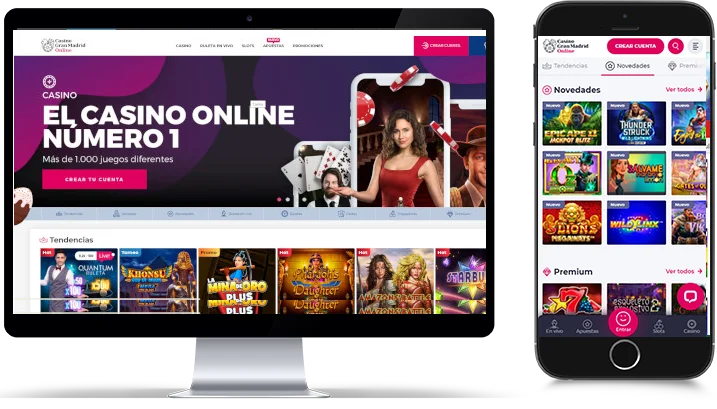 Although the sportsbook is just a part of the huge Casino Gran Madrid, its developers have done their best to cover a large number of sports betting markets. What is more, the football section with over 80,000 events far surpasses many of the specialized online bookies. Only the national championships are over 60, and bets can be made on matches of the Champions League, the Europa League, the World Cup Qualification, etc. Among the offered features you can find live betting and cash out.
The variety of betting opportunities in basketball, tennis, ice hockey, and about 20 other disciplines makes us regret that we are not currently in Spain, as only local residents are entitled to bet via the Casino Gran Madrid sportsbook.
This territorial limitation determines other specifics, such as the acceptance of the euro only as a currency for transactions.
Bettors should have no doubts about the legitimacy and reliability of the site since Casino Gran Madrid is the first company that received a valid license for online operation issued by the Dirección General de Ordenación del Juego.
Multiple bet types
Great sports coverage
Dedicated apps for Android and iOS
The first Spanish entity to receive a license for online operation
Only one currency accepted - EUR
Very limited territory covered
Complex website and app layout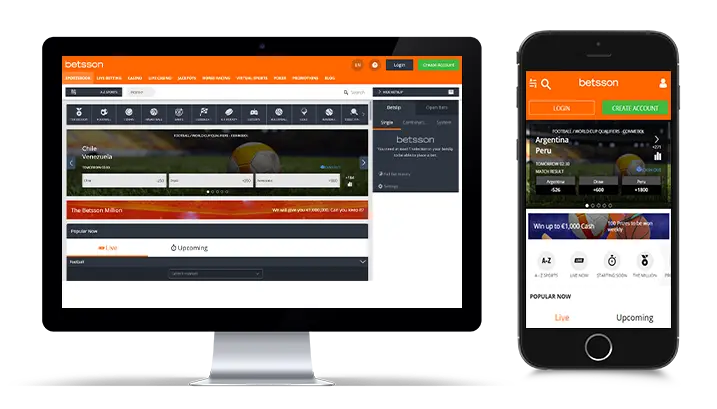 Starting its business in Sweden, Betsson has already become one of Europe's leading online bookmakers with thousands of registered bettors from Spain, the UK, Italy, and a number of other countries. It makes a good impression that it has met the requirements of the regulatory bodies of the UK, Republic of Ireland, Malta, and Sweden and holds several licenses.
Evidence of the bookmaker's desire to attract loyal customers from different countries is the availability of 11 official language versions of the site, namely Spanish, English, Norwegian, Swedish, Finnish, German, Polish, Italian, Danish, Turkish, and Portuguese. The accepted currencies are EUR, SEK, NOK, DKK, USD, GBP, CZK, and PLN.
One of the things that sets Betson apart from most of its competitors is the extremely comprehensive statistics section with useful data on all the 33 different sports. The latter range from football, tennis, basketball, American football, motorsports, and ice hockey to disciplines such as cricket, snooker, darts, and squash.
The online bookie provides punters with different promotions that can lead to really significant winnings as well as with enticing features like bet building and different cashout options.
Promotions with high maximum prizes
Bet builder and cashout features
Live streaming
Diverse payment methods
Fast withdrawals
Available in 11 different languages
Fees on deposits
No cryptocurrencies accepted
A long list of restricted countries
Sportium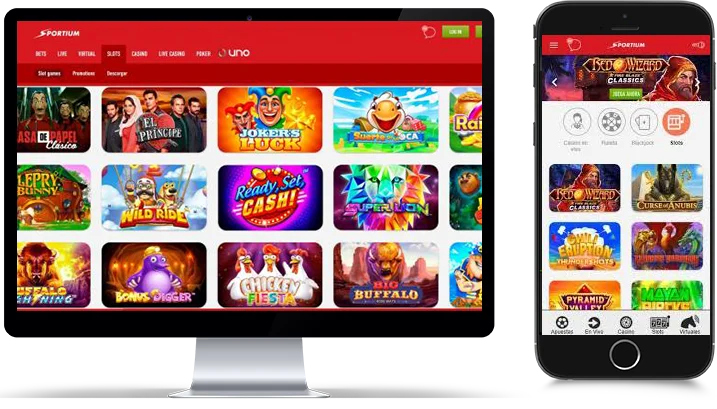 Sportium is a reputable Spanish online sportsbook available only to local residents. This is the only significant drawback that we could point out, since it offers a large enough selection of sports, quite a variety of bet types and different bonuses, both for newly registered punters and for loyal clients.
For the convenience of the bettors, separate tabs have been created with results of the current events, as well as statistics for each individual sport. Punters can also enjoy the live streaming feature through the Sportium TV section.
The online bookie supports several payment methods – Bizum, credit/debit cards (Visa and Mastercard), PayPal, Paysafecard, Trustly, and bank transfers, with EUR being the only accepted currency.
Punters who prefer to bet while on the go have a mobile version of the bookie's website at their disposal as well as downloadable apps for Android and iOS devices. All of these are available in the Spanish language only.
Multiple betting markets
Permanent and temporary promotions
Dedicated apps for Android and iOS
Customer support via live chat, email, and phone
Very limited territory covered
Accepts only euro as a currency for transactions
Not many payment methods