As virtual sportsbooks have become extremely popular, more and more punters enjoy betting real money on their favorite sports from the comfort of their homes. In order to be able to make fast and secure payments, many punters are looking for the best online payment methods. Various interactive bookies have listed Neteller as one of the payment solutions they support which is a perfect option for numerous bettors.

Paysafe Financial Services Limited is behind the creation of this payment solution which is a result of the company's strive to ensure secure and convenient online payments. Available across numerous countries around the world, Neteller is the perfect banking option for many online betting enthusiasts.
Neteller is a digital wallet that will enable many virtual punters to easily handle their deposits and withdrawals at online sportsbooks. Since this service offers plenty of benefits, many punters prefer to use it when they wish to manage their online betting funds. As this is a commonly used payment option, it is very easy to find a trustworthy sportsbook that will accept Neteller payments. In most cases, the service is available for both deposits and withdrawals which further simplifies online payments for virtual punters.
If you have never heard of Neteller and you are not sure how to use the e-wallet at betting sites, you will have no issue grasping the concept of the payment solution. Even though a registration process is required to use Neteller, it takes just a few minutes and all of the steps are easy to follow. Once you have created your digital wallet, it is extremely easy to fund your Neteller account and use it for your online betting adventures.
Neteller – Overall User Experience
The developers of Neteller have taken care to provide users with as many ways to access the payment solution as possible. First, the company presents its main website, which has a simplified modern layout that is easy to explore even if you are not used to eWallets and other online payment methods. The site features pleasant mild colors, mainly green, white, and grey.
There is a detailed Support section where you can find the information divided into Account, Payments, Security, and Prepaid cards subcategories and also answers to frequently asked questions.
Apart from the corporate website, customers can access Neteller via its in-browser app and dedicated mobile applications. If you have an Android device and would like to install the Neteller app, make sure the version of the operating system is 5.0 or up. The relevant requirement for iOS devices is a 12.0 version or later.
Neteller Products
Digital wallet

Neteller is mostly known as one of the most reputable and trusted eWallets. It enables its users to send overseas bank transfers with no transaction fees. The good thing is that it is not mandatory for the receiver to have a Neteller account as he will receive an email that there is an amount that he should take. Neteller possesses all the features of a digital wallet, so it can be used to execute payments at thousands of websites all around the globe. It is in this capacity that it is best suited for funding online betting accounts as money is almost instantly available.

Net+ Cards

Once you set up your Neteller account, you can request Net+ Mastercard® that comes in two forms – physical and virtual. The contactless plastic card serves exactly as a traditional debit card and can be used for online and land-based payments where the Mastercard brand is accepted as well as for ATM withdrawals. Keep in mind, however, it is not a bank card and you can spend no more than the amount that is currently available in your Neteller account.

The virtual Net+ Mastercard® can be used for online payments and offers a couple of additional features. Users can easily track their online transactions through the Neteller mobile app. Furthermore, they can set an optional lifetime limit of the card that once reached will deactivate it.
Registering an Account with Neteller
If you wish to use Neteller to fund your betting balance or cash out your winnings, you will first have to create your eWallet. The great thing about the registration process is that it will take only a few minutes, it is completely free and it will be extremely easy to follow the steps that will make you a Neteller account holder. You can join the service by heading to the official website of Neteller and clicking on the "Join for Free" option.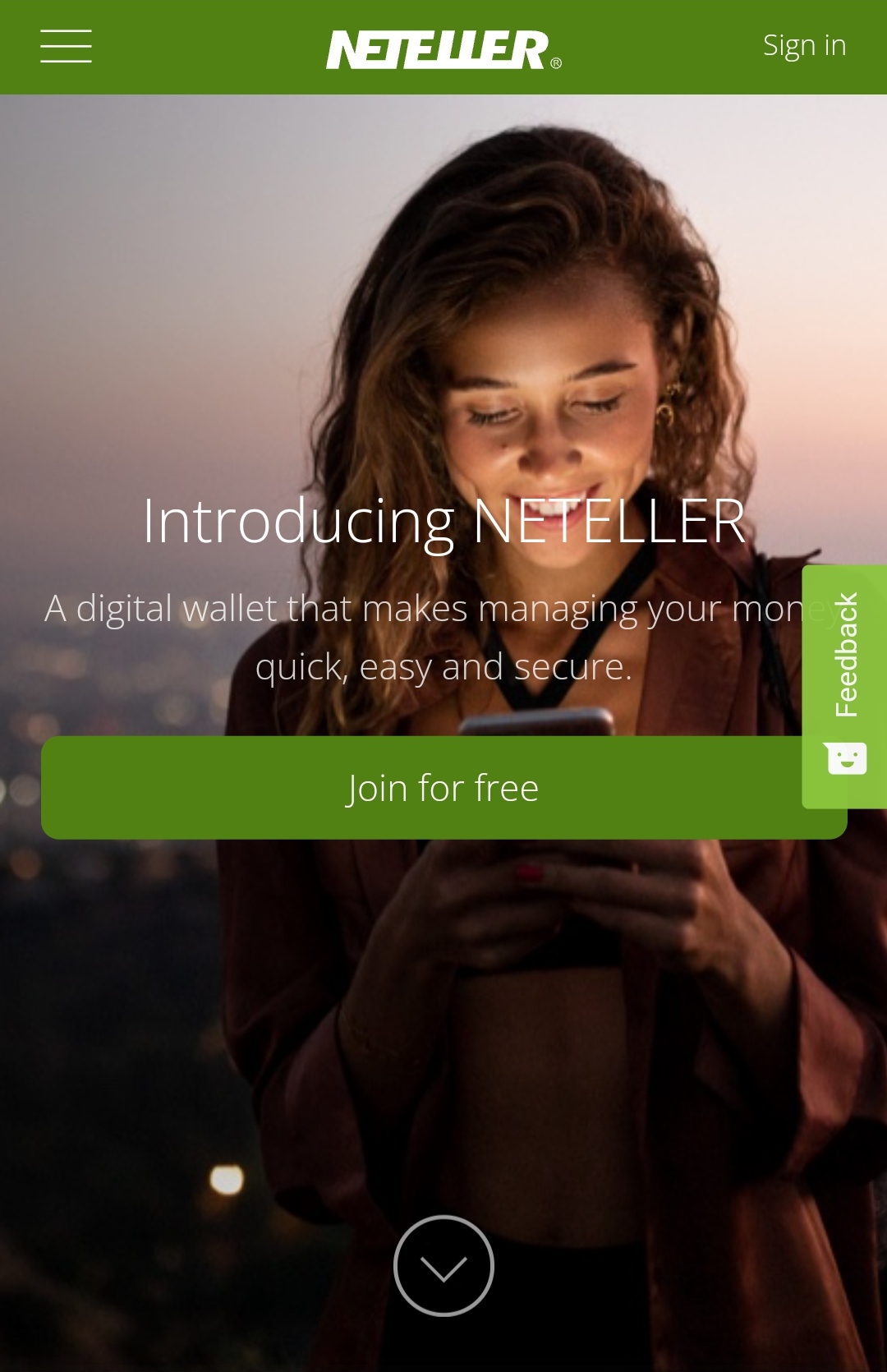 This will redirect to the registration page which will prompt you to provide your first and last name, country of residence, preferred currency, your email address, and the password which you would like to use for your eWallet account. Once you confirm that you agree with the terms and conditions of the service, your Neteller account will be ready.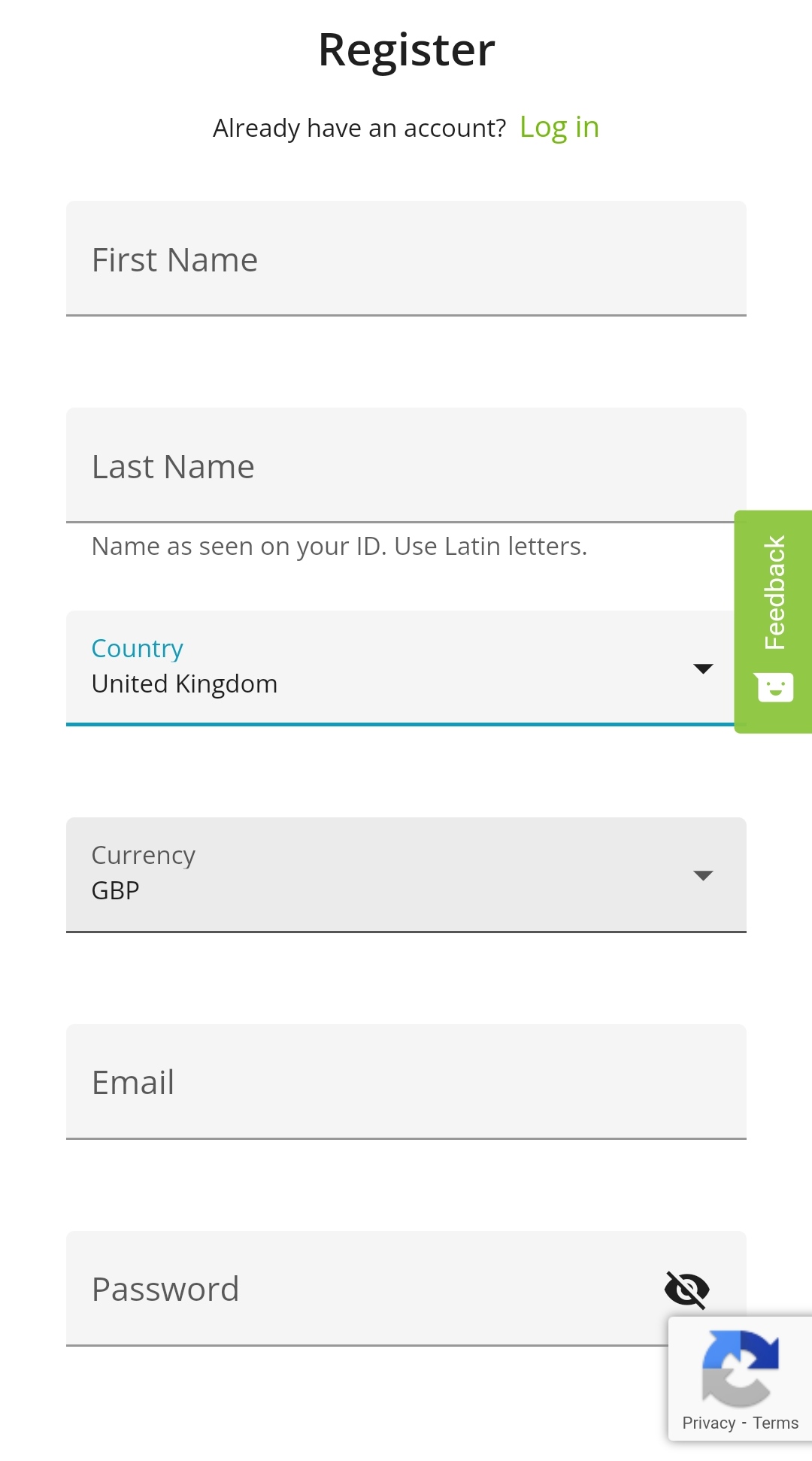 No matter how convenient and hassle-free is the use of the mobile version of Neteller's website, on-the-go users and punters, in particular, prefer operating with its dedicated apps. It takes less than a minute to download the application either from Google Play or App Store. Once one your device, Neteller will prompt you to register an account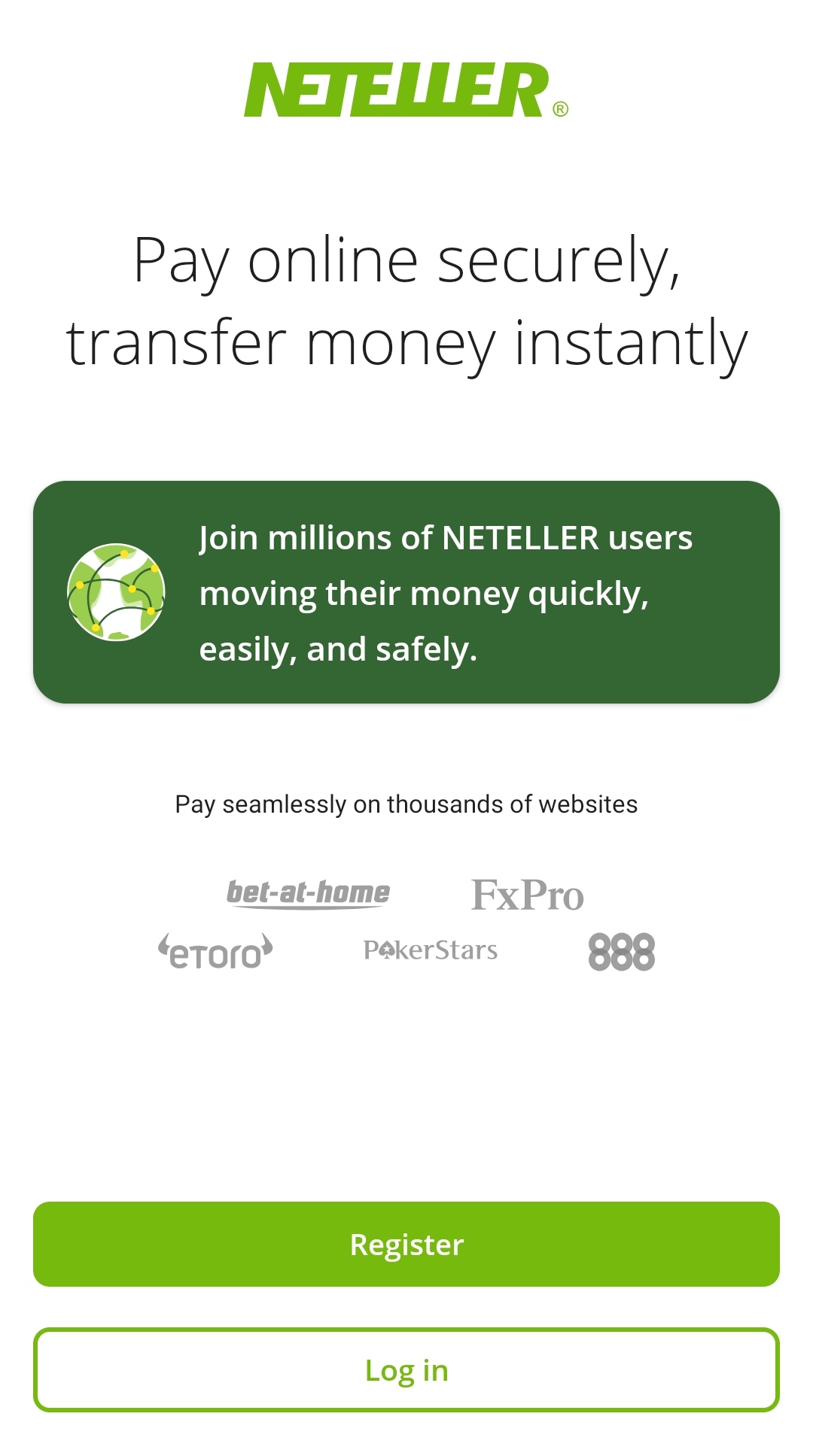 The registration procedure is again fast, requiring the same data as on the main website, just arranged in a different order. It is good to know that you can set your preferred currency regardless of your country of residence. If you are a native of Armenia for example, you can set the currency to EUR, USD, CHF, or any of the almost 30 supported currencies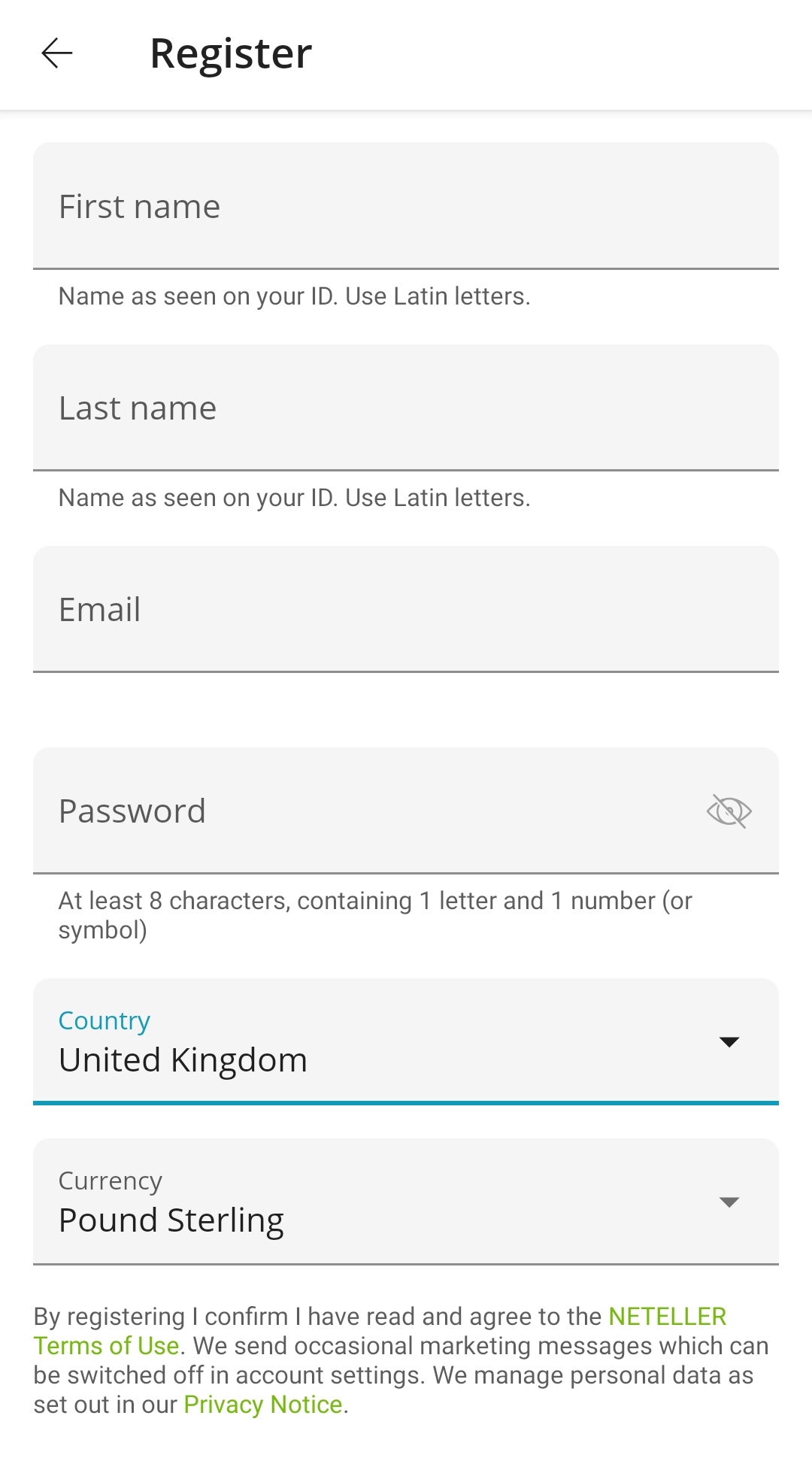 To be able to use your eWallet at virtual sportsbooks, however, you will also have to fund your Neteller account. This can be easily done via a vast variety of payment options which include other eWallets, credit/debit cards, cryptocurrencies, bank transfers, instant banking solutions, and other easy-to-use payment methods. You can see all of the deposit options which are available to you by loading the "Money In" section of your Neteller account. Once you have funded your eWallet, you will also be able to verify your account by providing ID proof. By verifying your Neteller account, you will be granted access to some of the advanced features of the service.
Registration Requirements
Copy of ID/DL
no
Utility Bill
no
Link bank account
no
Link bank card
no
Depositing with Neteller
Once you have set up your Neteller wallet, you will be able to use easily top up your betting account at the sportsbook you have chosen. Before you proceed to funding your profile, make sure that the virtual bookmaker is accepting payments via Neteller.
To boost your betting balance via Neteller, you will have to head up to the Cashier page of the website. Select the option for depositing and you will see the payment options which you can utilize.

To use your digital wallet, enter the amount you want to deposit and pick Neteller as the solution you wish to use for your payments. This will redirect you to a page that will ask you to log in to your Neteller account.

In order to log in to your e-wallet account, you will have to provide the email address and password you have used to open your Neteller profile. The next step is to verify the transaction and the payment process will be complete. The good thing about using Neteller for your deposits at betting sites is that your funds will be instantly available at your sportsbook account once you have finished with the payment.
Even if you wish to initiate a Neteller deposit via a sportsbook app or the mobile version of the betting site, the payment process will be the same. As you can see, it requires only a few steps and it takes almost no time to complete a Neteller deposit. Online bookies usually impose high upper limits on Neteller deposits which makes the payment solution the perfect option for high-roller punters.
Depositing with Neteller Summary
Timeframe
Instant
Minimum per transaction
$10
Maximum per transaction
$100,000
Fees
Depends on the bookmaker, mostly free
Available currencies
AED, AUD, BGN, BRL, CAD, CHF, CNY, COP, DKK, EUR, GBP, HKD, HUF, INR, JPY, MAD, MXN, MYR, NGN, NOK, PLN, RON, RUB, SEK, SGD, THB, TND, TWD, USD, ZAR
Withdrawing with Neteller
Many virtual bookmakers will also allow their members to use Neteller for their withdrawals or will even require punters to cash out their funds, using the same method they have utilized for their deposits.
The process of withdrawing your winnings via Neteller is similar to the deposit one and it is, yet again, very simple. The first step is to head to the Cashier page and choose the withdrawal option.

Enter the amount you wish to cash out and select Neteller from the available payment options. After you have chosen Neteller as your withdrawal option, you will be redirected to another page that will ask you to log in to your Neteller account. This will require providing your login details that include your email address and password.

Once you have gained access to your Neteller account, all you need to do is verify the process and you will be done with the cashout request. Keep in mind that withdrawals are always slower than deposits as there is always a pending period. In most cases, after the virtual sportsbook has approved your withdrawal request, you will receive your money within 24 hours.
Maximum withdrawal amounts are sometimes lower than the deposit ones but this mostly depends on each sportsbook's policy. Some bookmakers do not have Neteller transaction limits but tend to restrict the amount you can cash out per week or per month.
Withdrawing with Neteller Summary
Timeframe
Instant
Minimum per transaction
$10
Maximum per transaction
$100,000
Fees
Vary between betting platforms
Available currencies
AED, AUD, BGN, BRL, CAD, CHF, CNY, COP, DKK, EUR, GBP, HKD, HUF, INR, JPY, MAD, MXN, MYR, NGN, NOK, PLN, RON, RUB, SEK, SGD, THB, TND, TWD, USD, ZAR
Fees Related to Neteller Betting
One of the best things about using Neteller is that it is a budget-friendly solution for online betting enthusiasts. While most of us are used to paying extra for services with higher quality, Neteller is striving to achieve excellence at a very reasonable price.
Whenever you wish to use your e-wallet for funding your online betting, you will first have to upload funds to your Neteller account. Thankfully, there are various ways to deposit money to your e-wallet and you can choose from methods such as credit and debit cards, other e-wallets, bank transfers, instant banking solutions, cryptocurrencies and many more.
There is a fee of 2.5% for uploading funds to your Neteller account and it applies to any payment solution you are using. The only two exceptions are Rapid Transfer and Paysafecards with fees 0-1% and 0-5%, respectively. However, if you make a single deposit of $20,000 (or its currency equivalent) or more, you will not be charged any deposit fees.
When you decide to withdraw money from your Neteller account, you will also have to pay some fees. The surcharges that will be imposed really depend on the payment method that you will use. For bank transfers, the fee is $10 or the equivalent in another currency. Meanwhile, a Member Wire withdrawal will impose surcharges of $12.75. Money transfers also will charge a fee of 1.45% and using a Net+ Prepaid Mastercard might levy a fee of up to 1.75%.
Neteller withdrawal options
Bank Transfer
$10
Crypto Wallet
2%
Mastercard
0 – 3.99%
Visa
0 – 3.99%
Member Wire
$12.75
Merchant Sites
Free
Money Transfer
2.99%, min $0.5
Net+ Prepaid Mastercard®
0 – 1.75%
Skrill
3.49%
As for the fees that betting sites charge, you will often benefit from free deposits and withdrawals. In some cases, however, betting sites might impose a fee for Neteller withdrawals but it is often lower, compared to other payment solutions. Keep in mind, however, that some bonuses and promotions are restricted for particular deposit methods only, so make sure you read all terms and conditions before funding your betting account through Neteller.
Fees Related to Neteller Summary
Initial setup
$0
Maintenance fee
$0
Inactivity fee
$5 monthly fee after six months without a transaction
Deposits to Neteller account
0 – 5%
Withdrawals
0 – 3.99%
Benefits of Betting with Neteller
If you are not certain whether Neteller is the best payment option for your online banking, then you can take a look at the advantages that the eWallet is offering. You can be sure that you can enjoy quite a few benefits if you decide to handle your betting balance via Neteller.
Safe online transactions
One of the biggest advantages of the eWallet is that it ensures secure online payments. Thanks to the security measures utilized by the company, bettors can be certain that their sportsbook deposits and withdrawals will always be properly protected. What is more, using Neteller will spare you the inconvenience of providing card or bank account details to the betting site. Naturally, this adds another layer of security to your payments.
Instant deposits to betting accounts
Another advantage is the speed of Neteller transactions as the service allows instant deposits at virtual sportsbooks. This enables punters to make bets as soon as they are finished depositing. In addition to that, often withdrawals via Neteller are also processed in a quick manner and might take 24 hours at most.
Broad availability
When you are looking for a trustworthy betting website that accepts Neteller payments, you will have an easy time coming across various proper virtual sportsbooks. All eWallets enjoy a large user base and are therefore hard to ignore. Neteller is one of the most popular brands in this category, especially among online bettors, so many interactive bookmakers accept both deposits and withdrawals. The availability of a trusted method like Neteller can be reassuring when punters come upon new bookmakers that they are not yet familiar with.
Low or no fees related to sportsbook transactions
While managing their betting funds, bettors are always looking for pocket-friendly solutions. Luckily, payments via Neteller are very cost-efficient as often virtual sportsbooks impose no fees for using the eWallet or if they do, the surcharges are very reasonable.
VIP program
Just like the top online betting operators, Neteller pleases its most active users with a VIP program that provides them with some enticing treats – exclusive promotions and events, lower FX fees, discounted deposits & withdrawals, a dedicated VIP manager, etc. Especially for its sport-loving loyal users, Neteller provides Chelsea and Arsenal seasonal tickets as well as tickets for the Champions League final, Wimbledon, and some other popular competitions.
Drawbacks of Betting with Neteller
While Neteller is mostly offering advantages as regards online sports betting, it still has some downfalls which are worth mentioning. As you will see, they are not that crucial and as long as you have read the relevant terms and conditions, there is nothing to worry about.
Country restrictions
While there are numerous virtual sportsbooks that will allow their members to use Neteller as a payment method, there are still some punters who will not be able to use this method due to the country of their residence. Currently, bettors from the United States will not be able to use this service for their sportsbook payments. The service is also limited in countries such as Canada, Hong Kong, Turkey, Norway, and Macau.
Neteller deposits are not eligible to many bookie's promotions
Unfortunately, as there have been many bonus-abusing schemes related to using eWallets such as Neteller, bettors who use the digital wallet are often excluded from sportsbook promotions. This is quite inconvenient as there are many punters who are looking for offers that will help them along their sports betting journey online. This, however, is not the case with every single online bookmaker and it is always a good idea to check the terms and conditions of bonuses before you claim them.
Withdrawals are not always supported
Another issue you might encounter while making payments via Neteller at betting sites is that sometimes the service is not available for withdrawals. Although this is a rare case, it may be very inconvenient for many bettors as it is much more efficient to rely on a single solution for both your deposits and withdrawals.
Still, the benefits of using Neteller at virtual sportsbooks prevail over the negative sides of the service. It is always good to take a look at the available payment solutions you can use at betting sites and see if utilizing Neteller will be beneficial for you.
Regulation and Availability of Neteller
Since the company that is responsible for the service of Neteller is well-known in the fintech field and can be trusted, bettors can be sure that their online betting payments will always be properly conducted. Paysafe Financial Services Limited is the founder of Neteller and it has been an active actor in the fintech sector ever since 1999. The company is based in London and is authorized to provide payment solutions by the Financial Conduct Authority under the 2011 Electronic Money Regulations.
Neteller is widely spread across numerous countries and it allows various punters to use it as a payment solution for their sportsbook deposits and withdrawals. The e-wallet is available in more than 100 countries and you can easily see if Neteller is supported in your country of residence. If you are not sure whether your jurisdiction is among the non-serviced regions, you can check the official website of the service. Currently, the list of restricted territories includes Afghanistan, Benin, Bonaire, Burundi, Central African Republic, Chad, Congo, Crimea, Cuba, Djibouti, Equatorial Guinea, Eritrea, Gabon, Gambia, Guinea, Guinea-Bissau, Guyana, Iran, Iraq, Kazakhstan, Kyrgyzstan, Lao People's Democratic Republic, Liberia, Libya, Madagascar, Malawi, Mali, Mauritania, Mongolia, Montserrat, Myanmar, Nauru, Niger, Niue, Norfolk Island, North Korea, Palau, Papua New Guinea, Saint Barthelemy, Saint Kitts and Nevis, Saint Martin, Sint Maarten, Sierra Leone, Sudan (North and South), Suriname, Syria, Tajikistan, Timor-Leste, Togo, Turkmenistan, Uzbekistan, Western Sahara, Yemen.
The latest addition to the restricted countries list is Norway. Due to some legislative amendments, Neteller had to withdraw from the Norwegian betting market at the beginning of 2021. The new legal provisions concern any gambling-related transactions, while all other online payments are still permitted.
Neteller's main website can be explored in eleven different languages – English, Arabic, German, Greek, Spanish, French, Italian, Korean, Polish, Brazilian Portuguese, and Russian.
Neteller Security
As a way to offer safe payments for its users, Neteller utilizes the latest security measures. This way, online bettors can also feel secure when they make deposits and withdrawals at their preferred betting websites. Without a doubt, one of the biggest advantages of Neteller is the security it provides which is accomplished with the help of different security technologies.
No matter the method you choose to fund your e-wallet, you can be sure that your money will always be safe. Since all of your funds are held in trust accounts, you will always have access to your money and will also be sure that your funds will be properly protected.
All of the sensitive information that you share when funding your e-wallet, withdrawing your money or initiating Neteller payments at online sportsbooks is protected via military-based encryption technology. This is a measure that is taken to prevent any unauthorized third parties from gaining access to your personal details. Your transaction history always remains safe and you can feel safe when handling your betting balance via Neteller.
We already mentioned the VIP program Neteller provides. A key feature its members can benefit from is the two-factor authentication that can further protect their betting-related transactions. Those who opt in for this measure will be required to enter a randomly generated code every time they log in to their account for confirming a deposit or withdrawal.
Having in mind all of the above, it is no wonder that Neteller is considered one of the safest methods for executing online payments.
Neteller Customer Support
Having such a long and reputable operation on the global payment market wouldn't be possible if Neteller customers weren't supported by a professional customer care team in their everyday issues with the service. It makes a good impression that the payment solution provider has customer support representatives in different countries, all of them having separate phone numbers and working hours.
Neteller Contact Phone Numbers
International
+44 20 3308 9525
Mon – Fri 8am – 5pm UK local time
Australia
+61 2 8279 8643
7 am Mon – 7 am Sat AWST
Brazil
+55 21 4042 1072
Available between 6:00 pm Sun – 6:00 pm Fri local time
Spain
+34 91 7693583
Mon-Fri 9 am – 6 pm local time
United Kingdom
+44 120444 0908
Mon-Fri 8 am – 5 pm local time
France
+33 1856 53457
Mon-Fri 9 am – 6 pm local time
Germany
+49 21599279504
Mon-Fri 9 am – 6 pm local time
Italy
+39 06 4523 6988
Mon-Fri 9 am – 6 pm local time
Tunisia
+216 3130 0396
Mon-Fri 8 am – 5 pm local time
To shorten the waiting time, customers are advised to first log in to their accounts and request a Caller ID. It represents a 5-digit code used for authentication. The code expires after 30 minutes, so if you haven't reached a customer care representative, you must generate a new one. Registered Neteller users can also send their inquiries via a chat session that starts after entering the relevant account registration email.
Neteller Reviews from Around the Web
Offering different perks, e-wallets are a preferred payment solution by many. This is why they are also often accepted at betting sites, enabling punters to manage their money in a hassle-free way. One of the widely accepted digital wallets at various sportsbooks is Neteller. If you are also wondering whether this method is suitable for your betting endeavors, you can read the various Neteller reviews available online.
As many expert reviewers have covered the positives and negatives of using Neteller for betting purposes, one could easily determine whether the solution is the right choice for them. Neteller has also been reviewed by Trustpilot users who have given their unbiased opinion on the e-wallet solution.
At the moment, a total of 1,505 people have rated the services that Neteller is offering to its customers. The average rating of the method is 2.7 out of a total of 5 stars.
Negative Neteller Reviews
Unfortunately, Neteller has received quite a few bad reviews from Trustpilot users. Out of all Neteller customers who have rated the method, only 27% have given the e-wallet an Excellent rating. Meanwhile, 2% gave the solution a Great rating, 1% ranked it as Average, and 3% thought it deserved a Poor rating. The majority of the reviewers (67%), rated the service of Neteller as Bad.
Some of the bad reviews came from users who had their accounts closed without being provided with a proper reason for that. There were also complaints about users being unable to verify their accounts, ultimately being unable to initiate their payments via Neteller.
Positive Neteller Reviews
Despite receiving many negative reviews, Neteller has still proved to be a convenient payment solution for many users. Those who have a pleasant experience with Neteller mainly appreciate how easy it is to initiate payments via the e-wallet.
The speed of both deposits and withdrawals is yet another thing that many users appreciate about Neteller. The reasonable fees and the mobile app that enables payments on the go are also among the features that many users praise.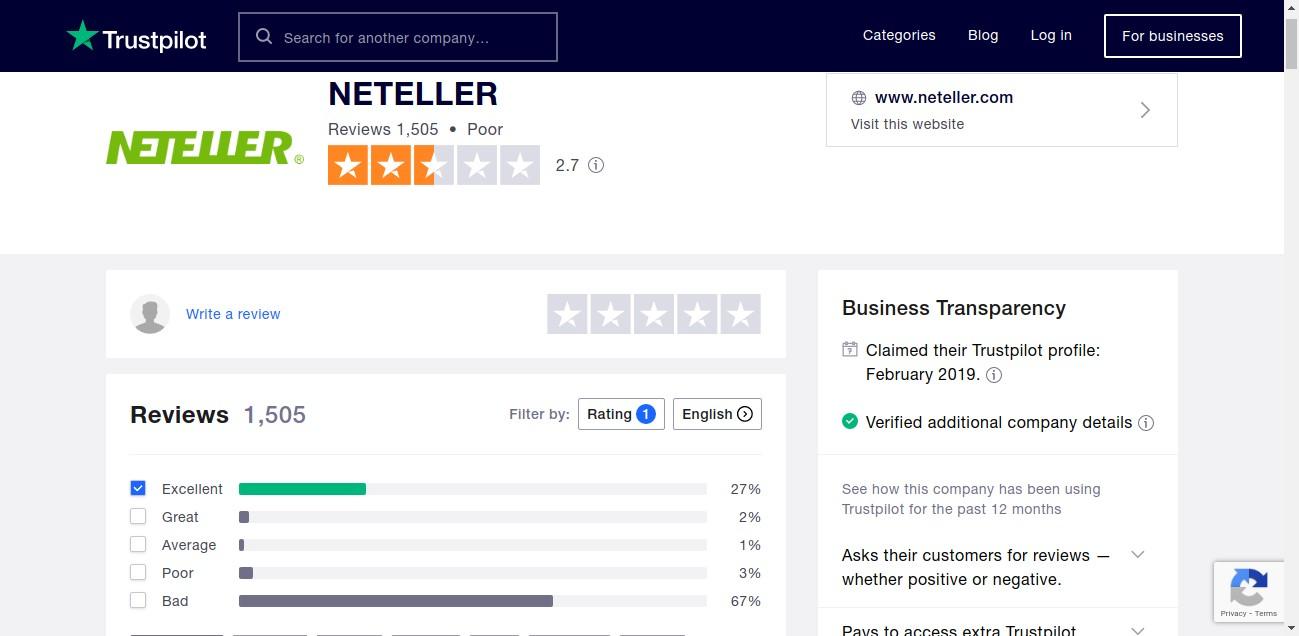 Trustpilot Rating of Neteller
Excellent
27%
Great
2%
Average
1%
Poor
3%
Bad
67%
Conclusion
You can expect smooth, fast and safe payments at virtual sportsbooks if you decide to trust Neteller. This is one of the most popular digital wallets which are widely accepted at numerous online bookies. There are plenty of reasons to choose this method for funding your betting account but the level of security it provides is probably the most important one.
Opening a Neteller account is fast and easy and you can pick from a wide variety of options when you wish to upload funds to your digital wallet. Deposits via Neteller are instant, allowing virtual bettors to make real-money bets any time they wish to. Most online sportsbooks will also allow their members to withdraw their winnings via Neteller which will allow them to enjoy their money in a fast and secure way.