Fast and secure online payments are of crucial importance in the contemporary sports betting industry. As a consequence, punters are relinquishing traditional online payment methods, very often in favor of digital wallets.
One of the most sought-after brands on the market, when it comes to e-wallets, is ecoPayz. This payment processor has been in existence since 2000 and the long years of experience definitely show in the quality of its services. Due to the instant, secure and hassle-free payments initiated through the ecoPayz platform, it has become the tried-and-tested provider of digital payments for thousands of sports betting aficionados over the globe.
As one of the longest-standing digital wallet solutions on the market, ecoPayz has started off by the name of EcoCard, under the operations of the parent company, PSI-Pay Ltd. After gaining a license from the Financial Services Authority in 2008 and joining the Mastercard family in 2009, the company was rebranded to ecoPayz, in order to reflect its multipurpose nature.
Along with the award-winning wallet, the company has launched other products, including the ecoPayz plastic Mastercard and the virtual ecoVoucher.
Among the ecoPayz fantastic perks are the five account levels starting with the Classic one. It can be consequently upgraded to Silver, Gold, Platinum, and VIP, each of them featuring an added number of benefits and discounts.
The current review aims to provide a comprehensive analysis of ecoPayz, so punters can easily decide if this payment method meets their criteria for a reliable payment processor of their deposits to and withdrawals from online bookmakers.
Registereing an Account with EcoPayz
Setting up an ecoPayz account enables users to take advantage of all of the above-mentioned great products and functionalities, designed for facilitating online transactions, including to and from online sportsbooks. The registration process is nothing to be anxious about, as it can be completed in just a few minutes.
Users have two options to choose from – setting up a personal or a business account. Sports betting enthusiasts should go for the first one. We will now go through the steps of registering an ecoPayz account, along with the possible methods to fund it, as well as the range of different currencies.
Go to the ecoPayz website and navigate to the Sign-Up area

To start the registration process, users should look for the Sign-Up button, located next to the Log-in area, in the upper right corner of the ecoPayz website.

Account Information

Then, they are prompted to populate the account information. They need to choose a username, provide a valid e-mail address, and come up with a robust password, which should then be confirmed. Choosing a strong password is essential for your account's security. Users should include letters, numbers, special symbols, and upper case characters. It is also recommended to change the password once in a while.

Next, users need to select their country of residence from a drop-down menu, as well as their preferred language. EcoPayz currently delivers its services in over 170 countries across the world. To be able to better serve the needs of its customers, the website is supported in 11 languages.

The last box to populate from the Account information section is the one for the selected currency. Users are able to choose from a list containing over 50 different currencies. Some of the most widespread options include EUR, GBP, USD, TRY, and AUD, among others. A feature that definitely needs emphasizing is that users are enabled to add other accounts for different currencies, which is yet another fact contributing to the company's flexibility.

Personal information

The next section of the registration form is the one containing the users' personal information. They should fill in the boxes for first and last name, and choose from drop-down menus their date of birth. The next boxes to be filled in involve address information about street, building, region, town/city, and postal code. After that, they should enter a country dialing code and their mobile phone number.

Due to fact that ecoPayz is a fully compliant financial services company, it is required to ask for additional information regarding its clients' source of funds. The possible options include employment income, inheritance, savings, and pension income, among others.

Finalize the account registration

To finalize the account registration, users are supposed to fill in the validation code they see, check the box confirming they have read and agree to the terms and privacy policy of the company, and select between e-mail and SMS notifications for updates.

The mobile app of the brand, available both for iOS and Android devices has been praised for its uncluttered, and incredibly user-friendly interface. The company has recently launched an updated app, containing all of the brand's thrilling features. Depending on the customers' country of residence, whether it is in the EEA, the UK, Switzerland, or outside the EEA, they are able to download it from the ecoPayz website for free.
Along with the app's basic features, allowing for deposits and withdrawals on the go, users are also able to access the mobile interface via Face ID, fingerprint, or a passcode. They are enabled to transfer funds to other ecoPayz account holders, manage their ecoPayz Mastercard, and receive push notifications.
The possible options to fund the ecoPayz account include credit/debit cards, international bank transfers, as well as various local methods, such as Klarna, Trustly, iDebit, etc.
ecoPayz Registration Requirements
Copy of ID/DL
yes
Utility Bill
yes
Link bank account
yes
Link bank card
yes
Depositing with EcoPayz
When it comes to narrowing down your list of bookmakers supporting ecoPayz as a possible deposit option, we can safely state that the method is among the most popular ones in the sports betting industry. So, finding an ecoPayz-friendly sportsbook is anything but hard.
Depending on their ecoPayz account level, customers are able to initiate deposits to sports betting operators via three methods – by using their e-wallet, their plastic ecoCard, or their virtual ecoVoucher.
The process of topping up your sports betting balance is quite straightforward. You should navigate to the Cashier section and select ecoPayz as your preferred deposit method.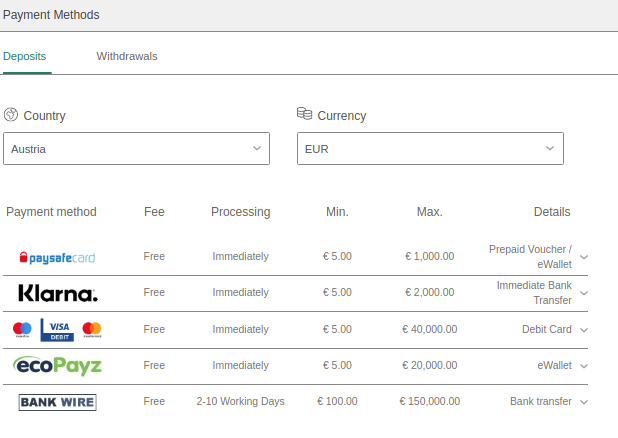 Next, bettors should point out whether they wish to make a direct transfer of funds from their account, or prefer to use a plastic/virtual card. Afterward, they are supposed to enter the amount they wish to deposit and confirm it first on the bookmaker's platform, and then on their ecoPayz account. Once they log in to their ecoPayz account and authorize the deposit, punters will be seconds away from starting their sports betting session.
As we already stated, deposits initiated via ecoPayz usually take 10 to 20 seconds to appear in your sorts betting balance. This falls under the category of instant deposits, which is fantastic if you want to replenish your sports betting balance and start punting immediately.
With the mechanisms of depositing with ecoPayz and the relevant timeframes clarified, what remains to be noted are the minimum and maximum deposit limits. They tend to vary in accordance with the ecoPayz account level of the user, as well as the internal policy of the selected bookmaker. Most commonly, deposit minimums range between €10 and €20, while deposit maximums may reach €20,000 with some sportsbooks.
Depositing with ecoPayz Summary
Timeframe
Instant
Minimum per transaction
€10
Maximum per transaction
Varies in accordance with the ecoPayz account level and the sportsbook
Fees
Free
Available currencies
AUD, BGN, BRL, CAD, CHF, CZK, DKK, EUR, GBP, HUF, INR, JPY, NZD, PLN, RON, RUB, SEK, USD, ZAR, etc.
Withdrawing with EcoPayz
Punters who have enjoyed a lucrative betting session will certainly be interested in how to withdraw their sports betting earnings. If they have opted for ecoPayz as their selected online payment platform, they should be aware that withdrawals to the first ecoPayz account level, the Classic one, are not possible.
The Classic account level is the first rank from the ecoPayz hierarchy that account holders are entitled to. To be able to use their ecoAccount for withdrawals from bookmakers, and take advantage of further privileges, users should upgrade their Classic account to a Silver one. This can be easily done by proceeding to verify your newly-created ecoPayz account.
For the purposes of verification, the company requires a photo identification document (it could be an ID card, a driver's license, or a passport), and another one, containing your residential address (a bank statement, utility bill, or certificate of residence), plus a selfie photo of yourself. The verification procedure is usually completed within 2 business days.
EcoPayz withdrawals from sportsbooks can be initiated by heading to the Cashier and selecting ecoPayz from the list of viable methods.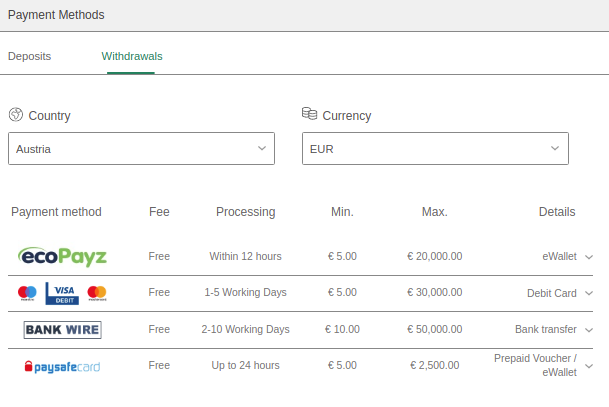 Once bettors input the amount they wish to withdraw, they should confirm it. Since online sportsbooks also perform their internal verification procedures, bettors should expect to see the funds in their e-wallet account within 2 business days. In case they have requested a withdrawal to their plastic or virtual ecoPayz card, the amount will be available in their card's balance within 3 to 5 business days.
Withdrawing with ecoPayz Summary
Timeframe
For withdrawals to ecoAccount – up to 48 hours; For withdrawals to the plastic or virtual ecoCard – 3-5 business days
Minimum per transaction
€10
Maximum per transaction
Varies in accordance with the ecoPayz account level and the sportsbook
Fees
Free
Available currencies
AUD, BGN, BRL, CAD, CHF, CZK, DKK, EUR, GBP, HUF, INR, JPY, NZD, PLN, RON, RUB, SEK, USD, ZAR, etc.
Fees Related to ecoPayz Betting
Using ecoPayz to manage your online transactions is cost-effective but not entirely free of charge. We invite you to look into some of the ecoPayz EUR account fees. For further information on the topic of fees and costs, users may check the website of the company, and see all the applicable fees for different account levels and for all the currencies supported by the brand.
The fees of the money processing company vary in accordance with the account level of users. In general, the higher account levels enable them to take advantage of lower fees, and certain services become free of charge.
The ecoPayz services that fall into the free category include registration, bank deposits to virtual IBAN/Account, alternative currency deposit, receiving money via Western Union, sending money via Western Union, bank transfer from virtual IBAN/Account, and transfers to and from ecoPayz merchants.
Inter-accounts transfers for levels above the Classic one are also enabled. Transfers to other ecoPayz account holders are possible for all account levels, with the exception of the Classic one. For the Gold, Platinum, and VIP levels this service is free of charge, while holders of Silver accounts pay a fee of 1.5% (or a minimum of €0.50).
Credit card deposits involve fees ranging from 1.69% to 6.00% plus a flat fee of €0.25. EcoVoucher deposits are handled against a fee of 2.90%, while codePayz deposits involve a fee of €3.50. ZestPay deposits come with a fee varying between 1.25% and 2.00%.
Bank transfer fees amount to €10 maximum for Silver, Gold, and Platinum level accounts, and go down to €7 maximum for VIP level accounts. ZestPay transfers are possible for accounts from the Silver level and up, and involve a fee of 1%.
Bettors should not forget to set up their ecoPayz account in the same currency as their sports betting account to avoid additional conversion expenses, which vary, according to the account level, from 1.25% to 2.99%.
The inactivity fee charged by ecoPayz to accounts that have not been used for more than one year amounts to €1.50 per month.
As for the plastic ecoPayz Mastercard, it is available for citizens of the UK, and most of the EU/EEA member states, and can be issued and activated for Silver account levels and up. Cash withdrawals are handled against a fee of 2.00%, or a minimum charge of €1.50. Currency conversion rates involve a fee of 2.99%, while card replacement services are delivered for a fee of €12.50.
Services, including transaction processing, PIN reminders, card renewals, balance inquiries, and updates of customer details are delivered free of charge.
Fees Related to ecoPayz Summary
Initial setup
Free
Account review
Free
Maintenance fee
Free
Inactivity fee
€1.50 per month for accounts that have not been used for more than one year
Benefits of Betting with ecoPayz
Choosing a suitable payment platform for your sports betting needs is of vital importance. Below we will discuss the main benefits of ecoPayz, so bettors can consider if it meets their requirements.
Instant, secure deposits, and fast withdrawals

As far as the speed of sports betting transactions is concerned, it is a well-known fact that punters are looking for a payment method facilitating instant deposits to online bookmakers. EcoPayz allows not only for momentary deposits but also for faster withdrawals compared to other conventional methods, such as card and bank account withdrawals.

Several account levels

Once users register their ecoPayz account, they automatically start with the Classic level. In order to upgrade their accounts to the Silver level, they are supposed to verify their accounts. This unlocks the opportunity to receive funds to the ecoPayz account, which is otherwise not possible for Classic accounts. The hierarchical structure of the ecoAccounts delivers customers with the chance to take advantage of lesser fees and different benefits.

Flexibility

With the ability to choose among more than 50 different currencies to set up their accounts, ecoPayz users are excellently catered for. Furthermore, the payment processing company delivers yet another great opportunity, enabling its customers to create multi-currency ecoAccounts.

As international money transfers have evolved, ecoPayz has identified the need to make them a lot easier for their customers. Opening a multi-currency ecoAccount is possible once users upgrade their account level from Classic to Silver one. They are able to hold up to 10 currency accounts and minimize their currency conversion expenses. Each currency account has its own account number, providing customers with great flexibility.

Numerous payment methods to top up your account

Along with card payments and bank wires, customers of ecoPayz are able to top up their e-wallet accounts with numerous local and global payment methods including Trustly, iDebit, Paysafecard, and Neosurf, among others.

ecoPayz Mastercard

The contactless ecoPayz Mastercard delivers account holders with instant access to their funds, to make online and in-store payments, as well as withdraw from ATMs. The plastic cards are available in 8 currencies and customers may get up to 4 cards.

ecoVoucher

The ecoVoucher is yet another product of the brand enabling users without bank accounts or credit cards to initiate online payments and top-up their ecoPayz accounts. Initially available to customers from the EU, Latin America, the Middle East, Africa, Japan, and India, the ecoVouchers are already available to citizens of Switzerland, Russia, Ukraine, New Zealand, and Pakistan.
The ecoVouchers are a cost-effective method to replenish your ecoPayz account and deliver unrivaled security and anonymity to online bettors.
Drawbacks of Betting with ecoPayz
Below we provide also a list of drawbacks associated with ecoPayz, which will help you see the overall picture and decide if this digital voucher solution will become your indispensable financial tool.
The method requires registration

Some bettors dislike the necessity of having to register a new account. However, the process of registering an account with ecoPayz can be completed within minutes and is a minor inconvenience in return for the great products and functionalities delivered by the brand.

The Classic account level does not allow withdrawals

Once users have completed the registration process, they should undergo verification in order to upgrade their Classic account to Silver one and be able to handle withdrawals as well. It is also worth noting that the plastic ecoCards can be requested only by Silver account-holders. Verification procedures may seem a bit intimidating and time-consuming at first, but essentially, they involve sending a set of documents, verifying the customers' identity and residential address.

Plastic and virtual cards are available only to users from the EU and the EEA

Although it is great that ecoPayz develops and upgrades its line of products, it is worth noting that the plastic and virtual ecoCards are available to customers from the EU and the EEA. This leaves ecoPayz customers from other areas without the opportunity to take advantage of the additional financial products of the brand.
Regulation and Availability of ecoPayz
By deciding to register for ecoPayz, users may be completely assured that the company operates in full compliance with regulatory requirements. As a global payment solutions provider, ecoPayz offers a fully transparent approach to processing the thousands of financial transactions initiated through its platform every single day.
EcoPayz is the registered trading name of IPS Solutions Ltd, operating under the laws of Cyprus. As an electronic money issuing company, the entity is authorized and regulated by the Central Bank of Cyprus.
As for the ecoPayz Mastercard, it is issued by PSI-Pay Ltd. The latter is regulated by the UK Financial Conduct Authority and is an affiliated organization of IPS Solutions Ltd.
EcoPayz delivers its services to users from more than 170 countries around the globe. Some of these countries include Austria, Australia, Argentina, Brazil, Canada, Denmark, Finland, Germany, India, Ireland, Italy, Netherland, New Zealand, Russia, Spain, Sweden, and the UK, among others.
However, not all of the company's products are universally available to these locations. The ecoPayz Mastercard, for example, is available only to customers based in countries from the EU and the EEA.
Some of the restricted jurisdictions include the United States, China, Iran, and Iraq, to mention a few.
The customer support service of ecoPayz, prioritizing 24/7 availability, can be reached via e-mail at customersupport@ecopayz.com or via the Contact Us Form on the company's website. The company's reps are reported to provide help in a fast and professional manner, in several different languages.
Users should not forget to check the FAQ section of the website, as it is quite informative, delivering clear and concise answers to various queries.
EcoPayz Security
The fact that ecoPayz has been at the forefront of contemporary online payment methods is not surprising at all, having in mind the robust security features utilized by the company. And as is commonly known, security is of the essence, when it comes to online payments.
Millions of users around the globe trust ecoPayz and conduct their financial transactions in a fast, secure, and convenient manner. The company has been nominated in categories related to security of online payments several times.
Sports betting fans conduct their payments to online bookmakers without having to share any of their financial details. All monetary transactions are protected using advanced 256-bit SSL encryption.
The fintech company operates in strict conformity with the regulations and requirements of the FCA. Additionally, it is PCI DSS compliant.
To level up to the Silver account of the company, enabling withdrawals to the e-wallet, customers are supposed to complete a verification procedure. It involves sending documents verifying the users' identity and residential address.
ecoPayz Security Summary
SSL
yes
Two-factor authentication
yes
Face ID
yes
Touch ID
yes
App/SMS Notifications
yes
EcoPayz Reviews From Around the Web
E-wallets have been experiencing an ever-growing surge in popularity among digital merchants around the globe. This hardly comes as a surprise since they offer a convenient way to store your financial assets, make payments, and request withdrawals. The payment method has been ubiquitously embraced also by online bookmakers and sports betting enthusiasts. Supported by the leading global sports betting providers, EcoPayz ranks amongst the most trusted digital payment solutions within the industry.
Those who are still hesitant if ecoPayz can meet their personal requirements for an online payment processing platform can explore the countless reviews available on the internet. A lot of sports betting professionals have provided their reviews of ecoPayz online, covering its major benefits and drawbacks.
The e-wallet has also been reviewed by Trustpilot users who have provided their unprejudiced opinion. According to 1,320 reviews available on the website, ecoPayz has a rating of 3 out of 5 stars.
Negative EcoPayz Reviews
Considering all the reviews provided on Trustpilot, we note that ecoPayz ranks at an average level. Out of all comments submitted on the website, 42% evaluated the method as Bad, 5% defined it as Poor, 6% ranked it as Average, 10% praised it as Great, and 37% gave it an Excellent review.
Some of the negative reviews of users reflect dissatisfaction with the customer support of the company, stating that they received unclear answers to their queries. Others complain about tedious, time-consuming verification procedures. Some customers have undergone verification several times. Cases of suspended ecoPayz accounts have also been reported, with users not being able to access their funds until the relevant issues were resolved.
Positive EcoPayz Reviews
Although nearly half of the Trustpilot reviews rank ecoPayz poorly, the other half definitely appreciates the services delivered by the brand. The satisfied customers state that they never had any issues with the payment processing company, praising it as efficient and convenient. Others, who faced withdrawal issues, got timely and professional assistance to resolve them.
Many share the opinion that the service is ideally suited for online sports betting, facilitating withdrawals in less than 24 hours. Some of the users commended the company for its flexibility, delivering its customers with the opportunity to open accounts in multiple currencies. Others state that ecoPayz imposes reasonable charges on bank account transfers.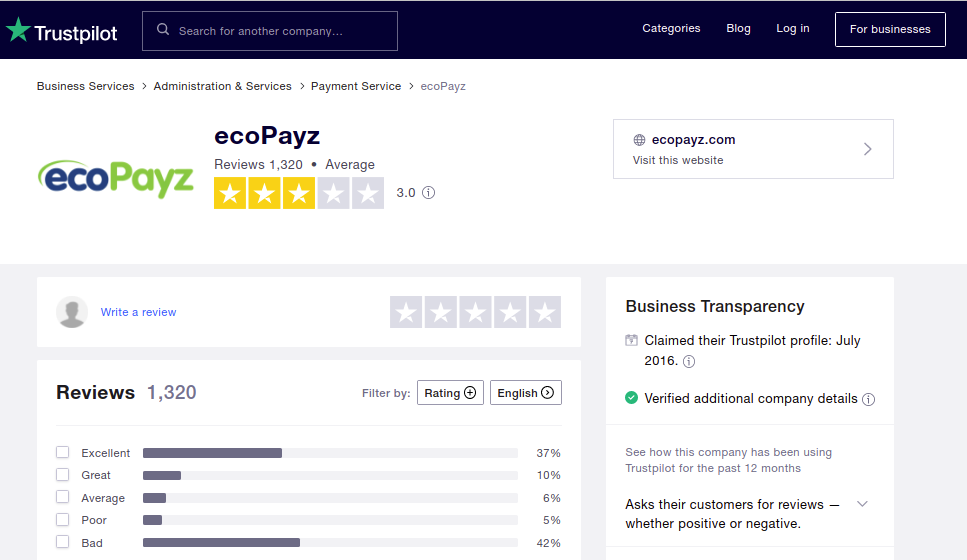 Trustpilot Rating of ecoPayz
Excellent
37%
Great
10%
Average
6%
Poor
5%
Bad
42%
Conclusion
Since its inception back in 2000, ecoPayz has been constantly dedicated to improving the quality and range of its services. As one of the longest-standing digital wallets in existence, the brand has been nominated for prestigious awards over the years, including the 2019 FStech Awards and the 2019 Global Gaming Awards. Such recognitions reflect the company's aspirations to reach excellence in every single aspect.
From instant and secure deposits via the e-wallet account to a great range of additional products, several account levels, and unrivaled flexibility, the brand has a lot to offer.
Last but not least, the ecoPayz customers can benefit from the regular giveaways organized by the brand. Overall, it is safe to state that by choosing ecoPayz for your payment processing platform, you get a service of a world-class level!