France's situation when it comes to the legalities of gambling is quite peculiar. Online wagering is technically legal, but there are many regulations set in place that make the number of choices French punters have fairly limited. At the time of writing, there are just over a dozen and a half bookies that are licensed to operate their websites within the country.
Nonetheless, there are numerous gambling enthusiasts in the jurisdiction who live and breathe sports betting, and what they do have available is more than sufficient.
Moreover, sports betting is pretty popular in France. In fact, the country is one of the hotspots when it comes to wagering on football, which most likely does not come as a surprise to those familiar with the entire European continent's fondness of the sport. Tennis and cricket are also quite well-liked and are certain to be part of the library of any sportsbook looking to impress French punters.
Legalities of Online Sports Betting in France
Overview
History
Legalization
Software
Historical Betting Overview
Although the situation with online games of chance in recent years might lead some to think otherwise, France has quite a rich history when it comes to gambling. It is the home of roulette, after all. It is also where blackjack originates from, and on that topic, French bettors are also the ones who introduced the Queen card into card decks. All in all, it is easy to see that gambling would be quite different nowadays if it were not for the bettors from this country. It is indeed hard to even imagine a world without blackjack or roulette in particular, given these games' popularity.
Nonetheless, gambling in the country had always been in a bit of a tight spot due to France's Catholic background. Its legal relationship with online gambling specifically has been fairly rocky. Things have significantly improved recently, however, thanks to the work of ARJEL and its more powerful successor ANJ, which took over the regulative duties of controlling online gambling in the country in 2019.
Restrictions were, all in all, alleviated somewhat, but the number of licensed bookmakers in France is still not all that high compared to other jurisdictions.
What You Need to Know About Sports Betting in France
Although certain gambling varieties are still not legal in France, sports betting and horse racing, in particular, are thankfully available to French punters. In recent years, the ANJ has been responsible for handing out licenses to nearly 20 bookmakers. Although French punters do not have numerous options in terms of bookmakers, what they do have access to is definitely of top-notch quality given the regulatory body's strict policies and requirements.
As a French citizen, you will be able to wager at sports betting sites, provided that you are at least 18 years old. Furthermore, you will quickly discover that depositing will require you to set weekly deposit limits first, as well as limits on wagers and bank wire transfers. This is due to the fact that bookies must abide by the terms under which they were granted a license by the ANJ. The currency French bettors utilize in their everyday lives is Euro, and France-friendly bookmakers accept payments through it.
In addition, you will be happy to know that websites that accept French punters will typically have quite the catalogs when it comes to bet types. However, you will not be able to partake in spread betting. Spread bets are, unfortunately, illegal according to the current laws of the country.
Odds Format in France
Decimal Odds
Fractional Odds
American Odds
Calculations
French punters, like individuals residing in most countries situated in Europe, tend to prefer to utilize the decimal odds format.
Although fractional and American odds are, in general, available to French bettors, the Decimal odds format provides the easiest and most straightforward way to calculate the potential payouts. This is why it is generally chosen over the others.
To demonstrate, we will look at a supposed €100 bet you want to make, and let us assume that the odds are 1.56.
Here is how one can calculate the potential profit:
stake x odds = stake + profit
100 x 1.56 = €156 (€100 stake + $56 profit)
As you can see, the calculations are super simple, and just by looking at the odds it is clear, at a glance, just how much money you could net and how good or bad the odds are. This is the very same reason why French bettors are fond of this format.
France Betting Laws and Legislation
Due to the country's Catholic background, gambling in France, as a whole, was frowned upon in the past. Some notable exceptions had been made, however, which included sports betting and horse racing.
When it comes to online gambling in particular, 2009 saw the expansion of websites allowed to operate within France provided their services involved strictly horse racing and/or sports betting. In 2010 ARJEL was put in charge of regulating online gambling, and the range of permitted gambling activities was further broadened, although sadly, spread betting was and still remains illegal within the jurisdiction.
As of October 2, 2019, online gambling is under the control of the gaming control board that succeeded ARJEL, ANJ, and the scope of its regulative powers is wider when compared to its predecessor. ANJ also supervises the FDJ and PMU, which used to monopolize France's lottery and horse race betting markets in the past. ANJ is also responsible for actions taken to prevent and address problem gambling. Furthermore, it is this independent authority that can grant and subsequently revoke gambling licenses when necessary.
Acquiring a license from the ANJ is not an easy endeavor, as there are requirements that need to be met. The website's gaming software has to be approved by the regulatory body, for instance. It is worth noting, however, that the sportsbook's leadership can vary, and even individuals are technically allowed to operate a bookmaker.
France Betting Restrictions
For an online bookmaker to be able to operate legitimately in France, they need to acquire a license from France's regulatory body, ANJ. Sports betting and horse racing require different licenses, and if an online bookmaker is to offer both, they will need to acquire two separate licenses. Thankfully, there is no limit on how many licenses the ANJ can grant.
One condition that makes it difficult for foreign bookmakers to offer their services to French bettors is the fact that, by law, a website must be headquartered in the European Union in order to receive a license. Bookmakers with a base of operations within EEA states can also apply for a license provided that they have signed a treaty with France pertaining to the fight against fraud and tax evasion. If a license is granted, it is valid for 5 years and must be renewed after.
Additionally, some of the requirements are fairly typical, such as the fact measures to prevent minors and vulnerable users from accessing the website. For instance, individuals under the age of 18 are forbidden from partaking in gambling activities, which is why sportsbooks must take the necessary measures to prevent minors from wagering at their websites and mobile applications.
Online sportsbooks which operate within France must also have a variety of responsible gambling tools available. Firstly, 24+ hour self-exclusion must be an option for any bettor. In addition, individuals should also be required to set weekly limits on deposits, bank wire transfers, and wagering. Furthermore, setting an effective playing time limit should also be mandatory for a website's users.
Last but not least, it is crucial for punters to have the ability to purposefully put themselves on the list of users prohibited from gambling, and information pertaining to problem gambling and its treatment and prevention must be provided on the website.
Online Betting Regulatory Body in France
Currently, all online gambling activities in France, as well as activities related to the FDJ and PMU ex-monopolies, are regulated by the ANJ. It is a relatively new organization, and in 2019 it took over from the previous regulatory body, ARJEL.
ANJ's duties include issuing licenses to bookmakers that meet the necessary requirements, as well as revoking said licenses should a bookmaker break the terms of the agreement. Additionally, it is also in charge of sanctioning operators that break the law. Taking measures to prevent problem gambling is also part of the gaming board's duties.
Currently, there are a little over 15 bookmakers that are legally permitted to operate within the country, seeing as acquiring a license by the ANJ is no easy task. Operators must have a flawless track record, take all necessary measures to prevent compulsive gambling and minors from accessing the website's services, and provide self-exclusion options among many other requirements.
Popular Betting Markets in France
Football
Tennis
Volleyball
Basketball
Sports, as a whole, are a beloved past-time for many people in France, not just to partake in but to spectate as well. This has led to sports being quite popular within gambling circles, seeing as many people prefer to apply their knowledge about their favorite sports and teams and online bookmakers are the perfect place to do so.
Talking about sports in any European country without focusing on football, also called soccer, is pretty much impossible, and it will not come as a surprise that French bettors are among the millions of people in the Old Continent that absolutely adore the sport. French bookies tend to include leagues such as Ligue 1, Coupe de la Ligue, and Coupe de France, among many more. In addition, markets the likes of both teams to score, first goalscorer and the away team wins both halves are all available as options.
French punters are quite fond of volleyball, seeing as the sport is pretty well-liked in the country and also when it comes to gambling. There is much to choose from in terms of the leagues present in sportsbooks, including Ligue B, LNV Ligue A Masculine, and the UEFA Nations League. When it comes to bet type variations, punters can come across markets like match-winner and number of sets, among others.
Another quite popular sport is tennis, and it tends to attract tons of spectators. Punters are not an exception, and bookies have numerous options available. Set winner, number of sets, first set match-winner, and more are just some of the bet variations bettors can choose from. As for leagues, Instead Fonty, and Paris Expats can be found and this list is not exhaustive.
Last but certainly not least, we must also mention horse racing. This sport has a special place in the hearts of numerous gambling aficionados, which is why it has quite the presence in pretty much any bookmaker's sportsbook that caters to French bettors. Markets like top 5, top 4, and in-play are some of your options. As for leagues, there are plenty such as the Poule d'Essai des Pouliches, Grand Prix de Paris, Prix Royal-Oak, and more.
Popular Betting Markets in France Summary
Sport
Leagues
Soccer
Ligue 1, Coupe de la Ligue, Coupe de France, Division 2 Féminine
Volleyball
LNV Ligue A Féminine, LNV Ligue A Masculine
Tennis
Roland-Garros, Instead Fonty, Paris Expats
Horse racing
France Galop, Grand Prix de Paris, Prix Royal-Oak
France Online Betting Bonuses
Promotions
Match Bonus
Free Bets
Enhanced Odds
Although, as previously established, the number of online sportsbooks licensed to operate in France is not big, it is still enough to incentivize competition between the bookmakers, and what better way to attract new punters than to shower them with promotions.
Registration bonuses that grant bonus funds and free bets are quite popular, seeing as they are a quick and sure way to attract potential customers to the bookmaker's websites. In addition, another one of the most attractive bonuses is the so-called deposit bonus, which entails that a customer's bonus will be matched by a certain percent. These promotions are usually subjected to wagering requirements, and a user can cash out once they have been met.
Referral bonuses are also quite common and popular. Bookmakers are especially fond of making such promotional offers, as are punters due to the fact that they can receive a lot of goodies for simply inviting a friend to join the website.
Boosted odds are another form of promotion that is fairly well-liked, and speaking of wagering, bet insurance is a feature French punters will often come across. Regular bettors will also often be presented with the option to join loyalty programs which will, again, provide them with free goodies.
It is important to keep in mind that apart from wagering requirements, there are typically many more rules related to each bonus which are cleared up in the terms and conditions. For instance, you will often be left with a limited amount of time to take advantage of an offer. You will also typically be required to wager your bets on specified odds, and the amount of money wagered and won will often have a minimum and maximum range you will need to abide by.
Mobile Betting in France
Mobile Play
Download App
Browser In-Play
Download via QR
Smartphones are pretty much a staple of the lives of modern individuals, and those who reside in France are no exception. Between work and running errands, most people tend to lead their lives on the go, instead of staying home. This means that computer usage is generally limited compared to how often bettors in particular use their phones when they are on the bus, at the park, and so on.
Gambling websites that can operate within France keep this in mind and thus tend to provide numerous methods of wagering on mobile devices. Optimizing the actual websites to work on smartphone browsers is the first popular way of making a bookmaker accessible on the go. This usually entails a special mobile-only UI design that scales well on smaller screens, as well as making sure that the software within the bookmaker or casino is powered by HTML5 and will thus work on any mobile browser.
The second type of mobile solution French bettors will come across are dedicated apps for either Android or iOS devices. Punters who use Samsung, OnePlus, or any other smartphone brand powered by Android will have the option of installing a dedicated application from the Google Play store. Although certain jurisdictions strictly prohibit any and all gambling applications from being made available on the platform, sportsbooks included, France is thankfully not one of the countries in question. So long as a bookmaker that has developed a mobile application is properly licensed, French bettors will be able to find it on the Google Play store. Bettors who have iOS devices are also in luck and have the option to download standalone bookmaker applications themselves. They can do so via the Apple App Store.
Popular Betting Banking Methods in France
Bank Transfer
Credit Cards
E-Wallet
Prepaid Cards
Wagering online is similar to betting at land-based gambling venues in the sense that you will have to use real money if you wish to win cash. The process of managing your finances plays a key role for bettors, and it thus needs to be as hassle-free as possible in order for it not to hinder the wagering experience. This is why it is crucial for bookmakers to provide a wide variety of deposit and withdrawal methods. French bookies have fortunately taken this into account, and offer a good number of banking solutions for punters to choose from.
Credit and debit cards are a good example, seeing as they are pretty sought-after by punters. This is mainly due to the fact that they are a familiar payment method, and are thus quite convenient for most gambling enthusiasts. French residents can choose between Maestro, Mastercard, and Visa cards. Bank transfer is another payment solution most French bettors are experienced with, and is available at many bookmakers.
For more privacy-conscious individuals who would rather not share all of their banking information with bookmakers, e-wallets are the perfect option, and bettors who reside in France can make use of services such as Skrill, Paylib, and Neteller.
In addition, utilizing PayPal is a good way of managing one's finances, and gambling enthusiasts are also able to use prepaid vouchers which include MoneyClic, Neosurf, and Paysafecard as well if they wish. Other prepaid services like Ticket Premium are also viable, and you can also make use of the pan-European network SEPA or a payment service provider like HiPay.
Popular Banking Methods in France
Payment Method
Fees
Deposit Limits
Deposit Times
Withdrawal Limits
Withdrawal Times
Visa
Free
€10 min
Instant
€10 min
1 to 3 days
Mastercard
Free
€10 min
Instant
€10 min
1 to 3 days
Maestro
Free
€10 min
Instant
€10 min
1 to 3 days
Paysafecard
Free
€10 min
Instant
N/A
N/A
Neosurf
Free
€10 min
Instant
N/A
N/A
Ticket Premium
Free
€10 min
Instant
N/A
N/A
Moneyclic
Free
€10 min
Instant
€10 min
48 hours
Paypal
Free
€10 min
Instant
€10 min
48 hours
Skrill
Free
€10 min
Instant
€10 min
48 hours
Neteller
Free
€10 min
Instant
€10 min
48 hours
Bank transfer
Free
€10 min
Instant
€10 min
1 to 10 days
Paylib
Free
€10 min
Instant
€10 min
48 hours
HiPay
Free
€10 min
Instant
€10 min
48 hours
SEPA
Free
€10 min
Instant
€10 min
48 hours
What to Watch When Picking France Betting Site
Security
Customer Support
Mobile Compatibility
In-Play Betting
The strict laws in France have ensured that any bookmaker you can access is reputable and trustworthy. However, gambling enthusiasts do have their preferences so there is quite a lot to consider when you are attempting to pick your bookmaker of choice.
One of the first things you should look into is the banking solutions available. Although most sportsbooks will offer a well-varied selection of payment methods, it is still important to know if your preferred payment solution is an option. Going through the process of registering and then verifying your identity, only to later discover that you will be unable to deposit because what you personally use is not offered can make for a nasty surprise. Thus, it is better to check this first and then continue researching everything else.
Another thing that is of quite significant importance is the bonuses. Welcome offers are very common and to be expected, but pay special attention to things such as loyalty programs, weekly bonuses, and pretty much any promotion available to a bookmaker's regular customers. This is important because if you are to stick with a bookie, it is good to know exactly how they will treat you if you become a loyal customer.
Lastly, check if the website has a mobile version and dedicated applications for Android or iOS devices. Typically sportsbooks will offer at least one option to bet on the go, even if it is just the main website optimized to work on smartphones. Not all bookmakers, however, will have created downloadable applications. If a dedicated app for your chosen bookmaker is crucial to you, then definitely make sure that the sportsbook you are eyeing has provided it as an option.
Best 10 Betting Sites in France
French bettors have a relatively small but still sufficient number of bookmakers to choose from. However, gambling enthusiasts do have their preferences so there is quite a lot to consider when someone is attempting to pick their betting website. We have compiled a list of some of the best bookies available, and a vast selection of markets, promotions, and sports variations await punters.
Pari Mutuel Urbain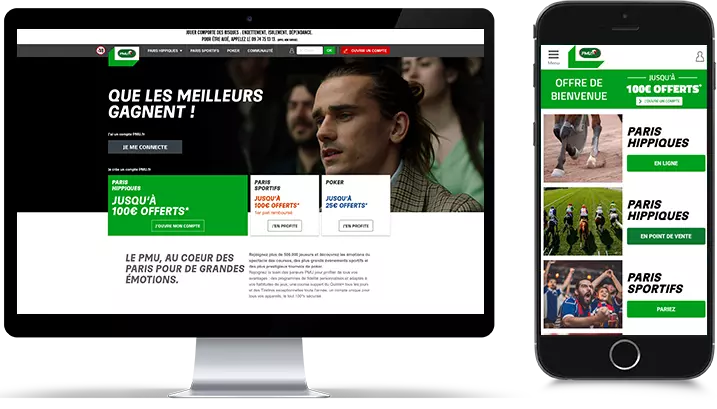 Pari Mutuel Urbain, also known as PMU, is an oldie but a goodie for gambling enthusiasts who reside in France. Established in 1930, the company used to focus strictly on horse racing. In the past 10 years or so, however, the bookmaker started offering sports betting as well. Although it no longer monopolizes France's horse race betting industry, it is certainly a website worth considering given that the bookmaker's reputation is pretty much excellent. Its nearly century-long lifespan and excellent services have basically allowed the bookie to remain popular and trusted among punters to this day.
Design-wise, we are quite happy to report that the interface is very easy to use. Looking through the website's excellent variety of markets is a breeze not only on computers but on mobile devices as well. The bookmaker has made its website compatible with Android and iOS devices, and you can also find the downloadable applications on either operating system's app stores.
Excellent mobile compatibility
Numerous sports types and markets
In-play
A variety of ways of contacting support, including methods that accommodate hearing-impaired individuals
You need to download 2 apps if you want to bet on both sports and horse racing
Customer support is not available 24/7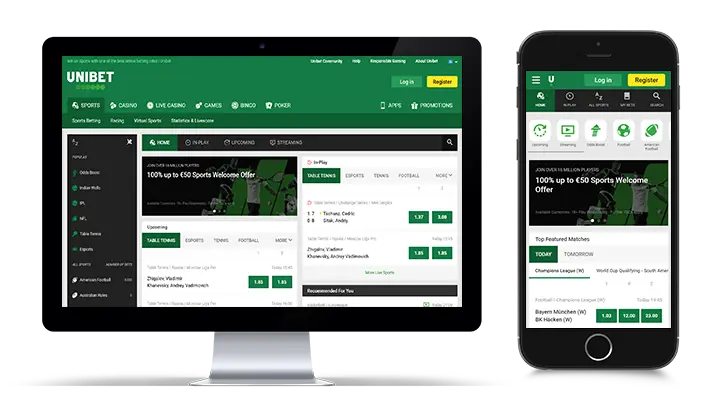 You will seldom come across an experienced punter who is not familiar with this absolute giant in the wagering world. Unibet is an experienced bookmaker that has been around for over twenty years and counting, and its reputation has only continued to grow.
It is licensed by numerous credible regulatory bodies around the world, and this, of course, includes France's ANJ, the organization responsible for regulating online gambling within the country. The betting software is pretty much perfect as it provides an intuitive experience, and there are quite a few sports and markets on offer.
In addition, you will also find that any potential issues can be resolved by a simple visit to the website's help center and, if necessary, contacting support through either live chat or email. We do wish customer support was easier to access, as it takes some digging in the help section to find it. Nonetheless, we are quite happy with the service itself especially since it operates around the clock.
24/7 live chat
Excellent user interface
Great mobile compatibility
Various sports
Hard to locate live chat
The verification process is troublesome for some users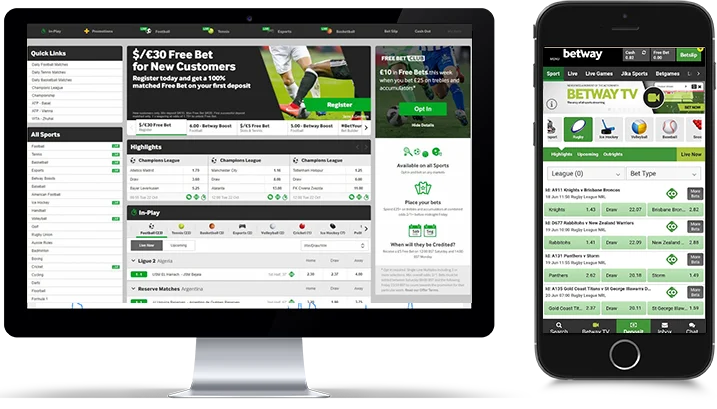 Betway is quite the popular bookmaker among punters from all around the world, and it has also provided its excellent sportsbook to French gambling enthusiasts. The website has operated for over a decade now, and this longevity is owed to its excellent variety of markets and the overall quality of the bookmaker's services. It supports many international languages, including French, so punters in France will be able to use the website in their native language.
Upon visiting the bookie, French bettors will be met with a good selection of sports and events, and live betting is also an option. In addition, Betway's customer support is known to be swift and helpful during correspondence.
Wagering on the go is also possible and quite a lovely experience, considering that Betway has provided a dedicated sportsbook application to both Apple users and Android bettors. For those who would rather not download any apps, the website works very well on mobile browsers.
Live betting is available
Great market variety
Convenient mobile solutions
Certain international promotions are not available to French punters
The visual design is a bit plain
Pokerstars Sports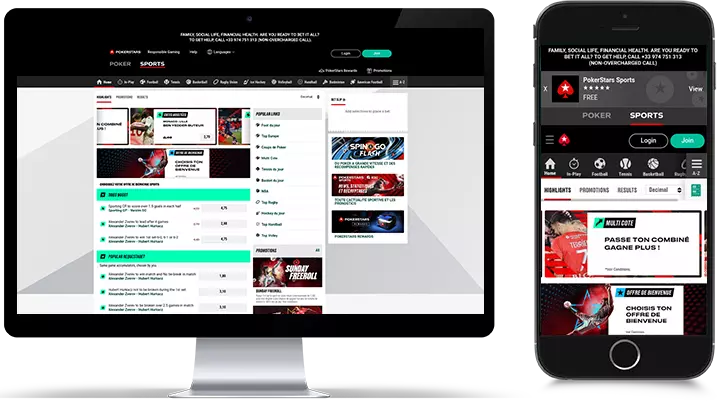 Pokerstars Sports, owned by Flutter Entertainment Plc, is a division of Pokerstars that launched in 2016, and is strictly dedicated to sports betting. The bookie immediately impresses with its clean but classy interface, and the user experience of navigating throughout the website is pretty great, seeing as the layout is quite easy to use.
Although the deposit and withdrawal options are not exactly abundant, they will be more than enough for most punters. You will be able to find the solution you need regardless of whether your preferences include credit cards or e-wallets.
Furthermore, the bookie has taken into account that modern-day gambling enthusiasts are busy individuals who will often wager while they are out and about, as opposed to sitting in front of their computers. You can download the official applications from either the Google Play store if you utilize an Android device, or from the App Store if your smartphone runs on iOS.
Varied sportsbook
In-play
Dedicated smartphone applications
Customer support only available through email
Customer support correspondence can take a while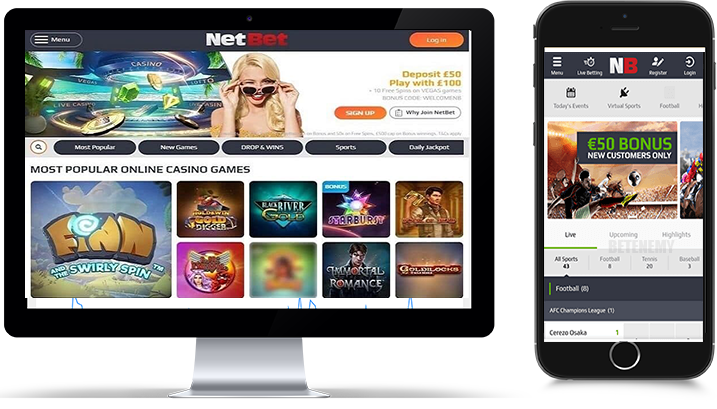 NetBet is an over 20-year-old bookie that strives to impress its customers, which is evident throughout the website. Firstly, the customer service on offer passes with flying colors. Not only is there a wide range of options available such as live chat, WhatsApp, email, and more, but the correspondence has been known to be consistently fast and very helpful.
As for the website's sportsbook, Netbet offers a sufficient number of sports, although the lack of eSports is a shortcoming. Nonetheless, the markets that are offered are excellent, with outrights, both teams to score, system bets and more being available. The clean and useful bet slip just serves to further enhance the experience.
In addition, it is also worth noting that Netbet provides live streams of certain events, which is something that makes in-play betting all the more exhilarating.
Punters on the go will be happy to find that the website's performance on mobile devices is very good. Everything is clear and easy to read, and finding your way within the menus is exceptionally easy and streamlined.
Excellent customer service
Good range of payment solutions
Great bet slip
Live streams
No eSports
Live chat does not operate 24/7
Betclic
Founded in 2005, Betclic is a French bookmaker known for the numerous sports and bet variations it provides to its punters. Soccer, MMA, golf, and basketball are just a few of the 20+ sports that are available in the website's catalog.
Betclic is quite fresh in terms of its appearance, and finding your way through the menus is a breeze as well. The experience is not much different on mobile devices either thanks to the fact that the website runs well on both iOS and Android devices regardless of your browsers of choice. There are also applications that can be downloaded from the respective app stores.
Lastly, you will be happy to know that if you run into any issues, Betclic has your back. You can contact customer support via live chat or email, depending on which one you prefer. Do note that while email support is available 24/7, live chat can be utilized between 08:00 and 00:00.
Easy to use bet slip
Convenient UI
In-play
Excellent variety of promotions
No 24/7 live chat
Banking solutions are relatively limited
Joabet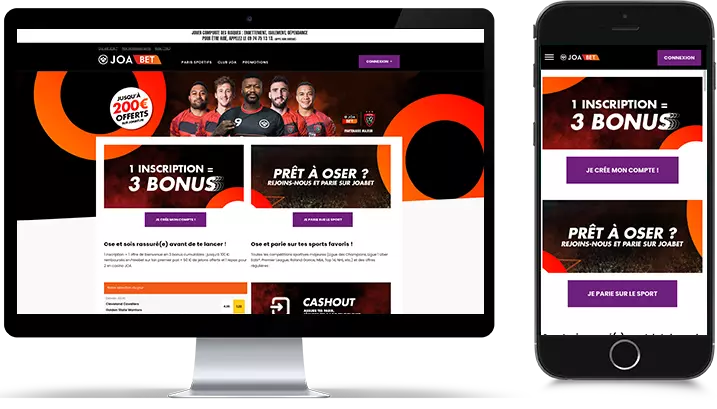 Previously known simply as Joa, Joabet is a French sports betting website known for its excellent wagering software, thanks to its partnership with Belgian GAMING1.
The website has not created dedicated smartphone applications for either Android or iOS devices, but it has ensured that the website's mobile interface is excellent in terms of mobile compatibility. The bookie will load on just about all mobile browsers, and readability and navigation are not an issue due to the fact that everything scales perfectly regardless of your smartphone's screen size.
In addition, we are also quite happy with the sportsbook itself, seeing as a good number of sports variations and markets are available. Joabet is well designed in terms of its visual interface, even if it is a bit plain, and navigation is quite easy as well, although we do wish the bet slip's position was more convenient. The payment methods are another shortcoming, seeing as e-wallets are not available.
Good mobile compatibility
Intuitive betting software
Sufficient number of sports
No e-wallets
Customer support is only available via email
Feelingbet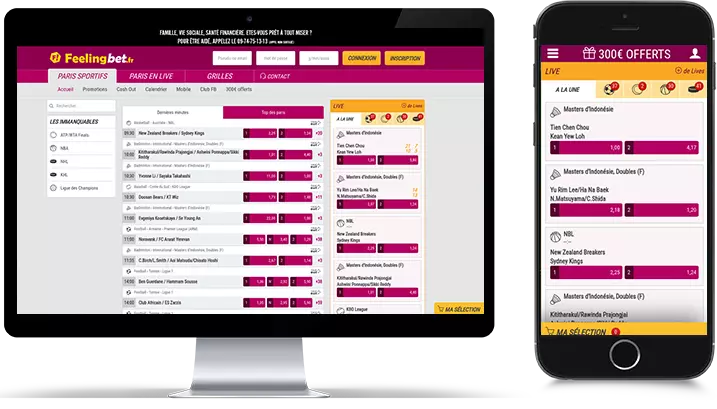 Feelingbet is a recently launched bookie which operates in France. It features a varied sportsbook that presents you with choices such as soccer, boxing, golf, and others. The website is also well-stocked with bet variations ranking from accumulator wagers to the sought-after live bets.
Due to the fact that more and more punters have started to prefer using their phones for wagering, Feelingbet has provided various ways for them to utilize the bookmaker on mobile. The website itself works very well on smartphone browsers, but those who prefer dedicated applications can download Feelingbet from either Google Play or the App Store, depending on whether the person in question uses Android or iOS devices.
In addition, deposits and withdrawals are a breeze to execute thanks to the sufficient number of banking solutions bettors have at their disposal.
We were pleased to see that customer service can be contacted around the clock. It should be noted that live chat support is not available, however.
Dedicated smartphone apps
Excellent user interface
Good selections of sports and bet types
No live streaming
No live chat support
Genybet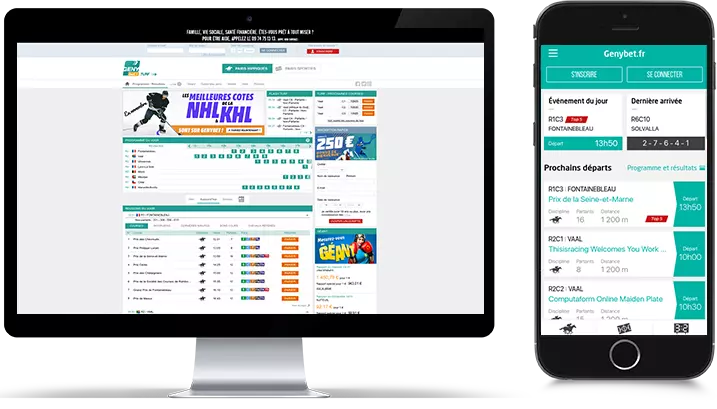 Genybet is a French bookmaker which launched in 2010, and it initially focused primarily on horse racing before branching out into other sports in 2013.
Upon visiting the website, you are greeted with a refreshing user interface, and there are various sports at your disposal. The sports in question include golf, handball, soccer, horse racing, and about a dozen and a half additional options. Popular sports will typically enjoy events in the realm of hundreds or even thousands. You will also discover that there are numerous bet types on offer and you will come across the likes of system bets, accumulator bets, and outrights to name a few.
Where Genybet does fall short, however, is its deposit and withdrawal options. Visa and Mastercard, as well as services such as Paysafecard are accounted for, but there are no e-wallets. In addition, we also would have liked for more customer support options to be available.
Many sports types and markets
In-play
Dedicated smartphone applications
No live chat
No e-wallets
Slow customer support correspondence
VBet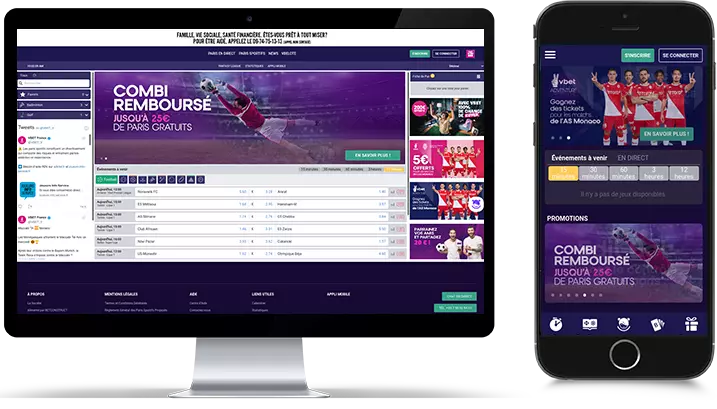 Established in 2019, VBet Sports is a promising new bookmaker. It is part of VBet, a company with over 13 years of experience on the gambling market. The bookie features a fun but very well-organized layout.
Apart from offering a fun UI and good customer support options, the bookmaker further demonstrates how much it cares about its customers by not neglecting to provide access to services that aim to help those who suffer from problem gambling.
In addition, it is worth pointing out that VBet also offers Hong Kong and Malaysian odds, which are not commonly found at European bookies. Although French punters tend to stick to the decimal odds format, more choices are always welcome.
It is important to note, however, that this diversity does not extend to the sports events offered at VBet. Unfortunately, VBet's French website currently offers only football, tennis, badminton, and snooker. It should be noted that for those looking for one or more of the aforementioned sports, VBet is perfectly sufficient, but those who prefer more variety would need to look elsewhere.
Downloadable Android and iOS apps
Sufficient number of customer support options
Fun user interface
Various odds formats
Limited number of banking solutions
Limited number of sports