Canadian sports betting fans are lavishly provided with a wealth of online bookmakers to choose from. The same holds true for the supported payment methods that are specifically tailored to meet their requirements and needs. One company that could be definitely distinguished from the rest is Gigadat.
The team standing behind the brand consists of expertly trained payment professionals whose values are focused on integrity and excellence in every aspect of their work. They have insightfully identified the need for a safe and trustworthy network of online payment methods.
With an ever-increasing share of online transactions in Canada, Gigadat facilitates to a great extent online banking payment solutions. Initially, a small enterprise, established in Winnipeg, Manitoba, the company has expanded to cater to the financial needs of millions of Canadian customers enabling them to carry out easy, fast, and safe online transactions.
Gigadat incorporates Pay-in and Pay-out solutions acknowledged all over Canada, allowing customers complete access to the national network of financial institutions. To deliver 100% trustworthiness to its customers, the company has developed a native Secure Online Reporting Interface branded BluSky.
Some of the well-known solutions supported by Gigadat include INTERAC e-Transfer and INTERAC Online. Another product that has yet to gain popularity is the digital wallet Express-Connect E-Wallet.
Currently, the line of Gigadat's products is available to Canadian users only. We are going to check into the solutions Gigadat is offering, along with their specifics regarding depositing and withdrawals, benefits and drawbacks, regulation, and security.
Registering an Account with Gigadat
A lot of Canadian bettors use Ggigadat's services without even realizing it, but they have most probably already heard of and used its most popular products, Interac e-Transfer and Interac Online. To use those products, bettors should register an online banking account with any of the supported financial institutions. So, the solutions do not require further registration.
However, Gigadat supports a digital wallet solution, Express Connect e-Wallet, whose registration process we will examine in detail.
Interac e-Transfer
Provided that bettors use the online banking services of any of the financial institutions that are supported by Gigadat, they are able to initiate deposits directly from their bank accounts. All they need is the receiver's e-mail address or mobile phone number to be able to send payments. Funds are received instantaneously by the recipient.
Users receive notifications over e-mail or by phone. The network of merchants supported by Gigadat includes over 250 financial institutions and credit unions.
Among Interac e-Transfer's main advantages is the fact that the method supports not only deposits but withdrawals as well. Punters have the opportunity to check the status of their transactions on Gigadat's website, under the section E-Transfer-Status.
Interac Online
Interac Online is yet another online payment service provided by Gigadat allowing punters to carry out easy, fast, and safe deposits to online bookmakers. The process is quite straightforward and slightly less time-consuming compared to that of Interac e-Transfers. Interac Online is compatible with any of the participating financial institutions and credit union bank cards, with the exception of Visa and MasterCard brands.
While Interac e-Transfer facilitates both deposits and withdrawals, Interac Online can be utilized for deposits only. Although some of the Canada-friendly bookmakers support both Interac e-Transfer and Interac Online, the more popular option is the first one.
Express Connect e-Wallet
Users who have taken the time to investigate in more detail Gigadat's website have probably noticed that the company has also developed a digital wallet solution, branded Express Connect e-Wallet.
The solution is unfortunately not popular with online sportsbooks but given the fact that it offers great convenience and flexibility, we hope that soon it will be more widely embraced. Below, we provide a short guide to the registration process for Express Connect e-Wallet, hoping that it will gain traction fast enough.
To begin the registration process, users should enter the wallet's website and type in their first and last name, followed by a user name. Then they are supposed to enter a password, their e-mail, and mobile phone number. The next fields, containing information about the user's home phone number and office phone numbers are not obligatory to populate.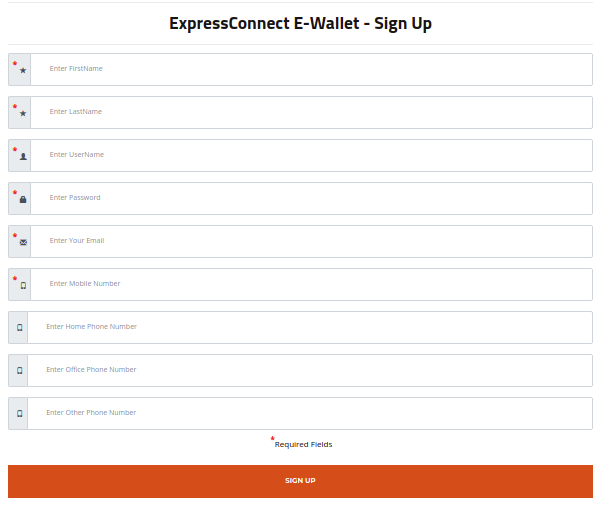 Once users open an account with the e-wallet, they can top it up using a PayPal account, a credit card, or Interac e-Transfer. They may also use the wallet to withdraw funds by linking the account to their checking or savings account.
Gigadat Registration Requirements
Copy of ID/DL
Yes, for Express Connect e-wallet
Utility Bill
Yes, for Express Connect e-wallet
Link bank account
Yes, via Interac Debit
Link bank card
Yes, via Interac Debit
Depositing with Gigadat
As already stated, Gigadat's products that allow deposits to online sportsbooks include Interac e-Transfer and Interac Online.
Bettors who prefer to make deposits to online bookmakers using Interac e-Transfer should make sure that they have an online banking account with any of the brands supported by Gigadat. To be able to handle their deposits, they need a valid e-mail address or a phone number.
Once punters have registered with the sportsbook of their choice, they should navigate to the Cashier section and click on Interac e-Transfer from the list of possible options.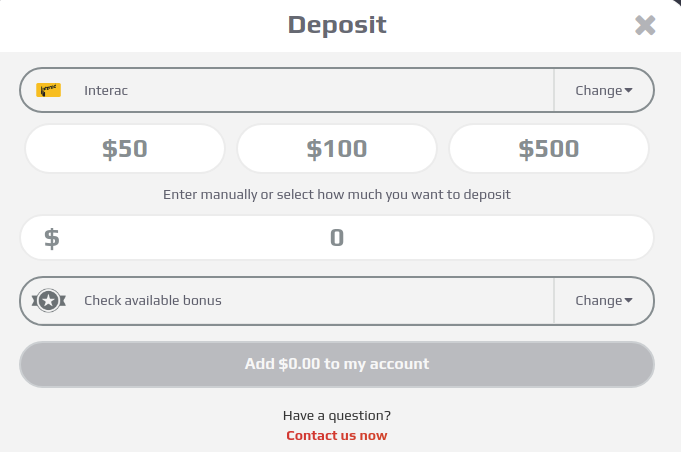 Next, they should type in the amount of money they wish to deposit to their sports betting balance. Sports betting fans will then be redirected to the Interac E-Transfer's page where they are supposed to select a participating bank. Once they have logged in to their online banking account, they need to type in the deposit amount, as well as answer a security question.
The latter could be skipped by opting for a feature called Autodeposit. By taking advantage of this functionality users are able to process their payments in a less time-consuming manner. Once you confirm the banking operation, you will be directed back to the webpage of the online bookmaker, where you will be able to start wagering right away, as transactions are immediately processed.
Yet another depositing option at the disposal of Canadian punters is Interac Online. Payments initiated via it feature the same level of security as that of Interac e-Transfer plus an added degree of simplicity. It stems from the fact that Interac Online connects users directly to their bank accounts.
The end-users utilize their bank card to handle payments similar to the way they do with credit cards for their online purchases. To transfer funds to their sports betting balance, punters should navigate to the bookmaker's Cashier, where they need to select Interac Online from the drop-down list. Then they are supposed to enter their online banking and select the account they wish to use. After that, they are prompted to approve the payment amount.
Having confirmed the payment, bettors will be returned to the bookmaker's website, where their deposit will be instantaneously handled.
The Express Connect e-wallet supports the function of making online deposits as well, however, it is still not widely embraced by online bookmakers. Similar to the way other digital wallets function, the Express Connect e-wallet allows users to make online purchases without exposing any of their sensitive financial data.
Depositing with Gigadat Summary
Timeframe
Instant
Minimum per transaction
CAD10
Maximum per transaction Varies across bookmakers
Fees
Free, on behalf of Gigadat
Available currencies
CAD
Withdrawing with Gigadat
The process of withdrawing via Gigadat's products is very similar to that of depositing. Customers of Gigadat should be aware of which products they can utilize to withdraw their accumulated sports betting winnings, as well as any important specifics of the withdrawal process.
Gigadat's product that works both ways, and facilitates both deposits and withdrawals is Interac e-Transfer. To request a withdrawal, bettors need to navigate to the Cashier section and go through the list of possible withdrawal methods. Once they choose Interac e-Transfer, they should populate the amount they wish to withdraw from their sports betting balance.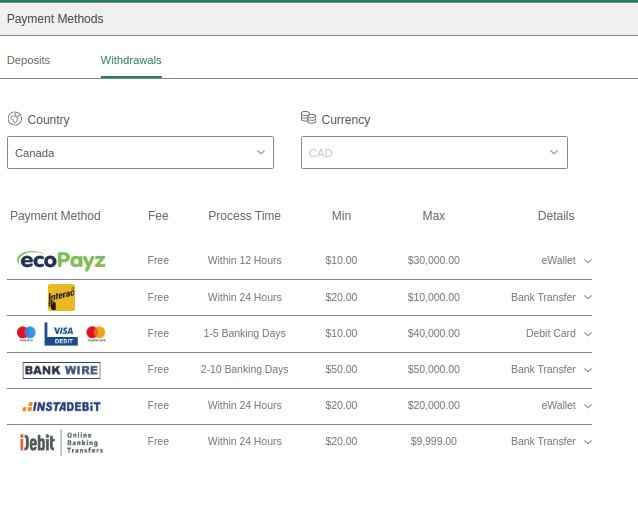 And that is pretty much all they are supposed to accomplish to request a withdrawal. However, it is good to bear in mind that withdrawals from sports betting operators are not instant as deposits. The withdrawal process is longer due to the fact that online bookmakers are obliged to perform manual verification procedures before they approve their customers' withdrawal requests.
This is done to make sure that funds are transferred to the correct person and that all requirements for safety and transparency are adhered to.
In case users of Gigadat would like to use the Express Connect e-wallet for withdrawing purposes, they should link it to their checking or savings account.
Withdrawing with Gigadat Summary
Timeframe
Instant, once account verification is over
Minimum per transaction
CAD10
Maximum per transaction
Varies across bookmakers
Fees
Free, on behalf of Gigadat
Available currencies
CAD
Fees Related to Gigadat Betting
Sports betting enthusiasts will surely be delighted by the fact that Gigadat does not charge additional fees for financial transactions that were realized through its platform. However, this may not hold true for the specific financial institution that bettors are using.
As different financial institutions and credit unions have their unique set of internal policies and fees, they should be individually checked. Account-holders are advised to contact the customer support department of their participating financial institution and require if there are any additional applicable fees.
Bettors will rarely come across a reputable bookmaker who imposes extra charges on deposits and withdrawals. While this is highly unlikely, as per the contemporary best practices established within the sports betting industry, it is not entirely impossible. So, punters should not forget to check that aspect as well.
Conversion fees are yet another aspect of sports betting costs that need to be taken into consideration. Canadian bettors who have established accounts with bookmakers not supporting the CAD currency will most likely have to pay additional conversion fees. However, in view of the fact that Canada-facing bookies try to cater to the punters' needs and preferences, they will most probably support their currency.
Fees Related to Gigadat Summary
Initial setup
Varies across participating banks
Account review
Varies across participating banks
Maintenance fee
N/A
Inactivity fee
N/A
Benefits of Betting with Gigadat
Similar to any other payment processing products, those of Gigadat come with their unique set of pros and cons. As you will see, however, the strong points greatly outnumber the shortcomings.
Security

It might be quite reassuring for bettors to know that Gigadat allows for incredibly safe online payments that do not require them to reveal any sensitive financial information. The monetary transactions are completed through the online banking of the participating bank institutions that bettors have an account with. And as we all know, the level of security that bank institutions provide is quite a robust one.

Ease of use

The fact that most of Gigadat's products do not involve additional registration is quite appealing to users. All they need to have is an account with one of Canada's banking institutions listed on the brand's website (over 250) and active online banking. The only exception that requires registration is the Express Connect e-wallet.

No additional fees

Gigadat does not charge its customers any additional fees for transactions carried out via its online platform, meaning that your deposits and withdrawals from online bookmakers are cost-effective. However, the participating banking institutions have their own policies and fees that need to be additionally checked.

Wide availability in Canada

In case you are a Canadian sports betting fan, you will most probably have already established an account with one of Gigadat's financial partners and opted for its online banking services. Gigadat's services are compatible with over 250 different banks and credit unions in Canada. This is possibly the best payment solution for Canadian punters, as it incorporates a number of different products that make fast and secure online transactions possible.

Interac e-Transfer Autodeposit function

The Autodeposit function is one very useful feature, which Interac e-Transfer online account holders may opt for. It allows them to skip the part where they are supposed to answer security questions, which speeds up the whole process.

Speed of transactions

While still on the topic of speedy transactions, we cannot ignore the fact that all of Gigadat's products facilitate instantaneous deposits to bookmakers. This is great since bettors are able to start wagering on in-play markets that require instant reactions to the way games are unfolding.
Drawbacks of Betting with Gigadat
Gigadat's products are ultimately the perfect financial tools that sports betting aficionados may resort to for their deposits to and withdrawals from Canada-friendly online bookmakers. However, they have their own imperfections that customers of the brand should be familiar with.
Not available outside Canada

The fact that Gigadat's line of products is currently available to Canadian punters only can be considered also as a drawback in view of the great features that the brand offers. The platform is currently compatible only with Canadian financial institutions. Hopefully, this will change in the near future, and the company will expand its operations to other parts of the world.

Interac Online supports only deposits

As great as Gigadat product's features and functionalities are, we cannot ignore the fact that Interac Online supports only deposits. That is actually not a great problem, taking into consideration that Interac e-Transfer handles bot deposits and withdrawals.

The Express Connect e-wallet's lack of popularity

The Express Connect e-wallet still does not have the wide acclaim and popularity that Interac e-Transfer and Interac Online boast. Taking into account it is a great online tool to store your funds and carry out hassle-free payments and withdrawals, it would be nice to see it listed in the cashier sections of leading sportsbooks.
Regulation and Availability of Gigadat
Gigadat's solutions function in compliance with a banking network, spanning the whole of Canada. Some of Canada's largest financial institutions participating in Gigadat's platform include Bank of Nova Scotia, Toronto Dominion Bank, Banque of Montreal, National Bank of Canada, and Royal Bank of Canada, among others.
As a reliable platform connecting Canada's most notable and widely recognized banks, the financial environment is regulated by FINTRAC (Financial Transactions and Reports Analysis Centre of Canada). As an entity adhering to FINTRAC's regulations, Gigadat is fully compliant with AML rules.
FINTRAC is the national financial intelligence agency of Canada, keeping control over the detection and investigation of money laundering and financing of terrorists' schemes. Furthermore, the institution receives reports from regulated entities regarding suspicious transactions and unlawful online activities. In its turn, FINTRAC reports to Canada's Ministry of Finance.
Gigadat operates in full conformity with Canadian laws and the regulations of FINTRAC. This definitely adds to the degree of security offered to the brand's customers.
Gigadat's current focus of operation is solely aimed at the Canadian market. The solutions offered by the brand work in compliance with Canada-based banking institutions and credit unions. With the Canadian population reaching well over 36 million, 32 million are using at least one of Gigadat's products. This speaks volumes of the unprecedented quality of service and nationwide recognition of the brand.
In line with the needs of its Canadian customers, the website of Gigadat is supported in the two main languages within the country – English, and French.
Gigadat Security
Security will be none of your concerns if you opt for one of Gigadat's solutions to manage your online transactions.
First of all, Gigadat relies on high-end encryption technologies, ensuring that customers' confidential information stays secure. This method of data protection encodes sensitive information, rendering it completely unreadable to potential online fraudulent activities.
Secondly, Gigadat employs various other security measures ranging from security questions to real-time transaction reporting. All of these measures are designed to ensure that customers are 100% sure that no one else has access to their online banking operations. Payments initiated through mobile devices are also secured by biometrics and authentication passcodes.
Furthermore, transactions are actually occurring through the online banking platforms of the participating banking institutions, requiring safe log-ins with your online banking user name and password. As is probably known to many, banks utilize the most reliable security mechanisms, so this is actually an additional layer of trustworthiness that Gigadat's customers are privileged to.
Overall, Gigadat offers a great level of security for online transactions, combining several advanced technologies and sophisticated security measures.
Gigadat Security Summary
SSL
Yes
Two-factor authentication
N/A
Face ID
Yes
Touch ID
Yes
App/SMS Notifications
Yes
Gigadat Customer Support
In case customers face any issues related to their payments, they can always check the FAQ section, delivering answers to various queries.
Alternatively, they can use the Contact Us Form to get in touch with a company's representative and receive individual help. The support specialists are available 24/7 and many users of the platform report complete satisfaction with the level of service provided.
Queries related to customers' privacy can be sent to privacy@gigadatsolutions.com.
Gigadat Reviews From Around the Web
Interac e-Transfer, Interac Online, and the Express Connect e-Wallet are Gigadat's products that are most commonly used for all types of online transactions in Canada. Functioning as a safe and trustworthy interbank network, Gigadat and its products are utilized by an impressive portion of the Canadian population.
Sports betting aficionados based in Canada also rely on Gigadat's solutions to manage their funds to and from online bookmakers. If you still have not come to a decision if Gigadat's products are right for you, you can always check the various online reviews written by sports betting specialists.
As far as personal opinions from customers of the brand are concerned, we were not able to find such at Trustpilot or a similar website. However, on Reddit, we came across some assessments and comments of Gigadat's users reflecting their personal experience with the brand.
Negative Gigadat Reviews
No matter how popular Gigadat's solutions are in Canada, it is the actual users' experience that is of importance. Although we might not encounter any issues with the brand's products and enjoy a hassle-free time using them, this does not mean that other users have not had any problems. So, that is why it is good to have an overall idea.
The most recent comments on the subject are with regard to Interac e-Transfer Autodeposits not arriving. Customers share they have been using the brand's services for quite some time and have the Autodeposit function on. However, they did not receive a payment. The reason was due to the customers' receipt of fraudulent payments.
Other comments revolve around users not being able to resolve their issue, although they have sought help both from Interac and their banking institution. E-transfers taking more time than expected seems to be another common issue.
As far as Interac Online and the Express Connect e-wallet are concerned, it is predominantly their unavailability at online merchants that users are complaining about.
Positive Gigadat Reviews
Gigadat's services are generally favored by Canadians due to the incredible convenience and ease of use they provide. Users are able to conduct secure online payments to various e-merchants, including instant deposits to sportsbooks.
Many customers appreciate the fact that they do not have to create a new account in order to use Gigadat's products since it is a payment processor. They simply need to have an account in one of the participating bank institutions or credit unions, as well as active online banking. Unlike e-wallets, Gigadat's services also do not involve account verification and additional transfer of funds to the account.
Others report contentment that their transactions were instantly processed. Furthermore, users are pleased with the fact that Gigadat functions in conjunction with a wide network of leading financial institutions within Canada.
Conclusion
Ultimately, we may safely conclude that Gigadat's line of products delivers punters with great opportunities to experience seamless online betting time. This is possible due to the unsurpassed level of security that the online processors under Gigadat's logo are offering.
The financial experts at Gigadat were able to create a reliable payment environment designed to assist customers, online merchants, and financial institutions. This fact is obviously appreciated by Canada-friendly sports betting operators, as punters are highly unlikely to find such a bookmaker who does not support some of Gigadat's payment solutions.
As per the statistics currently published on Gigadat's website, the brand boasts 32 million customers and facilitates 222 billion Interac transactions on an annual basis with a 99% fraud prevention rate! So, do not hesitate anymore, and opt for one of Gigadat's great products!