Today, betting on sports has turned into a hugely enjoyed pastime for many people, and while placing their bets over the Internet, they want to be absolutely certain that their funds are protected. Besides, they want to be sure that their funds will reach their gaming accounts in next to no time and can be drawn out with the same swiftness.
Avid sports bettors who are currently on the lookout for a time-efficient, secure, and user-friendly payment method to use when handling their gambling-related transactions should consider iDEAL as an option. Punters who live in the Netherlands can pay through iDEAL in a walk without losing sleep about the safety of their funds as all transactions will be executed in the heavily-protected environment of their bank.
This payment processor is sure to meet the requirements of punters who want to handle their gambling-related transactions through a method they are already well accustomed to using and comfortable with, as the translations initiated through iDEAL are done using their online banking or the mobile app of their bank.
Utilizing the payment platform iDEAL comes with a number of benefits, and one of the reasons why sports bettors prefer to handle their funds through it is because of the lightning-fast processing times. Punters might want to use the payment method also because it allows them to add funds to their balance anytime and anywhere they feel like it.
Read ahead to find out more about the usability of iDEAL for gambling-related transactions, its strengths, and weaknesses.
Registering an Account with iDEAL
Introduced back in 2005, this banking method is designed to provide people from the Netherlands with the opportunity to execute their payments in real time in the utmost safety. Just a year after it was introduced, iDEAL was transferred to Currence, which is an association in charge of the supervision of all banking systems available across the Netherlands.
The number of transactions processed through iDEAL continued to increase, and back in 2011, the payment processor was made available for mobile payments and more and more banks started to activate it in their mobile banking apps. The application of the payment method started to expand quickly, and, in addition to gambling-related transactions, it can also be used for e-commerce payments inside and outside the Netherlands, to top up prepaid cards, and to pay for public transport and parking, among others.
Today, iDEAL is added to the banking systems of a number of major Dutch banks, including ING, Tridos, Revolut, Rabobank, ABN AMBRO, bunq, Knab, SNS Bank, Van Lanschot, SNS Bank, RegioBank, and Handelsbanken. In order for punters to benefit from the low-cost and risk-free payments iDEAL offers, they need to activate their online banking with one of these financial institutions.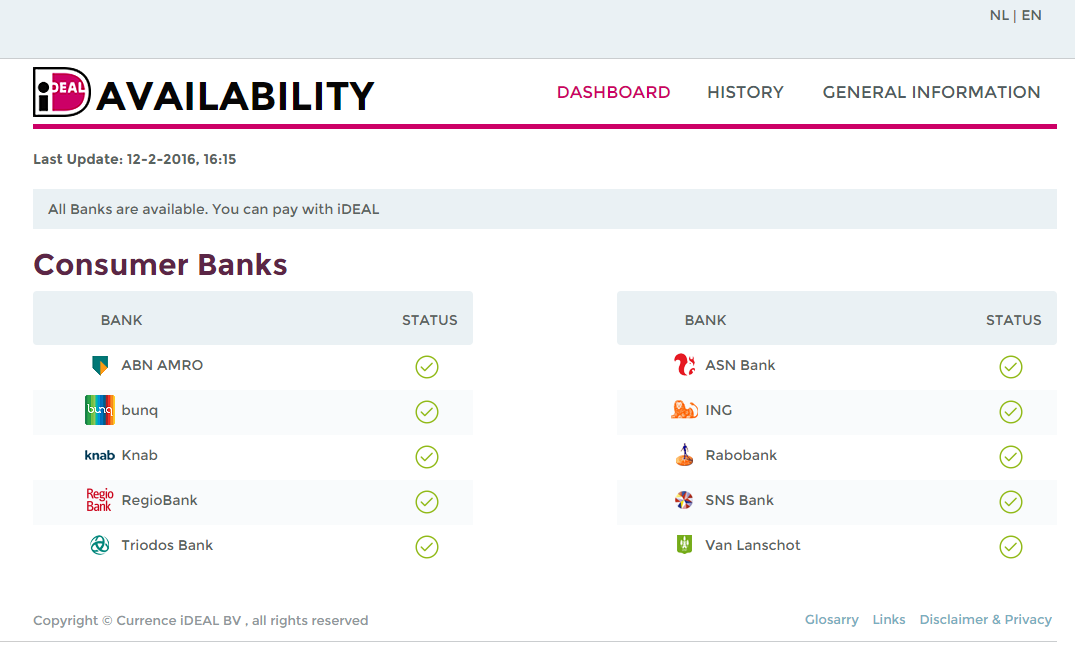 It turns out that iDEAL is a payment solution most people from the Netherlands are at home with, so much so that the cumulative transactions executed in 2021 alone have almost reached 5 billion. The popularity of the payment method has skyrocketed to such a great degree that just a few years ago, it was more commonly used than credit and debit cards.
Obviously, more and more gambling enthusiasts grow interested in the payment solution as they do not need to link their credit or debit card to iDEAL in order to carry out their payments. What iDEAL does is to serve as a middleman between punters' bank and the bank of their sports betting site of choice.
In other words, when gambling aficionados initiate a payment at an iDEAL-friendly sportsbook, the amount will be taken straight from their bank account and will be transferred to their gaming balance. None of the punters' banking details or credit/debit card information will be shared with the gaming operator, which is exactly what makes more and more punters turn to this payment processor.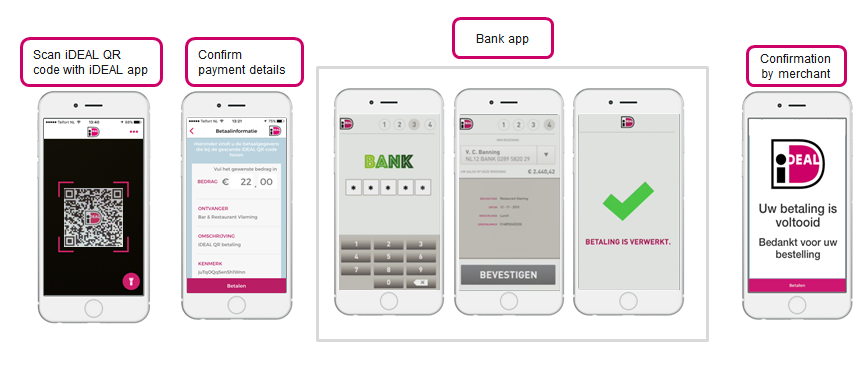 In essence, the principles of operation of iDEAL have a lot in common with Interac Online, which is yet another payment method sports bettors are in the habit of using.
iDEAL Registration Requirements
Copy of ID/DL
No
Utility Bill
No
Link bank account
No
Link bank card
No
Depositing with iDEAL
As we explained earlier, iDEAL is offered by a huge number of Dutch banks as part of their online banking service. If punters want to use the payment processor for gambling-related transactions, they will be good to go with their payments, given that they already have an account in one of the banks we enumerated already.
Of course, they should also go through the list of the iDEAL-friendly bookies and pick the platform, which is up to snuff. Sports bettors who are interested in using the payment solution for gambling-related payments are unlikely to struggle to find a sportsbook, which accepts iDEAL as there is a whole raft of such betting platforms.
While executing payments through iDEAL, gambling enthusiasts need to log into their gaming account and select the payment solution from the line-up of all deposit methods. Once punters key in the amount they intend to add to their balance and hit the Deposit button, they will be taken to a separate window. There, they will see a drop-down menu, which contains the names of all banks iDEAL works with. After they pick their bank, avid sports bettors will be re-directed to their bank's login page, where they need to use their credentials in order to go ahead with the transaction.
As soon as they log into their online banking, punters will be able to see the transaction data. Once they make sure that this is exactly the amount they want to move to their gaming balance, punters will be required to sign the payment. When this happens, the amount will be drawn out of their bank account in real time and will be transferred to their gaming balance. Of course, it is a must for sports bettors to ensure that they have enough money in their bank account in order for the transaction to go through.
When the bank approves the payment, and the sportsbook gets a confirmation for this, gambling aficionados will be taken back to the betting platform, where they can carry on with their real-money bets.
One of the main reasons why punters might want to fund their gaming accounts through iDEAL is that the preferred amount will reach their betting balance in the blink of an eye.
Deposits carried out through iDEAL are not only swift, but easy to execute as well, and best of all, most punters will already be familiar with the steps they need to follow to complete the transaction.
Depositing with iDEAL Summary
Timeframe
Instant
Minimum per transaction
€10
Maximum per transaction
€5,000
Fees
N/A
Available currencies
EUR
Withdrawing with iDEAL
Unfortunately, punters will not be allowed to put iDEAL to the ultimate test when taking their winnings off their sportsbook of choice. As we explained earlier, iDEAL works as a middleman between the bank in which punters have an account and the bank of the gaming operator. In other words, iDEAL is simply an online payment processing platform, meaning that it cannot be used to store funds in it.
Because of the nature of the payment method, iDEAL depositors are typically allowed to cash out their winnings through digital wallets or using a bank transfer. Using a different payment solution for withdrawals might seem like a bit of a hassle for avid sports bettors, but they can be sure that there is no reason to lose sleep about their payments.
No matter the range of payment processors punters will be given a choice when taking the accumulated winnings off their balance, they should not forget that all requests for transactions in this direction need to be reviewed and approved. How long is this going to take depends exclusively on the bookie, and typically, it might take up to three days until sports bettors' withdrawal is authorized and their winnings are released.
How long it will be until punters' winnings will be available will be determined by the desired cashout solution. Thus, if bank transfer is the method avid sports bettors decide to use, they might need to wait for seven or, on some occasions, even ten days, until their winnings reach their bank account. Digital wallets are a lot more time-efficient, and if such payment processors are accepted, punters will get access to their winnings within a couple of hours or one day at the most.
Withdrawing with iDEAL Summary
Timeframe
N/A
Minimum per transaction
N/A
Maximum per transaction
N/A
Fees
N/A
Available currencies
N/A
Fees Related to iDEAL Betting
The department where iDEAL outperforms many of the other payment methods bookmakers normally accept is its affordability. What gambling enthusiasts might be pleased to hear is that using the online payment platform does not result in any additional charges. In spite of the fact that punters will not be required to pay any bank costs while handling their payments through iDEAL, they should pay heed to the fact that the companies and merchants that facilitate such transactions are allowed to add extra fees.
It should be easy for gambling enthusiasts to figure out whether iDEAL deposits incur a fee as all platforms that charge such are required to announce them before the transaction is completed. Thus, if a fee will be billed when punters are loading their gaming account with cash, the operator is required to state these additional costs.
Yet, most gaming operators prefer not to burden iDEAL depositors with additional charges and instead guarantee that payments executed through the online processing platform are commission-free.
Gambling aficionados who are about to start managing their funds through iDEAL need to know that the only case in which extra fees will be charged on the side of the payment processor is when a payment request is made. Each time iDEAL users decide to go for a payment request, the payer or the payee should agree on who will cover the extra fee of €0,30.
Fees Related to iDEAL Summary
Initial setup
N/A
Account review
N/A
Maintenance fee
N/A
Inactivity fee
N/A
Benefits of Betting with iDEAL
If sports bettors are still on the fence about whether iDEAL will work well for them, the best thing they can do is to look into its strong suits and weaknesses. First off, it is incredibly easy for sports bettors to carry out their gambling-related transactions through iDEAL, and the steps they need to follow are in no way different from the ones they stick to when paying for services or goods using their online banking.
Handling your gambling-related transactions through iDEAL is risk-free because the need to expose any of your banking details is eliminated. While adding funds to their gaming accounts through iDEAL, punters will not be required to key in any of their sensitive information in the cashier of the bookmaker as instead, they will be asked to provide their online banking details within the pop-up window, which will load when they press the Deposit button.
Another reason why sports bettors might be interested in using IDEAL is that the payment processor provides them with high levels of safety while executing their payments through their handheld device or computer. This is so because the security techniques that are in place are the same as the ones that are used for regular bank transfers.
While handling their payments through iDEAL, gambling aficionados will not be required to use the platforms of third-party operators, which is the case with digital wallets, for example. Using iDEAL does not involve signing up for separate accounts, loading them with cash, and maintaining them, which makes the process all the more smooth and hassle-free.
As we already pointed out, iDEAL is a payment system, which is based on online banking, which is to say that when moving funds to their gaming balance, punters will use a way of payment, which is convenient and reliable. If gambling enthusiasts face any issues whatsoever, they should not panic as each transaction is traceable. Resolving the problem will be much easier when the only parties involved in the payment are your bank and the bank of the bookmaker.
The lightning-fast speed of the deposits is yet another strong point of iDEAL punters are sure to appreciate. Deposits wrapped up through the payment method are handled in real time, which is to say that gambling aficionados will be able to access their funds right off and get into the betting action without any delays.
One more reason why many punters are in the habit of using iDEAL for their gambling-related transactions is that the sports betting platforms that accept it as a deposit method are in no way limited in number. Hence, finding an IDEAL-friendly bookie, which fulfills all your requirements will be painless.
The inexpensiveness of the payment method is an additional reason why many punters prefer iDEAL over some of the other payment processors. Making payments through iDEAL rarely results in any additional costs, but even if this happens, gambling enthusiasts can be sure that the extra fees will be reasonable.
Drawbacks of Betting with iDEAL
Although there are so many reasons why iDEAL is suitable for gambling-related transactions, the payment method still has several drawbacks that are worth giving attention to. To start with, the greatest difficulty punters might face is that using iDEAL is not possible without having an account at one of the Dutch banks we already mentioned. The hugely limited accessibility of the payment method is indeed a weak point, which is worth considering since there are payment methods that are usable by punters from a significantly greater number of countries.
Another downside of iDEAL is that gambling enthusiasts can only use it to move funds to their bankroll and not to draw out their winnings. The payment processor does not allow holding any funds and for this reason, avid sports bettors need to cash out their winnings using another payment processor like digital wallets or bank transfers. On some occasions, card payments might also be an option.
The fact that iDEAL is only available at certain banks is one more shortcoming, which might put some gambling aficionados off this deposit method. Additionally, since it is a Netherlands-based payment processor, it makes sense that iDEAL only allows for payments in EUR. This means that if this currency is unavailable at the sports betting platform punters have picked, they will not be able to avoid paying a conversion fee.
Regulation and Availability of iDEAL
As mentioned already, iDEAL is an e-commerce payment platform, which is employed in the Netherlands, and which is owned by the Dutch organization Currence. It can safely be said that iDEAL is an established payment method since it has been within reach for Dutch residents since 2005. The owner and the trademark holder of the iDEAL Payment Scheme is Currence iDEAL BV, which is headquartered in Amsterdam.
Punters should not doubt the reliability of the online payment method because it is offered by the majority of the banks in the Netherlands as part of their online banking services. This is to say that iDEAL is tightly regulated, and all transactions carried out using the platform are closely followed.
Best of all, using this interbank payment system is possible for a slew of purposes, gambling-related transactions included. Back in 2016, iDEAL started processing C2C transactions, and along with these, today, users of the payment processor can also benefit from payment scheduling, QR codes, and payment links. Punters to want to have the ultimate freedom to carry out their payments at their convenience can make use of the dedicated apps for iOS and Android-running devices.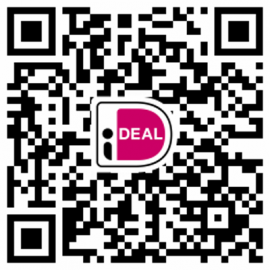 An important thing punters should keep in mind is that although iDEAL is a Netherlands-based payment processor, its availability is not limited exclusively to the country. Today, iDEAL is accessible in more than 50 countries around the globe, and their number continues to grow.
iDEAL Security
Making payments through iDEAL means that punters' personal and banking information will be protected at all times and the processing part of all transactions is entirely taken on the platform, and not on any third-party payment providers. Because of this, none of the punters' banking details or personal information will ever be disclosed to the gaming operator, which will work to their advantage, especially if they have chosen an untrusted betting site.
It turns out that the lack of an additional account is a great benefit for many iDEAL users. While using the online payment platform, punters will be saved the hassle of setting up and maintaining separate accounts, which makes for worry-free payments and adds an extra layer of security.
While wrapping up their payments, gambling aficionados will only be asked to make use of their account number and secure ID that are also needed when purchasing goods over the Internet, for example. When it comes to the safety of their transactions, punters should be aware that while authorizing their deposits, they can also use a 2FA token in order to digitally confirm the payment.
What adds to the safety of the payment method is that each time a transaction is made, gambling aficionados will get a notification about it. The risk of unrecognized payments being made is reduced to a minimum since punters will be able to effortlessly trace each transaction. Aside from this, all reputable iDEAL-friendly sports betting sites protect the funds of their users through SSL encryption technology or other safety techniques.
iDEAL Security Summary
SSL
Yes
Two-factor authentication
Yes
Face ID
Yes
Touch ID
Yes
App/SMS Notifiactions
Yes
iDEAL Reviews from Around The Web
Today, iDEAL is a payment processor of choice for many sports bettors and fans of casino games, and this is so because of its reliability, swiftness, and fast processing times. Even so, this is a country-specific payment method, not a global one, which might be the reason why there are no customer reviews of the way it performs.
That being said, there are lots of sites that have run iDEAL through its paces to check whether it does the trick for gambling-related transactions. Additionally, these sites focus on the usability and the affordability of the payment method.
Conclusion
Using iDEAL while betting on sports over the Internet has lots of benefits, and first and foremost, punters can be sure that their funds will be in safe hands at all times. In addition to the exceptionally high levels of safety, this payment processor ticks all the right boxes in terms of affordability, as well as transaction timeframes. Moving funds to their gaming account can be done in a walk, and most importantly, since the preferred amount will be instantly credited, punters will be good to go with their real-money bets.
Besides, iDEAL is available at a huge number of reputable and established sports betting platforms, which gives gambling aficionados a wide array of bookies to decide between. The chances are that punters who load their accounts with cash through iDEAL might be in for different bonus deals, no matter, if they have just gotten started with their betting session with the bookie or they, have already spent some time there.