E-wallets, also known as digital or electronic wallets, are widely implemented for the purpose of sending and receiving funds over the Internet. Over the past decade, they gained massive traction among online sports bettors looking to deposit and withdraw from their accounts in a secure, confidential, and convenient fashion.
In their essence, e-wallets are online payment tools, most often used in the form of a mobile app. They can store virtual versions of debit and credit cards and users don't need to carry a physical card to execute transactions. E-wallets also enable saving digital tickets and e-vouchers, so you can always use the relevant documents.
Before punters can operate with an e-wallet, they are required to sign up with accounts for the service. The virtual wallets then must be funded, with some of the most commonly supported alternatives for this purpose being online bank transfers, debit or credit cards, prepaid solutions, and other e-wallets. Now that cryptocurrencies are broadly available, you can also top up your e-wallet balance with Bitcoin.
E-wallets rank among the easiest and quickest ways of handling payments to and from your sports betting account. They are accepted by the vast majority of online bookmakers for free deposits as well as for withdrawals.
If you intend to use this method for sports betting purposes, we strongly advise you to go for one of the bigger brands such as Neteller, Skrill, ecoPayz, PayPal, and WebMoney. All of these adhere to the highest standards of security in the financial industry and guarantee the safety of your betting bankroll and sensitive details.
Registering with an E-Wallet Account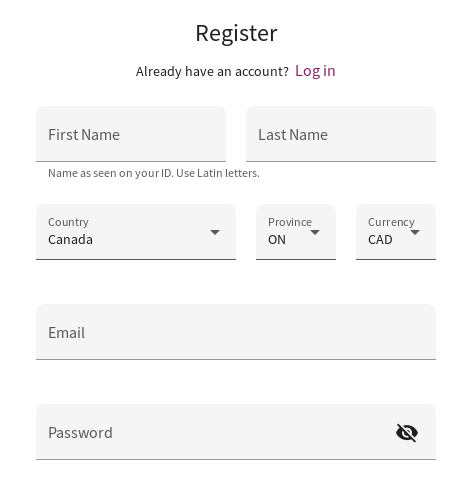 Before you can load some funds into your betting balance, you must undergo registration with your e-wallet of choice. The process is hassle-free since you only need to fill in the sign-up form with some of your personal information, including your name, permanent address, phone, and email.
Make sure you enter all these details correctly or else you will not be able to activate your e-wallet account. Of course, you also need to choose a password and a username to access your wallet with. In many cases, you must undergo verification to benefit from the full capabilities of your e-wallet account.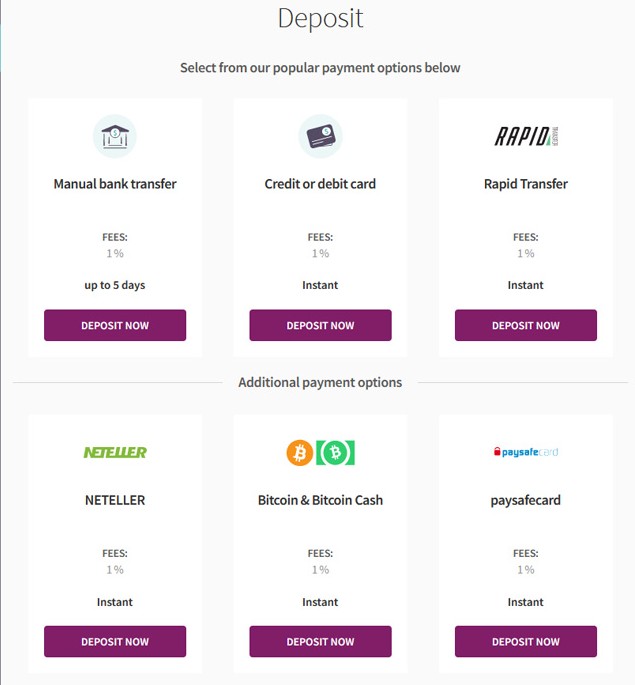 To make payments to online merchants, or sportsbooks in this case, you must transfer some funds into your e-wallet balance. You can do this with a range of banking options, including manual or online bank transfers, prepaid solutions like Paysafecard, other e-wallets, and credit or debit cards.
The funding options vary depending on which e-wallet platform you use. Neteller offers the greatest variety in this respect. Some companies to provide the service even let you use mobile billing services like Boku for this purpose.
Once you have created and funded your account, you can proceed to transfer some money to your sportsbook balance. This usually takes seconds and is not associated with extra costs neither on behalf of the sportsbook nor on the e-wallet providers.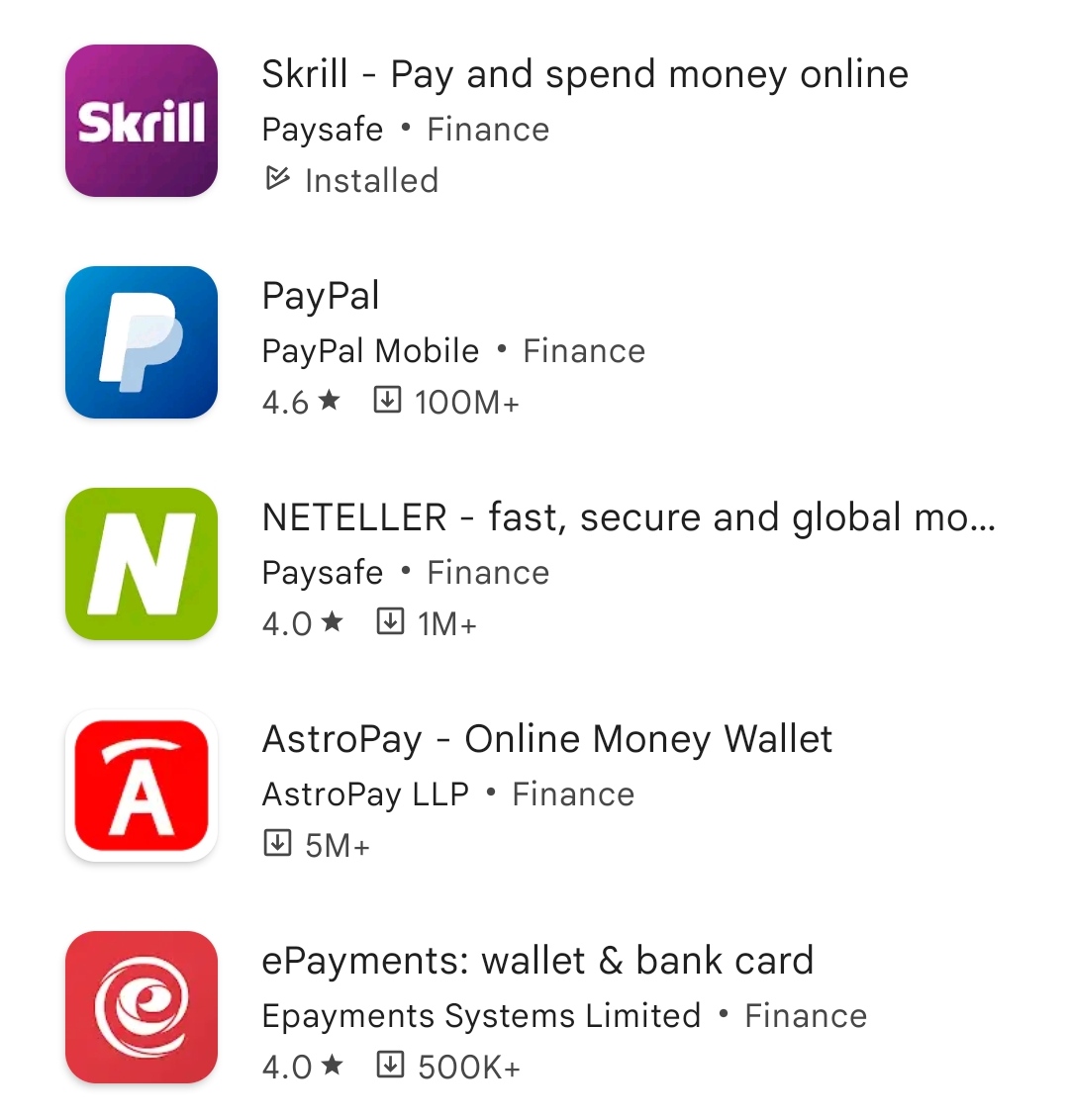 E-wallets always provide their users with a completely functional mobile version of the corporate website. Nevertheless, many on-the-go bettors and customers in general, insist on using downloadable mobile applications. Fortunately, both the App Store and Google Play are full of such options. You just have to pick the app that best suits your online payment activity. Installation only takes seconds to complete and you can continue with setting an account with the procedure being the same as through the website.
Registration Requirements
Copy of ID/DL
yes
Utility Bill
yes
Link bank account
yes
Link bank card
yes
Depositing with E-Wallets
E-wallets are a highly effective method to deposit money into your sports betting account, not to mention they are available at most licensed online sportsbooks. Once you choose an e-wallet betting site, you must register a real-money account there or log into your existing account provided that you have one already.
Step 1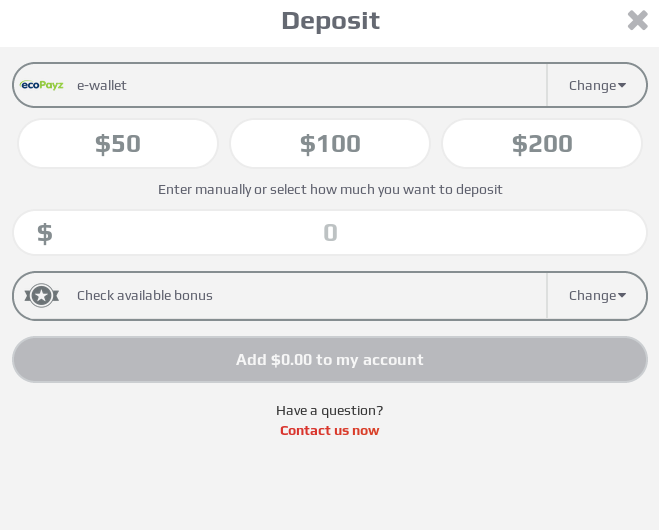 After the log-in, you must navigate to the cashier section and go through the list of available banking options to find the logo of your e-wallet company. Click on that and enter the amount you want to transfer to your betting balance.
Step 2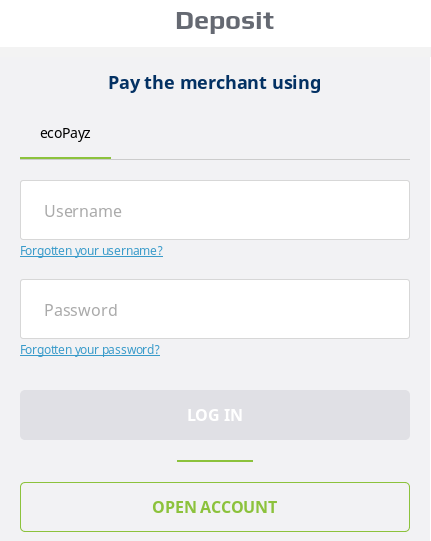 The sportsbook will prompt you to provide the log-in details for your e-wallet account. These are most commonly a username and a password. Some e-wallets like Skrill provide an extra layer of security by implementing a Two Factor Authentication code. This is sent to your mobile phone and you need to enter it along with your e-wallet username/email and password.
Step 3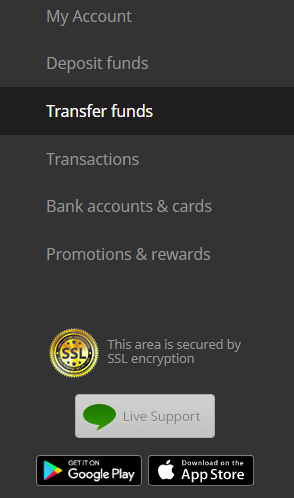 Once you sign in, a new pop-up window will redirect you to your e-wallet platform. Check if all payment details are entered correctly and confirm the transfer. Deposits with e-wallets are handled in real time, so the money will be added to your betting balance immediately.
Most e-wallets do not charge users for making payments from their e-wallet balance. The minimum and maximum limits you can deposit depend on the policies of your online sportsbook of choice. There may be limitations on payments on behalf of the e-wallet provider itself, but these are based on account status. Your sportsbook account must be set to the same currency as your e-wallet. If it is not, you will most probably have to pay a conversion fee that can reach 10% or more from the transfer amount.
Depositing with E-wallets Summary
Timeframe
Instant
Minimum per transaction
$10
Maximum per transaction
$100,000
Fees
Vary between the different online bookies
Available currencies
AED, AUD, BGN, BRL, CAD, CHF, CNY, COP, DKK, EUR, GBP, HKD, HUF, INR, JPY, MAD, MXN, MYR, NGN, NOK, PLN, RON, RUB, SEK, SGD, THB, TND, TWD, USD, ZAR, etc.
Withdrawing with E-Wallets
One key aspect that makes e-wallets appealing in the eyes of online bettors is that such payment solutions are normally accepted for withdrawals as well as for deposits. Many online bookmakers prefer to return payment requests to the same methods their customers have deposited with.
If that is the case, your withdrawals will be automatically sent to your e-wallet balance, which further adds to your convenience. Cashing out the winnings from your sports betting account with e-wallets is just as easy as making a deposit.
Step 1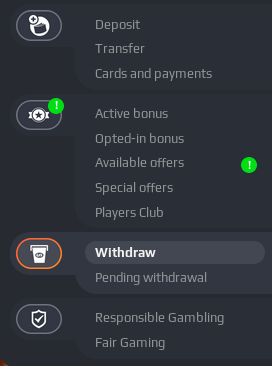 The first thing punters must do is to find the cashier page and choose the withdrawal option. Of course, you need to ensure you have sufficient withdrawable balance into your account. Once you find the logo of the e-wallet you use, you must click it to select the method as a withdrawal option.
Step 2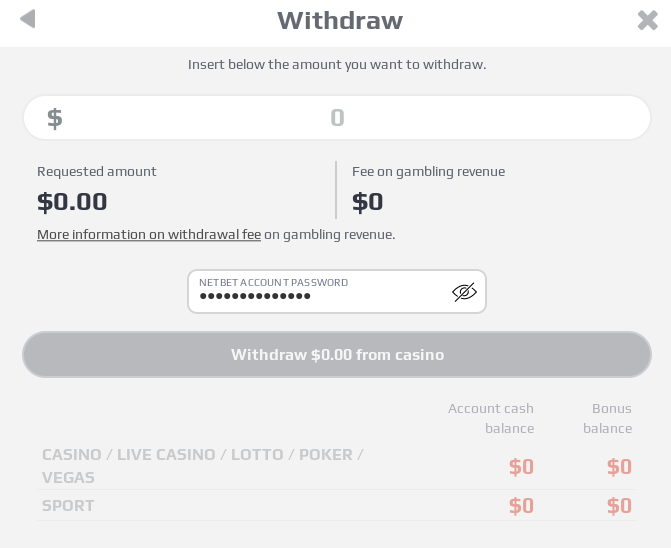 The sportsbook's cashier system will then prompt you to provide the password and the username for your e-wallet account. Then you must select the amount of money to be transferred.
We remind you that sportsbooks have minimum and maximum limits on e-wallet withdrawals that you must comply with. In addition to transaction amounts, limits sometimes affect the maximum amount you can withdraw within a week or a month. We strongly recommend you to go through the terms and conditions of the site to check these limitations.
Once you hit the submit button, the only thing left for you to do would be to wait for the sportsbook to approve your withdrawal request. Waiting times also vary between different sportsbooks and are generally listed either on their banking page or in the terms and conditions.
Unlike deposits which are mostly instant, withdrawals processing usually can last between several hours to three days. After the sportsbook clears the requested amount from your cash balance, the money will arrive in your e-wallet balance almost immediately.
Withdrawing with E-wallets Summary
Timeframe
Up to 3 business days
Minimum per transaction
$10
Maximum per transaction
$100,000
Fees
Vary between the different online bookies
Available currencies
AED, AUD, BGN, BRL, CAD, CHF, CNY, COP, DKK, EUR, GBP, HKD, HUF, INR, JPY, MAD, MXN, MYR, NGN, NOK, PLN, RON, RUB, SEK, SGD, THB, TND, TWD, USD, ZAR, etc.
Fees Related to E-Wallet Betting
One of the biggest drawing attractions of using e-wallets for online betting is that there are usually no fees associated with the payments. Deposits with this method are conducted at no extra cost on the operators' side and the same is mostly valid for withdrawals as well.
With that in mind, using the e-wallet service is not entirely free. Fees are commonly charged for funding e-wallet balances but the precise charges depend on what method you use for the money transfer. As for registering for the service, signing up is completely free.
Fees usually apply when you withdraw funds from your available e-wallet balance. Withdrawing via bank transfers is usually the most costly option.
Most e-wallets charge their users for currency conversion. The fees are again method-specific but rarely exceed 4%. There is also an interbank rate depending on the day of the currency conversion.
Given the abundance of digital wallets on the market, it would be difficult to summarize the relevant fee-related information. However, to have a slightly more specific idea of what to expect if you decide to create an account for such a service, take a look at the two tables below.
Fees Related to Neteller Summary
Initial setup
$0
Maintenance fee
$0
Inactivity fee
$5 monthly fee after six months without a transaction
Withdrawals
0 – 3.99%
Fees Related to Apple Pay Summary
Initial setup
$0
Maintenance fee
$0
Inactivity fee
$0
Withdrawals
1.5% (Min $0.25/Max $15 from the amount)
Benefits of Betting with E-Wallets
The benefits of betting with e-wallets greatly outnumber the disadvantages. If you are still not convinced that digital wallets are suitable for your betting experience, keep on reading and get acquainted with the main advantages we have compiled for this payment method.
Personal data protection
To begin with, using an e-wallet is sure proof when it comes to protecting your personal and financial information. With an e-wallet, there is no need to disclose your debit or credit card number. In fact, you are not even required to have a card in the first place. There are plenty of other ways to fund your account.
Acceptance by multiple online sportsbooks
The e-wallet payment method is accepted by most online sportsbooks and is quite easy to use, not to mention e-wallets usually support dozens of currencies and allow for instant money transfers. As all the reputable digital wallet providers are certified and monitored by trusted regulatory authorities, their presence on a particular betting platform is proof of its safety and legitimacy. This can be very useful when you come upon a new online bookie.
High transaction limits
E-wallets are also the preferred banking alternative of professional sports bettors who like to place bigger bets. This is due to the fact that digital wallets allow bettors to transfer larger chunks of money at a time.
Naturally, every online bookmaker has its own restrictions when it comes to withdrawal and deposit limits. The same is true about the applicable transaction fees that are usually low (if any). It is always recommended to take a look at the sportsbook's individual terms and conditions. You can also navigate to the payment section where such information is typically available.
Loyalty program treats
Many of the big e-wallets on the market give reward points to their customers each time they transfer money to or from their balances. The awards users can benefit from are diverse – personal VIP managers, more advantageous fees for some transactions, tickets to attractive sporting events, and many more. This breed of online payment processors comes with the added benefit that you can use it both for deposits and withdrawals.
Drawbacks of Betting with E-Wallets
There are very few disadvantages to using e-wallets for online sports betting.
Promotions and bonuses restrictions
The biggest concern has to do with bonuses. Punters who are keen on free bets and other such perks should keep in mind that an increasing number of online sportsbooks are declining bonus participation to customers depositing with e-wallets like Skrill, ecoPayz, PayPal, and Neteller.
The explanation is that betting sites have suffered past bonus abuse on behalf of reckless customers who use such methods. So if you plan on using an e-wallet, we urge you to first ensure the sportsbook you are interested in does not exclude this method from bonus redemption. This is usually written either in the general bonus terms or in the terms of the individual bonus offer.
Cumbersome verification procedures
Some bettors find e-wallets inconvenient because of the registration process. Signing up itself often takes less than a minute. However, you need to verify the account to benefit from the full functionalities of the e-wallet. This would also lift the restrictions on your payments in terms of limits.
The verification normally involves uploading copies of documents and is lengthier because the e-wallet staff must check whether everything coincides. This can be a nuisance for some punters who are itching to deposit and bet. On the positive side, the procedure is for their own good and is performed only once.
Uneven availability
Despite their beneficial features, some e-wallets, or at least part of their products, are sometimes available to the residents of a limited number of countries. The most illustrative example is the Apple Cash service that can be used in the US only. An indicator like this is able to downplay the undeniable advantages of digital wallets.
Regulation and Availability of E-Wallets
In regard to regulation, e-wallets are overseen by accredited institutions that deal with ensuring proper conduct across the financial industry. One such institution is the Financial Conduct Authority (FCA), which is responsible for the oversight of major e-commerce companies like Skrill, Neteller, and PayPal.
Many major e-wallets are based in Great Britain. Between 2001 and 2013, e-wallet regulations in the UK were handled by the Financial Services Authority (FSA).
The latter had the power to monitor the operations of such companies but it did not deal with individual customer complaints.
The FSA's website was turned off in 2013 after the establishment of the FCA and the Prudential Regulation Authority (PRA), both of which are successors of the FSA.
The PRA has two main objectives, the first one being the promotion of security and soundness of the financial companies it oversees. It also contributes to securing adequate levels of protection for policyholders.
Finally, there is the Financial Ombudsman Service which is responsible for handling individual disputes between e-wallet users and the providers of the wallet services. When dealing with complaints, this entity investigates the facts fairly and impartially.
One great thing about using e-wallets for sports betting is that they are broadly available. The biggest brands like PayPal, Neteller, and Skrill handle payments from customers in hundreds of countries worldwide. As mentioned above, this is not universally applicable and some digital wallets are not used on particular markets. For example, Norway amended its legislation a year ago which caused top brands like Skrill and Neteller to withdraw from the local betting market.
This broad availability also extends to online sportsbooks. Most of the trusted brands on the global market have readily embraced this type of online payments. If you choose to use an e-wallet, chances are you will quickly find a sportsbook to take your action to.
E-Wallets and Security
Major e-commerce companies like those we mentioned earlier ensure high levels of fraud protection. All users are required to undergo strict identity checks and age verification. The wallets are compliant with the standards of the PCI DSS and monitor all transactions they handle in real time.
There is constant surveillance of e-wallet accounts to prevent fraudulent activities. E-commerce businesses typically freeze accounts when they suspect fraud or other fishy activities. This may be a nuisance for punters but it is for their own good, not to mention the locked accounts are reactivated as soon as the issue has been solved.
All big e-wallets rely on 128-bit or 256-bit SSL encryptions. This is an encoding technology that masks the sensitive information transmitted to and from websites. This way, it is nearly impossible for hackers to decrypt the data and steal punters' personal and banking details.
It goes without saying all licensed and adequately regulated online sportsbooks also rely on SSL to protect their bettors. You can tell a betting site is encrypted by the presence of the tiny padlock icon in the address bar of your Internet browser.
Users can increase the level of protection by enabling a 3D Security feature or two-factor authentication. Thus, even if the device used for e-wallet transactions gets stolen, hackers won't be able to log in to the account due to failure to enter the additional password or biometrics data.
Last but not least, we should not forget that the very principle e-wallets operate on makes them incredibly secure to use for online sports betting. There is no need to reveal any of your financial information like credit card or bank account numbers. E-wallets enable sports bettors to retain their full anonymity.
E-wallets Security Summary
SSL
yes
Two-factor authentication
yes
Face ID
yes
Touch ID
yes
App/SMS Notifications
yes
Conclusion
From what you have read so far, you have probably spotted the many benefits e-wallets offer to online sports bettors. They are incredibly safe to use, not to mention they ensure high levels of confidentiality.
Big e-wallet brands like Neteller, Skrill, and PayPal operate globally so their services are available in most countries around the world. Since we are talking about global brands, it is only natural they support tons of different currencies and languages. This makes them all the more convenient for punters from all walks of life.
Finally, we should not forget the flexibility they give you when you conduct sportsbook payments. E-wallets are commonly optimized to work on mobile allowing for fast, hassle-free payments to and from your online sports betting balance.