Any way you slice it, wagering on sports can be an enjoyable and profitable undertaking, no matter whether punters prefer wagering at land-based bookies or they like the convenience web-based sportsbooks bring. Gambling over the Internet has evolved into a talking point of recent, and some of the concerns, which tend to arise most of the time have to do with the transfer of funds. Needless to say, while punting across the web gambling aficionados want to be sure that they will be able to move their funds with ease, safety, and speed.
No matter what gamblers' priorities are, iDebit is one of the ways of payment, which leaps off the page right away. This is a strictly Canadian payment solution, and the main idea behind it is that it will help gambling enthusiasts carry out their transactions right from their online banking account.
What further adds to iDebit's merits is that most of the time, it doubles as a withdrawal method, thus allowing sports bettors to retrieve their winnings back to their bank account in the utmost security. iDebit poses as an efficient way of performing financial transactions while gambling over the Internet as punters stand almost no chance to encounter any hiccups when depositing or withdrawing their winnings, which might often be the case with standard bank transfers.
iDebit traits
Fast
Secure
Cost-effective
Perfect for punters in Canada
iDebit – Overall User Experience
Sports bettors are likely to have an easy time when making their real-money bets using iDebit because of its ease of use and efficiency. Although this banking solution is tailored to the needs of users from a specific country, the added protection punters will enjoy makes it worth considering as an option.
On-the-go bettors do not have a downloadable mobile application at their disposal. Instead, they can try the completely functional mobile version of the payment provider's website. The speed it loads with on any mobile device regardless of the browser used or the version of its operating system is impressive. The website of iDebit automatically adapts to the size of your screen, so you will have no technical issues while browsing.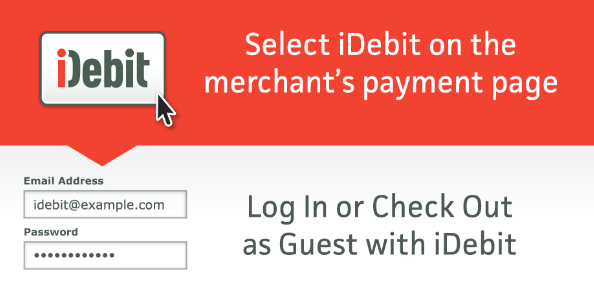 One of the best things about opting for iDebit is that gambling enthusiasts will be given a choice as to whether to establish an account or to try the service for size as a guest. In the event that punters are still unsure whether the banking solution will work best for them, they will be allowed to get around with the service on offer by following fewer steps. Interestingly enough, sports bettors who are reluctant to set up an account with iDebit can handle their gambling-related transactions without visiting its official website or holding an account.
Registering an Account with iDebit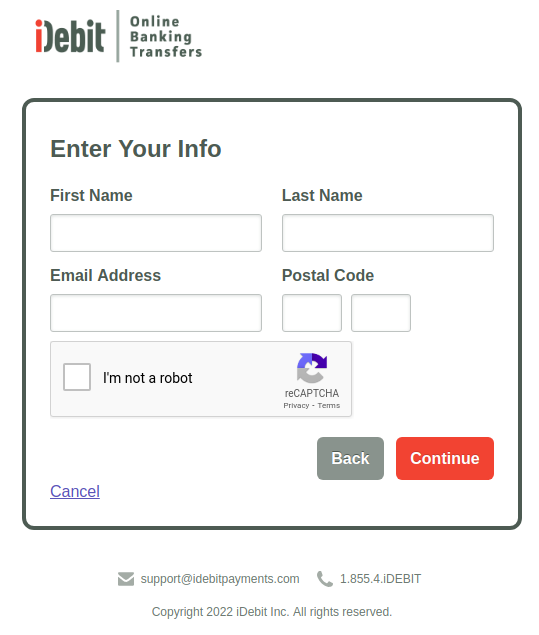 Gamblers who insist on establishing an account with iDebit will be prompted to pass through a sign-up process in nothing flat. The details prospective users will be required to input include their name, postal code, email address, date of birth, the last 4 digits of their SIN, as well as their address. Users-to-be of the service should be informed that their registration will be cast aside as long as they are under the age of 18, and some of the above-mentioned information is collected to affirm that.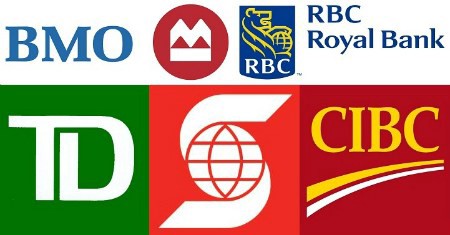 Another precondition of employing iDebit while wagering on sports over the Internet is to have a bank account at one of the partnering financial institutions. Those who do not have online banking at the present time should not fret about that as all they need to do is to get in touch with the representatives of the bank and to activate it.
Punters who have established an account with iDebit will have the option to move funds to their balance account, which will mean that whenever they feel like depositing to their bookie of choice, they will already have the funds at their disposal. Still, gambling enthusiasts should keep in mind about iDebit's 28-days balance policy according to which users of the service are not permitted to hold funds in their account for more than 28 days. The alternatives they have are to redeposit the amount at their gaming website of choice or to retrieve it back to their bank account.
An important detail to keep in mind is that gambling enthusiasts who plan on moving their winnings back to their bank account can do that only if they have established an iDebit account. Additionally, punters who sign up for an account will have the chance to keep tabs on all their transactions and their balance without any issue.
Registration Requirements
Copy of ID/DL
no
Utility Bill
no
Link bank account
yes
Link bank card
no
Depositing with iDebit
iDebit poses as a great banking solution for total novices and old hands at sports betting because of its unmatched ease of use. Having in mind the popularity to which the banking method has risen, sports bettors might not find it challenging at all to find a web-based bookie, which lives up to their expectations and their gambler profile.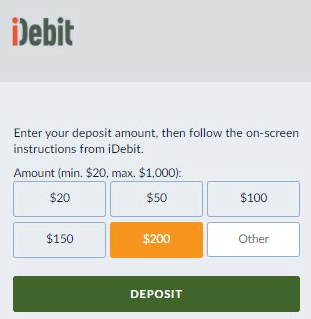 If you are a first-timer at the online bookie, you will need to access your account and to maneuver to its banking page so as to inspect the supported payment processors. Then, gambling aficionados will be required to click on iDebit's icon and to feed in the amount they would like to upload to their account. If you are intent on redeeming any of the special deals the bookie has in store, you should not omit to enter the specific promo code.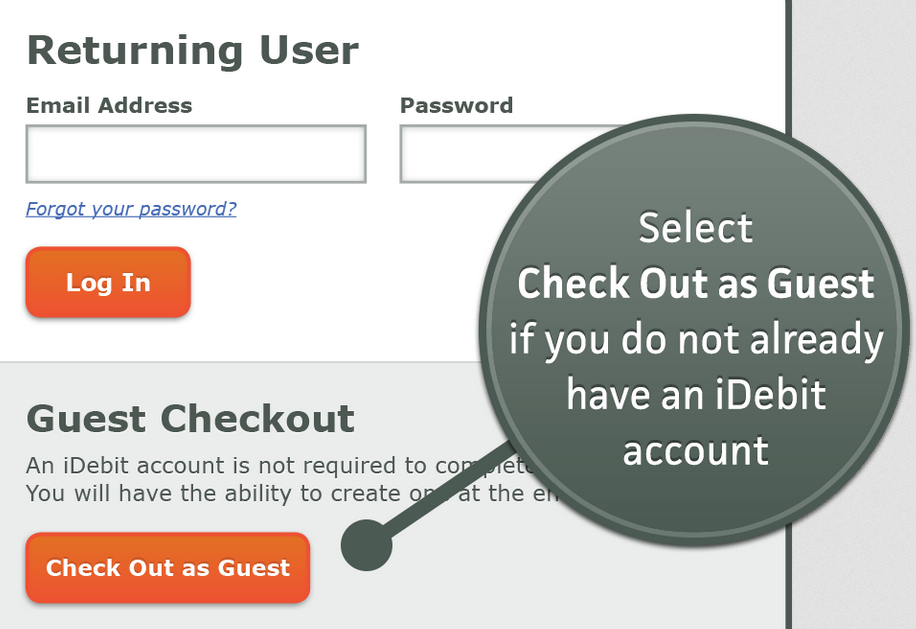 Then, gambling enthusiasts need to make up their minds whether they prefer to handle the transaction by logging into their iDebit account or as guests. If you are a returning user, you will be prompted to log into your account through your email address and password. The next step is to pick the name of the bank where gamblers have an account and to use their credentials in order to get access to their online banking.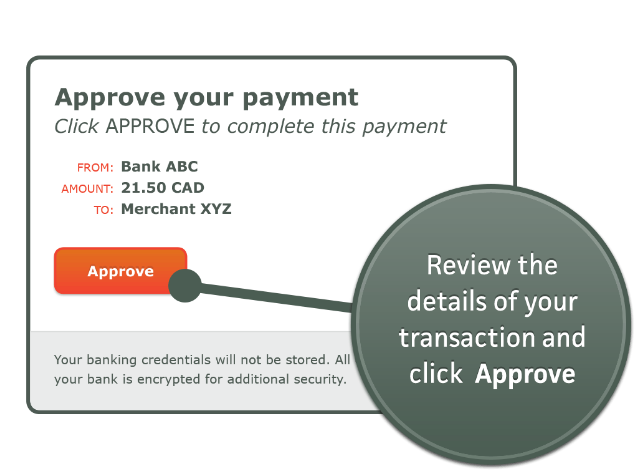 Once they have authorized the payment, the preferred amount will appear in their balance at the double, thus allowing sports bettors to get ahead with their betting session forthwith and to punt to their heart's desire. Alternatively, gambling enthusiasts can make use of the funds they have in store in their iDebit account, which will also allow them to carry out payments in real time.
While completing the payment, punters will see all transaction details in the upper right corner, which include the deposit amount, any applicable fees, the name of the bookie, as well as the total amount, which will be deducted from their balance.
As regards the maximum deposit limits, iDebit is somewhere in the middle between prepaid cards (lowest transaction limits) and bank transfers/debit cards (highest transaction limits). While there is no stipulated requirement, online sportsbooks usually accept iDebit deposits of up to $5,000 as is the case with bet365.
Depositing with iDebit Summary
Timeframe
Instant
Minimum per transaction
Depends on the bookie, usually as low as $10
Maximum per transaction
Depends on the bookie, usually up to $5,000
Fees
Free
Available currencies
CAD
Withdrawing with iDebit
What makes iDebit such a well-liked payment solution is that it can be used also when punters want to retrieve the profit they have racked up. What is even better is that a good deal of the gambling operators support cashouts via the payment processor, which means that sports bettors will be saved the hassle to cash out their winnings through another banking solution.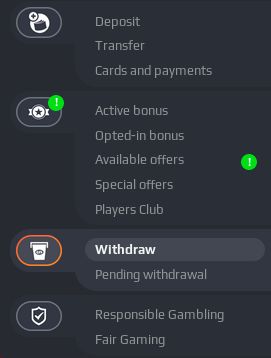 What sports bettors might be particularly happy to know is that they will not go to great pains when retrieving their profit as basically, the steps they need to follow are the same as those when topping up their account. If your sportsbook of choice processes withdrawals via iDebit, punters will only be allowed to request a cashout if they have set up an account with the payment processor.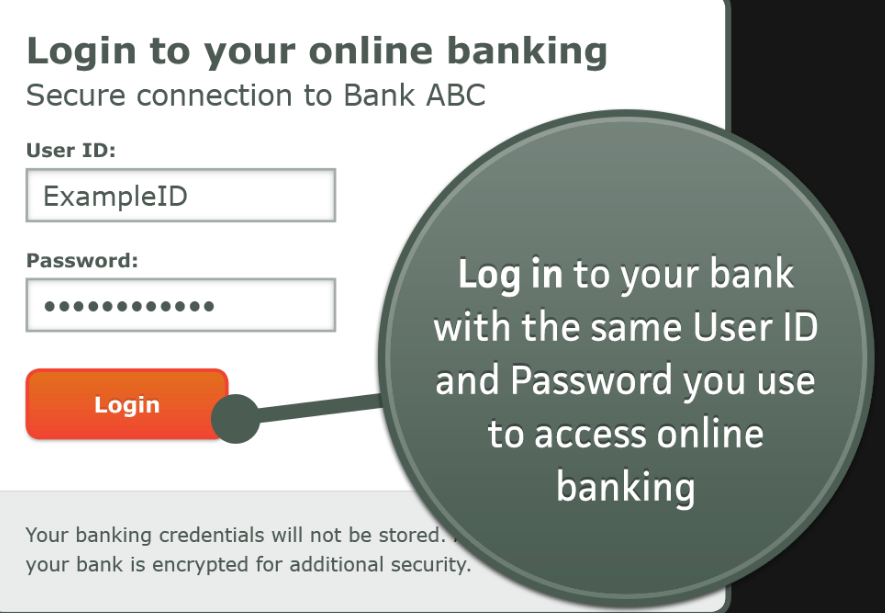 Once again, gambling enthusiasts will need to opt for iDebit and designate the amount they plan on retrieving. Then, sports bettors will be taken to the page of the payment processor so that they could wind up the payment. Withdrawing your winnings from your iDebit account takes logging into it and selecting withdraw funds. What sports bettors should have in mind is that if they have never cashed out funds from their account, they will be required to register their bank account as otherwise, they will not be allowed to proceed with the completion of the transaction.
If you are about to do so, you need to log into your iDebit account and select register bank account. The process will be completed as soon as gambling aficionados provide their banking information, which is to be found on their personal check.
The timeframes within which punters will receive their winnings are of crucial importance as well as no one wants to end up waiting for weeks to get their funds. Fortunately, when requesting a cashout via iDebit, gamblers may need to cool their heels for a maximum of 5 working days.
Withdrawing with iDebit Summary
Timeframe
Instant
Minimum per transaction
Depends on the bookie, usually as low as $10
Maximum per transaction
Depends on the bookie, usually up to $10,000
Fees
Vary
Available currencies
CAD
Fees Related to iDebit Betting
iDebit users can be assured not only of the promptness and reliability of the payment method but also of its cost-effectiveness. The charges, which are associated with the banking solution are certainly not that formidable, which is often the case with some of the other payment processors.
Most of the time, when depositing to your sportsbook of choice, you will not be facing any extra charges on behalf of operators. Yet, we recommend inquiring about that before you get started with your transactions as that way, punters might save themselves much inconvenience.
Punters should not fret about the fees, which will be applied on the part of iDebit as they are almost inconsiderable. Still, it is always good to know what to expect in terms of extra fees, especially if you have never used the payment processor before.
First and foremost, punters might be happy to hear that opening an iDebit account is fully fee-free, so is receiving money from merchants or in our case, gambling operators. No maintenance or inactivity fees are stated in the provider's Terms & Conditions either. Still, the same is not true when depositing from your online banking as then, sports bettors will be charged a fee of $1.50. Those who would like to bypass the payment of such fees should consider carrying out payments straight from their iDebit account as such transactions are handled at no cost.
In the event that gambling enthusiasts have enjoyed a fruitful betting session and they have retrieved their winnings back to their iDebit account, a fee of $2 will be applied when they decide to transfer their profit to the balance of their bank account.
An essential thing prospective users of iDebit should have in mind is that they will only be allowed to take advantage of the service if they are using their personal account as they will not be allowed to register business accounts.
Finally, gamblers should make sure that the transaction they have initiated does not require the conversion in another currency as in such cases, they will be charged an extra fee, which will be determined by iDebit's daily exchange rates.
Fees Related to iDebit Summary
Initial setup
$0
Maintenance fee
$0
Inactivity fee
$0
Online banking payments
$1.5
Withdrawals to a bank account
$2
Refunds via a check or money order
$25
Benefits of Betting with iDebit
Before punters get started with making payments via iDebit, they might wish to learn more about the benefits they will enjoy if they decide to give the payment processor a chance.
Instant deposits to sportsbook accounts
First off, iDebit might turn out to be a perfect fit for punters who are in a hurry to get started with their sports betting session, thanks to its promptness. It is certainly not one of these sluggish payment processors as gambling devotees will have their deposits carried out in real time. Since punters will have their funds available in the balance of their account in a matter of a few moments, this means that they will be entitled to get down to wagering on their preferred teams, competitions, or players whenever they feel like doing so.
Low or no transaction fees
The company does not keep its users in the dark as for the charges the usage of the payment method will incur. As it was already mentioned, iDebit is extremely affordable as the fees users need to pay if they would like to employ the payment processor are kept within a reasonable range, which renders it a viable payment solution for gambling-related transactions.
User-friendly payment process
Not only will gambling enthusiasts end up paying peanuts when managing their funds via iDebit, but they are highly unlikely to have any hiccups while depositing or withdrawing their winnings. In other words, punters do not need to be tech-savvy so as to deal with the transactions they will initiate via iDebit. As long as you are used to making payments over the Internet, there is nothing specific about this payment solution that will hamper your experience with iDebit.
High level of security
Another great advantage iDebit has is that gambling aficionados will be able to handle their deposits and cashouts in the greatest possible safety. What makes for the better safety of your payments is that they will be wrapped up between the bank where you have an account and the sportsbook. The safety of your deposits and cashouts will be fortified by encryption technology as well.
Full range of transactions
Another thing, which should not go unnoticed about the payment method is that it is available not only for deposits but also for cashouts. This is yet another reason why punters should consider opting for iDebit as they will not end up on the lookout for another payment solution when they would like to take out their winnings.
Drawbacks of Betting with iDebit
Despite the fact that iDebit has so many advantages, punters should also pay attention to the downfalls of the payment method so as to make sure that it will suit their demands and preferences.
Available only to the holders of Canadian bank accounts
Perhaps, the biggest issue about iDebit is that it can be used exclusively by Canadians who have a bank account in one of the partnering financial institutions. For that reason, gamblers who are based anywhere else in the world will need to find another alternative, which might leave some punters slightly let down.
Winnings can be transferred to iDebit accounts only
Another thing many sports bettors might consider a shortcoming is that when they request a cashout, their winnings will appear in the balance of their iDebit account. What might turn out to be a bit annoying is that punters cannot hold any funds in their account for more than 28 consecutive days, meaning that they will be forced to move their winnings to their bank account. This, on the other hand, will mean that they will be prompted to pay extra fees.
Not very high transaction limits
The other issue gamblers will encounter when opting for iDebit is the transaction limits they need to comply with. What punters can do so as to make sure that they will not go over their limit is to examine the receipts they will get at the end of each transaction. Of course, users can also check their transaction limit by logging in to their iDebit account.
Regulation and Availability of iDebit
As it was already mentioned, one of iDebit's shortcomings is that punters will be allowed to make use of the payment processor only if they are based in Canada, and they have an account at one of the local banks. Speaking of that, gambling enthusiasts will be allowed to handle their transactions via iDebit, given that they have an account at Canadian Imperial Bank of Commerce, National Bank, Bank of Montreal, Royal Bank of Canada, Scotia Bank, TD Canada Trust, or Simplii Financial. Punters should not forget that another precondition of using iDebit is to activate their online banking.
The provider of this online payment service is Instadebit International Services Ltd, which is based in Toronto. What gamblers might like about iDebit is that the company has shown great commitment to help them deal with the issues they have run into. For that reason, their official website has a live chat functionality, thanks to which users of the payment processor can easily deal with any issue they run into.
As regards the overall payment systems regulation in Canada, the Minister of Finance has the power to oversee the operation of the Canadian Payments Association as well as payment, clearing and settlement systems. These two authorities coordinate monitoring activities through a non-statutory body called the Payments Advisory Committee (PAC). Also, the Bank of Canada administers the regulatory oversight of and operates as the resolution authority for designated financial market infrastructures.
iDebit Security
Security is yet another front on which iDebit does particularly well. Gambling enthusiasts can have the full peace of mind that their transactions via iDebit will be carried out in the utmost safety every step of the way, thanks to the encryption technology the company has in place. That way, all information gamblers will transmit will be heavily protected from fraudsters.
Punters can spend worry-free also because their deposits and withdrawals will be carried out using their online banking. This means that punters will have their data kept private and their funds safeguarded from ill-intentioned activities through some of the most sophisticated security systems, which are employed by banks all around the world.
The fact that iDebit does not store any of your banking credentials also comes to show that the company maintains a strict privacy policy. That way, punters can be sure that their sensitive data will not be exposed to gambling operators. What is more, the company holds risk assessments on a regular basis, the aim of which is to ensure that your account has not been compromised.
Finally, whenever gambling enthusiasts want to make a transaction via iDebit, they will not only be prompted to input their full bank login credentials but also to answer the security question, which adds an extra layer of protection to punters' payments.
You must not forget that safety depends not only on iDebit and the relative financial institutions but also on you. No matter if you use this payment method for funding your sportsbook account balance, making online purchases, or paying bills, you must always be watchful since the Internet is full of phishing scams and ingenious hackers. If there are some safety concerns about using iDebit, users can write to the provider at the email address security@idebitpayments.com.
iDebit Security Summary
SSL
yes
Two-factor authentication
yes
Face ID
no
Touch ID
no
App/SMS Notifications
yes
Conclusion
If you are an avid sports bettor who is based in Canada and who is on the lookout for a swift payment method to have your gambling account filled with cash, you should consider going for iDebit. Apart from its promptness, this banking solution offers a few other advantages to punters as it is also affordable and extremely secure at that. Finally, iDebit is available not only when punters want to replenish their account with cash, but also when they feel like drawing out their profit.