Technologies are developing at an unprecedented rate in recent years and so is the way we make payments and purchases. E-commerce and online sports betting have become very popular and as a result, a lot of payment platforms are adapting the services they provide to reflect the market trends. What is more, new companies are being established solely with the aim to offer secure methods to execute online transactions.
Among the variety of modern payment solutions, there are some services designed for particular countries only. One of them is InstaDebit, a trusted payment platform that can be used only by customers residing in Canada. The company was established back in 2003 and has a headquarters based in Toronto.
InstaDebit is preferred by a significant number of Canadian punters since it allows for speedy anonymous transactions acting as an intermediary between their banks and the online sportsbooks. Funds to be transferred move through InstaDebit's system so the bookies never have access to the user's personal bank or card information. In order to use this payment service, customers must make a registration with the service provider. To be eligible for that they need to be over 18 years of age and have a Canadian bank account.
InstaDebit – Overall User Experience
Given the large array of e-wallets, one would think that InstaDebit is such a service too, but this is not the case. The main difference between this method and digital wallets is that users cannot deposit funds directly to their InstaDebit account. The company is allowed to move money from and to a bank account when prompted by its holder. Funding an online sportsbook balance usually happens immediately and free of charge.
What further contributes to the popularity of InstaDebit among punters is that it often doubles as a withdrawal method, thus allowing them to transfer the winnings to their bank account in a safe and convenient way. This payment solution enables sports bettors to perform financial transactions without encountering any hiccups when making a deposit or withdrawal as it is really easy to use.
Registering an Account with InstaDebit

Since InstaDebit acts solely as a middleman between your personal bank account and the relevant merchant or online sportsbook, there are no lengthy and tiresome verification procedures when users initially set up their accounts. The registration is a walk-in-the-park process that involves just a few simple steps. First, go to the payment service website and click on the orange Sign-Up button, located in the upper right corner of your screen.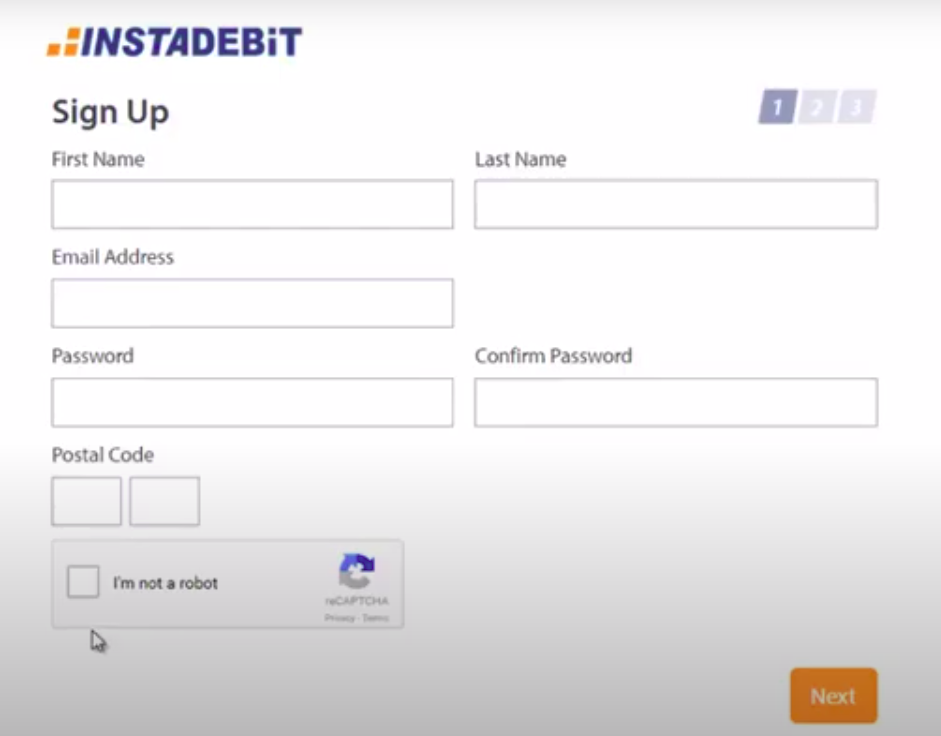 The next step is to provide some personal information that is needed for your identification as an account holder. Initially, you have to fill in your name, email address, password, and postal code.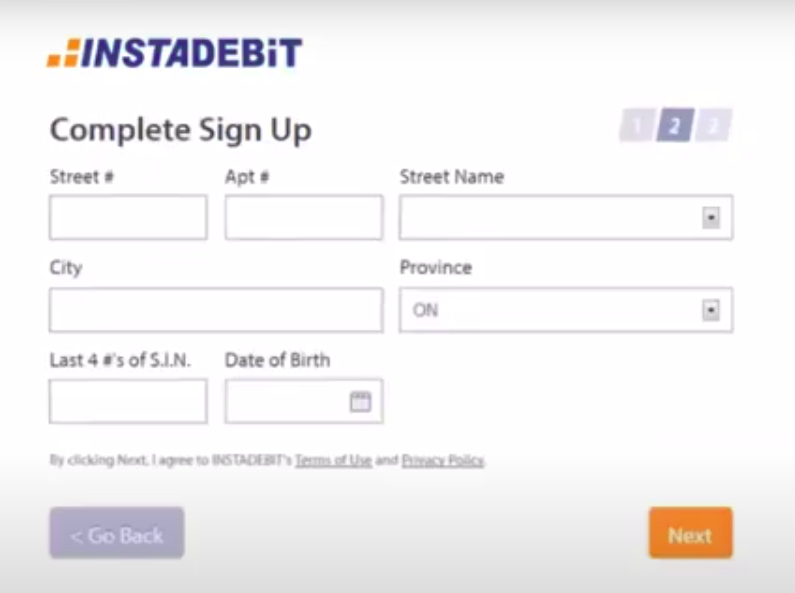 Then click on the Next button and proceed to the following step where you must complete the data by entering your full address, the last 4 digits of your S.I.N., and date of birth. As usual, InstaDebit warns customers that by performing this registration procedure they agree to the applicable Terms of use and Privacy policy.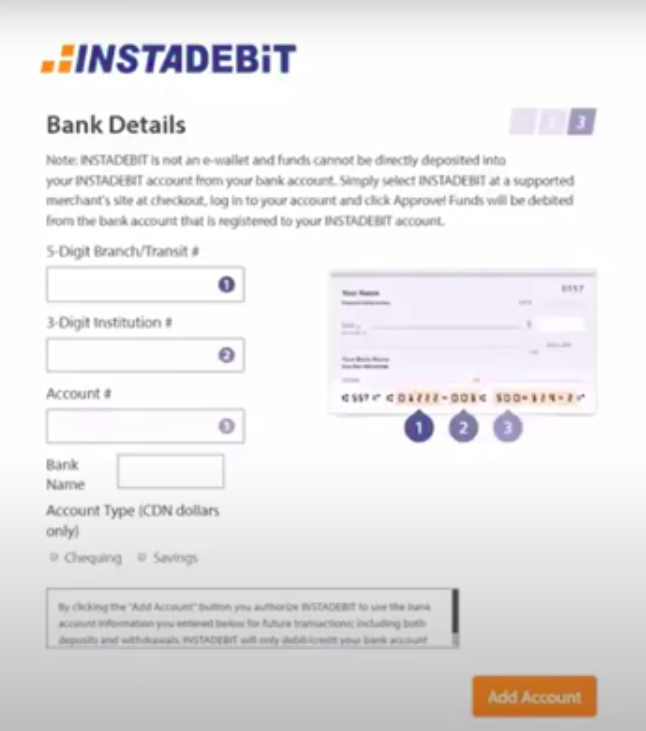 Once users complete the previous steps, a new window opens prompting them to provide precise data about their bank account. The required information includes a transit number, a financial institution number, and a bank account number. Of course, nobody expects you to recite these from memory. Users can take this info from the bottom part of their checks or by asking the relevant bank's customer support.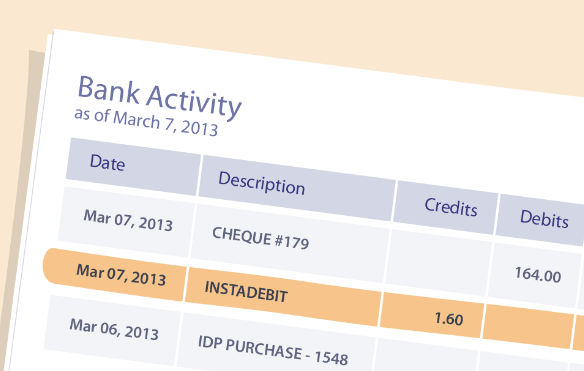 This is usually the end of the procedure for creating an account for such online payment services. However, this is not the case with InstaDebit, which has introduced an additional step. The service provider makes a small deposit to your bank account that appears in the bank statement. After receiving the transaction receipt, all you have to do is click on the Verify Bank Account link, and you are ready to use your account.
Keep in mind that this last additional step may take between 3 and 4 business days. During this pending period, users can perform online purchases up to a certain temporary limit. The sooner you verify your bank account, the better since holders of fully verified accounts enjoy much higher spending limits.
Registration Requirements
Copy of ID/DL
no
Utility Bill
no
Link bank account
yes
Link bank card
no
Depositing with InstaDebit
Given the high level of competitiveness among online banking solutions that are available for topping up one's betting balance, it would be impossible for a brand to be successful if it featured a complicated deposit procedure. InstaDebit represents a user-friendly service that both rookies and experienced bettors find convenient to use.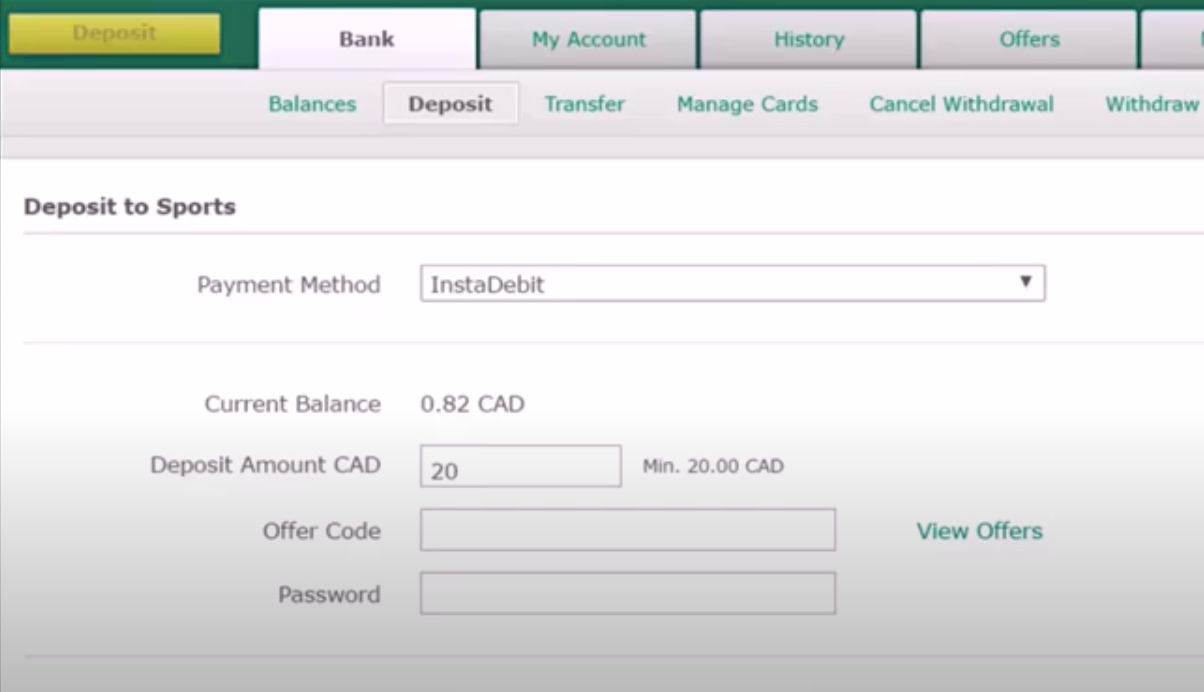 Making a deposit via InstaDebit to your sportsbook balance is a straightforward process. The first thing you need to do is log in to your account and head towards the cashier section where you will see a complete list of the payment methods you are entitled to use. Click on the InstaDebit logo and you will face a new window where you must specify the amount you want to be transferred as well as the credentials for accessing your InstaDebit account.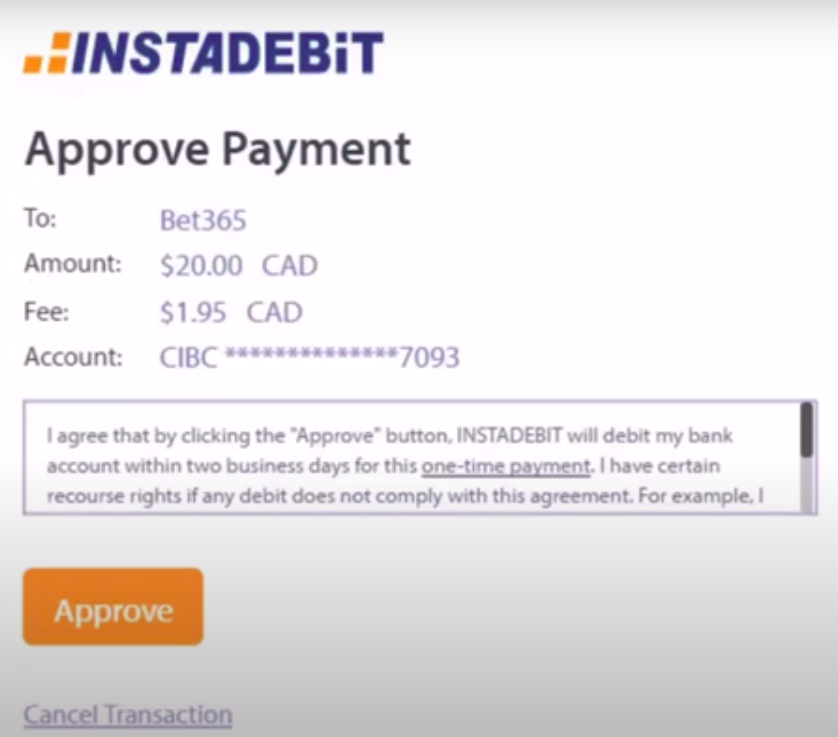 Carefully pass through the transaction details and if everything is correct, approve the payment. The best thing about this process is that as soon as you confirm the transaction the relevant amount will instantly show up in your betting balance and you can start wagering. Don't forget to preliminarily check your bookmaker's transaction limits.
It is good to know that punters can initiate an InstaDebit deposit to their betting balances even if they do not have a registration with the payment service provider. In this case, the bookie's platform will enable them to sign up with InstaDebit and then proceed to deposit. The registration procedure is in no way different from the one already described. Although some sportsbooks tend to restrict the promotions they provide for some payment methods only, these restrictions normally do not include InstaDebit.
Depositing with InstaDebit Summary
Timeframe
Instant
Minimum per transaction
$5
Maximum per transaction
$1,000
Fees
Up to $1.95
Available currencies
CAD and USD
Withdrawing with InstaDebit
What contributes to the great convenience of InstaDebit is the fact that the service can be used not only for instant funding of betting balances but also for cashing out the eventual winnings. Withdrawal requests are processed right after being placed by the user but it may take a couple of days before you can access your funds since most bookmakers have a fixed pending period.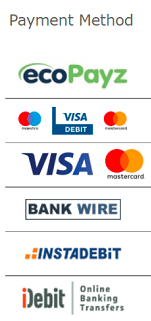 For the maximum comfort of users, the steps they need to follow in order to withdraw an amount from the sportsbook balance to their InstaDebit account are the same as when making a deposit. Again, the punter needs to go to his cashier and find InstaDebit among the available cash-out options.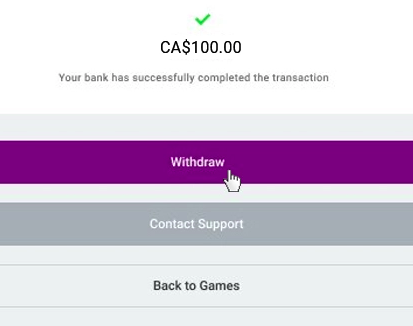 After checking your currently available balance you must enter the sum to be cashed out and indicate that you want InstaDebit to be the withdrawal method. Then you will be redirected to the payment service provider's website where you can review once again the transfer details and confirm the transaction.
Most online sportsbooks have withdrawal minimum and maximum limits, so you better check the bookie's terms and conditions before specifying the exact amount that you want to be taken out from your betting account balance.
Withdrawing with InstaDebit Summary
Timeframe
Up to 48 hours
Minimum per transaction
$20
Maximum per transaction
$20,000
Fees
Depending on the bookie's policy
Available currencies
CAD and USD
Fees Related to InstaDebit
After we reviewed the fees InstaDebit charges its users, we can only regret that the service can be used only within one country. It turns out that in terms of online sports betting this is one of the most cost-efficient options on the market.
If you access the fee's section of the InstaDebit website, the first amount you will see is $1.95 for making a payment to any merchant, including online sportsbooks. Do not frown upon this though since you will be obliged to pay this transaction fee only if you insist on making the payment directly from your bank account. When performing deposits from your InstaDebit account, these are completely free of charge.
The payment service provider imposes no fees if you decide to cash out your winnings to your InstaDebit account. However, if you initiate a transfer to your bank account, there is a fixed fee of $2.00 that will be deducted from the transferred amount.
As for the sportsbooks, most of them do not have fees related to InstaDebit deposits and withdrawals. Of course, this is not a universally valid rule and some bookies charge a small sum or a percent from the transfer amount.
Fees Related to InstaDebit Summary
Initial setup
$0
Maintenance fee
$0
Inactivity fee
$0
Withdrawals to a bank account
$2
Payments from a bank account
$1.95
Benefits of Betting with InstaDebit
Before punters decide whether to start making payments via InstaDebit, it may be useful to explore in detail the benefits this payment solution offers. Take a look at the compilation we have prepared with the most important features of InstaDebit and see how they can positively influence your betting experience.
Instant deposits to sportsbook accounts

Using InstaDebit in relation to online betting on sports guarantees that your deposits will appear in the account balance really fast. This is particularly essential for punters who are fond of betting on live events or simply for those who impulsively decide to place a bet. Once you have a fully verified account, transactions take place within minutes. Furthermore, withdrawals are also relatively quick, mostly depending on bookies verification policies.

Safe online transactions

When conducting online payments via InstaDebit, users can be sure that they are performed in a safe and legitimate environment. Due to the security measures utilized by the service provider, punters can stay assured that their betting deposits and withdrawals are properly protected. Let's not forget that using InstaDebit allows you not to provide card or bank account details to online sportsbooks.

Easy-to-use payment process

Betting enthusiasts will not only benefit from fast and secure transactions when processing their funds via InstaDebit, but they are unlikely to have any difficulties while depositing or withdrawing. If punters are already familiar with how online banking is executed, they will find it extremely easy to use InstaDebit as the platform is user-friendly.
Drawbacks of Betting with InstaDebit
We showed you the positive aspects of using InstaDebit for your sports betting activity but the method features a few disadvantages as well and they must be borne in mind. The more informed you are, the more you will be able to get the most out of the payment service.
Limited territorial coverage

The main drawback of InstaDebit is that customers can use the method only if they are located in Canada and they hold an account at a Canadian bank. What is more, not all local banks support InstaDebit. That is why, if you reside in another part of the world or have an account with a bank that does not work with this service provider, you will have to choose another method to top up your betting balance.

No cryptocurrencies accepted

There is no practical possibility to fund your betting balance with cryptocurrencies since InstaDebit is directly connected with your bank account and draws money from there. While this is not considered a major disadvantage, it may be quite annoying, especially if the bookmaker has special crypto promotional offers.

Lack of dedicated mobile application

The online payments field is rather crowded and not having a feature provided by some of your competitors is a prerequisite for a smaller number of customers. Although InstaDebit has a fully functional mobile version of its website, this is not enough for those punters who are used to operating with downloadable mobile apps. Adding this option will surely contribute to a larger users base.
Regulation and Availability of InstaDebit
As stated above, the very limited territory covered by InstaDebit is this payment method's main drawback. Only Canadian residents can use it, provided that they have accounts in one of the banks that work with InstaDebit. A part of these financial institutions is the Big Five – TD Bank, the Bank of Montreal, the Imperial Bank of Commerce, Scotiabank, the Royal Bank of Canada, and the National Bank.
It is good for punters that InstaDebit strives to assist them in real-time in case of problems related to the use of the service. The official website offers a live chat feature, and customers can also use email (support@instadebit.com) or toll-free phone (1.877.883.3248) to reach the customer care team. Be prepared to provide your name and the email you have registered with.
The InstaDebit payment solution is part of Instadebit International Solutions Ltd. and as such, its activity is regulated by the Canadian Payments Association (CPA). The Canadian Payments Act defines the legal framework that governs the operation of all payment service providers on the country's territory. The law assigns some responsibilities to the Minister of Finance, who has the power to review and prohibit new or amended payment rules and to issue specific directives. The Bank of Canada also has an important role to play in administering regulatory oversight and also works as a body to introduce amendments in certain financial market infrastructures.
InstaDebit Security
InstaDebit is a superb online banking solution that provides for outstandingly safe and anonymous funds transfer to and from online sports betting accounts. The way this method is organized excludes the need of sharing any banking information with your online bookmaker. Furthermore, it is not mandatory to have a debit or credit card since InstaDebit takes the amounts directly from your bank account.
All transactions executed through the InstaDebit platform are supervised and regulated by VeriSign and TrustArc, cyber security companies that guarantee that the operation of the payment service provider is fair and in compliance with the Canadian legislative requirements. Any communication that takes place between the users and InstaDebit is safeguarded by a 128-bit encryption system. The fact that the company works in direct contact with partner banks provides additional security as consumers can benefit from the financial institutions' security mechanisms.
When setting up an InstaDebit account, all users are required to confirm they are at least 18 years of age. Furthermore, they must enter the last four digits of their Social Insurance Number so that the payment platform is able to verify their identity. Another important issue to keep in mind is that if you enter wrong banking information, not only will the relevant transaction not take place but your account will be automatically blocked. Its subsequent reactivation is possible only when contacting the customer support team and after they investigate the issue.
InstaDebit Security Summary
SSL
yes
Two-factor authentication
yes
Face ID
no
Touch ID
no
App/SMS Notifications
yes
InstaDebit Reviews from Around the Web
When choosing an online sportsbook, there are a few key features punters must always look for – advantageous payment methods, a license by a reputable regulatory body, an abundance of betting markets, 24/7 customer support, and realistic promotional offers.
As the proper handling of your money affects all aspects of your everyday life, it is of particular importance to select the best possible payment service for transferring funds to and from your betting account. In many cases, the most appropriate option is a local banking method like InstaDebit since it would certainly accept your currency and work with a local financial institution. Especially if you are new to online payment solutions, sometimes the best source of information is customer reviews. There you can read about practical cases related to the use of the service, as well as how real users have coped with a certain problem.
Negative InstaDebit Reviews
While browsing through the Internet, however, we noticed that customer reviews about Canadian banking methods are scarce, if any. This also applies to InstaDebit. We only came upon several questions asked by users of the Reddit platform. If we could talk about some summary of the available information, then the complaints are related to severe restrictions due to insignificant technical issues. For example, a user reports his account being blocked for weeks due to a mistakenly pulled back deposit of just $25.
Positive InstaDebit Reviews
Novices in the online sports betting field have used the Reddit platform to ask what are the most advantageous payment services they can use in relation to betting via Canadian-friendly bookies. Some of them are particularly interested in InstaDebit as a deposit and withdrawal method. For the most part, the opinions are positive and punters report long-term experience with the service. One of the users only specifies that he has started using other payment methods in addition to InstaDebit as he has significantly increased the size of his bets over time and the service was no longer able to independently serve his betting activity.
Conclusion
Having gone through all the pros and cons of using InstaDebit to fund one's sports betting activity with Canadian online bookies, we can safely say this is one of the best payment services local punters can utilize. Only mentioning the three key advantages of InstaDebit, speed, security, and cost-efficiency is enough to attract bettors' attention. Its popularity is also due to the fact there are no lengthy registration procedures, the platform is immensely easy to work with, and it allows for both deposits and withdrawals.
Unfortunately, all these beneficial features are available only to Canadian bettors. So, if you have a local S.I.N and a bank account, you should definitely give InstaDebit a try.