Norway is widely known for its high standard of living and winter sports. According to a local proverb, all Norwegians are born with skis on their feet, and although it may not be true literally, it does hold a certain truth. The country is one of the world's greatest powers in winter sports – moreover, Norwegians love not only competing in sports but also betting on them.
According to a recent study, around 30% of the adult population in the Scandinavian country wagers on sports or opts for some other gambling activity as a form of recreation. If this does not sound too impressive compared to most European nations where over 50% of the people gamble on a weekly basis, we should mention that the Norwegian legislation is extremely strict and restrictive to all forms of gambling. At least on paper.
The government has established a full state monopoly on all forms of betting, casino gaming, lotteries, horse race betting, etc. No licenses have ever been issued to private operators and offshore betting companies. Still, the loose legislation allows for various web-based bookmakers to offer bets on winter sports, soccer, hockey, boxing, and many more.
Legalities of Online Sports Betting in Norway
Overview
History
Legalization
Software
Historical Betting Overview
Betting on sports has always been illegal in Norway, a country where traditional, Protestant values have governed the way of living for centuries. Until the middle of the 20th century, the general attitudes toward gambling as a whole have been very negative – people believed that they had to earn their money by honest, hard work and not by gambling.
Provisions 298 and 299 of the Norwegian Penal Code of 1902 stated that games of chance could be provided only by holders of a special license. Such permissions were issued only by the government and all other betting or gambling operations were considered illegal and punished. Yet, even regulated and licensed gambling businesses were just a handful of operators. Interestingly, people who took part in any gambling activities, including in legal, regulated betting, tend to do so in private.
With the modernization of society within the next few decades, the strict ban on gambling started to loosen. The first piece of legislation that shaped the betting and gambling industry in the country was the 1927 Totalizator Act. It gave the basis for a state-run organization for horse race betting to be established. This did not happen until the 1980s, though, when Norsk Rikstoto was founded. Norsk Rikstoto or the Norwegian National Tote is responsible for all parimutuel betting on animal racing in the country.
Odds Format in Norway
Decimal Odds
Fractional Odds
American Odds
Calculations
Understanding the odds is an essential part of sports betting – in order to have a chance for bigger profits, punters need to know how to determine which odds are good and when the odds do not provide a good value. In essence, the odds provide the information about the amount you could potentially win with every bet. There are three main formats, in which the odds are usually displayed by bookmakers – American odds, decimal, and fractional odds.
Just like in the rest of Europe, the most popular way to display the odds of bets is the decimal format. This is probably the simplest and easiest way to calculate the potential profit of a winning bet. A winning $10 bet at odds of 1.5, for instance, would bring a net profit of $15 – exactly 1.5 times the amount of the wager. As you can see, to come up with the expected profit, we just need to multiply the stake amount by the odds.
What You Need to Know About Sports Betting in Norway
Norway's gambling scene is in a peculiar state right now, as the country is known for having some of the strictest gambling-related laws out there. It basically operates under a monopoly, with Norsk Rikstoto and Norsk Tipping being the only practicing gambling venues in the country which are permitted to do so. Moreover, there are no brick-and-mortar casinos to be found anywhere in Norway.
In terms of online gambling, wagering on foreign websites is technically illegal for Norwegian punters. However, you will be relieved to hear that the law is not being enforced. Instead, punters will face no repercussions for placing stakes on online bookies that operate overseas. The only obstacle a Norwegian punter will come across is the fact that banks are prohibited from processing transactions to and from international gambling venues, and said ban is very much in practice. Thus, if you live in Norway, you will generally need to opt for options such as E-wallets, cryptocurrency methods, and prepaid cards to aid your wagering journey.
Norwegian Betting Laws and Legislation
According to the current legislation and general understanding of the law in Norway, all forms of betting and gambling are illegal. There are, of course, certain exceptions that make this statement practically worthless. First and foremost, the Norwegian government has established a state monopoly and the only two entities that are allowed to offer betting or gambling services to the citizens of the country are Norsk Rikstoto and Norsk Tipping. Second, the current legislation does not effectively ban and pursue unregulated online operators based outside of the country.
There are several laws controlling betting and gambling in Norway and the first one was the 1927 Totalizator Act, which introduced legal betting on horse races. According to the Act, horse races and the related betting operations required special authorization by the state. Currently, Norsk Rikstoto is fully responsible for these activities.
The foundation was established in 1982 by the Norwegian Trotting Association and the Norwegian Jockey Club with the purpose to run the V6 totalizator game. Since 1993, it operates all horse race betting in the country – there are now 11 tracks for harness racing and one track for horse racing. The foundation pays 3.7% of its annual gross turnover as fees to the state.
Another important piece of legislation is the 1992 Gaming Scheme Act, which was passed in order to grant Norsk Tipping AS exclusive rights to offer various gambling services such as betting on sports, poker games, lotteries, keno, and scratch cards. The company was founded in 1948 when the State owned 40% of it, while the rest was held by the Norwegian Sports Federation and the Norwegian Football Association.
Today, it is fully owned by the Norwegian State and is under the jurisdiction of the Ministry of Culture and Church Affairs. The types of games offered by Norsk Tipping were further detailed in the 1995 Lottery Act, which also granted licenses to charitable organizations that were allowed to operate lotteries and slot machines. However, the Lottery Act did not restrict charities to work in partnership with private companies and at some point, the slot machines became extremely popular in the country.
Since they were poorly regulated, the problem gambling rates in the country grew immensely in just a few years. This led to the banning of all slot machines in Norway in 2007, while in 2008, the government decided to make gambling and sports wagering on foreign websites illegal. In 2010, the Payment Act of Norway made it illegal for Norwegian banks and payment processors to accept transactions from offshore gaming and betting operators.
Betting Restrictions in Norway
Apparently, the legal environment in Norway is much more complex than it seems and there are tons of restrictions on sports betting in the country. While some are being enforced by authorities, others remain only on paper. For instance, there are no land-based casinos in Norway and all gambling and betting operations are carried out by state-run entities. Although it is illegal for individuals to place wagers on offshore betting sites, the rule has never been actually enforced.
The law states that bettors who bet online on an unregulated website can be fined. In theory, those who break the law can be imprisoned for a term of 3 months to 1 year. When it comes to legal betting activities, they are available to individuals who are 18 or older. There is no age limit, however, to scratch cards use and even children can buy them.
Betting is restricted only to the land-based and online products offered by Norsk Tipping. Despite authorities' efforts to ban betting on foreign websites, the government does not prosecute bettors. The only major restriction betting fans would probably face is when they try to make a deposit or withdraw their money from an offshore betting or casino site.
Since 2010, Norwegian banks simply do not accept any payments related to illegal gambling or foreign operators. Moreover, Norwegian citizens are required to declare their winnings and any income from other countries.
Online Betting Regulatory Body in Norway
The regulatory body that oversees online betting in the country is the Norwegian Gaming and Foundation Authority (Lotteri og Stiftelsestilsynet), which is an agency within the Ministry of Culture. The Gaming Authority was established in 2001 to provide the administration, control, and regulation of state-run betting and gambling operations, as well as of private lotteries. It also processes the license application filed by associations who wish to hold lotteries with a turnover of more than NOK200,000 (approx. US$21,700).
The Authority also aims at preventing the negative impacts of the gambling and betting activities offered in the country. The Government's gaming policy is based on social responsibility and the belief that the first priority should be safeguarding the people from the long-term dangers of compulsive gambling. The objective of the current regulation of the betting and gambling market is to limit and prevent "undesirable" gaming behavior, as stated on the website of the Norwegian Government.
Popular Betting Markets in Norway
Ice Hockey
Handball
Football
Skiing
As one might guess, Norway's position in the Northern hemisphere has resulted in a population that is quite fond of winter sports. Indeed, sports the likes of skiing tend to be a favorite in the country, but other sport variations are pretty popular too. Moreover, you can be certain bookmakers offering their services to Norwegian customers take all of this into account and thus provide rich catalogs of sport types.
As previously established, winter sports are pretty popular among Norwegian punters. With that in mind, it is of no surprise that ice hockey is a favorite of many Norwegians. The sport's history within this region dates back to 1930, and as you might imagine the nation has been home to generations of passionate fans ever since. Nowadays, betting on sports is a well-liked way for fans to enjoy ice hockey even more, and bettors can wager on markets like match winner, moneyline, number of goals, and so forth.
Interestingly, handball is also a favorite of many gambling aficionados in Norway, and the country houses the Eliteserien (handball) leagues. As such, you will often find this sport listed in bookies that aim to cater to Norwegian residents. Punters who are fond of this sport have a number of bet types to choose from such as outrights and handicaps, among others.
You would be hardpressed to find a European country that doesn't harbor a passionate love for football, and Norway is certainly no different. This nation is home to many premium leagues such as Eliteserien (Football), Toppserien, and more. Naturally, a sport's fame means that a good number of people love to gamble on the results of football matches, and indeed football sports betting is very popular on bookie websites. Norwegian punters have access to a rich variety of bet options the likes of match goals, double chance, both teams to score, and more.
Norwegians have been skiing for centuries, and the practice is still popular among Norwegian citizens nowadays. Spectating ski events as a form of entertainment is, of course, also a part of this, which means that many individuals also love to wager money while they are enjoying a race. Bookmakers have taken note of this, and you will find a library of markets to bet on including outrights, podium finish, and the aforementioned live-betting.
Popular Betting markets in Norway
Sport
League
Ice hockey
Eliteserien (Ice hockey)
handball
Eliteserien (handball)
football
Eliteserien (football), Toppserien
skiing
Norwegian Ski Federation
Norwegian Online Betting Bonuses
Promotions
Match Bonus
Free Bets
Enhanced Odds
Technically, it is illegal for Norwegian citizens to bet on the websites of offshore bookmakers. The reality is very different, however, and there are hundreds of betting and gambling platforms that accept Norwegian punters. Moreover, the Government does not prosecute individuals and rarely taxes the winnings generated by gambling online. There are, of course, a few exceptions – only individuals who declared huge tax winnings have been required to pay taxes and fines.
On the contrary, many betting fans in the country are currently enjoying access to a wide range of online bookmakers conveniently from their computer or mobile device. The competition between bookies is fierce and they are all trying to attract Norwegian customers – with their living standards, Norwegians simply have a lot of cash to spend on betting.
Often, this results in better bonuses and enhanced odds for those who bet from Norway. Bettors based in the Scandinavian country are treated with dramatically increased odds on specific sports events – usually soccer or skiing events that are widely popular in Norway. With these enhanced odds, the potential profit generated from a successful bet could increase considerably.
Another great incentive for those who love sports and betting on them is the free bet bonus. It may come as a sign-up offer or as a part of a regular promotion on the website. Free bets are a fixed amount of bonus cash that must be used for wagering on certain sports events, type of sport, or on the outcome of any event offered by the operator. Normally, free bets have some minimum odds requirement – for instance, we receive a free bet of $20 and will need to wager it all at odd of 1.5 or more.
Some online bookmakers also offer new members welcome bonuses of $50, $100 or even $200. Such bonuses are normally granted as a percentage of the punter's initial deposit – it could be 100%, for instance, which means that bettors will have twice as much to wager on the website. Another important condition for all sportsbook bonuses is the wagering requirement – it usually applies to the amount of the bonus (if it is a deposit bonus) or the winnings from it. Considering we have received a $50 bonus, for example, and the wagering requirement is 5x applied to the bonus, we will need to place bets of at least $250 (5x$50) before we can withdraw our winnings.
Mobile Betting in Norway
Mobile Play
Download App
Browser In-Play
Download via QR
Scandinavian countries have always been among the most technologically advanced countries in the world, especially in the past few decades. And Norway is not an exception – Norwegians love new gadgets and anything mobile-friendly. Just like in most of the world, they now do anything from their phones – browsing the net, shopping, and betting on their favorite sports and teams.
The majority of betting operators available to Norwegian punters have created wonderful mobile apps and modern HTML5 sites that could be opened on any smartphone or tablet. In fact, even the state-run Norsk Tipping started offering betting services, lotteries and casino games on mobiles. It has a wonderful native app for iOS devices where iPhone users can enjoy betting on various sports, in-play betting, as well as lotteries and casino games.
However, the vast majority of punters in the country would prefer to bet online at one of the largest and most reputable betting sites. Needless to say, all leading bookmakers welcoming Norwegians have optimized their platforms for mobile use. Their websites are usually instantly accessible from all mobile devices, including iOS, Android, and Windows Phone. Rather than downloading applications on their phones, punters simply can open the betting site in the mobile browser of their choice.
Those operators who offer native apps for download usually take their international audience into account. There are currently dozens of betting apps available in Norwegian Bokmål, the dominant form of the Norwegian language used by over 90% of the people.
Popular Betting Banking Methods in Norway
Bank Transfer
Credit Cards
E-Wallet
Prepaid Cards
Betting operators that accept members from Norway normally offer a great range of payment options to those who want to make a deposit or withdraw their winnings. However, punters residing in the country would probably face the issue of canceled credit/cards and canceled bank transfers. The reason is the Payment Act of Norway, which was passed in 2010 and effectively forced banks and various payment processors to accept transactions from offshore gambling and betting operators.
Currently, bank transfers could be processed only to and from the website of Norsk Tipping. However, plenty of other solutions are available to punters who have decided to sign up with a foreign bookmaker. The most preferred banking method is the digital wallet, of course. E-wallets such as ecoPayz offer a fast, secure and cost-effective way to make a deposit into a betting site and they are also a convenient withdrawal method. Normally e-wallet deposits are instant and free of charge, while payouts are processed within 24 hours.
Credit and debit cards remain the most convenient banking methods for the Norsk punters. VISA and Mastercard branded cards are widely accepted by most of the gambling merchants for both deposit and withdrawal.
Alternative payment methods can also be used and one of them is the WebMoney system – originally Russian, this online payment service is now being used around the world and features multiple payment products, including money transfers, e-wallet, and more. The prepaid solutions by Paysafecard are even more popular among Norwegian bettors due to the enhanced security, convenience and anonymity offered by the service.
One of the best ways to fund an online betting or gambling balance and to get your winnings paid out, however, is via cryptocurrencies such as Bitcoin. This option is extremely time-efficient and secure, while the fees are almost non-existent. But Bitcoin is just one of the many cryptocurrencies available to Norwegian punters, especially now when an increasing number of betting sites are starting to accept these types of payments.
Popular Banking Methods in Norway
Payment Method
Fees
Deposit Limits
Deposit Times
Withdrawal Limits
Withdrawal Times
VISA
Free
€10 / €5,000
Instant
€20 / €5,000
1-3 business days
Mastercard
Free
€10 / €5,000
Instant
€20 / €5,000
1-3 business days
Klarna
Free
€15 / €8,000
Instant
N/A
N/A
Paysafecard
Free
€5 / €1,000
Instant
€5 / €2,500
Within 24 hours
Ecopayz
Free
€5 / €20,000
Instant
€5 / €20,000
Within 12 hours
What to Watch When Picking Norway Betting Site
Security
Customer Support
Mobile Compatibility
In-Play Betting
There are many things to take note of when you are trying to decide which website will be your bookie of choice. Chances are, your first impression of a casino will be that of what bonuses are on offer, and that is a good place for us to start. You are basically looking for two things as far as bonuses are concerned – the welcome bonus and the bonuses available to regular bettors. Both are valuable, but we recommend looking through a website's long-term bonuses in more detail, as this will give you an idea of how regular customers are treated.
The second important aspect of online bookmakers is the odds formats that the website allows you to utilize. They are worth checking, particularly because you would want to see if decimal odds are an option. They tend to be the easiest to use when calculating payouts and are thus recommended to both novices and experienced punters alike.
Next, it is crucial to check the types of sports that are on offer, as well as the available markets. If you have a particular sport in mind, then it is important to see that it is both present in the website's catalog and that there is a good number of bet types to choose from.
Last, but certainly not least, pay a visit to the venue's payment methods section. This is especially important for Norwegian bettors, as banks within the country are unable to legally approve transactions to and from gambling websites that operate outside of Norway. If you are a Norwegian bettor, ensure that the website you are eyeing has provided methods such as e-wallets, cryptocurrency options, or prepaid cards.
Best 10 Betting Sites in Norway
As previously mentioned, Norwegian bettors are legally not allowed to register and bet on foreign betting websites. However, it bears repeating that punters do not face consequences for their gambling transgressions as the law that is supposed to regulate this aspect of gambling is not actively imposed. In other words, so long as an online venue allows Norwegian residents to use its services, then you can access them without worry. The number of bookies that follow this practice is ever-increasing, so you definitely have a lot of options to choose from.
Interwetten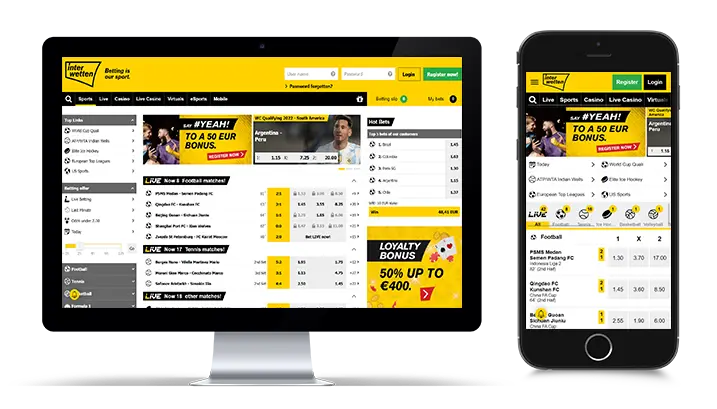 Established back in 1990, Interwetten is a well-known and reputable provider of gambling services. Interwetten is licensed by the Malta Gaming Authority, an international gaming control board that has an impeccable reputation and which ensures that any website to receive its license is trustworthy and excellent in terms of the quality it provides. In addition, the bookmaker boasts an impressive selection of sports the likes of football, rugby, alpine skiing, and so on, as well as many bet variations to choose from. Its in-play category is especially active and will satisfy any punter who is a fan of these types of bets. All in all, you will definitely find something in Interwetten's library that catches your fancy regardless of what types of sports you prefer. Punters who love playing on the go are also catered to, as you can find Interwetten on Google Play and the iOS App Store depending on your device.
Sufficient variety of payment methods
Intuitive and easy to use betting software
In-play available
Good mobile compatibility
Live-chat customer support is absent
No horse racing or greyhound racing
Cumbersome account verification
Withdrawal fees
Betsafe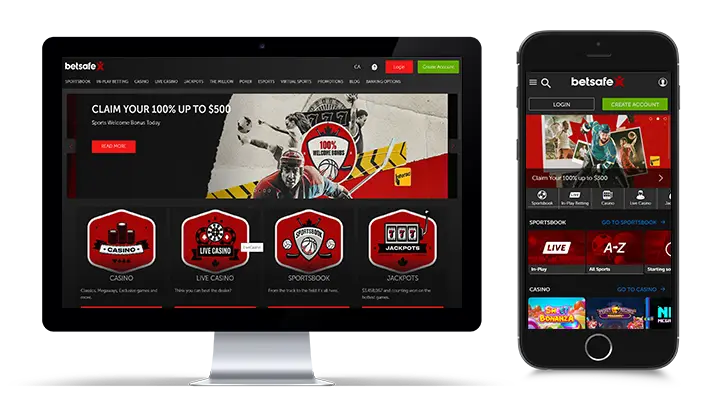 Betsafe is a popular bookie that possesses a license by the Malta Gaming Authority. Its subdued and elegant design coupled with the conveniently structured layout make for a pleasant betting experience, and you will find a great variety of sports and markets to enjoy.
We all lead busy lives these days, so pretty much any reputable provider will ensure that its betting services are available not only for desktop users but for those who need to use a smartphone to play too. Betsafe is not an exception, and mobile punters are able to download its dedicated apps either on the Apple Store or Google Play depending on the type of device they utilize.
In addition, managing your banking solutions is also just as easy on mobile as it is on a computer, and the bookmaker also offers a sufficient number of payment methods to ensure that depositing and withdrawal proceed smoothly for every customer.
Good selection of sports and markets
Licensed by a trustworthy gaming control board
In-play
Live-chat support
Cryptocurrency is not an available banking solution
Absence of greyhound-racing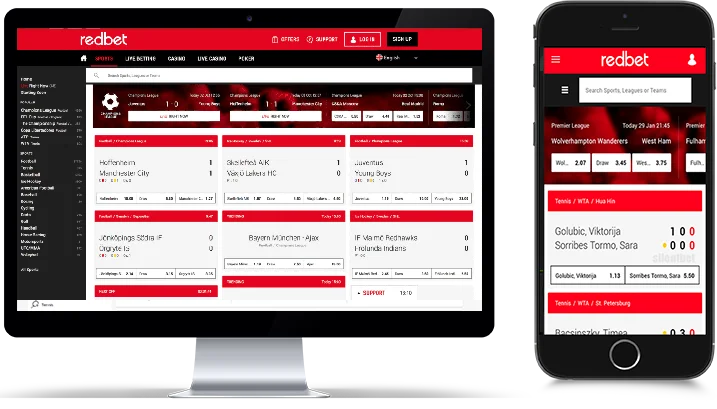 Redbet is an older and, consequently, trusted venue that has been meeting the needs of gambling enthusiasts for nearly two decades. Its parent company, Evoke Gaming Limited, is licensed by the Malta Gaming Authority and the United Kingdom Gambling Commission. Given how stringent both gaming control boards are, this is a testament to how Redbet's services are truly trustworthy.
The bookmaker provides an array of bet varieties and types of sports for its customers, and you are certain to find something entertaining within its well-organized and visually appealing library.
The website can be used by both computer users and bettors who prefer wagering on smartphones, although it is unfortunate that iOS does not currently have the option to download a dedicated Redbet application in the Apple store. Should you ever run into any issues while utilizing the website, customer support is available in a variety of ways and you will promptly receive the help you need.
Rich catalog of sports and markets
Live-chat customer support
In-play
No dedicated iOS app
Limited number of banking solutions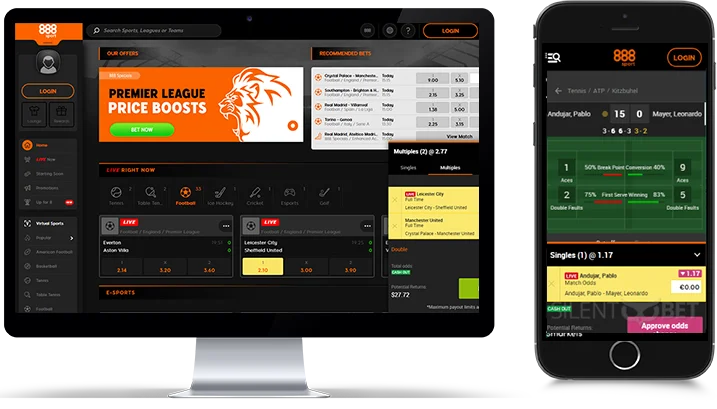 Established in 2008, 888sport is a relatively young but nonetheless popular online sportsbook. The bookie's parent company is registered on the London Stock Exchange, which highlights the reputability of 888sport's services along with its licenses issued by the Gibraltar Gambling Commission and the United Kingdom Gambling Commission.
Appearance-wise, the bookmaker passes with flying colors as it is visually both modern and pleasant to look at. It does not disappoint in terms of functionality either, as navigating through the website and placing bets is both snappy and fun. Moreover, punters who either prefer to use their smartphones to place bets, or just have no other choice due to their busy lifestyles, can enjoy the same features as those who wager by using their computers. Gaining access to 888sport's library is as easy as pie on smartphones, because you can simply use its website. It scales exceptionally well on smartphone screens and the user experience is just as good as it is for pc users.
24/7 customer support
Well-functioning interface
Great betting software
Good number of deposit methods
Location restricted live streams
Limited number of withdrawal options
Inconsistent customer support quality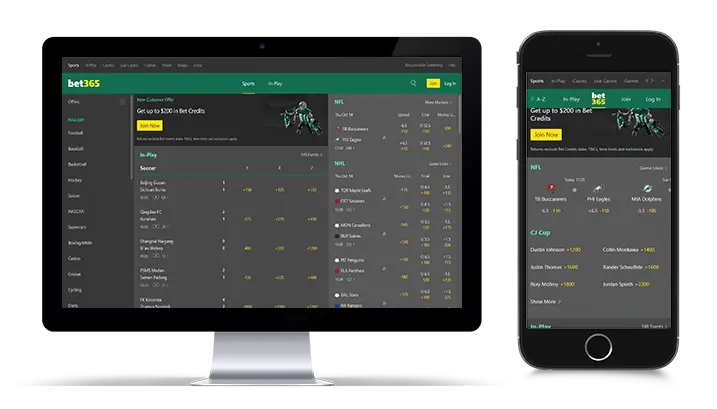 Whether your preferences lie with more traditional types of sports such as football or cricket, or you are more interested in modern games like the ones you will find in the Esports scene, Bet365 has got you covered. This bookie has been hard at work providing bettors with a wonderful variety of sports and markets to choose from ever since 1974, and it continues to be one of the most reliable and trusted sportsbooks out there.
It boasts licenses by the United Kingdom Gambling Commission as well as the Gibraltar Gambling Commission, and both gaming control boards are known to be very diligent and strict with all gambling venues that manage to earn a license by them.
Nowadays, using smartphones for pretty much all of our wagering activities is basically the norm, and bet365 has not neglected to take this into account. You can download the bookie's dedicated smartphone apps from Google Play and the iOS Apple store.
Convenient website layout
Expansive sports catalog
Great variety of banking solutions
In-play available
Limited number of payment methods that can be used with bonuses
Overly-complicated verification process
Betvictor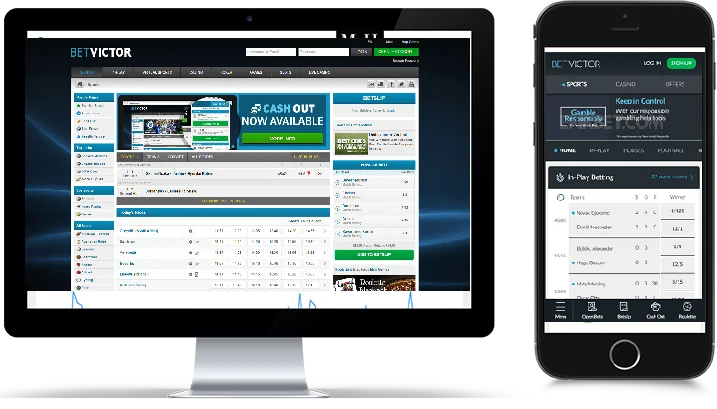 Betvictor is yet another prominent and experienced player that stands out among the sea of bookmakers you can find nowadays. The company first started its services in 1963 and continues to provide a great gambling experience with the modern methods it has at its disposal today. Moreover, it does so by meeting all of the security and integrity standards a modern sportsbook should follow if it wants to be seen as a credible venue. This is evident thanks to Betvictor's licenses issued by the Gibraltar Gambling Commission and the United Kingdom Gambling Commission.
Betvictor boasts an excellent variety of sports and markets to bet on, and the options provided include ice hockey, hurley, and golf among others. Furthermore, we can happily say that punters who would rather browse the bookmaker's vast catalog on their phone rather than on pc are well taken care of, as the experience is just as snappy and responsive as it is for desktop users.
Strongly competitive odds
Live-chat support
No deposit or withdrawal fees
Bookmaker is licensed by the Gibraltar Gambling Commission and the UK Gambling commission
Streamlined registration process
Website layout is slightly cluttered
Withdrawals can take a while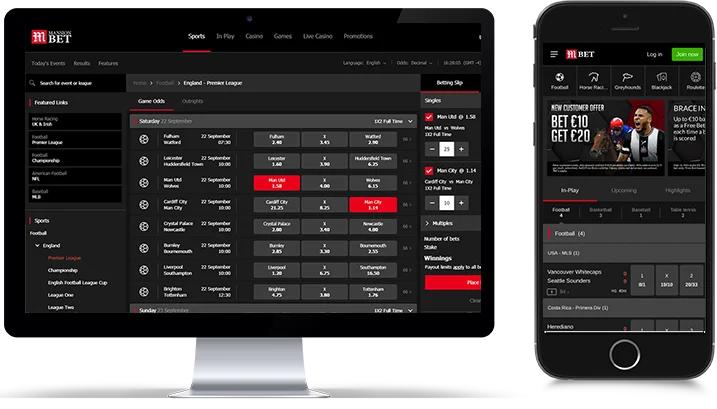 At first glance, Mansionbet might appear to be a newer player in the field of online gambling. While it is certainly true that its sportsbook services were established only in 2018, Mansion itself has been a prominent player in the gambling industry for nearly two decades. The venue's reputation definitely precedes it, and its newest product delivers in terms of the quality we have come to expect from Mansion.
The overall betting experience is lovely thanks to the well-designed layout and sheer variety of sports available, so we are more than certain that any punter will find something that is to their liking regardless if they are more into mainstream options such as football, or they prefer to wager on more exotic sports like futsal. Moreover, mansion bet has made sure that its users will not have a hard time finding a convenient banking solution as the options on offer are plentiful.
Live-chat is available
Competitive odds
Modern and user-friendly interface
In-play
No 24/7 customer support
Lack of an android application
Website can be used exclusively in English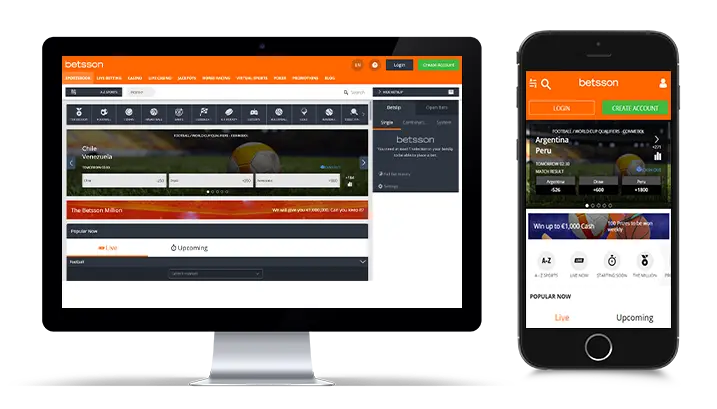 Few sports betting venues can boast the sheer longevity Betsson does, as its parent company has been in business for over five decades. The sportsbook is licensed by the Malta Gaming Authority and is thus a legitimate, reputable venue that you can trust. There is an abundance of bet variations on offer and you will find the user experience of the website's navigation and betting features to be excellent.
On the financial side of things, customers can make use of a good number of deposit options. We can also note that Betsson's customer support is efficient and is always there to help when you need assistance with acquiring information, solving an issue, and so on. Moreover, requesting a helping hand or doing anything else is just as easy on mobile devices as it is on desktop browsers, as Betsson's dedicated smartphone apps are available to download on both Google Play and the Apple iOS store.
Excellent betting software
Good number of deposit options
Swift and helpful customer support
Large variety of sports and markets available
Limited number of withdrawal methods
Lack of greyhound racing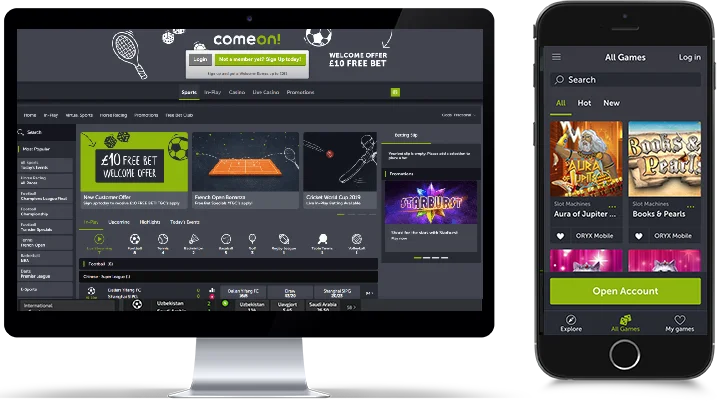 ComeOn offers a smooth and entertaining betting experience to its customers. Although the sportsbook is fairly young, it has steadily become a very well-liked venue among bettors which is no wonder given the quality it provides. There is an array of markets to choose from such as tennis, handball, and many more, as well as some of the best odds you would find online. The payment options provided are also sufficient,
If you would ever like to enquire for additional information or you simply run into any issues while using ComeOn's services, customer support is easy to get a hold of and you will be assisted in a swift and accommodating manner. Last, but not least, its credibility is evident as it is licensed by the Malta Gaming Authority. Bettors that prefer to use their smartphones or tablets for their wagering activities can enjoy exactly the same features provided to computer users simply by loading the website on their mobile browser of choice.
Website supports a good number of currencies
Great variety in terms of markets
Competitive odds
No 24/7 customer support
Certain banking solutions require fees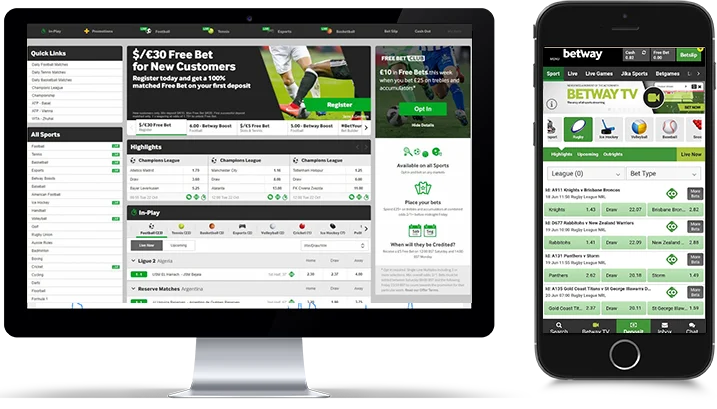 Having launched in 2006, Betway is one of the more prominent bookmakers you will come across. Moreover, you can rest assured that it is a trustworthy venue as well because it is licensed by the United Kingdom Gambling Commission and the Malta Gaming Authority.
The website has provided its users with an abundance of sports types to choose from the likes of football, greyhounds, sports, and many more. Furthermore, the user-friendly interface allows punters to wager with ease, and we can also happily note that your time at Betway will be safe and secure thanks to the bookmaker's utilization of SSL encryption.
If you lead a busy lifestyle and are thus restricted to using your phone instead of a computer, the bookie has got you covered. It provides well-made smartphone applications that are not only easy to download but offer the same functionality and ease of use desktop users enjoy.
Vast quantity of sport types and bet variations
Holds licenses by a number of reputable gaming control boards
Dedicated Android and iOS apps
Live-stream availability is region dependant
Certain offers require using a debit card