The Netherlands may not be famous for its sports activities or large sports betting sector but both sports and gambling are ingrained within the nation's interesting culture and way of living. Known for its tulip fields, windmills, and quite liberal beliefs, the country is also home to one of the most passionate cyclists and soccer fans. It is also the country with the world's oldest state lottery, the Staatsloterij, which was established nearly 300 years ago and is operating to this day.
All gambling and betting activities in the Netherlands are run by the state monopoly, with all other operations considered illegal. But just like in most of Europe, the legal landscape is quite complicated and the country is now set to liberalize its online betting and gambling market. The Dutch Remote Gaming Act was passed and the regulated online gambling market is expected to launch in 2021. Until then, bettors in the Netherlands can place bets on websites based outside the country or visit the state-run betting shops.
Legalities of Online Sports Betting in Netherlands
Overview
History
Legalization
Software
Historical Betting Overview
The Dutch have been avid gamblers for at least three centuries with lotteries, betting on sports and horse races being popular forms of recreation for many of them. The Nederlandse Staatsloterij, which translates as the Netherlands' State Lottery, was launched in 1726 in Hague. This is the first evidence we have for an organized form of betting regulated by the Government but informal lotteries, games of chance, and betting operations have probably been popular long before that.
However, the Staatsloterij remained the only entity with the legal authority to offer any type of gambling or betting services to the Dutch citizens. This continued well into the 20th century when betting on sports was finally legalized as the second state monopoly in the 1960s. Despite the long-lasting ban on a wide range of gambling activities, the stance towards sports betting and gambling as a whole has never been as negative as in other European countries.
After all, the Dutch have always been known as a modern, progressive nation. With the new legislation in place, the online betting market is expected to be privatized, starting in the summer of 2021. Considering that half of the country's population even now takes part in the games of the state lottery, the expectations for the future regulated online betting sector are very positive.
What You Need to Know about Sports Betting in the Netherlands
Online sports betting in the Netherlands has recently become completely legal. Legislative changes that began a couple of years ago are already a fact with the enacting of the Remote Gambling Act (KOA). At the beginning of October 2021, the government issued the first ten licenses for online sports betting and casino games in the country.
The choice for Dutch bettors is expected to become even more diverse, as many license applications have been submitted so far. One of the strict conditions is for the betting provider to have a stationary seat in the EU or EEA or at least to be licensed and supervised by another country's institution.
Being the chief regulatory body, the Netherlands Gaming Authority monitors all online gambling activities in the country. Online betting operators are obliged to keep an eye on players' behavior and take restricting measures if they feel people are about to become problematic gamblers. If punters try to avoid the imposed limitations, they can be banned from the bookie's website and their names will be incorporated in a central register.
Bettors in the Netherlands can use several payment methods accepted by almost all online bookmakers. Apart from the well-known bank transfers, credit and debit cards, Trustly, and Paysafecard, other methods traditionally used in the country are iDEAL and Klarna popular due to their fast transaction times and low or no fees. Apple Pay is also becoming popular and since 2019 has gained more than 2 million users.
Odds Format in Netherlands
Decimal Odds
Fractional Odds
American Odds
Calculations
All three types of odds – decimal, fractional, and American, are used to describe the value of a certain bet. However, they tend to focus on different aspects of the betting process. Similarly to most of the European countries, the dominant type of odds in the Netherlands is the decimal format. This is probably the simplest format, allowing punters to immediately see how much they would win for every $1 staked.
Imagine we are betting $100 at odds of 2.5 – to calculate the potential profit, we need to multiply the stake by the odds. In this case, the bet could bring a total return of $250. What we should bear in mind when discussing decimal odds is that the bettor's stake is included, which means that the return of $250 comprises the $100 original bet plus a net profit of $150. To represent even odds, for instance, bookmakers simply display them as 2.0. The same odds would be shown as 1/1 in UK betting sites or as -100 (for the favorite) and +100 (for the underdog) in American betting platforms.
Dutch Betting Laws and Legislation
As we have mentioned already, all gambling and betting operations in the Netherlands are run by the state monopolies and according to the current legislation, adults aged 18 and over are allowed to place bets at regulated betting sites or in land-based betting shops. Betting was first legalized in 1961 when the Betting and Gaming Tax Act was passed. After three years, the Betting and Gaming Act 1964 (BGA) provided the full regulation for the gambling and betting sectors.
The Act states that all betting operations are prohibited unless they are provided by a licensed operator. This means that all betting activities that found to be unauthorized and not holding a proper license would be fined and prosecuted. Moreover, it is illegal for Dutch bettors to bet at websites without a local license. And this is where the state monopoly can be seen – according to Article 16 (1) of the BGA, only one license could be issued and it is currently held by Lotto B.V., which manages all betting shop and the betting site of Toto Sportweddenschappen.
Several other state-controlled monopolies are responsible for the lotteries, casino games, and other regulated gambling activities in the country. This includes, for instance, Holland Casino, which has exclusive rights to offer casino games and has more than a dozen branches across the country, and Staatsloterij B.V., which is the national lottery.
Several years ago, the country decided to introduce a regulated online gambling market where new licenses would be issued to both domestic and foreign betting and gambling operators. The measures were drafted in 2014 and in February 2019, the Dutch Senate finally passed the Remote Gambling Act. When the new piece of legislation comes into force (probably on June 1, 2021), it would introduce a new licensing regime. According to the Dutch Gaming Authority, more than 180 casino and betting operators have expressed interest in applying for a remote gaming license.
Dutch Betting Restrictions
The current gambling legislation in the Netherlands is very restrictive and does not allow casinos or bookmakers to operate without a license. This includes online operations, which means that is illegal to offer such services to Dutch residents and to bet at unlicensed offshore websites. However, punters are not prosecuted and do not face fines or criminal charges, whereas foreign operators who offer their services to Dutch people are fined.
The Government is trying to block access to websites, which accept Dutch customers and are available in the Dutch language. It even attempted to force the local banks to process transactions to and from offshore betting sites as other countries such as the United States have done in the past. The authorities' efforts, however, turned out to be fruitless since the Dutch banks refused, claiming such an act would violate the citizens' rights.
Another important thing Dutch bettors should be aware of is that only individuals aged 18 or over are allowed to participate in any betting or gambling activities. Winnings above €454 are subject to a 29% tax, which is automatically charged at the source. Since people can legally bet only in licensed shops or at the website of the state monopoly, their winnings from offshore sites would be taxed. In addition, gamblers are not required to pay any tax if they have spent more than they have won.
According to the current sports betting license, punters cannot stake more than €1,000 per bet. In addition, there are weekly deposit limits, which vary, depending on the bettors' age. Those who younger than 24 can deposit up to €100 per week, whereas punters aged 24 and over are allowed to make deposits of up to €1,000 each week.
Online Betting Regulatory Body in Netherlands
The Netherlands Gaming Control Board was established in 1996 to regulate the betting industry in the country. In 2012, however, it was replaced by a new authority called Kansspelautoriteit (KSA). The KSA consists of board members who are appointed and dismissed by the Minister for Legal Protection (Justice and Security). The Dutch gaming policy, enforced by the KSA, has three main priorities, namely player protection, prevention of gambling addiction, and securing measures against crime and unfair practices.
The KSA is authorized to impose fines on betting and gambling businesses found to be offenders. The maximum administrative fine imposed by the Authority without the intervention of the Public Prosecution Service or a judge is €830,000 or 10% of the annual turnover of the company – whichever is higher. It can also issue administrative orders and penalties, while in serious cases, it may appeal to the Public Prosecution Service to open legal proceedings.
Popular Betting Markets in the Netherlands
Football
Ice Hockey
Volleyball
Basketball
The Netherlands is one of the countries with the largest number of actively sporting people (about 2/3 of the adult population practices some discipline at least once a week). It is interesting to note that some of the most popular sports, namely fierljeppen, beugelen, kaatsen, klootschieten, kolven, and korfball are strictly local and almost not practiced outside the country. This is probably the reason why they rarely appear as an option for betting in online sportsbooks.
The leading discipline in the field of sports betting is football. This is not surprising, as it has millions of fans around the world, but it must be also borne in mind that some of the most famous players of all time are Dutch – Ronald Koeman, Dennis Bergkamp, Johan Cruyff, Marco van Basten, and many more. The competitions covered are the World Cup, the UEFA Champions League, the UEFA Europa League, the UEFA Europa Conference League, both leagues in the Netherlands, the KNVB Cup, and the national leagues of over 70 countries.
Another common bettors' favorite, tennis, is present in all online bookmakers in the Netherlands. The betting markets are diverse and for some matches there are over 50 betting options. Smaller local tournaments are not featured but punters can enjoy hundreds of events from the ATP, WTA, ITF, and Challenger series.
Volleyball is one of the sports the Dutch are very good at and logically is in one of the leading positions in terms of interest shown by the punters. Bets can be placed both on matches from major international tournaments and in several domestic championships – the Czech Republic, Kazakhstan, Russia, Poland, Denmark, etc.
The list of sports available on the betting market continues with basketball, golf, ice hockey, American football, MMA, winter sports, eSports, and many more.
Popular Betting Markets in the Netherlands Summary
Sport
Leagues
Football
UEFA Champions League, UEFA Europa League, Eredivisie, Eerste Divisie, KNVB Cup, Premier League, La Liga
Tennis
Roland-Garros, Australian Open, US Open, Tenerife Ladies Open, Bogota Open, ITF tournaments
Volleyball
World Championship, World Grand Prix, NCAA Women, Central American Cup, etc.
Basketball
NBA, NCAAB, Euroleague, Eurocup, FIBA Champions League, VTB United League
Ice hockey
NHL, KHL, DEL, WHL, Alps Hockey League, World Championship, Club friendly games, etc.
Dutch Online Betting Bonuses
Promotions
Match Bonus
Free Bets
Enhanced Odds
Those who decide to bet at the website of the state monopolies can expect various bonuses and promotions, including free bets, cash bonuses, increased odds on combination bets (Toto Combi Boost), and more. However, most punters prefer betting at offshore websites that are not required to declare the winnings of their customers before the Dutch Government or to impose the state 29% tax.
The vast majority of betting sites that accept customers from the Netherlands also cater to members from all over Europe. Many of them, although technically offenders according to the Dutch law, are, in fact, licensed and fully regulated in other European jurisdictions. This means that they have passed compliance tests and have proved before the authorized institutions that they are fair and secure. Moreover, all reputable betting sites have a variety of bonuses for new and existing members.
This includes, of course, the sign-up offers, which typically come as either a free bet or a deposit bonus. Bookmakers offering free bets usually require newly registered members to make a minimum deposit of $10, $20 or $30 (or the equivalent in Euro) and wager it once on the betting platform in order to qualify. Free bets usually come in fixed amounts ($20, $50, etc.) and must be spent on the site before the winnings from them could be withdrawn.
There are also certain conditions that must be met when claiming a deposit bonus. Deposit bonuses are credited by operators as a percentage (often 100% or more) of the first deposit made into the site. Once the deposit is confirmed, there will be a wagering requirement – the bonus usually must be wagered a certain number of times on qualifying games. Deposit bonuses normally have a rollover between 5 and 15 times the bonus amount, while free bets usually need to be rolled over up to 6 or 8 times. Punters should know, however, that if the bonus is wagered at some other types of games such as casino games, the rollover is increased to at least 25 times the bonus amount.
Mobile Betting in Netherlands
Mobile Play
Download App
Browser In-Play
Download via QR
Mobile betting is becoming increasingly popular as technologies evolve and bookmakers create better, faster, and more convenient mobile platforms. Most people now prefer to access online bookmakers from their phones rather than having to wait to get home to place a bet on their favorite team or player. Moreover, some of the leading bookies available in the Netherlands have introduced state-of-the-art apps which allow bettors to watch live events, to bet on them, and to access detailed stats about the two teams.
The vast majority of betting operators, however, prefer to optimize their websites for both desktop and mobile use. Rather than creating a native app, they just improve the design, functionality and overall look of their betting platforms so they can perform just as seamlessly on mobiles. It is a better alternative for punters, too, because you do not need to download and install any special piece of software on your phone and tablet. The majority of mobile-friendly betting sites are compatible with all Android and iOS devices.
It is interesting to see whether the planned Remote Gambling Act would cover the mobile aspect of online gambling and betting and whether it would have special provisions for this now-booming market. Currently, Dutch bettors should not worry about accessing mobile bookmakers from their phones and tablets – the Government seems to be relaxing the strict regime and its negative stance on unregulated betting.
Popular Betting Banking Methods in Netherlands
Bank Transfer
Credit Cards
E-Wallet
Prepaid Cards
Most of the betting sites that accept Dutch members are available in the Dutch language, process payments in Euro (EUR), and offer a wide range of payment methods that would be convenient to those in the Netherlands. This includes traditional options such as wire transfers and international credit and debit cards like Visa, Maestro, and Mastercard, but also a few methods that are now preferred by Dutch customers.
We should start with the e-wallets, of course, which are incredibly popular among those who bet online – the deposits via these digital wallets are instant, extremely secure, and come with very low fees. Often, transactions to betting sites are not charged additionally at all. Withdrawals are also incredibly fast, compared to other banking methods and, depending on the particular bookmaker, you can receive your winnings within a few hours or up to a day. Popular e-wallets in the Netherlands are PayPal, ecoPayz, Skrill, and Neteller.
The most popular payment processor in the Netherlands, however, is iDEAL. This is an online payment system, based on online banking and available to practically anyone with a bank account in the country. It transfers funds to and from users' bank accounts to merchants and vice versa. This makes the bank transfer faster, easier, and more convenient. This is why most if not all betting sites available to Dutch punters have introduced iDEAL payments.
Bettors can also use various prepaid cards such as Paysafecard or Entropay to fund their sportsbook balance. However, prepaid vouchers are not available for withdrawing their winnings so they should look for another way to cash out. Some operators now offer Bitcoin payments and transfers using other cryptocurrencies like Litecoin or Ethereum. Once you learn how to use cryptocurrency wallets, the transactions to and from your betting balance would be fast, convenient and extremely secure.
Popular Banking Methods in the Netherlands
Payment Method
Fees
Deposit Limits
Deposit Times
Withdrawal Limits
Withdrawal Times
Debit & credit cards (Visa, Mastercard)
1.3% – 2.5%
Min €10/Max €40,000 per transaction
1-3 business days
Min €10/Max €30,000 per transaction
1-3 business days
iDEAL
€0.25
Min €10/Max €5,000 per transaction
Instant
Not available for online sportsbooks
N/A
ecoPayz
0-10.0%
Min €10/Max €1,000 per transaction
1-4 business days (Instant within the sportsbook)
Min €10/Max €1,000 per transaction
5-8 business days
Klarna
No fee
No limits specified. (Check sportsbooks for their limits)
Instant
Max €10,000 per transaction
1-2 business days
Apple Pay
No fee
Min €1/Max €10,000 per transaction
Instant
Min €1/Max €10,000 per transaction
1-3 business days
Trustly
No fee
Max €10,000 per transaction
Up to 2 business days
Max €10,000 per transaction
1-2 business days
Bank transfers
Varies
Max €10,000 per transaction
1-3 business days
Max €10,000 per transaction
1-3 business days
What to Watch When Picking Dutch Betting Site
Security
Customer Support
Mobile Compatibility
In-Play Betting
The online sports betting market is not yet filled with a large number of licensed operators, so punters must choose their bookmaker carefully. Licensees have to meet a great number of serious criteria to obtain permission to operate on the Dutch market so the first thing bettors must check is whether the online bookie holds a valid license. Most often, the relevant information is located at the bottom of the website.
Although the first licenses in the Netherlands were issued recently, the bookies have actually been online for a long time, so it's a good idea to look for customer reviews on the Internet to better understand what to expect and how to make your game as satisfying as possible.
Unless you are a fan of a niche sport, your favorite discipline is probably present in the portfolio of all online bookmakers. However, it is good to check which leagues are represented, as well as what types of bets, as each bookie has its own specifics. If you hesitate between several online sportsbooks with similar parameters, check what promotional offers they currently have. Always read the full terms for receiving a bonus, so as not to be unpleasantly surprised by some small condition that you unknowingly did not fulfill.
Quality customer service is extremely important, so always check in advance what are the ways to contact the customer care team. The more methods, the better. The availability of a 24/7 service is a testament to the serious attitude of the operator and makes you confident that if a problem arises, there is always someone to rely on.
Best 10 Betting Sites in the Netherlands
For your convenience, we have prepared a list with the Top 10 sportsbooks, providing Dutch bettors with a great diversity of sports markets, bet types, and promotions in a reliable and safe environment. Come and take a look and choose an online bookmaker who meets your requirements.
Holland Casino NV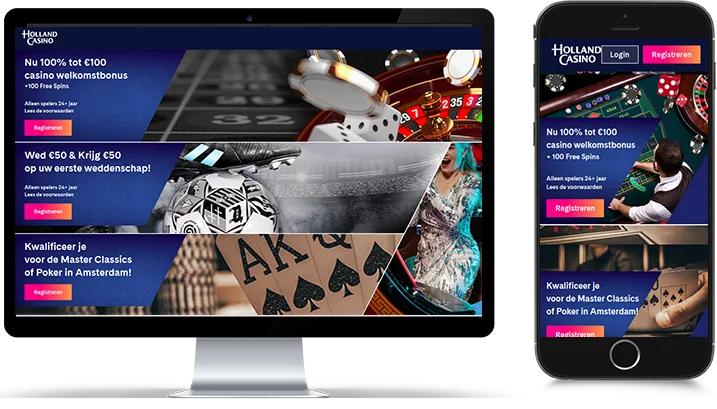 Many punters are familiar with Holland Casino because of its long-term operation and several brick-and-mortar locations throughout the Netherlands. With the latest changes in Dutch legislation, they already have a strong online presence featuring not only casino games but also a sportsbook with a rich portfolio.
The sportsbook section is available in the Dutch, English, and German languages which is not much but still allows punters of different nationalities to explore the bookie in detail. We like that there are various promotions with tempting prizes that start with a welcome bonus and also include various combo boost promotions. We are only puzzled by the fact that in order to benefit from any of the bonuses, bettors must be at least 24 years old.
The Holland Casino sportsbook features approximately 20 different sports with the leading discipline being soccer. For some of the matches, there are more than 150 betting markets. Other popular betting options are basketball, tennis, volleyball, ice hockey, motorsports, American football, etc.
Well-known name and good reputation
Various bonus offers
Live stream
Diverse bet types
Downloadable apps for Android and iOS
No bet builder provided
Live chat is available only if you are logged in
Additional age restrictions for promotions
TOTO Online BV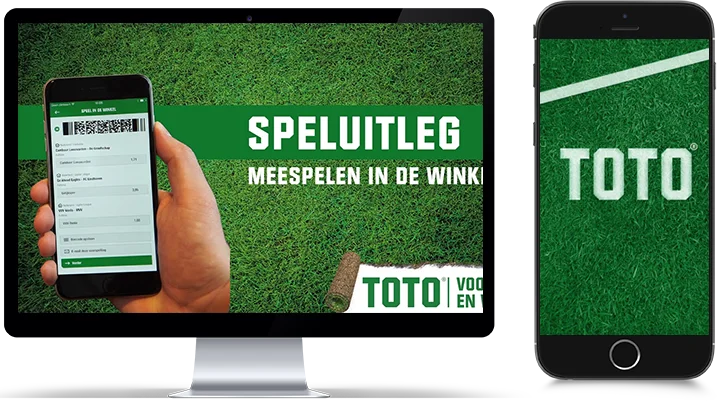 TOTO Online BV is probably the most renowned provider of legal gambling services in the Netherlands. It is owned by the state and is responsible for offering services related to sports betting, the state lottery, and other online gambling activities in the country. TOTO Online BV is one of the first two companies that received a license in October 2021 after the enacting of the Remote Gambling Act.
Dutch punters can wager on a wide range of popular as well as alternative sport disciplines. The available options include soccer, basketball, baseball, tennis, Formula 1, American football, rugby, MMA, hockey, volleyball, snooker, etc. The sportsbook features hundreds of events both pre-match and in-play, and also an attractive live streaming section.
Various promotional offers are available, but we were surprised to find that TOTO Online BV does not offer a welcome bonus. The online sportsbook enjoys great interest from local bettors, but on the other hand is not very hospitable to foreign consumers, as it is only available in Dutch and accepts transactions via just one method – iDEAL.
Various betting markets
Live streaming
Dedicated Android and iOS mobile apps
Scientific Games sports betting platform
24/7 customer support
Available in the Dutch language only
Deposits only via iDEAL
Slow approval procedures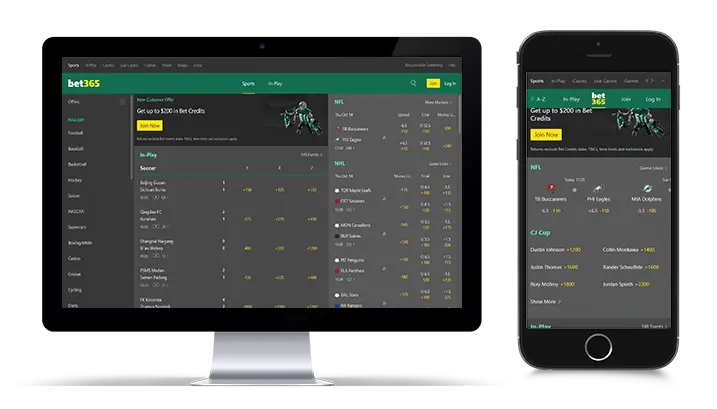 Bet365 is an online bookmaker where you will have a hard time finding something to complain about. The sportsbook has thousands of registered bettors not only from the Netherlands but also from different parts of the world. This is not surprising since the bookmaker can be used in many different languages and accepts diverse payment methods and currencies.
Bet365 provides its customers with innovative features like the Bet Builder for example and also three types of cashout which diversify the punters' betting experience and enable them to limit the eventual losses.
The sports library of bet365 covers many popular sports as well as niche disciplines with hundreds of events to choose from. There are not many online bookies that could compete with this sportsbook in terms of leagues covered within every available sport.
Probably in order to keep everything in order with such an impressive customer base and guarantee fair play, bet365 applies very strict rules regarding winnings and some successful players could feel disadvantaged.
Multiple payment methods
Various betting markets
Available in different languages
Special promotional offers
24/7 customer support
Dedicated apps for Android and iOS
Too strict rules for limiting successful punters
The mobile application doesn't support all features
Live streaming is only partially available
BetCity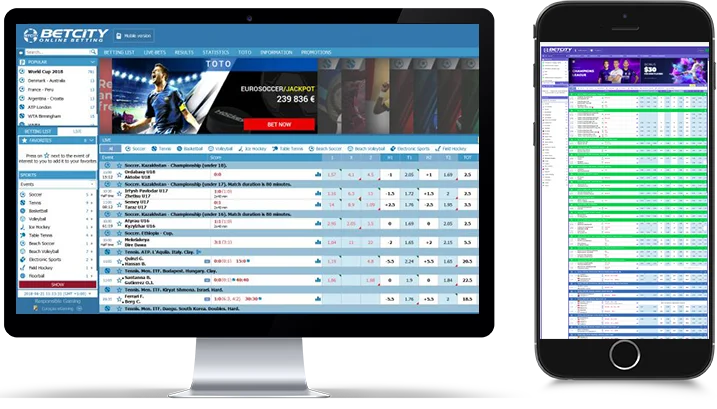 Originally founded in 2003 in Russia, BetCity is a sportsbook brand that has been increasingly entering the European market over the years, and since the beginning of October 2021 is already in the Netherlands. The Dutch version of the site and the mobile applications are only available in the local language, but given the availability of different versions of the sportsbook in different countries, this is not an issue at all.
The sportsbook layout is very easy to navigate. There are shortcuts to the most popular leagues and an A-Z list with over 25 different sports. Only one click on the relevant button immediately shows you the next football matches in the Eredivisie. Punters can place their bets on many international tournaments and domestic leagues and there is a variety of betting opportunities in other sports as well. BetCity has made sure that the punters have a wealth of statistics available on all disciplines, which could possibly help them make more accurate predictions.
There is a field for improvement in terms of payment methods, as the sportsbook operating in the Netherlands currently accepts only debit/credit cards, bank transfers, and iDEAL.
Great variety of sports
Very good in-play section
User-friendly layout
Multi-channel customer support
Dynamic bonus program
Not many payment methods
Relatively high minimum deposit
Slow verification procedure upon registration
LiveScore Bet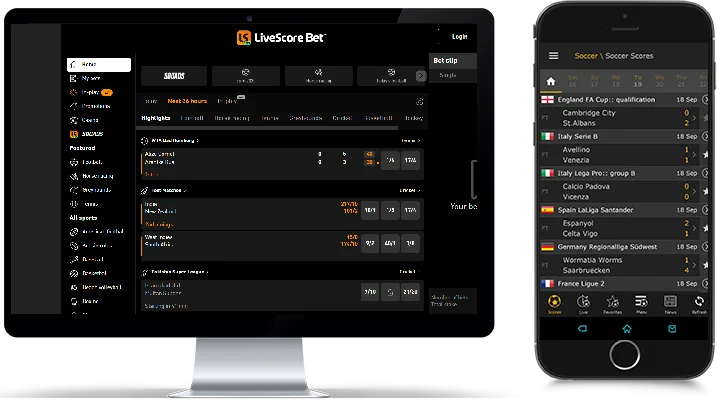 LiveScore Bet was established in 2020 in Great Britain by the LiveScore Group, known for live scores updates and live coverage. The company was launched with the purpose of establishing a new online betting platform across a variety of sports markets. Although the sportsbook is young, almost immediately after its establishment it began to expand its activities and its owner was one of the first to receive a license for online operation in the Netherlands.
The sportsbook website and mobile apps are easy to use even by novices and this is facilitated by the terms and conditions, which are set out in a clear and understandable way. There are over 30 available sports and at least half of them are present in the in-play section. Just a small part of them are soccer, horse racing, tennis, basketball, cricket, eSports, etc.
The sportsbook offers a welcome promotion as well as some permanent and temporary bonuses. We hope to see more payment methods in the future, as currently only debit cards are available.
Diverse selection of sports
Various bonus offers
Clear-cut rules
24/7 Customer support
Dedicated apps for Android and iOS
A limited set of payment methods
Slow verification procedures
Still some technical issues to solve
Bingoal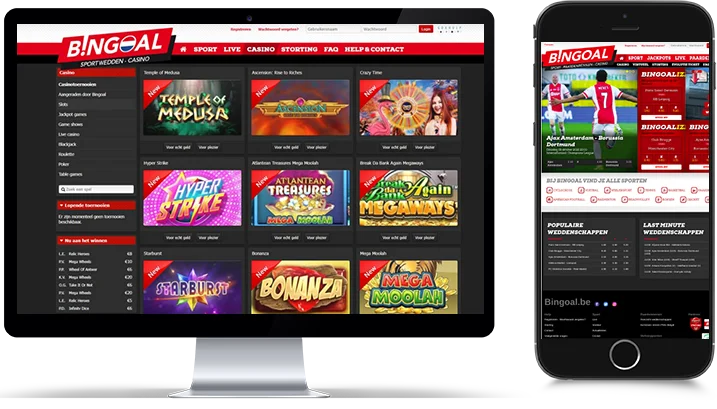 Bingoal is a Belgium-based online betting site offering sports betting, horse racing, and casino games. It is among the first foreign companies to receive a license for online operation in the Netherlands and very quickly began to gain fans in the country.
Punters can choose from over 20 sports and it is clear that Bingoal puts a lot of focus on soccer, tennis, and hockey. The soccer section features about 80 national championships as well as the Champions League, the Europa Conference League, the AFC Champions League as well as the Qatar World Cup 2022. Among the other available sports, you can find horse racing, basketball, American football, handball, darts, snooker, MMA, and some more.
Fortunately, unlike other sportsbooks operating in the Netherlands, Bingoal offers a relatively good variety of payment methods. The current banking options include VISA, Maestro, Mastercard, Neteller, Skrill, Paysafecard, and the local payment methods Belfius and Klarna.
If there are any promotional offers, they are sent personally to the registered bettors, as no bonuses are currently visible on the site. This is quite unusual in the highly competitive environment of online sports betting, so we expect a change in this direction.
Diverse bet types
Over 20 sports available
Several payment methods
Very detailed FAQ section
Easy-to-navigate layout
Scarce bonuses
No live chat
No downloadable apps
MyStake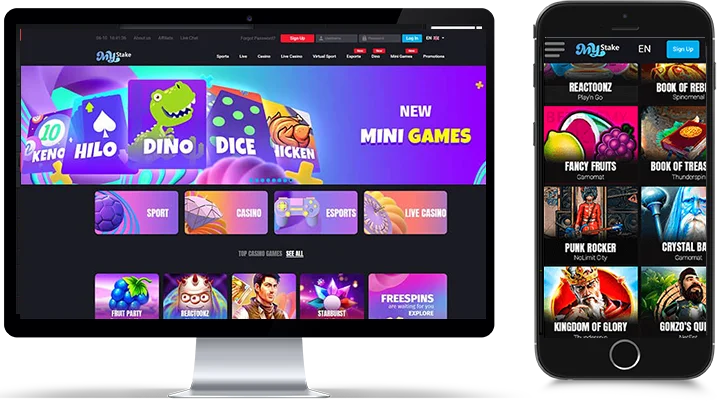 MyStake is a sports betting platform owned by OnyxiaN B.V. and holds a license with No. 1668/JAZ. The online bookie offers more than 20 sports and different betting markets to choose from. The website is easy to use and provides useful information for punters from different parts of the world.
The sportsbook has diverse promotions comprising a welcome bonus as well as different cashback and reload promotions. The only accepted fiat currencies are EUR and USD but on the other hand, the payment methods are quite diverse – debit and credit cards, different eWallets, as well as Klarna, and Bitcoin.
MyStake features events for popular sports like football, basketball, ice hockey, baseball, tennis, soccer, MMA, etc. Football is the leading sport in terms of betting markets with more than 1200 options. There are also several titles in the field of eSports and some options to bet on politics and entertainment. Live betting is available as well and some of the more popular events have HD live streaming.
Multiple payment methods including cryptocurrencies
Generous promotions
A significant set of eSports
Available in several languages
24/7 customer support
Live chat is available only if logged in
No downloadable apps
Only two currencies accepted
Lapilanders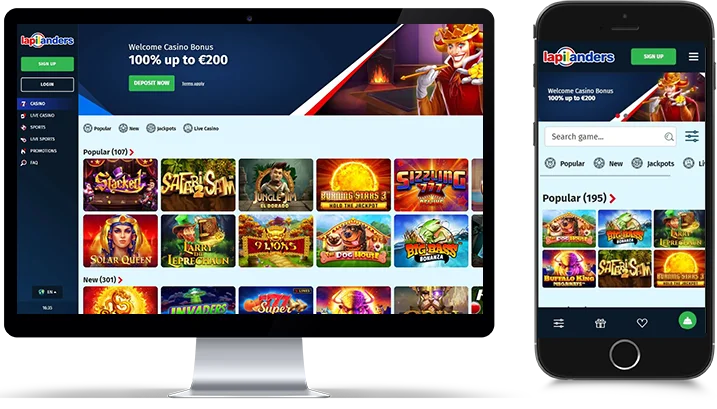 Lapilanders is a new online bookmaker where safety is not an issue since it is licensed by the trustworthy Malta Gaming Authority, under license No. MGA/B2C/233/2013. Punters can choose from a wide range of currencies, languages, and local payment methods.
Although no native app has been developed, the website is convenient to explore with any mobile device. Customer Support can be contacted in English, Spanish, German, Finnish, or Norwegian via email or live chat. The downside is that the live chat is only available from 9 am till 1 am.
Punters can choose from 20+ transaction options, including popular methods like VISA and Mastercard, Skrill, Neteller, and Paysafecard as well as many local ones like Interac, Boleto, or Jeton. Currently, transactions with cryptocurrencies are not accepted.
We can't say that the promotions are something that makes the bookmaker stand out in the crowd because at the time of writing this review there is only one welcome bonus and one reload promotion. However, there is diversity in terms of betting markets, with football being the leader with more than 60 domestic championships as well as the UEFA Champions League, Ballon d'Or, the World Cup, Copa Libertadores, and some more.
Many sports available
Significant eSports section
Various bet types
Diverse payment methods
Several supported languages
No native applications
Fees on some withdrawals
Live chat is not 24/7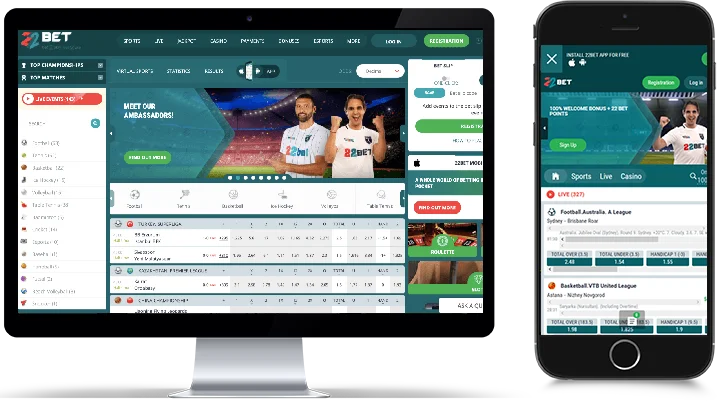 Diversity is a hallmark of the 22Bet online sportsbook and it can be seen in several directions. First, so far we have not seen another betting site available in nearly 60 different languages and that's not all. It is also difficult to list all accepted currencies (including crypto).
Тhe options in the field of eSports exceed those available at most competitors of 22Bet. Оur only recommendation is to put them into a separate category so that their fans can navigate more easily.
The live betting section of the sportsbook is very attractive, covering lots of live events in different disciplines. Apart from the usual favorites football and tennis, the punters may place their bets on horse races, cricket, and snooker.
The online sportsbook provides a generous welcome bonus as well as plenty of rebate, accumulator, and special promotions. In case they have any technical problem, a payment issue, or do not find the necessary information on the site, bettors can contact the 24/7 customer support via live chat, phone, and email.
Lots of betting markets available
Generous bonuses
Dedicated apps for Android and iOS
Available in many languages
24/7 customer support
No live streaming
Slow withdrawals
A long list of restricted countries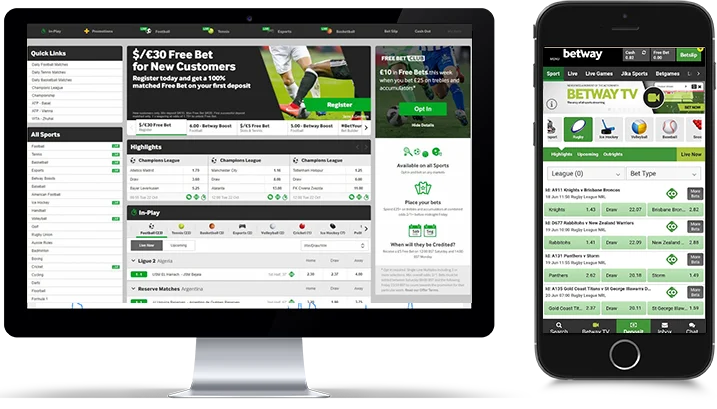 Betway is an online sportsbook whose layout and features are liked both by novices and experienced punters. The bookie's Betting Rules section gives useful information about the bet types for each sport, as well as how calculating odds and winnings is carried out. The selection of available sports is quite diverse and so is the set of bet types you can choose from.
The presence of dedicated applications for Android and iOS devices as well as the availability of different language versions of the sportsbook contribute to the convenience of the players so they can have fun while betting in the most appropriate way. Customer support can be reached via live chat, phone, or email, as access channels may differ from country to country.
The online bookie provides a set of promotions including a welcome bonus, eSports promotions, free bets bonuses, and other limited-time offers. In terms of depositing and withdrawing at Betway, bettors can choose from credit/debit cards (Mastercard and Visa), Neteller, Skrill, Paysafecard, ecoPayz, ecoVoucher, iDebit, flexepin, Neosurf, Interac, etc.
A lot of betting markets
Various eSports available
Cashout on single, multiple, and system bets
Very detailed Help section
Available in different languages
Many restricted countries
Long verification procedures
Quick limitation of successful punters' accounts