Traditionally, a bet slip is a piece of paper, which punters fill in when betting at land-based bookmakers. Bet slips serve also as receipts. In cases of winning wagers, bettors return the bet slip and claim their accumulated winnings.
Interactive bookmakers are gaining more and more popularity in recent years and an ever-increasing number of bettors prefer placing bets online to wagering at land-based establishments. They no longer need to leave the comfort of their homes to place a bet. This necessitates a good knowledge of how online betting platforms and related tools work.
In sports betting, the bet slip is an indispensable tool, which every punter should be familiar with. Figuring out how it works is vital for a successful betting experience. Essentially, it is a ticket containing important information regarding your bets such as selected markets, odds, and stakes. Bet slips also contain details about the number of bets placed, as well as the relevant payouts.
Punters can place different types of bets, and slips are usually divided into sections for single and multiple bets. Some bookmakers have a tab for system bets as well. Once bettors have signed up to a sportsbook of their choice and transferred funds to their accounts, they are usually eager to start wagering, but those having scarce experience might take advantage of several tips on how to navigate their bet slips.
How Bet Slips Work
Although the betting platforms of online sportsbooks differ from one another in terms of software and interface, the general idea of electronic bet slips is the same everywhere and they share certain basic characteristics. The bet slip is the tool punters use to place bets and it identifies all the essential information about their bets. Depending on their preferences, they may go for single, multiple, or system bets.
Most bookies position their bet slips in the upper right corner of their desktop and mobile platforms to ensure a convenient view of the transactions punters are interested in. Other operators display the bet slip only after bettors have selected a particular betting market.
As already stated above, bet slips are informative. They identify the type of bets punters have placed, such as 1×2, both teams to score, or a handicap bet. Once bettors have selected one or several bet markets, they are supposed to populate the amount of their stake. Online bookmakers usually have requirements for the minimum allowable stake, which should be individually checked.
The bet slip will also show the odds for each of the selections in the betting odds format selected by the punter. Bet slips automatically calculate the amount of the potential profit depending on the stake they have entered and the odds for the particular bet market.
Bettors should be aware that the amount of the stake they are willing to invest is deducted from their account when they confirm their outstanding bets. If their account balance is insufficient to cover their stake, they will be prompted to replenish it.
The bottom section of the bet slip contains a summary of the outstanding bets, including their number, the total amount of the stake, and the sum of the potential winnings. Bettors can add new bets or remove existing ones from their bet slip, and the counter at the bottom automatically recalculates the new selections and any ensuing modifications. Punters can also remove all of the selections by clicking on a button reading "Remove All" or "Clear Bet Slip".
Most interactive bookmakers have user-friendly betting platforms with a well-structured and uncluttered interface to ensure a hassle-free betting experience even to novice bettors. However, if they are having a little trouble working their way around the bet slip or anything else, they can always contact the support staff. Some bookies even deliver tutorials on how their bet slips work.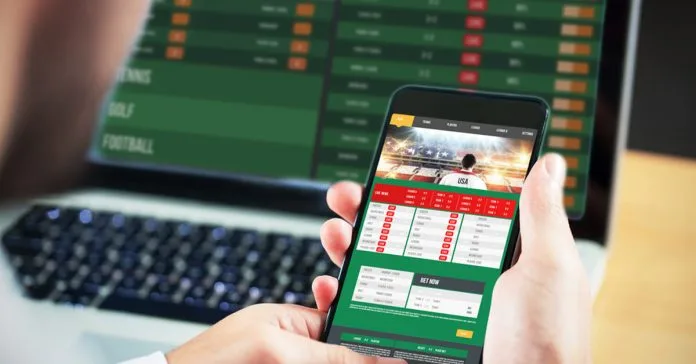 Placing Single, Multiple and System Bets
Bettors are not supposed to fill in a new bet slip every time they place a new bet. As already mentioned, bet slips deliver an itemized list enabling bettors to keep a record of all the bets they wish to place and make sure that the betting system has registered them correctly. Usually, they can place as many bets as they wish. They can stake different amounts of money on each of their single bets.
Single bets are calculated by multiplying the amount of the stake by the odds offered by the online bookmaker. We may take as an example a football match from the Champions League where a punter places a bet of €20 on Bayern Munchen to win over Salzburg with odds of 1.17. To receive the potential payout of a winning bet, they should multiply the €20 stake by the odds of 1.17, thus receiving a result of €23.40, where €20 is the amount of the initial stake, and €3.40 is the amount of the profit.
A multiple bet, on the other hand, is a single stake, made up of at least two selections. Multiple bets are also referred to as combo bets, and they typically pay up as long as all of the selections are correct. Although associated with higher risk, multiple bets offer higher potential profits. This is because the stake is multiplied by the odds of all selections. To opt for multiple bets, punters should add several selections to their bet slip and indicate the bet category.
Similar to multiple bets, system bets also allow punters to combine several bets into a single wager. However, system bets are associated with a lower risk compared to multiple bets, because even if not all of your selections turn out to be correct, you can still win money.
System bets for 3 picks
Bet
Total bets
Single bet
Combinations
2
3
4
5
6
7
8
2/3 (3 bets)
3
–
3
–
–
–
–
–
–
Patent (7 bets)
7
3
1
–
–
–
–
–
–
Trixie (4 bets)
4
–
1
–
–
–
–
–
–
Bet Slips Serve as Calculators
Among their other useful functions, bet slips function as calculators of your potential payouts. By selecting a particular betting market and populating the amount of your stake, the bet slip calculates the sum of your potential profit.
This is especially helpful when punters are building parlay bets since the calculation of their return is more difficult to accomplish on your own compared to the calculation of single bets. All that punters are supposed to do is decide on the amount they are willing to invest, and the bet slip will quickly do the calculations.
If bettors are undecided whether a transaction is worth the risk, or they wish to experiment with the amount they are willing to wager, they can simply increase or decrease their stake and get a precise idea of the potential payouts.
Bet Slips Serve as Receipts
Apart from storing vital information for your bets and working as an actual odds calculator, bet slips have another important function – they serve as receipts. It is of paramount importance for bettors to double-check their bets before actually placing them.
Mistakes happen all the time and it is always better to be on the safe side by checking the contents of your bet slip because once confirmed, there is no way to make amendments to your bets. This is especially valid for punters who have picked several different bet markets. You may have either misinterpreted the odds while reviewing the available bet markets. Or, the odds may have simply changed in the meantime. Either way, bettors are strongly advised to review their bets before confirming them.
Once ready with the final check, punters should validate their bet by selecting a button that reads "Submit", "Bet Now", "Place A Bet", or "Confirm". It varies from one bookmaker to another, but the idea is the same – to confirm your pending selections.
Bet slips can be used to keep a record of the wagers that have been finalized and thus build up a betting history that may prove to be exclusively helpful for your future sports betting endeavors.