20Bet has started operating in 2020 and it is among the relatively new but trusted sportsbooks on the global gambling market. Since the very beginning, the team at 20Bet has been dedicated to delivering first-class customer experience to punters around the globe both in terms of sports betting markets diversity and competitive odds.
The first thing that makes an impression upon loading the website of the bookie is the astonishingly diverse portfolio of sports markets on offer. The website features a neat organization of top championships, much sought-after sports events, as well as a shortlist of the most popular sports, such as football, tennis, ice hockey, and American football.
Those who prefer betting on the go, irrespective of place and time, will be definitely satisfied with 20Bet in terms of mobile compatibility. The application for Android and iOS mobile devices can be easily downloaded from the top left-hand area of the website. It contains all the great features and functionalities of the desktop counterpart.
The sportsbook functions under the management of TechSolutions Group N.V. and holds licenses from two regulators – the Kahnawake Gaming Commission and the Curaçao Gaming Control Board. Punters who have chosen 20Bet for their sports betting supplier may rest assured that it operates in full compliance with all legal regulations and safety requirements.
Betting Features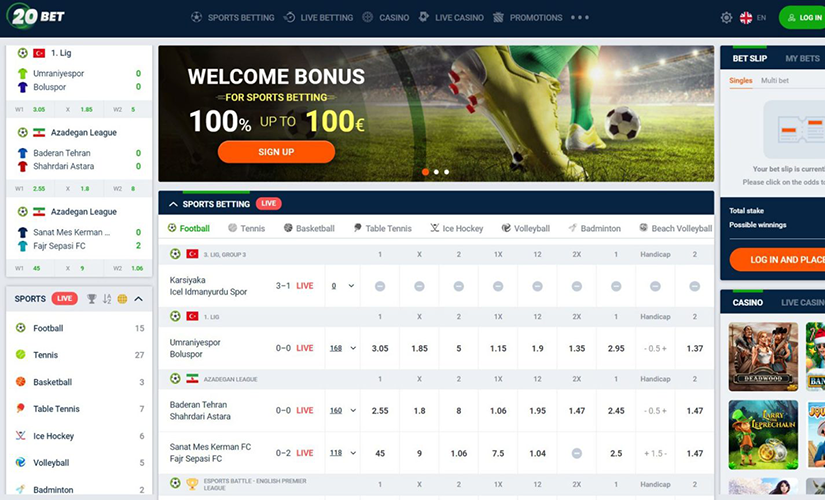 The website of 20Bet has been designed with functionality and visual aesthetics in mind. The color pattern chosen for the online platform features navy blue against a white background, with grass-green accents. It is very elegant and pleasant to work with. As far as the user interface is concerned, it is intuitive and well-structured.
The sports betting markets are suitably located on the left-hand side of the website and can be conveniently filtered by popularity, by country, and in alphabetical order. The top-rated sports markets and championships can also be found there.
Once punters opt for a sport of their liking, say football, they can easily select the league that they are interested in. Further on, by choosing a specific league, they have the chance to additionally explore all the sports events that are related to that league. Finally, when a specific football match is selected, punters can examine the various bet types on offer.
Yet another feature that contributes to the user-friendliness of the sportsbook is the bet slip, which can be found on the right-hand side of the website. Having reached the stage when we are done with the selection of a sport, its league, a specific sports event, and a bet type, it is going to be transferred to the bet slip. The bet slip contains information about the punter's singles and multi bets. Once we chose a bet type and enter the stake, the system automatically calculates the possible winnings.
20Bet is enjoying success in the fast-paced environment of the sports betting industry, and a major reason for this is the competitive odds that it offers. The odds formats can be easily found right next to the log-in area. They can be expressed in three main formats supported by the sportsbook – American, Decimal, and Fractional.
Betting Features Summary
Languages
English, German, Finnish, Portuguese, Spanish, Hindi, Norwegian, Hungarian, French, Japanese, Italian, Polish, Czech, Greek.
Currencies
USD, BRL, CAD, CHF, CZK, EUR, INR, JPY, MXN, NOK, NZD, PEN, PLN, RUB, etc.
Odds Format
Decimal, American, Fractional
The Sportsbook of 20Bet
Football
American Football
Baseball
Basketball
Hockey
E-sports
The success of 20Bet is predominantly due to the versatile portfolio of sports markets and their neat organization. Even inexperienced bettors will find it is quite easy to navigate through the sportsbook, as user-friendliness is the exact word to describe it in short.
Live betting is a much sought-after feature of sportsbooks nowadays. The available in-play markets allow punters to place bets while the game unfolds and add much thrill and excitement to the process of sports betting. 20Bet offers that functionality as well.
Apart from football, tennis, volleyball, badminton, and an array of other sports, the live sports betting markets also include different e-sports. Their growing popularity is appreciated by the sportsbook, and fans of e-sport hockey, e-sport FIFA, e-sport King of Glory, and many others will be overjoyed to find them in 20Bet.
The diversity of wager types offered by the bookmaker includes standard bets such as the 1×2, over/under, and winner. Bettors may also opt for half-time / full-time, handicap, double chance, draw no bet, both teams to score, etc.
Let us now present to your attention a number of popular sports betting markets and their leagues that can be found in 20Bet.
Soccer
Soccer, or more commonly referred to as football, as a universal favorite all over the globe, finds an astonishingly wide coverage at 20Bet. The diversity of leagues on offer is sure to leave bettors completely satisfied.
Starting with the FA Cup, UEFA Champions League, UEFA Europa Conference League, and UEFA Europa League, we will also list a small number of the local championships that the bookmaker covers. These include the top-rated English Premier League, the League of Ireland Premier Division, the Italian Serie A, the USA Major League Soccer, the Spanish La Liga, the German Bundesliga, and many others.
Second-division leagues of different countries also find a decent representation here, such as the Brasileiro Serie B, and the Italian Serie B. Bettors can even place wagers on the Russian Youth League.
Soccer bet types accepted by 20Bet include 1х2, half-time/full-time, over/under, handicap, winner, double chance, draw no bet, both teams to score, etc. Other options supported by the bookmaker are Asian handicap, goal time, penalty awarded-yes/no, time frame betting, etc.
Basketball
Basketball may not have the huge popularity of soccer, but still, its followers in the USA and Canada are not to be underestimated.
Bettors, who are also avid fans of the hoop game, will find a plethora of basketball leagues to place wagers on. Undoubtedly, the American National Basketball Association (NBA) garners most of the punters' attention. The Euroleague is also represented by the bookie.
Other leagues that are covered include the Greek basketball league A1, the Dutch Basketligaen, the Slovak Extraliga, the Ukrainian FBU Superleague, and many other national championships.
The bets that can be placed on basketball sports events, covered by 20Bet include 1×2, winner, total, total assists, player points, total 3-point field goals, etc.
The 1×2 bet type, for example, is a preferred bet type, and its name denotes the three possible outcomes of a game. The 1 stands for an away team win, the x is equal to a draw, while the 2 marks the home team win.
American Football
American Football, also known as gridiron, combines features of both soccer and rugby. The sport is especially favored of course in its home country – the USA, and in Canada as well. Its popularity around the world is constantly expanding.
The American Football league, finding the most prominent coverage by 20Bet is the National Football League (NFL). It was founded in 1920 and comprises 32 teams altogether. The teams are divided equally between the National Football Conference and the American Football Conference.
Another American football league supported by 20Bet is the professional Canadian Football League (CFL). It consists of nine teams, divided into two divisions – the East and the West.
Possible bet types for American Football are the standard 1×2, winner, and total. Bettors might also opt for half-time/full-time and the handicap bets.
The point total, also known as the over/under, is a common bet type in American football, where punters wager on the total number of points scored by both teams.
Baseball
With quite a long season, lasting from the beginning of April and ending in October, baseball provides punters with a lot of wagering opportunities. Thus, the number of baseball leagues and sports events, covered by 20Bet vary during the course of the year.
Some of the baseball leagues represented in 20Bet are the Major League Baseball (MLB), the Chinese Professional Baseball League (CPBL), the South Korean KBO League, and the Japanese Professional Baseball League. Baseball is among the sports markets for which 20Bet offers live betting opportunities.
Among the selection of baseball bet types offered by 20Bet are: 1×2, the moneyline, the total, the handicap, and the extra innings.
The moneyline is the most popular baseball bet type. Punters make a selection between the favorite and the underdog. Betting on the favorite would bring less profit than betting on the underdog. The over/under bet in baseball concerns the total number of runs scored by both teams.
Hockey
Fans of ice hockey betting would be certainly pleased by the number of leagues supported by 20Bet. One of the most diverse ones, in terms of sports events to follow and bet on, is the National Hockey League. It is deemed to be the most prominent ice hockey league on a global level.
The Kontinental Hockey League (KHL) is another ice hockey league that is a source of many interesting sports events and is also represented by 20Bet. It is an international championship, established in 2008. It comprises several member clubs, spanning countries from Europe and Asia.
Ice hockey is also among the sports for which 20Bet offers live betting.
Wagers offered by 20Bet on ice hockey include 1×2, winner, total, draw no bet, both teams to score, etc.
Sports and Markets Available Summary
Soccer
1х2, half-time / full-time, over / under, handicap, winner, double chance, draw no bet, both teams to score, Asian handicap, goal time, penalty awarded -Yes/No, time frame betting, etc.
Basketball
1×2, winner, total, handicap, half-time / full-time, etc.
American football
1×2, winner, total, total points, total assists, player points, total 3-point field goals, handicap, half-time / full-time, etc.
Baseball
1х2, winner, total, handicap, double chance, draw no bet, both teams to score, winning margin, etc.
Hockey
Moneyline, total, extra innings, etc.
Mobile Compatibility
ANDROID
iPHONE
WINDOWS
iPAD
Bettors who like to have the option to place wagers on sports events at any place and time will be interested to hear more about the mobile compatibility of the sportsbook. 20Bet developed an app both for Android and iOS mobile devices, to fit the needs of different users. The app can be downloaded via a link in the top left-hand corner of the website. Users are led to scan a QR code and then follow the download link.
The app is user-friendly and very easy to navigate, especially to bettors who are already accustomed to the desktop version of the sportsbook.
Bettors who have chosen to create an account with 20Bet will take advantage of the same competitive odds, even if they are on the move.
Similar to its desktop counterpart, the mobile app features an exquisite design, following the same color pattern of a navy blue against a white background, and some green. The application supports all the great features of the desktop version, including the live betting functionality.
The live streaming functionality adds much value to each sportsbook and provides unrivaled comfort and convenience to bettors. It is available for registered users of 20Bet. It should be noted that live streaming is available also for e-sports.
Users who do not have access to their computer may rest assured that the mobile app provides everything needed for a smooth and trouble-free betting experience. The switch between the American, Decimal, and Fractional odds formats is as easy as on the desktop counterpart.
As for the sports markets and leagues, the app offers the same variety. The mobile version of the bet slip is just as intuitive and provides reliable information on all of the bets that have not been settled, as well as the potential profits from them.
Mobile Compatibility Summary
Device
Downloadable App
Web App
Android
yes
yes
iOS
yes
yes
Mac OS
no
yes
Windows
no
yes
Linux
no
yes
Bonuses and Promotions
Sign-Up Bonus
Free Bets
Special Offer
Enhanced Odds
Whether you are a freshly-registered user of 20Bet, or you are among its loyal patrons, you can rest assured that the sportsbook has bonuses and promotions in store for all. Punters who have just joined the sportsbook can take advantage of its generous welcome bonus, while more experienced customers might be interested in its 'Forecast' promotion. The bookie also offers other bonuses which are limited to specific periods, such as the Saturday Reload Bonus, the Bettors Tournament, and the 20Bet Sport VIP Program.
First Deposit 100% up to $100
As soon as punters are done with the set-up of their accounts in accordance with the terms and conditions, and transfer the minimum deposit of $10 into their account, they can take advantage of the First Deposit Bonus, offered by 20Bet.
Please note that in some jurisdictions, users are not allowed to deposit money into their accounts prior to some identity verification procedures. Bettors should comply with the required legal minimum of 18 years to be able to sign up and bet.
Punters should note that the welcome offer is a 100% bonus, and its maximum amount can reach $100. The sign-up offer has a rollover of 5x the initial qualifying deposit. Another condition attached to this bonus is that it applies to selections with minimum odds for single bets at 1.5, and for multi bets at 1.7. The deadline to redeem the bonus is 14 days from the date of the qualifying deposit.
Another thing to take into consideration is that accounts funded via cryptocurrencies are not eligible for the welcome bonus. Furthermore, it should be noted that outrights will not count towards wagering the bonus.
Forecasts
The 'Forecasts' promotion is an exciting opportunity to win up to $1000 in Free Bets by predicting the outcomes of sports events.
In order to qualify for this kind of promotion, bettors should have made deposits to the total amount of at least $20 in the course of the last five days. The 'Forecasts' promotion is based on 10 sports events, chosen by the sportsbook, and the participants are supposed to select their outcomes.
If bettors are lucky and skilled enough and predict correctly all 10 events, they receive $1000 as a Free Bet. In case the participants have made 9 correct predictions out of 10, they receive $100 as a Free Bet. Those who were correct in the prediction of 8 sports events get to enjoy $50 as a Free Bet.
If one of the matches, selected for the 'Forecasts' promotion does not take place, then the bet related to it is considered to be void.
It is good to know that punters can use the received free bets both for single and multi bets on any sports event covered by 20Bet. As a standard practice related to free bets, winnings are paid as withdrawable funds, without the Free bet stake.
Bonuses and Promotions Summary
First Deposit 100% up to $100

Once punters set up their accounts, and make a minimum deposit of $10, they are free to use the First Deposit bonus.
The maximum amount of the bonus can reach $100.
Wagering requirements of x5. Minimum odds for single bets – 1.5, and for multi bets – 1.7.
You have 14 days to fulfill the bonus requirements.

Forecasts

In order to qualify for the "Forecast" promotion, bettors should have wagered at least $20 in the course of the last five days.
By predicting the outcomes of selected sports events, bettors have the chance to win $1000 as a Free Bet.
Free Bets can be used for single and multi bets.
Banking Solutions
Bank Transfer
Credit Card
E-wallets
Prepaid Card
The banking solutions offered by 20Bet reflect the sportsbook's dedication to serving the needs of various customers from all over the world. The very list of currencies supported by the bookmaker is impressive – USD, BRL, CAD, CHF, CZK, EUR, INR, JPY, MXN, NOK, NZD, PEN, PLN, RUB, etc. As soon as punters set up their account they are prompted to choose a currency.
The sportsbook provides the opportunity to choose between several deposit and withdrawal methods. However, there may be some country-specific restrictions that should be observed. Not all methods are available for all 20Bet users and depend on the location.
Plenty of punters nowadays choose to fund their accounts via pre-paid voucher solutions such as Paysafecard, Neosurf, and Flexepin. The minimum amount with this deposit method is $10, while the maximum reaches $100,000.
Next in the list of possible payment methods for 20Bet are the bank transfers, whose minimum and maximum limits are the same as those of the vouchers. Trustly offers a service through which users are able to initiate payments straight from their bank accounts in a fast and secure way.
Credit cards are another possible deposit method for some countries. The lower limit is set again at $10, and the highest possible amount to deposit equals $100,000. Withdrawals via credit and debit cards can take up to 7 working days.
Neteller, Jeton, Luxon, Skrill, and MiFinity are digital wallet solutions, supported by 20Bet, which can be used both for the transfer of funds into the punters' accounts and for withdrawals. The minimum amounts for deposits via e-wallets are set to $10, while the maximum is capped at $100,000, except for MiFinity, where the upper limit is $2500. Deposits done via e-wallets are usually instantly processed, while withdrawals may take between 12 and 48 hours.
The range of cryptocurrencies that can be used both for deposits and withdrawals for 20Bet includes Bitcoin, Litecoin, Ethereum, Tether, Ripple, Cardano, and Dogecoin. Processing times vary from 12 up to 24 hours. The minimum amounts are set to $75, and the maximum ones – to $4000.
It should be taken into consideration that 20Bet processes withdrawal requests from its customers 24/7. Furthermore, the use of the Bitcoin payment system does not involve any service charges.
As far as the maximum payouts are concerned, they are limited to $100,000 per bet, $250,000 per day, and $500,000 per week.
Banking Summary
Payment Method
Deposit Limits
Deposit Times
Withdrawal Limits
Withdrawal Times
Paysafecard
Min $10 Max $100,000
Instant
N/A
N/A
Neosurf
Min $10 Max $100,000
Instant
N/A
N/A
Flexepin
Min $10 Max $100,000
Instant
N/A
N/A
Trustly
Min $10 Max $100,000
2 working days
N/A
N/A
VISA
Min $10 Max $100,000
Up to 24 hours
Min $10 Max $4,000
1-3 days
Neteller
Min $10 Max $100,000
Instant
Min $10 Max $4,000
Between 24-48 hours
Jeton
Min $10 Max $100,000
Instant
Min $10 Max $4,000
Between 24-48 hours
Luxon Pay
Min $10 Max $100,000
Instant
Min $10 Max $4,000
Between 24-48 hours
Skrill
Min $10 Max $100,000
Instant Min
$10 Max $4,000
Between 24-48 hours
MiFinity
Min $10 Max $2,500
Instant
Min $10 Max $2,500
Between 24-48 hours
Cryptocurrencies – Bitcoin, Litecoin, Ethereum, Tether, Ripple, Cardano, Dogecoin
Min $75 Max $1,000,000
Up to 24 hours
Min $75 Max $4,000
Up to 12 hours
Customer Support and Security
FAQ
Rules
Security
Support
The available customer support channels and the online security measures offered by contemporary sportsbooks are of paramount importance. 20Bet will not disappoint its users in those aspects.
Reps at 20Bet can be reached 24/7 through the live chat functionality. It is easily accessible and the agents are friendly and knowledgeable. There is also a convenient 'Contact Us' form that can be used for the submission of online requests.
There are two emails available for contact. The first one – support@20bet.com is dedicated to customer support and punters may address issues of different nature. The second one – complaints@20bet.com is reserved specifically for customers' complaints.
Customer support via the phone is currently not available.
The help section of the sportsbook also contains a useful FAQ department, as well as some information dedicated to the betting rules, that should be observed.
20Bet's appreciation of their customers' comfort and seamless betting experience is easily discernible also by the multiple languages that are supported. Bettors may choose between English, German, Finnish, Portuguese, Spanish, Hindi, Norwegian, Hungarian, French, Japanese, Italian, Polish, Czech, Greek, and others. Several local variations of English are also among the choices.
As for the security of the personal and financial information that is being transferred, bettors may rest assured that it is protected via 128-bit encryption SSL Version 3.
20Bet is also an advocate of responsible gaming and betting and offers its customers help and support to steer clear of gambling addictions.
Customer Support Summary
Channel
Details
Availability
Email
support@20bet.com – Customer support;
complaints@2-bet.com – Complaints
24/7
Live Chat
24/7
Phone
N/A
N/A
Licenses and Restricted Countries
Acting under the operation of TechSolutions Group N.V., 20Bet holds licenses from the Curaçao Gaming Control Board (8048/JAZ2017-067), and the Kahnawake Gaming Commission (000867). Both authorities are reputable and bettors can rest assured that their experience with the operator will be hassle-free.
The sportsbook might be a relatively new one, but it is surely a fast-paced one, and in line with the dynamics of the industry. It aims to be on par with the competition and to constantly develop its vast potential.
Bettors should be aware that residents of the following countries are prohibited from placing bets with 20Bet: Belarus, Ukraine, Curacao, Cyprus, Estonia, France, French Guiana, French Polynesia, Gaza Strip, Gibraltar, Guadeloupe, Israel, Jersey, Latvia, Lithuania, Malta, Netherlands, Russia, Slovakia, United Kingdom, United Arab Emirates, Belgium, the USA.
The reasons for the restrictions might be either due to a lack of licenses for the respective markets or to country-specific regulations, proclaiming sports betting to be illegal. Customers should note that it is their responsibility to check if the sportsbook is legally authorized to operate in their country of residence before setting up an account.
Licenses Summmary
The Kahnawake Gaming Commission
000867
The Curaçao Gaming Control Board
8048/JAZ2017-067
20bet Reviews from Around the Web
While it is one of the new kids on the block, 20bet is a sportsbook that has plenty of perks to offer. You can determine whether 20bet is the right betting place for you by reading the reviews of the brand that are available on various sites across the web. The sportsbook is covered by a large number of review websites, offering honest opinions on the bookie's services.
Most of the reviews you will come across online give 20bet a rather average score as the new bookie still needs to prove itself as a reliable betting site. The reviews that you can read on the web are assessing different factors such as speed of payouts, coverage of different sports events, mobile compatibility, sportsbook incentives, customer support experience, and many other important elements of sports betting. When we compare different reviews of 20bet, we notice that the average score that most of them gave the brand is 4 out of 5 stars.
While many of the reviews appreciate the sportsbook's huge betting market coverage and good promotions, the brand has also received some negative scores online. If we take a look at 20bet's score at Trustpilot, we will see that based on 87 reviews, the brand has received 1.5 out of 5 stars.
Negative 20bet Reviews
It is unfortunate that most of the reviews you will come across at Trustpilot are negative. Based on the different comments and scores left by the brand's customers, we see that only 5% gave 20bet an Excellent rating. Merely 3% rated the sportsbook as Great, while 1% gave it an Average score. Another 1% rated 20bet as Poor and 90% believe the brand's performance deserves a Bad rating. These numbers make the average score of 20bet Bad.
The majority of negative comments are left by customers who had to go through multiple verifications processes whenever they request withdrawals. Many have also complained about their bets not being processed, with customer support refusing to help punters solve the problem and receive their winnings.
Positive 20bet Reviews
As for the praises that 20bet has received, there are several punters who are happy with the speed of payouts as they took only a couple of days to complete. There are also 20bet members who ensured they had no issue going through the KYC process, verifying their accounts with ease.
The customer support is also appreciated by some, with users describing the chat service as easily accessible. Some punters who requested smaller payouts did not even have to go through a verification process to receive their money.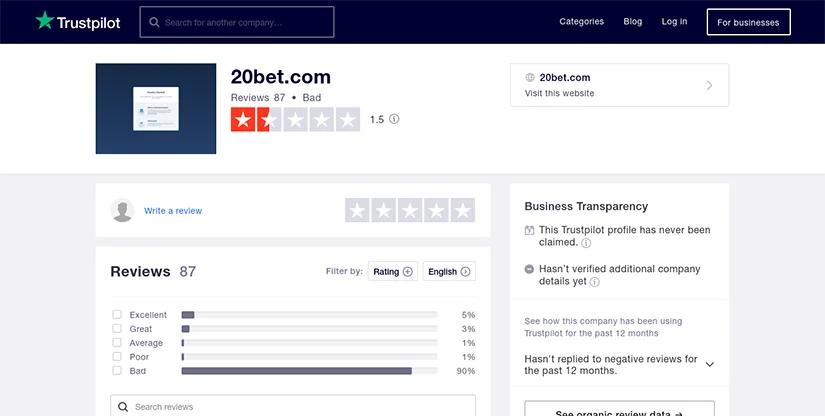 Trustpilot Rating of 20Bet
Excellent
5%
Great
3%
Average
1%
Poor
1%
Bad
90%