Established in 2015, BetNow is a relative newcomer in the world of sports betting sites but within just a few years, it managed to build a strong reputation for being safe, reliable, and fair. It offers bettors wagering on a wide variety of sports but it puts a heavy focus on North American sports such as football, hockey, and baseball. Some sports like soccer are also well covered but the lack of diverse markets of smaller and less popular sports and leagues is to be expected since the website caters to punters mostly from Canada and the United States.

The BetNow Sportsbook features a nice layout and a visually appealing design – everything is neatly organized and easy to find, while the black, white, and orange colors of the site create a sharp, refined look. The site features a convenient cashier system that allows instant deposits via a good range of payment options. Moreover, Bitcoin users can enjoy fast withdrawals free of charge. Along with its Sportsbook, the operator also has a dedicated Casino, Live Dealer, and Racebook sections although the Sports product currently comes with the greatest variety and range of betting options.
Speaking of betting options, punters will find tons of markets to wager on, including all major sports and leagues such as NFL, NCAAF, NHL, NBA, UFC, MLB, and more. There is also a great selection of in-play bets every day, popular eSports, as well as very generous parlay and teaser odds. Overall, BetNow is a small and less popular platform for online betting on sports but it promises an entertaining, rewarding, and one-of-a-kind gambling experience to all its members. To welcome new punters, it offers a great 50% bonus of up to $1,000.
Betting Features at BetNow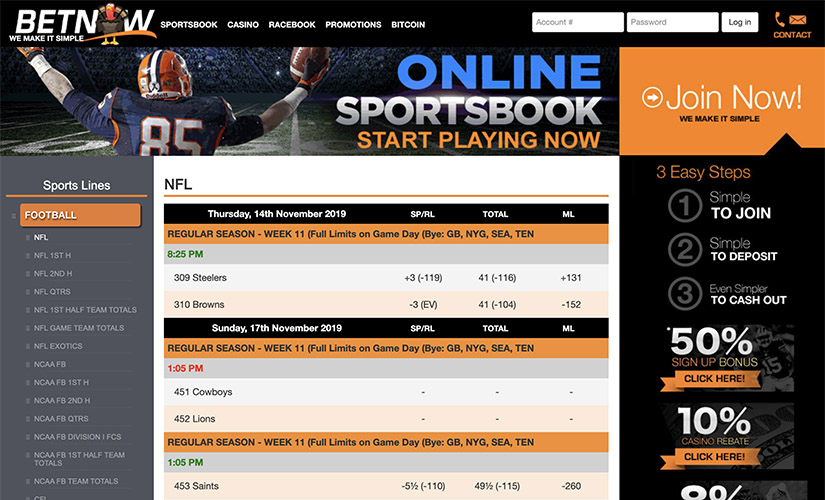 The BetNow Sportsbook is very easy to use and allows punters to place wagers on all major sports and leagues. Compared to some of the websites of large bookmakers, its platform has a much simpler, yet convenient design that allows even new users to quickly jump from football betting to tennis or live soccer matches. Overall, the website has combined simplicity with functionality very well.
The entire list of sports available can be found on the leftmost side of the screen. Once players choose a market, they can look at the available lines and select what they wish to place a bet on. After that, they need to click on the Add Picks to Ticket button and their selection will appear on the right where all available bet types in the ticket are shown. From the ticket (or the bet slip), punters can adjust the bet lines, add new ones or remove bets, input the bet amounts, confirm and save their selected bets.
They can either enter a risk amount and the platform will automatically calculate the potential win amount according to the current odds. Of course, if any additional bet types can be made, they will also appear in the ticket – a parlay, a reverse bet, or an "if" bet. Apart from these, all basic types of wagers can be made on the website and bettors can opt for totals, spreads, or money lines.
Also, punters will be able to make teaser bets, halftime bets, round robins, bets with buying points, and in-play bets. Of course, there are also tons of prop bets to choose from. The platform displays the odds in all three possible formats, namely American, Decimal, and Fractional.
Since BetNow is a relatively new and small betting operator, its odds are not as lucrative as those offered by some of the leaders on the market – at least not on all sports. Still, the sportsbook has some really generous odds on parlays where bettors can generate huge profits if they make the right decisions. And this is a department where BetNow could prove to be useful, especially for less experienced sports bettors. The site has a huge selection of articles and guides on how to wager on sports in its Blog, as well as various match previews, detailed analysis of events and trends, predictions, and more.
One of the best things about the BetNow Sportsbook, however, is the Props Builder. This tool allows bettors to create and customize different bets on player performance. To use the Props Builder, BetNow members simply need to select a player – they can choose top names from the major leagues or pick a player from the full list of players. Then, they need to select a bet type and a statistic – for instance, they can bet that LeBron James will score more than 40 points against the Warriors.
The tool also allows head-to-head bets (H2H) where you can compare two players' performance across a certain statistic. Another alternative is to place a Trio bet – with it, you can bet on three players, selecting the first, second, and third place for a specific statistic.
The Sportsbook of BetNow
Finding a sportsbook with easy-to-use software, competitive odds, tons of stats and interesting props is important but the essence of sports betting lies in the spreads and totals. The selection of sports is, therefore, one of the first things to look at when deciding whether to sign up with any one bookmaker. The BetNow Sportsbook has good coverage of the major sports popular in Canada and the United States. This includes basketball, football, baseball, hockey, golf, boxing, tennis, MMA, and eSports.
Although the bookmaker does not focus on less famous and niche sports, it offers an extensive selection of soccer and basketball markets from all over the world. The coverage of motorsports is decent with odds on some of the largest international auto racing events currently taking place. This usually includes bets on Formula 1 events, which, however, would not be enough for fans of motorsports. The selection of horse races is a bit better and there are also odds on US politics.
In addition, the bookmaker offers in-play betting on most of the sports it covers – there are live bets on football, tennis, soccer, baseball, hockey, and basketball. The minimum bet amount is $1.00, while the maximum amount that can be wagered daily in the sportsbook is $5,000 – there may be lower limits for certain sports and bet types.
Basketball
From college basketball to NBA and March Madness bets, BetNow offers some of the best opportunities for basketball betting fans. It has competitive odds on a huge number of games across North American leagues and various competitions around the world. Punters will find lines on the NBA, as well as on NBA halves, quarters, and team totals. Along with the spreads, over/under bets, and money lines, the sportsbook offers various prop markets – mostly players' minimum points, rebounds, assists, steals, blocked shots, reb+ass or reb+pts+ass bets, single players stats bets, head-to-head customized bets, etc.
The BetNow Sportsbook also has a complete list of spreads and totals on NCAA basketball and NCAA extra games. Moreover, the bookmaker offers a great range of events from all around the globe and basketball fans can place wagers on major competitions such as the annual Champions League, organized by FIBA (the International Basketball Federation), or the Euro Cup. In addition, there are betting lines on the Brazilian NBB (Novo Basquete Brasil), Argentina's Torneo Super 20, the South Korean KBL, Poland's Energa Basket Liga, and the Philippines Governors Cup.
Football
The bookmaker pays attention to major league sports so it is hardly a surprise that the variety of football markets at BetNow is just as impressive. Punters can bet on NFL matches, placing spreads, totals or money line bets on their favorite team. Lines are available on first and second halves, quarters, or team totals. Bettors can also group their picks in parlays, make round robins, etc.
The other league that is covered in full by the bookmaker is the NCAA football – there are betting lines on various championships and divisions, including Division 1 FCS. Since football is extremely popular in Canada, too, the Canadian championships are also very competitive, which creates great betting opportunities. The bookmaker, of course, covers the Canadian Football League (CFL), with lines on all matches. Major events such as the Super Bowl are also available.
Hockey
Hockey remains a highly popular sport in North America and the National Hockey League or the NHL is, of course, the most competitive league since it has the best teams from the US and Canada – and most likely, the entire world. Catering mostly to US and Canada-based bettors, the BetNow Sportsbook offers a great selection of NHL games to place a wager on. Punters can bet on early-season matches, as well as on the Stanley Cup Finals – generous odds could be found throughout the season.
BetNow acknowledges the hockey outside North America, as well. The hockey section includes a huge number of lines on Russian and North European markets, with some of the biggest leagues represented. These include the Canadian OHL (Ontario Hockey League), the Russian KHL, and the European Hockey Champions League. In addition, bets can be placed on games from England's Elite League, the Austrian EHL, the Czech Extraliga, the Finnish Liiga, France's Ligue Magnus, Norway's Get Ligaen, and more.
The bookmaker also offers wonderful live betting options that allow bettors to wager after the first or second period and win multiple times on the same game. The line starts with the spread and continues with the total bet (over/under), ending with the money line but for even more attractive payouts, bettors could make parlays by combining several small wagers into one ticket. Of course, there are very straightforward futures or interesting prop bets, as well.
Baseball
Nowadays, baseball may not be as popular as it once was but is one of the sports betting fans prefer wagering on. What makes this traditionally American sport amazing for betting is the long history and the easy access to a lot of statistical data on teams and players. With baseball, serious bettors can generate great profits, while recreational punters can simply enjoy a few bets while watching a game with friends.
At BetNow Sportsbook, they can place wagers on Major League Baseball (MLB), the most prestigious baseball association in the country. Of course, fans can bet on the World Series but the season does not continue throughout the year, which is why BetNow also has a selection of South American betting markets. It offers good odds on Venezuelan LVBP baseball, the Mexican Liga del Pacifico, and games from the championships in the Dominican Republic.
Soccer
Surprisingly for a US-focused sports betting site, BetNow has a massive selection of soccer lines. In fact, the list of soccer matches is the largest section in the sportsbook. Bettors can place various types of bets, including money lines, totals, and goal lines or PK spreads (it comes from pick and it refers to the even-money bets in point spread betting). Parlays and futures are also extremely popular betting options among soccer fans.
Soccer is currently the most-watched and wagered on sport in the world so along with US soccer leagues such as Major League Soccer and the second division, the USL Championship, BetNow covers the vast majority of European and South American leagues. These include UEFA Champions League, the Europa League, England's Premier League, the German Bundesliga, the French Ligue 1, as well as Brazil's Serie A and B, Argentina Super Liga, Chile Primera Division, etc. Soccer fans can also bet on Australian soccer, as well as on popular championships such as FIFA World Cup, CONCACAF Nations League, Copa Libertadores, etc.
Mobile Compatibility
BetNow does not offer a native app for iPhones or Android devices but its website is fully mobile compatible. To open the sportsbook on a mobile phone or tablet, bettors need to access the site directly from the browser on their device. The site loads instantly and there is no need to download any special software to bet on sports or play casino games. Moreover, the mobile version of BetNow is functional so mobile users can easily sign in or register an account, make a deposit, claim any of the bonuses available, and place real-money bets.
The sports betting section, in particular, comes with a simplified design for easy navigation. Most sections of the sportsbook can be accessed instantly using the compact menus at the top and bottom of the screen. At the same time, the buttons are large for more convenience on smaller screens. Overall, the mobile sportsbook does not look much different from the desktop version – it is simply more compact and simplified.
The bet slip, as well as the available betting lines, are also fully functional and users can instantly pick their preferred lines, bet types, and place their selections in their ticket. Browsing through the different sports markets is also easy, while some of the sections of BetNow Sportsbook appear only after signing in. This includes the Cashier, for instance, which displays the user's entire balance, as well as all pending bets and the available funds.
BetNow Sportsbook is compatible with all mobile devices and platforms, including iOS, Android, Windows Phone, and even BlackBerry.
Bonuses and Promotional Offers
Punters who decide to register at BetNow will enjoy a wide range of bonuses and promotional offers designed to boost the betting and gambling experience at the website. The majority of promotions, however, run for a limited time and this is especially true when it comes to the Sportsbook promotions. The betting operator has prepared different offers for baseball, football, or basketball fans who can place bets and enjoy extra winnings during the sports season.
50% Welcome Bonus up to $1,000
Gambling operators typically have different sign-up bonuses for their sports betting, racebook, and casino sections. In this case, the use of bonus funds is usually restricted and betting fans, for instance, can use their bonus only in the sportsbook. BetNow, however, has taken a different approach – now, it offers all newly registered members a 50% Welcome Bonus of up to $1,000.
To claim their bonus, users need to enter the bonus code BN50 when making their initial deposit into the website. However, the minimum qualifying deposit for this offer is $50, which is higher than in most betting and gambling sites. Still, the maximum amount of the bonus that could be received is better than usual – bettors can get up to $1,000. They should know that for this amount, they will need to make a deposit of $2,000 since the bonus amount is exactly 50% of the deposited funds.
As we can see, the sign-up offer does not seem to be very impressive – the bonus is only 50% and it requires a minimum deposit of $50. However, it comes with very favorable wagering requirements and conditions. If bettors decide to use their bonus in the sportsbook, they will need to complete a rollover of 8 times the amount of the bonus plus deposit. If, for instance, we deposit $50 and receive a $25, we will be required to place bets equal to or greater than $600 ($75×8). Withdrawals of any winnings will be processed only after the wagering has been completed.
If the new BetNow member chooses to play through the bonus in the casino section of the site, however, the rollover requirement will be 30 times the combined amount of the deposit and the bonus. If we use the same example from above and we have a bonus of $25, the wagering in the casino will be $2,250.
25% Welcome Bonus up to $1,000
There is an alternative Welcome Bonus for those who are looking for an offer with even better wagering requirements. This is a 25% match bonus on the first deposit at BetNow and it can reach $1,000. However, the rollover is only 3 times the bonus plus deposit, which is quite rare and a nice surprise for those who simply do not like the pressure of wagering requirements and bonus restrictions.
Once again, the minimum deposit amount is $50 and upon making it, bettors need to use a different promo code, namely BN25. If they complete the wagering in the casino section of the site, they will be required to bet 15 times the bonus and deposit. All other bonus conditions can be found in the standard Terms and Conditions of the site – members have to be of legal age for gambling (18+) and need to make sure that online betting is legal in the country they are currently based in. Of course, the operator allows only one account per person and individuals can claim the Welcome Bonus only once.
50% Referral Bonus
In addition to the several sign-up bonuses and limited-time promotions on the BetNow website, there is also a nice 50% Referral Bonus offered for every new friend bettors invite. To receive it, their friends need to register an account and specify the referrer's name in the dedicated field in the registration form. Once the account is active and a deposit has been made, the referrer is credited with a free play bonus of up to $250.
The bonus will be 50% of the new member's deposit into BetNow but also, up to the amount of funds in the referrer's balance. If, for instance, we have invited a friend who has deposited $100 into BetNow, we are eligible for a free play bonus of $50. If we have only $40 in our balance at the time, however, we will receive $40 in bonus funds. The free play bonus offered by the sportsbook can be used in any section of the site.
However, any winnings generated from it are subject to wagering requirements of 4 times the bonus amount. If the rollover is in the casino, it is higher – 10 times the amount of the free play bonus. The wagering for a $40 bonus with $20 winnings, for instance, will be $80 if we complete it in the sports betting section of BetNow.
Lifetime VIP Program
BetNow Sportsbook has also prepared an interesting VIP Program, which is available to all registered members. Once you sign-up, you become a VIP but in order to start receiving rewards, you need to make deposits of at least $500 in your balance. Those who deposit $500 are given a 10% VIP Status, while members who deposit $2,000 get a 15% VIP Status.
These statuses determine the percentage of the reload bonuses that the bettor will be eligible for every time he or she makes a cash deposit. These VIP reload bonuses are credited automatically on every single deposit and have an extremely low rollover requirement – only 3 times the amount of bonus plus deposit. The 3x wagering requirement remains the same whether you decide to complete it in the sportsbook or casino.
Banking Solutions
BetNow does not offer the greatest choice of payment options we have seen on the Internet. Still, it promises fast payouts, convenience, and secure transactions – and these three are actually more important. Let's start with the fact that the website accepts payments only in US dollars (USD). Deposits are completely free and processed instantly – the only exception is for bank wire transfers, which are charged no fees but take 2 to 3 days to be received by the operator and to appear in the user's balance. The minimum deposit is $20 for most banking options.
The website offers several different solutions to those who want to fund their account but the availability of the methods depends on the country they reside in. In addition, only a handful of options will be offered to new members and first-time depositors. These include the popular cryptocurrency Bitcoin, the US-based instant banking service and payment app Zelle, fast money transfers via Cash MG, and bank wire. Additional deposit methods may be available after the first deposit – credit and debit cards, or prepaid cards and vouchers.
When it comes to withdrawals, they come with certain fees – the operator charges these transactions a fee depending on the transferred amount. The processing fee will also vary across payment options – Bitcoin withdrawals are free, while the fee for a bank wire transfer will be $70. With certain banking options, the fee is 4% to 5% of the transferred amount. Other payout methods include Direct Deposit and Bank Draft, which is practically a check sent to the bettor via courier.
Withdrawals are also quite fast – the processing time depends on the payment method, however. While checks usually take up to 24 days to reach you, Bitcoin withdrawals are processed within 24 to 48 hours. Overall, the recommended payment method at BetNow is Bitcoin since there are no fees, the transactions are incredibly fast and secure, while the limits are very high. The standard maximum withdrawal limit at the website is $5,000 per day but with Bitcoin, bettors can cash out up to $40,000.
The rest of the limits on the website are not as great, however – the minimum deposit amount is $20, but for bank wires, it is $1,000. The maximum amount that can be deposited at once is $5,000 through Zelle or bank wire and only $500 via Cash MG. The minimum withdrawal limits depend on the preferred payment method, as well – it is $5 (or its equivalent in BTC) for those who use Bitcoin.
Customer Support and Security
Often, online betting and any type of activity on the Internet, in general, may expose users' personal or banking data at risk. By sharing your name, address, and credit card details online, we never know who may have access to them. This is why security is one of the most important things when it comes to online bookmakers. BetNow, in particular, has taken measures to improve their online security and keep all data safe – the website uses the latest encryption technologies to protect any sensitive data and make sure transactions are secure.
If members have any security concerns or encounter an issue of any nature, they can easily contact the BetNow customer support. The Customer Service Department is helpful and responsive and agents can be contacted at any time of the day or night. You can send your inquiry atsupport@betnow.eu– the operator will respond within 24 hours but most users prefer the Live Chat. They can contact the support team directly via the Live Chat or via telephone – the toll-free number for US-based customers is 1-844-U-BETNOW or 1-844-823-8669.
Everyone who decides to bet on sports at the website should know, however, that the support and the interface of the site are available in English only. After all, the operator caters mostly to bettors and casino players based in Canada and the United States.
Licenses and Restricted Countries
BetNow is a reputable, fully licensed online sportsbook and casino, holding a Curacao license. It is legally authorized by the Government of the country to conduct gaming operations, including games of chance and sports wagering. Most online gamblers and bettors would probably know that a license from this jurisdiction is not the best option since there are other, more respected authorities that issue licenses in this industry.
But in reality, the vast majority of US-friendly betting and gambling sites are not licensed at all and are not required to comply with any rule or law. BetNow, on the other hand, has passed all compliance tests and has a reputation for being fair and trustworthy. The payouts are relatively fast but more, importantly, they are reliable and processed via safe, internationally accepted payment cards and services.
Since the Curacao license of the operator, however, cannot authorize its services in all countries and regions, there is a list of restricted countries and territories. Users who reside in them are not allowed to open an account, make a deposit, or place a real-money bet at BetNow. The restricted countries include Australia, Afghanistan, the Central African Republic, the Republic of Congo, Eritrea, France, Guinea-Bissau, Irak, Iran, Lebanon, Libya, Mali, Malta, North Korea, Panama, Somalia, South Sudan, Sudan, and Yemen. In addition, those who are based in the US state of New Jersey are not permitted to register and bet on the website.