As there are numerous online sportsbooks, one can have a hard time finding the best place for their virtual betting. This being said, those punters who decide to join 5Dimes will have a great experience as they will be able to make online bets in a secure and fair betting environment. The web-based bookmaker has been a part of the iGaming industry for a long time, and it knows how to keep its members happy.
Bettors from different parts of the world, including the US, will be able to join 5Dimes and place bets on their favorite sports. With numerous betting markets and some of the best odds, members of this virtual sportsbook will have a wonderful time betting on numerous sporting events. As there is a wide range of features one can make use of, your betting experience at 5Dimes is guaranteed to be tailored to fit your taste.
Members of the interactive sportsbook will be presented with the chance to enjoy different types of rewards. Whether you are a new 5Dimes member or you have been betting for quite some time, you will be able to make use of Rewards Plans, fitted just for your type of sports betting.
Compatible with mobile devices, 5Dimes can easily run on your smartphone or tablet and make your virtual betting easier and extremely fun. There are several payment options that one can utilize in order to handle their gaming balance with ease. Both web-based and mobile punters will be able to make deposits and request withdrawals in the most convenient way. What is more, payments are always safe thanks to the security measures that 5Dimes resorts to. All of this contributes to a wonderful overall online betting experience.
5Dimes in a Nutshell
Brand Name
5Dimes
Launch Date
1996
License(s)
Costa Rica, Isle of Man Gambling Supervision Commission – license numbers not specified
Based in
Costa Rica
Operator
5Dimes Group
Software
Advisor Software Inc.
Sponsorship Partners
N/A
Brand Awards
N/A
Payment Methods
Credit cards, Interac, P2P, cashier checks, Bitcoin, bank wire withdrawals
Average Withdrawal Processing Time
48 hours
Number of Sports on Offer
25
Racebook
Yes
VIP Club
No
Additional Sportsbook Features
Bet the Board, Bet Builder
Additional Products on Offer
Fantasy Sports, Casino, Live Dealer, Mini Games, Poker
Responsible Betting Tools
Betting and deposit limits, time limits, time-outs, self-exclusion
Minimum Legal Age Requirement
18 years of age
Support Contacts:
Live chat (24/7), email (info@5Dimes.eu), phone (1-888-893-5647, 1-800-430-5896, 1-800-305-3517, 1-877-332-7501)
Excluded Jurisdictions
American Samoa, Australia, Brazil, France, Guam, Hungary, Iran, Japan, North Korea, Panamá, Portugal, Puerto Rico, Russia, Singapore, Slovakia, Slovenia, Sweden, Switzerland, Ukraine, United Kingdom, United States Minor Outlying Islands, United States of America, US Virgin Islands, Vietnam
Betting Features at 5Dimes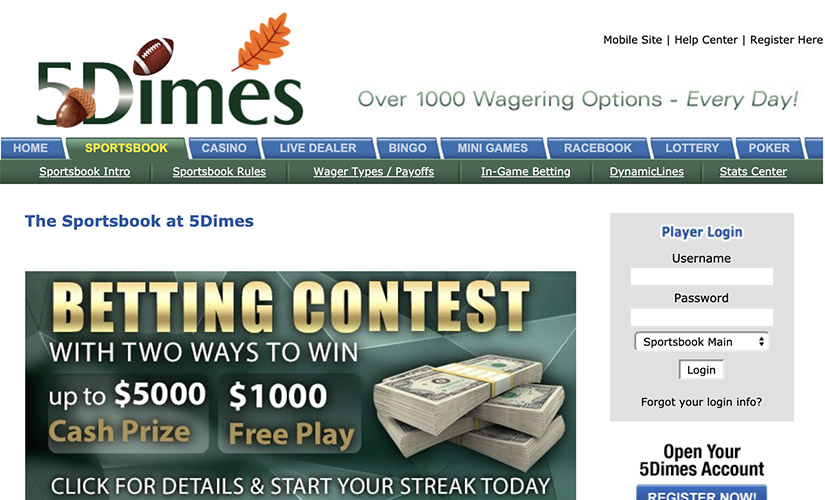 Bettors who join 5Dimes will have access to several features that will make their betting experience easy, fun, and rewarding. When it comes to betting options, punters will be able to choose from different sports such as football, basketball, hockey, soccer, golf, and many more.
You can place your bets using the Bet the Board feature, which will allow you to select your preferred sports and see all of the available betting options. Once you have checked all of the sports you are interested in, you simply click on "Continue", and this will redirect you to the page with the odds on all current sporting events.
Another convenient feature is Bet Builder, which will allow you to customize your bets on players' performance in the most convenient way. This feature will also allow you to bet on options deemed as "Quick Picks", which will reveal odds on current popular events one can bet on. In order to build your bet, you will need to select the bet type, the player you wish to bet on, and the statistic. You will also notice that you will be able to choose between decimal and American format for the odds which will help you bet in the most suitable way for you.
Of course, among the various other features you can find while exploring your options at 5Dimes, Live Betting is definitely one of the most interesting ones. It will allow you to bet online on various major sporting events and follow the games in real time. You can view all of the odds you can bet on, as well as a calendar with all of the upcoming Live Betting events that will be available for 5Dimes punters.
Betting Features Summary
Languages
English
Currencies
USD, BTC
Odds Format
American, Decimal
The Sportsbook of 5Dimes
Football
Horse Racing
Tennis
Greyhounds
Cricket
E-sports
You can expect to have a wonderful time betting on various sports if you join 5Dimes. While there are different sections offered by the website, its sportsbook is definitely one of its highlights. One of the best things that 5Dimes has to offer to its patrons is a diverse betting market. Since punters often have different interests and they might enjoy betting on several sporting events, this virtual sportsbook has made sure that it provides odds on some of the most popular sports.
You will notice that the Sportsbook section of the betting site offers several subcategories. Those include Sportsbook Main, Betting Contest, Sports Betting Ultra, Sports Betting Prime, Live Betting Extra, and Sports Betting Plus. If you want to see all of the sports covered on the site, as well as, the types of bets you can make, you can open the Sportsbook Main page. Betting Contest will allow you to join the Rewards Plans 5Dimes offers to its loyal members. The rest of the sportsbook sections will let you in on the different odds that are offered on some of the most popular sporting events across the world.
Soccer
Although 5Dimes presents gambling enthusiasts with an awful lot of options when the covered sports are concerned, soccer remains an extremely well-liked sport to bet on for a constantly growing number of users of the gaming platform. It is true to say that this virtual sportsbook lacks a bit aesthetically, but the broad diversity of covered sports and events will positively pack a punch. Although soccer does not enjoy such staggering popularity in the USA, especially when compared to football, it has started to pique the interest of more and more punters from that territory.
Soccer fans are unlikely to complain about the options they will have a pick from as the bookie offers odds on the domestic competitions in more than 20 countries and territories the likes of Brazil, England, Italy, Germany, Spain, and Argentina, to name just a few. This comes to show that soccer bettors will be kept excited and their satisfaction will be guaranteed during their stay at 5Dimes.
Since soccer remains a primary area of interest for so many gambling aficionados, it is not that surprising that 5Dimes accepts wagers on major events such as UEFA Champions League, English FA Cup, Serie A, Premier League, and UEFA Euro Qualifiers. What some punters might also relish about the sportsbook is that it makes for wagering on women international soccer as well. Punters who would like to try their hand at making a few stakes, which are out of the common run might wish to opt for placing if bets, parlay bets, teaser bets, and futures bets, which positively have the wherewithal to bring extra excitement and heftier payouts.
Hockey
What might make 5Dimes an even more attractive destination for punters' real-money bets is that the bookie offers lines on most major hockey competitions. Interestingly enough, while examining the sportsbook, it hit us that hockey is one of the sports, which have received a substantial amount of coverage. What might draw in many lovers of the sport is that the web-based sportsbook facilitates wagering on NHL, which remains one of the competitions, which are followed closely by people from around the world. The Champions Hockey League also attracts a great deal of betting action from recruits and patrons of the online sportsbook because of the highly competitive odds lovers of the sport will enjoy whenever they feel like gambling.
Hockey mavens stand almost no chance to grumble about the options they will have during their stay at 5Dimes as they will be allowed to lay their bets also on a decent variety of domestic competitions. Users of the sportsbook will be allowed to punt on events, which are held in Finland, Austria, Denmark, Russia, Sweden, Switzerland, Czech Republic, and more, thus ensuring that they will enjoy a fun and rewarding experience.
Tennis
When it comes to sports, which have gained much traction among gambling enthusiasts, we should not forget to mention tennis. Punters who are keen on putting their money on this sport are expected to enjoy themselves thoroughly and to scoop nice payouts as they will be allowed to make stakes on events from WTA, ATP, ATP Doubles, and ATP Challenger, among others.
The operator has ensured the satisfaction of tennis lovers as they will have the opportunity to punt on numerous in-play markets. That way, bettors will be odds-on to make a winning stake as they will have already got an insight into the manner in which the game progresses by following the score. Those who have grown bored of making rather traditional wagers might get even more animated when they figure out that the sportsbook accepts multi-event wagers the likes of parlay and teaser bets. Gambling enthusiasts who are particularly interested in wagering on tennis might also enjoy the idea to opt for action reverse bets.
Basketball
If you are a sports bettor and basketball keeps you exuberant, 5Dimes might turn out to be the perfect destination for your real-money wagers. This is one of the sports, which enjoy overwhelming popularity not only in North America but in a variety of other territories as well, which explains why it has turned into a mandatory element for every proper online sportsbook. Punters who enthuse over that sport will have the chance to lay their wagers on major basketball competitions such as NBA and NCAA.
What might appeal to punters is that the operator has ensured their convenience by sorting out the competitions they can wager on by country. That way, they will not be required to go through the entire selection of covered events in order to find the option, which is to their liking. In light of the fact that at 5Dimes, the coverage of basketball markets is sufficient, gambling enthusiasts are unlikely to find themselves in want of events to punt on.
American Football
Considering the fact that 5Dimes is facing the US market as well, it would have been odd if patrons of the sportsbook were not able to see any American sports such as football, for example. Interestingly enough, American football can be easily described as one of the strong contenders for the attention of gambling enthusiasts as the sportsbook has ensured that lovers of the sport will be able to lay their wagers on events from NFL, as well as on NCAA tournaments.
It is nearly impossible that fans of the sport can miss any of the events the bookie provides odds on as punters who establish an account with 5Dimes will be able to check out the matches, which will take place that same day or to see all matches. Another great thing about the sportsbook is that the operator has dedicated a separate section for results, which is extremely convenient as punters will be able to check out the outcome of each stake they have made in a fuss-free fashion.
Sports and Markets Available Summary
Soccer
Correct Score, Team A wins, Team B wins, Draw, Halftime, Full Time, Over/Under
Hockey
Asian Handicaps, Spread, Money Line, Props, Futures
Tennis
Over/Under Sets, Over/Under Games, Any Set to Nil, Set Handicaps
Basketball
Total Score, NCAA First and Next 10-Minute Result, NBA First and Next 6-Minute Result, Teasers
American Football
Full Time Result, Total Points, Asian Handicaps, Teasers, Progressive Parlays, MultiChance Parlays
Mobile Compatibility
ANDROID
iPHONE
WINDOWS
iPAD
Just like most of the other interactive bookies, 5Dimes has also made every endeavor to put the thrill sports betting delivers into the palm of punters' hands. Although the operator is yet to release downloadable apps for touchscreen devices, this does not mean that gambling enthusiasts will not be able to punt while being outdoors or while they are on the go.
Thankfully, users of the web-based sportsbook will have the chance to enjoy a seamless mobile experience as soon as they visit the gaming platform through the browser of their handheld device. The same wide array of sports and events will be at the disposal of gamblers who prefer to lay their wagers using their touchscreen device, thus ensuring that they will not be left out in the cold.
Even if you are a newcomer at 5Dimes, you will be able to get around with the mobile version of the sportsbook without let or hindrance, thanks to its clean layout. That being said, some punters might find the interface of the interactive sportsbook slightly out of date, especially if they have just set up their accounts. On the positive side of things, punters who switch to Sports Betting Prime will notice immediately that the look and the feel of the mobile version are much better.
Those who decide to gamble at 5Dimes through their tablet or smartphone will notice that their bet slip will be pinned in the upper right corner of their screen for better convenience. Working with it is a breeze as gambling enthusiasts will be impressed by the ease with which they can handle their stakes even when they are using a smaller screen to punt. Another great amenity sports bettors will have even when they are not gambling via their desktop device is that they will have the chance to watch numerous live events, thus ensuring that they will not miss the action, regardless of the time or their location.
As soon as punters load the mobile version of the sportsbook, they will be able to get an insight into the sports, which attract the greatest volume of betting action, to check out their own list of favorite sports, or to modify the format, in which odds are posted. That way, gambling enthusiasts will find it extremely easy and convenient to continue their sports betting adventures whenever and wherever they feel like it, no matter whether they have an iOS or Android-powered tablet or smartphone.
Mobile Compatibility Summary
Device
Downloadable App
Web App
Android
no
yes
iOS
no
yes
Mac OS
no
yes
Windows
no
yes
Linux
no
yes
Bonuses and Promotional Offers
Sign-Up Bonus
Free Bets
Special Offer
Enhanced Odds
Punters who establish an account with 5Dimes are promised to enjoy a betting experience, which is fun-filled and lucrative at the same time. So as to ensure the satisfaction of all account holders, the operator has styled a nice diversity of exclusive offers, which are a far cry from stingy. Recruits and existing registrants of the virtual sportsbook will be presented with a broad variety of options to pick from as 5Dimes has on offer cashbacks, reload bonuses, free-play bonuses, as well as reduced juice on an extensive range of events.
Welcome Bonus
When it comes to the promotional offers 5Dimes runs, it might be reasonable to say that they are of higher quality than some punters might give credit to, and the new-player bonus comes to prove that. Gambling aficionados who have just become part of the community of the sportsbook will be eligible for a 50% free-play bonus as soon as they wrap up their first deposit to the gaming platform. Those who upload a sum, which ranges between $100 and $400, can qualify for a deposit match of up to $200 in bonus funds.
Punters who enjoy the thrill of making larger stakes can opt for additional 20% free-play rewards, provided that they have topped up their account with a sum, which ranges between $400 and $2,000, meaning that eventually, they can receive $520 in bonus cash.
Sport lovers who are about to join 5Dimes should have in mind that the rewards they will be granted upon registration will not appear in their balance at once as instead, they will be credited in several installments, depending on the amount they have put on the line. In other words, punters will be granted 10% of the bonus funds as soon as they play through the deposited amount once, meaning that if they would like to get all the bonus funds, they will be prompted to play through the amount they have uploaded to their account 10 times.
Sports bettors who plan on redeeming the special offer should make sure that they will approach the customer support hosts no later than 24 hours after they have wrapped up their deposit. Another vital thing to remember about the new-player bonus is that gamblers should abstain from making any wagers before they contact the representatives of the sportsbook as such bets will not count towards the redemption of the rewards. Recruits of 5Dimes who live outside North America should be informed that in order to redeem the rewards, their initial deposit should not exceed $100.
$500 Reload Bonus
During their stay at 5Dimes, sports bettors can also benefit from a reload bonus, which can reach up to $500. The bonus funds gamblers will be granted will hinge upon the amount they have transferred to their balance. It should be noted that the sum should range between $100 and $2,500 and the payment solution they will go for will also make odds.
Gambling enthusiasts who have reloaded their accounts with sums, which range between $100 and $249 will have a fixed free-play reward of $40 lavished upon them. In the other cases, the reward they can benefit from will be 20% of the amount with which they have replenished their accounts.
Credit card depositors need to upload $250 so as to get a reward of $50. Those who prefer to handle their payments via Bitcoin need to reload their balance with $500 to get $100. Those who prefer person-to-person payments need to move to their balance $2,500 so as to get $500.
Once again, punters should make sure that they have requested the reload rewards by contacting the help desk of the sportsbook via email, live chat, or over the phone. It is vital to keep in mind that punters will be granted the entire bonus amount only after they have played through the deposit amount five times.
Cashback Bonus
Users of 5Dimes who have been ill-fated for some time should not get overly concerned about that as they are presented with up to 20% cashback bonus. This promotional offer is certainly out of the common run as punters will have a choice from several options when they would like to recoup the losses they have experienced.
Firstly, if you are an existing customer of the virtual sportsbook and you have already spent some time at it, you will be allowed to request a 20% cashback bonus twice a year. So as to get the cashback, punters will be required to request it in no more than two weeks before the first pre-season NFL game will take place. Alternatively, users of 5Dimes can do so no later than two weeks before the outset of Superbowl.
Another way to have your losses recouped is to redeem the 15% cashback bonus, which will be at punters' disposal once per 30 days. The 10% cashback bonus poses as a great way to make up for the loses gambling enthusiasts have experienced per week and can be redeemed on Tuesdays between 9:00 am and 11:00 pm. A cashback of 5% is available on all days, with the exception of Tuesday.
What punters should take into consideration is that they can pick only one of the aforementioned options. The least amount patrons of the sportsbook will be given is $2,50. Finally, those who are based outside the USA can only opt for the 20% cashback bonus.
Bonuses and Promotions Summary
50% Plus New Player Reward Up to$520
New punters who make a deposit of between $100 and $400 are entitled to a 50% reward in free bets up to $200. If the deposit is between $400 and $2,000, players can get EXTRA 20% Free-Play Reward. Each time they wager the deposit amount, 10% of the reward become available. Rewards must be requested within 24 hours after depositing.
$500 Reload Reward
Depending on the deposit method used, reload amounts must be between $100 and $2,500 to qualify for a 20% reward in free bets. Reload sums of up to $249 have a fixed reward of $40 in free bets. Each time you wager the deposit amount, 20% of the reward become available. Any reload reward must be requested no later than 24 hours after the qualifying deposit has been made.
Cash Back Reward
Punters can request a 20% cash back on all losses twice a year. A 15% cash back rebate is available once every 30 days. Punters may request a 10% cash back on their losses every Tuesday from 9:00 am until 11:00 pm ET. A 5% cash back can be requested every day except Tuesday. All cash back rewards are available if no other cash backs have been requested within the particular period. The minimum reward amount is $2.50.
Banking Solutions
Bank Transfer
Credit Card
E-wallets
Prepaid Card
5Dimes accepts payments through boatload payment processors, especially when compared to the other sports betting platforms, which are not hostile to punters from the USA. The web-based bookie has an extremely user-friendly banking page, which guarantees that punters will not find themselves in a tight spot when moving funds from or to the balance of their account.
Gambling aficionados who insist on wrapping up their transactions speedily and without being apprehensive about their funds all the time may wish to go for Bitcoin. A primary reason why Bitcoin is so preferred by users of 5Dimes is that payments via it are fee-free. The least deposit amount through Bitcoin is $25, while such transactions are capped at $10,000. A fee of 5% will incur in the event that gamblers top up their account with an amount smaller than $25. Bitcoin is supported for cashouts with a 3% fee, and punters should make sure that the requested amount ranges between $50 and $10,000.
Card payments have also been added to the cashier of the bookie of recent, and this payment method boasts limits of $50 and $500. Users of 5Dimes should have in mind that if they would like to retrieve their funds back to their credit or debit card, they should first make sure that they have passed through the verification process.
When depositing to their account, punters can rely on sportsbook transfers as well. The minimum amount they can upload to their balance when using this payment method is $500. Gambling enthusiasts who would rather go for account-to-account transfers will have the chance to top up their balance with a minimum of $50.
Users of the online bookie who have had a great time at the gaming platform and who have managed to amass a nice profit will have several banking solutions when they would like to cash it out. High-stakes punters might appreciate the presence of wire transfer among the supported withdrawal methods as the least amount registered users of 5Dimes can cash out is $1,000 while the ceiling goes to $9,500. The disadvantages of utilizing that payment method result from the fact that such transactions might take 6 business days in the worst-case scenario. Not to mention the flat fee of $80 such payments will incur.
The other payment method gamblers can opt for when initiating a withdrawal are checks by courier. Withdrawals via this payment method are even more time-consuming as punters might get their checks within 2 weeks. Additionally, such payments might incur really hefty charges (between $40 and $80), which should not be overlooked as well. The limits for cashouts via this payment processor range between $1,000 and $7,500. Punters who are based in Canada, on the other hand, cannot request the retrieval of more than $3,000.
The other option patrons of the online sportsbook will have is to cash out their profit through money order or person-to-person transactions.
Banking Summary
Payment Method
Deposit Limits
Deposit Times
Withdrawal Limits
Withdrawal Times
Credit cards (Visa, Mastercard, American Express)
Min $50/Max $500 per transaction
Instant
N/A
N/A
Interac
Min $25/Max $3,000 per transaction
Instant
N/A
N/A
Person to Person
Min $50/Max $750 per transaction (may vary)
Up to 6 hours
Max $309, subject to availability
Up to 48 hours
Bitcoin
Min $25/Max $10,000 per transaction
Instant
Min $50/Max $10,000 per transaction
Up to 48 hours
Cashier Checks
N/A
N/A
Min $1,000/Max $7,500 per transaction
Within 2 weeks
Bank Wire Payouts
N/A
N/A
Min $1,000/Max $9,500 per transaction
Up to 6 business days
Customer Support and Security
FAQ
Rules
Security
Support
Regardless of the way in which punters would like to get assistance, they can rest easy that 5Dimes has covered it. First of all, the web-based bookie has a comprehensive FAQ page where sports bettors will find a great quantity of useful information, meaning that before they contact the representatives of the sportsbook through one of the other support channels, punters will do well if they look over the answered questions first. Still, if they have come to nothing while searching for their topic of interest, they might wish to contact the agents through the live chat functionality. It comes in aid of punters who are in a rush to have their problems solved by one of the outgoing and competent agents.
Support is available through email and phone, meaning that sports bettors will be able to settle on the option they consider most convenient for them. Those who would rather get help via phone can get their issues solved, provided that they dial 1-800-430-5896. Those who opt for the live chat or the phone line will have their questions answered almost on the spot, while punters should expect to get a response to their emails that same day.
When online gambling is concerned, the safety of punters' personal and banking information might sometimes be in question, especially if they have established an account with the first operator they have run into. Still, this is certainly not the case with 5Dimes as the operator has taken all the safety measures to ensure that gamblers' sensitive information will be properly safeguarded through powerful encryption technology. This means that no matter whether gambling enthusiasts are entering the sportsbook through their desktop or touchscreen device, their information will remain unreadable for scammers.
Customer Support Summary
Channel
Details
Availability
Email
info@5Dimes.eu
24/7
Live Chat
24/7
Phone
1-888-893-5647, 1-800-430-5896, 1-800-305-3517
24/7
Phone (new accounts)
1-877-332-7501
24/7
Licenses and Restricted Countries
The trustworthiness and reliability of the operator are also among the things, which might be at issue when punters switch to making their wagers over the Internet. One of the things, which speak volumes in terms of the service sports bettors will enjoy is that the operator has been an active player on the online gambling scene for nearly 20 years, which is laudable. This will not only alleviate the anxiety of gamblers, but it also comes to show that the operator knows how to ensure profound satisfaction for all its users.
Overall, 5Dimes has a good track record, which is certainly great news to hear, especially if you are still in two minds whether to establish an account with the bookie. Users of the gaming website can focus their attention exclusively on the events they prefer wagering and the stakes they will make as they will be presented with a trusted and secure experience at all times. 5Dimes is licensed and regulated in Costa Rica, which allows it to offer its services in a variety of territories.
An essential thing prospective users of the gaming website should take into account is that they should be at least 18 years old in order to make real-money bets at 5Dimes.
Meanwhile, there are also country restrictions, which are worth considering before attempting to sign up for an account with the operator. Dwellers of countries such as France, Greece, Slovakia, Slovenia, United Kingdom, Portugal, Hungary, Ukraine, Switzerland, and Russia will be denied access to any of the services the operator supplies.
Licenses Summary
Costa Rica
Not Specified
5Dimes Reviews from Around the Web
Since 5Dimes has been providing its betting services to punters for a couple of decades, it has proven to be a great place for both armchair sports fans and expert bettors. The bookie definitely has some strong features that have earned the brand a good reputation among many interactive punters.
To get an idea of the overall opinion on 5Dimes, you can check the different reviews you can find online. The majority of websites that dissect the operations of virtual bookmakers base their reviews on several important factors. The score that 5Dimes has received across different websites is based on features like sports coverage, odds, payment options, mobile compatibility, and other important factors. Most reviews online have given 5Dimes an average score that ranges between 3.5 and 4 out of 5 stars.
Even though many online reviewers appreciate things like the huge sports coverage, good odds, and fast payouts, they still criticize the online sportsbook for some of its missings. You can find 5Dimes at Trustpilot and check the sportsbook's rating there. Currently, however, there are only 3 reviews of the brand, making its combined score 3.5 out 5.
Negative 5Dimes Reviews
When we read online reviews of 5Dimes' operation, we notice that the brand is lacking in some areas, bringing its overall performance score down. Many reviewers are displeased with the limits that are often imposed on high-rollers who make bigger stakes and often enjoy bigger wins. The betting site's customer support also needs some improvement as some reviews note that the experience with the chat support was not the greatest.
Reviewers who had bad experiences with 5Dimes usually complain about the excessive verification process they were asked to go through when initiating a withdrawal. Even after verifying their accounts, punters were given other reasons to delay their payouts, ultimately taking over a month to get their money.
Positive 5Dimes Review
While some punters have to go through unpleasant situations, some reviewers actually report having a great time betting with 5Dimes. Even reviewers with previous bad experiences have given 5Dimes another chance, resulting in a much better betting time. Some reviewers appreciate the fast deposits and withdrawals for Bitcoin users.
Many also appreciate the wide coverage of sports, as well as lotteries, with odds that are often very competitive. Even those who had to withdraw large sums of money, had no issues receiving their funds in a reasonable period of time.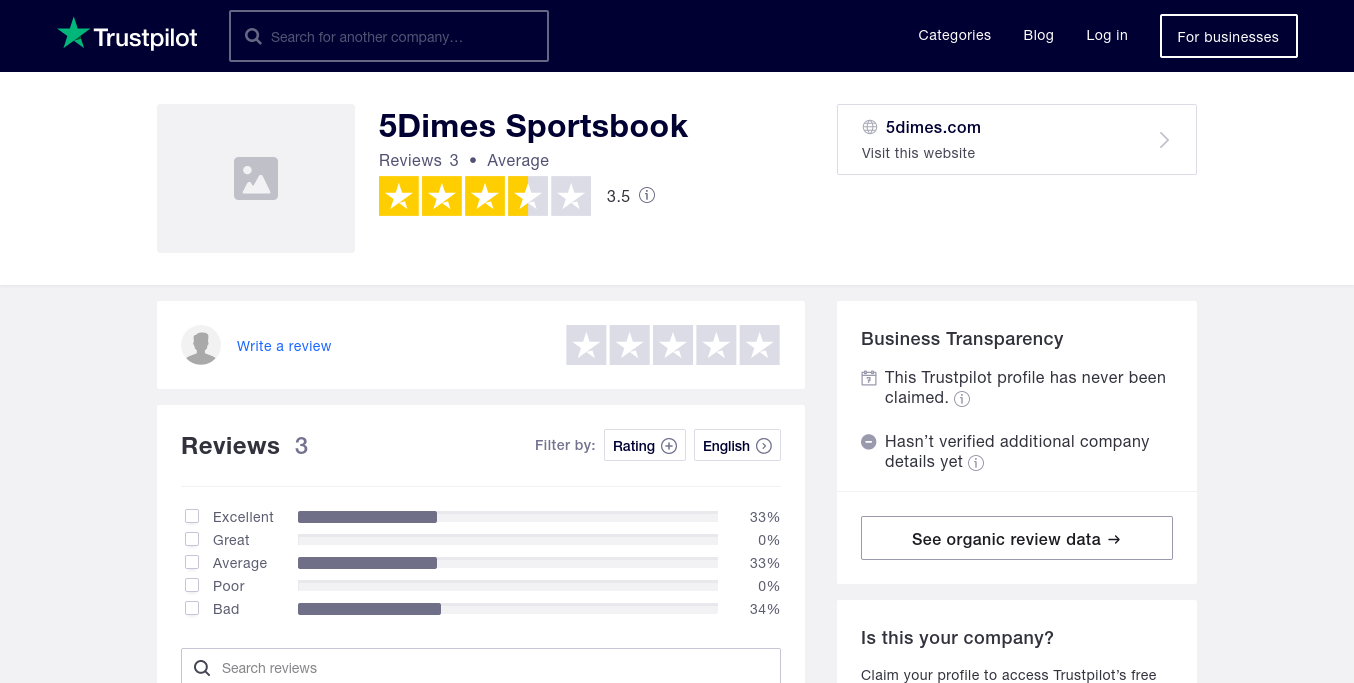 Trustpilot Rating of 5Dimes
Excellent
33.00%
Great
0.00%
Average
33.00%
Poor
0.00%
Bad
34.00%