Founded back in 1997, Unibet ranks among the longest-standing figures on the online gambling scene. The platform has greatly evolved since its establishment as currently, it stands out as an all-in-one gaming website, which hosts poker rooms, bingo halls, a casino, and a sportsbook, thus gathering in one place all the thrill and excitement punters might be dreaming of. Unibet's owner is Trannel International Ltd, which is a Malta-based company that holds the management of a few other well-known brands. What should give gambling enthusiasts an extra degree of comfort is that Unibet is fully licensed and regulated by the Maltese Gaming Authority and the British Gambling Commission.
Unibet has established itself as one of the most frequented and the most preferred destinations for punters as it gives them access to a tremendous variety of sports to pick and choose from. The full array of betting options punters can make use of ensures that they will be kept engaged and satisfied, no matter whether they are middle-of-the-road punters or they take sports betting rather seriously.
The special offers, which are up for grabs at Unibet are really tempting as they are likely to grab gamblers' attention with their diversity and with the prizes they mete out.
Punters' betting experience is guaranteed to be thrilling even if they do not feel like staying at home whenever they decide to gamble. The downloadable apps, which are tailored for devices powered by iOS and Android will positively provide gambling enthusiasts with the freedom they crave as thanks to the apps, punters can enjoy a wonderful betting experience at all times and across a profusion of handheld devices.
Betting Features at Unibet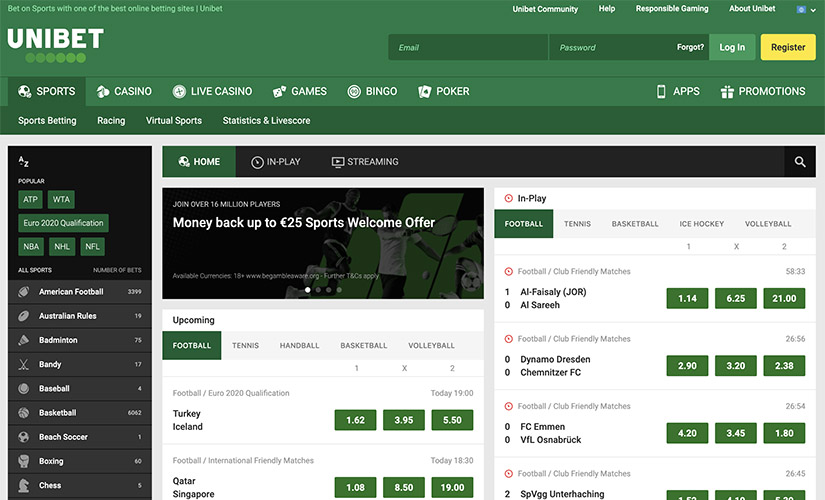 Obviously, the operator has set its sights on providing sports bettors and lovers of casino games with a second-to-none gambling experience, regardless of their likings and preferences. Punters stand almost no chance to leave the gambling site disappointed as they are presented with a mind-blowing assortment of sports to bet on.
Gamblers can easily check out if the operator has covered their favorite sport as they can inspect all options they are presented with from the field on the left-most side of their screen. What is even better is that all markets, which are available on their preferred sports will be posted all the time as well. What might make for even better convenience is that some of the competitions and tournaments, which attract the biggest betting action will be displayed in that field too.
Even if you are new to the sportsbook, you can rest assured that you are unlikely to hit a snag while handling your wagers. In the event that you already have a specific sporting event on your mind, you simply need to check out the lines you are given choice from. What users of Unibet might like about the sportsbook is that it gives them access to statistics, which will certainly give them a leg-up and will not make the decision-making such an uphill work. Those who are keen on wagering on sports might also find the livescore section of use as thanks to it, they will be able to view quite useful data about a profusion of sports.
The amenities punters can make use of are not limited only to statistics as they might also appreciate the live-betting feature. The reason why it is so well-liked is that owing to it, sports bettors will be able to lay their wagers as the event unfolds, meaning that it will be easier for them to make winning picks. While being at Unibet, gamblers can also benefit from live streaming, which is a great way to remain posted about the developments in the sporting event they have wagered on.
As soon as gambling enthusiasts have added the selections they like to their bet slip, they can easily input the amount they are comfortable with wagering and check out what their potential payout will be. If they are not satisfied with their potential profit, they can effortlessly remove the selections they wish. Once all is set up, they just need to click on the place bet button and hope that they have made a correct pick.
The Sportsbook of Unibet
Unibet's sportsbook stands out with its user-friendliness and its slick design as all the information it contains is well-organized, thus ensuring the comfort of its recruits and existing customers. The layout of the sportsbook is uncluttered, which allows sports bettors to switch between the different sections without any hassle. What further contributes to the top-notch gambling experience is that gamblers can lay their wagers on all sports they are fond of without any ado.
The sportsbook is engaging not only when its layout is concerned as the diversity of the sports on offer is what might make many gambling enthusiasts take a crack at it. Fortunately, punters who would like to diversify their betting session will have plenty of options to pick from as the operator has not narrowed its focus exclusively on some of the most sought-after sports in the industry. As it befits a bookie of Unibet's rank, it allows gamblers to view the odds using fractional, decimal, or the American format.
American Football
Unibet has available some of the world's most-followed sports, which attract overwhelming betting action, counting American football. Perhaps, lovers of the sport are likely to be contented with the competitions they can put their money on as the range of options includes CFL, NCAAF, and NFL. Although some would say that this is a sport, which is popular exclusively on US soil, this is certainly not the case as currently, American football attracts betting action from a profusion of other countries. Hence, it is only natural that Unibet caters to the needs and the preferences of punters who are fond of the sport.
The number of markets the operator has covered can clearly tell patrons of Unibet that American football is one of the sports, which enjoy the greatest amount of attention and betting action. As for the bets gamblers can make, they are posted according to their popularity as well. Lovers of the sport can lay their stakes on the total points, on the team, which is expected to score first, to make draw-no-bets, or to pick a match-winner. Best of all, fans of American football can capitalize on live betting and remain posted about all upcoming events.
Basketball
Basketball is yet another sport the coverage of which is pretty satisfying. Since this is one of the most sought-after markets, it is not that surprising that patrons of the bookie are allowed to put their money on various events from leagues such as NBA, EuroLeague, ABA League, Latvian-Estonian League, NCAAB, VTB United League, as well as on EuroBasket Qualifications. Apparently, the operator has wanted to see to it that basketball lovers will be kept happy and incentivized to carry on returning to the gaming website as it provides coverage on the local competitions, which take place in Australia, Belgium, China, Germany, France, Italy, Spain, and Poland, among others.
What might make some basketball fans give Unibet a chance is that while being at the gaming website they will be able to watch numerous such events and to make use of the live-betting feature. Lovers of the sport will be able to make predictions about the winner of the game, the total points by the away or the home team, whether to match will go into overtime, which of the teams will score the first 10, 20, or 50 points. Some punters might also be intrigued by the idea to go for double-chance betting.
Soccer
Considering the prominence to which soccer has risen, it should come as no surprise that Unibet goes out of its way to please lovers of the sport. Those who get a real kick out of European football might wish to seize their chance to wager on international competitions the likes of Champions League, AFC Champions League, World Cup, Europa League, African Nations Cup, Copa Libertadores, and UEFA Champions League.
One of the best things about the sportsbook is that the above-mentioned competitions are not the only soccer events that are in the spotlight as Unibet offers odds on the local football competitions and tournaments in 30 countries and counting.
As soon as gamblers settle on a specific match, they will be able to check out the outcomes of the previous games between those two teams, the ball possession, and even the number of corners. The types of bets gamblers can make are truly diverse as they can make predictions about the correct score, the total goals, or the interval winner. Some gambling enthusiasts might also be fond of the idea to make special bets on the International Football Awards, or wagers, which have to do with the transfers or the managers.
Ice Hockey
Unibet offers a wide range of betting opportunities among which gamblers will spot ice hockey as well. Lovers of the sport are promised to be pleased with their betting adventure, mainly thanks to the multitude of markets the operator has covered. Unibet might turn out to be the perfect destination for ice hockey devotees as they will be allowed to place wagers on NHL, the World Championship, KHL, and Asia League. There is no shortage of small-scale competitions as well as the operator offers odds on the local contests in an abundance of countries.
What turns ice hockey into such an exhilarating betting venue is that gambling aficionados are enabled to choose between a great many betting options. They can make forecasts about the first goalscorer, the total number of goals, the correct score, which of the teams will score first and will win the match, and so on. Hence, total novices at ice hockey betting and old hands will have sufficient options to pick from, which guarantees that their stay will be arresting, and hopefully, fruitful.
Baseball
Baseball is yet another extremely well-loved sport, which is available at Unibet. What renders this area from the web-based sportsbook so alluring is that those who head over it will be allowed to punt on all the latest events from MLB, which is one of the longest-standing professional leagues in North America. Registered users of the gaming website are enabled to wager on ABL as well, which also draws a massive audience.
So as to keep baseball lovers satisfied, the operator has furnished them with statistics and gives them the opportunity to watch the majority of the events right from the gaming site.
Mobile Compatibility
One of the greatest perks punters will enjoy if they establish an account with Unibet is that they will be able to gamble to their hearts' desires even if they do not have access to their computer at the moment. The operator has ensured that it is fully prepared to meet the demands of its users who are seeking to enjoy better flexibility as they can benefit from dedicated apps for iOS and Android-powered devices.
While iPad and iPhone users can get the app from App Store, owners of Android-run devices can do so straight from the gaming website. Unibet offers a full-swing in-browser app, which is a great alternative for gambling enthusiasts who are not comfortable with burdening their tablet or smartphone with extra software.
The operator has made sure that gambling enthusiasts will enjoy a fun, relaxing, and profitable betting session even when they are on the go as they can benefit from advantageous odds on some of the most followed sporting events, a profusion of in-play betting markets, sports-specific notifications, as well as streaming of a huge number of sporting events.
Using their touchscreen device to make wagers on the events punters prefer is fuss-free, which is achieved through the neat layout of the mobile sportsbook. All sports from Unibet's agenda are arranged in a vertical menu, which is placed on the left-hand side of your screen. What punters might also relish about the mobile casino is that it is not rocket science to wrap up their wagers.
The preferred selections will be added to punters' bet slip as soon as they tap on them. Apparently, Unibet's mobile version is designed with the end-user in mind as they can easily comb through the sportsbook, which is essential and makes for a much better experience.
Those who would rather opt for the mobile sportsbook will be able to shift its language and to redeem the promotional offer it houses fluently. The mobile version is certainly not stripped down as gambling enthusiasts will be given access to statistics, livescore, in-play betting, as well as live-streaming even when they gamble via their tablet or smartphone.
Bonuses and Promotional Offers
Gambling enthusiasts who are looking for a way to spice up their stay at Unibet might wish to check out the promotional offers the operator has in store. There is such a nice variety of special deals across the gaming platform that its prospective users, as well as the existing ones, will be kept entertained for hours on end, and their chances to enjoy a fruitful betting session will be bettered.
Welcome Bonus
It is true to say that the way in which the operator rewards its customers might turn out to be a difference-maker, especially for gambling enthusiasts who are still in two minds whether Unibet lives up to their expectations. The promotional offer which is styled for new users of the sportsbook certainly stands out from the crowd as it awards up to €25.
So as to qualify for this special deal, punters' first stake at Unibet should be a losing one. Recruits of the gaming platform who have redeemed the special offer need to clear the turnover requirements of 3x before they could convert them into cash and request a withdrawal. While fulfilling the playthrough requirements of the sign-up offer, gamblers should make their stakes at odds of 1.4 or higher as otherwise, their wagers will not count towards the bonus wager.
What prospective users of the sportsbook should have in mind is that their stakes will count towards the fulfillment of the rollover requirements only if their outcome is decided no later than 35 days after the bonus funds are granted. Speaking of bonus wagering Unibet's new users should also be informed that making pre-match and combined live bets will not help them out while they are trying to deal with the bonus wagering.
Please note that this promotional offer applies exclusively to gamblers' first losing bets. If it happens that their first wager at Unibet is a winning one, they will not be able to take part in the promotion.
There is no denying that the treatment punters will get from the very beginning of their stay at the sportsbook is special as gambling enthusiasts who have just joined Unibet's community will be presented with live-betting opportunities, as well as access to Unibet TV.
Stars and Stripes Jackpot Raffle
Gambling enthusiasts who find wagering on US sports extremely arresting might be keen on the idea to take part in the weekly raffle. The exclusive deal certainly deserves punters' attention as those who decide to take part in it will compete for one out of the 10 prizes of €500. So as to get involved in this promotion, users of Unibet need to put on the line at least €5. Ticket entry will be granted to those who make their wagers on MLB, NBA, NFL, or NHL.
What gambling aficionados might be delighted to find out is that live and pre-match bets weight equally. Another vital thing to remember is that all markets within a match are included in the exclusive offer. The same refers to single and multiple bets as well.
Another great term about the raffle is that the odds at which punters have placed their wagers make no difference. Gamblers should not fret about the stakes they have already cashed out as such bets will not be excluded from participation in the draw.
Speaking of the draw, it takes place on Mondays, and the winners should expect to have their award credited in no more than 30 minutes after the draw was held. As for the prizes, patrons of Unibet should be aware that they will be eligible for getting a single prize while the promotional offer lasts.
Banking Solutions
It is vital to ensure that sports bettors will never fly blind about the payment solutions they will be able to resort to while wagering online as they should always ascertain that they can rely on prompt and reliable processors. Although Unibet has refrained from trumpeting the banking solutions it supports, users-to-be of the gaming website can have the full peace of mind that they will have a choice from a decent-enough range of payment processors.
Unibet supports a nice range of currencies as while the establishment of their account is in the works, they can choose between BRL, CAD, CHF, CZK, GBP, HRK, HUF, NOK, RON, SEK, USD, BGN, and LTL. At this point, Unibet accepts deposits via credit and debit cards, digital wallets, prepaid cards, and bank transfers. The limits members of the online sportsbook need to abide by will be determined only by their payment processor of choice.
Patrons of the sportsbook who are looking for instantaneous and fee-free deposits should know that card payments are the way to go. Those who possess Mastercard or Visa cards should have in mind that when handling their payments at Unibet, they will be prompted to lay out the expiry date of their cards, its 16-digit code, as well as its CVV code. The minimum and maximum deposit amounts for this banking solution are €10 and €13,000. Unibet supports withdrawals via credit and debit cards, and the minimum and the maximum amount punters can cash out ranges between €15 and €50,000.
Trustly is yet another convenient way to make payments from and to Unibet. As for the deposit limits, they range between €5 and €10,000. A vital thing to bear in mind is that punters who are based in Lithuania will need to pay a fee of 2%, while those who live in Finland should pay 1.5%. On the positive side of things, deposits via Trustly are carried out right away. The minimum and the maximum withdrawable amounts via Trustly are €10 and €100,000, but such transactions are rather time-consuming as they may take 5 working days.
Sports bettors who are looking to enjoy greater security while depositing can achieve this if they opt for e-wallets the likes of ecoPayz, Neteller, or Skrill. The bare minimum for deposits via these digital wallets is €15, while the upper limits are set at $13,000. The fact that deposits via these processors are credited directly might also make some punters consider utilizing them. Patrons of the web-based sportsbook will see these e-wallets also on the list of the supported withdrawal methods, and the limits one needs to stick to remain the same as those for deposits.
Paysafecard depositors, on the other hand, should have in mind that they will be allowed to consume their voucher partially or to combine several prepaid cards, thus uploading a maximum of €1,000. Although deposits are instantaneous, there is a service fee of 3%, which should not be overlooked. Those who would rather take advantage of instant banking should make sure that the sum they wish to deposit ranges between €10 and €10,000.
Customer Support and Security
Prior to entrusting any of the operators across the web, punters should always see to it that they have placed under careful examination the customer support service of their sportsbook of choice. As it turns out, Unibet prides itself not only with its top-notch sportsbook but also with its help desk. First of all, the gaming site has an adequate FAQ page under which punters will find information on just about any topic, which can flash on them.
Users of Unibet who have already scrutinized the FAQ page but have not resolved the matter they have encountered, might wish to get assistance through one of the other supported channels of communication. Those who are looking to quickly get in touch with one of the fully-trained and friendly agents might find the live chat functionality the way to go. Those who pick this venue of communication will be allowed to address all questions they have and to have them resolved in a matter of a few minutes.
Support is available via email and those who find this option rather alluring need to send their inquiries at info@unibetsupport.com.
The fact that Unibet has dedicated an entire section for the information, which has to do with gamblers' security speaks volumes about the dedication of the operator to provide punters with a fun and safe betting environment. Patrons of the web-based bookie should not feel ill at ease when sending any of their information to Unibet as their data will be encrypted through 128-bit Secure Socket Layer, and the operator has obtained its certificate from Trustwave. What is more, the operator falls under the oversight of several independent auditing bodies, which ensures that it treats all its users fair-mindedly.
Licenses and Restricted Countries
The driving power behind Unibet is the Malta-based company Trannel International Ltd. It is entitled to distribute its services thanks to the stamps of approval it has get hold of from the Maltese Gaming Authority and the Gambling Commission of the UK. The fact that the company falls under the rigorous oversight of these two regulatory bodies comes to show that all gambling-related activities it conducts are fair and upright.
Unibet has positively evolved into a great destination for lovers of casino games and sports bettors, but there are certain restrictions placed when it comes to who can punt at the gaming platform. The operator averts underage gambling and does not accept gambling enthusiasts who reside in Austria, Belarus, Afghanistan, Costa Rica, Czech Public, France, Iran, Iraq, Kuwait, Mexico, Portugal, Russia, Slovenia, Spain, Turkey, Ukraine, or the United States, among others.