MyBookie is an all-around gaming platform, which got its gaming operations going back in 2014. It accommodates the wants of punters and casino mavens as it facilitates wagering on a profusion of casino games and sports. What turns MyBookie into such a frequented web-based bookie are the competitive odds gambling enthusiasts will enjoy, regardless of the sport or the event they will pick.
The operator has put a heavy focus on several leagues and competitions, which are hugely popular in the US, the likes of NBA, NFL, MLB, NHL, and NCAA, among others. Those who have a different passion for sports or competitions should not fret about that as the gaming platform accepts wagers on everybody's favorite sports such as tennis, soccer, basketball, horse racing, motorsports, and even on eSports. The variety of the covered markets is really vast as users of MyBookie can opt for wagering on politics or to make wagers, which have a rather entertaining value, which is the case with bets on the Golden Raspberry Awards, for example.
What turns MyBookie into an alluring spot for punters is that it offers a stellar mobile experience to them, no matter whether they are using their tablet or smartphone to gamble.
As is common when online gambling is concerned, MyBookie accepts wagers from a limited number of territories. Still, gambling aficionados who are based in the USA might be thrilled to bits when they find out that their access to the gaming platform will not be restricted.
MyBookie has also made sure that punters will be well-posted about all the latest developments in the sport they enjoy as the gaming website features a separate section reserved for news. Those who join the web-based bookie can also benefit from a real profusion of promotional offers, which might be just the job when punters want to give their bankroll a stepping-up.
Betting Features at MyBookie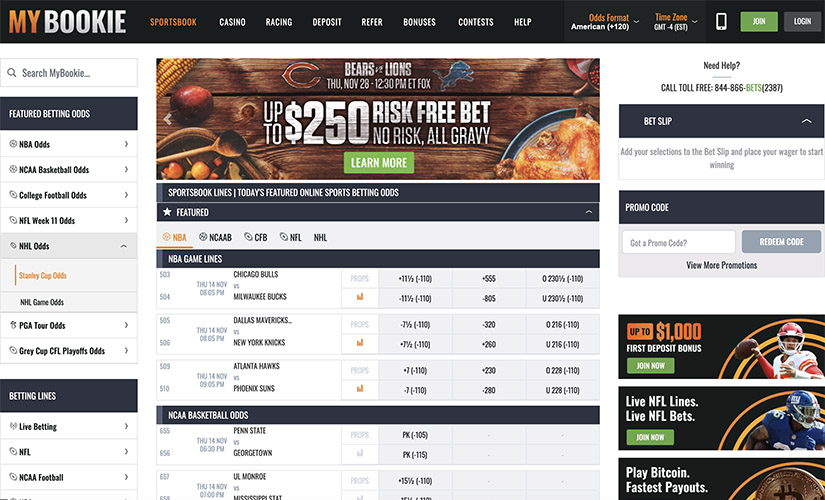 As likely as not, punters who have already spent some time with the virtual bookie will be able to provide several reasons why MyBookie is worth giving a chance. Firstly, gambling enthusiasts who sign up for an account with the operator can pick and choose from an extensive variety of sports to bet on. But the betting features the bookie offers are what add up to the excitement and thrill.
Apparently, while being on the lookout for an online bookie, punters tend to set great store by the betting features the gaming websites have in place. In the case of MyBookie, one of the betting features punters might particularly enjoy is live betting. The reason why this betting feature has turned into a highlight for punters is that thanks to it, they will have the chance to place their stakes on events, which are already underway. That way, sports bettor will be able to decide about the best time to cast their wager much easier.
That being said, the lineup of sports, which can be found under that category are not that abundant, which might leave some gambling enthusiasts slightly disappointed. Unsurprisingly, bettors will have a choice from all the three major odds formats, thus being allowed to view the odds in the most convenient manner for them.
While being at MyBookie, punters will also have the opportunity to opt for various Exotic Wagers, which are highly entertaining.
One of the features we particularly liked about MyBookie is the news blog punters can turn to their good account whenever they feel like it. Regardless of the sports bettors are fond of, they may relish the picks and predictions, game previews, daily posts, or the expert updates as thanks to them, punters might find it much easier to make informed and unerring picks.
MyBookie has an uncluttered design, which allows sports bettors to get around with the gaming platform without any difficulties. Best of all, gambling aficionados can easily handle their stakes as the bet slip is exceptionally convenient.
The Sportsbook of MyBookie
MyBookie stands out with the broad coverage of sports, which is what draws in punters from almost all corners of the globe. The sportsbook is nicely laid out as at the top, bettors will see the featured betting odds, while the other betting lines will be disclosed when they scroll down.
Although MyBookie is primarily a US-facing web-based bookie, the operator has added to the mix several sports, which have grown to prominence internationally, thus catering to the wants of most punters. MyBookie is a great place to enjoy your sports betting session mainly because of the broad coverage of betting markets. Some of the sports, which attract the greatest amount of attention include soccer, tennis, golf, boxing, MMA, and cycling, among others.
Soccer
MyBookie is likely to command the attention of punters who are particularly interested in soccer because of the great coverage of the sport. Gambling enthusiasts who join the bookie will be allowed to lay their bets on a decent range of competitions and championships with the likes of Premier League, Bundesliga, La Liga, and Seria A. There are odds on events from weighty competitions such as UEFA, FIFA, CONMEBOL, and AFC.
Lovers of the sport might be even more pleased when they find out that the bookie has covered the domestic tournaments of a huge number of countries, meaning that they will be literally spoiled for choice. Frankly speaking, punters will find nearly all major soccer competitions under the sun, which promises that soccer devotees will be kept happy the entire time. Regardless of the competition sports bettors will pick, they can also have the full peace of mind that the operator will provide them with competitive odds at all times.
Basketball
Those who enthuse over basketball also stand a good chance to have a great time while being at MyBookie as the gaming website provides odds on a huge variety of events. Considering the popularity of the sport on US soil, it comes as no surprise that basketball lovers who establish an account with the bookie will be facing such a broad variety of options.
While examining the sportsbook, we established that the bookie offers odds on NBA, which remains one of the most followed such competitions, which attract betting action from all over the globe. Members of the web-based sportsbook might be thrilled to bits when they figure out that they will be presented with regular-season lines, but they will also have the chance to make future, spreads, and prop bets.
Those who are particularly keen on making their wagers on NBA are presented with betting lines on the championship itself, the conference champions, division champions, as well as on possible finals matchups. Another thing punters might relish about the sportsbook is that it offers odds on college basketball as well, meaning that basketball fans will not be left without options.
The bookie has focused its attention on major basketball events, which are held internationally such as Euroleague, ABA League, Australia NBL, and China CBA, among others.
Tennis
While being at MyBookie, tennis fans are unlikely to have something to complain about as they can have a pick from an extensive range of markets. This is one of the sports, which entice with their dynamic gameplay, and which provokes a pretty serious betting action. The interactive sportsbook might turn out to be the best destination for punters who are intrigued by the idea to make wagers on ATP, ATP Challenger, Australian Open, French Open, Wimbledon, US Open, and ATP Challenger Doubles.
Tennis fans who establish an account with the bookie can also benefit from live odds, which many punters will appreciate. While making up their minds about their next wager, gambling enthusiasts should consider checking out the player stats and the news, which are readily available in the sportsbook.
What many gambling enthusiasts might like about the sportsbook is that they will be presented with printable odds on each of the sports the bookie has covered.
Horse Racing
Lovers of horse racing are unlikely to frown upon the options they will have while being at MyBookie as the bookie has covered events from the Hong Kong Cup, Kentucky Derby, Melbourne Cup, Dubai Cup, and Grand National, to name just a few. One of the best things about the sportsbook is that it boasts in-play betting, which is an opportunity many lovers of the sport might wish to seize.
Making your choice about your next bet is made a walk in the park as the bookie provides its users with analysis, predictions, and picks about each of the covered competitions. That way, users of MyBookie will not miss any of the developments and will remain well-posted about all current and upcoming races, which will dramatically enhance their chances to enjoy a fruitful betting session. Fortunately, the betting options lovers of the sport can opt for are truly diverse as gambling aficionados are allowed to make straight bets, parlays, trifectas, exactas, future bets, and if bets.
Golf
Golf is yet another sport, which attracts a great amount of betting action from patrons of MyBookie. Those who are keen on wagering on golf stand almost no chance to be displeased with the options they are presented with as the bookie covers an extensive diversity of such events. Punters can make real-money bets on a good deal of masters and champions, which include PGA Tour, Ryder Cup, US Open, British Open, The Masters, and PGA Championship.
With such diversity on offer, golf fans stand a good chance to find odds on the competition, which most appeals to them. One of MyBookie's features gambling enthusiasts might enjoy is that they will be able to style a list of their favorite sports, which golf lovers might relish as well.
Mobile Compatibility
MyBookie certainly knows how to keep its patrons happy and satisfied for hours on end, anytime and anywhere. What mobile betting fans might like about the sportsbook is that it has an instant-access mobile interface, meaning that they will not be prompted to download and install any app on their tablet or smartphone in order to lay real-money stakes while they are on the go.
Getting access to the abundance of betting markets the sportsbook offers will be a breeze as gambling enthusiasts simply need to head over to MyBookie via their iOS or Android-run tablet or smartphone. So as to ensure that they will enjoy an optimal gambling experience, punters should see to it that their Internet connection is reliable.
Patrons of MyBookie who have decided to switch to playing via their handheld device are unlikely to encounter any issues while using the mobile version of the sportsbook as it is thoughtfully built. The user interface of the mobile sportsbook is extremely clean and manageable, meaning that punters who have decided to gamble via their touchscreen devices will be able to move and interact with the website without any trouble.
Mobile users will be able to switch between the three odds formats and to alter the preferred time zone in a hassle-free fashion. Users of MyBookie are likely to have a great time when making their bets while being outdoors also because it is almost unfeasible that one will end up struggling to find what they are looking for.
The mobile version of the sportsbook excites with its shipshape layout. The main menu button is pinned in the upper left corner of their screen, and it will give sports bettors instantaneous access to the promotions, the help center, and the rules. The search box can be found in the opposite corner of your screen, while your current balance with be posted right next to it. The sports gambling aficionados can have a choice from are displayed on the homepage of the bookie, and exploring them takes a few swipes aside.
While exploring the homepage of the mobile bookie, punters will get an insight into some of the top bets, as well as the featured events. What gambling aficionados may find particularly convenient about the mobile version of the bookie is that the cashier, along with the live chat facility, and their bet slip, will be pinned below the fold, which ensures that they will be able to handle their transactions and bets without any trouble while they are on the move.
Bonuses and Promotional Offers
MyBookie has prepared numerous exclusive deals and freebies so as to make punters' stay at the gaming website truly lucrative, and to make sure that its new and existing customers will keep on returning to the gambling platform. Making use of the special deals the operator runs will positively enhance punters' betting adventures and will add an extra thrill to them. Still, before you redeem any of the exclusive deals, it would be better if you get the low-down about them.
Welcome Bonus
Newcomers who have just started using the service MyBookie offers will get a truly warm reception as they can earn up to $1,000, thanks to the 50% match bonus, which is granted on their first deposit. The sports sign-in is available to gambling enthusiasts who are new to the sportsbook, and who have uploaded at least $45 to their balance.
Sports bettors who intent on redeeming the new player bonus should enter the MYB50 promo code when transferring funds to their account for the first time. It is important to note that this special offer is redeemable on punters' first deposit, and carries turnover requirements of 10x. Gambling enthusiasts should see to it that they have cleared the playthrough requirements before they request a payout of their winnings.
$20 Risk-free Bet
Sports bettors who do not feel like placing their trust in MyBookie yet or they are simply a bit apprehensive when it comes to making their real-money wagers over the Internet might wish to make use of the $20 Risk-free Bet MyBookie offers. Users of the interactive sportsbook will be allowed to take part in this exclusive deal if they have made a first bet of $20 or more, and eventually, their wager has not turned out to be a winner. If this is the case, the operator will grant punters a refund of up to $20. What patrons of MyBookie should keep in mind is that the risk-free bet is valid exclusively on their initial deposit to the sportsbook. Another vital term to take into consideration is that the exclusive deal is valid on straight bets only.
Gambling enthusiasts who satisfy all the aforementioned requirements need to reach the customer support hosts via email at promo@mybookie.cr no later than 48 hours after the outcome of their wager is established. Another thing to take into consideration is that the promotion has 5x rollover requirements associated with it.
25% Sports Reload Bonus
The operator has thought of its existing customers as well as they are presented with a 25% Sports Reload Bonus, which awards up to $500 in free cash. Those who are keen on taking part in the ongoing promotion will be prompted to top up their balance with no less than $100. So as to redeem the exclusive deal, punters are required to use the MYB25 promo code when depositing.
The maximum amount punters can score is $500, but they should take into account that every dollar they upload to their balance will be matched at 0.25X. The reload bonus comes with 5x turnover requirements, and it can be claimed exclusively by existing customers of the sportsbook.
8% Horse Rebate
The range of promotional offers Mybookie has prepared for its users is really broad as gambling enthusiasts can turn to their good account the 8% Horse Rebate Bonus. Those who get a real kick out of wagering on horse races might wish to check out this special offer as it might pose as a great way to recoup some of the funds you have gambled away. It is worth noting, however, that the rebate is valid solely on stakes, which are placed through the Racebook.
What gamblers should keep in mind is that they will get a rebate only if their show, win, or place tickets give a payoff of $2.20 or less. The best thing about the rebate is that there are no rollover requirements associated with it. An important detail to remember is that the amount punters will be paid back will hinge upon the race and the type of bet they have opted for.
200% Referral Bonus
Another promotional offer, which promises to bring sports bettors good value is the 200% Referral Bonus. It poses as a great way to win some extra funds to play with as punters can enjoy up to $200, and the best thing about it is that they can qualify for it each time they invite one of their friends to join the sportsbook. Gambling enthusiasts will be entitled to get the bonus funds, provided that they have topped up their account at least once before their friend establishes an account with the bookie and loads it cash for the first time.
The amount gamblers will get will rest on the first deposit of their friend. Please note that gambling enthusiasts will be eligible to retrieve their winnings only after they have fulfilled the turnover requirements of 5x.
10 Is the Magic Number
MyBookie shows great commitment when it comes to rewarding its patrons. Gambling enthusiasts who have already made a long string of deposits and have not requested a cashout for quite some time will certainly relish this special offer. Gambling enthusiasts will be entitled to partake in the promotional offer in the event that they have topped up their account ten times, but they are yet to request a withdrawal.
The bonus amount users of MyBookie will be granted will be the average of their ten qualifying deposits to the sportsbook. To claim the bonus funds, registered users of the interactive bookie that satisfy the qualifications will be required to contact the customer support agents via email. The bonus funds, which are awarded through this special offer are subject to 10x turnover requirements.
Banking Solutions
MyBookie features a decent-sized collection of banking methods, which comes to show that gambling enthusiasts can easily find a payment processor that functions well for their banking needs. Punters will have the chance to move their money to or off the interactive sportsbook via credit/debit cards, cryptocurrencies, and bank transfers. A primary reason why the bookie does not accept that varied banking solutions is that it targets punters from the USA in the main. On the positive side of things, transactions are fee-free, and they are not time-consuming, which is essential when online gambling is concerned.
Credit and debit cards pose as number-one choice for many punters who have established an account with MyBookie because card payments are both rapid and secure. Mastercard and Visa cardholders will be able to make hassle-free transactions of sums, which range between $45 and $2,500. The daily deposit limit for this payment method stands at $5,000.
Those who want to fund their accounts can opt for digital currencies such as Bitcoin and Litecoin. These payment methods might turn out to be a great option for high-stakes punters as deposits through them are not capped, while the bare minimum is $45. MyBookie facilitates deposits via MoneyGram, and this payment processor makes for the transfer of sums between $100 and $500. BitcoinCash and DirectBit are also among the banking solutions the cashier reveals.
Punters who have enjoyed a fruitful sports betting session can be sure that they will enjoy fuss-free withdrawals as well. The least payout amount for transactions via bank transfer is $500, while electronic checks make for the retrieval of as little as $50. The bare minimum for cashouts via Bitcoin is rather reasonable as it stands at $25. Cashouts at MyBookie have a pending period of 24 hours, and it might take up to 2 working days until punters receive their winnings. Another thing to bear in mind is that gamblers will not be permitted to request the cashout of amounts in excess of $2,000 per week.
An important detail users of the sportsbook should not neglect is that cashouts via bank transfer and electronic checks might incur a hefty fee, especially when requesting the withdrawal of larger amounts. Gamblers should certainly keep an eye on the extra charges as on some occasions, they can reach $160 per transaction. Fortunately, those who settle on Bitcoin will enjoy fee-free cashouts.
Customer Support and Security
Whenever you happen to encounter an issue while you are gambling via your touchscreen or desktop device, you should not get into despair as the operator has several contact venues you should not hesitate to use. First of all, MyBookie has a FAQ page where the gambling operator has covered nearly all topics, which can spring into the mind of punters. Gamblers will find a search bar, which will positively facilitate their rummage.
It is safe to say that MyBookie is on point when its customer support department is concerned as users of the virtual sportsbook can easily tackle the problems they have run into if they make use of the live chat functionality. The obliging representatives of the gaming website are quick to respond and will give their utmost to come to punters' aid at all times. Gamblers who are not in a rush to get assistance may want to take advantage of the contact form, which is to be found in the help section. MyBookie provides help also via phone, and users of the sportsbook will get connected to the support staff as soon as they dial 1-844-866-2387. Emailing at help@mybookie.cr is yet another convenient way to cope with the issues punters are facing.
MyBookie has not fallen flat also when it comes to the protection of punters' personal and banking information. This is achieved, thanks to the employment of the most recent encryption technology. What prospective users of the interactive sportsbook should not turn a blind eye to is that the operator does not welcome individuals who are under the age of 18.
Licenses and Restricted Countries
MyBookie is permitted to provide online gambling activities, thanks to the license the operator has obtained from the Government of Curacao. It is hardly a coincidence that this is one of the most trusted web-based sportsbooks as the gambling operator has ensured a well-regulated and secure betting environment to its patrons and recruits. The company, which is liable for the management of the interactive sportsbook is Duranbah Limited N.V.
Although MyBookie is a great spot to punt on your favorite sports, certain regulations prevent the operator to accept betting action from territories the likes of Australia, Albania, Belgium, Afghanistan, Bahrain, Burkina Faso, China, Costa Rica, Denmark, Estonia, Finland, France, Hungary, Ireland, Malta, Montenegro, Netherlands, Poland, Russia, Spain, Turkey, the United Kingdom, and the United Arab Emirates, among others. Finally, we recommend getting familiar with the legislation of the country you live in before you proceed with your sports betting adventures at MyBookie so as to avoid any unpleasant situations.