Mr Green is one of the most popular online gambling platforms in Europe, offering casino gaming and sports betting to a wide customer base. Dating back to 2007, Mr Green has become a force to be reckoned with and one of the most beloved brands in the online gambling scene. So much so, that in 2018 it was acquired by the William Hill Group, one of the oldest and most renowned gambling operators in the United Kingdom.

Mr Green offers a worthwhile sports betting experience, with a large and diverse sportsbook available to all customers. Moreover, punters are also eligible for a variety of promotional offers from the moment they register an account. On the logistics' end of things, customers get to use a variety of payment services to manage their bankrolls, while customer support is available around the clock. In this review, we will take a good look at Mr Green and see what makes this sportsbook so attractive.
Betting Features at Mr Green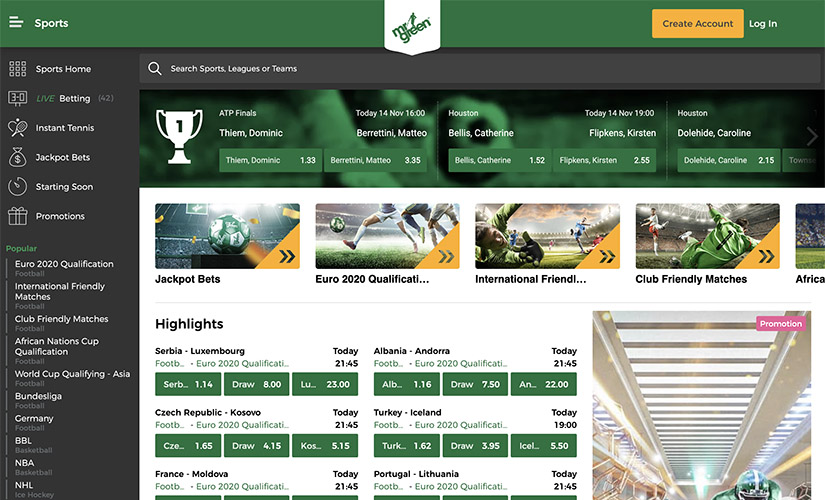 Mr Green has put in a lot of effort to ensure that everyone who comes on board has a great time betting money on their favorite sports events. First and foremost, the sportsbook is made easily accessible to all kinds of punters. There is no preparation required and once you complete the registration process, you will have full access to the sportsbook.
This online betting site offers great support for all manner of different sports. Specifically, volleyball, football, American football, basketball, eSports, ice hockey, baseball, cricket, cycling, curling, golf, handball, and a whole slew more are supported by Mr Green and their respective leagues. Each betting markets also includes a wide range of bet types so that you can get your prediction just right.
The odds at Mr Green are presented in the decimal format, by default. However, you change them to fractional or American with a single click. Mr Green certainly would like you to have a great time and it will exhaust every possibility to make that a reality.
One feature heavily favored by punters is Live Betting. Not only will it give you the opportunity to place a bet while a game is in play, but to also cash them out before it is finished. The odds are generated automatically and change dynamically based on the current state of the game. If your prediction skills are up to par, you will certainly make great use of this feature.
The Sportsbook of Mr Green
Aside from the virtual casino and the live casino, the sportsbook is one of the major aspects of the Mr Green betting platform. Frequented by thousands of punters from all over Europe, it is one of the most concise and accessible sportsbooks of its type. You will have the opportunity to place bets on a wide range of sports events taking place around the globe.
As it happens, Mr Green is one of your best options when it comes to sports betting. You will get to wager your money on football, basketball, cricket, tennis, ice hockey, MMA fights, golf, boxing, American football, baseball, eSports, and many other types of sports. Of course, the variety of betting markets also necessitates a wide range of bet types and Mr Green is ready to meet the demand. With promotions supplementing your bankroll, you will have a great time browsing all the different betting markets.
The sportsbook is easy to navigate and you will have no issues in easily finding your favorite sports events. It only takes a few clicks to place your wager and you are set. Below, we will cover some of the most popular betting markets and the leagues that come with those particular sports.
Football
Football is arguably the most popular betting market in online sports gambling and something similar can be said about the selection at Mr Green, as well. If you are a fan of this sport, odds are you will want to place some bets on football matches. Luckily, Mr Green is ready to offer you a wide range of options in this regard. The sportsbook accepts bets on some of the most popular football matches and their respective leagues.
Specifically, one can stake their money on games from the England Premier League, the Euro Cup, UEFA, Brazil's Serie A, Spain's La Liga, Australia's A League, Denmark's First Division, International Friendly Matches, and many more. Moreover, Mr Green also accepts futures bets and other special wagers.
Basketball
Another popular betting market comes in the form of basketball betting. Basketball is an inherently entertaining game and the high viewership draws in a large betting scene. Given the worldwide popularity of the sport, it is no surprise how many punters are interested. Mr Green sees the demand for basketball bets and is ready to accept wagers on a wide array of events.
More specifically, you will have the opportunity to bet on games from the NBA, the Euroleague, NCAAB, the Liga Sudamericana, Belgium's Pro Basketball League, the Brazillian NBB, Germany's BBL, the Italian Lega A, the Polish Energa Basket Liga, and plenty more. Futures are also up for grabs if that interests you.
Cricket
Cricket is perhaps the most-watched sport in the world, with billions of viewers across hundreds of countries. It only makes sense for it to have an active betting scene around it. As it happens, Mr Green is more than ready to satisfy the demand for cricket bets among its customer base and those who have opened an account will get to choose from a variety of different leagues. With matches constantly taking place, you will never run out of betting options. As for the leagues supported by Mr Green, you will find that you can bet on matches from the International Twenty20, the International Twenty20 Women, the Regional Super50 Cup, the South African League, the T10 Cricket League, the T20 Big Bash League Women, and the International Test Cricket, among others.
Tennis
If tennis is among your favorites, then you will feel right at home with Mr Green. This sportsbook is dedicated to providing the best possible sports betting experience and one cannot do that without offering tennis bets. This sport is watched by the billions all over the globe and you will have the opportunity to stake your money on your favorite players. Among the list of supported tennis leagues at Mr Green, we find the ATP, WTA, ATP Doubles, the Challenger Leagues, ITF Women, and more. You will certainly be satisfied with what is on offer and the various betting options will no doubt be interesting.
Golf
Gold is certainly one of those sports that you can sit back and enjoy on Sunday. However, Mr Green goes one step further and gives you the opportunity to increase your entertainment level by accepting bets on a variety of events. Mr Green offers great support for golf bets and you will find dozens of options in the way of bets. This sportsbook offers a variety of leagues to choose from and bet on, including the US Open, the US PGA Championship, the World Challenge, The Presidents Cup, The Masters, the PGA Tour and the European Tour, among others. You will have a multitude of ways to stake your money when it comes to golf and we are certain that you will appreciate them.
eSports
Rise of eSports in recent years has been unprecedented and the scene quickly exploded. As a predictable outcome, a betting crowd quickly formed, hoping to show support for their favorite teams by staking money on their games. Currently, the scope of eSports is only expanding and with every year, it is becoming ever clearer that this phenomenon is here to stay. At Mr Green, you will be able to place bets on a variety of different games, including Counter-Strike: Global Offensive, Dota 2, and League of Legends. Each of these titles has multiple leagues running at any given time, giving you the opportunity to place wagers on matches all over the world.
Mobile Compatibility
Mobile gambling is an ever-growing phenomenon in today's industry and one can easily access many sportsbooks directly from their smartphone or tablet. Mr Green understands the flexibility and convenience offered by modern-day mobile devices and offers punters the opportunity to take the sportsbook with them wherever they go. Just about anyone with a mobile device can make use of the mobile version and with ease, as well.
Accessing the mobile sportsbook is not at all difficult. All you need is a smartphone or tablet and a stable Internet connection. The sportsbook can be loaded within your browser, not unlike the desktop version. From then on, you will have full access to all the features available to Mr Green desktop users. Of course, these include the sportsbook and all supported betting markets, the promotions currently available, customer support, banking methods, and more.
As for the mobile experience itself, you will find that the operator behind Mr Green has put in a lot of effort to ensure that you have an easy time dealing with the sportsbook on the smaller display. The mobile interface is intuitive and easy to navigate, retaining the full functionality of its desktop counterpart. You will have no issues placing bets or accessing any aspect of the sportsbook from your mobile device.
All in all, we are quite happy with how the mobile version has turned out and there can be no doubt that the mobile experience is worth it.
Bonuses and Promotional Offers
One of the defining aspects of the online gambling experience is claiming promotions and Mr Green understands this concept. Those who register at this online sportsbook will have the opportunity to add more value to their experience by participating in the bonuses at Mr Green. Below, we will outline the most important ones that you can benefit from.
Welcome Bonus
Becoming a member of Mr Green certainly comes with some benefits and the first and arguably most lucrative promotions offered to you will be the Welcome Bonus. Given out to newly registered customers, the Welcome Bonus will see your first deposit matched 100% up to €100. Moreover, you will also be eligible for a 5% odds boost on a single bet of your choosing. This promotion is only available to customers residing in Germany.
As is usually the case, there are certain rules that you have to follow before you can cash in your bonus. To begin with, you will need to deposit a minimum of €20 to claim your bonus. After that, you will have to place wagers worth 5 times the value of your bonus. Therefore, if you claim the full €100, you will have to wager €500. This has to be done on bets with odds of 1.80 or higher, however, cashed out wagers and will not qualify for this. The turnover requirement has to be fulfilled within 30 days of claiming the bonus and if you fail to meet it, the bonus funds will be removed.
As for the odds boost, it will last for 7 days before becoming obsolete. You can apply it to most bets that you place, but you have to do it manually. The maximum winnings that can be generated with the boost cannot exceed €100,000. Moreover, the boost cannot be used alongside other promotional offers and boosted bets cannot be cashed out.
Increased Profit on Parlays
Another worthwhile promotion that you can benefit from is the Increased Profit on Parlay bets. With this promotional incentive, you will gain unlimited 5% boosts on parlay bets, not unlike the one in the Welcome Offer. Of course, these are only available for parlay bets which should not be taken lightly. The parlay boosts are only available on bets placed with real money and cannot be combined with any other promotion. This offer is only available to customers residing in Germany.
Odds Boost on Friday
If you like odds boosts so far, you will be pleased to know that Mr Green runs a promotion every Friday which will increase your winnings. The Friday Odds Boost will increase your winnings by 5% on successful bets. You need to opt-in for this promotion before you stake your money. Much like the previous offers, this one is only available to German bettors. Moreover, the boosted bets cannot be cashed out prematurely and can you cannot mix this promotion with any other. Furthermore, only bets made with real funds will be eligible for this offer.
Banking Solutions
When you register at Mr Green you will need to decide on what payment method to use to top up your bankroll. Luckily, Mr Green supports a variety of them, including credit cards, eWallets, prepaid cards, online banking and others. Below, we will cover the various banking solutions accepted by Mr Green.
The credit cards supported by Mr Green include Visa, Maestro and MasterCard, the three most popular brands in the world. Using either type of card will allow you to conduct instant deposits, with the money appearing in your balance as soon as you confirm the payment. Credit cards are convenient to use and easy to acquire, making them a great deposit option at practically every online sportsbook. In terms of transaction limits, you will get to deposit a minimum of €10 up to a maximum of €10,000. Withdrawals are also possible, though only via Visa and MasterCard. You will be able to cash out between €10 and €10,000, with the payment taking between 3 and 5 days.
Of course, eWallets are always popular among the online gambling community and the same is true at Mr Green. These services are quite versatile and allow for greater control of your bankroll than most others. This is due to the instant deposits and the fastest withdrawals in the industry. Specifically, you will be able to use Neteller, Skrill, and PayPal, all of which are popular among online gamblers. Deposits begin at €10 and go up to €10,000, with the same limits when it comes to withdrawals.
Other useful transaction methods include some online banking services. Connecting directly to your bank account, they will give you the benefit of instant deposits. Moreover, the added security features will easily protect your identity on the Internet. Mr Green currently supports Zimpler and Trustly. Of course, to use either service it has to be partnered with your bank, which may or may not be the case. Deposits are instant, while withdrawals can take up to 5 business days to process.
If none of the above-mentioned services is up to par, you may consider Paysafecard or Bank Transfers. Paysafecard is a prepaid method, available for purchase at thousands of retail locations. While convenient and useful, Paysafecard is only available for deposits. Bank Transfers, on the other hand, can make transactions is either way.
Customer Support and Security
Customer support is always something to take note of when joining any online gambling platform. Knowing that a competent support staff is standing by to help you is always great and websites that cannot offer that are not worth your time. At Mr Green, you can enjoy your sports betting experience, knowing that someone will always have your back. The support staff work 24/7 to ensure that you have a great time placing bets on your favorite sports events.
There are multiple ways to contact the support staff and of those, live chat is your best option. The live chat system allows you to reach an agent and chat with them in real-time. This is the most efficient and useful communication method at Mr Green and the one that should be your go-to when you need help. It is available to all customers and provides the quickest response times. One can easily open a live chat window on both the desktop and mobile version of Mr Green, making it versatile.
Alternatively, one can also contact the support staff via email. You can forward all of your emails to customerservice@mrgreen.com and expect a response within then next 24 hours. Granted, this is much slower than live chat and should primarily be used to submit verification documentation. Finally, Mr Green also offers phone support, though it does not come toll-free. You can dial +44 203 510 0870 to speak with a Mr Green representative directly.
As far as security at Mr Green is concerned, you have nothing to worry about. The operator goes to great lengths to ensure that customers' personal and banking information, as well as, all communication is protected behind an encryption wall. All of it will become complete unreadable to unauthorized parties and you can safely submit any information, knowing that it will be safe.
Licenses and Restricted Countries
One aspect of online gambling that you should never take a chance with is licensing. Knowing that a certain betting platform is licensed and properly regulated is the only way to ensure a safe and smooth gambling experience. Typically, this is done by government institutions which make sure that everything is above board and fair for everyone involved. In the case of Mr Green, we find that the operator is licensed under the terms of the Malta Gaming Authority and the United Kingdom Gambling Commission. Both are highly respected in the European online gambling scene, keeping hundreds of betting platforms under their respective jurisdictions.