JustBet is one of the oldest sports betting brands in the online gambling industry. Dating back to the mid-90s, this sportsbook has serviced thousands of punters over the years and it is still going strong. Accepting bets on the latest and most popular sports events, JustBet is a great option for North American bettors.
If you decide to join JustBet, you will have the opportunity to place your bets at all hours of the day and as much as your bankroll will allow. JustBet is an inclusive and attractive betting platform, as indicated by the various promotions offered by the sportsbook. These bonuses are available to both new and returning players, with generous Welcome and Reload Offers present throughout your stay with this website.
As far as bankroll management is concerned, JustBet certainly looks to provide the best possible experience. Not only will you be able to fund your balance with traditional banking methods, but also with cryptocurrencies. The latter have become especially popular in the online gambling scene and betting platforms are quite fond of them. Bitcoin users will receive great promotions and deals simply for making a deposit.
In this review, we focus on JustBet sportsbook, paying close attention to the betting markets, the promotions, banking methods, customer support and all other important aspects.
Betting Features at JustBet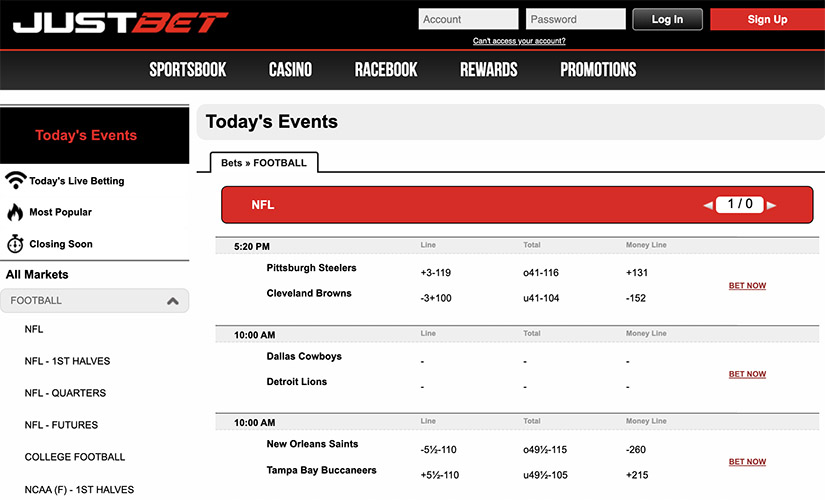 JustBet is certainly looking to deliver a top-notch sports betting experience and to this end, has given customers a lot of options to work with. Among the list of supported sports, we see football, American football, tennis, basketball, hockey, golf, martial arts, motor racing, darts, cricket, eSports, handball and more.
Not only does the sportsbook include a wide range of games and their respective leagues, but you will also have the opportunity to pick from an array of betting options for most sports. Customers have the chance to test their prediction in multiple different forms, be it line bets, money lines, totals, correct scores, etc.
One feature that will surely be appreciated at JustBet is live betting. With live betting, you will have the opportunity to place bets during the match itself. During the game, you will get to see how it progresses and have the opportunity to cash in prematurely. The odds will change dynamically based on the current state of the match, as do the payouts. If you have the skill to judge the present situation you will be able to make a decent chunk of profit.
The Sportsbook of JustBet
The sportsbook of JustBet is the primary feature of this gambling platform and the focus of this review. When you join JustBet, you will be treated to a wide range of sports events to place bets on. JustBet makes a point of offering bets on the latest and most popular matches and supports an array of betting markets. Whether it be football, basketball, cricket, tennis, eSports, or something else, JustBet probably has what you want. All of the betting markets are listed on the left side of your screen and one can easily switch between them. You will be able to place a bet on upcoming games as soon as they are announced.
The sportsbook is quite easily accessible and one can easily navigate it. The menus are easy to read and understand, while bets can be placed with only a few clicks. The primary odds featured at JustBet are in the American format, unlike most sports betting websites which utilize the decimal format. This only makes sense, given how the sportsbook is primarily targetted at a North American demographic. Below, we will cover the most popular sports and leagues available at JustBet.
Football
Football is one of the most popular sports to bet on and if you are a fan of this sport, you will be pleased to know that JustBet accepts wagers on some of the most notable events out there. The sportsbook supports many different leagues, both domestic and international ones, giving you a good selection of events to choose from. Specifically, you will have the opportunity to stake your money on games from the German Bundesliga, Italy's Serie A, France's Ligue 1, England's League 1, National League, Premier League, and more. Other great options include the European Championship, Africa's Cup of Nations, Brazil's Serie A, and others. There are also Futures bets and other specials for you to take part in.
Basketball
Basketball is always a top choice among punters, with hundreds of games taking place all over the world. Whether it be an international event or a domestic one, gamblers are always willing to wager their money on the outcome of a game. JustBet recognizes the demand for Basketball bets and is more than willing to accept punters' money on a variety of different events.
At this sportsbook, you will have the opportunity to place a wager on games from all over the globe. Popular leagues include the NBA, NCAA, the Euro Cup, the Champions League, the South American League, the Euroleague, College Basketball Leagues, the Finnish League, and more. Of course, you will also have access to futures and other special bets.
American Football
American Football might be shorter in scope than other sports mentioned in this review, but it is still quite popular at most sportsbooks, including JustBet. This gambling website offers great support for American Football bets and you will get to wager your money on a variety of matches throughout the main seasons.
The primary leagues supported by JustBet include the NFL and the NCAA. While you will be able to put down regular bets, JustBet also gives you the opportunity to bet futures and try to guess the outcome of the Superbowl.
Tennis
One sport that continues throughout the year is tennis and with events going on all over the globe, you will get to place bets constantly. At JustBet, you will have your pick of the best games currently taking place. Some of the more popular tennis leagues available include WTA, Doubles, ATP Challenger, ITF Women, and more. Additionally, you will also be able to pick long-term winners of events, among other special bets.
Hockey
When it comes to sports betting hockey is always an attractive option and sportsbooks are ready to fill the demand. This is also true for JustBet and as soon as you open an account, a wide range of betting options will become available to you. Those who choose to partake in online hockey betting will be able to stake their money on popular leagues from all over the world.
These include leagues from Germany, Denmark, Canada, Finland, England, Latvia, Norway, Russia, Sweden, Switzerland and many more. Of course, the North American NHL is also included for dedicated fans. JustBet has put in a lot of effort to ensure that fans of this sport have ample options when it comes to placing bets.
eSports
While not a traditional sport, eSports have become quite popular over the last few years. So much so, that certain eSports events have been surpassing the viewership of traditional sports during pique moments. Not surprisingly, a dedicated betting scene has emerged surrounding the various eSports and punters have access to a whole new range of betting markets. All betting options available for eSports are no less interesting than those of traditional sports, such as football or basketball.
At JustBet, you will have the opportunity to stake your money primarily on Counter-Strike and League of Legends, with multiple leagues supported at any given time. Since there are matches taking place around the clock in the eSports scene, you will never run out of games to bet on.
Mobile Compatibility
Placing bets from your desktop computer is certainly useful, but one rarely has access to their device all the time. This is where mobile accessibility comes into play. Being able to use the sportsbook from your smartphone or tablet is infinitely more convenient, allowing you to expand your betting activities away from your desk and into the outdoors.
JustBet supports a fully-functional mobile interface, allowing you to place bets from your mobile device. It is accessible from just about any smartphone or tablet and as long as you have a stable Internet connection. There is no need to download and install a dedicated app, further using up more of your precious phone memory. Instead, you will be able to load the sportsbook directly within your mobile browser. It will work with most mobile browsers and will give you the same features available to desktop users.
When you access JustBet from your mobile device, you will not miss out on any part of the experience. You will be able to browse the full entirety of the sportsbook and place bets on all supported events. Moreover, you will be able to manage your bankroll with all available payment services, with no difference in how they perform on the desktop version. Of course, promotions are still up for grabs and you can benefit from both the Welcome Offers and the Reload Bonuses. Last but not least, you will have access to all methods of communication when it comes to contacting customer support.
With all of this in mind, it is clear that the mobile experience of JustBet is a viable and convenient way to place bets on the Internet. The mobile interface makes it easy to navigate the menus on the smaller displays and to bet with ease.
Bonuses and Promotional Offers
One aspect of the online sports betting experience that you should seriously consider comes in the form of promotions. JustBet is ready to offer you a variety of bonuses to enhance your time with the sportsbook. Below, we will describe the promotions offered at this online sportsbook and important rules that come along with them.
Welcome Bonuses for Crypto Users
If you are the type of punter who uses cryptocurrencies to gamble on the Internet, these bonuses will come in handy for you. These Welcome Offers provide better value for your money and will give you a larger bankroll to play with. There are three different options to choose from.
The first is a 25% match up to $500 on your first deposit. To participate, you would need to deposit $100 or more worth of cryptocurrency to your balance. The turnover requirement amounts to 8 times the combined value of your deposit and bonus sums. Only customers from the United States and Canada are allowed to participate in this promotion.
Alternatively, if you want a bigger match, be sure to claim the 50% Welcome Bonus. Much like the previous offer, you need to deposit a minimum of $100 in your cryptocurrency of choice. However, the turnover requirement is increased to 15 times the combined value of the bonus and deposit.
The third and final option will see your deposit matched 100% up to $300. The minimum deposit required to claim this bonus is $100 and you will need to fulfil a turnover requirement of 30 times the combined value of the deposit and bonus.
Welcome Bonuses for Regular Deposit Methods
If cryptocurrencies are not for you, don't worry. You will not miss out on the opportunity to claim a bonus. Those who deposit via traditional banking methods will get to enjoy a different offer. This one will see your deposit matched 15% up to $600 and JustBet will also throw in a 50% match up to $1,000 to be used in the casino. The casino aspect of this promotion is optional and you can do without it.
The sports bonus has to be wagered 5 times, including the bonus amount. The casino bonus comes with a wagering requirement of 40 times the combined value of the deposit and bonus amount.
Reload Bonuses for Crypto Users
Once you are done with your Welcome Offer, you can claim a Reload Bonus. The bonus will depend on your standing with JustBet. Those with Gold standing will be offered a 15% match up to $600, whereas Platinum users are able to claim 25% up to $2,500. Those who have gambled enough to achieve Diamond standing will get 25% up to $5,000.
This promotion requires a minimum deposit of $10 worth of your chosen cryptocurrency. The turnover requirement is 8 times the combined value of the deposit and the bonus. Bonus is only available to customers from Canada and the United States.
Reload Bonuses for Regular Deposit Methods
As was the case with the Welcome Offers, the Reload Bonuses are also available to customers who use regular deposit options. Once again, the bonus amounts will vary, depending on your rank with JustBet.
Gold customers will gain the benefit of a 10% match up to $400. You will have to wager 4 times the combined value of the deposit and the bonus before a withdrawal is allowed.
Those with Platinum level will get the opportunity to claim a 15% match up to $600, while Diamond customers are offered a bonus of 20% up to $800. In both cases, the turnover requirement is 5 times the combined value of the deposit and the bonus.
Refer A Friend
The Refer A Friend program will give you the opportunity to share the joys of placing wagers at JustBet and be rewarded for it. You will receive 10% of your friend's deposit up to a maximum of $500.
Naturally, there are certain conditions that you and the other punter have to meet. For one, you need to have wagered $100 at JustBet over the last 30 days. Your friend, on the other hand, has to make a deposit of at least $100 and wager it in full before your bonus is awarded.
As for the bonus itself, it comes with a turnover requirement of 3 times which you will have to fulfil before withdrawing it. You have 30 days to complete the requirement before the bonus is lost.
Banking Solutions
As is usually the case with online gambling, you will need to rely on an online payment solution to top up your bankroll. At JustBet, you will have the opportunity to use several services to this end and these are varied, with each offering something unique.
Credit cards are always one of your best options when it comes to making deposits. When you use a credit card for gambling transactions, you can always rely on instant payments, with the money appearing in your balance as soon as you confirm the deposit. Convenient to use and easy to acquire, credit cards are the preferred payment solution. At JustBet, you will be able to deposit via Visa, MasterCard, and American Express, all popular brands on the Internet. The transaction limits will vary depending on the service, with maximum going as high as $2,500, $999, and $499, respectively. Unfortunately, withdrawals via credit cards are not available at JustBet.
If eWallets are more to your liking, you will be happy to know that JustBet accepts two highly popular services. Specifically, Neteller and ecoPayz are the eWallets at your disposal. Both will allow you to maintain an independent bankroll and to freely move money. Deposits are instant, whereas withdrawals are also quite expedient. The minimum amount you can transact begins at $100, with maximums of $10,000 for Neteller and $1,000 for ecoPayz. Withdrawals, however, are only available via ecoPayz going as high as $1,000.
Bitcoin is arguably the most versatile service at your disposal as a customer of JustBet. This cryptocurrency has become quite popular with the general user base due to its many advantages. For one, transactions are quick and easy to conduct at a low cost. Moreover, the privacy offered by Bitcoin is unparalleled. JustBet gives you the opportunity to transact anywhere between $10 and $50,000 when making deposits. As for withdrawals, the limits range between $50 and $25,000.
Finally, you will also be able to make deposits with Person-To-Person and Bank Wires. The transaction limits are $100 – $2,000 and $2,500 with no maximum, respectively. The processing time will vary and it can take some time before it clears. Person-To-Person is also available for withdrawals and these can range between $100 and $300. A useful way to withdraw your money is via Bank Draft, which will permit transactions between $100 and $3,000.
Customer Support and Security
Of course, every once in a while you may need some help. In such cases, you can always rely on the customer support team of JustBet. Whenever you need to contact the support agents, you will have multiple options to go about this. The support team is available at all hours of the day, working both regular days and holidays.
The live chat system should be your go-to communication method. It is quick, convenient and free, available to all customers at JustBet. Those who use live chat will be able to immediately establish a line of communication with the support staff and to communicate with an agent one-on-one. Replies are nearly immediate and you can resolve your problem in the shortest time possible.
Another useful way to reach the support staff is via email, particularly, using the provided form in the Contact page. You will be required to provide your name, phone number, email, and other relevant information, as well as, a description of your issue or question. Response times will vary, though you will have your answers within 24 hours.
Finally, you can also simply pick up the phone and dial the appropriate number. JustBet maintains multiple lines, one for all the different aspects of the platform. Sports betting customers can dial 1-877-750-1986, which is toll-free for Canadian and US residents.
All communication sent to JustBet is encrypted, as are all other important bits of data. JustBet takes customer privacy quite seriously and to protect it, utilizes a complex encryption system. With this, your correspondence, your personal information, your banking details, and other sensitive data will be kept safe and away from the hands of unauthorized individuals. Therefore, you can enjoy yourself at JustBet without worrying about the integrity of your information.
Licenses and Restricted Countries
As far as licensing is concerned, we find that JustBet does not do a good job of clarifying that aspect of its service. JustBet is an operation based in Costa Rica, however, it does not mention what company runs the service. One could run with the assumption that the sportsbook operates under a Costa Rica license, however, even if that were the case, it would be little comfort. Costa Rica licenses are not worth much in the way of trustworthiness and gambling websites showcasing them are rarely among the most popular. With this in mind and unable to find licensing from a European or North American institution, we simply cannot provide any concrete information on this topic.
Of course, JustBet is accepting of a wide array of punters from all over the world. However, the sportsbook does not explicitly state any excluded countries. In the terms and conditions, it states that JustBet will comply with any local laws and regulations, imploring people not to use the platform if it is illegal for them to do so. Specifically, reasons for this could include being underage, the sportsbook not being licensed in a specific jurisdiction, or an outright ban on online gambling, among others. We also recommend to only engage in online sports betting if it is okay for you to do so under the terms of the law.