XBet is a relatively new competitor within the sports betting sphere, having launched in 2013. It is owned by Bronte Management N.V, and within its eight years and counting of service, XBet has proven to be an easy-to-use bookmaker that offers a multitude of sports types the likes of football, tennis, eSports, and many more. Its catalog of markets is sufficient as well, with popular bets such as spreads, moneyline bets, and totals being accounted for among others.
Moreover, the bookmaker is licensed by the government of Curacao and features 256-bit encryption that ensures your personal details and financial data are safe and sound.
XBet is also evidently determined to tempt new punters into joining the website, as it offers lucrative bonuses to anyone who is starting out their wagering journey at the bookie. This includes punters on the go who prefer to use portable devices like their smartphones. Mobile users enjoy a wagering experience as streamlined and packed with features as those who play on PC. Due to the fact that XBet utilizes HTML5, wagering is easy and the webpages scale flawlessly on smartphone screens.
Sports fans who like to spice up their gambling routine by trying out games like blackjack or slots are also in luck, as XBet features a casino section as well.
XBet strives to follow, as they put it, the rule of three R's in order to keep its customers happy: Reliability, Reputation, and Real fast payouts. So far, XBet is following this rule to the letter.
XBet in a Nutshell
Brand Name
XBet
Launch Date
2013
License(s)
Curacao Gaming License
Based in
Curacao
Operator
Bronte Management N.V.
Software
N/A
Sponsorship Partners
No
Brand Awards
No
Payment Methods
Mastercard, Bitcoin, Person-to-Person, E-Check, MoneyGram, DirectBit, Bank Wire, VISA, Litecoin, Bitcoin Cash, Ethereum, Ripple
Average Withdrawal Processing Time
48 hours
Number of Sports on Offer
20 sports
Racebook
Yes
VIP Club
No
Additional Sportsbook Features
Live Betting, Quick Bet, Bet Builder, Rollover Progress
Additional Products on Offer
Casino, Racebook
Responsible Betting Tools
Deposit limits
Minimum Legal Age Requirement
18 years old
Support Contacts
Live chat (24/7), email (help@xbet.ag), Contact Us Form, telephone (855-219-5809)
Excluded Jurisdictions
Albania, Antigua And Barbuda, Armenia, Australia, Austria, Belarus, Belgium, Bulgaria, China, Costa Rica, Cuba, Curaçao, Cyprus, Denmark, Dominican Republic, Estonia, Finland, France, Gibraltar, Greece, Hungary, India, Indonesia, Iran, Iraq, Ireland, Latvia, Malta, Montenegro, Netherlands, Poland, Romania, Russian Federation, Saudi Arabia, Serbia, Spain, Turkey, United Kingdom, Ukraine, United Arab Emirates, etc.
Betting Features at XBet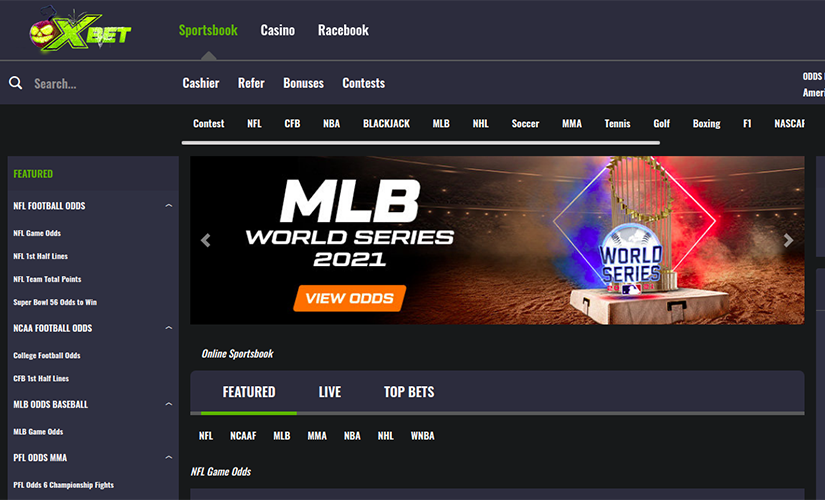 XBet offers a sufficient and comfortable betting experience to its customers. The markets on offer are numerous, with moneyline bets, spread bets, parlays, and many others being accounted for. Furthermore, we are happy to note that in-play betting is also available. Live bets offer some of the most exciting wagering experiences in the gambling world so it is important for a bookie to give its customers the chance to delight in trying them out.
XBet has also provided the most popular odds formats you would find online. Moreover, it features two very popular ones. First, we have decimal odds, which are favored in Europe due to their simplicity and ease of use. Next, there are American odds which are popular among residents of the USA and are also fairly straightforward.
Design-wise, the bookmaker has a clean and relatively easy-to-use interface, with a somewhat industrial structure and a black, green, and white color palette. Everything within the sportsbook is organized well, and finding your way through the list of sports types and markets is a breeze.
In terms of payment methods, the options are limited compared to other online bookmakers but what does stand out is the bookie's emphasis on cryptocurrency as a banking solution. It has also provided a good amount of information so that even those new to this banking solution can take advantage of what it offers. Should you prefer to avoid using cryptocurrencies, however, you do have the option of utilizing credit or debit cards for your financial needs, or methods such as Moneygram or bank wire if those are more to your liking.
Betting Features Summary
Languages
English
Currencies
BTC, USD
Odds Format
Fractional, Decimal, American
The Sportsbook of XBet
Football
Horse racing
eSPorts
MMA
Soccer
Motorsports
When it comes to the sports on offer, XBet's sportsbook will easily satisfy most punters. The bookie is keeping up with modern times and has included eSports in its library of sports types. You can wager on team-based MOBA games like the favored among punters League of Legends, or on fights between teams in the first-person shooter Counter-Strike.
Fans of traditional sports should not be worried, however, as their preferences are also taken into consideration. In fact, said games are most of what the bookie's catalog is comprised of. Аmerican football, first instance, is among the richest of categories on the website's page. Soccer, another world-famous sport, also enjoys an array of markets.
If you prefer more exotic options, you can also wager on US politics, which networks will host the Golden Globe awards, and potential plot points in popular movies and their endings.
Your betting experience will be an all-around pleasant one due to XBet's exceptional betting software, and you have several odds formats to choose from. The American format is enabled by default, but you can change it at any time. The decimal format is available and favored among European punters. Fractional and American odds are, however, also convenient and an option if they are more to your liking.
Football
You will seldom bring up the topic of sports when it comes to America and not mention American football. Bettors are very fond of this American classic which is why it has a prominent presence in XBet's collection of sports types.
You can bet on numerous sporting events all around the United States, including College Football matches and, of course, the National Football League. On top of the array of events you can wager on, you also have many bet variations at your disposal. Spread bets, for instance, are included as an option for leagues like the NCAA football league and on NFL betting lines. Speaking of NFL, you also can wager with live bets when available and enjoy a thrilling betting experience.
Markets like totals, half-lines, and many more are all accounted for. Parlay wagers are available as well. In addition, you can wager with spread bets on NCAA Football Betting Lines and NFL Prop bets are also an option.
Mixed Martial Arts
Apart from more conventional sports, XBet does have a few options up its sleeve that cater to lovers of slightly more niche practices. Mixed Martial Arts is one such discipline. The sport as it exists today is fairly new, but it does nonetheless enjoy a multitude of events and bet variations, which XBet has not failed to include in its library.
Although pretty much most events you would find connected to MMA are, in fact, hosted or organized by the Ultimate Fighting Championship, you do have other leagues to choose from at XBet such as Bellator and the Legacy Fighting Alliance. Furthermore, the bookie's catalog provides the opportunity to bet on markets the likes of moneyline bets when you wish to partake in MMA wagering, and you can place your stakes on who you believe will win or lose. Totals are also an option in both the UFC league and events of the Professional Fighters League. Live bets, when on offer, are yet another part of XBet's catalog and make betting on MMA fights even more exciting.
Soccer
Soccer is a beloved game to many and millions of punters around adore this sport. This is why most bookies will include it in their catalog, and XBet is no exception. In fact, it has created a soccer category packed to the brim with event variations and markets that will satisfy even the biggest and most wager-hungry fans out there.
You have dozens of leagues and events to place your stakes on such as major ones like the UEFA Europa League, the FIFA World Cup, CONMEBOL Copa Libertadores, CAF Champions League, CONCACAF Champions League, as well as numerous country-specific championships.
As for betting types, moneylines and parlays among others give plenty of opportunities for you to find entertainment and, hopefully, net some wins. In addition, you also have the ability to wager with future bets on who the winners of some of the most prominent leagues in the world will be, like FIFA World Cup Qatar 2022. Total bets are also accounted for, and leagues like the UEFA Europa League, as well as events like the COPA Sudamericana among others, are some of the options you can wager on with this bet variation.
eSports
Although eSports might seem relatively new in the realm of betting, this type of activity is ripe with opportunities for punters to wager on and is a tempting presence in bookie catalogs that feature this sport.
XBet also gives its users the opportunity to place bets on eSports events such as matches that happen in games like League of Legends, or first-person shooters like Counter-Strike. Moneyline bets are markets you can punt on for the Riot World Championship, while handicap bets, spread bets and totals are also an option for League of Legends events.
Furthermore, the League of Legends category provides you with even more interesting markets such as who will get the first kill on the first map of a match and which team will be the map winner. You can also wager on who will destroy the first tower, who will kill the Baron, the destruction of the Inhibitor on the first map, and more.
Horse racing
Lovers of equestrian sports are in for a treat. XBet has included not just a separate category for horse racing, but instead, it has an entire racebook dedicated to horse racing exclusively. This is not as common as some fans of the discipline would like, thus it alone makes XBet a gambling website more desired than others.
The tool provided is excellent all-around, with lots of popular markets being accounted for, including trifecta bets and straight bets. In terms of races and leagues, they are, to put it lightly, abundant. XBet punters have the ability to bet on events and tracks all over the world, including, but not limited to, the Freehold Raceway, Hoosier Park Harness, Woodbine, Australia A, Hanshin, and more.
Events partaking on tracks like Finger Lakes also give punters the opportunity to wager with daily double bets, pick 3's, and the ever-so-lucrative parlays.
Sports and Markets Available Summary
Football
Parlay, Half Lines, Total Points, Team Totals, Quarter lines, Odd bets, Parlay
Soccer
Spread, Moneylines, Totals, To win, Parlay
MMA
Spread, Moneylines, Totals
Esports
Spread, Moneylines, Totals
Motorsports
To Win, Winning car
Horse racing
Straight, Trifecta, Parlay
Mobile Compatibility
ANDROID
iPHONE
WINDOWS
iPAD
With how hectic our daily routines have gotten nowadays, it is not surprising that portability is an extremely valued feature for pretty much any modern-day individual. Punters are, naturally, also among those who value having everything they need on their mobile phones when they are out and about. It is thus crucial for any bookmaker that offers its services to gambling enthusiasts to ensure an easy to use and convenient way for its customers to enjoy the website's services on smartphones.
In this regard, XBet passes with flying colors. Although the bookie is not available in the form of dedicated downloadable apps on either iOS or Android devices, what it does offer is a website optimized to work perfectly just as well on mobile smartphones as it does on a computer. In fact, this method has its advantages over stand-alone applications, a major one being that you will not need to spare the storage space an app would require. When it comes to appearance and functionality, we are very pleased with what we see. All pages scale perfectly regardless of one's mobile screen size, and the menus are conveniently structured and allow any customer to navigate with ease.
XBet is no slouch in terms of performance either. Thanks to its HTML5 technology, all of the bookie's features work flawlessly on mobile devices, and the experience is overall very snappy and well-executed.
Taking advantage of all of these features is very easy as well. As previously mentioned, browser-based bookies can be better than ones requiring an application, and not needing to download anything simply makes things easier. If you have a mobile browser such as Firefox, Chrome, Safari, or any other such option, and a good internet connection, you are pretty much good to go.
Mobile Compatibility Summary
Device
Downloadable App
Web App
Android
No
Yes
iOS
No
Yes
Mac OS
No
Yes
Windows
No
Yes
Linux
No
Yes
Bonuses and Promotional Offers
Sign-Up Bonus
Free Bets
Special Offer
Enhanced Odds
Any distinguished business owner would tell you that keeping your customers happy and well-taken care of is the main path to success. Sports betting websites understand this better than anyone, which is why most of them provide various promotional offers to make their customers feel special. XBet is also among these sportsbooks, and it offers a variety of ways for you to enjoy your time when you first make an account and be further rewarded should you remain a loyal customer.
Up to $500 first deposit bonus
First and foremost, there is the welcome bonus which is offered to all new punters who choose to start making use of XBet's services. By inputting the bonus code XB100 and depositing at least 45$ for the first time, your deposit will be matched 100% as a bonus. The maximum sum you can receive is $500 at most.
You are eligible for this offer only for your first deposit, and you need to keep in mind that there is a 7x rollover requirement that needs to be met before you can request a cashout. This means that in order to be eligible for a cashout, the amount you deposited+the bonus need to be wagered 7x. In other words, if you have deposited 45$, you will need to have wagered $630 before you are qualified to request a withdrawal.
If a new punter does not wish to take advantage of this particular bonus, they simply need to select either a different bonus when they open the cashier webpage or choose the "No promotion" option.
7% horse race rebate
If you wager on a horse race in XBet's racebook, this bonus allows you to receive 7% of your stake back should your wager land on a loss.
You will not be subjected to any rollover requirements, although it is important to point out that you will be unable to cash out your rebated sum immediately due to the fact that its main purpose is to provide you with more funds to wager with. This is why the rebate sum must be wagered at least once before punters can request a withdrawal. Bets made with Win, Place, and Show tickets that pay between 2$ and 2.10$ are eligible for this offer.
In addition, do keep in mind that this promotion can be redeemed on wagers that have been placed on the website's racebook exclusively. Bets staked on horse events not belonging to this section of the website are not qualified for this offer.
Depending on the track, your rebate amount will vary. Straight bets on Tracks A-B-C will net a 3% rebate. If you wager on exotic bets, you are eligible to receive 8% on A Tracks, 5% on B-tracks, and 3% on C Tracks. Your rebate sum will be deposited into your account after midnight.
25% Reload Bonus up to $250
This is yet another generous offer by XBet, this time aimed at customers who have already joined the website.
This offer is easy to claim. By redeeming the bonus code XB25, you are entitled to a 25% reload bonus upon successfully depositing into your XBet account balance.
This way, you can receive up to $250 which will be credited as free play funds.
To be eligible for this offer, you need to have deposited a minimum of 100$ or more. Furthermore, you are subject to a 5x deposit+bonus rollover. This means that if you have deposited 100$, you will need to wager 625$ in order to request a cashout.
100% bonus upon referring a friend
In addition to the previously mentioned promotions, XBet also has something to offer to its more extroverted users. If you have fellow gambling enthusiasts in your friend circle, you can invite them over and reap the benefits of this 100% bonus.
The process is fairly simple. First, you need to visit the "Refer a friend" section of the website, which can be accessed from the homepage, and receive your referral link. Then, you can send it to your friends in a number of ways, which include SMS, email, and their social media of choice. Once your friend has signed up and deposited up to 100$ at maximum, you will receive a 100% bonus. A 5x deposit+bonus rollover requirement is applied to this bonus. If you are lucky and your bonus results in winnings, you will not be able to collect them immediately. For that to be possible, your friend will need to keep their money in their account for 30 days and roll over the respective amount 5 times. Collecting your referral bonus early is possible only if your referral loses all of their money in 29 days or less.
Best of all, this is not a one-time offer. In fact, the amount of referral bonuses you can claim is unlimited, so the more friends you convince into joining, the merrier.
Bonuses and Promotions Summary
Up to $500 first deposit bonus
New customers eligible for this offer. Punters must use code XB100 when making their first deposit. Deposit amount should be at least 45$ in order to be qualified for his promotion. Deposit will be matched 100%, and withdrawal requires a 7x rollover. This offer is only available for a user's first deposit.
7% horse race rebate
To qualify, customer must have placed a bet on Xbet's racebook. Upon losing, a 7% rebate is issued. This partial refund has no rollover requirements, but cannot be cashed out immediately. Rebate amount depends on the bet and track. Straight bets on Tracks A-B-C net a 3% rebate, Exotic bets on A tracks net 8%, 5% is issued on B Tracks and 3% on C Tracks.
25% Sports Reload Bonus up to $250
Existing players are qualified for this offer. 25% bonus is claimed by using promo code XB25 and successfully depositing at least 100$. The bonus amount that can be earned is $250, and it is subject to 5x rollover requirements. Any reload deposit is qualified for this offer.
100% up to $100 refer a friend bonus
Customer must acquire referral link from XBet website and send it to friends via email, SMS, or social media. Their friend must then deposit $100 at most for the referrer to receive their 100% bonus. Offer is subject to 5x rollover requirement. Referral must keep the money in their account for 30 days and roll their funds 5 times before referrer is able to collect bonus winnings.
Banking Solutions
Bank Transfer
Credit Card
E-wallets
Prepaid Card
XBet does not feature a wide array of payment options. Instead, it has a limited but overall adequate selection of methods that have relatively fast payout rates. In addition, the currencies accepted by the bookmaker are USD and BTC.
First and foremost, Bitcoin is the evidently preferred payment method on XBet, and it is not difficult to see why. It is the most reliable option and many punters will be happy to find that there is no max deposit limit, you are only required to deposit $20 or more. It is safe to say that this is all far better than what most non-crypto currency solutions have to offer. Payout times are instant as well. Additionally, XBet will not charge you any fees when you use Bitcoin. If you sustain third-party fees upon using Bitcoin, XBet will cover them during your first 5 deposits. Afterward, deposit fees over $300 will be covered which is still very good. Bitcoin can also be utilized for withdrawals. You can withdraw $25 or more, and it will typically take around 48 hours for you to receive your money. You will not be charged any fees when withdrawing via Bitcoin.
Apart from Bitcoin, there are other cryptocurrency deposit options such as Ripple, Litecoin, and Bitcoin Cash.
Although Bitcoin is still new to many, XBet has provided all the information you would need in order to start using this banking solution even if you are completely new to the crypto world.
If despite all of that Bitcoin is simply not for you, you can rest assured that you have traditional options such as credit and debit cards available for deposits. XBet accepts VISA and MasterCard credit, debit, and prepaid cards. The minimum amount of money you can deposit using these methods is $45, while the maximum amount is $2,500. You will incur a 4.9% fee when depositing via MasterCard, and a 6% fee when utilizing VISA. Credit and Debit cards can only be utilized for deposits.
Another deposit-only banking solution is Person-to-person cash transfer. You can deposit between 100$ and $500 using this method. In addition, fees incurred by deposits of at least $300 will be covered by XBet. Moneygram, with limits between $100 and $500, and E-Check, which allows deposits of at least $100 and $2,500 at most, are also options you can make use of.
When it comes to an alternative to Bitcoin as far as withdrawing goes, Bank Wire is one of your other options. You can withdraw between $500 and $5,000 and getting your money will take from 5 to 7 days. E-check is your second choice and the amount you can withdraw by using this method is between $100 and $500, with a timeframe of 10 to 15 days.
Banking Summary
Payment Method
Deposit Limits
Deposit Times
Withdrawal Limits
Withdrawal Times
Visa credit
$45-$2,500
Instant
N/A
N/A
Visa debit
$45-$2,500
Instant
N/A
N/A
Mastercard credit
$45-$2,500
Instant
N/A
N/A
Mastercard debit
$45-$2,500
Instant
N/A
N/A
Bitcoin
$20-no max limit
Instant
$25-no max limit
2 days
Person-to-person
$100-$500
Instant
N/A
N/A
E-Check
$100-$2,500
Instant
$100-$500
10-15 days
MoneyGram
$100-$500
Instant
N/A
N/A
DirectBit
$45-$500
Instant
N/A
N/A
Bank Wire
N/A
N/A
$500-$5,000
5-7 days
Litecoin
$20-no max limit
Instant
N/A
N/A
Ripple
$20-no max limit
Instant
N/A
N/A
Bitcoin cash
$20-no max limit
Instant
N/A
N/A
Customer Support and Security
FAQ
Rules
Security
Support
Although any bettor would like their wagering experience to be as hassle-free as possible, you will inevitably run into issues someday when you wager on the internet, or you will at least reach a point where you need additional information than what is available.
Luckily, XBet has made sure that should such occasions arise, it is incredibly easy for any of the bookie's customers to request assistance. First, we are very pleased to see that live chat can be used to contact the support team. This service is available around the clock too, and responses have been swift and helpful, so all in all this is going to be the most convenient option for the majority of the website's users.
If you are a bit old-school and are not fond of using live chat, XBet has not neglected to provide an email address you can use to ask for assistance from the support team. Although correspondence might not always be as fast as using the live chat function, this is still a very reliable method.
Additionally, regardless of which online method you choose, you can be certain that at all instances of you using XBet's services, your data is safe and secure due to the 256-bit SSL encryption utilized by the bookmaker.
If making phone calls is your preferred method of communication, you can give XBet representatives a call by dialing 855-219-5809 and you will not incur any tolls by doing so.
Customer Support Summary
Channel
Details
Availability
Email
help@xbet.ag
24/7
Phone
855-219-5809
24/7
Livechat
N/A
24/7
Licenses and Restricted Countries
XBet is a reputable gambling website that is licensed by the Government of Curacao. The bookie is authorized by the respective regulatory body to provide gambling services to individuals that do not reside in the following jurisdictions: Armenia, Australia, Austria, Belarus, China, Denmark, Finland, France, Greece, Hungary, India, Ireland, North Korea, Poland, Spain, Turkey, and the United Kingdom among other jurisdictions.
As always, every bettor must check what the legal situation is in their respective country of residence prior to signing up at a bookmaker or gambling website in general.
Although licenses issued by Curacao are often frowned upon in the gambling sphere, the fact that XBet is nonetheless licensed in and of itself gives it an edge over many other bookmakers.
Licenses Summary
Curacao Gaming License
N/A
XBet Reviews from Around the Web
One sportsbook that has been increasingly better at its online betting service, at least according to sportsbook watchdog sites, is XBet. Many betting experts give the bookie a pretty high score, appreciating the great experience it provides for both expert punters and armchair sports fans.
There are quite a few sportsbook review websites that have evaluated the betting experience that XBet is offering. To properly assess the service of the brand, reviewers take into account factors like sports coverage, incentives, customer support, mobile betting, speed of withdrawals, and many more. Based on XBet's performance in these areas, most of the review websites gave the brand a score of 4 out of 5 stars.
While XBet is praised by watchdog websites for the sports markets it covers and the odds it offers, the brand has also been criticized for some of its missings. Unfortunately, there are only four reviews left from XBet users at Trustpilot. While these are not enough to determine XBet's true potential, the four reviews made the sportsbook's current score 3.2 out of 5 stars.
Negative XBet Reviews
As mentioned before, the brand has received only four reviews at Trustpilot but 50% of them gave XBet a Bad score. Meanwhile, 25% gave the brand an Excellent rating and another 25% rated the bookie as Great. Based on these scores, XBet's overall rating is Average.
While XBet promotes fast withdrawals, many customers have complained about taking too long to receive their winnings. What is more, the majority of punters who request a withdrawal were asked to go through a KYC process to verify their account, further slowing down the payout time. Some of the promotions offered by XBet have quite high wagering requirements that many bettors find hard to meet.
Positive XBet Reviews
Not all XBet members have a bad experience betting with the bookie. Many appreciate the options the brand provides and the different sports it covers. The odds offered by the sportsbook are also considered very competitive, with many punters appreciating the potential return they can enjoy.
A few reviewers have mentioned they had no issues with their withdrawals, praising the bookmaker for its fast payouts. There are also punters who enjoy the promotions that XBet is offering to its members but they admit that wagering requirements can be quite high.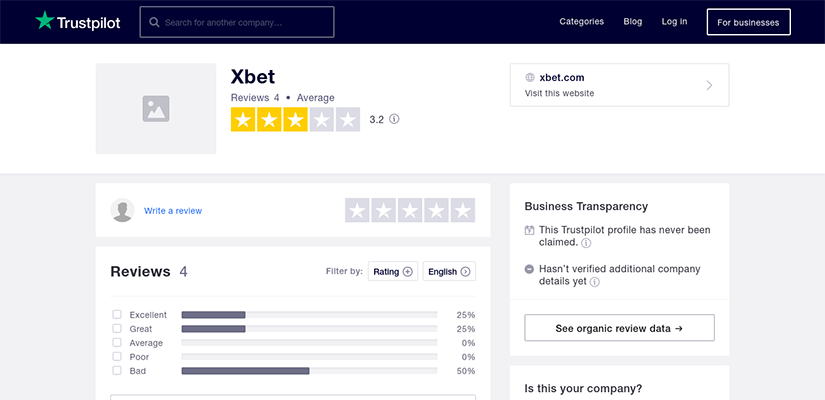 Trustpilot Rating of XBet
Excellent
25%
Great
25%
Average
0%
Poor
0%
Bad
50%