If you are looking for a proper sports betting website, William Hill is the right destination for you. Being one of the pioneers in the industry, the virtual bookmaker definitely knows how to provide the best odds and offer a safe environment for punters. When it comes to all of the elements that are needed for an unforgettable betting adventure, William Hill most certainly possesses all of them.
Various betting features, different sports to bet on, as well as fast and secure payments are guaranteed to the members of William Hill. Although it is one of the leading virtual sportsbooks for UK bettors, it also accepts sports betting enthusiasts from all over the world. This gives numerous punters the opportunity to enjoy a top-notch online betting and win impressive payouts.
To show virtual bettors a great time and improve their experience at William Hill, the online bookmaker offers a lucrative Sign-up Bonus as well as various other promotional offers. This way both new members of the web-based bookie and those who have been betting for a while can enjoy their time at William Hill.
Betting Features at William Hill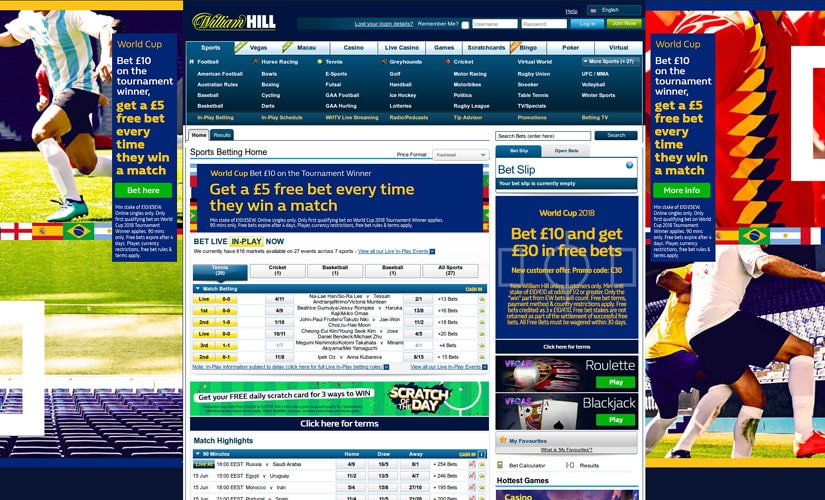 As one of the leaders in online sports betting, William Hill offers its patrons various wagering options that can make the outcome of their bets more rewarding. Thanks to the advanced features that the online sportsbook offers, virtual punters can choose their most preferred bets and pick the feature that will bring them the win they desire.
Among the betting features that William Hill offers, you will find regular line bets as well as Futures, Players Special and other exotic bets. If punters check the virtual bookie regularly, they will also notice that it offers Enhanced Odds on some major events. This way they can enjoy better payouts when wagering on important sports games. The one feature that many sports betting enthusiasts will appreciate is in-play betting. This gives punters the chance to wager on their favourite sports events while they watch the game live. This way they will be able to choose the right bet, as well as the best time to place their wagers.
William Hill is also offering radio broadcasts and podcasts. This way bettors can listen to Horse Racing Radio, In-play Radio, Greyhound Radio or watch various podcasts and videos.
Another interesting bet that the virtual bookmaker is offering is called #YourOdds. It allows punters to use the interactive platform of Twitter and suggest an offer. William Hill will then determine a price on the #YourOdds event you have proposed and you can see it among the bets that the sportsbook is offering.
The Sportsbook of William Hill
Interactive punters have the opportunity to expand their betting options at William Hill. The online sportsbook allows various types of bets on different sports. This top-class bookmaker offers its members the chance to bet on Football, Tennis, Horse Racing, Greyhounds, Cricket and many other sports popular around the world. The web-based bookie offers numerous markets that cover numerous sports. Online punters have the freedom to choose between fractional, decimal and American price format when they pick the market where they would like to place their wagers.
Football
As one of the sports that have numerous fans, football is also a major betting category at both land-based and virtual sportsbooks. This is why patrons of William Hill will also have the chance to bet their money on various football events and tournaments. For those who are interested in football, or as some players call it soccer, there are plenty of major competitions they can bet on at William Hill. Some of the most popular events you can choose are the World Cup, UEFA Nations League, as well as other famous leagues and cups matches.
If you are a fan of American Football, you can also bet on NFL games. From betting on every single game to wagering on the entire season, members of this virtual bookmaker can do it all. There are also numerous Specials that can be made while betting at William Hill. For those who are excited to bet on football events, the web-based bookie has also prepared in-play betting. This way punters will be able to watch the event they are betting on and make their wagering decisions as they follow the gameplay.
Horse Racing
Another major category at William Hill is horse racing. Fans of the sport can make their predictions and bet on various races. The online sportsbook covers some of the biggest UK, Ireland and numerous international races. This way bettors can follow their favourite races and make various bets, including some Racing Specials such as Jockey Specials and Trainor Specials.
The daily racing podcast provides the preview and tips offered by William Hill Radio's expert. This way members of the online bookmaker can be informed about the upcoming races and base their decisions on the podcast. This virtual sportsbook allows its patrons to follow horse races on their personal computers as well as mobile devices. This way they can stay connected to their online betting even when they are on the move.
Tennis
Tennis is yet another sport with a massive following from all over the world. The betting action that it provokes is also pretty serious and William Hill definitely contributes to that. Members of this online sportsbook have the opportunity to make various bets on numerous famous tennis tournaments and matches. You can watch tennis matches online for free and see constantly updated odds when you bet in-play. William Hill offers daily betting on tennis matches from all over the world, as well as markets that cover matches from Wimbledon, Grand Slam, Davis Cup, ATP World Tour and other major events. If you are interested in tennis bets, William Hill can provide numerous markets that cover some of the biggest tennis events in the world.
Greyhounds Betting
William Hill is one of the most popular online sportsbooks when it comes to greyhounds betting. The virtual bookie allows punters to choose among numerous dog races and pick the betting option that will bring them the best payout. Interactive bettors will have the opportunity to make wagers on some of the best dog races in UK and Ireland, as well as other locations from different places in the world. Thanks to the in-play betting feature that this sportsbook is offering, punters can watch greyhound racings live and make bets while observing the results of the races. The interactive bookmaker offers numerous markets that cover major dogs races, including the Greyhound Derby.
Cricket
Since William Hill is often considered one of the leading sports betting sites for UK punters, it is only natural that it provides betting on one of the most popular sports in Britain. Cricket fans from all over the world can see the numerous markets that the sportsbook is offering and choose the type of bet they would like to make. Test Matches, One Day Internationals and Twenty20 are just a few of the famous cricket events that members of William Hill can bet on. The web-based bookmaker allows virtual punters to watch live the cricket games they bet on and follow constantly updated odds. This way they can make in-play bets and improve their chances of enjoying great payouts.
E-sports
Although there is a variety of sports that punters can bet on at William Hill, one of the categories that become very popular in recent years is e-sports. This allows bettors to follow and see the best odds about online gaming events from different parts of the world. Online games have proven to be an interactive sport that requires the use of strategy, reflexes and teamwork and nowadays virtual bettors can bet on games such as League of Legends. If you are interested in betting on LOL and other online gaming events, head to William Hill. There, you will find various markets and some of the best odds on e-sports.
Mobile Compatibility
William Hill definitely knows how to make each punter's betting experience more fun and rewarding at any time and any place. This is why interactive bettors have the freedom to place bets even when they are outdoors and have no access to a computer. Thanks to the newest HTML5 technology, mobile device users can load the sports betting site on their smartphone or tablet anywhere they go.
The online sportsbook is compatible with Android and iOS devices, as well as other commonly used smartphones or tablets. In order to have access to the betting markets that William Hill provides, all you need is an internet connection. This will be enough to load the web-based bookmaker via the browser on your phone or another mobile device.
If you are intrigued by sports betting but you do not have the time to explore your options at the William Hill's website, you can simply load its mobile version and you will be granted access to numerous betting features. Even if you are on the move, you will still be able to see the best odds on some of your most favourite sports.
The fact that the virtual sportsbook can easily run on any portable device, without installing any additional software, makes things a lot easier. By directly using the browser on your smartphone or tablet, you will spare yourself the trouble of using too much space on your mobile device.
This being said, there is a mobile application for those who would like to install William Hill's sportsbook on their portable devices. The app allows bettors to access their account immediately, see all available markets and place the bets they would like. The in-play wagering feature is also available for mobile bettors who want to continue their adventures even if they are on the go. Both Android and iOS users can download the mobile app of William Hill. However, for iPhone and iPad users, only those who reside in Nevada are allowed to place bets via the mobile application.
Bonuses and Promotional Offers
William Hill allows punters from different parts of the world to participate in exciting and lucrative betting adventures. This is why it has also prepared bountiful bonuses and promotions for its members. Every type of promotional deal that the online sportsbook has prepared varies in accordance with the country punters reside in. This way they can benefit to the fullest from the deals William Hill has prepared for them.
Sign-Up Promotion
New UK punters who have opened an account at William Hill can enjoy £30 in Free Bets after they wager £10/€10. The stake must be placed at odds 1/2 (1.5) or greater. Only the 'win' part of EW bets is counted and Free Bets are accredited as 3 x £10/€10. Free Bets must be wagered within 30 days, after which the winnings that have been collected from the free bets can be withdrawn.
For non-UK countries, the sign-up bonus is slightly different. For instance, German punters must enter the promotional code DEU100 upon registration and once they have placed a minimum bet of €5 on odds of 1.5 or higher, they will receive free bets that worth 50% of their initial bet. New bettors can receive up to €50 thanks to this offer. After placing 5 more bets with on minimum odds of 1.5 and a total stake of at least €200, punters will receive €50 Free Bets.
For Italian new customers, William Hill has prepared a €25 bonus on their first bet of minimum €5 on odds of 2.00 or higher. Another 5 bets on odds of 2.00 or higher and a total stake of €200 will allow punters to claim €75 Extra Bonus.
The terms and conditions for the sign-up offer may differ in other countries, so make sure that you get familiar with them by visiting the Promotions Page of William Hill's official website.
Special Offers
With every major sports event, William Hill knows how to make every punter's betting experience more special. As the World Cup season is just around the corner, both UK and non-UK bettors have the chance to improve their bets on World Cup matches.
The current hottest promotion available for British bettors is offering a £5 free bet for a £10 bet on Top Goalscorer at the World Cup. Choose your favourite for a Top Goalscorer and you will receive £5 every time he scores a goal, with the exception of penalty shoot-outs. A minimum stake of £10 on a team to win the World Cup can also bring punters £5 free bets every time the team wins a game at the World Cup. These Free Bets must be wagered within 4 days after being accredited to your account.
The World Cup promotion can be different according to the country you reside in. For instance, Aussie punters have the chance to place a minimum of $20 Futures Bet on the 2018 FIFA World Cup Winner market and get 100 points every time the team they have chosen wins a game at the World Cup. For a $40 bet, they can win 250 points, while a $70 bet will bring them 500 points. Multi bets are not allowed for those who want to apply for this promotion and free bets cannot be used in order to claim it. Unfortunately, this promotion is not available for NSW, WA and SA punters. Make sure to check the special offers that William Hill offers in your country and you can also enjoy more fruitful World Cup bettings.
Banking Solutions
Online punters can manage their betting funds in a fast, hassle-free and secure way at William Hill. The top-class online sportsbook accepts some of the most popular payment methods, used by bettors from all over the world.
One of the most convenient banking solutions that can be used both for deposits and withdrawals at William Hill is credit and debit cards. The transactions via this type of method are extremely fast and safe. The minimum amount that can be deposited via credit and debit cards is $5 or its currency equivalent. The maximum for deposits is $99,000 and the processing time for withdrawals via credit or debit cards is between 3 and 5 business days. Virtual cards by Entropay can also be utilized for the purpose of topping up one's balance or withdrawing winnings. The great thing about credit/debit cards is that they can be used by punters from all over the world.
Another useful payment option is transferring funds via e-wallets. This way you can enjoy your betting experience in a secure and easy way. The minimum deposit allowed via this option is $10. Withdrawals via digital wallets are also very convenient and it takes only 1 day for the processing of the cash-out. William Hill accepts payments via various e-wallets and Skrill and Neteller are among them. The maximum deposit limit for Skrill is $80,000, while Neteller users can upload up to $25,000 to their account at the online bookmaker.
Online banking and prepaid cards are also methods that can be utilized at William Hill. Punters from different places around the world have the chance to use their bank accounts as a way to fund their betting experiences and withdraw their winnings. Unfortunately, prepaid cards can be used only as a deposit method. However, they remain one of the safest ways to top up one's betting balance.
Customer Support and Security
When you bet online, it is only natural that you may have some question related to your time at William Hill. This is why you can head to the Help Page of the betting website. There, you will find information about every aspect of online betting. If you have queries related to your account, your balance or the rules of the sports, you can read more details about any of these topics and many more.
If you still have some issues with your betting time at William Hill, you can always contact the polite and knowledgeable agents of the sports betting site. You can start a Live Chat and direct your questions to one of the representatives of the web-based sportsbook. Sending an email is yet another option that you can utilize to contact the Customer Support team of William Hill.
Another great option that many punters might appreciate is tweeting William Hill by using the Twitter handle @WillHillHelp. Last but not least, virtual bettors can contact the agents of the online bookmaker by calling 0800 0856 296 for UK citizens or the international freephone +800 3551 3551 for those who live outside the UK.
In order to guarantee punters that their money and personal details are always properly protected, William Hill utilizes the latest encryption technology. This way any sensitive data that enters or leaves the website is secured with the highest level of security measures.
Licenses and Restricted Countries
Before you start betting at William Hill it is your duty to get familiar with the laws and restrictions of your jurisdiction and comply with them. The online sportsbook is an advocate of responsible betting and takes serious actions towards providing a secure and fair environment for punters from all over the world.
William Hill holds valid licenses issued by the UK Gambling Commission and the Gibraltar Gambling Commission. Both of these authorities are very strict when it comes to regulation of online betting. This means that online bettors can feel absolutely safe when they bet money at this virtual sportsbook.
Residents of Australia, Italy, Spain, Germany, Latvia and Ukraine can open an account at William Hill, however, their access to certain products or services may be restricted. Some punters are not allowed to open an account or make real-money bets at the virtual bookmaker. The restricted countries include Afghanistan, Algeria, Bangladesh, Belgium, Benin, Botswana, Brazil, British Columbia, Bulgaria, Burkina Faso, Cambodia, Cameroon, Central African- Republic, Chad, China, Colombia, Congo, Cuba, Cyprus, Czech Republic, Democratic Republic of Congo, Denmark, Djibouti, Equatorial Guinea, Estonia, Ethiopia, France, French Guiana, Gabon, Gambia, Greece, Greenland, Guadeloupe, Guinea, Guinea-Bissau, Haiti, Hong Kong, India, Indonesia, Iran, Iraq, Israel, Ivory Coast, Lesotho, Liberia, Libya, Mali, Manitoba, Martinique, Mauritania, Mongolia, Montserrat, Myanmar (Burma), Netherland Antilles, New Caledonia, Niger, Norfolk Island, North Korea, Philippines, Poland, Portugal, Réunion, Romania, Rwanda, Samoa, Sao Tome & Principe, Saudi Arabia, Singapore, Solomon Islands, Somalia, Saint Vincent and the Grenadines, South Africa, South Korea, Sudan, Suriname, Swaziland, Syria, Thailand, Togo, Tonga, Turkey, Uganda, Uruguay, USA (including incorporated and unincorporated territories), Vanuatu, Yemen.