Betfair is one of the most prominent gambling websites available to the general public. It has a long history of operations and serves as an example of what the online gambling industry has to offer. Betfair was established back in 2000 and since then it has gained has gained critical acclaim, going on to become the prime betting website for many prospective gamblers.
In 2016, Betfair merged with Paddy Power, another top-tier gambling operator, to form Paddy Power Betfair. Nowadays, it still retains its dominant position in the industry and offers users a wide range of services. On the Betfair website, users will have access to a sportsbook, an online casino, a poker and bingo room, and more. For the purposes of this review, we will focus on the sports betting aspect of this gambling website.
Betting Features at Betfair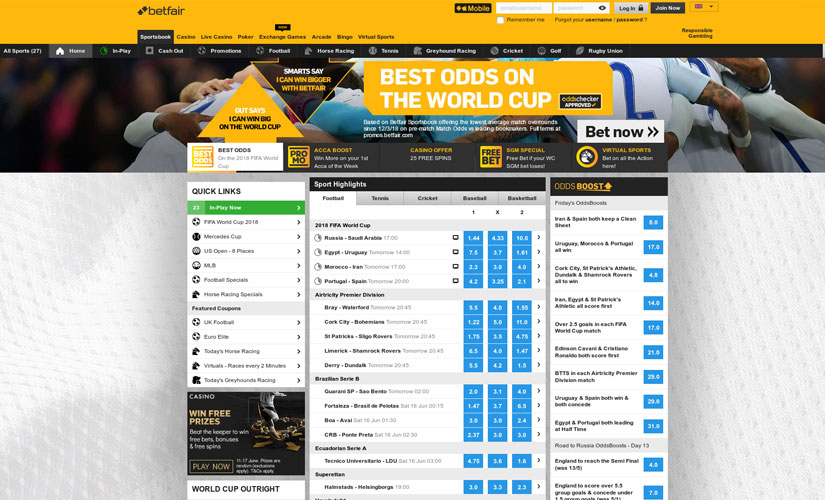 Betting at Betfair is extremely easy to do and the website has made the process highly accessible. Everything is presented in a clear and concise manner, giving you a full view of all information that you need to know. The user interface can seem clustered at first, but once you make sense of it you will have no trouble navigating the website and looking at your favorite sports.
To the left side of the screen, you will have access to featured sporting events, likely ones that are taking place at the moment and are highly popular with the sports betting community. Moreover, you will also be able to see which matches will be played in the near future, allowing you to place bets in advance. Overall, the website features excellent presentation and we can safely say that you will be hard-pressed to find another one that can rival Betfair.
The Sportsbook of Betfair
The sportsbook of Betfair is one of its crowning features and the main point of discussion in this article. Here you will have access to a wide range of sporting events and leagues on which you can place bets. Betfair has put in a lot of effort in ensuring that it can offer the most popular and beloved sports types out there. Among the sports variety, we see horse racing, tennis, football, basketball, baseball, greyhound racing, golf, American football, cricket, rugby, eSports, and more. Each sports category includes various leagues and competitions on which you can bet. Moreover, the matches can also be separated according to countries, giving you an idea of what your national team's next match up will be.
In-Play is a popular betting option among online gamblers and it is available at Betfair. In-Play allows punters to place bets on a match while it is still taking place. This betting type is mostly done on the Internet and it gives punters a lot of versatility when it comes to making a wager. For example, bettors can see how the event is progressing and make a wager based on what they have seen thus far. Moreover, bets can be changed during the course of the game and even cashed out before the event has concluded. In-Play betting is available on several sports that are featured at Betfair such as tennis, cricket, football, eSports, basketball, horse racing and more.
The Cash Out feature is iconic of Betfair and it is arguably the sportsbook to include it first. The Cash Out feature guarantees you a profit before the sporting event has actually concluded. It is an excellent way to secure a profit or cut your losses, in the event that things go wrong. Most sports at Betfair support the Cash Out feature and you can very easily make use of it. To Cash Out your bet, you simply need to work the slider and decide how much of it you wish to withdraw. The feature allows you to take away part of or the whole sum of your wager, at your own discretion. Following a Cash Out, the funds will be credited to your account instantly and you can immediately start wagering them again if you wish.
Betfair follows the most popular leagues in contemporary sports. This is true for most sports types such as football, basketball, baseball and so on. In terms of football, you will find matches from the FIFA World Cup, the English Premier League, the Brazilian Serie B or UK Football, to name a few. As far as basketball is concerned, the list of leagues includes the NBA, the Israeli BSL, the French ProB League, the WNBA, among others. Tennis leagues are also quite extensive, featuring the Mercedes Cup, Australian Open, Davis Cup, WTA Nottingham and others. American football has not been neglected and you can find matches from the NFL, CFL or NCAAF FBS Championship. Baseball also comes with a decent number of championship leagues, such as the MLB, Japanese Baseball, Korean Baseball and more.
Politics is not exactly a sporting event, according to most people, but it is a valid betting option at Betfair. The website includes multiple political issues and allows you to make predictions on what might happen. As of the time of this writing, a popular betting option is on the result of the next US Presidential election or how the UK's government will handle the negotiations regarding Brexit. While not truly sports betting, it is slightly different from the norm and interesting at the same time.
Mobile Compatibility
As the Internet developed and mature, several other industries did the same and soon a different type of user emerged – the mobile gambler. With smartphones and tablets becoming an ever greater part of our lives and the technology improving every year, mobile devices quickly took off and gambling websites did not fail to notice. In fact, Betfair was one of the first to adapt to the new trend and release a dedicated application for its mobile user base. Currently, mobile punters enjoy great support from Betfair and there are multiple ways that they can access the sportsbook.
One method is to download the dedicated mobile application for iOS and Android, which punters can find on the Betfair website. The iOS version can be downloaded directly from the Apple App Store with no trouble, but the Android app has to be installed manually, which may prove challenging for some users. In any event, the mobile app is as good as any other on the Internet and it will give you full access to every feature of the sportsbook.
The alternative to the application is to load the sportsbook website directly within the window of your mobile browser. Betfair has adapted its website to be usable on a wide range of mobile devices, from the smallest smartphones to tablets with giant displays. The mobile website offers the same features as the desktop one and you will be able to accomplish just about any task without feeling the difference.
Bonuses and Promotional Offers
A major factor of any online betting website are the promotions that it can offer to its player base. Luckily, Betfair has not neglected this part of its service and it currently has some of the most worthwhile promotions in the industry. Below, we will list some of the most important ones.
UK Bonuses
UK and Irish punters will enjoy a separate Welcome Bonus from other users. This promotion will become available as soon as the punter opens an account and has placed some bets. Of course, this will require them to also enter the code ZBBC01. The promotion works like this for every 5 £10 bets at odds of ½ (1.5) the sportsbook will provide you with a £20 free wager. This can be repeated up to 5 times, essentially giving you the opportunity to claim up to £100 in free bets. The free wagers will be credited to your account within 24 hours of meeting the qualifying requirement. Moreover, the free bets will last for 30 days and if they are not used within that time frame they will be removed from the account. Punters who deposit via Skrill and Neteller are excluded from this promotion.
The Referral Programme is an important aspect of Betfair sportsbook and you should definitely take advantage of it. If you are satisfied with what Betfair has to offer, the website gives you the opportunity to bring in a friend and it will reward you for your troubles. For every friend that you refer, Betfair will provide you with £20 free bet. For you to receive the free bet, your friend has to have a betting history totaling £50 over the course of 30 days. Moreover, you can bring in up to 5 people and they have to reside within your country.
Non-UK Promotions
Non-UK punters will have a different set of promotions available to them. The Welcome Bonus is a good example of this. When a new punter opens an account they will have the opportunity to claim a 100% deposit match bonus up to $100. The bonus money is subject to a few requirements before you can cash it in. For example, a turnover requirement of 3 times the value of the bonus amount is needed if you wish to withdraw this sum. To accomplish this, you will need to place bets totaling 3x bonus amount. Additionally, the bets placed while fulfilling the turnover requirement cannot feature odds less than 1.60. You have 90 days to fulfil the turnover requirement, otherwise, the bonus cash may be removed from your account. Finally, only deposits made via credit or debit cards and PayPal qualify for this promotion.
Banking Solutions
At any gambling website, there needs to be a variety of payment services that user can utilize to manage their online bankroll. It is an essential part of the online gambling experience and all top-tier sportsbooks follow this principle. Betfair is no exception to this and here you will have at your disposal multiple payment methods to deposit to your balance and withdraw your winnings once you are done.
In terms of deposit methods, you will find that the sportsbook supports the most popular services. Here you will be able to utilize credit cards, eWallets, prepaid cards and bank transfers. As far as credit cards are concerned, Betfair accepts payment via Visa and MasterCard, the two most widely available brands in the world. With these, you will be able to immediately deposit to your balance and start placing bets. The eWallets that you can use at Betfair include Skrill, Neteller, PayPal and more. With these services, the management of your bankroll will be a joy as they allow for instant deposits and quick withdrawals. Paysafecard is the preferred prepaid service for many online gamblers and it is the primary prepaid method to deposit at Betfair. Alternatively, you can always rely on good old bank transactions if the other methods do not suit you.
When it comes to withdrawing your winnings, you will find that there are multiple ways that you can go about doing this. The easiest way is to request a bank transfer, but there are other services which you can also use which are faster and cheaper. Electronic wallets have the shortest wait times, taking anywhere between 12 and 24 hours to process a payment. Alternatively, you can withdraw your balance to your debit or credit card, though that will take anywhere between 2 and 5 business days to process. If you are a MasterCard holder you may find yourself unable to withdraw your winnings via the same service. Only players from United Kingdom, Ireland, Andorra, Austria, Belgium, Cyprus, Czech Republic, Denmark, Estonia, Germany, Gibraltar, Greece, Hungary, Iceland, Italy, Latvia, Luxembourg, Malta, Monaco, Netherlands, Norway, San Marino, Slovakia, Slovenia, Spain, Sweden, Switzerland and Turkey can receive their winnings via MasterCard.
Betfair supports a wide range of currencies, more specifically, the Great Britain Pound, the Euro, the United States Dollar, the Hong Kong Dollar, the Australian Dollar, the Danish Krone, and the Swedish Krona.
Customer Support and Security
Customer Support is always of great importance when considering any online service. In the case of Betfair, we are happy to report that you can always rely on the customer service team to resolve any and all issues you may have with the sportsbook. There are multiple methods for you to establish a connection with the support team and certain methods will be more to your liking than others. For example, the quickest way to get in touch with the support staff is to utilize the live chat system, which allows you to directly communicate with a website representative. Establishing the connection takes no more than a minute and you can explain to them in real time what your problem is. Alternatively, you can always pick up the phone and dial the dedicated support number. Keep in mind that telephone lines are only open during certain hours of the day. If neither of these methods suits you, please know that Betfair maintains a significant presence on social media and you can find both on Facebook and Twitter.
In terms of security, you will find that Betfair is more than capable of protecting your personal and banking information and you can safely place bets in peace. One method to achieve this is via the use of high-tech encryption systems which encode all data that you send to the website, including credit card numbers, names, addresses and so on. Additionally, there are certain steps that you can personally take to ensure the safety of your Betfair account. The sportsbook supports 2-Factor Authentication and it also gives users the option to limit the maximum amount of money they can transact at any one time. Moreover, the Self-Exclusion feature allows problem gamblers to keep their punting in line.
Licenses and Restricted Countries
For an online gambling website to be trustworthy there are several criteria it has to meet. One of these is licensing as it signifies that it is has passed government audits and is in full compliance with necessary regulations. In the case of Betfair, we are happy to report that this gambling website has acquired licenses from multiple European gambling regulatory institutions. This includes some of the most respected entities in the online gambling industry such as the Malta Gaming Authority and the United Kingdom Gambling Commission. Both of these are considered to be very strict and thorough when vetting a gambling website, proving time and again that they are more than capable of rooting out the illegitimate operations.
All websites licensed by either or both of these institutions have an excellent track record of providing good and fair service. Moreover, since Betfair is licensed by both of them, you can turn to both institutions in case of a dispute. Additionally, Betfair is also licensed by other lesser-known regulatory bodies in Europe, such as the Danish Gambling Authority, Italy's Agenzia delle Dogane e dei Monopoli, Spain's Dirección General de Ordenación del Juego, Bulgaria's State Commission for Gambling and Romania's Oficiul National pentru Jocuri de Noroc. With so many licenses, it hard to doubt the legitimacy of Betfair.
In terms of restricted countries, Betfair does not list any countries where it does not do business. Rather, it puts the responsibility on the punters to know whether online gambling is legal in their country of residence or not. If it is discovered that you are placing bets from a country where it is not allowed, then you run the risk of having your account closed.