Offering a nice range of North American sports and accepting Bitcoin payments, Bovada is currently among the most popular online betting platforms for US customers. It is known as a reliable, trustworthy operator with fast payouts and excellent customer support, while its site is responsive and conveniently laid out for easy navigation and fast performance on all desktop and mobile devices.
Bovada is part of the famous Bodog family of gambling and betting sites. In 2011, the Bodog platform went through changes and the site for US-based bettors was re-branded. This is when Bovada was born and became an instant favorite of thousands of punters in the United States and beyond. It had a convenient, user-friendly interface, fast payment options, and great market coverage.
Following a few software and design updates, the new Bovada Sportsbook is now a wonderful option for those who look for a mobile-friendly sports betting site where they can bet on horses, play casino games or test their poker skills. The online platform has several separate sections for Racebook, Poker Room, Casino, and Live Dealer, creating the perfect all-in-one gambling platform. Both the interface and support are available in English and Spanish, while the $250 Sports Welcome Bonus makes the betting experience of new members even better.
Along with the hundreds of games available on the Bovada Sportsbook, there are also tons of live events punters can be on with ease. The new Bet Slip is also very convenient to use while combining several bets in a parlay can be done within seconds. It is also important to note that the operator introduced new, ultra-secure withdrawals, and it strongly focuses on cryptocurrencies, which are becoming more and more popular among gambling and betting fans.
Bovada in a Nutshell
Brand Name
Bovada
Launch Date
2011
License(s)
Curacao eGaming
Based in
Costa Rica
Operator
The Mohawk Morris Gaming Group
Software
N/A
Sponsorship Partners
Yes (a master sponsor of the Copa do Brasil, 2018; Arsenal FC, West Bromwich Albion)
Brand Awards
No
Payment Methods
Visa, Mastercard, Bitcoin, BitCoin Cash, Check, American Express, Bovada Voucher, Zelle
Average Withdrawal Processing Time
24-48 hours
Number of Sports on Offer
30
Racebook
Yes
VIP Club
Yes
Additional Sportsbook Features
Live Betting, Props Builder, Cash Out
Additional Products on Offer
Casino, Poker, Live Dealer, Racebook
Responsible Betting Tools
Self-Administered Limit Controls, Temporarily Setting Limit to Zero / "Cooling Off"
Minimum Legal Age Requirement
18 years old
Support Contacts
Live chat (24/7), email (service@bovada.lv), telephone (888) 263-0000
Excluded Jurisdictions
Five States that are banned – Delaware, Maryland, Nevada, New Jersey, and New York; Canada; Germany
Betting Features at Bovada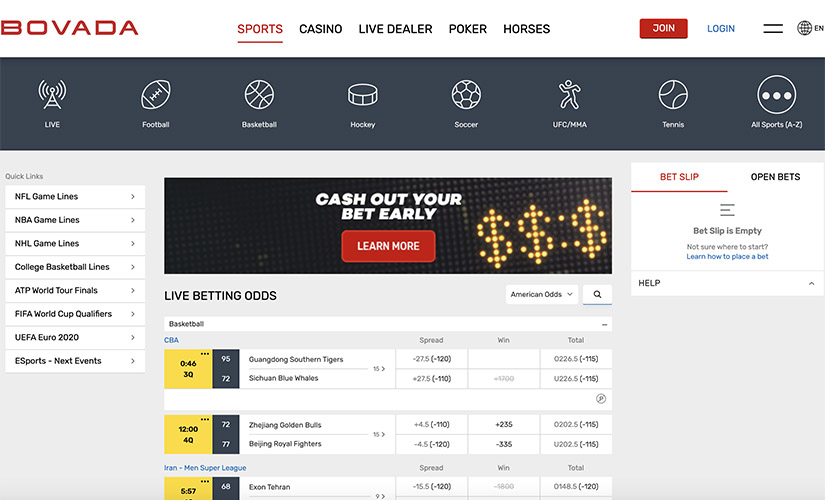 Bovada has a really simplified and user-friendly interface. Even newcomers should not have issues finding what they are looking for. The entire listing of sports, for instance, can be instantly seen as it is located in the top section of the page, while the quick links on the left instantly take us to the most sought-after betting options. These change daily, of course, but often include game lines across NFL, NBA, College Football, NHL, eSports, or UEFA events.
Another great feature at Bovada Sportsbook is the dynamic Bet Slip, which is located to the right of the betting lines. It is very convenient and easy to use – bettors can instantly place a bet by simply choosing a game and selecting one or more betting lines. Their selection will be added to the Bet Slip where they can enter a risk or win amount – if they specify the amount they want to wager, the Bet Slip automatically calculates the potential win amount and vise versa.
Of course, any selection can also be instantly removed, while depending on the particular line, more betting options will appear such as parlays, teasers, or round robins. Before confirming the bets, Bovada members will be shown their total bets, the total amount that is wagered, as well as the possible winnings. All active bets can be viewed from the Open Bets section, located at the top of the Bet Slip. The odds shown in the lines and the Bet Slip are dynamic, which means they can change throughout the match or tournament we are betting on – every change is clearly indicated in the Bet Slip, as well.
Also, there is a wonderful new addition to the sportsbook called Cash Out, which is available through the Open Bets section. It allows canceling the bets and cashing out the wagered amount. The Cash Out option, however, may not be available for all events and bettors may not be able to cash out the entire bet amount. There is also a max limit of $5,000 and any wagers above that are referred for approval.
Bovada Sportsbook offers its members live betting on multiple sports – on North American sports, as well as on a wide range of events from all over the world. However, bettors should know that for some of the sports, the operator lists the odds later in the day compared to other bookmakers. Those who look for value or are niche bettors may also look for an alternative since the odds are good but not the greatest. This also varies, of course, depending on the sport you are betting on.
The default odds format is American, but bettors can instantly change it to Decimal or Fractional. As cited by the bookmaker, the minimum bet amount is $1, which is convenient for most people who want to wager on sports. But members are allowed to wager as little as $0.50 on certain bet types, which is even better.
Betting Features Summary
Languages
English, Spanish, Chinese
Currencies
USD, BTC, BCH
Odds Format
Fractional, Decimal, American
The Sportsbook of Bovada
Football
Horse Racing
Tennis
Greyhounds
Cricket
E-sports
One of the most impressive aspects of the Bovada Sportsbook is its extensive collection of sports and other events members can bet on. Compared to other bookmakers, especially to those who accept US-based bettors, Bovada manages to offer good odds on a huge number of sports. This includes not only sports popular in North America such as football, basketball, hockey, and baseball, but also a wide range of European markets.
In fact, one of the greatest strengths of the Bovada Sportsbook is, indeed, the coverage of soccer events. Until just a few years ago, soccer was considered a niche sport to bet on in the United States and, overall, a curious choice for sports fans. But in the past couple of years, it has gained popularity across the country and bettors now enjoy both watching and wagering on male and female soccer from around the world.
Along with these few categories, Bovada Sportsbook has tons of other sports we can bet on, including classics such as tennis, horse and greyhound races, golf, MMA and boxing, cycling, and the Olympic Games. There are also odds on less popular sports, seasonal events, and local or regional leagues and championships – cricket, rugby (Rugby Union and Rugby League), volleyball, table tennis, handball, snooker, badminton, darts, eSports, the Winter Olympics, or motorsports.
There are tons of horse futures and props, college sports, as well as quite interesting odds on politics and entertainment. The bookmaker accepts bets on things such as the first company to charter humans to Mars, whether Black Friday's traffic will cause Amazon's site to crash, or the winner of the US presidential election in 2020. Of course, all major types of bets are available, as well, including singles, parlays, teasers, futures, round robins, and props – depending on the sport in question, odds are offered as point spreads, totals (over/under), or, of course, moneylines.
Football
As probably the most popular sport in the United States, football is widely covered by both land-based and online bookies. Bovada is no exception and bettors here are offered a wide choice of options – there are dozens of matches almost all year round, which means that betting on this sport is available at any time. The sportsbook has tons of moneylines to choose from, whether you are an NFL fan or prefer betting on NCAA football.
Of course, spread bets are even more exciting when it comes to football but you can also opt for over/unders. In addition, the platform offers spreads, moneylines, and totals on first, second, and quarter lines, as well as team totals, and futures. The Match Previews in the Articles section of the website will be useful to bettors as they include free game stats, trends, predictions, and plenty of other statistical data that could help to make informed decisions. There are Match Previews and Matchups mostly on events from the National Football League and the National Collegiate Athletic Association. However, odds are also available on matches of the Canadian association, CFL, as well as on NFL or NCAA specials and futures.
Basketball
Another sport that is hugely popular among sports fans, recreational and professional bettors alike is basketball. This has not always been this way, however, with the sport struggling to gain a foothold in the United States. It all changed in the 1980s when legends like Magic Johnson, Larry Bird, and Michael Jordan became real sports superstars. Today, basketball and NBA matches, in particular, are watched by millions of people and are preferred by bettors, as well.
The NBA coverage at Bovada Sportsbook is more than adequate, as the listings of game lines, futures, team totals, and props are very extensive. Of course, many people prefer the point spread and they can find this and many other options on the website. They can bet on totals, moneylines, live matches, props, etc. Other leagues are also very well-covered, including US college basketball, CBA, the Euroleague, as well as various European, South American, and Asian leagues and local tournaments.
Hockey
Hockey, also known as ice hockey in many parts of the world, is an intense, fast, and aggressive team sport played on an ice rink by sturdy athletes of impressive size. The strong tradition of over 100 years and the real spectacle that hockey is make it an extremely exciting sport to watch and bet on. There are often surprises, amazing comebacks, and matches where the rivalry reaches extreme levels. Wagering on NHL matches and the Stanley Cup is, for many, just as thrilling.
At Bovada Sportsbook, bettors have plenty of betting options – along with NHL moneylines, pucklines (this is the spread in hockey), and totals, they can also enjoy prop bets, futures, live bets, or parlays. Since this sport is very popular not only in Canada and the US but also across Russia and Northern Europe, their leagues and championships are also very competitive. As you can expect, Bovada accepts bets on hockey events in Russia, Sweden, Finland, Australia, Norway, etc.
Soccer
One of the largest collections of sports events on the Bovada Sportsbook, however, is the soccer category. It features hundreds of matches, including a wide range of bets on live events. The most popular matches are those from the European and South American leagues, where soccer or football, as it is known over there, is the number one sport for fans and bettors alike.
Bovada members can bet on 3-way moneylines, goal spreads, and totals on FIFA and UEFA cups and championships such as the World Cup, Europa League, or the exciting Champions League. There are also hundreds of matches all year round in Europe and the majority of leagues are well covered, too – England Premier League, the Spanish La Liga, France's Ligue 1, Italy's Serie A, and the German Bundesliga. The South American championships are also very well represented, with all major leagues across Brazil and Argentina being covered, as well as major competitions such as the Copa Libertadores and Copa Sudamericana.
UFC/MMA
Another sport that Bovada Sportsbook places a huge focus on is MMA, which stands for Mixed Martial Arts. Although it is banned in some parts of the world, including countries such as France and Norway, this brutal combat sport is becoming increasingly popular among sports fans. Both land-based and online bookmakers try to offer as many markets as possible and bettors at Bovada have a wide choice of matches and events to choose from.
These include events from the world's most well-known MMA organization, the Las Vegas-based UFC (Ultimate Fighting Championship) where the most top-ranked competitors fight. The bookmaker also has odds on Bellator matches (US), as well as other popular events around the world such as Combate Americas.
Tennis
Although tennis is not as popular in North American as it was two decades ago, it remains strong when it comes to betting. This is an individual sport where statistics and updates on the players' current shape and condition play a huge role in determining the favorite and the underdog. This is why tennis fans and bettors may be disappointed if they join Bovada Sportsbook – the website does not offer any tennis stats or information about the players.
Except for this one weakness, Bovada Sportsbook is a decent destination to place bets on tennis matches since its coverage is much better than the selection by other major bookmakers. It accepts bets on ITF (the International Tennis Federation) events, as well as various ATP Tour and Challenger matches. Bettors can wager on game spreads, moneylines, totals, set lines, and futures or group their bets into parlays.
Sports and Markets Available Summary
Soccer
1×2, in-play, Totals, Draw no bet, Both Teams to Score, First Half Lines
Basketball
1×2, in-play, Team Totals, First Half Lines, Second Half Lines, Quarter Lines
Hockey
1×2, Team Totals, Game Lines, Period Lines
Tennis
1×2, Game Lines, Set Lines
Football
1×2, Team Totals, First Half Lines, Second Half Lines, Quarter Lines
UFC/MMA
1×2, Game Lines, Set Lines
Mobile Compatibility
ANDROID
iPHONE
WINDOWS
iPAD
The Bovada website is fully optimized for mobile use with no download required. To open the platform on their smartphone or tablet, bettors simply enter the URL or domain name of the site in the address bar of their preferred mobile browser. This may be any modern browser since Bovada's mobile site works well on all desktop or mobile platforms, including iOS, Android, and Windows Phone.
In fact, the mobile sportsbook loads instantly and the different sections and functions work really fast. For a perfect mobile experience, however, bettors should not try opening the site on their mobile device unless they have a good, stable Internet connection via Wi-Fi. Connecting through a 3G/4G network is also a good option although it may cause some delays, depending on the network operator.
Other than that, the site works perfectly on Android devices, iPhones, and iPads. Bovada members can easily log in or register an account, make a real-money deposit, switch between the sports or open the mobile casino or poker room if they want to try something different. However, due to the mobile design, which was updated in 2018 to resemble the desktop version of the site (or maybe it was the opposite), mobile users may find it a bit annoying to find a match or a game from their devices. They may need to scroll down a lot until they find the event they are interested in.
There are no other significant issues with the Bovada mobile site. The Bet Slip, as well as other major tools and sections from the sportsbook, are located at the bottom of the screen. From here, bettors can open the Live Bets section or choose a new sport to bet on. The mobile sportsbook also comes with a Live Chat functionality, as well as the same bonuses available through the desktop site.
Mobile Compatibility Summary
Device
Downloadable App
Web App
Android
no
yes
iOS
no
yes
Mac OS
no
yes
Windows
no
yes
Linux
no
yes
Bonuses and Promotional Offers
Sign-Up Bonus
Free Bets
Special Offer
Enhanced Odds
Bovada Sportsbook does not stand out with really unique or huge bonuses but has a rather standard offering. Compared to most bookmakers, however, the list of its promotions is not bad at all – in fact, the wagering requirements and the rest of the bonus conditions are better. It is clear that the operator's casino bonuses are larger than the ones designed for the sports betting section. Still, bettors here can greatly benefit from several bonuses and most of all, the Loyalty Program, which comes with plenty of advantages.
Loyalty Program
The Loyalty Program can be accessed from the Rewards category of the Bovada Account section of the website. Newly registered members can start earning points and from the Starter Level, they progress to Rookie Level 1 after having 2,500 Reward Points. This may sound a lot, but it is not – actually, Reward Points are earned quite easily when betting in the Bovada Sportsbook.
For every $1 they wager on singles, users receive 3 Reward Points. For every $1 they bet on teasers, they get 15 points and 25 points if they make a $1 bet on round robins or parlays. There are 14 tiers in total and each one offers different perks such as cashback of at least 2.5% on losses. They can also redeem their points for cash – Rookies, for instance, get $1 cash for 2,500 Reward Points. The higher you move up in the program, the better the redemption rate. There is a rollover requirement of 1x for the daily cashback bonus, which means that bettors will need to wager the bonus amount one time.
50% Sports Welcome Bonus up to $250
Bovada has prepared separate sign-up bonuses for its Casino and Sportsbook members. Those who prefer sports wagering to casino games and slots should redeem the Sports Welcome Bonus which can be up to $250. It is available to newly-registered members and recreational bettors based in the United States. In fact, all bonuses and promotions offered by Bovada target US residents so users from other countries should check with the customer support before redeeming any bonus.
To receive the Sports Welcome Bonus, bettors need to make a deposit and redeem it from their user account. There is no requirement regarding the minimum or maximum deposit that must be made to qualify for the sign-up offer. The minimum deposit amount for the website, however, is $20 or $10 via Bitcoin. Bovada Sportsbook gives new members a 50% bonus on the first deposit and its amount is capped at $250. Note that to receive all $250, you need to deposit $500 – you will then have a total of $750 in your balance.
Once the bonus funds are credited, which should be within 30 minutes, they can be used in all sections of the website, except for the Live Dealer. Bettors can wager on any sport they like, place a bet on a horse race, or even play at the casino. However, when meeting the wagering requirements of the bonus, the operator has set strict rules on the qualifying types of games – it is 5x the deposit and bonus amount on sports and horses and 30x on casino games. When the rollover is being completed in the sportsbook, the operator will count the lesser from the risk or win amount for winning wagers. For losing bets, the entire risk amount will be counted towards the wagering. The bonus cannot be wagered in the Live Dealer section of Bovada.
75% Bitcoin Welcome Bonus up to $750
As Bitcoin and other cryptocurrencies become more popular, they are gradually making their way to betting and gambling sites. Bovada has already made the transition to this innovative, fast, and ultra-safe way to pay online and this can be seen even in its promotions. Bettors who choose to make their first deposit into the Bovada Sportsbook will enjoy a greater match bonus in return.
The Bitcoin Welcome Bonus is a 75% match bonus on the first deposit made by new members. Of course, it is valid only on deposits made with Bitcoin or Bitcoin Cash. The maximum amount that can be received from this offer is $750 and to collect any bonus funds, bettors simply need to redeem the bonus code BTCSWB750 when making their deposit.
The bonus can be used in Bovada's Sportsbook, Racebook, and Casino but it is not available for betting in the Poker or Live Dealer sections of the website. Sports fans can use the bonus funds on any sport, odds, and type of wager. Once again, the rollover requirement is 5x on sports bets and horse races and 30x on slots and casino games – the requirement includes both the deposit and the bonus amounts.
Referral Bonus up to $100
Another nice bonus offer is the Referral Bonus at Bovada, which awards members for bringing their friends to the site. To receive this bonus, bettors simply need to open the promo page, copy the referral link, and then send it to their friends. After their friends click on it, join Bovada and make a real-money deposit, the bettor will be credited with a bonus of up to $100. It will be a 200% match bonus on the friend's first deposit.
If the deposit was made using Bitcoin, you can receive up to $125 in bonus funds. Of course, the bonus will be subject to a 5x rollover (in Sportsbook/Racebook) or 30x if you complete the wagering in the Casino. The best thing about this offer is that bettors can get as many referral bonuses as they wish as long as they invite new members to Bitcoin.
Bonuses and Promotions Summary
Loyalty program
Available to all US customers. Upon registrations, users begin earning points with which they gain loyalty levels, starting at the Starter Level. Rookie lv1 is achieved at 2,500 reward points, and there are a total of 14 levels. Levels offer a variety of perks such as cashback of 2.5% at min. on losses, and redemption of points for cash which is level dependant and is as follows: Starter and Rookie – 2500/$1, Pro – 1666/$, All-Star – 1250/$1, Legend and Hall of Fame – 1000/$1. $1 wagers award 1-60 points depending on the game. Daily cashback bonus requires rollover 1X.
50% Sports Welcome Bonus up to $250
Available to new US customers. Bonus is redeemed from user's account upon making a deposit and is available for wagering within 30 minutes. Bonus is 50% on the first deposit and depositing $500 is required to receive the full $250 bonus. Bonus funds can be utilised on all types of wagers excluding Live Dealer. Rollover requirements apply for sports (5x), horses (5x) and casino (30x) on both initial deposit and bonus amount. Live dealer games do not count towards rollover requirements. Withdrawal must not be made before all bonus terms are met.
$750 bitcoin welcomebonus
New customers eligible for promotion. Offer consists of a 75% match bonus on the first deposit, and player can receive up to $750 from this promotion. Offer can be claimed by using bonus code BTCSWB750 while making a Bitcoin/Bitcoin cash deposit and is instantly available. Bonus can be utilised in sportsbook, racebook and casino games. Poker games not eligible. Rollover requirements apply – 5X sports, 5X horses, 30X casino on both initial deposit and bonus amount. Bonus cannot be utilised for live dealer games, and live dealer or craps wagers do not count towards rollover requirements. Withdrawal must not be made before all bonus terms are met.
Referral bonus up to $100
To claim this bonus, Bovada customers must refer a friend to the website by copying a referral link from the promo page and send it to their friends. Upon the new user making their first deposit, the customer who invited them receives an up to $100 bonus, which is a 200% match bonus on new user's deposit. Using bitcoin for the deposit awards original customer with additional $25. Bonus subject to rollever requirements – 5X sports, 5X horses and 30X casino. Customer can invite an unlimited number of new players.
Banking Solutions
Bank Transfer
Credit Card
E-wallets
Prepaid Card
Unlike the majority of sports betting sites, Bovada does not offer many ways to deposit or withdraw funds. However, its cashier system is extremely straightforward and easy to use – once members open their Account page, they will see the Transactions section. There, they can instantly see all transactions to and from their balance in the past 24 hours or within the past 3, 7, or 31 days. Moreover, they can check the status of any withdrawal they have made – whether it is requested and pending, declined, processed, or canceled.
There are also convenient Deposit and Withdrawal buttons that appear once you click the Profile icon in the top right corner of any page. Bovada Sportsbook offers several banking options to its members, including Mastercard, Visa, and American Express credit and debit cards, as well as cards by UnionPay, which may not be available to all customers, depending on the country they are currently based in. Bettors can also fund their accounts with select Mastercard and Visa gift cards – they just need to make sure that the card is available for international and online purchases.
Another deposit method is Zelle, which is a US-based instant banking payment service that allows mobile payments to those with an account at one of the banks that support it. Of course, the sportsbook accepts Bitcoin and Bitcoin Cash payments, as well. The most interesting option, however, is the Bovada Voucher – with it, members can convert funds from their balance into a voucher and send it to other Bovada customers. After the voucher is received, it can be used for depositing, as well. The transaction takes up to 15 minutes and this method is available for transfers from $10 to $3,000.
The limits are different for credit and debit cards – the minimum deposit via a card is $20 and the maximum limit is $1,500. Those who are depositing for the first time will be able to deposit up to $1,000 only. Besides, there is a regular deposit fee worth 5.9% of the transferred amount. The first deposit, however, is free of charge. When using Bitcoin, Bovada members can deposit from $1- to $5,000 at a time. The operator does not charge any fees for deposits via Bitcoin or vouchers.
When it comes to payouts, bettors have quite a limited choice – their withdrawal could be made via Bitcoin/Bitcoin Cash (BTC/BCH) or check by courier. If they choose to cash out their winnings through BTC/BCH, the minimum amount that can be transferred is $10 and there is no maximum limit, although large amounts of money may be paid out in increments of $9,500. In addition, users are limited to 1 BTC/BCH withdrawal every 3 days. If they opt for a check, they can withdraw from $100 to $3,000 once a week.
Members should also know that Bovada covers 1 non-Bitcoin withdrawal per 90 days and any additional withdrawal is charged a $100 fee. Withdrawals through Bitcoin or vouchers are free. Unfortunately for those outside the US, the operator accepts payments only in USD, BTC, and BCH.
Banking Summary
Payment Method
Deposit Limits
Deposit Times
Withdrawal Limits
Withdrawal Times
VISA credit
$20 – $1,500
1-15 Min
N/A
N/A
Mastercard credit
$20 – $1,500
1-15 Min
N/A
N/A
VISA debit
$20 – $1,500
1-15 Min
N/A
N/A
Mastercard debit
$20 – $1,500
1-15 Min
N/A
N/A
BitCoin
$1 – $5,000
2-4 Hrs
$10 – no limit
15 minutes
BitCoin cash
$1 – $5,000
2-4 Hrs
$10 – no limit
15 minutes
Check
N/A
N/A
$100 – $3,000 per week
5-10 Days
American Express credit
$20 – $1,500
1-15 Min
N/A
N/A
American Express dedit
$20 – $1,500
1-15 Min
N/A
N/A
Bovada Voucher
$10 – $3,000
1-15 Min
N/A
N/A
Zelle
$20 – $1,500
1-15 Min
N/A
N/A
Customer Support and Security
FAQ
Rules
Security
Support
Many sports betting fans are worried about their privacy and security when wagering on the Internet. This is a major issue, especially nowadays, when we do almost anything online – we access lots of information, we shop, we connect with friends, and we gamble. This may easily expose our personal data and put our finances at risk. This is why Bovada uses the latest encryption technology to protect both financial transfers and sensitive data shared by users on its web-based platform.
The operator has also prepared a very useful Help Center on its website where bettors can find essential information regarding the types of bets sports available, the payouts, the bonuses, and promotions, etc. The Frequently Asked Questions (FAQ) section includes tons of tips and information about Bovada's Sportsbook, Casino, Live Dealer, Poker, and Racebook products, as well as anything you need to know about financial matters, account management, and security.
In addition to all that, the operator has a wonderful Video Library with several separate sections dedicated to the sportsbook, the bonuses, Bitcoin, etc. The Sports section, for instance, includes useful videos that show new members how the Bet Slip works and how to place a parlay bet. The blog-like Articles section of the website has plenty of important information, too.
When it comes to the Customer Support Department at Bovada, we must say that it is excellent. Members can instantly contact the support agents via Live Chat or send emails at service@bovada.lv. The support, as well as the site interface, is available in English, Spanish, and Chinese.
Customer Support Summary
Channel
Details
Availability
Email
service@bovada.lv
24/7
Live chat
24/7
Licenses and Restricted Countries
Betting at a reliable, fully licensed website is essential for many sports betting fans and Bovada, which is part of the large family of Bodog-related websites, holds a license to offer interactive gambling and betting services from the jurisdiction of Curacao. In addition, Bovada is part of the Best Partners group, which is behind some of the most popular web-based gambling and betting brands, including Bodog, Cafe Casino, Joe Fortune, Slots.lv, and Ignition.
The Bovada Sportsbook is, indeed, a reputable and safe place to bet on sports online. The operator is known for fast payouts, fairness, and honest approach to its customers. It promotes responsible gambling and does not allow individuals under the age of 18 to place real-money bets or to even register an account at the website. In addition, residents of several US states are not permitted to sign up or gamble at Bovada – these are Delaware, Maryland, New Jersey, and Nevada.
Licenses Summmary
Curacao eGaming
–
Bovada Reviews from Around the Web
Since Bovada has been providing betting services for several years now, it has gathered quite the fanbase. There are plenty of reviews online discussing all of the strong points and weaknesses of the bookmaker. Even though there is some space for improvements, the overall opinion of reviewers is that Bovada is a good website for both recreational and professional bettors.
As we read reviews online, we notice that each sports betting expert is focusing on several important factors that make or break one's betting experience. These include the website's layout, mobile compatibility, sports coverage and value of odds, supported payment solutions, security, and customer support. All of these, plus a few more features, give Bovada a general score of 4.5 to 5 out of 5 stars.
Despite offering a great experience, Bovada still receives a fair share of negative reviews online. The bookmaker can be found at Trustpilot, which is a platform offering unbiased reviews of regular users. There, Bovada has received a total of 425 reviews, giving the sportsbook an average score of 1.2 out of 5.
Negative Bovada Reviews
Even though most sportsbook review websites give Bovada a very high rating, the reviews at Trustpilot have determined a very low score. Only 3% of reviewers gave Bovada an Excellent score, with another 3% ranking it as Great, and 1% as Average. Some 3% believe the bookie's performance is Poor and 90% believe Bovada deserves a Bad ranking. These results give Bovada an overall Bad rating.
Some of the negative reviews on the website are coming from customers who were unable to resolve issues they were experiencing with their Bovada accounts. Many complain about customer support being hard to contact or not providing adequate solutions. Several reviewers also had unpleasant experiences with the promotional incentives offered by Bovada.
Positive Bovada Reviews
Despite receiving many negative reviews, Bovada has also impressed several betting fans. The positive reviews at Trustpilot come from users who assure that they always receive their money on time and appreciate the betting options the sportsbook offers.
Some reviewers also appreciate the fair odds at Bovada and the coverage of different sports events. What is more, many enjoy the fact they can easily handle their payments via Bitcoin, managing their deposits and withdrawals in a fast and secure manner.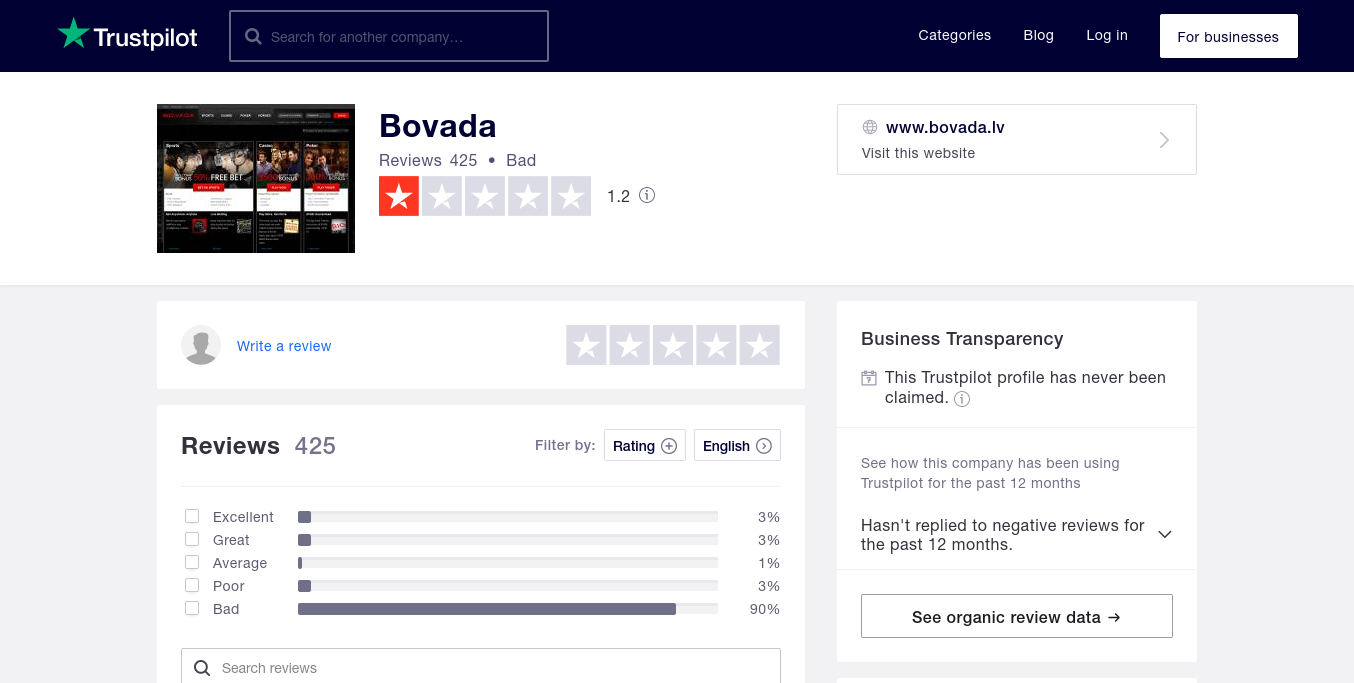 Trustpilot Rating of Bovada
Excellent
3%
Great
3%
Average
1%
Poor
3%
Bad
90%