Brazil is the largest South American country, both in terms of area and population. When we hear of Brazil, it is inevitable to associate it with sports, and most commonly with football due to its numerous accomplishments in this field. In fact, Brazilians are a very active nation and practice various kinds of sports, not only football. Although largely popular, sports betting and gambling as a whole have had quite an interesting development and history.
Since the 1940s gambling in casinos has been considered illegal in Brazil. However, lotteries, which are operated by the state and wagers on horse racing were considered legal. There have been many debates in the National Congress of Brazil regarding the legalization of gambling and opinions tend to be polarized due to various religious, ideological, and economic reasons.
Brazilian residents are able to sign up to offshore online bookmakers, but currently, there are no Brazilian-based operators. That is why it is of essential importance for Brazilian punters to be aware of the specifics of sports betting and the leading global sports betting operators.
Legalities of Online Sports Betting in Brazil
Overview
History
Legalization
Software
Historical Betting Overview
Since the ban on games of chance, via a presidential decree in 1946, practically all casinos became illegal overnight. There were exceptions, however, and the only legal and regulated gambling-related activities remained the state-run lotteries and wagers on horse racing in authorized race tracks. They were both under governmental control. Interestingly, Brazilian laws interpret poker as not illegal because there is the element of skill involved in the game.
However, taking into consideration the ongoing economic commotions, many are aware of the well-known fact that gambling is a multi-million industry that may boost any country's revenues, as long as it is properly regulated. Over the years Brazil has been taking steps in the direction of lawful and regulated sports betting and several bills have been subjected to comprehensive discussions.
One such great step is the legalization of fixed-odds sports betting in Brazil in 2018 via Law No. 13756/2018. The regulation of sports betting in Brazil will also contribute to eradicating the practice of signing up to unlicensed operators.
What You Need to Know About Sports Betting in Brazil
A growing number of foreign sports betting operators are willing to access the Brazilian market, not only because of its large scale, with a population, exceeding 212 million, but also because of the well-known passion for sports of Brazilians. The rules and regulations that are supposed to control the sports betting industry in Brazil are yet to be specified and clarified.
The fourth-largest banking institution in Brazil, Caixa Econômica Federal is the authority that is in charge of regulating and overseeing most of the Brazilian lotteries. As for fixed-odds sports betting, the Ministry of Finance will be the responsible institution.
One of the major requirements of offshore sports betting operators accepting Brazilian punters regards the minimum age. Bettors are supposed to be at least 18 years old in order to participate in sports wagering.
As far as finances are concerned, in case the sports betting operator offers the BRL currency, Brazilian-based punters are strongly advised to opt for it, because this will save them additional currency conversion expenses.
Odds Format in Brazil
Decimal Odds
Fractional Odds
American Odds
Calculations
Finding an online bookmaker offering competitive odds is of vital importance for the profitability of your sports betting experience. Most of the leading sportsbooks offer punters three main odds formats through which the potential winnings are expressed. These are the Decimal, the Fractional, and the American odds formats. Converting between the three formats is easy and effortless and can be done just with a single click.
Brazilian punters generally prefer the fractional odds format for horse racing wagers. Most Brazilian-friendly sportsbooks support this format. For example, 5/1 fractional odds indicate that punters will win $5 for every $1 they wager.
The Decimal format is also a widely preferred one. It is quite easy and straightforward, as all you need to do to calculate your winnings is just multiply the amount you are about to wager by the decimal odds offered by the sportsbook. It represents the potential payout of a bet plus the stake.
The American format also referred to as moneyline or US odds, uses a minus sign to indicate the odds for the favorite and the plus sign to indicate the odds for the underdog.
Brazil Betting Laws and Legislation
Until 1946, sports betting and gambling as a whole were completely legal in Brazil. However, with the Social Democratic party's ascent to power and the adoption of the Criminal Contravention Act, they became unlawful activities.
Apart from the lotteries and the horse racing market, bingo games were also temporarily legalized by the Zico Act. However, they were also banned in 2004.
The beginning of the 2000s marked the rise of the online sports betting and gambling industry. Due to obvious reasons, the Criminal Contravention Act has not got explicit clauses relating to online betting, but Brazilian-based sports betting sites were never founded.
Several attempts of the Brazilian government aimed at restraining online betting have proved to be unsuccessful. One of them is the ban on credit card transfers and other financial transactions between Brazilian citizens and offshore operators.
The legal status of sports betting in Brazil was restored in 2018. However, there are many details that remain unsettled and need to be clarified. The Ministry of Economy, and more precisely, the SECAP (the Secretariat for Public Policy Evaluation, Planning, Energy, and Lottery) is the authority that is in charge of the regulation of the sports betting industry. In 2018 it was granted a four-year period in order to make up the legislative framework that will govern the industry.
Brazil Betting Restrictions
Sports betting and gambling, in general, are not regulated in Brazil, since the presidential ban of 1946. With the exception of state-governed lotteries, horse racing wagers, and a brief open period for slot machines, this industry in Brazil is regarded as an unregulated market, but also one having immense potential.
When it comes to the definition of gambling activities as legal or illegal in Brazil, the element of skill is the crucial one. For example, poker is not illegal in Brazil, because of the element of skill that is involved in the game.
An ever-growing number of foreign-based sports betting operators are accepting punters who are based in Brazil. In spite of the general ban on games of chance since the 40s of the 20th century, the Brazilian government has not succeeded in imposing any restrictions on the operation of foreign operators.
Brazilian-friendly sportsbooks operate under the jurisdiction of other countries. That is why bettors from Brazil should take the necessary time to go through and review only reliable and regulated suppliers of online betting services.
There are certain limitations that come into view from such a large market, where the very concept of sports betting is unsettled and not clearly defined. Brazilian punters have not got the option to resort to their country's protection and legislation in case they have signed up for an illegal and unregulated operator.
It is important to note, that the bill of 2018 regarding sports betting applies to fixed-odds betting. In-play markets are still not regulated.
The advantages resulting from the regulation of sports betting in Brazil include numerous foreign investments, the creation of many job places, and the taxes that are going to be collected from the regulated market. The decree that the SECAP is supposed to draft is not fully prepared at the moment of writing of this article and thus sports betting is still regarded as an industry that is not regulated.
Online Betting Regulatory Body in Brazil
The regulatory authority which is in charge of online sports betting in Brazil is the SECAP (the Secretariat of Evaluation, Planning, Energy, and Lottery). It operates under the jurisdiction of the Ministry of the Economy. According to an outlined schedule, the long-awaited regulations of sports betting are to be completed by the end of 2021. It is a very important goal to deliver the regulations in time and ensure that the activity is completely legal and transparent.
Relying on the best available practices on a global level, one of the main goals of the SECAP is to ensure that the rights of Brazilian punters are protected. Another one is enabling the privatization of the sector in order to provide a competitive environment.
There is also the perspective of allocating profits from sports betting activities to socially responsible causes. Taking into consideration the vast potential of the Brazilian market, the results would be really impressive.
Furthermore, by regulating the sports betting market, illegal operators will be out of the way of Brazilian punters. The SECAP is expected to deliver a unified document, containing the legal criteria, the odds specifics, and the overall services that regulated sportsbooks are expected to offer.
Another major point of focus is enabling a reliable and regulated expansion of the sports betting market in order to yield income and employment within the country.
Popular Betting Markets in Brazil
Football
Tennis
Volleyball
Basketball
With the passing of Federal Law No. 13,756/2018 at the end of 2018 in Brazil, fixed odds sports betting in land-based establishments and bookmakers' websites has been legalized. As a result, Brazilian punters will have the chance to place wagers on their most beloved sports via completely lawful and regulated operators. There is also a wide range of offshore sports betting operators, accepting Brazilian punters and offering a rich assortment of betting markets.
Saying that Brazilians like football is a mere understatement. They are among the nations that have put this sport on a pedestal. Brazilians often refer to their homeland as "the country of football". With a total of five FIFA World Cups, the Brazil national team is listed among the best teams of all time.
Brazil is the homeland of the greatest names in football such as Pele, Ronaldo, Rivaldo, and Ronaldinho, to name just a few. This is not surprising, taking into consideration that there are 2.1 million registered players and over 29,000 clubs in the South American country.
Each of the 26 Brazilian states has its own championship, and they are governed by the Brazilian Football Confederation. Campeonato Brasileiro Series A, B, C, D, Copa América, Copa do Brazil, Campeonato Paulista, Campeonato Carioca, and Campeonato Mineiro are just a few examples of the Brazilian football championships that provide great chances for sports betting.
Volleyball is another sport in which Brazilians have considerable achievements such as three Olympic gold medals, 3 World Championship gold medals, and five Volleyball Grand Champions Cup gold medals, just to quote a few. The top-tier volleyball league in Brazil is the Brazilian Volleyball Super League, governed by the Brazilian Volleyball Confederation.
Except for the United States and Canada, Brazil is also among the countries that have dominance over basketball. A lot of Brazilians have been actively involved in this sport and respectively many of them are interested in basketball wagers.
There are several Brazilian basketball players that participate in the NBA. Founded in 2008 and including a total of 16 teams, the top-ranking men's Brazilian basketball league is Novo Basquete Brasil (New Basketball Brazil). The top teams from the NBB qualify for the FIBA Americas League and the FIBA South American League.
In spite of the general ban on gambling activities that was imposed in Brazil in 1946, horse racing has always enjoyed a special status and was considered legal, provided that the races were organized in authorized tracks. The main track in the Brazilian horse racing calendar is the Hipódromo da Gávea, where the Grande Prêmio Brasil takes place. It is the top-tier horse race championship in Brazil. Horse racing is regulated by the Ministry of Agriculture, Livestock, and Food Supply.
Although Brazilians are quite fond of team sports, Formula One is also a very popular market in the country. The highest-ranking Formula 1 championship in Brazil is the São Paulo Grand Prix, held at the Autódromo José Carlos Pace in São Paulo.
Popular Betting Markets in Brazil Summary
Sport
Leagues
Football
FIFA World Cup; Campeonato Brasileiro Serie A, B, C, D; State Championships; Copa América; Copa do Brazil; Campeonato Paulista; Campeonato Carioca; Campeonato Mineiro, etc.
Volleyball
The Brazilian Volleyball Super League; Superliga Serie B; the South American Championship; the Brazilian Women's Volleyball Superliga.
Basketball
The NBB (Novo Basquete Brasil); the LNB (National brazilian League); FIBA Americas League; FIBA South American League; the LDB (Developmental Basketball League); the NBA.
Horse racing
The Grande Prêmio Brasil; the Breeders' Cup Challenge series; Breeders Cup Turf, etc.
Formula 1
São Paulo Grand Prix; Formula One World Championship; F1 Drivers Championship; F1 Constructor Championship.
Brazil Online Betting Bonuses
Promotions
Match Bonus
Free Bets
Enhanced Odds
Brazil punters can take advantage of several types of offers, including welcome bonuses, no deposit bonuses, free bets, and enhanced odds, to name a few. Different bookies offer various kinds of incentives, so it is of vital importance to select an operator who satisfies your needs in the best possible way.
Starting with the welcome bonuses, it is safe to say that they are the most common incentives among sportsbooks. They are usually granted when punters top up their accounts for the first time. There are terms and conditions that should be observed prior to claiming the bonus. They tend to vary across sportsbooks but are usually related to the number of times the bonus amount needs to be wagered before punters are able to withdraw it.
Another incentive offered by sportsbooks is the free bet bonus. Punters are supposed to place a bet whose minimum is defined by the sportsbook. The operators also point out the minimum odds of the qualifying markets. Once bettors settle their bet, the free bet is credited to their account.
No deposit bonuses are among the most sought-after by punters. As the name suggests, bettors are not supposed to transfer funds to their accounts in order to claim this type of bonus. All they have to do is sign up for the bookie. No deposit bonuses however are less substantial in comparison to the first type. No deposit bonuses are usually limited to pre-defined markets.
Top-ranking sports betting sites also offer accumulator bonuses, also known as ACCA insurance. They are usually restricted to pre-defined markets and punters are supposed to make a minimum number of selections, usually set to three or five. If just a single selection of an accumulator bet is not successful, bettors who have opted for the accumulator bonus will have a percentage of the stake returned to them. It may be restored in the form of a free bet, for instance.
Enhanced odds offers are typically directed to loyal patrons of sportsbooks. The usual betting odds for a certain market are boosted and yield more profitable payouts as a result, as long as the bets are winning.
Some of the other bonuses that bookmakers offer to Brazilian punters are various live betting bonuses, mobile bonuses, different VIP promotions, cashback bonuses, and others.
Mobile Betting in Brazil
Mobile Play
Download App
Browser In-Play
Download via QR
Ranking fifth in the world in terms of mobile phone and Internet usage, Brazil is definitely on track with the latest technology trends. This holds true also for the ever-growing number of Brazilian punters who prefer to place bets via a mobile device. Their favorite betting markets can be accessed with just a few taps on a mobile phone or a tablet, no matter the time and the place.
The majority of the online sports betting operators who accept punters from Brazil have dedicated apps, designed for Android and iOS-powered mobile devices. If such apps are not developed, contemporary sportsbooks offer mobile-friendly counterparts of their websites.
It is important to note that usually all the thrilling features and sports markets of a certain sportsbook are available for mobile betting as well. Some bookies even offer bonuses and promotions that are targeted specifically to users of mobile devices. As for the deposit and withdrawal methods that are offered on the desktop version of sportsbooks, they are also readily available on the native mobile apps as well.
Brazilian-friendly sportsbooks often post links for their mobile apps on their websites and provide directions for downloading. Punters are able to handle their bets without any hassle as long as they rely on licensed and regulated operators.
Popular Betting Banking Methods in Brazil
Bank Transfer
Credit Cards
E-Wallet
Prepaid Cards
A major feature of the top sports betting sites that accept Brazilian punters is the abundance of payment methods. Choosing the most convenient method to fund your bankroll is a matter of personal preference.
Punters should take into consideration a number of factors such as the safety of the method, the necessary processing time of deposits and withdrawals, as well as the commissions related to it if any. Below we are going to outline the most secure and convenient banking options to use at Brazilian-friendly sports betting websites.
A convenient banking method that is tailored solely to Brazilian punters is Boleto Bancário. It works similarly to wire transfers and offers maximum security, but it cannot be used for withdrawals. Another solution allowing for instant deposits and featuring a high level of security is PIX. It was launched by Brazil's central bank and is also designed for Brazilian punters.
PicPay is a virtual app-based wallet that is also aimed at Brazilian punters. Once the application is downloaded and the account is set up, the users are supposed to add a credit card in order to fund the e-wallet. Some of the other digital wallet solutions that are used across the globe are ecoPayz, Skrill, and Neteller. They are regarded as one of the most secure methods for transferring funds over the Internet.
Another method allowing for instant deposits is AstroPay, which is a convenient virtual voucher solution. The pre-paid method features instant deposits, while withdrawals usually take 24 hours.
Among the most widely used methods for deposits and withdrawals are the ones done via VISA cards. They ensure real-time transfers, while cashouts may take anywhere between 1 and 3 business days.
Deposits done via Mastercard are processed immediately and withdrawals vary between 1 and 6 business days. Minimum amounts to deposit and withdraw are set to $10,00, while the maximum limits can vary from $10,000 to $50,000 depending on the sportsbook.
Apart from the fast processing times and zero transaction fees, cryptocurrencies are also much favored due to the highest levels of anonymity that they offer. Many punters feel reluctant to disclose their financial information and opt for this method.
Deposits and withdrawals carried out via bank transfers are preferred by high-rollers due to the high limits.
Popular Banking Methods in Brazil
Payment Method
Fees
Deposit Limits
Deposit Times
Withdrawal Limits
Withdrawal Times
Boleto Bancário
Fees vary depending on the bank used.
Min $10,00/Max $4.000,00 per transaction
1-2 business days
N/A
N/A
Pix
Depends on the betting site
Min $10,00/Max $2.500,00 per transaction
Instant
N/A
N/A
PicPay
Depends on the betting site
Min $10,00/Max $10.000,00, vary across sportsbooks
Instant
Min $10,00/Max $10.000,00, varies across sportsbooks
Up to 24 hours
AstroPay
Depends on the betting site
Min $10,00/Max $10.000,00 per transaction
Instant
Min $10,00/Max $500.00 per transaction
Up to 24 hours
VISA
Depends on the betting site
Min $10,00/Max $50.000,00, vary across sportsbooks
Instant
Min $10,00/Max $50.000,00, varies across sportsbooks
1-3 business days
Mastercard
Depends on the betting site
Min $10,00/Max $50.000,00, vary across sportsbooks
Instant
Min $10,00/Max $50.000,00, varies across sportsbooks
1-6 business days
ecoPayz
Depends on the betting site
Min $10,00/Max vary across sportsbooks
Instant
Min $10,00/Max vary across sportsbooks
Up to 48 hours
MuchBetter
Depends on the betting site
Min $10,00/Max $15,000 vary across sportsbooks
Instant
Min $10,00/Max $15,000 vary across sportsbooks
Up to 24 hours
Skrill
No fees
Min $10,00/Max $10,000 vary across sportsbooks
Instant
Min $10,00/Max $5,000 vary across sportsbooks
Up to 48 hours
Neteller
No fees
Min $10,00/Max vary across sportsbooks
Instant
Min $10,00/Max vary across sportsbooks
Up to 48 hours
Bank Transfer
Depends on the betting site
Min $20,00/Max $100,000 vary across sportsbooks
1-5 business days
Min $50,00/Max $100,000 vary across sportsbooks
3-7 business days
What to Watch When Picking Brazil Betting Site
Security
Customer Support
Mobile Compatibility
In-Play Betting
There are a couple of important considerations which Brazilian punters should be aware of. Except for the diversity of sports that the sportsbook offers, punters should also check for the presence of in-play markets and live broadcasting, e-sports, statistics, cash-out features, and other convenient functionalities.
There should also be a decent choice of payment options such as payments by cards, e-wallets, cryptocurrencies, and bank transfers. The operators usually state minimum and maximum limits, as well as processing times for deposits and withdrawals.
Another important factor to take into consideration is the mobile compatibility that the operator offers. A growing number of punters choose to bet while on the go, so this is an aspect of vital importance when it comes to selecting a reliable operator.
Punters should also check the welcome bonuses and promotions that the sportsbook offers, in order to evaluate its competitiveness. They should also take the time to review the related terms and conditions, in order to be sure that they select the best available offers.
The customer support department is another determining factor when selecting a good sportsbook. A growing number of sportsbooks offer translations of their websites in Portuguese, as well as customer representatives speaking the language.
Best 10 Betting Sites in Brazil
We would like to bring to your attention 10 licensed top-tier sports betting sites that welcome Brazil-based punters. They offer a wide variety of sports markets and very competitive odds. We will briefly discuss their most important features, some of the bonuses and promotions they offer, as well as their customer support departments. This information might be very helpful in the process of selecting a Brazil-friendly sportsbook.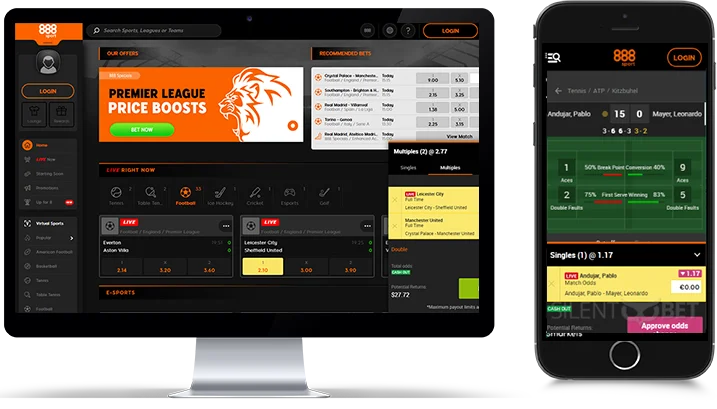 One of the most advanced and dynamically developing sportsbooks that Brazilian-based punters may choose is 888sport. The operator has a range of bonuses and promotions that are designed to keep punters satisfied and keep an ever-growing number of loyal patrons.
888sport holds an international license from the Gibraltar Gaming Commission and provides punters with a secure and trustworthy betting environment. The sportsbook welcomes bettors from Brazil and Portuguese is among the languages in which the website is supported. Furthermore, the bookmaker accepts deposits via the Boleto Bancário method, which is exclusive for Brazilian citizens only.
With wagers for football, horse racing, volleyball, and many more, 888sport has everything needed in order to ensure a smooth and enjoyable betting experience.
A wide variety of deposit methods
Available in Portuguese
VIP Program
User-intuitive website and app
No BRL accounts
Successful bettors are sometimes limited
Customer service is not available round the clock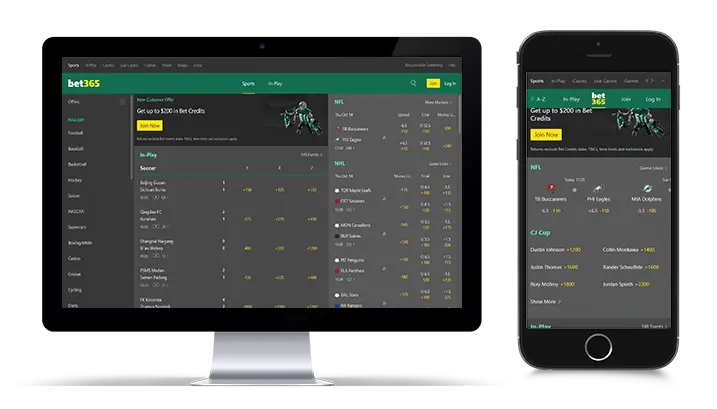 Bet365 is one of the global leaders that have succeeded in establishing a flawless reputation. The sportsbook provides punters with an unsurpassed variety of markets, competitive odds, and lucrative bonuses. From football, horse racing, and tennis to golf, baseball, and greyhound racing, the bookmaker is sure to justify your highest expectations.
The available bet types on football include in-play, full-time result, total goals, both teams to score, as well as outright bets. There is also the early cashout feature for football and basketball wagers. The football bet builder feature allows punters to modify their unique bets and make up to 12 selections. There are also some thrilling accumulator bonuses, allowing punters to amplify their winnings.
An impressive catalog of sports
Plenty of deposit and withdrawal methods
Live betting and live-streaming both on the desktop and the mobile version
Great customer care
Verification procedures may take several days
Reported cases of locked accounts of some users
The website runs slowly occasionally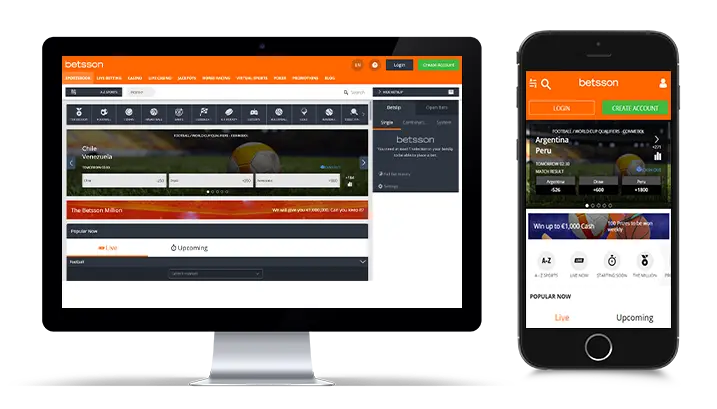 Betsson has a long presence in the sports betting market, dating back to the second half of the 20th century. The bookmaker holds licenses from the Malta Gaming Authority and the Swedish Gambling Authority, which further testify to its security and trustworthiness.
Betsson's website is available in Portuguese and the Brazilian real currency is among the possible choices for punters. The bookmaker delivers also a decent variety of banking solutions.
Betsson provides punters with the possibility to opt for insurance on accumulator bets. Placing bets before the game starts, or while the action unfolds are both possible. There is also the handy cash-out feature, allowing punters to collect their winnings, should they feel an unfavorable turn of events.
Live streaming service of good quality
Supports the BRL currency
Statistics tool
Smooth and hassle-free mobile betting
The website loads slowly from time to time
Long verification processes prior to withdrawals
Some users report blocked accounts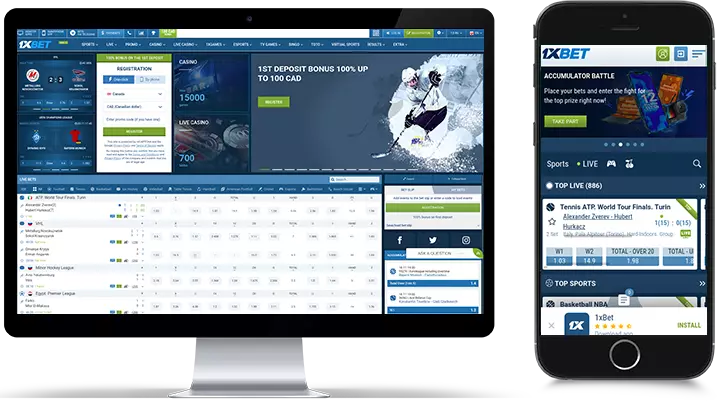 With a solid presence on the sports betting scene for more than 10 years now, 1xBet presents bettors with quite a diverse portfolio of sports disciplines. The sportsbook also delivers an impressive array of choices when it comes to depositing and withdrawals of funds. The website of the sportsbook is neatly organized and customer-oriented. It is easy to navigate even by inexperienced bettors.
The live-streaming functionality of the bookmaker ensures a captivating and thrilling experience for bettors who enjoy the in-play markets. What 1xBet excels in is its customer care department, providing punters with a variety of channels to reach a rep-there is a phone number, and e-mail, a Contact Us form, and a number of social media platforms. Except for the substantial winnings and competitive odds, the bookmaker also ensures fast and hassle-free payouts.
Prompt withdrawals
Top quality of live-streaming
Organized and uncluttered design
A variety of channels to reach the customer care department
Bonuses are less generous compared to those offered by other bookmakers
Slow handling of customer complaints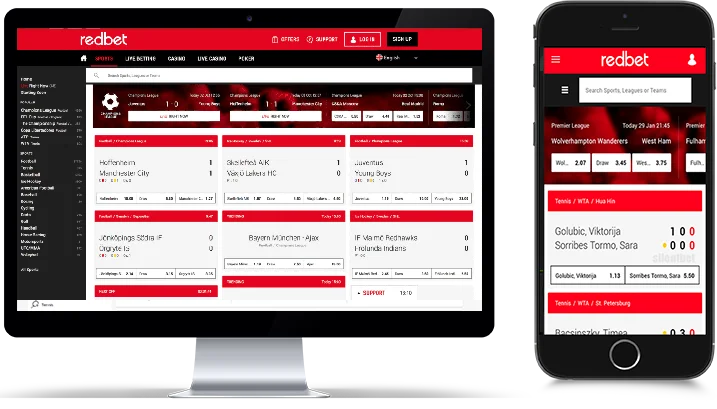 Since the very beginning of its operation, RedBet has been dedicated to delivering a comprehensive service to the numerous punters who have chosen to establish an account with it. The customers' easy and hassle-free betting experience has always been of paramount importance to the operator.
The amount of available sports events on a daily basis is simply impressive. Each punter is sure to find a favorite sport to bet on, as the bookmaker has included in its portfolio a wide range of disciplines. Except for the all-time favorite sports, RedBet has also made the effort to include a wide range of niche sports, in order to be able to cater to the needs and interests of all kinds of punters.
There is also a convenient FAQ section, delivering comprehensive information on various customers' requests and issues. The live chat reps are friendly and knowledgeable.
A profusion of the most sought-after sports markets
A wide variety of niche markets
Clean and uncluttered design
The website is supported in Portuguese
The variety of payment methods could be improved
No app for Android devices
Reported cases of suspended accounts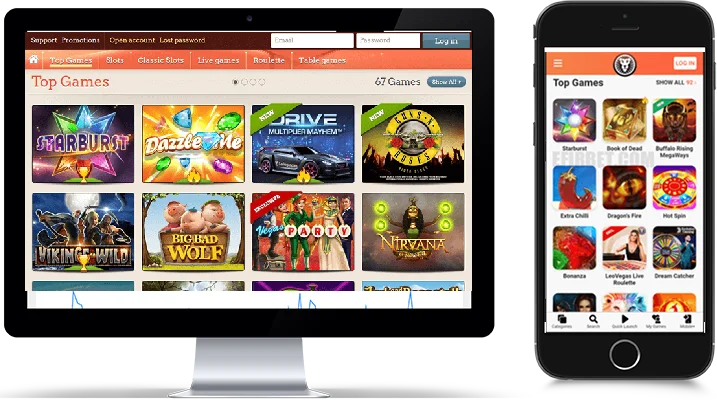 LeoVegas has been at the forefront of the sports betting scene for over nine years. It is among the most trustworthy operators and holds licenses from the Malta Gaming Authority, the UK Gaming Commission, and a couple of other renowned institutions. The sportsbook offers a variety of in-play markets and an impressive menu of sports and leagues.
The bookie offers the popular outright bets, as well as accumulator bets, to name a few. The sports catalog consists of more than 30 disciplines, covering all major markets and several niche ones. E-sports wagers are readily available as well.
The live betting experience features great quality thanks to the excellent real-time streaming service and the extensive statistics section. The customer representatives could be reached via live chat, e-mail, and phone.
A safe and reliable operator
Mobile betting of excellent value
Live-streaming and statistics
Plenty of supported sports and leagues
Some bettors report issues related to withdrawals
The range of payment methods could be better
The interface is not the easiest to work with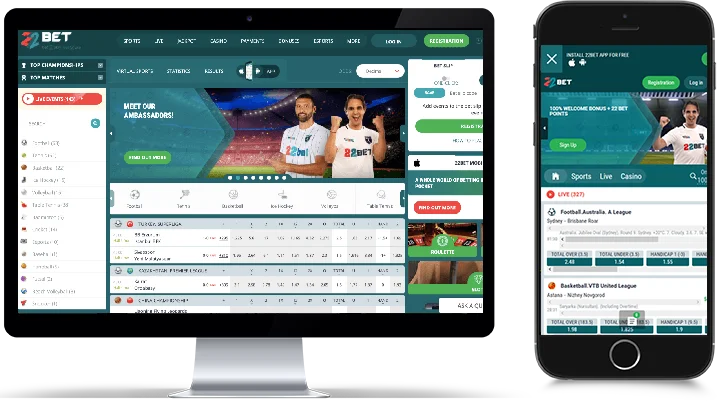 Bettors who are searching for a reliable sportsbook operator should take the time and have a look at what 22Bet has to offer. The bookmaker provides punters with an immersive betting experience thanks to its rich catalog of sports and leagues.
The website is supported in over 60 different languages and Portuguese is one of them. Brazilian punters are sure to feel much welcomed and enjoy a betting experience that is free of issues and setbacks.
With over 1,000 different sports events on a daily basis, the bookie provides experienced and novice bettors with endless opportunities to wager on their favorite sports and leagues. You can bet on football, tennis, basketball, volleyball, as well as many niche markets such as floorball, boat races, and water polo. Another amenity that the sportsbook offers is the extensive portfolio of e-sports.
A whole section dedicated to in-play markets
Over 1,000 sports events daily
Available in Portuguese
Bitcoin payments are supported
Lack of Bet Builder feature
Some punters report dissatisfaction with the customer support
Laborious verification process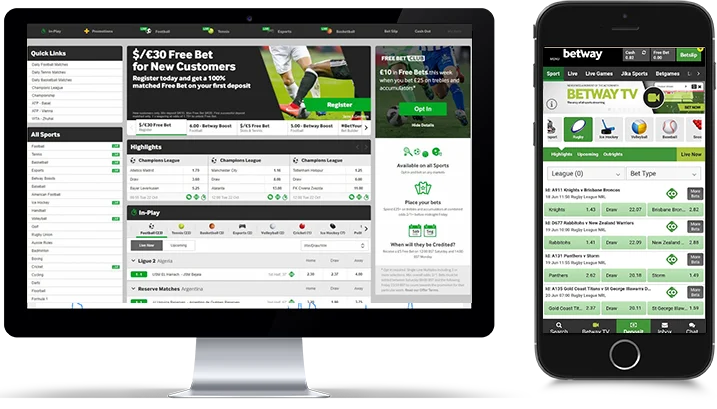 With an experience of over fifteen years within the sports betting industry, Betway has built a sports betting library of impressive proportions. From football and tennis to volleyball and basketball, and many other sports, all punters are sure to find their favorite discipline no matter what their specific preferences are. This reputable operator holds licenses from several gambling authorities and provides punters with unparalleled levels of security.
Attractive bonuses and lucrative promotions reflect the operator's willingness to entice bettors and make them loyal customers. The website is exceptionally well organized, with a conveniently located bet slip, providing a handy view of the outstanding bets.
On closer examination, bettors will be pleasantly surprised by the variety of in-play markets and the quality of the live streaming service. The bookie supports the Fractional, Decimal, and American odds formats, and switching between them is easy and effortless.
An extensive sportsbook catalog
In-play markets and live streaming
A wide variety of promotions
24/7 live chat
Some bettors report dissatisfaction with the customer support
Slow verification procedures
Quite a lot of terms and conditions related to some promotions
BetSafe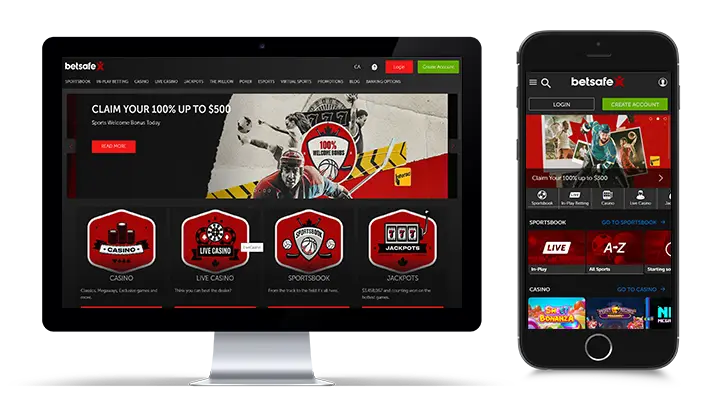 With over fifteen years of successful operation within the gambling industry, BetSafe has succeeded in building up a reputation as a secure and trustworthy sports betting destination. The mobile application is on par with all the thrilling features of the desktop version.
Furthermore, the instant-play portfolio is extensive and readily available both for desktop and handheld devices. The bookie also has extensive statistics snd live score sections, allowing bettors to make precise and informed predictions.
Apart from the informative FAQ section, BetSafe provides a number of channels to reach a customer service representative. Punters can choose between the 24/7 live chat service, the e-mail, and the Request a Call-Back functionality. Portuguese is among the supported languages and Brazilian punters will enjoy a problem-free betting experience.
Smooth and safe mobile betting
An extensive range of sports betting markets
Native and in-browser apps
Various channels of customer support available
Some punters find the wagering requirements of bonuses too demanding
Withdrawals may take too long to process
Some perceive the website as too cluttered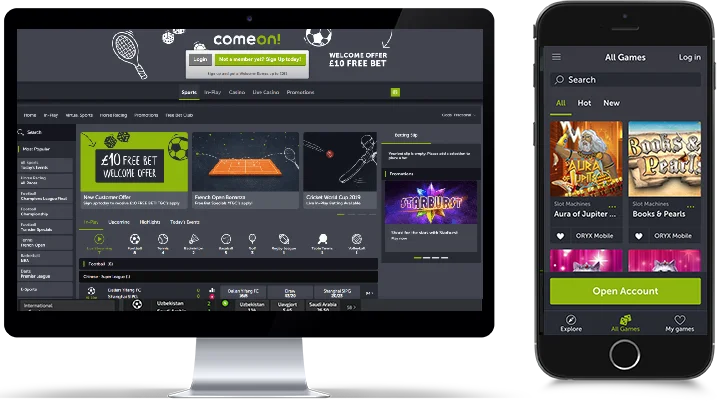 ComeOn! is a renowned brand in the sports betting industry with over 12 years of successful operation. Bettors who are in search of a safe sportsbook to place wagers with can rest assured that ComeOn! is a great choice. The bookie bears the seal of approval from the Malta Gaming Authority.
The sportsbook offers a diverse catalog of sports including but not limited to football, tennis, basketball, and baseball. In-play markets are also available, and there is a handy symbol indicating bet options and markets that are expected to happen in the next moments of the play. The available sports leagues are neatly organized by country, thus enabling punters to find the desired market in a matter of seconds.
The bookie offers statistics and live results, which are extremely useful for a smooth and successful betting experience. ComeOn! does not fall short of some attractive bonuses and promotions that are readily available for punters who have already established their accounts.
Sleek and Intuitive mobile platform
Live betting of outstanding quality
Fast and user-intuitive interface
Competitive odds
Deposits via e-wallets are excluded from promotions
Processing fees imposed on deposits
Cryptocurrencies are not accepted