Italy is a Mediterranean country with an undeniable influence on European history. To this day, it remains a center of culture, cuisine, science, and architecture. This is also the alleged birthplace of Europe's first government-sanctioned gambling house, Venice's Il Ridotto, which opened doors in 1638 and its building is still standing to this date. The very word "casino" originated from the Italian language.
Italians are keen on all types of wagering, with sports betting occupying a top spot in terms of popularity. Punting is an inseparable part of the fabric of Italians' everyday lives.
The country has a great soccer tradition and is home to some of the best clubs in the world, including A.C. Milan, Juventus, and Lazio. Basketball, volleyball, tennis, rugby, cycling, and motorsports all enjoy huge popularity among the local betting population.
Online sports betting is legal and regulated on Italian soil since 2011. To offer such services to local punters, operators must apply for and obtain a valid license from the respective authoritative bodies in the country.
In this article, we take a closer look at all aspects of Italy's sports betting industry. We introduce you to the country's betting history and legislation, the payment methods Italian can use at online sportsbooks, the promotions they can take part in, and the odds format the locals prefer to use.
Legalities of Online Sports Betting in Italy
Overview
History
Legalization
Software
Historical Betting Overview
Gambling has been enjoying massive popularity on Italian soil ever since the days of the Roman Empire. Citizens would flock to the Colosseum to watch and wager on gladiator fights and chariot races.
Betting on such activities was rampant, with people putting all their material possessions or their freedom at stake. Some chariot drivers cheated in the conventional sense of the word. Others resorted to magic to ensure a favorable outcome.
The interesting thing here is that gambling was generally prohibited in Rome because the authorities were afraid of cheating through magic. Exceptions were made only for specific holiday periods. Of course, the prohibition did not prevent emperors from wagering.
The practice of punting on chariot races can be traced back to the foundation of Rome (the city), sometime around 753 BC. Chariots were usually pulled by four horses, but sometimes two to ten animals were used.
Such activities were initially associated with religious practices but this focus on religion shifted with time. People started gathering during holiday festivities for the sole purpose of watching the races and wagering on their outcomes.
By the 3rd century AD, the city of Rome had eight racetracks in its vicinity, the biggest one of which was the Circus Maximus accommodating ¼ million spectators. The slaves that drove the chariots and the horses were rented from the city's most notable businessmen.
Ат the end of the Italian Renaissance, Venice became the first European city with an official mercantile gambling house. Il Ridotto's doors were opened to the public in 1638. The entry was free. However, the stakes were so high that only the most affluent of Venetian citizens could afford to wager there.
There was a strict dress code that required everyone inside the building bar the dealers to wear Venetian masks. Many masked noblemen lost their fortunes to the house, which eventually led to the closing of the Il Ridotto in 1774.
Horse racing has a rich tradition in the boot-shaped country as well. Italy is home to the oldest horse race we know of today, Il Palio Siena. Modern soccer was brought to Turin toward the end of the 19th century by a textile merchant upon his return from England.
Then came the Internet in the late 20th century and with it, the need for introducing proper online betting regulations arose. The Italian authorities started drafting legislation to legalize online gambling sometime around 2006. In 2010, remote betting became legal, with operators receiving licenses from the local regulator.
What You Need to Know About Sports Betting in Italy
Italy is considered by many to be the true home of gambling. The world casino itself is of Italian origin, having been formed by the Italian word "casa" which means home. In other words, games of chance have, historically, enjoyed a great deal of popularity among punters from the Mediterranean country. For many years, Italians enjoyed a fairly liberal attitude towards this activity as far as the country's legislation was concerned, but sadly Italy was one of the countries that outlawed most forms of gambling in the 20th century. Although this situation remained relatively stagnant for a while, the early 2010s brought upon some much-needed change.
In 2011 new laws were established that served to officially legalize and, most importantly, regulate the gambling sector. This served to make gambling a profitable industry in the country, and also to ensure that Italian punters are guaranteed to wager in safe conditions. This is very important as previously, Italian residents would still find ways to wager their money, but they were doing it illegally and were thus not eligible for compensation or assistance when something went wrong. Currently, any online gambling venue must be licensed by the Agenzia delle Dogane e dei Monopoli (ADM) which is also sometimes referred to as the Italian Gaming Authority or the Agency of Customs and Monopoly internationally.
Odds Format in Italy
Decimal Odds
Fractional Odds
American Odds
Calculations
Like most other countries in Continental Europe, Italy's punters prefer to use decimal odds. This is no coincidence considering the simplicity this odds format offers. The decimal number reflects your exact return for every unit you wager.
For instance, if you back Juventus to win a game at odds of 1.35 and put €100 on the line, your potential return will amount to €135. The original €100 you bet are included, which is to say your net profits will be €35. You only have to multiply your wager by the decimal odds offered by the bookie.
But decimal odds have yet another advantage. They make it easy for punters to distinguish which side of the bet is the favorite and which one is the underdog. The side with the higher number is less likely to win. Otherwise, the bookie will not offer you a higher price for one such outcome.
And one last thing – this format is the most economical for punters who are keen on building parlays. Multi-selection wagers with decimals give bettors the truest and fairest odds. In turn, this increases the punter's edge.
Italy Betting Laws and Legislation
Italy is one of the countries with a tougher stance on online betting. The only approved operators prior to 2010 that were authorized to offer sports betting were Italy's National Olympic Committee (CONI) and the National Horse Breeders Enhancement Society (UNIRE).
Things took a turn for the better after the European Commission (EC) reviewed the legal gambling framework of the country. The EC established that the restrictions Italy imposes on foreign EU-licensed operators are in stark violation with the EU rules about the freedom of providing cross-border services.
Italy had no other option but to review its online betting legislation. The year 2007 saw the passage of the Decree of Liberalization, which rendered most forms of online gambling legal. This piece of legislation paved the way for the start of a new regulatory and licensing process.
A new set of rules came into force in March 2010, allowing offshore betting companies to launch sportsbooks and other gambling sites in Italy on condition they receive a proper license by Italian authorities.
License applications are reviewed by the Amministrazione Autonoma dei Monopoli di Stato (AAMS), which is incorporated under the Agency of Customs and Monopoly (Agenzia delle Dogane e dei Monopoli or ADM for short).
Italy Betting Restrictions
The local market quickly took off under the new laxer regime but we shall let statistics speak for themselves. In 2017, the Italian remote gambling sector generated an annual revenue of €9.9 billion, with bets on soccer having a very high contribution to this number.
This is a massive jump in revenue when compared to the figures the industry registered in 2016 (€7.5 billion) and 2015 (€5.5 billion). The year 2018 saw €1.48 billion in revenue from sports betting, with €643 million from the online sector alone.
The amendments in the local law allow for legal wagering across most verticals of the online betting sector. These include betting on sports and horse races, pari-mutuel wagering, virtual sports, in-play betting, and betting exchanges.
Restrictions are imposed on the advertising of gambling activities to Italian citizens. The measure aims at reducing the spread of problem gambling among the local population. First proposed in 2018, the new set of rules states that all forms of gambling advertising (direct or indirect) is to be banned.
As of 2019, betting operators who violate the restrictions will be sanctioned with six-figure amounts in financial penalties, with the minimum starting at €50,000. The trouble here is that many Italy-licensed sportsbooks have recruited Italian soccer teams for multi-year sponsorships and their deals continue to be in force after the implementation of the advertising ban.
Online Betting Regulatory Body in Italy
As we mentioned earlier, sports betting regulations in Italy are the responsibility of the Autonomous Administration of State Monopolies (AAMS). Foreign operators can service punters from the country as long as they obtain a valid license from this authoritative body. Those who lack such licenses are expected to block the access of Italians to their virtual betting products.
The ADM has published a comprehensive list of locally licensed sites Italian citizens can lawfully access. Operators who violate their licensing conditions are held liable under Italy's laws. The licenses for sports betting have a validity of nine years.
The betting firms are also expected to take all the necessary precautions to prevent money laundering as well as to ensure gamblers are presented with tools that enable more responsible betting. It is obligatory to provide Italian customers with the option to self-exclude from the licensed websites.
Each licensee must contribute with taxes. The latter were increased from 22% to 24% for web-based sports betting operators. Landbased bookmaking shops are taxed at 20% based on their gross gambling yield.
Industry experts warn that this jump in taxes can lead to unfavorable consequences for the Italian betting market. One of the concerns is that the unauthorized gambling sector in the country might grow as local punters take their action to unlicensed sites.
Popular Betting Markets In Italy
Football
Volleyball
Horse racing
Skiing
With a rich history in both the fields of sports and gambling, it is no wonder that Italy currently boasts the second-largest gambling industry in Europe. Italian punters enjoy wagering on a variety of sports, especially when loyalty to local teams is concerned.
Football is always a passionate topic in any European country, but Italy takes it up a notch as football is the country's national sport. Italians are, to put it simply, absolutely crazy about the game, and expressing loyalty to one's favorite team is considered crucially important by many football fans there. Football bets provide the opportunity to do just that, and this is why football betting is often the most prominent sport in pretty much any bookmaker that provides its gambling services to Italians.
Horses have held an important role for gambling enthusiasts in the Mediterranean country ever since Roman times when chariot racing was all the rage among Italian punters. Conventional, by modern standards, horse racing dates back to the 6th century in Siena, Italy. It became more popular in the 14th century and in 1659, the festival Palio de Siena was officially established. It is the oldest horse racing event in the world and it continues to be celebrated to this day. As you might have guessed, the race does attract bettors, although wagering at the event is not officially recognized. Horse race betting is not exclusive to this event of course, as the practice is widely popular among Italians in general. Naturally, online wagers are well-liked too, with punters having the chance to place stakes on winner, forecast, and tricast bet variations.
Skiing is also favored among Italian bettors. The activity itself is enjoyed by many hobbyists thanks to Italy's terrain, with ski resorts in the Alps and other mountain destinations enjoying a vast number of tourists annually. This widespread appreciation for the sport has influenced the tastes of non-skiers too, evident by the thousands of individuals who cheer for the Italian teams that participate in international competitions. Wagering on said competitions and races is enjoyed by many, and Italian residents can choose between many wagers, including match-up bets, podium finish wagers, and outrights.
Italy's history with Volleyball dates back to WWI and continues to be enjoyed by the country's population nowadays. Italy has enjoyed strong performances by its teams in international competitions, and Italy's volleyball league Serie A1 is considered by many to be volleyball's equivalent to the NBA. As you might expect, finding volleyball among the numerous sports categories on bookies that operate in Italy is easy, and you have many markets to choose from such as total points bets, tournament bets, and more.
Popular Betting Markets in Italy Summary
Sport
Leagues
Football
Serie A, Serie B, Serie C, Coppa Italia
Horse racing
Palio di Siena
Skiing
Italian Winter Sports Federation (ski)
Volleyball
Serie A1
Italy Online Betting Bonuses
Mobile Play
Download App
Browser In-Play
Download via QR
Italy-friendly sportsbooks provide local punters with a great range of appealing promotional incentives, including welcome offers granted exclusively to newly registered members. Many operators give you the chance to start your wagering experience with a free bet.
Others treat punters to a welcome bonus when they deposit for the first time. Sometimes the offers are tailored specifically to the needs of Italian punters. The exact promotional conditions depend on what bookmaker you bet at.
You need to meet a certain deposit minimum to obtain a welcome bonus. As for the free bets, typically the requirement is to sign up and wager the designated minimum. You may have to use a promo code for the welcome offer in some cases.
Withdrawals are allowed only after you have cleared the rollover requirements attached to the offers. Usually, there are some restrictions on minimum odds and markets. Each offer has limited-time validity. How much time you have to use the bonus and cover its rollover depends on the respective sportsbook.
Customers who already hold accounts and have claimed their welcome bonuses can opt in for various ongoing incentives. Many bookies offer price boosts for bets on specific events and markets. This gives punters the opportunity to net bigger profits thanks to the enhanced odds.
Some offers are available for a limited time only. For example, if you predict the correct results for some of the biggest games over a specific weekend, the sportsbook might reward you with a withdrawable cash bonus. Cashbacks on losses and loyalty programs are available across all major sportsbooks that accept action from Italy.
Mobile Betting in Italy
Mobile Play
Download App
Browser In-Play
Download via QR
Most Italy-friendly sportsbooks ensure ease of access across iOS and Android mobile devices. Italian smartphone users have a choice from a broad selection of markets, with soccer offering the most diversity to those who want to bet on the fly.
Some operators develop and launch dedicated applications for the above-mentioned operating systems. As a general rule, Android-compatible apps can be downloaded at no cost from the bookies' websites.
Currently, punters from Italy cannot access gambling-related content in the Google Play Store. For the moment, this privilege is reserved solely for customers from the United Kingdom, France, and Ireland.
This is not the case with iOS-compatible gambling content. Such betting apps are permitted in the Apple Store but only on condition they are fully vetted and meet the legal obligations of the regulators in the countries they target.
Those who do not feel like installing software on their hand-held devices can open the sportsbooks in their mobile browsers. Betting sites friendly to customers from the Boot are optimized for use on the go via web apps that do not require additional downloads.
The mobile sportsbooks support the same features as their desktop counterparts. Italian punters can access them in their native language, make payments in their local EUR currency, and adjust the odds format to their preferred decimals.
Popular Betting Banking Methods in Italy
Bank Transfer
Credit Cards
E-Wallet
Prepaid Cards
Top-tier Italian sportsbooks cater to customers from the country by providing them with a nice range of payment options they can deposit and withdraw with. The bigger the variety, the better for the punters, especially if they have any specific preferences.
Italians can make payments with debit and credit cards issued by Mastercard and Visa on condition they punt with a sportsbook that has a license from their local AAMS. Those who attempt to transfer money via cards to unauthorized websites risk having their transactions declined due to local legal restrictions.
Some bettors feel reluctant to disclose sensitive banking information or use their cards for gambling purposes. In that case, Italy-friendly sportsbooks enable them to choose from a variety of anonymous options including widespread digital wallets like Skrill, Neteller, and ecoPayz.
With these wallets, you need to set up an account and then top it up via a bank account, card, another wallet, or a bank transfer. When you make a payment to an online sportsbook, you only disclose the desired amount and the log-in credentials for your e-wallet account. Then you are redirected to the e-wallet system, which means the payment happens directly through its platform.
Paysafecard is also accepted but this method is unsuitable for professional punters because it allows for deposits of small amounts only. Another option is to use your local PostePay service but this, too, requires some kind of registration.
PostePay is a great solution for sports fans from the boot-shaped country. To implement this service, you are expected to have a local tax identification number. In essence, this is like a rechargeable debit card issued by the country's postal services.
One important thing to keep in mind is that the official currency in Italy is the EUR because the country is a member state of the European Union.
Under local regulations, Italian punters who sign up at locally licensed sportsbooks are allowed to handle their payments only in this currency. The use of cryptocurrencies for such purposes is prohibited.
Popular Banking Methods in Italy
Payment Method
Fees
Deposit Limits
Deposit Times
Withdrawal Limits
Withdrawal Times
Visa
Free
€10-€50,000
Instant
€10-€50,000
2-5 days
Mastercard
Free
€10-€50,000
Instant
€10-€50,000
2-5 days
Maestro
Free
€10-€50,000
Instant
€10-€50,000
2-5 days
Apple pay
Free
€5-€10,000
Instant
€10-€30,000
2-5 days
Paypal
Free
€10-€5,000
Instant
€10-€7,000
12-24 hours
Skrill
Free
€10-€10,000
Instant
€10-€45,000
12-24 hours
Wire transfer
depends on the bank
€20-€100,000
2-5 days
€15-€100,000
2-5 days
Paysafecard
Free
€10-€1,000
Instant
€10-€450
up to 24 hours
Muchbetter
Free
€10-€20,000
Instant
€10-€45,000
4 hours
Sofort
Free
€1-€2,000
Instant
N/A
N/A
What to Watch When Picking Italy Betting Site
Security
Customer Support
Mobile Compatibility
In-Play Betting
First, it is always important to learn about the legal climate of your region of residence as far as gambling is concerned. When it comes to Italy, gambling is legalized and regulated. Any venue that seeks to offer its services to Italian punters must obtain a license from the Italian Agency of Customs and Monopoly (ADM).
You should also check the odds types offered at a venue, and ensure that the Decimal type is present. This is the odds type of choice in most European countries, and it is not difficult to see why considering it offers the most straightforward way to calculate how much potential payout a bet could result in.
Next, it is crucial to look through the catalog of the bookie. Even if your tastes are fairly liberal, it is a good idea to make sure that the most popular sports types are available to wager on at least. For those who have more specific tastes, searching for your favorite sport is necessary as wagering at a venue that does not offer your favorites as an option makes for a very unpleasant experience.
Last but not least, make sure to see what types of banking solutions customers can utilize. We all have our preferences, and it is simply a matter of convenience for a bookie to provide the easiest and fastest way for you to manage your finances.
Top 10 Betting Sites in Italy
As previously established, betting is completely legal on Italian soil now, provided you make sure to place your stakes at reputable, licensed venues. Italian punters will be happy to find that they have a rich choice of bookies to choose from.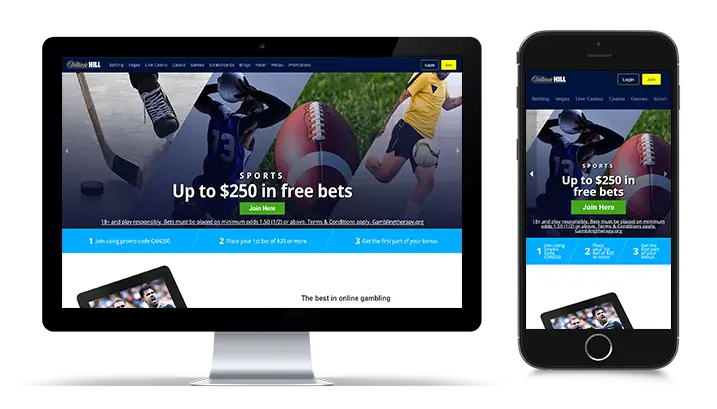 William Hill is a well-known and widely respected provider of gambling services. Its history dates back to the late 1930s when William Hill founded a telephone betting service for punters in the United Kingdom. Nowadays, the company provides an excellent and reliable sports betting experience with the aid of modern technology, and its services extend far beyond Great Britain.
Its library offers numerous sports types and provides an assortment of markets for bettors to wager on. It is extremely easy to find what you are looking for as well, as the website's layout is well structured. Furthermore, William Hill has also made sure to provide information about the types of bets it features, which ensures that even those who are new to gambling can make informative decisions.
You will find the experience on mobile devices to be just as convenient, seeing as the venue has provided dedicated applications you can download either from Google Play or the iOS App Store depending on your device.
Impeccable reputation
In-play available
Applications for iOS and Android
Great customer support services
Bonuses depend on customers' location
User interface is a bit overwhelming at first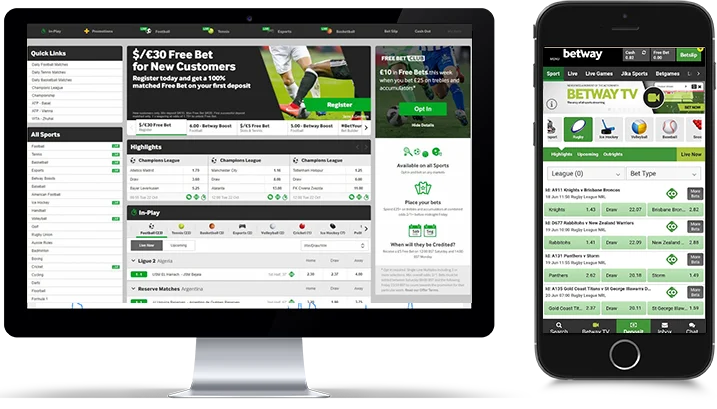 Betway is a popular and trustworthy bookmaker that is licensed by the United Kingdom Gambling Commission, the Malta Gaming Authority, and Italy's Agency of Customs and Monopoly. Upon visiting the venue, you will be greeted with a modern layout that is both conveniently designed as well as fresh in terms of appearance.
Betway features an impressive assortment of sports, with football, tennis, and esports among others being accounted for. Users who value portability will be happy to learn that you can enjoy the website's numerous sports types and markets not only on a computer but on your smartphone as well. Applications are provided to both individuals who use Android, and to those who utilize iOS. You can download either application from its respective app store.
The bookmaker's customer service passes with flying colors as well, seeing as you are guaranteed to receive the assistance you need within a timely manner.
Dedicated Android and iOS applications
Sufficient number of banking solutions
Live-chat
In-play is available
Bonuses dependent on the user's region
Certain bonuses can only be utilized with a debit card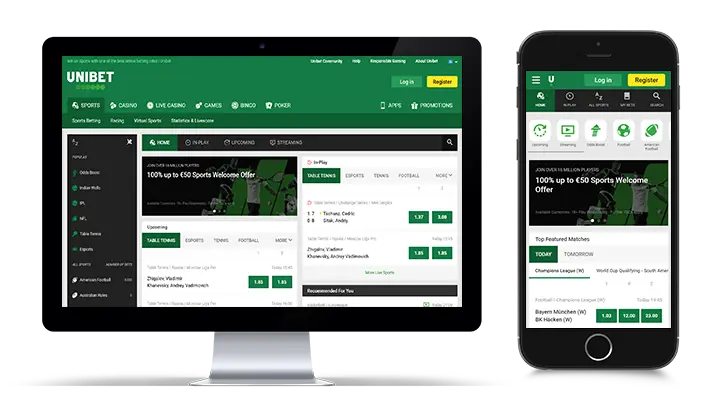 Unibet is, to put it lightly, a behemoth among the many gambling venues you will come across as you are searching for your bookmaker of choice. It was founded in 1997, boasting over two decades of experience in its field, and it continues to attract more and more bettors with each year.
The website enjoys a great amount of popularity internationally, which is evident by the fact that it has made sure to provide a sufficient number of languages for its interface, and a notable number of currencies to choose from as well.
The venue also caters to its modern-day audience in every way possible, which is evident by the fact that it offers convenient options for customers to use when they are on the go. Punters are provided with dedicated Android and iOS applications, which can be downloaded from the google play store and apple app store respectively.
Variety of sports and markets
Competitive odds
Licensed by reputable gaming control boards
Excellent mobile compatibility
Frustrating verification process
Mixed customer support reception
Snai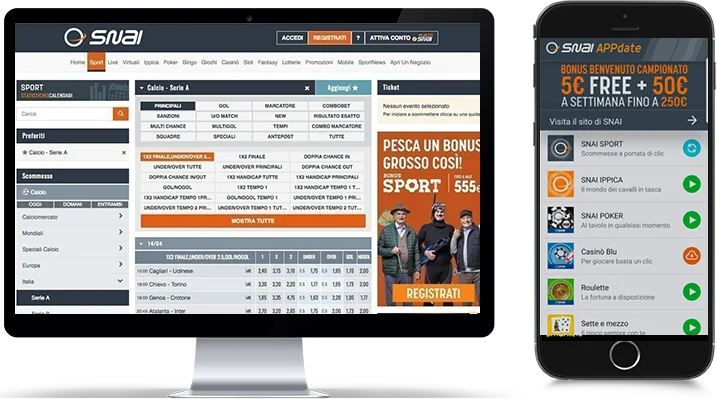 Having launched in 1990, Snai is an Italian bookmaker that enjoys quite a bit of popularity in its native region.
The bookmaker offers a variety of sports to wager on, with options ranging from football to skiing, tennis, and more. In terms of security, you can wager without worry at Snai since the website utilizes SSL encryption to keep all of your valuable data safe. The venue also boasts a license from the Italian MDA so you can be certain that this is a credible and trustworthy venue. The bookmaker's customer support is also known to be helpful and quick when they provide assistance to their users.
Nowadays you will seldom find individuals who have not started incorporating their smartphones in almost every part of their daily lives. To no one's surprise, punters are not an exception and they too like to utilize their smartphones to fit their needs, which in this case means using sportsbooks available on mobile devices. Snai has not neglected to take these bettors' needs into account and has created downloadable smartphone applications. Regardless of whether you use an Android smartphone or an Apple device, you will be able to get the application from your respective app store and enjoy a snappy and comfortable experience.
Dedicated Android and iOS apps
Variety of sports and markets
Excellent banking solutions
In-play is available
No English option
Visual interface is a bit plain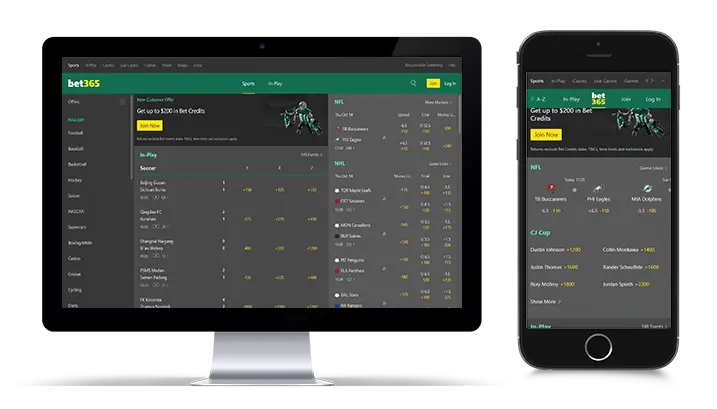 If you are a fan of wagering, then the chances of you not having heard about Bet365 are extremely slim, and that is no coincidence. The venue is one of the most trustworthy, popular, and reputable bookmakers out there, with thousands of users making use of the website's services each year.
Bet365 offers one of the richest catalogs of sports available, with numerous leagues and matches on offer. Sports such as football, ice hockey, and many others are accounted for, and you have an abundance of bet types at your disposal.
Visually, the design is slightly old-fashioned, but the muted color palette and great organization make for a nevertheless enjoyable betting experience. Mobile users can also take advantage of everything Bet365 has to offer thanks to the Android and iOS applications provided.
Last, but not least, we cannot neglect to mention that the trust placed on Bet365 is warranted, seeing as the website boasts licenses by the UK Gambling Commission and the Italian Agency of Customs and Monopoly.
Large library of sports and markets
Good mobile compatibility
In-play is available
Sufficient range of payment options
Certain bonuses require specific payment methods
Verification can be troublesome
Gioco Digitale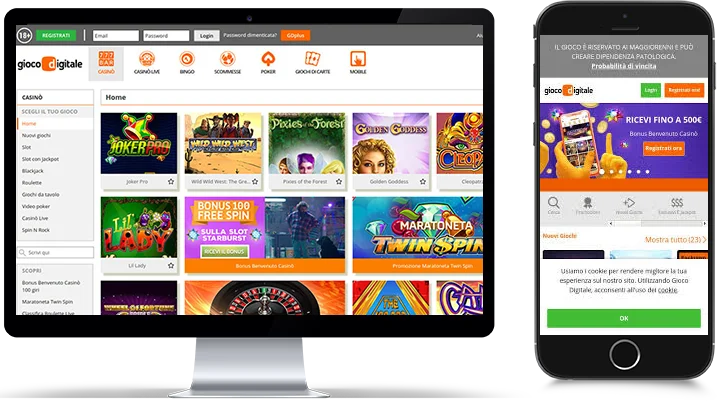 Gioco Digitale is an Italian-based venue that excels in various ways in the gambling market, among those being the sports betting services it has on offer. You will find an excellent array of sports options and bet variations on the venue's website. Although the bookie is a bit cluttered in terms of visual design, it offers a fresh experience nonetheless thanks to the fact that it uses a grey color palette with orange accents.
We can happily note that the bookmaker is licensed by the Agency of Customs and Monopoly, and is thus a credible venue that will certainly treat all of its customers with the care and attention they deserve. Speaking of which, your data is also in good hands as SSL encryption is also utilized.
Convenience is evidently important and something that Gioco Digitale wanted to provide to its users, as managing your finances at the venue is incredibly easy and straightforward because you have a variety of methods to choose from.
In-play is available
Great live chat support
Refreshing and cheerful visual design
Live-chat is not available 24/7
Cluttered interface
Sisal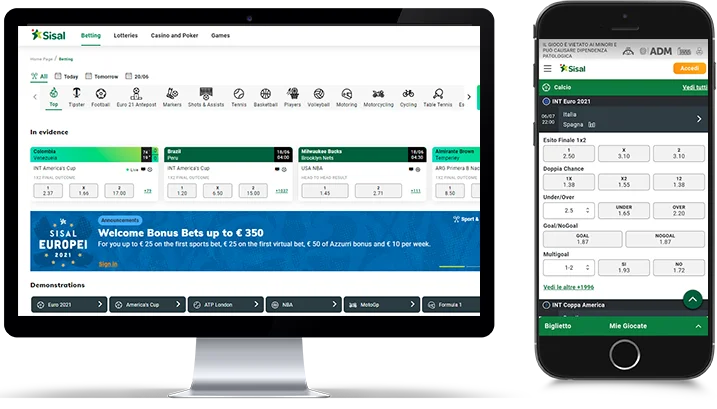 Having received numerous venue rewards, including Best Customer Service Operator, and Best Casino Operator among others, Sisal is a prominent player in the gambling industry in Italy.
In terms of appearance, Sisal's interface is a little bit old-fashioned and plain, but it gets the job done and you will find wagering at the venue enjoyable. When it comes to sports and markets, there is much to choose from.
If you enjoy placing wagers on your smartphone, the bookie has got you covered because it has optimized its website to not only work great on computers but to have excellent compatibility with phone browsers as well. It scales well on screens of all sizes, and your experience at Sisal as a bettor on the go will be very pleasant overall.
Like all reputable Italian venues, Sisal has acquired a license from the Agency of Customs and Monopoly.
In-play
Award-worthy customer support
Many bet types and sports
No 24/7 live chat support
The venue is available only in Italian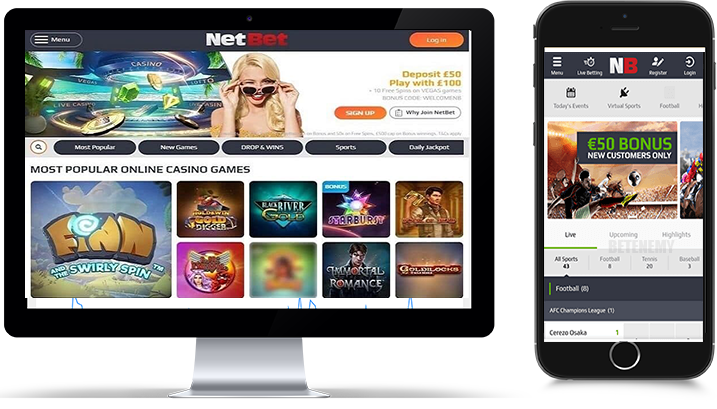 Netbet offers numerous sports options to its customers, with a variety of markets to place stakes with. Having launched in 2001, the venue has provided two decades of excellent service to its customers. Design-wise, the website is sleek and modern, with neatly organized categories to ensure that you will easily be able to navigate the menus and find what you need in no time.
Netbet's customer support is excellent as well, which is evident even before you reach the point of requesting assistance as the website boasts a very convenient and thorough help section. When the time to contact someone does eventually come, you will be met with a swift and helpful response and your issues will be resolved in no time.
In terms of security, Netbet is no slouch, as it keeps your data and information safe by utilizing SSL encryption. Additionally, the bookmaker has been licensed by the Italian Agency of Customs and Monopoly, and you can thus count on the venue's credibility.
In-play available
Excellent customer support
Numerous sports variations
No iOS application
Live-streaming is region restricted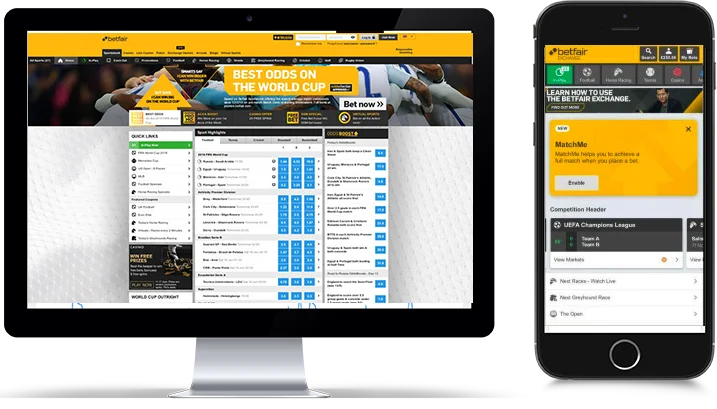 Having over 20 years of experience within the gambling industry, Betfair is one of the most known and popular gambling venues online. The sportsbook boasts licenses by various regulatory boards around the world, including the Italian Agency of Customs and Monopoly.
Its mobile compatibility is excellent as well. Due to how numerous individuals these days turn to their smartphones for their wagering needs, most bookmakers tend to either make their websites compatible with mobile devices or provide downloadable applications for Android and iOS smartphones. Betfair has opted for both options, and they function perfectly.
The website is excellent at providing all necessary information to its customers, but should you ever require any further information or you simply find yourself in need of assistance, you can contact the venue's customer support. You have a variety of methods at your disposal, a notable one being their live-chat feature which will let you get the help you need in a timely manner
Numerous banking solutions
Convenient interface
In-play available
Compatible with mobile devices
You need to be registered to use live-chat support
Certain bonuses are region-specific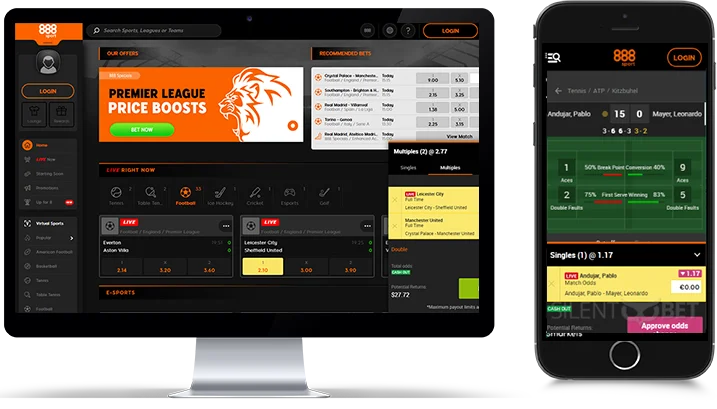 Licensed by the Italian Agency of Customs and Monopoly, 888sport is a reputable online venue that has become the bookie of choice for many bettors. You can make use of its excellent catalog of sports and markets regardless of whether your preferences lie with punting on PC, or if you would rather use your smartphone.
In terms of the way it looks visually, both the desktop website and the mobile applications look great, the color palette is easy on the eyes and the website boasts well-organized categories that make the user experience of finding what one needs incredibly easy and quick.
Browsing through 888sport's library and using all of its services is not only enjoyable but secure as well. Your data is protected by SSL encryption so you can rest assured that utilizing the various banking solutions 888sport has to offer is as safe as possible.
Excellent compatibility for mobile devices
Great design
Numerous sports types and betting methods
In-play
No live chat support
No esports