Austria is a betting-friendly member state of the European Union with a population of 8.8 million and a gross domestic product of $416.6 billion. Located in Central Europe, the country is characterized by its picturesque Alpine terrain, rich history, and significant contribution to the Old Continent's culture.
Austria's gambling industry is thriving, with both landbased and digital betting being legal but heavily regulated in the country. Considering its mountainous terrain, it is no surprise that Austrian bettors are avid fans of winter sports such as alpine skiing, snowboarding, ice hockey, and ski jumping.
Other betting markets with a large following include soccer, tennis, and basketball. Rugby is currently a minor, yet growing sport. Motorsports are also quite popular in Austria as is horse racing.
The regulatory framework for gambling in the country is unique. Some activities like slots, commercial casino gaming, and lotteries are subject to a statewide monopoly and are stringently regulated under the country's federal Gambling Act.
On the other hand, sports betting is not monopolized. It falls under the oversight of Austria's nine federal provinces, collectively referred to as the Bundesländer.
Legalities of Online Sports Betting in Austria
Overview
History
Legalization
Software
Historical Betting Overview
Austria saw its democracy restored after the end of World War II in 1945 and reestablished its full sovereignty from the Allied forces ten years later. The country's economy has blossomed since then which also gave a push to its betting industry.
Most traditional forms of gambling are legal and regulated by the Austrian Ministry of Finance under the Federal Gambling Act (Glücksspielgesetz, abbreviated as GSpG) that passed in November 1989. The latter does not cover sports betting, which falls within the scope of the country's nine federal provinces.
Bookmaking shops located within the country must acquire individual licenses from the authorities of the federal provinces they operate in. Local authorities have a laxer stance on this type of gambling activity, which has led to a huge number of sports betting outlets opening shop across the country.
One unique thing about Austria is the so-called betting café. This establishment combines the relaxing atmosphere of regular coffee shops with the ability to wager on a variety of sporting events. Presently, Austria boasts over 200 of these betting cafes. Regular betting shops are also a common sight on its territory.
The landbased betting market is dominated by the locally based Admiral Sportwetten, which is responsible for the operation of more than 50 bookmaking shops across the country. It also accepts action on horse racing. Landbased bookies can apply for local licenses that allow them to run online sports betting services.
In the early 2000s, local authorities started to tighten their regulations in an attempt to reduce gambling participation rates and curb the harmful effects such activities can have on the Austrian population.
These regulations paid off causing a drop to 1.1% in problem-gambling behaviors in 2015 but further complicated the legal situation in the country. This complex legal climate, combined with the tight regulations, has driven away many foreign sports betting operators from Austria.
Odds Format in Austria
Decimal Odds
Fractional Odds
American Odds
Calculations
Austria-friendly sportsbooks generally support three formats of odds expression, the American moneyline, fractional and decimal odds. The latter are the most broadly preferred format by Austrian punters.
This format is the easiest to understand and work with. If one bookie offers you a price of 1.61 while another one offers odds of 1.45 for the same market, you can instantly see that the first operator provides you with more value.
Another benefit here is that you can immediately distinguish the favorites from the underdogs. The higher the decimal number, the lower the winning probability of the respective outcome.
Finally, it would be easier for you to work out your potential profits from a winning bet with decimal odds. All you have to do is multiply your initial stake by the decimal number. So if you wager €10 on Swarovski Tirol to beat LASK Linz at odds of 1.36, you are in for a potential return of €13.60.
This is your overall return, though, as your initial €10 are included. Therefore, you need to subtract your original stake to arrive at net profits of €3.60.
What You Need to Know About Sports Betting in Austria
Before you dive into betting adventures, you might want to get familiar with the sports betting regulations in Austria. Despite being a European country, its laws are far from being as stringent as the ones imposed in countries like the UK, Norway, Sweden, or Italy. Even though sports betting is a regulated gambling form in Austria, local punters can place bets at both home-based and foreign sportsbooks.
Rather than having a unified legal framework to regulate sports betting on a federal level, Austria has chosen to authorize its nine federal divisions to regulate sports betting on their respective territories. Meanwhile, other gambling forms that have been legalized in the country are regulated under the Austrian Gambling Act, with the regulatory activities falling within the Ministry of Finance's remit.
Each of the nine provinces has its specific licensing rules and regulations, making it a bit difficult to grasp where sports betting is completely regulated. Currently, there are several local sports betting sites that have obtained licenses from Austrian provinces, allowing punters residing in the country to legally place bets on some of the most popular sports in Austria. That said, it is also possible to join an offshore sportsbook if you want to expand your betting choices and shop for better odds. One thing worth mentioning is that sportsbooks licensed by the authorities in Austria are not allowed to welcome punters from other countries.
The reason why Austrian punters can choose to bet at numerous foreign websites is that authorities within the country are still allowing access to offshore betting operators. Since such domains are not blocked by the government and punters can easily make deposits and withdrawals at foreign betting sites, this form of sports betting is still very popular among Austrian punters. Currently, there are no cases of legal actions taken against Austrian bettors who have participated in sports betting on foreign websites. This means that Austrians are free to place wagers on their favorite sports with offshore operators without worrying about any sanctions.
Austria Betting Laws and Legislation
For many years, foreign betting companies were allowed to run their operations in the country alongside domestic bookmakers. This created a confusing situation whereby locally licensed operators had to abide by Austrian laws and were taxed while many of their foreign cousins did not assume such responsibilities.
The local government started to look for ways to encourage local punters to bet on domestic gambling sites. In the autumn of 2012, the Austrian Lotto was awarded a license for online gambling as part of Casinos Austria International.
This mainly influenced casino gaming and did not have much of an effect on Austrians' ability to make sports bets at domestic or international sportsbooks. However, many foreign sites continue to accept action from the country. They are available in the German language, work with the EUR currency, and offer local payment options like Sofort and Giropay.
In August 2018, the government started discussions on amending the Gambling Act to block the domains of offshore-licensed casino sites. This measure does not specifically concern sports bettors. The trouble is many foreign companies operate their casino and poker products via the same platform as their sportsbooks.
The amendment has only been drafted so far. If it passes, locals who were wronged by offshore operators would have the option to seek remuneration under the new rules. It also aims at consolidating the gambling monopoly and shielding Austrian operators from the foreign competition.
Austria Betting Restrictions
Under the individual regulations of the nine federal provinces (Lower and Upper Austria, Vienna, Salzburg, Burgenland, Styria, Carinthia, Tyrol, and Vorarlberg), licensing terms, regulations, and product scope vary significantly.
Each province is free to set up its own rules where sports betting is concerned. Licenses can be obtained both by natural persons and companies. License features differ in the nine Bundesländer depending on their local laws.
As a general rule, licenses can be suspended or revoked when all other forms of penalization have failed. Sports betting operators have the right to appeal the revocation of their licenses before the Regional Administrative Courts of the respective Bundesländer.
Some of the provinces like Salzburg and Vorarlberg permit betting on sports games only. In others, bets on social non-sport-related events like political elections are allowed as well. Many provinces restrict wagering on virtual sports. In Upper Austria and Salzburg, maximum stakes are restricted to the amount of €500.
Many Bundesländer have introduced measures to restrict anonymous sports betting. In such cases, the punters must own and show a personalized customer card for all wagers exceeding a specific threshold (€70 in the province of Carinthia). Vienna restricts in-play betting to end outcomes and partial outcomes only.
The betting companies are taxed at the point of consumption. A 2% levy on stakes is imposed both on landbased and online betting firms. Austrian punters themselves are not taxed on their sports betting winnings.
The local laws of some Austrian provinces require operators to provide punters with the self-exclusion option in the interest of promoting responsible gambling. Of course, the operators are supposed to restrict the access of minors to sports wagering. Only Austrians who are 18 years of age can lawfully bet on sporting events.
Most Bundesländer, including Salzburg, require online betting companies to have their servers on the respective province's territory.
At the moment of writing, local authorities do not block the access to foreign sportsbooks' domains. The transfer of funds is not restricted or blocked by financial institutions and payment processors, either. There are no known cases of punters being sanctioned for participating in unlicensed sports betting.
Online Betting Regulatory Body in Austria
As we previously stated, the legal situation pertaining to sports betting is rather complex in Austria because such activities are not regulated on a federal level. Instead, each of the nine federal subdivisions oversees sports wagering on a local level.
All other permitted gambling activities are subjected to the regulation of the Ministry of Finance under the Austrian Gambling Act.
In August 2019, Lower Austria, one of the nine Bundesländer, submitted a draft that aims to update the current legislation that governs sports betting on a local level, the Law on the Activities of Totalizators and Bookmakers from 1978.
The province is looking to introduce specific regulations on online sportsbooks and landbased betting terminals located in restaurants and tobacco stores. Operators who enter the Lower Austrian market can apply for licenses with two-year validity.
These licenses will enable the bookmakers to offer most forms of betting except for events that are not related to sports, like politics, for example. The legislation update also aims to ensure higher levels of protection for Austrian punters.
The licensees will not be permitted to accept stakes that exceed €350. As for in-play betting, this will be allowed but the punts will be restricted only to results at the end of a half time or a full time. Betting on the next pointscorer or goalscorer will also be possible.
Popular Betting Markets in Austria
Football
Ice Hockey
Handball
Skiing
When Austrian punters are choosing the bookmaker for their online betting endeavors, they might want to check the sports coverage first. As every nation, Austrians also have favorite sports that they will most likely enjoy betting on.
Like most European countries, Austria is also home to numerous football fans, with many of them enjoying placing bets on major football events. What may be surprising to know, however, is that the German Bundesliga is a much more popular league among Austrian punters than the local Bundesliga. Other popular football leagues favorite to many Austrian punters include Erste Liga, and international leagues like Serie A, Premier League, FIFA World Cup, and many more.
Another sport that Austrian punters enjoy to have a flutter on is Ice Hockey. As the sport is considered one of the nation's points of pride, it is common among bettors' favorite betting options online. Austria's national ice hockey league is often preferred by punters but NHL, KHL, and DHL are also leagues that hockey fans in Austria enjoy.
Austrians are also big fans of handball as their national league attracts numerous spectators. The sport is also a popular betting option among a large number of virtual punters who are looking for a fun way to spend their online betting time. In addition to Handball Liga Austria, other popular leagues include Germany's Bundesliga, Champions League, LNH, and many more.
Different wintersports are also very popular in Austria and are often preferred as a betting option by local punters. Skiing is definitely one such sport that can enjoy quite the attention of Austrian bettors, with Alpine Skiing being the most popular bet variation in many sportsbooks. Typical future bets on the sport include betting on the winner of the World Cup for men and women.
While Austria may not be the first country to pop up in your mind when you hear motorsports, it is a nation that has contributed to the sport with a number of amazing racers. This is why it is also a wonderful betting option for many Austrian bettors who are on the lookout for an exciting way to bet some money online. Every year, the country hosts the Austrian Grand Prix in Spielberg, Styria, which is also one of the popular betting options for Austrian punters.
Popular Betting Markets in Austria Summary
Sport
League
Football
Bundesliga, Austria Bundesliga, Erste Liga, Serie A, Premier League
Ice Hockey
ICE Hockey League, NHL, KHL, DHL
Handball
Handball Liga Austria, Bundesliga, Champions LEague, LNH
Skiing
Alpine Skiing World Cup
Motorsports
Austrian Grand Prix
Austria Online Betting Bonuses
Promotions
Match Bonus
Free Bets
Enhanced Odds
Austrians like to punt on international betting sites because they are attracted by the broad range of special offers and promotions available there. New customers from the country can build their sports betting bankrolls by opting in for a welcome bonus.
This is either a match on their first deposit(s) or a free bet. With a free bet, you need to sign up and contribute with a minimum bet on one of the allowed markets. The sum is usually small, either €5 or €10, but it all depends on the respective bookmaker. Sometimes you need to opt in with a valid promotional code or else they will not credit you with a bonus.
Often, there are restrictions on the markets you can use the free monies on. For example, you might be required to use the bonus on Win bets only. Restrictions apply to the minimum eligible odds as well.
The bonuses expire after a certain period so you better check how much time you are granted to use the free money and cover your rollover. Sports bonuses typically must be wagered a given number of times as stipulated in the promotional terms and conditions.
Some sportsbooks exclude payments made with given banking solutions from bonus redemption. If you are uncertain about any of the terms, you better check with the support team for clarification. Otherwise, you might violate a condition and have your bonus annulled.
Austrians who already hold accounts can redeem reload bonuses on subsequent deposits, refer friends for perks, receive cashbacks on some of their losses, and collect points via the sportsbooks' rewards programs.
Mobile Betting in Austria
Mobile Play
Download App
Browser In-Play
Download via QR
Mobile betting is easily the fastest-growing sector of the Austrian sports betting industry. All major bookmaking brands that welcome punts from the country focus on delivering a high-quality experience to smartphone and tablet users.
Some of the biggest sportsbooks provide punters with native apps suited for the iOS and Android platforms. These are available for a free download directly on their websites or via Apple's official application store.
One of the latest trends in mobile betting is the option to access sportsbooks' mobile portal directly via a full-sized version of the desktop website. In our opinion, this is a convenient alternative since it does not require you to waste storage space on your device.
Austria-friendly sportsbooks are highly optimized for mobile use, offering smartphone users the same features and functionalities. More often than not, you have the option to load the mobile version in German, which is especially convenient for Austrians who are not fluent in English.
You can set up the odds in the decimal format from the bet slip's settings. Other great functionalities Austrian punters will benefit from include round-the-clock access to a quality support service, tons of betting markets, in-play wagering, and comprehensive statistics of past results. Armed with all this information, Austrian punters can make the best betting decisions on the fly.
Popular Betting Banking Methods in Austria
Bank Transfer
Credit Cards
E-Wallet
Prepaid Cards
Austria was one of the first countries to become a member of the European Union (in 1995). It was also among the first EU member states to adopt the EUR as a national currency in 1999. Sports bettors from the Alpine country will find this currency in that cashiers of all bookmakers that accept action from Austria.
Deposits and withdrawals are commonly conducted with credit and debit cards issued by Visa and Mastercard. Most operators cover the additional costs associated with payments. Card withdrawals undergo verification when you cash out for the first time or request a larger sum.
You will have to scan the back and front of the card you used and send some copies of an identification document so that the sportsbook can see you are indeed the rightful owner of the card.
Austrian bettors who want to preserve their anonymity and sensitive card information have the option to process payments with popular e-wallets like Skrill and Neteller. There is no need to even own a card to use those but you will have to register for the service in advance.
Alternatively, punters from the country can conveniently use locally available methods like Sofort, Trustly, and Giropay. All of these methods service the Austrian market and are completely anonymous because there is no need to reveal any of your sensitive information.
These are third-party online banking platforms that operate in association with some of the biggest banks in Austria and Germany. Their platforms only serve as mediators between the punter and their bank. With that in mind, you need to have registered for online banking to use such services.
We also suggest you look up the limits on payments and bets that apply in your Austria-friendly sportsbook of choice. Some operators tailor their limits to fit the needs of casual bettors only. Others are happy to cater to professional punters as well by offering higher maximums on deposits and wagers.
Popular Banking Methods in Austria
Payment Method
Fees
Deposit Limits
Deposit Times
Withdrawal Limits
Withdrawal Times
Klarna
Free
Min €5/Max €5,000 per transaction
Instant
N/A
N/A
Visa
Free
Min €5/Max €5,000 per transaction
Instant
Min €10/Max €10,000 per transaction
3-5 business days
Mastercard
Free
Min €5/Max €5,000 per transaction
Instant
Min €10/Max €10,000 per transaction
3-5 business days
Paysafecard
Free
Min €5/Max €5,000 per transaction
Instant
N/A
N/A
Skrill
Free
Min €5/Max €5,000 per transaction
Instant
Min €10/Max €10,000 per transaction
Up to 24 hours
Neteller
Free
Min €5/Max €5,000 per transaction
Instant
Min €10/Max €10,000 per transaction
Up to 24 hours
MuchBetter
Free
Min €5/Max €5,000 per transaction
Instant
Min €10/Max €10,000 per transaction
Up to 24 hours
Rapid Transfer
Free
Min €5/Max €5,000 per transaction
Instant
Min €10/Max €10,000 per transaction
Up to 24 hours
Bank Transfer
Free
Min €5/Max €5,000 per transaction
Instant
Min €10/Max €10,000 per transaction
1-3 business days
What to Watch When Picking Austria Betting Site
Security
Customer Support
Mobile Compatibility
In-Play Betting
While Austrian punters have the opportunity to choose from a wide range of variants when they pick the sportsbook to place their bets with, they need to keep in mind several things. There are a few key factors that can make or break your sports betting experience and it is important to know what to look for when you are choosing the right websites for your needs.
Although the current local regulatory bodies are not imposing any sanctions on Austrian punters who bet on foreign websites, bettors must be careful when choosing the sportsbook to join. One must do their research on the brand and its operating company as well as the licenses it has obtained.
Even if the sportsbook is not licensed by any of the nine provinces in Austria, it is advisable to pick a virtual bookie that has obtained a license by authorities like the Malta Gaming Authority or the government of Gibraltar. These are respected jurisdictions in the iGaming industry, meaning they are making sure their license holders are conducting fair and secure gambling.
Austrian punters have quite a number of supported payment options to use when they bet online. That said, they need to check the solutions accepted by the respective sportsbook as well as their minimum and maximum limits. Credit/debit cards are always a safe choice to handle your payments at interactive sportsbooks but you can also opt for e-wallets, prepaid cards, and various instant banking methods. Another thing to confirm is the speed of transactions and any fees that may incur when initiating deposits or withdrawals.
Naturally, sports coverage is also important when you select the sportsbook to bet with. Make sure all your favorite sports are available in the sports section of the website. It is also worth comparing several sportsbook options as this will allow you to pick the brand with the most competitive odds. To make your betting experience more fruitful and fun, you might also check the available promotions you can redeem. Be sure, however, to carefully read the terms and conditions that apply to each offer before you claim any sportsbook promotion.
Best 10 Betting Sites in Austria
To enjoy a great betting experience, you will need a sportsbook that ticks all of the boxes. Below, we have covered ten wonderful sportsbooks that are perfect for Austrian bettors, fitting all of their betting preferences. The brands we have listed are trustworthy, cover multiple popular sports and ensure a fair and fun betting experience for Austrian betting aficionados.
Win2Day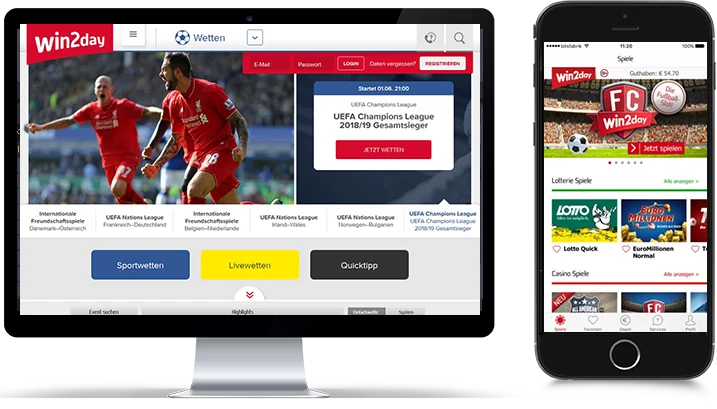 Win2Day is a great sportsbook option for Austrian punters, offering a fun betting experience for its patrons. The operator of the website is the Austrian Lottery (Österreichische Lotterien GmbH) and is licensed by the Ministry of Finance. This ensures that Austrian punters will be able to make their wagers at a properly regulated sportsbook, having peace of mind when they bet online.
The sportsbook offers odds on Austrian punters' favorite sports – football. The bookie allows bettors to place wagers on major football leagues such as Austrian Bundesliga, German Bundesliga, Serie A, and numerous other events of major football leagues. Being a licensed local sportsbook, Win2Dat allows its members to safely make real-money wagers. The payment solutions supported by the website include credit/debit cards, e-wallets, and prepaid cards. This enables punters to handle their Win2Day balance in a hassle-free way and enjoy their betting time with the bookie.
Bookmaker licensed by local authorities
Convenient payment solutions
Offers odds on major Austrian and international football leagues
Provides in-play betting options
Dedicated iOS and Android app
No coverage on other popular sports
Not many sports betting offers
Caters more towards casino and lottery fans
Admiral Sportwetten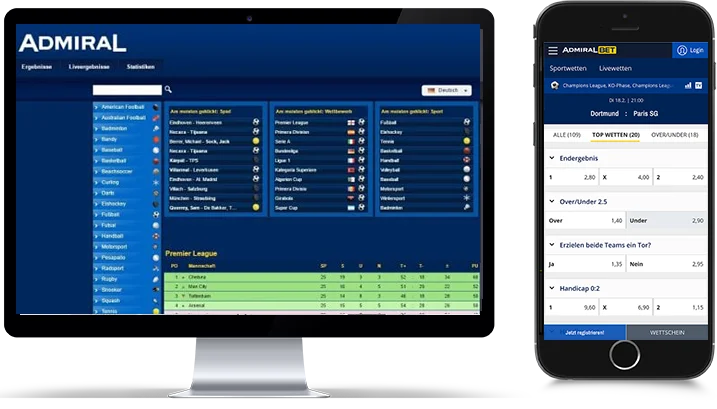 Another great sportsbook choice for Austrian punters who want to bet with licensed operators is Admiral Sportwetten. The betting operator is licensed by the Ministry of Finance, enabling Austrian bettors to legally bet on various popular sports. The bookmaker caters mainly to fans of football, ice hockey, tennis, and basketball. That said, the betting website also offers odds on various internationally popular sports.
As it strives to offer a fair and secure gambling environment, the sportsbook also offers its members to set up deposit limits. That allows every punter to take control over their betting experience and avoid losing the fun factor of sports betting. Credit/debit cards, e-wallets, and bank transfers are among the payment solutions one could resort to handling their deposits and withdrawal at Admiral Sportwetten. All transactions are processed in no time and allow punters to always be on top of their sports bets.
Offers regulated sports betting
Covers various sports
Supports several payment options for both deposits and withdrawals
Offers dedicated betting app
Some sports allow live betting while streaming games
Some users have issues with the app
Mainly covers markets on Bundesliga events
Live streams supported only on selected sports
Bet-at-Home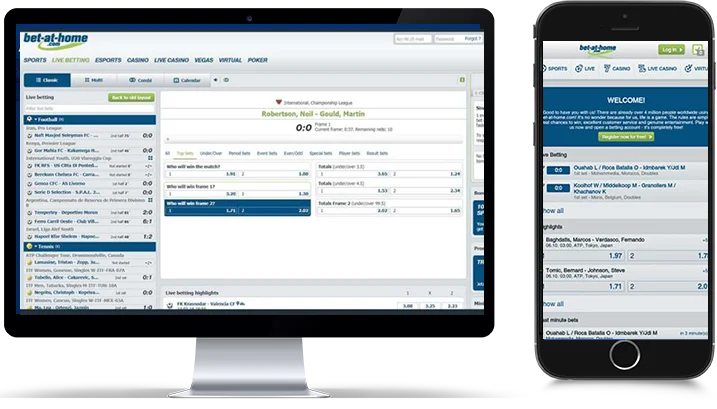 We believe that Austrian punters will also appreciate the betting experience offered by Bet-at-Home. The sportsbook is operated by bet-at-home.com Internet Ltd. and bet-at-home.com Entertainment Ltd., both licensed to operate by the Malta Gaming Authority. This is one of the most well-known and respected jurisdictions in the iGaming industry, ensuring that Bet-at-Home is a legit betting website.
The sports coverage of the bookie is no joke, with punters being able to place wagers on football, basketball, tennis, baseball, and more. Austrian favorites like ice hockey and Alpine skiing are also among the sports covered by Bet-at-Home. Among numerous betting options, the sportsbook also offers live betting on a number of sporting events, making the entire experience more thrilling. As for one's betting balance, members of the bookie can choose from a variety of payment options that enable fast, easy, and secure payments.
Covers some of Austrians' favorite sports
Offers live betting
Supports various payment solutions
Licensed and trustworthy sportsbook
Limited number of sports allow live streaming
Some bonus requirements are tough to be met
Account verification process can be difficult to complete
Tipp3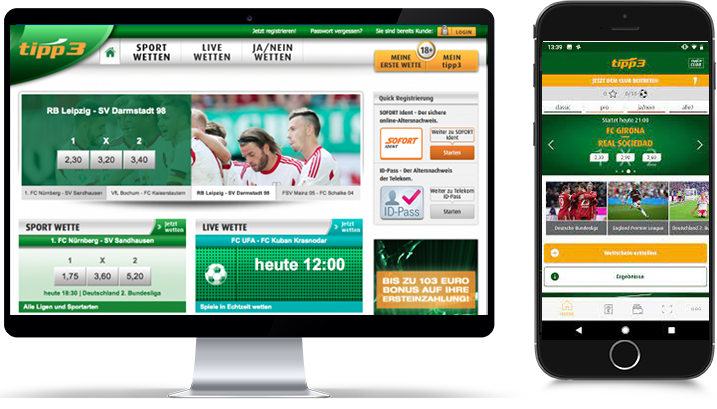 Members of Tipp3 will have the chance to experience a great sports betting time with numerous sporting events to place their wagers on. Tipp3 is a sportsbook licensed to operate exclusively on the Austrian market, allowing local punters to dive into the world of fun betting adventures. As football is the most popular sport in the European country, it is also the category with the most betting options at Tipp3. That said, the bookie also offers competitive odds on a bunch of other sports like ice hockey, Alpine skiing, basketball, and e-sports, to name a few.
The sportsbook has dedicated mobile apps for both Android and iOS users, allowing punters to enjoy a smooth betting experience on the go. Handling one's account is a piece of cake on both the PC and mobile versions of the bookie. Even if there are some issues with one's betting experience, the customer support team is always ready to help.
Licensed by Austrian authorities
Covers various sports
Offers dedicated mobile apps
Supports live betting
Some punters have issues using the app
Focuses mostly on offering football betting options
Cashpoint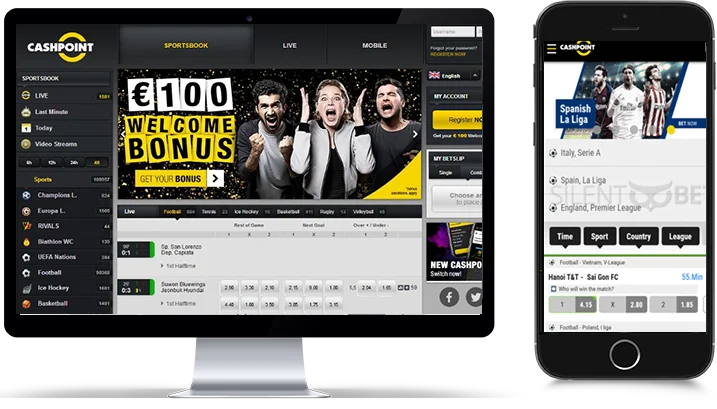 One great option for Austrian punters is Cashpoint, which is a sportsbook that offers competitive odds on a wide range of popular sports. Cashpoint Ltd is the owner and operator of the betting site, holding a license from the Malta Gaming Authority. This is one of the most trustworthy jurisdictions in the iGaming industry, ensuring bettors can have a fair and secure experience at Cashpoint.
Fans of football will be glad to know that they will be able to bet on major football leagues like Bundesliga, Ligue 1, and Premier League. You will also have the chance to place wagers on various other sports like ice hockey, tennis, basketball, and many more. The sportsbook also offers live betting, with some sports even allowing punters to live stream the games they are betting on. The sportsbook supports various payment options that allow fast and hassle-free payments that enable punters to make real-money bets whenever they feel like it.
Great coverage of sports
Dedicated iOS and Android apps
Live betting with live streams of some games
Live streaming is offered on selected events
Sometimes withdrawals may take longer
Reaching customer support may be a bit difficult at times
Betiton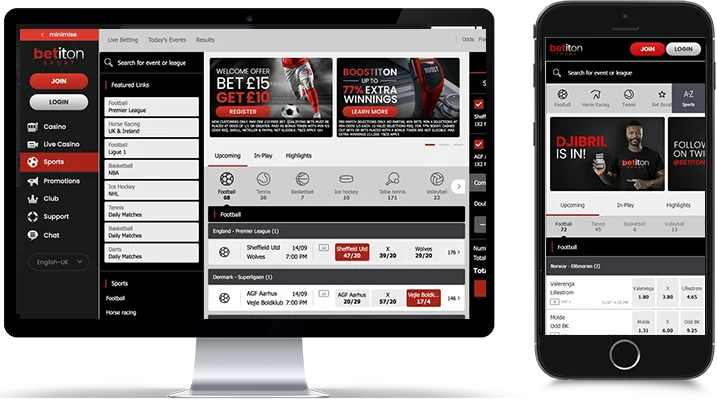 Betiton is a fairly new player on the virtual betting scene but it does offer a wonderful experience for its patrons. The bookie is owned by Sharp Connection Ltd, with the operations on the website being conducted by Aspire Global International LTD, a company licensed by the Malta Gaming Authority, the UK Gambling Commission, and the authorities in Ireland. As it has acquired licenses from several well-respected jurisdictions, Betiton proves it is a trustworthy betting site.
To fit the preferences of different punters, Betiton covers a wide range of sports, with betting markets covering events from major leagues and tournaments. In addition to the wide range of bet options you will be allowed to make use of, Betiton also supports live betting, covering numerous popular sporting events. Unfortunately, the bookmaker does not support a live streaming feature. The sportsbook is optimized to run on various mobile devices, offering a fun betting experience on the go. That said, bettors will need to settle for a browser-based mobile version as there is no dedicated app to download and install on your smart device.
Sportsbook covers a wide range of sports
Offers live betting
Licensed by several trustworthy authorities
Easy navigation on both PC and mobile versions
Low monthly withdrawal limits
Withdrawals may take a long time to be processed
No dedicated mobile apps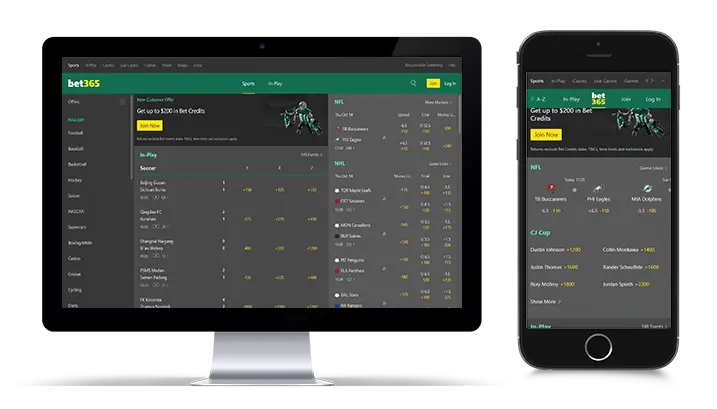 Being one of the biggest betting brands on several major markets, bet365 also welcomes Austrian punters. The sportsbook section covers a wide range of sports, catering to the taste of different types of bettors. The bookie has been licensed to operate in numerous jurisdictions, proven to be one of the most reliable sports betting websites for sports fans. The website has an extremely user-friendly layout, allowing easy navigation. What is more, bet365 offers a dedicated app that can be installed on both Android and iOS devices.
In addition to a wide range of betting markets, bet365 also offers in-play bets. As the bookmaker also streams some of the biggest sporting events, bettors can also watch their favorite games and place bets as the action unfolds before their eyes. To allow punters to handle their funds with ease, bet365 supports a wide range of payment solutions.
One of the biggest sportsbooks, licensed in various jurisdictions
Covers numerous sports and offers a wide range of betting markets
Supports different payment solutions
Offers live streams on major sporting events
Dedicated Android and iOS apps
Account verification process may be too burdensome
Bookmaker can sometimes impose low betting limits
Some users may be denied the cashout option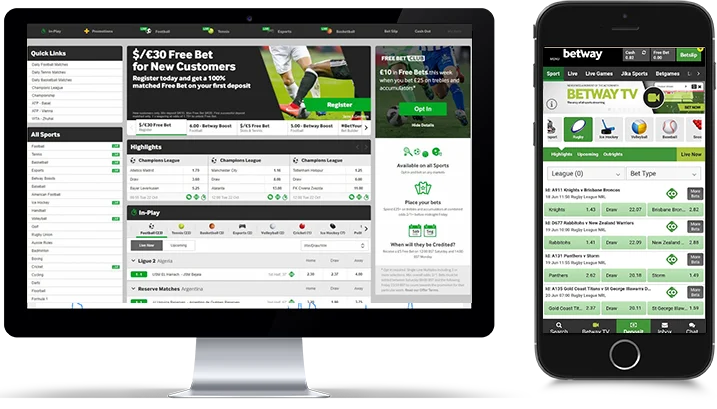 Austrian punters can enjoy a superb experience if they decide to bet with Betway. This is a trustworthy sportsbook that has been licensed to operate in various jurisdictions. The brand's owner, Betway Limited, is authorized to offer sports betting services to its members thanks to a license by the Malta Gaming Authority. This is one of the biggest licensing bodies in the iGaming industry, ensuring its license holders conduct fair gambling.
Betway is a great option for both recreational and expert punters. It covers a vast variety of sports, with odds on some of the biggest football, basketball, ice hockey, and many other sporting events. Live betting is also a great option one could make use of, with the sportsbook also offering live streams on some of the biggest sporting events in the world. To make the betting experience smooth even while bettors are on the move, Betway offers dedicated Android and iOS apps.
Huge sports and betting markets coverage
Dedicated Android and iOS apps
Offers live betting and live streams on some sporting events
Trustworthy sportsbook brand
Communication with live chat support agents may be difficult
Withdrawal time may take longer than stated
Affordability checks may be imposed even on withdrawals that are not that high
Bwin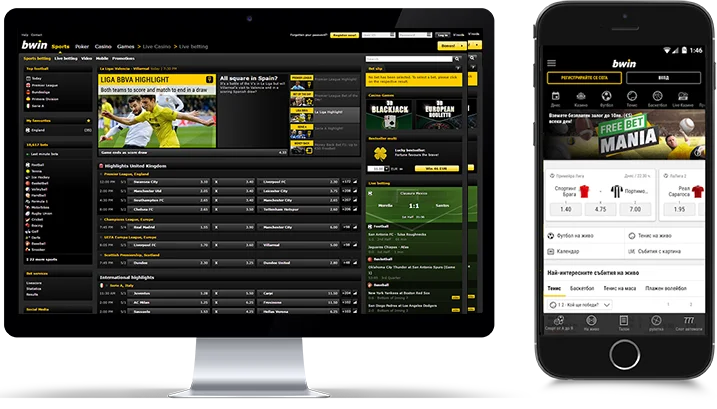 Another brand that can ensure a great betting experience for Austrian punters is Bwin. One thing that many of the sportsbook members appreciate is the variety of sports they can choose to bet on. With numerous betting markets, the bookie offers a myriad of pre-match and in-play options that many would enjoy. ElectraWorks Europe Limited is the company responsible for the operation of Bwin and it is licensed by some of the strictest licensing bodies in the gambling industry.
Thanks to a dedicated mobile app, both Android and iOS users can easily place bets on the go. The app is just as easy to use as the PC version and offers a smooth betting experience no matter where you are. Those who enjoy in-play bets will be glad to know that Bwin also offers live streams on some of the biggest sporting events played internationally. As for the balance of Bwin patrons, the sportsbook supports a variety of payment methods that enable fast, secure, and easy transactions.
Trustworthy licensed sportsbook
Covers numerous sports popular all around the world
Supports in-play betting
Punters can use dedicated Android and iOS apps
Offers live streams of some sporting events
Customer support not available 24/7
Bet limits are imposed quickly on big winners
Live streams are offered on a small number of events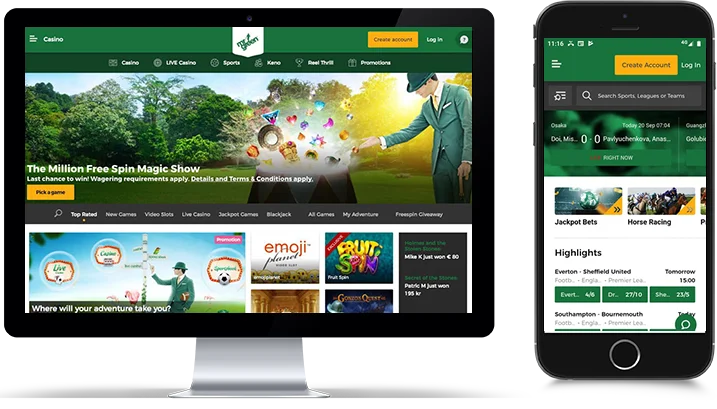 Yet another major sportsbook brand that is also suitable for Austrian bettors is Mr Green. With extensive experience in the sports betting field, the brand knows how to offer top-notch sports betting to its members. The bookmaker is operated by Mr Green Limited which is a company registered in Malta and licensed by the Malta Gaming Authority. This is known to be one of the most trustworthy regulatory bodies in the gambling sector, proving Mr Green is a reliable sportsbook.
One of the strongest points of Mr Green is the huge coverage of various sports that different bettors will enjoy. Every sport offers various betting markets that can make one's betting experience more thrilling and fruitful. The betting site is also offering in-play betting that many punters enjoy. What is more, a dedicated app allows both Android and iOS users to place wagers on the go.
Sportsbook offers a variety of betting options on various sports
Bettors can use a dedicated app for mobile betting
Well-experienced and properly regulated brand
Offers in-play betting
Account verification can be difficult to complete
Sometimes chat support may not be very helpful
Austria Betting Sites FAQ