Finland is one of the countries, which have a state-run gambling sector and the prospects for the feature are that matters are bound to stay that way. Despite the fact that throughout the past few years, Finland faced continued pressure from the EU to relax its grip on gambling, little changes were brought about in the market.
Apparently, the gambling industry in the country continues to flourish as the revenues it brings go over several billion Euros. All forms of gambling are legal in Finland, and the state maintains a firm stance on laws and regulations as there are four regulatory bodies that oversee all kinds of gambling activities.
Since Finlands are quite enthusiastic about gambling, it is hardly surprising that an ever-growing number of operators endeavor to make their way into the Finnish gambling market. As it turns out, there is a profusion of overseas gambling websites, which can co-exist with the traditional state-led gambling operators, thanks to the European Competition Law.
An interesting thing about the gambling industry in the country is that some of the revenues the various forms of gambling deliver are funneled to different good causes, meaning that the industry plays a socially responsible role.
Legalities of Online Sports Betting in Finland
Overview
History
Legalization
Software
Historical Betting Overview
As it turns out, Finland is one of the states that have managed to find the golden mean when the different forms of gambling are concerned. Although the industry is tightly regulated, the revenues continue to reach unprecedented levels.
The claim that gambling has grown to become a preferred pastime for a huge part of the nation is supported by various surveys, which are held throughout the past few years. The figures for 2016 show that more than 80% of the Finns have gambled at least once throughout the year.
Obviously, gambling has been part of Finland's culture since the 17th century. The penal code from 1899 outlawed gambling for a couple of years, and it was not until 1917 when gamblers were no longer thwarted from wagering. The attempts of the state to stave off gambling were discontinued back in the 1920s when it assumed a completely different approach by legalizing state lotteries. The explanation of this is pretty simple as that way, the government aimed to incite gamblers to cease playing with foreign lotteries, and more specifically, the Swedish one. Football pools also saw rapid growth back then, thus laying the foundations of the current gambling environment.
What You Need to know about Sports Betting in Finland
If you are looking for some guidance on the specifics of sportsbook wagering in Finland, then you might find the following lines are informative and handy.
Veikkaus Oy is a government-owned establishment that is solely in charge of providing and regulating gambling activities in Finland. This has been adopted as the most efficient method to curb the possible negative effects of gambling on society in terms of health, economic and social issues. It is a well-known fact that the state utilizes the profits from gambling for causes of social and cultural importance.
All forms of gambling are considered legal in Finland and the minimum age to bet is 18 years. In view of the fact that Finns are quite fond of gambling, a growing number of foreign gambling operators are trying to find their place in the Finnish market and are accepting Finnish punters.
The Finnish government imposes taxes on the gambling revenue accumulated from the operator (Veikkaus), however this does not concern bettors, so they can rest assured that their winnings are not subject to taxes. The European Union is known to exert pressure on Finland, aiming to liberalize the country's gambling laws. However, Finland is reluctant to release its dominance over this industry.
Each of the sportsbooks listed below would be a great choice in terms of markets variety, odds and user-friendliness. Nevertheless, each of them has its strong and weak points, and it is up to you to decide which one fits your sports betting needs best. Top-rated bookies, accepting Finnish punters include 22Bet, bet365, Betsson, Redbet, NordicBet, and 888sport, just to mention a few.
Odds Format in Finland
Decimal Odds
Fractional Odds
American Odds
Calculations
One of the best things about gambling over the Internet is that punters are given the freedom to lay their wagers on various sporting events, which are held almost anywhere in the world. Before they get down to punting on their preferred team or player, gambling enthusiasts should also work out what odds show and how the different ways of displaying their value function.
What Finns should know is that odds will indicate the likelihood of a specific event to come about and therefore, they will be able to figure out what amount a winning wager will return.
The odds format most punters from Finland prefer utilizing is the decimal one, which is hardly a coincidence as it is popular throughout almost all European countries. The straightforwardness of the format is one of the most obvious reasons why gambling enthusiasts might wish to opt for it as they will be able to easily figure out, which stake will bring them better value.
Punters who would like to give their potential profit a look-over simply need to multiply the value of the odds by the amount they intent on wagering. Hence, as long as sports bettors are presented with odds of 2.65 and they decide to put on the line $100, a correct pick will bring them $265.
Finns who prefer to gamble at any of the overseas sportsbooks will notice that most of them support fractional and American odds as well. Fractional odds will show the ratio of punters' potential gains to the amount they have ventured. As for American odds, their greatest peculiarity is that the odds of the supposed underdog are posted with a positive sign before them, while the odds of the supposed winner can be discerned by the negative sign before them.
An important thing to keep in mind is that all formats indicate one and the same thing, meaning that there will not be any difference in terms of payouts.
Finland Betting Laws and Legislation
The gambling market in Finland has undergone various changes, and the first law, which introduced momentous alterations to the gambling landscape in the country was the Lottery Act from 1966. Its scope covers all kinds of gambling. It lays down provisions not only on lotteries but also on casinos and sportsbooks. Essentially, the Lottery Act of 1966 set up the regulatory framework of Finland's legislation, which has to do with gambling. In addition to this, it provided a description of the different forms of gambling.
RAY was the entity that was responsible for providing gambling services in land-based casinos. Veikkaus Oy was accountable for sports betting and the national lottery, as well as all instant-win games. Fintoto Oy, on the other hand, was the operator responsible for horse racing. Back in 2017, Finland's gambling system has undergone some changes, which resulted in the merger of these three operators. This merger led to the establishment of Veikkaus, which is the only gambling company, which is owned by the country. The Aland Islands, which is an autonomous part of Finland, have their own gambling operator, PAF. These operators are also referred to as the three-for-one structure.
The fact that Finland's legislation needs a shake-up became apparent back in 1993 when the first attempts for reform were made. A couple of years elapsed before the changes were introduced as the Lottery Act from 2001 provided that gambling-related activities can be run only with a license, issued by the licensing authority. All changes the act presented entered into force in 2002 and in practice, PAF and RAY became the two providers of online gambling services.
That way, the country attempted to protect all individuals who take part in gambling, regardless of its form. In addition to this, in this way, the country guaranteed its monopoly over different gambling-related activities.
As it seems, the government in Finland and the EU butt heads quite often due to the fact that the country has overly restrictive measures in place. Still, Finland has retained its position that when the different forms of gambling are heavily regulated and are subject to strict control, punters are less likely to have gambling addictions.
Presently, the Act on Lotteries is subject to a reform and its new version is expected to become effective at the end of 2019 and the beginning of 2020, thus dealing with the public outcry.
Finland Betting Restrictions
Considering the control the country has over gambling, it is only natural that there are certain restrictions punters need to comply with. One of the first things Finns should be aware of is that according to the legislation of the country, they will only be allowed to gamble if they are 18 years old. What many Finns might be happy to find out is that they are not required to pay any taxes on the winnings they will accumulate while wagering online. Still, the only exception remains the winnings they will amass when wagering on lotteries. Gambling operators, on the other hand, will end up paying 8.25% of their net profit.
With the changes Finland's legislation saw back in 2017, Veikkaus became the only provider that is authorized to offer sports betting, lottery games, casino games, and poker. That being said, the Act on Lotteries, which is the most momentous piece of legislation in the country, does not forbid overseas gambling operators to provide their services to Finns. Hence, online sportsbooks should not encounter any obstacles to deliver their services to punters who are based in that territory.
As mentioned above, PAF is an operator that is situated in the Aland Islands, which is a sovereign province. Although it has the permission to organize games on the territory of the province and overseas, it is prohibited from offering its markets to punters who are based in Finland's continental side.
Online Betting Regulatory Body in Finland
Finland remains a place where the government does not go out of its way to ensure that things do not look good only on paper, but also that operators and punters abide by all regulations and provisions. The regulatory body, which is responsible for the supervision of all gambling-related activities is the National Police Board, and more specifically, its gambling administration department.
One of its core responsibilities is to ensure that gambling operators do not infringe the legislation of the country. As long as an operator is found to function against the law, the board will order it to discontinue its operations. Additionally, the board also has the authority to impose fines if other less serious malpractices are found out.
In fact, gambling enthusiasts who have any questions, which have to do with gambling might find the website of the National Police Board extremely useful. There, they can find information about the Finnish gambling system and policy, as well as various other useful information on the topic.
Popular Betting Markets in Finland
Football
Ice Hockey
Skiing
Basketball
Taking into consideration that responsible gambling can be a very positive way of recreation, and that Finns are great fans of sports, it goes without saying that wagering on sports events is among their favorite pastimes.
In terms of television viewership and on-site attendance figures, ice hockey in Finland is the most popular sport. Finnish punters can opt for a number of leagues for their wagers. The SM-liiga is the first men's national ice hockey league and the top professional league in the country. Mestis is the second-ranking native league. Others include Suomi-sarja, Naisten Liiga, Naisten Mestis, etc.
Football's popularity in Finland is of course high as all over the world, and some of the native leagues that Finnish bettors may be interested in are: the Veikkausliiga, operated by the Finnish national betting agency, the Ykkönen, which is the second-ranking in the Finnish football league system, and the Kakkonen, which is a third-level league comprising 36 Finnish football teams.
Pesäpallo is considered to be the national sport in Finland, although it is known in several other countries as well. Its rules are very similar to that of baseball and that is why the sport is often referred to as Finnish baseball. Superpesis is the native top-tier championship series, while Pesäpallo World Cup is played internationally every three years.
As with other northern, ice-capped countries, Finland thrives on snow and ice, and winter sports such as figure skating, skiing, snowboarding, ice swimming, and ice karting are universally liked and followed both in terms of sport and wagers.
Last but not least, basketball offers Finnish bettors yet another thrilling option for wagers. Korisliiga is Finland's native, top-ranking basketball league, where 12 teams altogether play 22 season games.
Popular Betting Markets in Finland Summary
Sport
Leagues
Ice hockey
SM-liiga; Mestis; Suomi-sarja, Naisten Liiga, Naisten Mestis
Football
Veikkausliiga, Ykkönen, Kakkonen, UEFA European Championship
Pesäpallo
Superpesis, Ykköspesis, Maakuntasarjat, Pesäpallo World Cup.
Winter Sports – figure skating, skiing, snowboarding, ice swimming, ice karting, etc.
The Finnish Figure Skating Championships ; the World Figure Skating Championships; The FIS Alpine World Ski Championships; Winter Swimming World Championships; FIS Ski jumping World Cup.
Basketball
Korisliiga; the FIBA Intercontinental Cup; EuroLeague, EuroCup.
Finland Online Betting Bonuses
Promotions
Match Bonus
Free Bets
Enhanced Odds
Finns who have grown bored of using the services of Veikkaus might be keen on the idea to give any of the overseas bookies a chance. One of the most obvious reasons why lovers of sports betting might not frown upon gambling at such bookies is that they tend to shower punters with various perks and exclusive deals.
Such sportsbooks offer nearly all sorts of special deals for gambling aficionados to enjoy, thus allowing punters to get some extra value for the money they will transfer to the bookie. Welcome bonuses are extended by just about any web-based bookie as such promotions are a great way to hit the ground running when you are new to the gambling website. Although this might not always be the case, taking part in such promotional offers involves uploading a specific amount to your account and providing specific bonus code.
Still, sign-up offers are available in all shapes and forms as sports bettors might also be presented with no-deposit bonuses or risk-free bets upon registration as this depends on the bookie they are wagering at.
Gambling enthusiasts should not be left under the impression that Finland-friendly gaming websites attempt to satisfy the demands only of its new users. The majority of the proper online bookies tend to reward their regular customers with free bets, cashbacks, reduced juice on certain markets, referral bonuses, or reload bonuses, among others.
Although most special deals seem to be extremely alluring at first glance, gambling enthusiasts should never leave their terms and conditions unnoticed. First off, punters should be aware that there might be requirements about the minimum odds at which they need to make their stakes. Another essential thing Finns should not omit to check out are the turnover requirements of the bonus they plan on redeeming and the timeframes within which it will expire. On some occasions, there might also be restrictions as to the maximum amount they can cash out after getting the bonus.
Mobile Betting in Finland
Mobile Play
Download App
Browser In-Play
Download via QR
Although many Finns might already be aware of that, the gambling industry in the country is growing at a fast phase, and it does help that individuals who are based in the country are quite enthusiastic about their betting adventures.
Claims that wagering on sports over the Internet is a minor interest cannot be further from the truth, especially when Finland is concerned, as the advances in technology made that way of entertainment even more popular. Today, Finns can easily keep on wagering on the teams, players, or sports they like even when being outdoors as the majority of the bookies offer either downloadable apps or browser-based apps, thus providing their users with access to the markets they wish at all times.
Sports bettors who enjoy the idea to gamble through their mobile devices are not advised to make rash decisions as to which bookie to join as there are certain features they should invariably pay attention to beforehand. First off, Finns should be satisfied that the mobile version of the bookie they have joined has all special features its desktop counterpart has in place. What makes proper mobile bookies stand out from the crowd is that they allow their users to handle their financial transactions without any hassle.
Another thing good Finland-friendly sportsbooks have in common is that they give their users access to an extensive range of bonuses and special deals. The look and feel of these gaming websites are not less important as sports bettors should be satisfied that they will be able to maneuver and to interact with the bookie in a trouble-free manner. What Finns should not forget to ascertain is that they will be allowed to go for in-play betting, to make use of stats, or to watch the majority of the events even when accessing the bookie through their touchscreen device.
Popular Betting Banking Methods in Finland
Bank Transfer
Credit Cards
E-Wallet
Prepaid Cards
Regardless of their location, gambling enthusiasts want to have the full confidence that they will be able to carry out their financial transactions in a worry-free and prompt manner. The good news is that Finns can rely on a nice range of payment methods whenever they wish to upload funds to their account or to request a cashout, thus having the chance to immerse themselves in their sports betting adventures without a care in the world.
Just like in most other parts of the world, debit and credit cards are exceptionally popular with Finnish punters as well. Typically, Mastercard and Visa cards enable deposits and cashouts, and they can be found at nearly every interactive sportsbook. The fact that this payment method guarantees top-level security and instantaneous transactions makes it a viable banking solution when gambling online.
Gambling aficionados who are indisposed to hand their banking details to operators might want to give paysafecard a try. The unmatched security levels this payment processor maintains are achieved thanks to the fact that deposits through it are carried out using the unique code of the voucher. That way, the need to expose your personal or banking details is eliminated.
The convenience digital wallets make for appeals to many Finns as more and more punters prefer them over the other payment methods bookies accept. Neteller and Skrill are likely to measure up to the expectations of sports bettors because they ensure instantaneous deposits and speedy withdrawals of smaller and rather substantial amounts alike.
Trustly is positively the payment method Finns are accustomed to using and fortunately, it is accepted by a huge number of web-based bookies, which welcome punters from that geography. What makes it so convenient is that when making payments through it, sports bettors will have their funds deducted straight from the balance of their bank account.
Popular Banking Methods in Finland
Payment Method
Fees
Deposit Limits
Deposit Times
Withdrawal Limits
Withdrawal Times
Visa Debit
No fee
Min €5,00/Max €40.000,00 per transaction
Instant
Min €5,00/Max €30.000,00 per transaction
1-5 working days
Maestro
No fee
Min €5,00/Max €40.000,00 per transaction
Instant
Min €5,00/Max €30.000,00 per transaction
2-5 working days
Mastercard
No fee
Min €5,00/Max €40.000,00 per transaction
Instant
Min €5,00/Max €30.000,00 per transaction
3-5 working days
Trustly
No fee
Min €10,00/Max €6.000,00 per transaction
Instant
N/A
N/A
ecoPayz
No fee
Min €5,00/Max €20.000,00 per transaction
Instant
Min €5,00/Max €20.000,00 per transaction
Within 12 hours
Paysafecard
No fee
Min €5,00/Max €1.000,00 per transaction
Instant
Min €5,00/Max €2.500,00 per transaction
Within 24 hours
Bank wire
No fee
Min €100,00/Max €150.000,00 per transaction
2-10 working days
Min €10,00/Max €50.000,00 per transaction
2-10 working days
Cheque
No fee
Min €150,00/Max €70.000,00 per transaction
5-28 working days
Min €150,00/Max €70.000,00 per transaction
5-28 working days
Neteller
No fee
Min €10,00/Max €1.000,00 per transaction
1-2 minutes
Min €20,00/Max €10.000,00 per transaction
1-10 minutes
Skrill
No fee
Min €10,00/Max €1.000,00 per transaction
1-2 minutes
Min €20,00/Max €10.000,00 per transaction
1-10 minutes
What to Watch When Picking a Finnish Betting Site
Security
Customer Support
Mobile Compatibility
In-Play Betting
If you are new to the world of sports betting, then you should consider several important aspects, in order to enjoy a thrilling and hassle-free experience.
First of all, if you are a citizen of Finland, and you would like to explore the world of sports betting, then you should make sure that the operator accepts punters from your country.
As far as payments are concerned, the Euro is supported by all bookies, so you would not have any problems related to additional currency conversion expenses. Do not forget to check the available promotions, the relevant conditions, as well as the payment and withdrawal methods, offered by the sportsbook. Withdrawal times may vary, but with most operators, you should expect a timeframe of approximately 24 hours.
Odds are most commonly present in three main formats – decimal, fractional and American. The odds format that is predominantly preferred by Finnish punters is the decimal one.
Another important feature to take into consideration when you are making a choice of a sportsbook is the variety of sports markets and bet types on offer. Depending on your preferences, you might be in search of a widely popular sport such as football, basketball, and ice hockey, a native one, such as Pesäpallo, or even a niche one, such as bandy.
Another telltale sign of a good sportsbook is the presence of a live chat functionality, and other forms of contact such as an e-mail and a telephone number. A quick, friendly and responsive customer care department is of vital importance, whenever punters need a piece of advice or some quick resolution of an issue.
Best 10 Betting Sites in Finland
Making a choice of the right sportsbook, especially for first-time and inexperienced bettors, is of utmost importance, if you would like to enjoy a seamless and stress-free betting experience. In order to provide you with assistance in this process, we have complied a listing of 10 top-tier operators, accepting punters from Finland, along with a short description of their strong and weak points, plus some special features.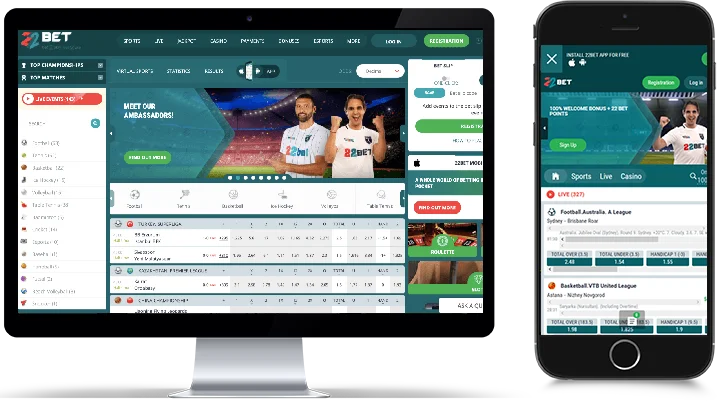 From the popular and universally liked ice hockey, football, basketball, and Formula 1 to eSports, and many others, 22Bet has an unlimited range of betting markets, as well as endless possibilities of bet types, such as single bets, accumulators, chains, and multi bets.
Picking a betting line is as easy as pie, even for inexperienced punters, as they are neatly organized and presented in a table.
Although the license issued by the government of Curaçao might not be regarded as the most prestigious one in the industry, 22Bet is surely a trusted and reputable provider of online betting services, featuring a high rating in terms of users' reviews.
A plethora of in-play markets and a wide range of additional bets
Good returns both for top events and smaller leagues
24/7 customer support
User-friendly interface
A relatively new sportsbook. Nevertheless, reputable and trustworthy
No live streaming service
License by the government of Curaçao, which holds little weight, however, there are no serious complaints published by other punters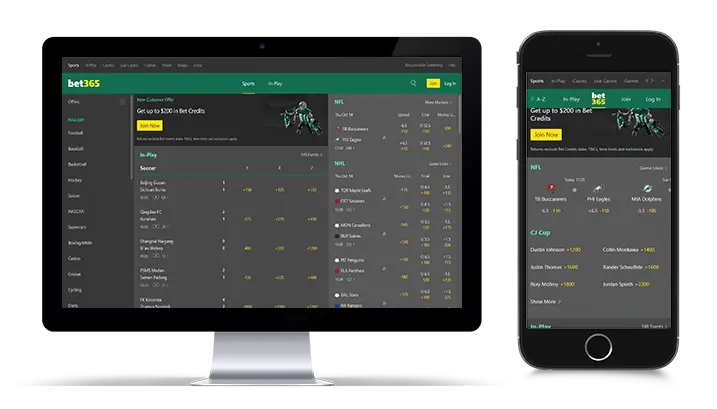 One of the market leaders, bet365 has certainly a lot to offer to Finnish punters. Their favorites such as ice hockey and various winters sports are decently presented in this sportsbook.
The live betting feature is a major advantage to begin with. The live streaming is also of exceptionally good quality. Yet another privilege that punters get from betting with this bookie is the early cash-out feature, allowing them to settle a bet early.
Both in terms of deposits and withdrawals, the sportsbook provides various options to pick from.
Avid bettors are thrilled with the ease and convenience that the sportsbook's mobile applications offer.
Live betting
Smoothly-running mobile apps
Easy and stress-free withdrawal process
Competitive odds and a plethora of wagers to choose from
Reported to lose coverage when streaming some of the less-known markets
Cluttered web design
Occasional limitations of user accounts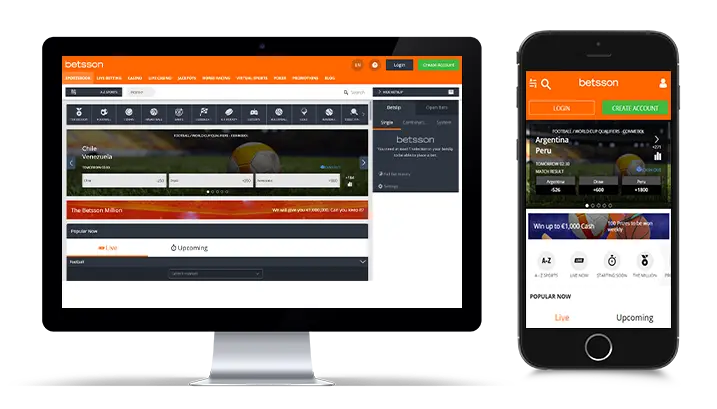 With an ever-growing number of active customers, Betsson is another brand that may appear appealing to Finnish punters. Their claim to trustworthiness and reliability is backed by winning the Swedish Gambling Awards in 2020.
Some nice pros worth mentioning are the statistics and live score features of the bookie. The statistics section covers a wide range of sports, including ice hockey, basketball, Formula 1, and Pesäpallo.
Betsson are known to build their brand not only on a quality betting experience, but also on great customer care service, aimed at reaching complete customer satisfaction. The sportsbook offers live chat a functionality, contacts via e-mail, telephone number, as well as 'request a call back' option.
Formed back in 1963, undoubtedly, among the global market leaders
Available in over 10 languages, one of which is Finnish
Live betting and statistics covering a wide range of sports
State-of-the-art security, ensured by SSL Encryption Technology
Fewer payment options in comparison with other sportsbooks
Fewer payment options
Lack of competitive sporting market odds. Esports odds are quite appealing though.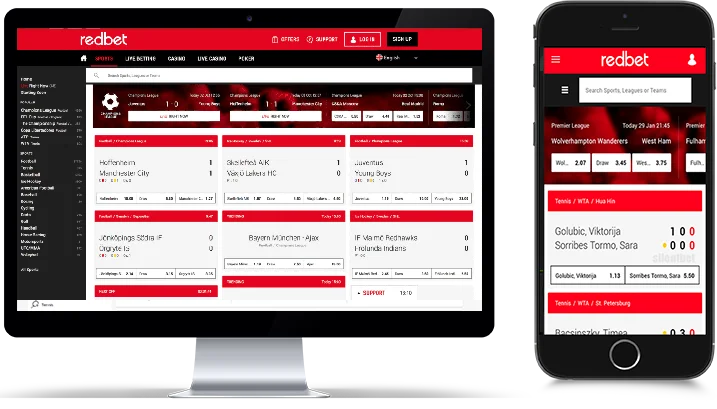 Founded back in 2002, Redbet went online two years later.
Finnish punters would surely be thrilled by the fact that ice hockey is among the sports, enjoying top coverage by Redbet. Leagues from all over the world receive decent coverage. Bettors who establish an account with Redbet will find that they have a great choice between world championships such as the NHL and the Alps Hockey league, as well as native Finnish leagues such as SM-liiga, Mestis, Suomi-sarja, etc.
The live sports betting feature of the bookie encompasses a good number of sports including football, tennis, basketball, eSports, ice hockey, and floorball, among others. Additionally, the upcoming events are covered by the 'Starting Soon' section of the website.
The live sport betting section offers a great diversity
Licenses both by the United Kingdom Gambling Commission and the Malta Gaming Authority
Neat, uncluttered design
Mobile-friendliness
Withdrawal issues experienced by some bettors
Verification procedures sometimes take too long
Occasional suspension of accounts on some users
NordicBet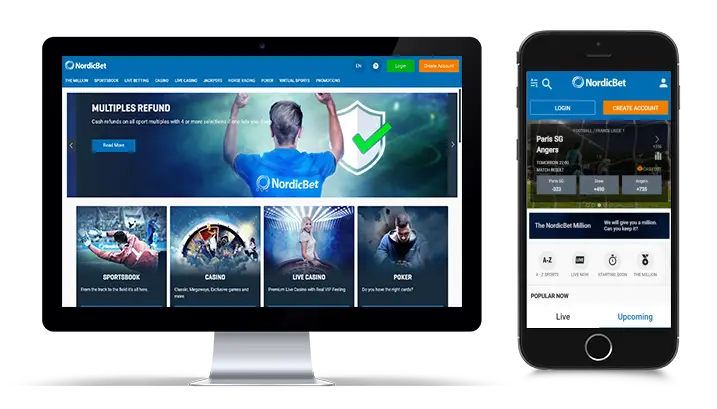 A top-notch provider of online sports betting services, NordicBet has been on the market since 2002. With an extensive portfolio of over 35 sports markets to choose from, NordicBet delivers competitive odds, live streaming, and a great live betting section. Its mobile apps are highly rated by users as well.
The sportsbook provides extensive coverage of sports events and leagues in Finland, including football and ice hockey. However, the sportsbook is gradually expanding its portfolio of available markets.
Licensed by the Maltese, Danish, and Swedish gambling authorities, the sportsbook offers its punters online security and legitimacy.
When it comes to complete customer satisfaction, customer service is a major must, and NordicBet will not disappoint you, as it is available 24/7.
Competitive odds on football and basketball, as well as all Scandinavian leagues
Extensive coverage of Pesäpallo and Bandy
A pre-match betting section with over 40 sports
Customer support round the clock, accessible via phone, e-mail, and live chat
Lack of greyhounds wagers
Live streaming available only for a few sports
Deposits via Neteller and Skrill do not qualify for a welcome bonus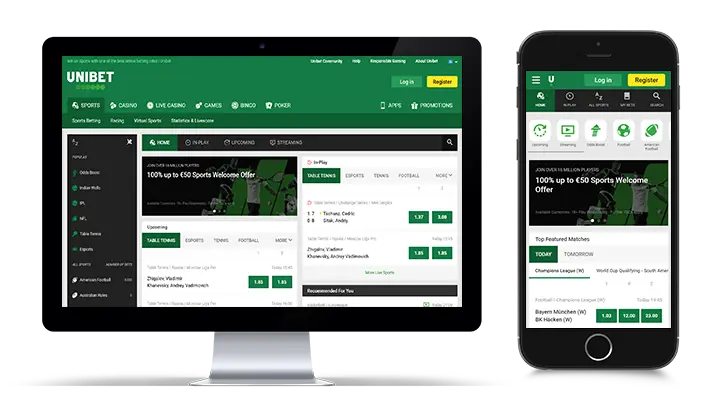 A top-notch provider of online sports betting services, NordicBet has been on the market since 2002. With an extensive portfolio of over 35 sports markets to choose from, NordicBet delivers competitive odds, live streaming, and a great live betting section. Its mobile apps are highly rated by users as well.
The sportsbook provides extensive coverage of sports events and leagues in Finland, including football and ice hockey. However, the sportsbook is gradually expanding its portfolio of available markets.
Licensed by the Maltese, Danish, and Swedish gambling authorities, the sportsbook offers its punters online security and legitimacy.
When it comes to complete customer satisfaction, customer service is a major must, and NordicBet will not disappoint you, as it is available 24/7.
Mobile betting of exceptional quality
Live streaming and betting features
Worry-free navigation of the website, due to its clean, uncluttered design
Great abundance of markets, even for niche sports
According to some forum posts, winning bettors are limited
E-sports streaming is not provided
Customer support over the phone is no longer provided
Betsafe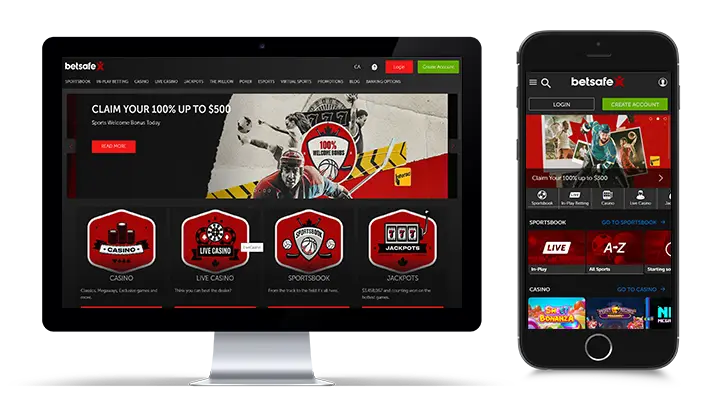 Launched in 2006, Betsafe serves the gambling needs of over 450 thousand punters around the globe. Bettors will surely appreciate the sleek black, red and grey design of the website. The product is also quite informative, providing useful information on statistics and live scores, as well as the users' individual bet history.
If you get a kick out of wagering on football, ice hockey, other winter sports, basketball, or some other lesser known markets, then you will be satisfied with the abundance and competitive odds that Betsafe has on offer.
Customer service reps can be reached via e-mail, phone, and live chat.
Offers in-play betting, much sought-after nowadays
A page, exclusively dedicated to horse racing
A Bet Builder feature
Entirely mobile-friendly; apps available too
Live streaming functionality is only applicable for e-Sports
Betting odds for less popular markets need improvement
Withdrawal issues experienced by some users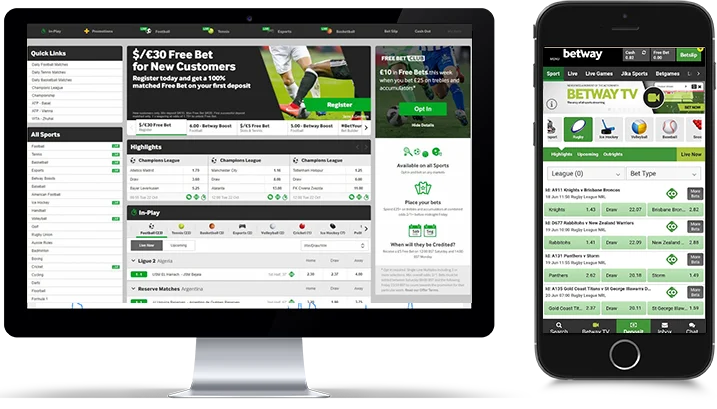 Featuring an exclusive, easy-to-navigate user interface, Betway is among the global leaders in the sports betting market. The provider is dedicated to customer satisfaction, in every aspect imaginable. Licensed by the two most prominent authorities in the gambling market – the United Kingdom Gambling Commission and the Malta Gaming Authority, the sportsbook provides peace of mind and security to its users.
Punters are giving high marks both to the website and the mobile versions of the sportsbook. Betway offers its users a wealth of sports markets to choose from, and also a separate e-Sports section.
Other important advantages of the bookie include customer support service of the highest level, as well as fast payouts.
Easy-to-navigate user interface
Blog section providing tips and news
In-play and live action betting feature
Fast payouts
A rather shaky start, which is however left in the past
Limiting winning bettors
Weekly withdrawal limits imposed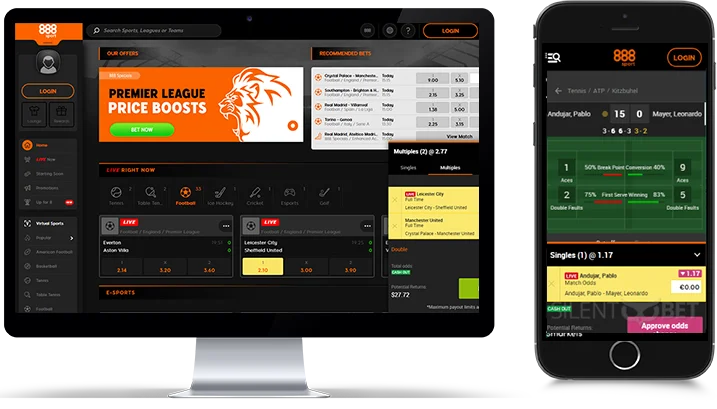 Established back in 2008, 888sport is among the most trusted and reputable brands in the betting market. Bettors are free to choose amongst a good variety of payment and deposit methods, plus the added convenience of fast payouts.
The pre-match and in-play markets are very well presented in this sportsbook. The live betting section of the bookie is abundant in markets from all over the world.
As far as withdrawals are concerned, these may take from a few hours to several days, depending on the chosen method. A 24/7 customer support service in several languages is yet another advantage of the bookie.
A well-established and trusted brand
A variety of deposit and withdrawal methods
A wealth of pre-match and in-play betting markets
A bet-builder option
The live chat service is not easy to access
Loading times of the website and mobile app can be slow sometimes
A lack of request-a-bet feature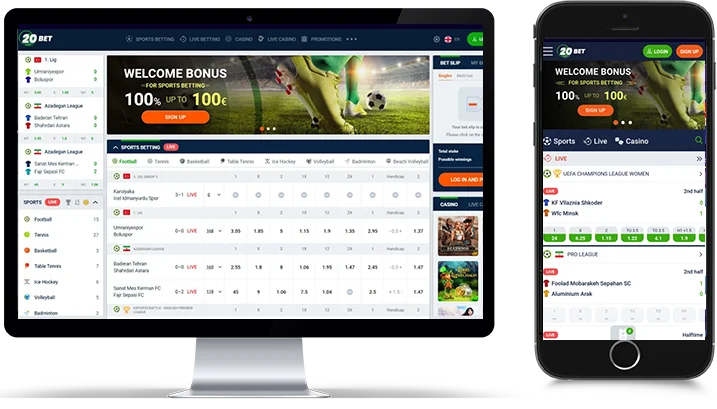 What makes 20Bet stand out from the rest of the providers in the betting industry is their genuine dedication to providing a variety of betting markets, security both in terms of deposits and withdrawals, and last but not least, a customer service of great quality.
Taking into consideration the growing popularity of e-Sports, 20Bet is sure to answer your highest expectations in terms of quality and quantity. Live betting and streaming are offered for the e-Sports section.
Other features that make 20Bet a prominent brand in the betting industry include the cash-out feature, as well as the forecast and results sections of the website.
Competitive odds both for popular and minor leagues
An abundant portfolio of in-play options
Extensive FAQ section and 24/7 customer support
The sportsbook offers American, fractional, and decimal odds formats
Lack of a bet builder feature
Live streaming service and statistics are not provided
No dedicated telephone line for customer support
Finland Betting Sites FAQ