Japan is located in East Asia on five main islands and ranks eleventh in the world by population. Its relief is predominantly mountainous, and with over 125 million citizens, it is among the most densely populated countries. The land of the rising sun captivates people from all over the world because of its rich history and fascinating culture, which are meticulously intertwined with state-of-the-art technological innovations, and remarkable economic growth.
Various sports are popular among the Japanese, and sports betting is one of their preferred sources of entertainment and recreation. Japan's national sport is Sumo, however, many other disciplines garner much interest such as baseball, football, tennis, golf, and horse racing.
Apart from the population's active interest in various sports, it is important to note that Japan has hosted several major sporting tournaments over the years, including the 2002 Soccer World Cup and the 2019 Rugby World Cup.
In view of the above-mentioned facts, it may come as a surprise that gambling in Japan is only partially legal. There exist considerable restrictions in comparison with other countries. At present, only certain types of public sports betting, lotteries, and pachinko are regulated.
In the following lines, we strive to provide comprehensive and detailed information regarding the specifics of sports betting in Japan. We will cover the historical and legal aspects of the topic, as well as important information about bonuses and promotions, payment methods, and reliable sportsbook operators.
Legalities of Online Sports Betting in Japan
Overview
History
Legalization
Software
Historical Betting Overview
Japan has an enthralling culture and gambling and sports betting have been an integral part of it over the centuries. In the dawn of gambling's evolution in the land of the rising sun, it was immediately embraced by a large number of the population, due to the thrill and diversion that it delivers. The Japanese were exceptionally ingenious when it came to ideas of interesting wagers including cockfights, dice games, and horse races.
The first Japanese leader who introduced a gambling-related pastime back in the 8th century was Emperor Tenmu. He fancied a game, whose rules were quite similar to those of present-day Backgammon. Later on, the next leader banned the game. Gradually, gambling's popularity rose to unprecedented levels and led to the emergence of professional gamblers who were especially fierce.
The 13th century marked the ban on gambling in Japan, due to the ever-growing cases of robberies, fights, and killings. Ordinary people and even some samurais faced the possibility of an exile and even a death sentence by execution if they were caught in the act of gambling.
Later on, in the 18th century, the authorities realized that in spite of the strict measures, their attempts to curb gambling activities proved futile. Consequently, they introduced two forms of betting – light and larger wagering. The first form was the lawful one, and it led to the introduction of an even greater number of gambling games.
Another form of gambling that was introduced in Japan by the Portuguese in the 16th century was a card game, whose rules were similar to that of Blackjack. Pachinko and mahjong are other widespread forms of gambling in Japan.
There have been many efforts during the 20th and the 21st centuries to legalize casinos, until Japanese legislators passed the Integrated Resort Casino bill in 2018. According to it, three casinos, acting as integrated resorts are to be established in three cities where the Japanese will be allowed to bet up to three times per week.
What You Need to Know About Sports Betting in Japan
At present, sports betting is partially legal in Japan. Horse racing, bicycle racing, also known as keirin, powerboat racing, and motorcycle racing are the sports that are legally approved for placing wagers. Additionally, certain Japanese Football Pools are also legal. Japan allows only pari-mutuel forms of betting and they are regulated by the state.
The word pari-mutuel derives from French and means "mutual betting". This form of betting places all bets of a certain type in a pool, and as opposed to fixed-odds betting, the final payouts are determined when the pool is closed. Pari-mutuel betting is suitable for sports that feature a comparatively short duration.
In order to operate these forms of sports betting, certain licenses are necessary and they are granted only to state-governed entities. Furthermore, online sports betting is restricted to the same four sports, and consequently, Japanese punters are left with additional limitations.
In spite of the complicated circumstances of the present-day sports betting industry in Japan, there are plenty of offshore sportsbooks that accept Japanese punters. Those operators provide Japanese bettors with numerous opportunities to place fixed-odd bets on their favorite sports such as baseball, football, tennis, and golf. Other sports which are popular are horse racing, sumo, and boxing. Offshore operators are not based in Japan and consequently, they abide by the laws of their relevant licensing jurisdiction.
Odds Format in Japan
Decimal Odds
Fractional Odds
American Odds
Calculations
A great number of Japan-based punters prefer the Decimal odds format and that is not surprising, as it is simple to grasp and quite convenient when it comes to comparing odds offered by different bookmakers. The formula for calculating the potential winnings involves multiplying the stake by the odds. The result includes the initial stake and the payout received from the punter in case the bet proves to be successful.
For example, if a punter makes a stake of $10 on a given sports event at odds of 1.85, the potential payout would be $18.50. The payout includes the initial stake of $10 and the potential net profit amounting to $8.50.
Decimal odds of 2.0 obviously yield a payout that is twice the wagered amount and there is a 50% probability that a certain sports prediction is going to take place. While odds smaller than 2.0 have a higher implied probability of success, they return a profit that is less than the stake.
Converting Fractional odds to Decimal is done by simply dividing the fractions and adding 1. For instance, in order to convert fractional odds of 5/2 into decimal odds, bettors need to divide 5 by 2 and then add 1, which results in 3.5.
Japanese-friendly sportsbooks also offer the American odds formats. Switching between the formats is done usually with a single click.
Japan's Betting Laws and Legislation
Article 185 of the Japanese Penal Code currently prohibits gambling in the country, apart from bets on sources of "momentary amusement" or the four public sports that are approved for legal wagers. The licenses to operate the public sports, as well as the public lottery, and the Japanese Football Pools are granted solely to governmental organizations.
Under the provisions of the above-mentioned article, individuals who are caught in the act of gambling are penalized with up to ¥500,000. Gambling is interpreted as an activity where more than two individuals wager on the final outcome of a contest of chance. So, the implication here is that the outcome is out of the individuals' control and depends solely on chance.
Article 186, Section 2 of the Penal Code provides measures against those who offer gambling in land-based premises and obtain profits from running them. The legal punishment is imprisonment for not less than three months and no more than five years.
The Japanese tax legislation imposes taxes on horse racing wagers provided that they exceed ¥500,000 on an annual basis.
Japan Betting Restrictions
Chapter 23 of the Penal Code in Japan imposes prohibitions on most forms of gambling, with several exceptions including wagers on government-governed horse racing, certain bicycle and motorcycle competitions, and powerboat races. Public lotteries and pachinko are also included in the list of permitted gambling activities.
The selected government-approved sports are restricted to the pari-mutuel system of betting, allowing punters to place bets into common pools. In fact, this system is utilized in many other countries where the standard fixed-odds system of betting is prohibited by law.
Following the passage of the Act for Development of Specified Complex Tourist Facilities Areas on 27 July 2018, Japanese legislators permitted the building of private integrated resorts (IRs) in three designated locations across the country. The Japanese will be allowed to visit these resorts up to three times a week and they will have to pay an entrance fee amounting to ¥6,000, aiming to curb potential gambling addictions.
Online Betting Regulatory Body in Japan
Japanese governmental or municipal authorities are the institutions that are in charge of operating and regulating online betting activities which are considered legal in Japan. These include horse racing, motorcycle races, bicycle races, and motorboat races.
The same authorities are responsible for the operation and regulation of these sports betting activities in land-based establishments. There have been some continuous negotiations for legalizing sports wagers on football and baseball but still, there are no laws passed in this respect.
More specifically, the Japan Horse Racing Association is a public company that has been appointed to operate and manage horse races, betting establishments, and horse-training facilities. It is in turn overseen by the Ministry of Agriculture, Forestry, and Fisheries.
Motorcycle races and bicycle races are supervised by the Japan Keirin Autorace Foundation. Initially, the two sports were governed by two different institutions. Bicycle races were under the authority of the Nihon Jitensha Shinkōkai, while motorcycle races were managed by the Nihon Kogatajidōsha Shinkōkai.
The fourth public sport, motorboat racing, is overseen by the Nippon Foundation. The latter was set up with the help of the Japanese Motorboat Racing Law, and the gambling revenue is utilized in order to support other sectors.
Popular Betting Markets in Japan
Football
Tennis
Volleyball
Basketball
Japan has played host to a number of major sports tournaments over the years and its population has an avid interest in quite a lot of sports. Below we will examine several sports which are much favored in Japan, the possible bet markets associated with them, as well as some of the top leagues and tournaments.
Baseball was introduced in Japan in 1872 and ever since has enjoyed a sensational interest and following with over 45% of the population defining it as a favorite discipline. The highest-ranking level of the game in Japan is the Nippon Professional Baseball (NPB) founded in 1950 and consisting of 12 teams. The NPB consists of two leagues-the Central League and the Pacific League.
Apart from their native baseball league, Japan-based bettors who register with offshore bookmakers will be able to place bets on the top-tier Major League Baseball (MLB). Among the possible baseball bet markets are 1×2, handicap, run in inning, most runs in inning, even/odd, first run, first runs and win, both teams to score runs, etc.
As in most parts of the world, soccer is zealously favored in Japan as well. The Japan Professional Football League was established in 1992, boasting many accomplishments in the Asian championships and a lot of star players. Japan-based bettors will be able to find an unsurpassed variety of native and international football leagues to place wagers on.
The top tier of the Japan Professional Football League is the J1 League. Other championships giving Japanese punters great chances for diversion are the Asian Football Confederation Champions League, the FIFA World Cup, the UEFA Champions League, to name just a few. The assortment of football bet types is substantial-1×2, total goals, 1×2 1st half, total goals-1st half, both teams to score, 1st goal, double chance, draw no bet, spread (3 way), correct score, half time/full time, and many others.
In spite of the fact that Japan is popular with its densely populated cities, tennis courts are very commonly encountered there and are a great source of fresh air amid the bustling city life. The authority that is in charge of overseeing both professional and amateur tennis in Japan is the Japan Tennis Association (JTA). Including men's singles and doubles competitions, the Japan Open is part of the ATP Tour 500 series.
Other international tennis tournaments providing Japanese bettors with chances to wager on their favorite sport are the ITF Men's World Tennis Tour, the Wimbledon, the US Open, the Australian Open, etc. Among the most popular tennis bet types are the moneyline, the match bets, handicap bets, over/under, exact score, and others.
Horse racing in Japan, also known as Keiba, is operated and overseen by the Japan Racing Association and the National Association of Racing. The top-ranking horse racing tournament in the country is the Japan Cup. Other Grade I horse races are the February Stakes, the Tenno Sho, Tokyo Yūshun, and the Yushun Himba. There are plenty of bet options for wagers on horse racing events such as the single, double and treble bets, trixie and accumulator bets, etc.
With more than 2,300 golf courses and 10 million golfers in Japan, the sport has been integrated into Japan's business culture, and the country has many accomplishments and prizes from world championships. The Japan Golf Tour is one of the most outstanding golf tournaments in the world. Japan-based punters may also choose the PGA Tour and the European Tour for their betting experience. Except for the standard to win bet types, punters may also opt for futures bets, proposition bets, as well as in-play bets.
Popular Betting Markets in Japan Summary
Sport
Leagues
Baseball
Nippon Professional Baseball (NPB); Major League Baseball (MLB);
Football
The Japan Professional Football League (J. League); J1 League; J2 League; J3 League; the Asian Football Confederation (AFC) Champions League; FIFA World Cup; UEFA Champions League; UEFA Europa League; English Premier League, etc.
Tennis
The Japan Open; ITF Men's World Tennis Tour; the Wimbledon; the US Open; the Australian Open, etc.
Horse racing
The Hanshin Juvenile Fillies; The Asahi Hai Futurity Stakes; The Oka Sho; The Satsuki Sho; The Yushun Himba; The Kikuka Sho; The Takamatsunomiya Kinen; The Mile Championship; The Osaka Hai; The Queen Elizabeth II Cup; The Japan Cup; The Arima Kinen; The February Stakes; The Nakayama Grand Jump, etc.
Golf
The Japan Golf Tour; the PGA Tour; the European Tour, etc.
Japan Online Betting Bonuses
Promotions
Match Bonus
Free Bets
Enhanced Odds
Sports betting operators accepting Japan-based punters offers wide assortment of bonuses, some of which are explicitly targeted at newly-registered punters, while others are designed to build a network of loyal patrons.
As soon as punters deposit funds into their accounts for the first time, they are eligible to receive the welcome bonus, offered by many sportsbooks. This is a one-off incentive tailored specifically to newly-registered bettors. Welcome offers have usually minimum amounts that are clearly defined, and the related terms and conditions state the number of times the bonus funds need to be wagered. Sportsbooks also determine the minimum odds of the markets that are eligible for the offer, as well as its validity period.
Free bets are awarded once a qualifying bet is settled. The qualifying bets have minimum amounts stated, and sometimes promo codes are required. Rollover requirements vary across different sportsbooks and the promotions are limited to certain periods. Punters need to note that winnings deriving from free bets do not include the stake.
Many sportsbooks have different loyalty programs, as well as cashback, and reload bonuses, which may also provide bettors with great chances to boost their bankrolls. Reload bonuses are granted when punters top up their accounts. Some of the bookmakers offer lucrative reload bonuses and they can be claimed more than once. Cashback bonuses are also quite a common incentive, whereby bettors place lower-risk bets. In case the whole stake or part of it is lost, it will be partially returned, usually in the form of a free bet.
Mobile Betting in Japan
Mobile Play
Download App
Browser In-Play
Download via QR
Taking into account that Japan is among the world leaders in terms of technological advancement and innovations, it is not surprising that its population widely embraces mobile betting. Bettors are free to place wagers on their favorite sports tournaments no matter the time or place.
All Japan-friendly sportsbooks allow punters to place bets via a mobile device of their choice. The websites can be loaded in the mobile web browser of iOS and Android-powered mobile devices and they offer the same promotional offers and features as their desktop counterparts. Bettors do not have to download additional software in order to place bets while on the go.
Many of the sportsbooks develop native apps both for iOS and Android phones and tablets. No matter if bettors access the bookmaker's website via their PC or a mobile device, they will have access to all of the promotional offers. Live betting is also not limited to desktop devices and allows punters to place bets while their favorite games are streamed, thus making the betting experience even more thrilling.
Japan-based bettors should also take into consideration that some sportsbooks have specific bonuses that are targeted especially to bets placed via mobile devices.
Popular Betting Banking Methods in Japan
Bank Transfer
Credit Cards
E-Wallet
Prepaid Cards
Besides using the standard debit and credit cards options to make deposits, Japan-based punters may opt for other payment methods such as wire transfers, various pre-paid solutions, virtual wallets, cryptocurrencies, and others.
A viable payment option through a credit card for Japan-based punters is the JCB. The ease of use of this method is one of its main advantages, as well as the instantaneous deposits that it allows. Withdrawals usually take from 3 to 5 business days. There are no limitations on the minimum and maximum amounts by the credit institution itself, but there are such usually set by the bookmakers. VISA is yet another credit card payment solution used worldwide.
A growing number of punters prefer to make online payments and receive funds via digital wallets and MuchBetter is a great option for Japan-based sports betting fans. Apart from the cutting-edge security technology, employed by this brand, it also features fast deposit and withdrawal times. Minimum amounts to deposit and withdraw are usually set to $10,00, while the maximum varies between $4,000 and $15,000.
IWallet is yet another electronic wallet solution, whereby the minimum amounts to deposit and withdraw are the same as those of MuchBetter, while the maximum amounts are limited usually to $5,000. Other e-wallet solutions that are available all over the world and allow quick deposits and withdrawals are ecoPayz and MiFinity.
Deposits via cryptocurrencies are another possible option featuring instant and fee-free transfers. Bitcoin and Ethereum payments are processed immediately, while cashouts may take up to 48 hours.
Allowing seconds-long deposits, AstroPay is a method preferred by many bettors. It makes the management of funds easy and hassle-free and there is no need to reveal one's banking information.
Popular Banking Methods in Japan
Payment Method
Fees
Deposit Limits
Deposit Times
Withdrawal Limits
Withdrawal Times
JCB
No fees
Min $10,00/Max vary across sportsbooks
Instant
Min $10,00/Max vary across sportsbooks
3-5 business days
VISA
Depends on the betting site
Min $10,00/Max $50,000.00
Instant
Min $10,00/Max $50.000,00, vary across sportsbooks
1-7 business days
Mastercard
Depends on the betting site
Min $10,00/Max $50.000,00
Instant
Min $10,00/Max $50.000,00
1-6 business days
MuchBetter
Depends on the betting site
Min $10,00/Max $15,000
Instant
Min $10,00/Max $15,000
Up to 24 hours
iWallet
No fees
Min $10,00/Max $5,000
Instant
Min $10,00/Max $5,000
2-3 business days
ecoPayz
Depends on the betting site
Min $10,00/Max vary across sportsbooks
Instant
Min $10,00/Max vary across sportsbooks
Up to 48 hours
Revolut
No fees
Min $10,00/Max $5,000
Instant
Min $10,00/Max $5,000
Up to 24 hours
Bitcoin
No fees
Min $10,00/Max vary across sportsbooks
Instant
Min $10,00/Max vary across sportsbooks
Up to 48 hours
Ethereum
No fees
Min $10,00/Max vary across sportsbooks
Instant
Min $10,00/Max vary across sportsbooks
Up to 48 hours
MiFinity
Depends on the betting site
Min $10,00/Max $5,000
Instant
Min $10,00/Max $5,000
Up to 48 hours
AstroPay
No fees
Min $10,00/Max $10,000
Instant
Min $10,00/Max $10,000
Up to 24 hours
What to Watch When Picking a Japanese Betting Site
Security
Customer Support
Mobile Compatibility
In-Play Betting
Bettors on the lookout for safe and reliable Japanese-friendly online bookmakers should make careful research before signing up to an operator. Sportsbooks usually include the logo of the institution that has provided them with a certificate at the bottom of their websites.
Punters are also advised to check if the selected sportsbook allows transfers in Japanese Yen, as this will save them additional conversion expenses. Another great perk would be the availability of the sportsbook website in Japanese.
Checking the bonuses and promotions that the selected sportsbook offers is important, but what is of greater essence is checking the related terms and conditions. The promotional offers may sound quite appealing, but if there are terms and conditions attached to them that are simply too high and demanding, their value is momentarily reduced.
As Japanese bettors prefer the Decimal odds format, it is always a good idea to check if the selected sportsbook offers it. Our selection of bookmakers predominantly employs the three most popular odds formats – the Decimal, Fractional, and American, and switching between them can be done in a matter of seconds.
A versatile range of sports, leagues and bet markets is another sure sign for a great betting experience. Our selection includes bookies that have impressive sports catalogs, including premier sports tournaments, and less known niche markets.
Top-tier sportsbooks offer customer service that is in line with the best global practices, delivering comprehensive and in-depth information, preferably 24/7.
Best 10 Betting Sites in Japan
Having covered important aspects such as the popular betting markets and odds types, bonuses and promotions, mobile betting solutions, and banking methods, we will now focus on 10 premier providers of sports betting services that accept punters from Japan.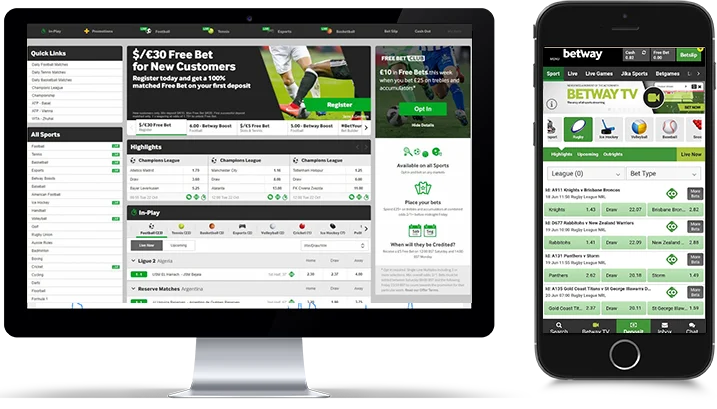 Betway has been at the forefront of the sports betting scene since 2006. The bookmaker has been authorized by several gambling institutions, including the Malta Gaming Authority.
As an operator with quite a long experience, Betway offers competitive odds. With an impressively diverse sports catalog, the bookie delivers punters with numerous possibilities for bet types and sports leagues. Whether you are a fan of football, tennis, basketball, horse racing, or boxing, Betway has everything needed for a completely satisfying betting experience. In-play markets are also in abundance and the live-streaming quality is of great value. Bettors will also find a decent choice of eSports.
The mobile version of the sportsbook provides all the great features and functionalities of the PC counterpart, as well as a user-friendly interface. Whether you use an Android or iOS mobile device, you will be able to quickly manage your wagers, no matter the time or the place.
Incredible variety of pre-match and in-play bets
Cashout feature
Live streaming
eSports available for betting
Some punters define the live chat service as slow and not helpful
Withdrawals take more than 5 days to process
The app is running slowly at times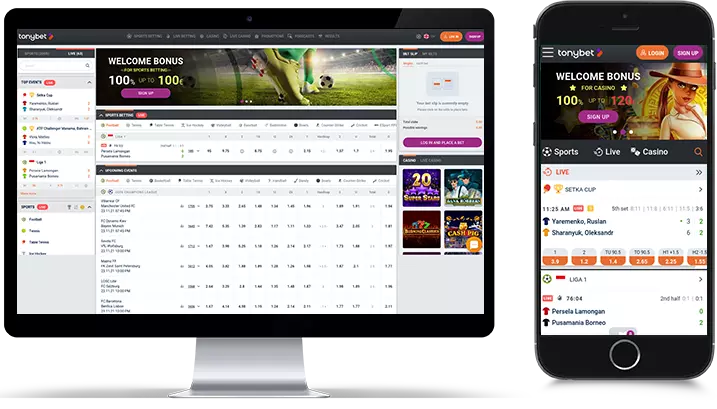 Established in 2009, TonyBet delivers punters with some of the best odds available on the sports betting market. Thanks to its commitment to delivering the best customer service, the sportsbook has become one of the safest and most trusted operators. TonyBet is also dedicated to the constant expansion of its sports markets, so it caters to the needs and preferences of all punters.
The sportsbook offers a decent variety of credit and debit card payment options, as well as several e-wallets solutions that are much sought-after by present-day punters. The Bet Slip conveniently visualizes all outstanding bets and their potential payouts.
Bettors are free to choose between the Decimal, Fractional, and American odds formats.
Apart from the informative FAQ section and the extensive betting rules section, the bookmaker offers a live chat service 24/7. The customer service reps are friendly and able to resolve customers' issues in a fast and professional manner.
An impressive live betting library
User-friendly interface
A variety of major sports and several niche sports
A safe and trusted operator
Live streaming is not supported
No Bet Builder feature
No phone line for customer support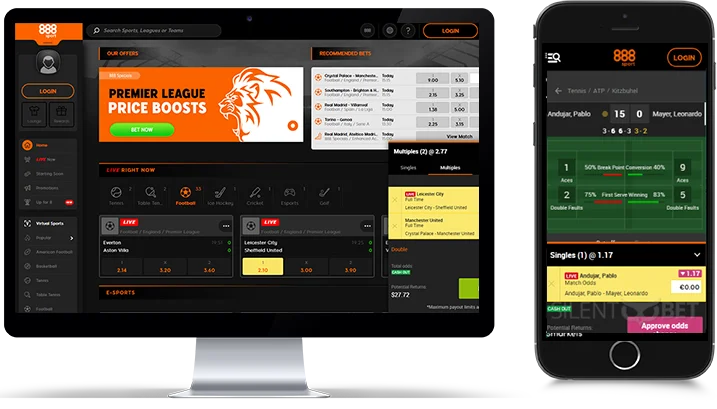 One of the best choices that Japan-based punters can make while researching their options for a trusted online sports betting operator is 888sport. It has been successfully operating since 1997. The brand delivers a broad variety of pre-match sports markets, as well as in-play betting options. The sports catalog of the bookmaker includes football, basketball, tennis, horse racing, boxing, cycling, baseball, darts, ice hockey, and many other disciplines.
The operator has taken the time and the efforts to build a useful and extensive section dedicated to betting guides, betting rules, and real-time sports news. Thus punters are able to make bet choices that are based on reliable information. Due security measures are taken to ensure a completely safe and problem-free betting experience. The website is mobile-compatible and all bet markets and features are available for betting on the go.
A long record of dependability
Licenses by the UK Gambling Commission, the Malta Gaming Authority, and the Government of Gibraltar
Decent variety of in-play betting
Mobile responsive website
Live chat and telephone customer service are not available round the clock
Withdrawals by some punters took a week
Winning bettors are sometimes limited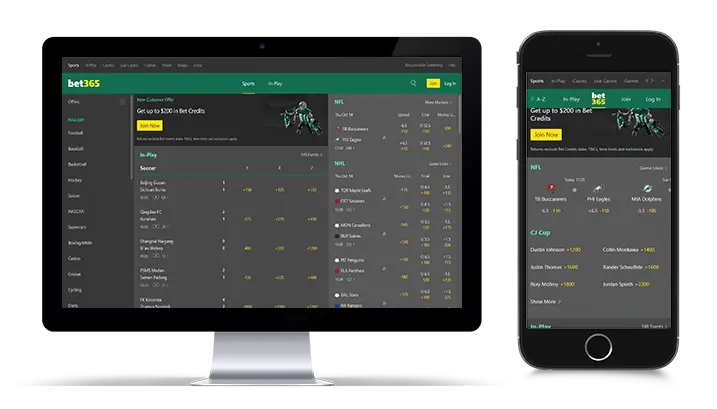 The sports catalog of bet365 is of impressive proportions, including much sought-after betting markets on basketball, football, eSports, greyhounds, horse racing, tennis, volleyball, and many others. The variety of in-play markets is remarkable as well.
The sportsbook offers early payout offers on many sports events, including matches from the NFL and the NBA. There is also the convenient Bet Builder feature, allowing punters to select various bets and then combine them into a single bet. Bet365 allows up to 12 selections in order for the punters to build a single unique bet.
The Cash out feature is yet another handy functionality permitting bettors to claim their winnings at any point of the game they decide, without having to wait for the resolution of the sports event. Once this feature is selected, bets can be partially or entirely cashed out.
An impressive portfolio of sports
A variety of in-play markets
Good quality of the live streaming service
Bet builder feature
Cases of blocked accounts of some users
Live streaming is only available for punters with funded accounts
Payouts sometimes take too long to be processed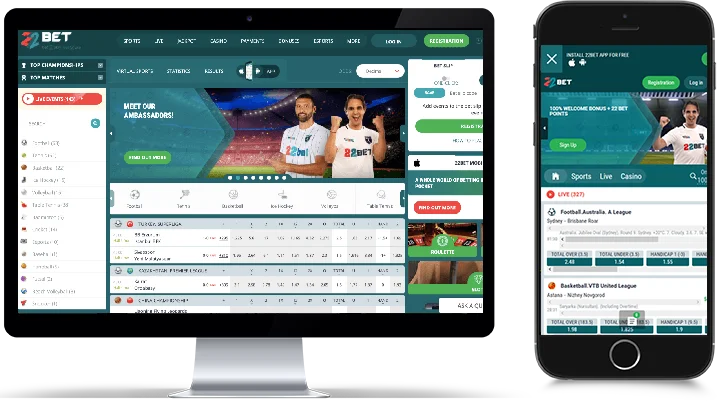 Undeniably one of the leaders in the sports betting market, 22Bet has been delivering an exceptional quality of service to its customers since the very start of its operation. If you are looking for an operator with an extensive range of pre-match and in-play markets, attractive bonuses and promotions, and excellent customer service, then look no further than 22Bet.
The virtual sports section of 22Bet features a great diversity and sharp quality of the graphics. Equally spectacular is the variety of bet types that are offered. For example, in-play football bets that are available for wagers include 1×2, total, double chance, Asian total, Asian Handicap, next goal, even-odd,3way total, team to score the next goal, and many others.
There are also convenient statistics and live result sections, allowing bettors to find out more about their favorite sports markets and use the available information to achieve a rewarding betting experience.
Wide array of bet markets with competitive odds
An extensive list of deposit methods
A variety of channels to reach customer support
The website is supported in Japanese
A limited live streaming service
The website sometimes loads a bit slowly
There is no Bet Builder feature
BetVictor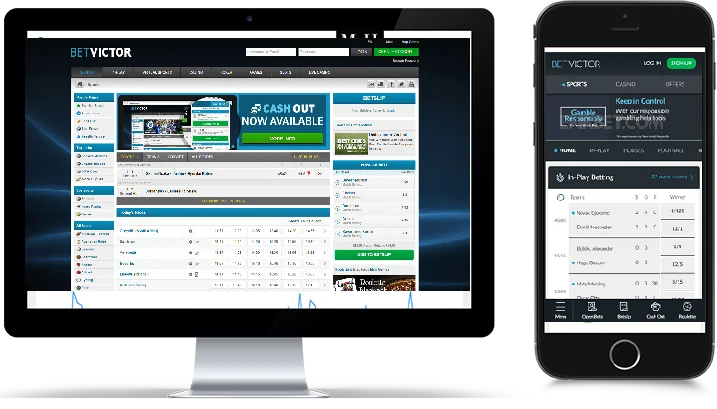 Should you be in search of a well-known and secure sports betting brand, BetVictor is surely one of the best possible choices. With competitive odds and a wide array of pre-match and in-play markets, BetVictor provides the perfect sports betting environment.
The selection of sports disciplines includes football, basketball, tennis, horse racing, greyhounds, boxing, rugby, American football, and many others. The bookmaker is also dedicated to the constant improvement of its sports catalog, both in terms of quality and quantity.
Fans of football are treated to a variety of major tournaments such as the Premier League, the Champions League, the Europa League, the Bundesliga, etc. The mobile app has been developed with attention to the smallest details, providing bettors with an unparalleled mobile betting experience.
BetVictor supports a couple of great, innovative features such as the Cash Out feature, and the Sports Betting Calculator, allowing bettors to work out the best sports betting odds.
A well-known and trusted brand
Competitive odds for a lot of sports
User-friendly mobile betting app
Cash out feature
Limited live streaming choices
Some users are dissatisfied with the customer service
A limited selection of e-sports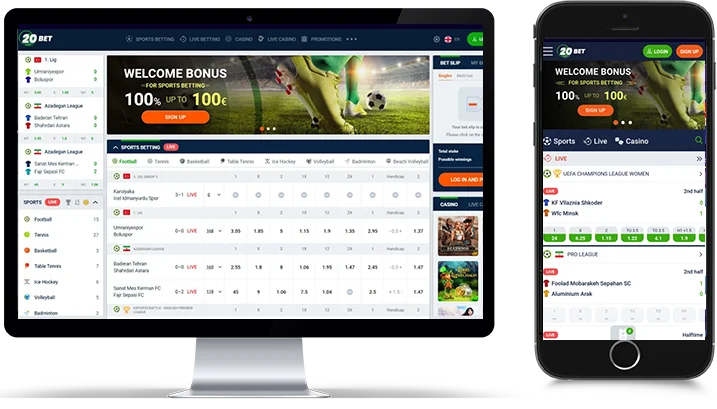 Established in 2020, 20Bet is among the relatively new bookmakers on the sports betting market. It is one of the most secure and trusted operators. With a diverse sports catalog and lucrative odds, the brand has won thousands of loyal patrons over the short period of its online existence.
Major championships and leagues are very well arranged and provide punters with a smooth betting experience. When it comes to available football sports leagues, bettors will have numerous options to choose from, including the FA Cup, The UEFA Champions League, the English Premier League, the German Bundesliga, and many more. As for the available bet types, they are equally diverse- 1×2, over/under, handicap, both teams to score, etc.
The in-play markets are equally varied and allow bettors to enjoy a thrilling betting experience in parallel with watching their favorite games.
Plenty of leagues and bet markets
A variety of payment solutions, including several e-wallets and cryptocurrencies
Sports VIP Program
The Japanese Yen is among the possible currencies
Live streaming service is available only for registered users
Multiple verification procedures upon withdrawals
There is no phone line dedicated to customer service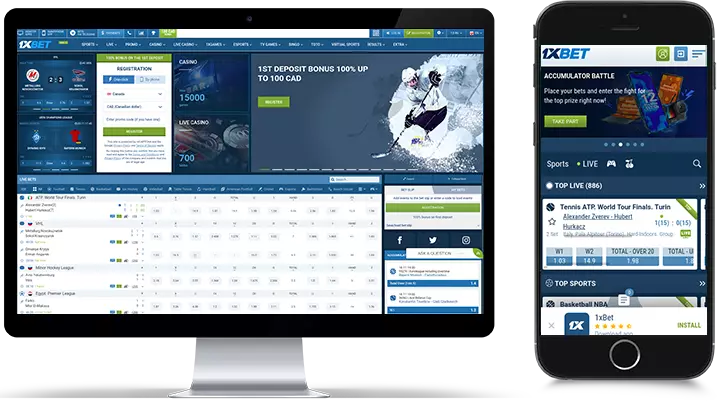 With a successful presence of over 10 years in the sports betting industry, 1xBet is among the most renowned brands accepting Japan-based punters. They will be able to find a great diversity of their favorite sports such as baseball, football, tennis, and horse racing. The live section stands out with an exceptional quality of the streaming, and the available in-play markets would definitely meet the highest requirements.
The sportsbook has a lot of bonuses and promotions, both for its newly-registered bettors and its loyal customers.
More than 60 languages are supported and Japanese is one of them. Punters may choose between several odds formats-American, Decimal, Fractional, Hong Kong, Indonesian, and Malaysian.
The sportsbook offers more than 40 options for payment via cryptocurrencies that are widely preferred by bettors nowadays because of the unrivaled level of security they provide.
A great variety of championships for most sports
Bet Builder feature
Live section and in-play markets covering many events
Numerous payment methods
Some customers report issues with the processing of their bets
Reported cases of dissatisfaction with the customer support
Some bettors had issues with their deposits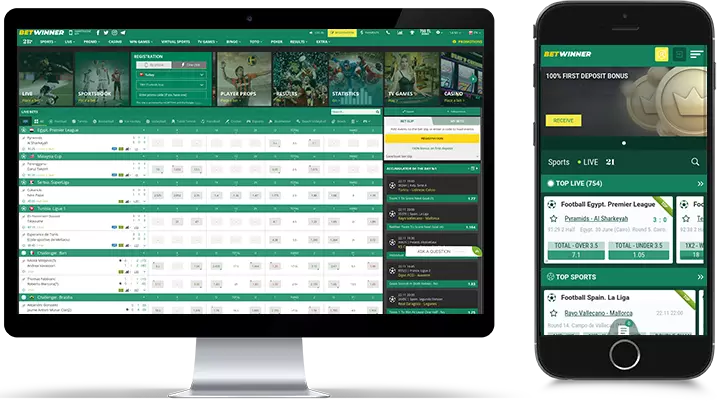 BetWinner has been servicing punters online since 2018, and although it is one of the relatively new brands on the sports betting scene, it has proven to be a completely safe and reliable operator. Punters who have chosen to establish an account with BetWinner will enjoy a smooth, hassle-free betting experience.
The sportsbook has an impressively diverse library, including all-time favorite sports such as football, basketball, horse racing, and ice hockey. The bookie is a favorite of eSports betting fans, as it provides an exceptionally diverse portfolio in this respect. There is also an eSports betting calendar, containing special cashback bonuses.
BetWinner provides punters with possibly the most diverse service in terms of payment methods. Cryptocurrencies are one possible choice for bettors, allowing for instantaneous and fee-free deposits.
Both the PC and the mobile version of the sportsbook are extremely easy to navigate and feature a pleasant design.
Live streaming of good quality and various in-play markets
Smooth mobile betting experience
Plenty of eSports markets
An impressive list of available banking methods
Some bettors reported it was hard to reach a rep
Issues related to a correct settlement of bets
Mr.play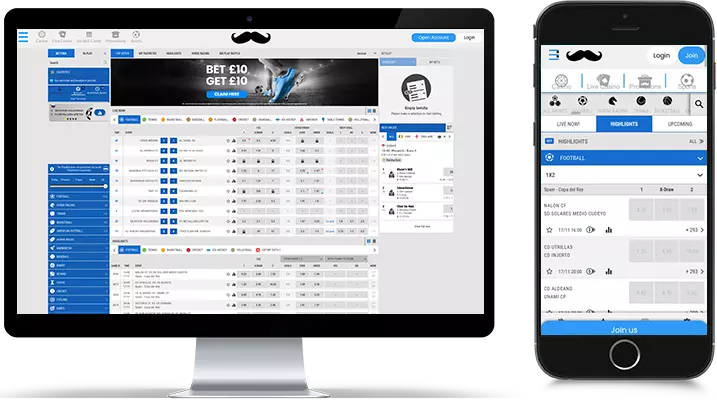 Mr.play offers a catalog of more than 20 different sports to bettors, including football, ice hockey, baseball, tennis, boxing, motorsports, and many others. Punters are also treated to a great diversity of leagues, both local and international. The odds offered by the bookmaker are competitive and there is a variety of different bonuses and promotions.
Japan-based punters may be pleasantly surprised by the variety of baseball and football markets offered in the sportsbook. In-play bets are a thrilling possibility and the sports available for such wagers are basketball, ice hockey, football, tennis, baseball, and more. A convenient event tracker provides real-time updates to punters who have not got the ability to watch the game while placing bets on in-play markets.
There is also extensive information on the available bet types that is extremely helpful for inexperienced bettors, as well as a section dedicated to historical sports results.
An extensive range of payment methods
Competitive odds
A great diversity of sports leagues
A wide range of in-play markets
Customer support is not available 24/7
The website design might be perceived as cluttered by some
The website loads slowly from time to time
Japan's Betting Sites FAQ