Belgium has an interesting take on online gambling, one that differs much in comparison to how other European nations choose to tackle this subject. Whereas most states embrace or reject online gambling altogether, Belgium has different ideas. All forms of gambling are allowed in the country, however, there are heavy regulations imposed on betting companies which have to be followed to the letter.

Sports betting is one of the permitted types of gambling featured in the country and customers have access to a decent range of sportsbooks. However, the legalities of the situation may not be clear to all. For your convenience, we have gathered the most important information regarding online betting in Belgium and have included it below in an easy to understand manner.
Legalities of Online Sports Betting in Belgium
Overview
History
Legalization
Software
Historical Betting Overview
Belgium has a long history with gambling dating back to the 19th century, as indicated by the Lotteries Act of 1851. Modern online gambling, on the other hand, has been unregulated for the most part and already existing regulations were lax, at best. This was during a period where the online betting scene in Belgium was taking off and many different providers were moving into the market. For better or for worse, Belgian punters had access to a wide range of platforms to bet on. It was not until the Gaming Act of 2011, which went into effect on 1 January 2011, that the online betting market saw true regulations. In fact, this piece of legislation introduced rules covering just about every aspect of the online gambling scene and brought proper conduct to the Belgian online gambling industry. However, the strict regulations made it impossible for some providers to operate within the country legally and the market was reduced to a limited number of licensed entities.
What You Need to Know About Sports Betting in Belgium
Belgium used to be known for having a more or less free for all unregulated gambling market. That all changed in 2011 however, when games of chance were officially legalized in the country. Now, venues can gain a license to operate within the nation's premises and offer gambling services completely legally, but under very strict conditions. One said restriction states that for an online casino to be allowed to operate in Belgium, it should also run a brick-and-mortar establishment within the country as well. Needless to say, this made it virtually impossible for many foreign bookmakers and general gambling websites to offer their services to Belgian punters. Furthermore, Belgium has also imposed a limit on how many venues can gain licenses in the first place.
So what does all of this mean in practice for the average gambling enthusiast who resides in the country? Ultimately, your choice of bookmakers is fairly limited if you reside in Belgium. On the flip side, however, the strict regulations basically ensure that the venues you will have access to offer the safest and most top-notch services available. It is also important to bear in mind that if you ever consider trying to circumvent the law and bet on unlicensed websites illegally, you risk a hefty fine of up to €25,000. Thus, the risk is largely considered not to be worth it, and the venues that can operate in the country are more than enough to meet any punter's needs.
Odds Format in Belgium
Decimal Odds
Fractional Odds
American Odds
Calculations
There are three main odds types in the current sports betting scene – decimal, fractional and American. Fractional odds are mostly used at Irish and UK betting websites, while American odds are featured at US sportsbooks. Belgium websites, on the other hand, will display the decimal format, by default. This is the trend at most European betting sites. Decimal odds are presented as such:
Betting Options: 1.50
What this tells us is that for every $100 that we wager, we stand to win $50 in profit, for a net total of $150 after the bet is settled. Unlike fractional odds, the decimal format represents the total amount that will be added to your bankroll after the sports event concludes. Decimal odds are useful in the sense that very little multiplication is required to read them properly, making them accessible to just about everyone.
Belgium Betting Laws and Legislation
With the introduction of the Gaming Act of 2011, the Belgian online betting industry saw strict and precise regulations that all operators have to follow. Moreover, to offer its services a betting company first has to be licensed by the Belgium Gaming Commission. This regulatory institution has licenses for all the different betting types. Sports betting is classified with an F-type license and there are three different types. An F1 license permits a person to organize bets, whereas entities that accept wagers need to acquire an F2 license. An F+ license is required to accept bets over the Internet and it is tied to an F2 license. All F-style licenses last for 9 years before they have to be renewed.
A holder of an F-style license has to fulfil several requirements before the license is issued. For one, companies need to be incorporated under Belgian law or other EU member states. Furthermore, they have to prove their tax liabilities are satisfied and showcase their financial capacity. Not only that but for the sake of transparency, all persons involved, including shareholders, need to have their identities revealed.
As far as taxation is concerned, all online bets are taxed 11% on the net profit. It is worth pointing out that gambling debts to unlicensed operators are not enforceable. However, those to licensed ones are.
Belgium Betting Restrictions
When it comes to restrictions, Belgian gambling laws can be quite draconian in certain aspects. Starting off with the lightest restriction type, the minimum gambling age in Belgium is 18 years old. This is the standard for most forms of betting in Belgium, with the exception of casino gambling where the minimum age starts at 21 years old.
But that is only the start. The gambling authorities in Belgium have determined that only a limited number of gambling licenses can be issued overall. This means that a smaller number of operators can offer their services to a Belgian customer base at any time. For F1 license holders, the limit is 34, while F2 licensees cannot exceed 60.
Additionally, in order to provide online betting in Belgium, the company needs to run land-based establishments. Effectively, this blocks most international betting platforms from working in Belgium. Moreover, the Belgium government will prosecute all companies that operate without a licence, while Belgian residents who gamble at unlicensed platforms can be fined up to €25,000.
Online Betting Regulatory Body in Belgium
All gambling in Belgium is regulated by the Belgium Gaming Commission. This government body was established in 1999 and it oversees all forms of betting in the country, including casino gaming, poker, bingo, horse racing betting, fantasy betting, lotteries, skill games, and of course, sports betting.
The BGC imposes strict rules that operators have to follow and makes sure that the companies eligible for licensing are in line with regulations. Specifically, the BGC requires the privacy of punters to be protected, prohibits the exploitation of vulnerable customers, and ensures that punters are paid accordingly, among others.
The Belgium Gaming Commission has done a great job at enforcing all laws and regulations to ensure that customers are treated fairly. Moreover, this institution is quite thorough when vetting potential licensing candidates to verify their integrity and legitimacy.
Popular Betting Markets In Belgium
Sports
Volleyball
Football
Horse Racing
You will seldom find an individual in Belgium who is not a fan of at least one type of sport. The nation loves all types of activity, and its love for sports is shared among gambling aficionados as well. Due to this, it is no exaggeration to say that Belgium has a thriving betting market with hundreds of punters partaking in the activity each year.
Cycling as a whole is pretty well-liked in Belgium, to put it lightly. It is the preferred method of transportation for countless individuals there, and it also enjoys quite a bit of popularity as a sport too. Tour of Flanders for instance is an annual race that attracts the attention of countless spectators, especially since members of The Royal Belgian Cycling League make sure to participate. Naturally, this race as well as many others are prime options for gambling aficionados to wager on, and they can enjoy a variety of bet types the likes of outrights, race winner, in-play, and more.
Volleyball is yet another popular sport in the country. The nation is home to leagues such as the Euro Millions Volley League, and events such as the Men's European Volleyball Championship and Women's European Volleyball Championship attract hundreds of Belgian spectators. Among them are, as expected, gambling enthusiasts, and the country also has dozens upon dozens of bettors who enjoy betting online. Bettors who reside in Belgium can wager on volleyball matches by placing handicap, total points, and correct score bets among others.
You cannot talk about sports in a European country without mentioning football and, to no one's surprise, Belgian residents are also extremely fond of this game. This, of course, makes Belgium yet another hotspot for football betting. Punters have an abundance of markets they can wager on like outrights, both teams to score, and so on. Events like the Fifa World Cup present perfect opportunities for Belgian punters to bet on teams representing the Royal Belgian Football Association and the entire country.
Horse racing is also quite favored in Belgium, and bettors there are also very keen on horse race wagering, which is why this is an important sport to feature in any bookie's catalog. If you would like to wager on horse races you can choose forecasts, tricasts, and other markets. There are plenty of opportunities to place such bets on events like the Grand Prix de Bruxelles hosted in Belgium as well as local races.
Popular Betting Markets in Belgium Summary
Sport
League
Cycling
The Royal Belgian Cycling League
Volleyball
The Euro Millions Volley League
Football
Royal Belgian Football Association
Horse racing
Fèdèration belge des courses hippiques ASBL
Belgium Online Betting Bonuses
Promotions
Match Bonus
Free Bets
Enhanced Odds
There are plenty of benefits to betting at Belgian online sportsbooks and among the major ones, we count promotions and bonuses. Since most bookmaker websites offer similar odds and betting markets, a great way to choose one over another is to look at the promotions they offer. These come in several different forms and each will provide you with a different form of value.
A common promotion type is the deposit bonus. Bookmaker websites will match your deposit up to a certain amount and add it to your balance as bonus funds. These can be used to place bets on different sports events and once you meet the turnover requirement, you will get to cash it in. This has to be on specific odds or higher in most cases and the turnover will usually be anywhere between 4 to 8 times the bonus value.
Alternatively, free bets are also another popular bonus type at modern online sportsbooks. The betting website will allow you to place a wager with a specific value at no cost to you. If bet losses, your bankroll will not suffer. However, if it wins, you get to take the profit from it. Some sportsbooks may ask you to fulfil a turnover requirement, while others may be more liberal in their terms.
Odds boosts are always great to have since they not only increase your winnings but also come with very few restrictions. These can be applied on traditional bets or parlays, where each additional leg adds an extra 1% to your profits. This bonus type comes with the lowest risk factor making them ideal for everyone.
Mobile Betting in Belgium
Mobile Play
Download App
Browser In-Play
Download via QR
Mobile betting is becoming ever more popular with smartphones and tablets getting so prevalent in everyday life. So much so, that many people are forgoing the desktop sportsbooks altogether. Bookmaker websites have caught onto this trend and are looking to deliver the best possible mobile experience to their customers. Practically, every betting website worth its salt will offer a mobile version of its service.
You will quickly learn that mobile betting is just as good as doing it on a desktop platform or in person at a bookmaker shop. The mobile sportsbooks are easily accessible from every mobile device and one can easily set up an account. As soon as you are ready to bet, you will notice that you have full access to all the features of the platform. This includes all supported betting markets, regular promotions and perhaps even exclusive mobile ones, customer support, banking solutions and just about anything else you can think of.
The major brands have put in considerable effort to make sure that their customers can easily access their respective mobile platforms and that the overall experience is enjoyable. We are certain that if you are a fan of mobile betting, the modern online betting scene has much to offer you.
Popular Betting Banking Methods in Belgium
Bank Transfer
Credit Cards
E-Wallet
Prepaid Cards
Online gambling comes with certain peculiarities not featured in its brick and mortar counterpart. One such is an inability to use physical cash to place bets, instead, you will have to rely on an online payment solution to get your money into your bankroll. These are available in several different forms, each offering something different.
At modern online sportsbooks, credit cards are always an option. Practically all bookmaker websites accept Visa and MasterCard, while some will also support the likes of Maestro, Amex, or Diners Club. Credit card transactions are instant, allowing you to immediately start betting. Moreover, withdrawals are also possible and can take several business days to process.
If credit cards are not for you, then consider the eWallets supported by the industry. Specifically, these include Skrill and Neteller, which are accepted at a universal basis, as well as, PayPal, EntroPay, ecoPayz, and others. The main benefits of eWallets include instant deposits and withdrawals, enhanced privacy and overall convenience.
The online betting scene also supports great alternatives to these two types. Prepaid cards are great for some customers, though there are detriments, such as an inability for withdrawals. Online banking is also quite useful if your bank works with the supported service. Overall, you will have a slew of banking options at your disposal whenever you sign up at Belgian betting websites.
Popular Banking Methods in Belgium
Payment Method
Fees
Deposit Limits
Deposit Times
Withdrawal Limits
Withdrawal Times
Visa
Free
€10-€2,000
Instant
€10-€2,000
Instant
MasterCard
Free
€10-€2,000
Instant
€10-€2,000
Instant
Klarna
Free
€10-€5,000
Instant
N/A
N/A
Neosurf
Free
€10-€5,000
Instant
N/A
N/A
Ezeewallet
Free
€10-€5,000
Instant
€10-€5,000
Instant
Mifinity
Free
€10-€5,000
Instant
€10-€5,000
Instant
Bitcoin
Free
€10-€5,000
Instant
€10-€5,000
Instant
Litecoin
Free
€10-€5,000
Instant
€10-€5,000
Instant
Ethereum
Free
€10-€5,000
Instant
€10-€5,000
Instant
Ripple
Free
€10-€5,000
Instant
€10-€5,000
Instant
What to Watch When Picking Belgium Betting Site
Security
Customer Support
Mobile Compatibility
In-Play Betting
It bears repeating that if a venue has not been granted a license to work within Belgium, then the consequences of placing wagers within said venue will be costly. In other words, it is absolutely crucial for you to check whether or not a bookmaker you are eyeing is legally allowed to offer its services to you. Luckily, most websites that cannot operate within Belgium will restrict your access to the website and you will not be able to even open them let alone register and place bets, but not all websites are as responsible as this so it never hurts to check if they have the necessary licensing just in case.
Now, let us say you have found a venue that does have the legal go-ahead to run a business in Belgium. One of the first things you should check is the bonuses available to the bookie's customers. Namely, the welcome bonuses, and the bonuses intended for clients that frequent the venue. Welcome bonuses are important not only because it is good for you to take advantage of them, but they also show how committed the bookmaker is to gaining new users. As for promotions offered to regular customers, they are good indicators of how well someone will be treated if they decide to make the venue in question their bookie of choice and are thus also important.
Next, pay a visit to the website's payment methods section. We all have different preferences when it comes to the banking solutions we prefer, so it is important to ensure that the ones you utilize are available.
The last thing you should take into consideration is the sports you will be allowed to wager on. This is very important for picky punters that have very specific preferences, especially if their favorite sports are a bit niche, but it never hurts to check even if you are flexible with what you enjoy placing your stakes on.
Top 10 Betting Sites in Belgium
The legal situation in Belgium has made it so that, relatively speaking, not many online casinos can actually offer their services to Belgian punters as the number of licenses is limited. Nonetheless, there are bookies that do manage to meet Belgium's rigorous standards and gambling aficionados in the country do have a decent number of venues to choose from.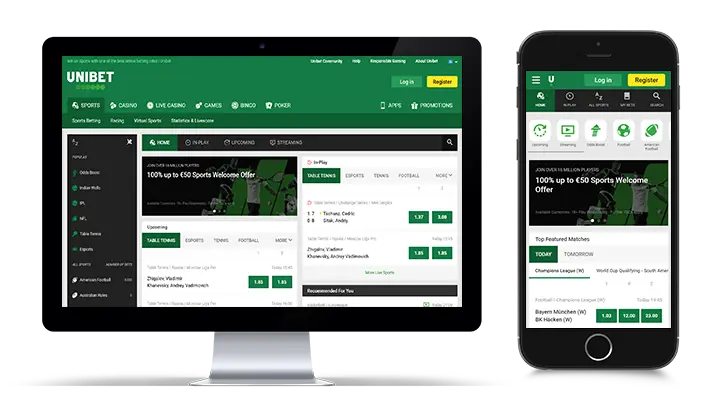 Unibet is one of the major sportsbooks a bettor can try out. It boasts licenses by the Malta Gaming Authority and the United Kingdom Gambling Commission, so you can rest assured that this bookie is credible and trustworthy.
The website's design is not glamorous. On the contrary, it is very simple, clean, and to the point. Navigation within the menus and various sports categories is snappy as everything is exceptionally easy to find thanks to the website's organization. Unibet's performance on mobile devices is no less snappy, you can download the app via either Google Play or the iOS apple store depending on your device and enjoy the same features PC users have access to.
The payment solutions that the bookmaker offers are sufficient in terms of variety, and should you ever run into any issues when depositing or in any other situation, customer support is available through email, live chat, and phone.
Rich library of sports and markets
Clean and organized design
Good number of banking solutions
In-play available
Support phone calls may be tolled depending on your location
Contact information is a bit hard to find.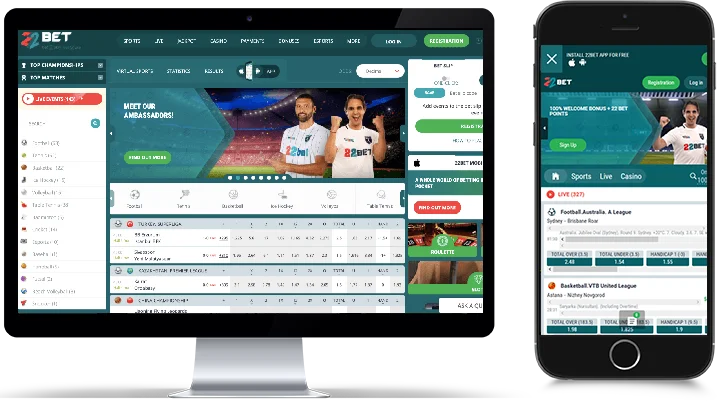 Having launched in 2018, 22bet may be considered one of the newbies in the sea of bookmakers available. You should not let the venue's age fool you, however, as 22bet offers top-notch services that rival many of its elders and it boasts an impressive collection of sports variations.
Visually, the website looks great overall, although some areas are difficult to read due to the very low contrast between text and background color. Everything is neatly organized and finding your desired sports and markets is not difficult.
Additionally, you can rest assured that 22bet is a reputable provider of gambling services. It boasts licenses by both the Curacao Gaming Control Board and the Kahnawake Gaming Commission and is largely considered a credible and safe bookie to wager on.
Customers who prefer to use their smartphones for their wagering needs can enjoy the same snappy and fun experience provided to PC users, as 22bet has provided downloadable applications for both Android devices as well as devices running iOS.
In-play available
Sports on offer are plenty in terms of variety
24/7 customer support
128-bit SSL encryption
Low contrast in certain areas makes the text difficult to make out
Android app must be downloaded via 22bet's website.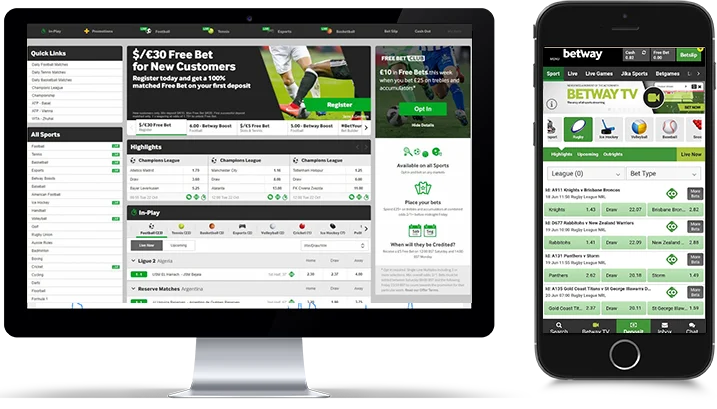 Established in 2006, Betway is one of the newer players in the world of sports betting, but the website has amassed a great reputation and is one of the major betting destinations for many punters. Visually, the website sports a fresh palette of grays and bright greens, and it works perfectly in terms of functionality as well. As a Betway user, you will encounter an array of sports types to wager on, like tennis, cricket, football, and many more. In addition, the choice of markets is impressive as well.
Playing on mobile is a great experience too, with both Android and iOS having access to downloadable applications available in their respective stores.
Betway customers can also be sure that they are secure in good hands, as the bookmaker is licensed by the Malta Gaming Commission and the United Kingdom Gambling Commission. Both gaming control boards are vigilant when it comes to handing out licenses, and only the most responsible and law-abiding bookmakers can be licensed by them.
Great mobile support
Good variety of sports and markets
Fresh visual design
A debit card is required for certain offers
Certain promotions are region dependant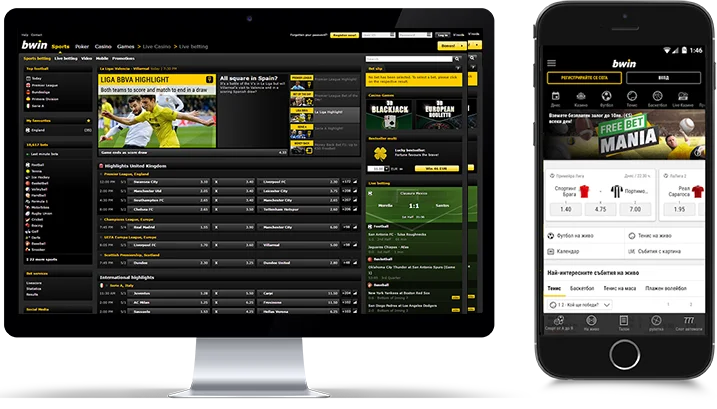 Bwin is one of the older providers of gambling services you will find. It was established in 1997, and although there were a few bumps here and there throughout the years, it continued to thrive and has maintained a good reputation among punters.
When you visit the website you are greeted by a clean and easy-to-navigate layout, with a black, yellow, and white color palette that is very appealing to the eyes. Registering is incredibly easy, and you will find that Bwin's library of sports provides a great deal of variety, offering sports such as football, chess, and others. You have many bet variations to choose from as well, which is important for any bettor's wagering experience.
Due to the fact that the bookmaker is licensed by the Gibraltar Gambling Commission and the United Kingdom Gambling Commission, you can rest assured that the services on offer by Bwin are top-notch quality and that the bookie is credible.
In-play available
Live chat is one of the ways to contact support
Good number of language options
Many deposit methods available
The android app must be downloaded from the bookie's website
Limited withdrawal options
Mystake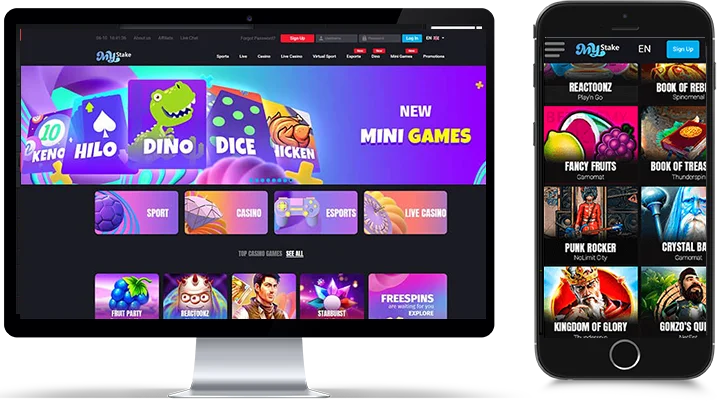 Having launched in 2019, Mystake is a newer competitor in the world of sports betting which has a lot to offer to its customers. Unlike the more typical bookies you will regularly come across, Mystake boasts a bright and colorful visual design that looks great and is functional in terms of the way it is structured. The cyan and magenta color accents provide a great contrast to the website's overall dark design.
In terms of content, this is where the online betting platform really shines. Gambling aficionados will find an array of sports types to place bets on, and the wagering experience in and of itself is great thanks to the market options on offer. If you are a member of the younger crowd and are fond of placing stakes on MOBA games, Mystake has made sure to include esports in its library as well.
Should you ever run into any issues, the bookie has got you covered. You have a variety of ways to contact support and, crucially, this includes live chat. In other words, you can be certain that receiving the assistance you need will always be an easy and fast experience.
Holds a Curacao Gaming license
24/7 customer support
Streamlined registration process
Variety of sports and markets
Certain withdrawal options charge a fee
No dedicated smartphone applications
Sportaza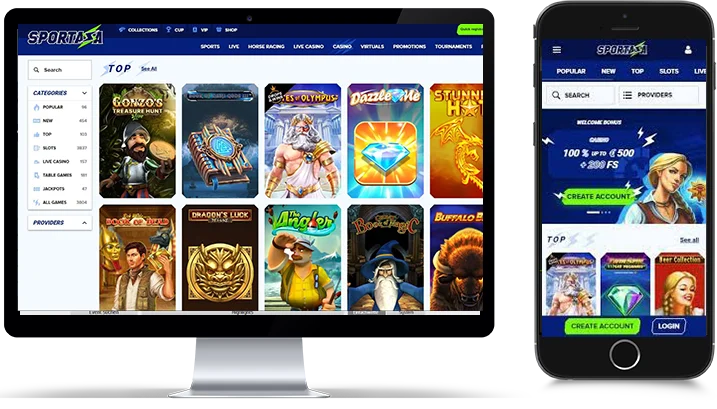 Sportaza is a new but popular bookmaker that has been gaining traction in the online betting sphere. The website offers a wonderful wagering experience, with numerous sports options and markets available, and with football being an understandably prominent presence in the bookie's catalog. When it comes to its appearance, the betting platform looks slightly old-fashioned, but it performs very well in terms of categorization and functionality. Navigating through Sportaza's web pages is easy and snappy, and you are certain to find what you need in no time.
Something that made an impression was the banking solutions available for punters to utilize, as various e-wallet solutions are available as well as methods like cryptocurrencies and, of course, credit and debit cards.
Our lives are fairly hectic nowadays so understandably, many of us take portability very seriously. Sportaza has taken that into account, as the bookmaker has an Android application available to download, and iOS users can utilize a mobile browser to gain access to the website. Punters on the go will enjoy the same features and functionality PC users have.
A wide array of sports on offer
In-play
Many banking solutions including cryptocurrencies
Dedicated Android app
24/7 live chat support
Cluttered visual design
No dedicated iOS application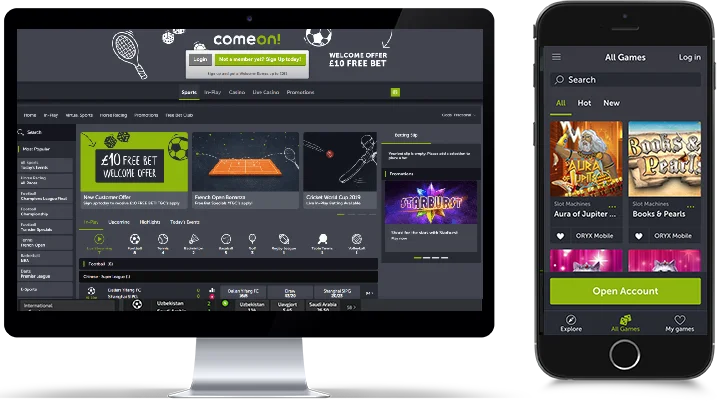 Comeon is a trustworthy bookmaker that is licensed by the Malta Gaming Authority. It has over a decade of experience in the field of sports betting and it provides excellent services to its customers. The website boasts a vast number of sports to wager on, with a nice assortment of markets and strongly competitive odds, and the sleek and conveniently structured design ensures a fun and effortless experience.
Comeon has also made sure that bettors will enjoy a smooth deposit and withdrawal experience, as there are numerous payment options available such as credit or debit cards, e-wallet options the likes of Skrill, and more.
The website has dedicated applications for Android and iOS smartphones, which means that everything functions effortlessly regardless of the device you are using. Mobile users can thus enjoy an experience as snappy and convenient as the one experienced by PC users, and all they need to do is download the apps from their respective application stores.
Well-designed interface
Competitive odds
Well-varied sports catalog
Good mobile compatibility
Customer support not available 24/7
Cryptocurrencies cannot be utilized
You will be charged a fee for using certain banking solutions
Powbet sports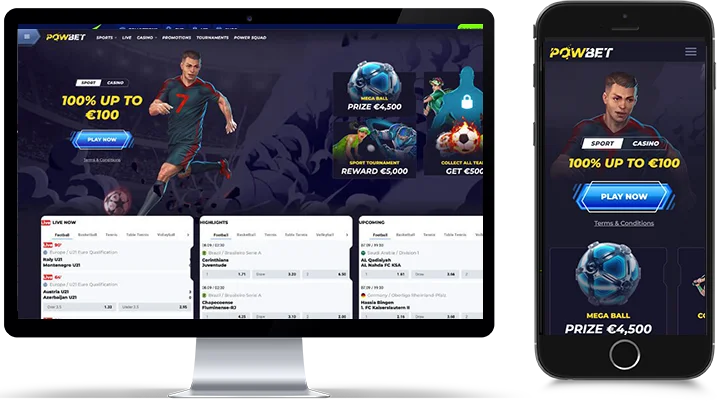 Powbet is a fresh new bookmaker that caters to bettors with various tastes and preferences. It is licensed by the Curacao Gaming Control Board and has so far offered services of exceptional quality.
Visually, the website is a bit reminiscent of video game UI design trends, which we suppose is an homage to the betting esports scene the website partakes in. Everything is well organized and easy to find, and all in all the experience is lovely both in terms of the visual experience and functionality. Its sports library is sufficiently stocked with a great number of sports types, and punters can enjoy a variety of markets to wager with.
Although the website does not currently offer downloadable apps on Google Play or the iOS Apple store, what it does boast, is HTML5 technology which means that the website functions exceptionally well on both computer and smartphone browsers. A connection and your browser of choice are all you need to enjoy Powbet's services.
Good variety of sports and markets
24/7 customer support
In-play is available
Variety of banking solutions including cryptocurrencies
No dedicated smartphone applications
Max withdrawal limit is low
Magic Betting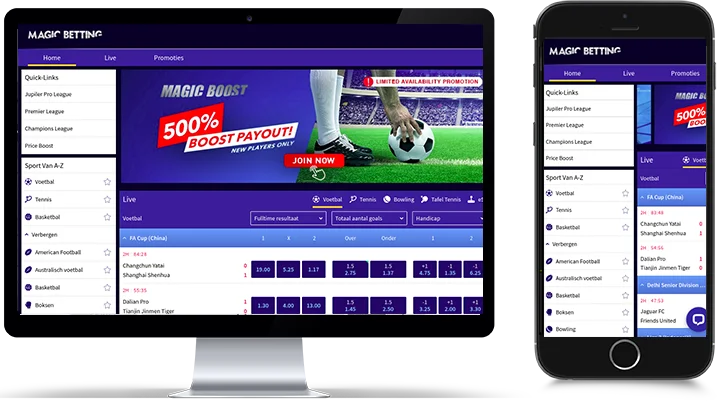 Magic Betting is licensed by the Belgian Gaming Commission, and it is an online bookmaker that caters exclusively to punters who reside in Belgium. It is a credible and trusted venue that enjoys quite a bit of popularity among its native audience.
Magic Betting features a clean and very well-organized layout that makes browsing through the website's various sports categories a breeze. It offers a vast number of sports types to place stakes on, and punters who are fond of in-play betting are accounted for as well.
You can utilize Magic Betting's services regardless of whether you are using a computer or your smartphone for your betting needs, as the bookmaker is available on the Google Play store. Although iOS bettors do not have the option to download a dedicated app, the website's compatibility with mobile devices is evident and it scales exceptionally well on smartphone screens.
Streamlined registration process
Intuitive design layout
Well-stocked catalog of sports types
In-play is available
No dedicated iOS application
No live-chat customer support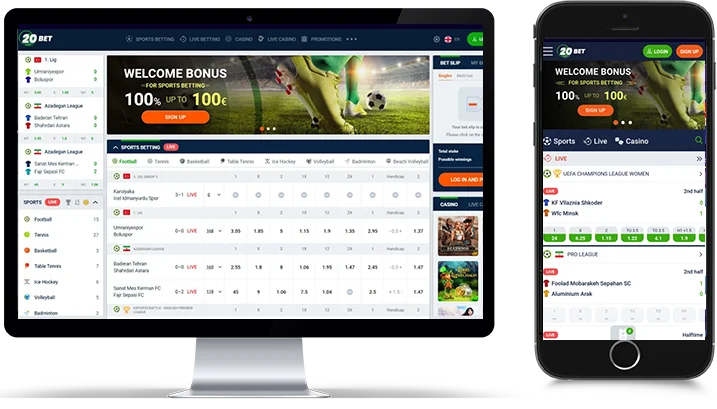 Established in 2020, the aptly named 20bet is a newer bookmaker that provides an assortment of sports types that will satisfy pretty much any bettor. The bookie is licensed by the Curacao Gaming Control Board and has proven to be an entertaining and safe venue for punters to enjoy.
The payment options available are sufficient, and customers also have the option to utilize cryptocurrencies if they desire to do so.
In terms of web design, the bookie's appearance is simple, clean, and very easy to use. This is true not only for the desktop version of the 20bet but for the ways in which you can use 20bet's services on mobile as well. Your first option as a mobile user is simply the website itself, as it is optimized to scale well on smartphone screens. You can also download the dedicated Android and iOS applications directly from the website. Either way, the features and functionality of the bookie are the same on all platforms.
Customer support is available 24/7
Sufficient number of banking solutions
Good mobile compatibility
Over 30 sports on offer
Some promotions cannot be claimed with cryptocurrencies
Customer support is only available in English
Belgium Betting Sites FAQ