Sports betting in Greece is not only fully legal but extremely popular among locals, ranking as the second most widespread form of gambling in the country. Until 2011, the betting sector was closed to competition and subject to the control of OPAP (the Greek Organization of Football Prognostics), the only authorized entity at the time. To put it simply, the entire gambling industry, sports betting included, was under a state-run monopoly. In turn, this crippled competition, leaving Greek punters with a limited choice of legal sportsbooks.
Things have taken a more favorable turn for the local market since then. The Greek government recently made moves to re-regulate the online betting industry, with the local regulator, the Hellenic Gaming Commission, inviting betting operators to apply for permits under its new regulatory framework.
This is great news for local punters as it means a greater diversity of licensed betting sites to choose from. Continue reading for in-depth information on everything you need to know about sports betting in Greece.
Legalities of Online Sports Betting in Greece
Overview
History
Legalization
Software
Historical Betting Overview
Known as the birthplace of the Olympic Games, Greece boasts a long and rich history where sports and sports betting are concerned. Archeological evidence suggests the locals wagered on the Olympic events, with many historians believing these are some of the earliest records of betting on the outcomes of sports.
The modern history of sports wagering in Greece started with the launch of OPAP back in 1958. Initially owned by the state, this entity had a monopoly on all types of gambling, sports betting included. In the fall of 2013, the Greek government sold its stake in the company for €622 million and OPAP officially became a private entity.
Nonetheless, the organization retained its monopoly on betting in the country, provoking criticism on behalf of the EU. The EU Court of Justice determined the monopoly held by OPAP was against the law as it violated the EU principles of free-market competition. Greece's Supreme Court was of a different opinion, though.
EU pressure eventually led to the government's decision to open the local online market to foreign operators in 2016. Nothing happened over the following four years, however. The license application process finally commenced in 2020, which led to the issuance of the first round of fifteen permits by the Hellenic Gaming Commission (HGC) in the summer of 2021.
What You Need to Know About Sports Betting in Greece
As we previously mentioned, the country initially decided to open its betting market in 2011. At the time, the Greek legislature amended the law to allow for regulated online betting and gambling. Following this decision, the government issued operating permits to 24 gambling companies, with Betsson and William Hill being among the first brands to legally penetrate the local market.
One year later, the government had a sudden change of heart after the country's Ministry of Finance hit on the brilliant idea to maintain the monopoly of OPAP, which was still owned by the state at the time. As a result, the remote operators that had previously received permits had no other choice but to exit the local market.
Things changed favorably at the beginning of 2020 when the Ministry of Finance provided a draft outlining new regulations to the European Commission. These regulatory changes allowed the 24 companies that had received temporary permits in 2011 to continue servicing Greek customers until March 2020 and apply for license renewal afterward. Nevertheless, OPAP will retain the monopoly on landbased casino gambling till 2030.
The local regulator, the Hellenic Gaming Commission, maintains a blacklist of all betting companies that lack authorization to legally operate in Greece. Greek bettors can visit the regulator's website for the full list which undergoes regular updates. Those who have the necessary authorization must contribute taxes on the revenue they generate from the local market.
Bettors' gross profits are also subject to withholding taxes under the new legislation provided they exceed €100. The tax rates for profits between €100.01 and €500 stand at 15%, reaching 20% for amounts exceeding €500.
Odds Format in Greece
Decimal Odds
Fractional Odds
American Odds
Calculations
Greece-friendly sportsbooks tend to quote odds in decimals as this format is commonly preferred by punters from the country. The biggest advantage of decimal odds is that they are simple to understand, especially compared to the fractional format. They designate the profits you can expect from a given wager if it wins.
For example, suppose a bookie offers a price of 2.85 for Atromitos to beat Panetolikos head-to-head. This means punters will get €2.85 for every €1 they wager, but the amount includes the initial stake. You can easily calculate your overall returns if you multiply your stake by the decimal odds. To continue with the example, we shall assume you decide to back Atromitos with a €5 wager.
If the team wins, you will collect a total payout of €5 x 2.85 = €14.25. Respectively, your gross profit will amount to €14.25 – €5 = €9.25. Greek sports fans who prefer to punt using fractions can switch to this format from their accounts' settings. Most Greece-friendly sports support both fractions and decimals.
Greece Betting Laws and Legislation
Law 4002/2011 is the primary piece of legislation that governs gambling activities in Greece, sports and horse race wagering included. This legislative act covers various aspects of betting, including commercial communications, consumer protection, and the tax rates imposed on authorized operators. Additionally, its passage led to the establishment of the Hellenic Gaming Commission, mandated with the regulation and compliance oversight of the Greek gambling industry.
Back in 2019, Law 4635/2019 introduced several amendments to the 2011 legislative act, bringing in key changes related to online betting. The current legislation relies on an open licensing process rather than lodging public tenders for interested operators to go out to. Online bookmakers must apply for and receive a Type A license for online betting before they can legally accept wagers from Greek punters.
Ministerial Decision № 79835/06.08.2020 outlines all particulars regarding the application process and the necessary paperwork for online betting operators. The HGC normally requires up to two months to issue the permits of approved companies after they submit their documents. If the regulator fails to reach a decision within this period, this most likely means it has rejected the applicant.
Licensees must store all betting information on servers located in the country. Each online betting license has a duration of seven years from the date of issuance. Applicants must reapply for a license renewal at least one year prior to their permits' expiration. Applying operators must provide proof they have a capital of €200,000 or more and pay a bank guarantee of €100,000.
The application fee itself stands at €10,000, whereas the license fee costs €3 million for online sports betting and €2 million for other forms of online gambling. The tax rate for licensed sports betting operators is one of the highest in Europe and is set at 35% of their gross gaming revenue. The government withholds 30% of the horse race wagering revenue and uses it for social purposes.
Greece Betting Restrictions
Greek punters can legally wager at online sports that carry the stamp of approval of the Hellenic Gaming Commission. According to the new legislation, a Greek national can have a flutter at authorized bookies as long as he or she is at least 21 years old. What is interesting, though, is that this minimum age limit is higher than that for the OPAP monopoly, which used to take wagers from everyone over 18 years old.
Wagering on credit is expressly prohibited in the country. Certain restrictions are in place when it comes to the advertising of sports betting companies. Under Law 4002/2011, the authorities tolerate such marketing activities, but only on condition the advertising companies achieve a high level of consumer protection. Local legislation prohibits advertisements that actively encourage betting participation or present gambling in a positive light.
Licensed operators must actively encourage responsible betting as well, providing information about services that help persons who suffer from gambling addiction. Greek law requires all financial transactions related to online betting to go through payment processors and financial institutions established either in Greece, or in other member states of the European Economic Area. Debts incurred through sports betting or other gambling forms are not enforceable under Greece's Civil Code.
Online Betting Regulatory Body in Greece
Sports betting in Greece is subject to the regulation of the Hellenic Gaming Commission (HGC). Founded in 2004 under Law 3229/2004, the HGC is an independent entity that supervises all forms of gambling in the country. The regulatory body consists of nine members selected by the Greek Minister of Finance. One of its primary tasks is to draw up and enforce three-year action plans that aim to improve its functioning.
Apart from supervising and auditing authorized betting operators, the HGC is responsible for issuing their operating licenses. The regulator demonstrates a commitment to preserving the interests of bettors, underaged individuals, and the public as a whole. It also deals with the collection of the taxable betting revenue on behalf of the Greek state.
The Commission has its own legal personality and observes for compliance with the responsible gaming principles licensees must follow. Last but not least, the entity monitors the implementation of the anti-money laundering (AML) policies in the country under the Hellenic Anti-Money Laundering and Terrorist Financing Law (Law 4557/2018).
Popular Betting Markets in Greece
Football
Tennis
Volleyball
Basketball
In Greece, soccer beats all other sports in terms of popularity by a wide margin. The country has so far qualified for the FIFA World Cup a total of three times (1994, 2010, and 2014), but its most remarkable achievement is beating Portugal with a score of 1:0 in 2004. The Greeks subsequently won Euro 2004, a moment in history fans from the country continue to describe as magical to this day.
Unsurprisingly, Greece-friendly online sportsbooks offer tons of betting action on soccer events. Greek punters can have a flutter on their local Super League 1 or choose from a wide range of international competitions like the UEFA Europa League, the FIFA World Cup, and the Champions League.
International friendlies are also readily available to soccer fans from the country. Greece sportsbooks allow for various markets and bet types, including Result 1×2, Over/Under, Double Chance, Both Teams to Score, Draw No Bet, Next Goal, and Correct Score.
The country's national basketball team lifted the trophy in the 1987 and 2005 EuroBasket Championship. The following year the Greeks crushed the USA at the semifinals of the FIBA World Cup. These victories helped catapult the popularity of basketball in the country and it remains the second most-watched and bet-on sport to this day.
Online bookies that target the local market offer dozens of options to fans of the hoop sport. Betting action is available on the local Greek Cup as well as on other major leagues and competitions like the Euroleague, the Eurocup, the FIBA Champions League, and the VTB United League. The NBA receives massive coverage, with some of the most popular markets being the Winning Margin, Points, To Win Both Halves/Quarters, 1st Half, and 1st Quarter.
Volleyball ranks third among Greek punters and sportsbooks are more than happy to cater to this demand. Betting action is available on the A1 Ethniki, one of the best volleyball leagues in Europe. Green sportsbooks additionally allow locals to punt on international leagues like MEVZA. Numerous markets are on offer but some of the most common options include the 2 Way, Team to Score Most Points, Set Winner, Total, and Handicap Points.
As the birthplace of the Olympics, the Greek capital Athens has hosted the Games of the Olympiad twice, in 1896 and 2004. Athletics remain hugely popular among local bettors, who face plenty of betting markets for major international competitions like the Summer Olympics. The Gold Medals and the Total Medals are some of the most straightforward markets punters can bet on.
Perhaps you will find it surprising, but water polo is huge in Greece. The Greek women's national water polo team earned the gold at the 2011 FINA Championships and the 2018 Europa Cup. The aquatic sport sees a good deal of betting action in the country, with Greece sportsbooks covering events from the LEN Champions League and the LEN Euro Cup, among others.
Popular Betting Markets in Greece Summary
Sport
Leagues
Soccer
Greek Super League, Champions League, UEFA Europa League, World Cup, Premier League, La Liga, Bundesliga, Ligue 1, Eredivisie, Serie A, Primeira Liga and more
Basketball
Greek Cup, Euro Cup, Euro League, NBA, FIBA Champions League
Volleyball
PlusLiga, A1 Ethniki, Extraliga, MEVZA
Athletics
Summer Olympics (Games of the Olympiad), Winter Olympic Games, World Athletics Championships, World Athletics Continental Cup, European Athletics Team Championships
Water Polo
A1 Ethniki, LEN Euro Cup, Serie A1, LEN Champions League
Greece Online Betting Bonuses
Promotions
Match Bonus
Free Bets
Enhanced Odds
The best online sportsbooks reward punters from Greece with various bonuses, starting with a sign-up offer. It normally comes in the form of a free bet or a percentage-based welcome bonus on the first deposit. Some would even use a combination of the two to entice customers and win them on board.
Percentage-based welcome offers are rather straightforward. Exclusively available to newly registered punters, they usually have a minimum deposit requirement. New customers who opt in for the welcome offer and deposit the minimum amount required (or more) have their first payments matched at a given percentage.
Many Greece-friendly bookies offer 100% matches, so if you deposit €10, you get another €10 for a total of €20 to bet with. The only downside of such offers is that they have a rollover, also known as wagering requirements or turnover. Eligible punters must wager their bonuses a given number of times before they can cash out their winnings.
Customers normally have to wager the bonus and the profits they have accumulated within the promotional period. Otherwise, the bonus will expire and the sportsbook will forfeit it irrevocably from your balance. Each new punter can receive no more than one sign-up bonus.
Free bet bonuses are different in that they require you to deposit and then bet a specific amount on eligible markets, meeting the minimum odds requirements outlined in the promotional terms. The sportsbook will credit the free tokens to your account once the qualifying wager settles. You must again use the free bet before it expires. The free tokens are intended solely for betting purposes and you can withdraw only the accumulated winnings but not the free bet itself.
The best Greece sportsbooks treat their regular customers to odds boosts, whereby they are eligible for higher payouts on specific wagers like point spreads, totals, and the moneyline. The bookie reduces the vigorish and uses the odds boosts to highlight major sporting events for a specific day. During these limited-time promotions, customers receive boosted payouts only on condition their boosted bets win.
Many online betting sites would also offer percentage-based cashbacks on the daily or weekly net losses Greek punters have suffered. Bookies tend to credit the cashbacks as free bets you can use on qualifying sports and markets.
The acca insurance is similar in that you get some of your money back if one selection of your parlay fails you. To take advantage of the insurance, you typically have to build a parlay with at least five selections, but the exact number is site-specific. Minimum stake and odds requirements are in place for each selection.
Punters have to opt in for the insurance before they start building their parlays. There are restrictions on the maximum number of refunds each customer can redeem per day. Minimal risk betting is strictly prohibited across all of the above-mentioned promotions.
Mobile Betting in Greece
Mobile Play
Download App
Browser In-Play
Download via QR
The best sports betting sites available in Greece strive to deliver a seamless experience across all devices, including modern smartphones and tablets. Some bookies launch native applications Greek punters can download at no cost from app distribution platforms like Google Play and Apple's App Store. However, the system requirements differ from one mobile sportsbook to another.
Others rely exclusively on the HTML5 technology, offering web apps you can access in your browser. When you load one such sportsbook, your browser will automatically redirect you to its mobile version, eliminating the necessity of installing any additional software. With that in mind, we would like to warn you that native applications tend to outperform their browser-based counterparts, often boasting shorter loading times and smoother overall performance.
A good betting app does an excellent job at replicating all the main functionalities of a desktop sportsbook, allowing mobile users to bet without any limitations. The apps give you access to various in-play and pre-match markets. You can build parlays, redeem bonuses, contact customer support, and fund your balance with great ease.
Many mobile sportsbooks also enable you to take advantage of the early cashout feature available to in-play bettors. With its help, you can lock a payout before an event is over or use it on losing tickets to curb your losses.
Popular Betting Banking Methods in Greece
Bank Transfer
Credit Cards
E-Wallet
Prepaid Cards
Greek punters face a diverse enough range of banking methods, starting with the commonly accepted debit/credit cards. Visa and Mastercard are some of the most popular options among punters from the country. Greeks commonly prefer them because they are familiar, broadly available, and easy to work with. Some bettors opt for using credit over debit cards since the former allow for transaction reversals in cases of fraud.
The popularity of digital wallets has grown tremendously among Greek bettors in recent years, with some of the most common brands being Neteller and Skrill. Available in multiple currencies, both facilitate instant deposits and time-efficient withdrawals. Most bookies do not charge fees on payments conducted with these methods, which is yet another advantage. The only drawback here is that you must set up an account in advance and then link it to a card, another wallet, or your online banking account.
Some betting sites work with Viva Wallet, a cloud-based neobank that originated in Greece. The method relies on the Microsoft Azure cloud computing service and has launched branches in over twenty other European countries. There is also the option to connect your Viva Wallet card to Apple Pay so that you can authenticate your transactions with facial and fingerprint recognition. HGC-approved sportsbooks also allow for payments initiated via the well-known e-wallet PayPal.
Recreational bettors who wager occasionally for small amounts can take advantage of Paysafecard, the popular prepaid solution. Each Paysafecard voucher has a unique 16-digit code, which is the only thing you need to initiate a deposit. Greek punters can purchase vouchers in different denominations and combine them for larger payments. You can buy them at retail locations or online from the comfort of your home. The method is not always available for withdrawals, though.
Other alternative banking solutions available to Greek punters are SmartPay and the direct bank transfer. While suitable for high rollers due to their higher transaction limits, bank transfers are hardly the most time-efficient way to process betting-related payments.
Deposits with this method normally require up to five business days, while the timeframes for withdrawals can reach seven to ten days. Depositing at OPAP landbased sportsbooks is also possible if you bet with locally licensed sportsbooks like Pamestoixima.gr.
Popular Banking Methods in Greece
Payment Method
Fees
Deposit Limits
Deposit Times
Withdrawal Limits
Withdrawal Times
Visa
Varies across sportsbooks
€5 to €40,000
Instant
€10 to €30,000
Up to 5 business days
Mastercard
Varies across sportsbooks
€5 to €40,000
Instant
€10 to €30,000
Up to 5 business days
Paysafecard
Free
€5 to €1,000
Instant
€5 to €2,500
Up to 24 hours
Skrill
Free
€5 to €35,000
Instant
€10 to €10,000
Up to 24 hours
Neteller
Free
€5 to €35,000
Instant
€10 to €50,000
Up to 24 hours
Viva Wallet
Free
€5 to €35,000
Instant
€10 to €10,000
Up to 24 hours
PayPal
Free
€5 to €8,000
Instant
€10 to €8,000
Up to 24 hours
SmartPay
Free
€5 to €150
Instant
N/A
N/A
Bank Transfer
Varies across sportsbooks
€100 to €150,000
Up to 5 business days
€10 to €50,000
Up to 10 business days
What To Watch for When Picking Greece Betting Site
Security
Customer Support
Mobile Compatibility
In-Play Betting
You can use our shortlist of the best Greek betting sites to narrow down your alternatives or conduct your own research. If you opt for the latter, you should start by ensuring the bookies you are interested in accept registrations from Greece. Such information is typically available in the terms and conditions, but you can always inquire with the support staff if you fail to find it. It is preferable to pick a site with a license from the Hellenic Gaming Commission, although some Malta-licensed bookies also welcome punters from the country.
The supported currencies and payment methods are also worth checking out. Greeks should seek sportsbooks that accept the EUR and work with banking solutions accessible in the country. Some of these include Paysafecard, Skrill, Neteller, Viva Wallet, and SmartPay. Look for short processing times on withdrawals and fee-free payments.
Authorized betting sites are normally accessible via designated .gr domains, allowing Greek customers to load the sportsbooks in their native language. Local bettors should also look into the promotional incentives available at their chosen website. Checking the promotional terms is equally important. It will allow you to draw comparisons and pick the sportsbooks whose bonuses give you the most value.
We also recommend you test the bookies' mobile apps to ensure they run effortlessly on your portable device. Compare the odds across several sportsbooks to select the one that offers the sharpest prices.
Market diversity is another thing to observe – good betting sites usually cater to their customer base with extensive coverage of both popular and niche sports.
Last but not least, you should try the customer support service. Preferably, they should service you in your local Greek language. Unresponsiveness and lack of professionalism speak volumes about a brand's overall attitude toward customers.
Best 10 Betting Sites in Greece
Over 15 locally licensed and international sportsbooks service the Greek market legally, including prominent names like William Hill, Betsson, and Unibet. All of them are available in the local language and accept payments in EUR via the banking methods we wrote about earlier. They provide a broad range of markets at attractive odds, lucrative promotions, and full mobile compatibility. We discuss ten of them in more detail below.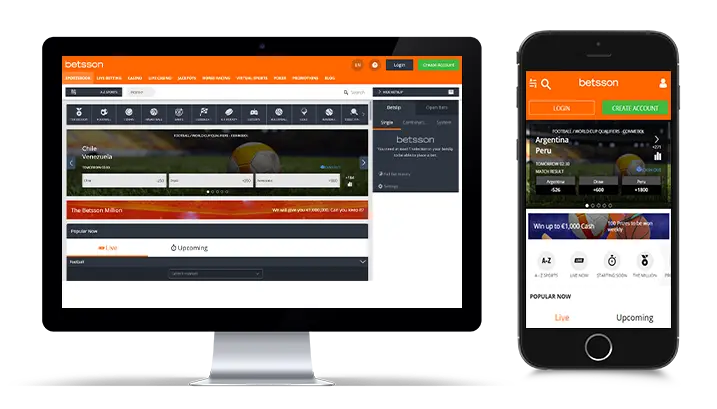 Betsson was one of the first betting operators to legally penetrate the Greek market after gaining the local regulator's approval in May 2021. Developed with the needs of Greek punters in mind, the sportsbook enables them to have a flutter on over thirty different sports, including soccer, volleyball, basketball, golf, and tennis. Even niche sports like badminton and chess are available.
Both pre-match and in-play betting is possible at Betsson, with Greek customers having access to various great features like extensive statistics and live scores. The Bet Builder enables mobile punters to personalize their wagering experience by creating their own bets on pre-match soccer markets.
The renowned bookie works with broadly available banking solutions such as Viva Wallet, Paysafecard, Skrill, and Neteller. Greek customers who need assistance can either use the live chat facility or request a call back over the telephone. Language is not a barrier at Betsson as the sportsbook provides support in their native language.
Live chat assistants respond within 30 seconds on average
Personalized wagers via the Bet Builder feature
In business since 1963
Dedicated apps for iOS and Android
A transparent, fair, and reputable sportsbook
The odds for niche markets bear improvement
Does not offer betting on greyhound races
A somewhat limited range of banking solutions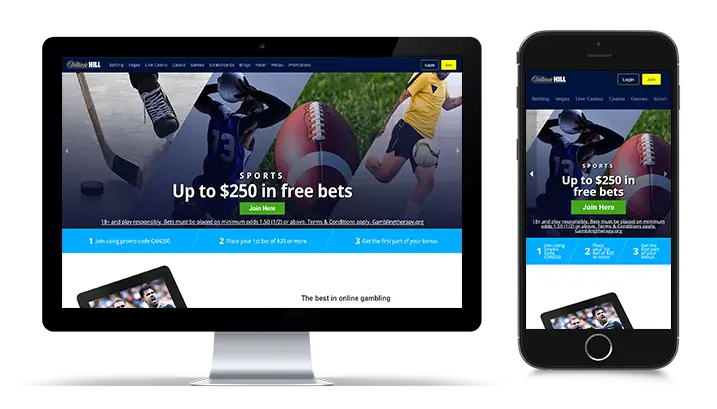 Few sports betting businesses can compete with William Hill when it comes to longevity, credibility, and tradition. The brand's name is synonymous with integrity and this does not surprise us considering William Hill has been operating since 1934. The operator lives up to its outstanding reputation, offering a wealth of sports to bet on alongside tons of handy features, including three different odds formats.
William Hill's Greek counterpart does not lack in terms of variety, giving local punters a decent choice from 32 sports. Additionally, there is a free betting TV service, allowing you to watch racing events from all around the globe. The sportsbook provides support via email, live chat, and telephone. Punters from Greece can initiate their deposits via familiar payment solutions like Visa, Maestro, Mastercard, Skrill, and PayPal, with the minimum starting at €5 with most of the supported solutions.
Over eight decades of industry experience
Well-respected in the industry for its integrity and longevity
32 major and niche sports
A free betting TV for racing events
An official partner of Tottenham Hotspur
The William Hill Radio service is unavailable in Greece
Needs more payment methods for Greeks
The sign-up bonus could be greater
Betshop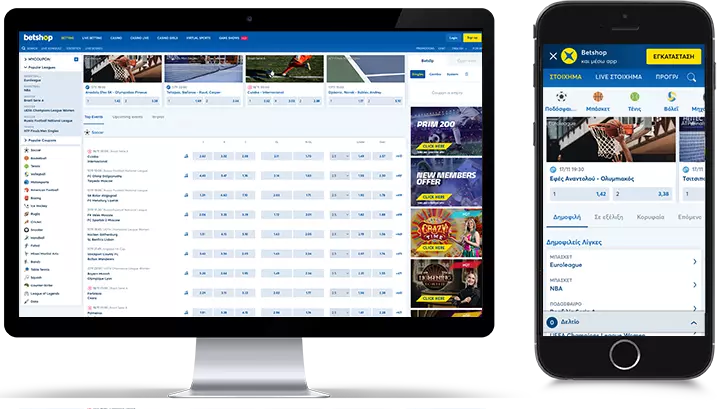 Betshop is a full-fledged gambling operator that caters to Greek customers with sports betting, online casino games, in-play betting, and live dealers. Even virtual sports are on offer here. Customers have a choice from more than 500 pre-match and live markets per event. The odds are fairly competitive compared to those at some other Greek-friendly sportsbooks.
The coverage of top leagues is great, but there are also many niche sports to punt on, including darts, snooker, and table tennis. Customers can have a flutter on esports like Dota, League of Legends, and Counter-Strike. Those looking to make more informed betting decisions can navigate to the statistics section where they can see how different teams have performed recently. The betslip is intuitive and easy to work with, allowing you to easily track your open wagers. The support service is available in both Greek and English.
Over 500 markets per event
Takes punts on esports like Dota and Counter-Strike
The betslip is easy to work with
Offers detailed statistics and live scores
A nice range of niche sports
Needs more promotional incentives for sports bettors
The support service is a bit slow at times
No horse or greyhound racing
Pamestoixima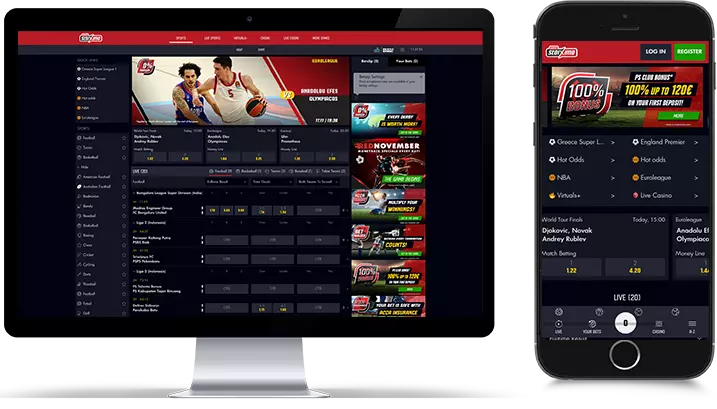 In operation since 2000, Pamestoixima is among the most popular online betting sites for Greeks, boasting a classy, yet user-friendly interface that facilitates fast and hassle-free navigation. The sportsbook runs on the Vermantia platform, ensuring a seamless wagering experience across all desktop and handheld devices. OPAP operates the website with permission from the local regulatory body.
Pamestoixima is the official sponsorship partner of AEK Athens, which further adds to its excellent reputation. Customers can bet as little as €0.25. Both deposits and withdrawals come at no additional cost on the operator's side. The minimum Greeks can transfer to their cash balance is either €5 or €10, depending on the payment method they use.
Pamestoixima works with credit, prepaid, and debit cards, Skrill, and PayPal. As for the available sports, you can pick from thirty of those, including water polo, handball, soccer, tennis, and basketball.
Runs on Vermantia software
Operated by OPAP
Sponsors AEK Athens F.C.
Free deposits and withdrawals
30 available sports
The early cashout is unavailable for some markets
Requires verification for Skrill withdrawals over €100
Minimum withdrawals are higher than average at €30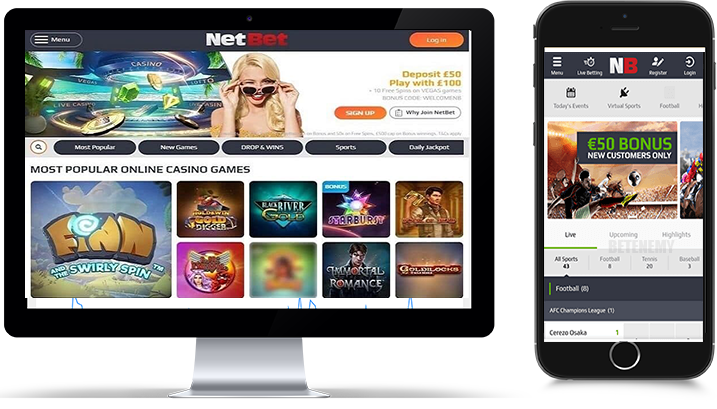 NetBet made it to the whitelist of HGC-licensed online bookies in 2021, offering local bettors tons of sports and various features that greatly improve their whole wagering experience. The sports' availability varies based on season, with the sportsbook offering over 40 sports at times. There is no shortage of betting action here, with some of the most popular options being soccer, volleyball, basketball, and other sports Greeks are keen on.
The bookie also takes action on virtual sports, offering as many as 863 markets at the time of publication. Esports fans can punt on Counter-Strike, Dota 2, and Starcraft. As for pricing, the odds are fairly sharp compared to those of the competition. Decimal odds are, of course, available, although the sportsbook also gives you the option to use the moneyline or fractions. NetBet caters to punters with in-depth statistics, results, and a VIP Sports Club for the more serious bettors.
SnapBet and Bet Maker features
Cross-compatibility on all devices
A trusted brand in the betting industry
A broad range of promotions
A dedicated VIP Sports Club
Does not offer live streaming services
Customer support is unavailable around the clock
Some withdrawals might incur additional charges
Stoiximan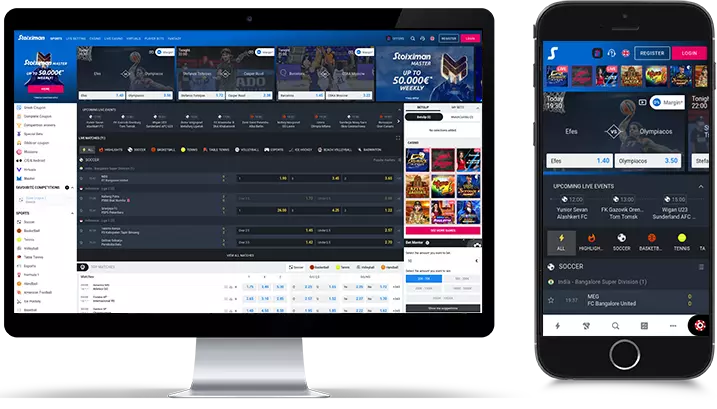 Stoiximan is intended exclusively for sports betting fans from Greece and is available in two languages, their native Greek and English. Punters face a nice choice of sports as the sportsbook accepts wagers on soccer, speedway, darts, water polo, cycling, volleyball, and even chess. Those who fancy virtual sports and fantasy betting are not lacking diversity, either.
Live streaming services are available for major sports like soccer but you must log into your account to gain access to this feature. Stoiximan also caters to novice bettors with detailed guides that contain all the particulars about wagering on the most popular sports.
You can confidently top up your balance as the HGC-licensed sportsbook uses only highly trusted payment methods like Neteller, Skrill, Visa, and Paysafecard. Several Greek and Cypriot teams have chosen Stoiximan as their official sponsor, including Apoel, Pafos, AC Omonia, and Apollon Limassol.
Live streaming is available
Caters exclusively to the Greek market
Offers fantasy betting and virtual sports
Sponsors the Pafos F.C. and Apoel F.C.
Mobile Operator of the Year at the 2019 EGR Awards
Multiple country restrictions
Pursues strict policies against low-risk betting
Few punters report payment delays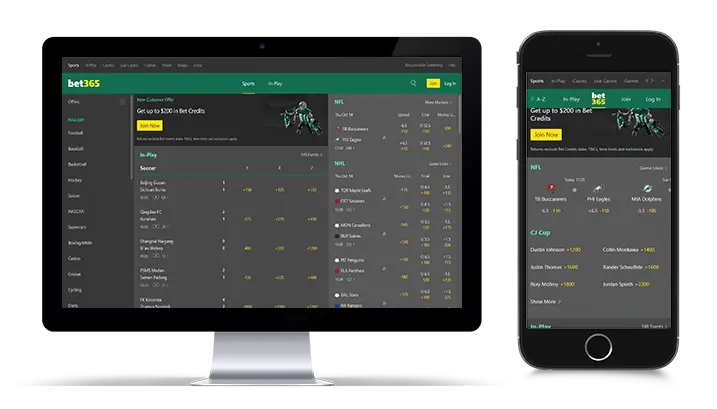 Alongside Betsson, bet365 was among the first operators to obtain a license from the Hellenic Gaming Commission shortly after the country liberalized its market. The company has been servicing Greek punters since May 2021, catering to them with one of the richest selections of betting lines in the industry. Here you will find all fan-favorites like soccer, volleyball, and basketball, along with less conventional options such as esports.
The sportsbook operates in full compliance with local regulations, requiring each newly registered punter to verify they are at least 21 years old. The operator takes responsible gambling seriously and enables registrants to take breaks from betting for 24 hours, 48 hours, or 7 days. Setting up personalized deposit limits is also possible here. Customers can take advantage of various useful features, including live streaming. However, you will have to register and top up your account to access this service.
A straightforward user interface
Plenty of sports to bet on
Sharp odds
Widespread industry recognition
Excellent customer support
The live betting section loads slowly at times
Not the best choice for professional punters
Live streaming is only available to punters with funded accounts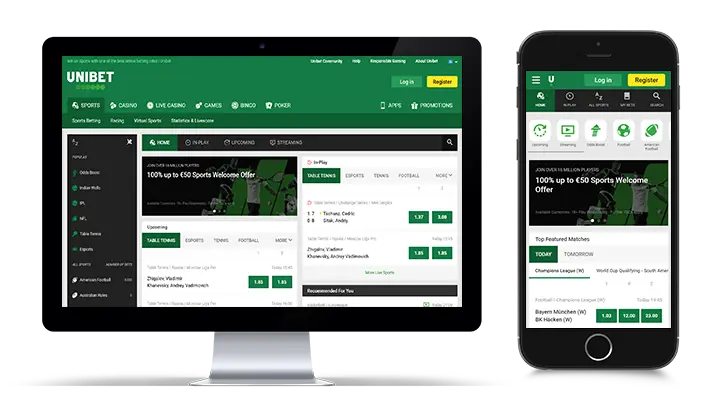 Unibet is another established brand that legally services the Greek market as part of the widely recognized Kindred Group. Launched in 1997, the brand remains committed to ensuring an excellent betting experience to its customers, providing them with a choice from thirty sports.
The company has earned multiple accolades over the years and recently prevailed in the Sports Betting Operator of the Year at the 2020 EGR Nordics Awards. Then again, this is unsurprising, considering the sportsbook boasts one of the broadest selections of betting markets in the industry. Here you will find rare options like cyclo-cross, bandy, and chess, along with must-have sports like baseball, boxing, basketball, volleyball, and soccer.
Part of the Kindred Group
TV and novelty bets are on offer
In-depth statistics and live scores
Offers a nice assortment of virtual sports
Supports Greek along with over 15 other languages
You must log in to watch the live streams
The account verification can take up to 3 business days
No manual flushing on withdrawals
Bwin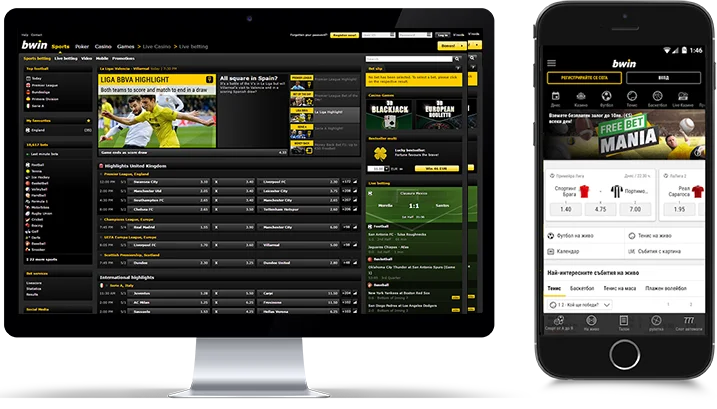 Bwin is an established name among the members of the online betting community and has been in operation since 1997 when it was known as betandwin. Sports wagering is at the core of the company's business, although it offers additional products like an online casino and poker. Bwin indeed provides one of the most impressive betting lineups in the industry, with the number of available sports sometimes reaching ninety options.
Football boasts the greatest versatility at Bwin, although there are plenty of alternatives, including golf, water polo, table tennis, chess, and rugby. Bettors can sometimes find lines for events that are unrelated to sports such as the Academy Awards and the Eurovision Song Contest. The sportsbook supports live streaming for registered customers, along with in-play betting and statistics.
Consistent with offering great bonuses for sports betting
Excellent quality of the live streaming service
Offers easy-to-build parlays
Supports the cashout function
Great native apps
Punters can access the live streams only after a log-in
Lacks a loyalty program for sports bettors
Requires a very solid internet connection on mobile devices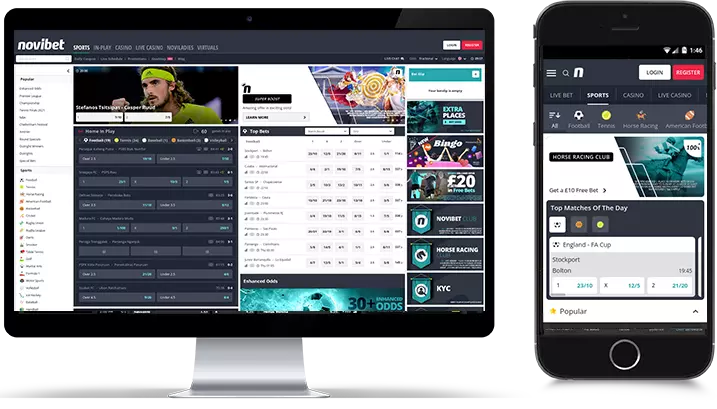 Novibet attracts Greek punters with a safe betting environment, timely customer support, and lucrative promotions with friendly terms and conditions. The sportsbook quickly established a loyal following in the country after it launched in August 2021. Its success is unsurprising, considering it provides great coverage of top and secondary sporting events at rather decent odds. Punters have plenty of choice with hundreds of markets for soccer, tennis, motorsports, basketball, and rugby.
The sportsbook maintains a great blog where customers will find accurate predictions for the latest soccer matches, along with tips for horse racing, tennis, boxing, and other sports. Other useful betting tools they can take advantage of are the live scores, statistics, and the live schedule of events. The Novibet Club rewards regular horse race bettors for their action with free bets and other perks.
Available in Greek and multiple other languages
A great range of in-play betting markets
Live streaming of major sporting events
Offers live scores, statistics, and a cashout feature
A bet radio is also on offer
Restricted in many countries
Lacks a bet builder feature
A slightly limited range of esports