The Czech Republic is a country located in the heart of Central Europe, whose population is very keen on sports and has long traditions in various gambling activities, including sports betting. A large number of brick-and-mortar casinos are located in the country as well as many online sportsbooks.
The Czech are avid fans of football and ice hockey, where their national teams have won several medals in major international competitions. Bettors, however, are interested in a lot of sports disciplines popular in other parts of the world, which determines the variety of betting markets supported by the bookies in the country.
Both local and international brands operate on the Czech sports betting market with the main differences being the diversity of sports featured and the available payment methods. Each of them has its advantages, which we will discuss in detail below.
Betting on sports is completely legal in the Czech Republic as several years ago the government launched Act No. 186/2016 On Games of Chance which regulates all gambling activities.
Legalities of Online Sports Betting in Czech Republic
Overview
History
Legalization
Software
Historical Betting Overview
As in other countries, horse racing is the first discipline in the Czech Republic (former Czechoslovakia) on which bets were placed. In the beginning, of course, this was not legal, especially if we consider the political regime before 1989. After the great political changes, however, the time of private companies came and it became clear that major changes in the field of gambling and odds betting would be a fact very soon.
In May 1990, the gambling industry was legalized and Petr Bouma, Jiří Balcar, Josef Kurka, and Michal Horáček were the most enterprising businessmen who took advantage of the new opportunity. They founded a betting office Fortuna and also its first branch in Pasáž Lucerna in Prague. Only a year later, Tipsport also entered the market, followed by a number of other operators.
Then began the gradual adaptation of the entire Czech legislation. One of the important moments is 2009 when online betting was allowed for domestic companies. Most of them quickly began developing Internet applications to meet modern bettors' requirements. Over time, online bookmakers began to introduce live broadcasts too, a feature that is one of the most popular today.
What You Need to Know About Sports Betting in the Czech Republic
Although sports betting is quite popular in the Czech Republic, it is not considered a separate gambling category but is rather defined as odds betting or totalisator games. The popularity of sports betting and other gambling activities is evidenced by a study of the Czech government. According to it, 60% of the Czech population had executed some sort of gambling activity at least once in their lifetime and 25-40% had gambled within the last year.
Although not so striking, the Czech punters have a slight preference for online sportsbooks operated by international betting brands. Bettors can rest assured that they will not suffer any sanctions, as registering on and using such a bookie is not described as illegal in any legislative act.
The set of functionalities of sportsbooks in the Czech Republic does not differ from that of bookies in other regions. Punters can place pre-match and in-play bets and enjoy permanent and short-term promotional offers. A favorable fact for bettors is that winnings from sports betting and other gambling activities are not subject to state taxes. On the other hand, the law imposes significant taxes on online sportsbook operators, which sometimes limits the prize amounts they can afford to give to their users.
The growth of mobile technologies and the relevant interest of consumers is reflected in the Czech online sportsbooks. Most of them have dedicated mobile apps for Android and iOS devices or at least a fully functional mobile version of the website.
Odds Format in the Czech Republic
Decimal Odds
Fractional Odds
American Odds
Calculations
Having in mind the Czech Republic is a European country, the most common odds format you can find on online sportsbooks is decimal. It is one of the easiest to understand even by inexperienced bettors. The decimal odds format enables them to calculate their potential profit by multiplying the odds and the wagered amount. Let's look at an example – if you place a bet of €100 and the odds are 3.5, a successful bet will award you €350.
Almost all online bookies allow punters to automatically change the odds format, with the most common options being fractional and American. The oldest one is fractional, which is most popular in the region of the UK, Scotland, and Ireland. Its principle is different – it shows your eventual profit when you bet a certain amount. If the odds are 10/1, you will receive €10 for every euro you have wagered.
The American odds format is completely different. If you are betting on a favorite, the odds come with a minus in front to indicate the sum you have to risk to win €100. This means that if you bet on Barcelona with odds being – 140, you must wager €140 to gain a winning of €100. If your bet is for the underdog, the odds will have a plus showing the amount you will win for every €100 you wager.
Czech Betting Laws and Legislation
The operation of sportsbooks in the Czech Republic has been well regulated in recent years, as the long-awaited Act No. 186/2016 On Games of Chance (Gambling Act) came into force in January 2017.
According to the Gambling Act, all web pages related to sports betting must be in the Czech language and the "online game server and device(s) used to operate a numerical lottery as an online game must be located in an EU Member State; or in a state that is a party to the Agreement on the European Economic Area."
To legally operate in the Czech Republic, online gambling operators must have a basic license for each gambling category. These are granted by the Ministry of Finance and are in force within the whole territory of the country.
The conditions for obtaining an operation permit are difficult to fulfill by foreign companies. Furthermore, Act No. 186/2016 requires them to pay taxes, which was not the case until 2017. That is why big brands have seemingly withdrawn from the country. However, the law does not mention any restrictions and penalties for Czech punters who bet through such bookies, so they remain especially popular.
Some important issues, such as taxation, are governed by Act No. 187/2016 Coll., on tax from games of chance (Gambling Tax Act). In cases where the special laws have no provision, the Administrative Procedure Code and the Tax Code apply to gambling.
To advertise sports betting and other gambling activities is permitted by the law, but only if it does not imply that gambling is a possible source of income. The following warning is also required – "Ministry of Finance caution: Gambling may lead to addiction!".
Betting Restrictions in the Czech Republic
One of the obligations for online betting operators imposed by the Gambling Act is to verify the age of the punters. The minimum age allowed to engage in any gambling activity on the territory of the Czech Republic is 18 years. Another duty is to display an indicator showing the time spent playing and a warning that internet games can be addictive.
What is specific about the self restrictions is that they are not an option, but a must. All registered players are required to set up some kind of restricting rules, which can be later amended. The amendment procedures themselves are subject to time restrictions.
Land-based as well as online sports betting is allowed and regardless of the relevant winnings amounts, punters do not pay any taxes. All kinds of bets can be placed and there are no restrictions related to the sports and leagues you can bet on.
Gambling operators are not allowed to provide betting on games where the win or loss is determined by events that can be influenced by the players or operators and also games that cannot ensure fair conditions and a fair chance to win for all participants.
Online Betting Regulatory Body in the Czech Republic
All gambling activities performed on the territory of the Czech Republic are monitored mainly by the Ministry of Finance and the Customs Administration. The Ministry grants, changes or withdraws basic licenses of both land-based and online gambling operators. If an operator wants to offer different gambling activities, he must obtain a basic license for each of them. The Ministry of Finance also maintains a list of unlicensed gambling operators.
The Customs Administration executes onsite checks of gambling premises and is authorized to impose fines for violations of the Gambling Act. This authority is also responsible to monitor if any gambling activity complies with the relevant advertising and tax regulations.
In addition, the municipal authorities can ban any technical, bingo, or live games to operate on their territory. This is done by issuing special municipal decrees. However, these local authorities do not have any jurisdiction over online betting platforms and cannot restrict the provision of online services.
Popular Betting Markets in the Czech Republic
Football
Tennis
Volleyball
Basketball
The Czechs are known for being loyal fans who ardently support their favorite teams and often travel with them around the world. Football and ice hockey are the undisputed favorites that attract the attention of both viewers and punters. Many sports in the Czech Republic are being practiced on a professional level and are accordingly organized in different-stage leagues. Some of the most popular disciplines in the country are basketball, volleyball, handball, athletics, and floorball.
One of the factors that further contributes to the popularity of soccer in the country is the successful career of some national players in Europe. We will only mention Peter Cech, who spent 11 years at Chelsea and is one of the names for the best goalkeeper in the Premier League of all time. The online sportsbooks operating in the country provide an almost inexhaustible selection of events in many national leagues, international tournaments such as the UEFA Champions League, and also the World Cup.
The Czech men's national ice hockey team is among the most successful ones in the world, so this sport has almost the status of a religion in the country. Many of the players are part of the best club teams in the United States and Canada. Punters can place their bets on matches from the Chance Liga and the Extraliga in the Czech Republic, as well as from the NHL, OHL, and many others.
Basketball fans also have no reason to complain, as it would be difficult to find a competition in this sport that does not appear in the portfolio of online sportsbooks. More than 40 national leagues are featured (e.g. NBA, NBL, NKL, etc), as well as the Euroleague, the United League, Liga ABA, and some more.
Popular Betting Markets in the Czech Republic Summary
Sport
Leagues
Ice Hockey
Champions Hockey League, Euro Hockey Tour, Extraliga, Chance Liga, NHL, AHL, KHL, etc.
Soccer
UEFA Champions League, Copa Libertadores, Premier League, LaLiga, Serie A, Bundesliga, etc.
Basketball
NBA, NCAA, Euroleague, United League, Liga ABA, Estonian-Latvian League, LKL, PLK, etc.
Handball
EHF European League, Champions League, European Cup, Extraliga, Bundesliga, etc.
Tennis
US Open, Australian Open, Roland-Garros, Linz, ITF, and Challenger series.
Czech Online Betting Bonuses
Promotions
Match Bonus
Free Bets
Enhanced Odds
Czech punters can take advantage of the whole set of the usual promotional offers and bonuses, but mainly thanks to the major international brands operating in the country. This is not due to any strict regulatory restrictions, as in Australia, for example, but rather to the rather serious taxes that online sportsbooks have to pay to the state. Most of the local operators simply cannot afford to delight their registered users with frequent promotions and big prizes. However, as we have already explained, the legislation does not restrict the online activities of international betting companies and we will now look at the main bonuses available to bettors in the Czech Republic.
First of all, there are several types of entry bonuses. The newly registered punters can benefit from a multiplier after they place their first bet. Тhe amount they must wager and the minimum required odds differ among the different online bookmakers. Furthermore, punters usually receive a 100% bonus either in cash or in free bets. In order to receive such a bonus, there is always a rollover requirement to be fulfilled first and a specific time frame.
Another incentive for the Czech bettors are different loyalty programs intended to award avid sports betting users for their regular participation. Every bet placed leads to a certain amount of benefit points. Most often they can be subsequently used for free bets on selected events with certain betting odds.
With the proviso that not every online sportsbook offers the full range of bonuses, we will also mention that the Czech punters can take advantage of a variety of reload, rebate, and accumulator promotions.
Mobile Betting in the Czech Republic
Mobile Play
Download App
Browser In-Play
Download via QR
The limitation of the local Czech betting companies that we observe in connection with the abundance of bonuses, fortunately, is not present in terms of their mobile compatibility. Almost all of them strive to respond to the growing interest in mobile betting, driven by our daily lives and the constant development of technologies.
The years are long gone when in order to practice any gambling activity you had to go to a brick-and-mortar casino or a physical bookmaker premise. The local and foreign online bookies have developed at least an in-browser application, which in most cases is neither visually nor functionally different from the main site. Bettors must only load their preferred sportsbook from the browser of their smartphone and then they will be automatically directed towards the mobile version. In most cases, there is no restriction on the browser used.
Of course, many sportsbooks have dedicated apps for Android and iOS devices that come with specific requirements regarding the version of the relevant operating system. А small number of mobile applications do not provide access to all payment methods, but this happens quite rarely. Some bookies (mostly the big brands) have provided special bonuses and promotional offers for bettors who download their mobile applications.
Popular Betting Banking Methods in the Czech Republic
Bank Transfer
Credit Cards
E-Wallet
Prepaid Cards
The best online betting sites operating on the territory of the Czech Republic offer a wide range of payment methods for punters to top up their accounts. The options bettors have differ based on whether they are registered on a licensed local betting site or a sportsbook based abroad. Fortunately, a great part of the betting operators accept Czech Koruna deposits sometimes even without currency conversion.
Credit and debit cards are probably the most commonly used methods for executing deposits and withdrawals around the world, and Czech punters are no exception. Most bookies accept VISA, Mastercard, or Maestro and if there are any transaction fees at all, they are relatively low.
Paysafecard is a popular method for electronic payments in the Czech Republic and is widely accepted by online bookmakers. This is a suitable option for punters who want to use a specific amount for their bets, after which they stop wagering. The only downside is that the maximum withdrawal amount allowed is significantly lower compared to all other payment methods.
One of the most common payment methods at Czech online sportsbooks is PayU. Its popularity is mainly due to the user-friendly procedure and fast deposits. PayU enables payments processing via methods that can be integrated with web and mobile applications.
Global growth in the use of eWallets is present in the Czech Republic too. Most often, online sportsbooks accept payments through Skrill, but other options are also possible, especially with international brands. These include Neteller, Google Pay, Apple Pay, and some others. Deposits are usually instant, while withdrawals may take between 1 and 3 business days.
Punters can deposit and withdraw via online bank transfers too. This payment solution is preferred due to the high maximum limits it provides. On the other hand, bank transfers can take quite a long time before you can access your funds.
Popular Banking Methods in the Czech Republic
Payment Method
Fees
Deposit Limits
Deposit Times
Withdrawal Limits
Withdrawal Times
Debit & Credit cards (Visa, Mastercard, Maestro)
1.0% – 10.0%
Min €10/Max €50,000 per transaction
1-3 business days
Min €10/Max €50,000 per transaction
1 – 3 business days
Online bank transfers
Varies
Min €10/Max €10,000 per transaction
Up to 24 hours
Min €10/Max €10,000 per transaction
1-3 business days
Paysafecard
0% – 3.00%
Min €10/Max €4,000 per transaction
Instant
Min €10/Max €450 per transaction
Up to 24 hours
Skrill
Up to 5%
Min €1/Max €10,000 per transaction
Instant
Max €10,000 per transaction
Up to 48 hours
Google Pay
1.50%
Max €2,000 per transaction
3 – 5 business days
Max €2,000 per transaction
3 – 5 business days
Apple Pay
No fee
Min €1/Max €10,000 per transaction
Instant
Min €1/Max €10,000 per transaction
1-3 business days
What to Watch When Picking Czech Betting Site
Security
Customer Support
Mobile Compatibility
In-Play Betting
The fact that the local authorities do not take any strict measures against punters who prefer betting on international online bookies means that there are no country-specific criteria to follow when choosing a sports betting site.
Probably the most important thing to do is make sure that the site you like has a license issued by a reputable authority. Having such a document ensures that the operator applies the necessary measures to protect your information and transactions, as well as that no unfair practices are found.
In general, the portfolio of local Czech sports betting sites is not always as diverse as that of their international competitors. Therefore, if you have chosen such an online bookie, check whether it offers your preferred disciplines and whether there are enough betting markets.
It is always an advantage when the layout is user-friendly, but if you are a novice, this becomes a must. The comprehensive help pages, detailed betting rules explanations, and professional and fast responding customer support will help you have a safe and pleasant betting experience.
If several online bookies have similar features, base your choice on the available promotional offers. Before you register, check if the sportsbook provides bonuses, a VIP program, cashbacks, etc. To be really beneficial to you, the promotions must be lucrative – significant cash prizes and free bets are the best options. One more thing, no matter how generous a bonus is, check out the criteria so you can use it. If you have to place bets worth €10,000 to get €5 in free bets, is this really a promotion?
Best 10 Betting Sites in the Czech Republic
We have listed the Top 10 online sportsbooks, providing bettors in the Czech Republic with various sports events, bet types, and promotional offers. You are welcome to review these operators and choose the one who best meets your personal criteria.
Fortuna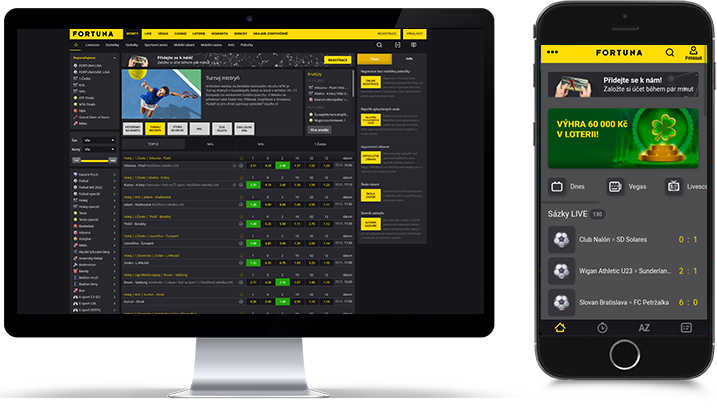 Fortuna is probably the most famous online sportsbook operating in the Czech Republic. It is also available in Slovakia, Romania, Poland, and Croatia, as for each of the countries there is a separate website available in the respective local language.
Given the regional nature of this online bookie, we were pleased to find that it covers a fairly good range of sports. The undisputed favorite is football with hundreds of events from many national leagues (the Czech Republic, Germany, Spain, the UK, Romania, Serbia, etc.) as well as from the UEFA Champions League, World Cup Qualifications, friendly matches, and some more.
In addition to sports like tennis, basketball, volleyball, and American football, Fortuna features disciplines like biathlon, cricket, snooker, and ski jumping. E-sports fans will surely like this sportsbook, given the great variety it offers. For example, only for CS GO, there are currently 16 different tournaments punters can place their bets on.
Various bonuses and promotions
User-friendly layout
Significant eSports section
Downloadable applications for Android and iOS
Live streaming
Available in a limited number of countries
Not many payment options
No live chat
Chance.cz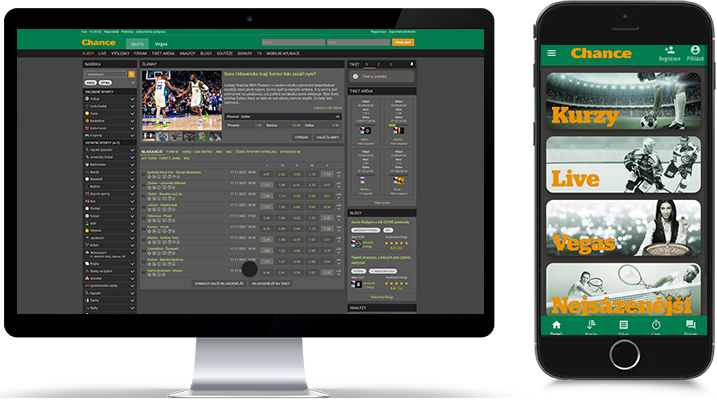 Chance.cz is an online sportsbook intended strictly for Czech punters. The bookie accepts diverse payment methods which can be hardly seen in most of its locally-oriented competitors. In addition to credit & debit cards (Visa and Mastercard) and bank transfers, Chance.cz also supports Paysafecard and Skrill transactions. Given the fact that Czech users are beginning to use more and more online payment services, it is a good move by the operator to provide punters with the opportunity to use eWallets.
This Czech online bookie features events from a little more than 20 sports with soccer, ice hockey, basketball, and tennis being the favorites. The soccer section covers matches from many domestic leagues as well as diverse international tournaments and the qualifications for the World Cup. Currently, the tennis category features matches from more than 30 tournaments, mainly from the ATP, WTA, and ITF series.
Esports fans can place their bets on several tournaments in Counter Strike, Dota 2, and League of Legends. The variety of sports is not limited to these disciplines. Punters can choose between American football, horse racing, motorsports, snooker, squash, and many others.
Various payment methods
Statistics and analyses for most events
Mobile friendly sportsbook
Live streaming
Reliable local license
Only available in the Czech Republic
No live chat
Only decimal odds format
Tipsport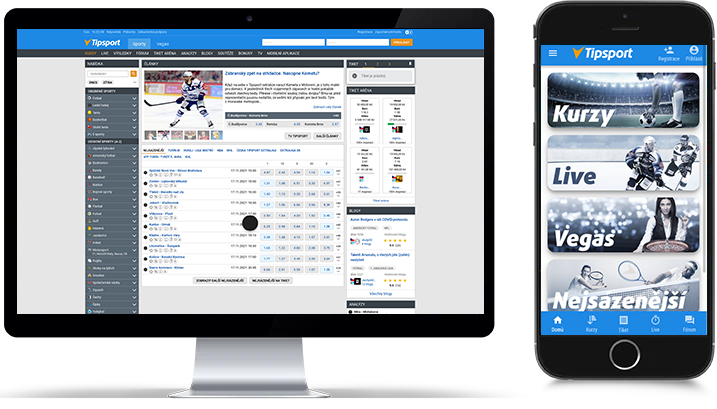 Tipsport was founded back in 1991 as a betting agency. Possessing around 1,000 branches across the whole country, the company now enjoys a successful online operation and 95% of all bets accepted are placed via the Internet. Similar to Chance.cz, this sportsbook has included Paysafecard and Skrill within the payment methods it accepts. The others are transactions via Visa and Mastercard, and some local online banking services.
Although being one of the oldest operators in this field, Tipsport is in line with the global trends. Punters can place their bets no matter if they are at their homes or on the go since there are dedicated mobile apps for Android and iOS devices as well as a completely functional mobile version of the website.
The sportsbook has a section with analyses and also а very interesting blog where bettors can read different publications and thus be informed about the latest events and trends.
Good live betting section
Diverse selection of payment options
Detailed help information
Downloadable mobile applications
128-bit SSL encryption system
Not many promotional offers
No different language versions of the website and apps
The only accepted currency is Czech Koruna
SYNOTtip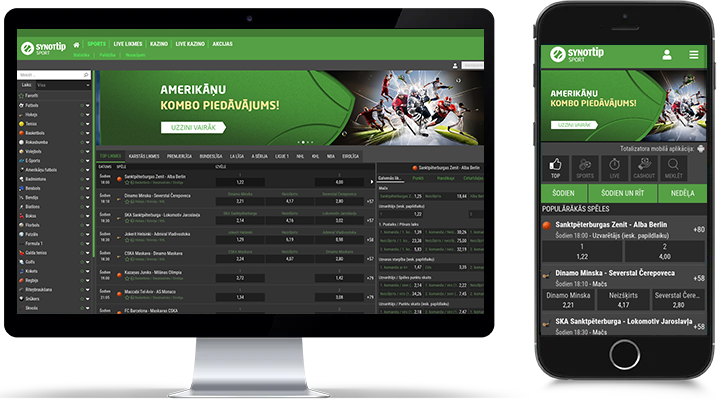 SYNOTtip is one of the five bookmakers that have acquired a license by the Ministry of Finance of the Czech Republic. Although it is available in a few countries only, the sportsbook has not focused only on locally popular disciplines but features hundreds of events in almost 30 different sports.
Soccer coverage is impressive. Punters can bet on matches from about 60 domestic football leagues, both amateur and professional. In addition, there are 3 subcategories for international tournaments – clubs, national teams, and youths.
The second sport in terms of the number of leagues and tournaments featured is basketball. Bettors can place bets on matches from the NBA, NCAA, Eurocup, Euroliga, etc. SYNOTtip also provides events from many domestic leagues. Among the other sports, you can find volleyball, tennis, and handball, as well as box, Formula 1, American football, and rugby.
The payment methods accepted by the bookie are pretty scarce. You can only choose between Visa, Maestro, Mastercard, and some local online banking methods like Mojeplatba.
Wide sports selection
Diverse bet types
Loyalty program
Live chat
Dedicated Android and iOS apps
Limited selection of payment methods
Available in a few countries only
No reload and rebate promotions
Sazka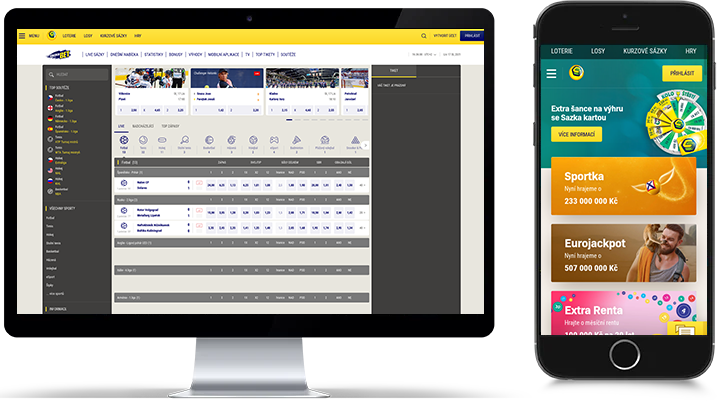 Sazka is a reliable Czech operator providing lottery and table games as well as a qualitative online sportsbook. The company was established in 1956 when betting on sports was in the form of Sportka and since then has been constantly adding innovative features to its portfolio.
Some of Sazka's betting features cannot be found within the services provided by other local bookmakers. On this betting platform punters can combine pre-match and live bets on one ticket and the more matches they bet on, the higher winnings increase they will get. The usual bet types are supplemented by diverse players' props and bets on results within specific periods of the relevant event.
In the left column of the main page you can find quick links to the most popular leagues and tournaments you can bet on – the national soccer leagues of the Czech Republic, the UK, Germany, and Spain, as well as the following hockey leagues: Extraliga, NHL, and KHL. Sazka's online sportsbook features more than 20 sports disciplines including American football, rugby, snooker and pool, motorsports, etc.
Decent variety of betting markets
Welcome bonus package
Winnings multiplier
User-friendly layout
Long history and good reputation
Accepts the local currency only
Complicated registration procedure
Available only in the Czech language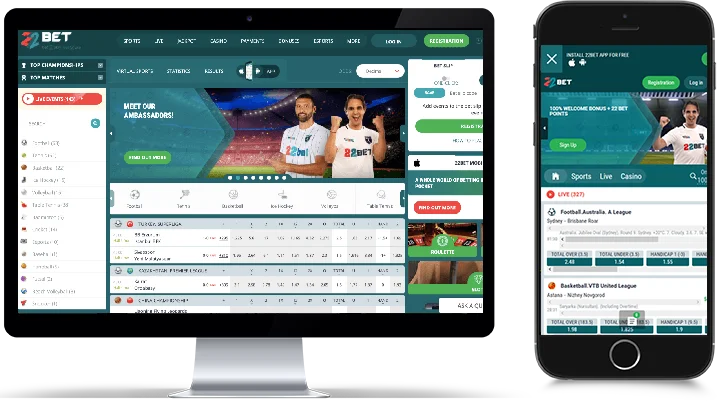 Fortunately, Czech punters can set up accounts and place their bets not only with local online bookies but also with international brands. Such is the case with 22Bet which far surpasses its local competitors in terms of payment options variety, number of sports, and generosity of the promotions.
22Bet features the impressive 40+ disciplines, so it is hard to say which is the leading sport. All the classics are here – soccer, tennis, basketball, volleyball, and also a variety of niche sports like water polo, squash, futsal, badminton, chess, and many more.
The website and mobile applications of 22Bet feature a clean and intuitive design which enables punters to easily find the information they need and start betting. The sportsbook can be explored in multiple languages and most of them are supported by the customer care team. This again shows that the bookie aims at satisfying the needs and preferences of as many bettors as possible.
22Bet has a whole bunch of promotional offers for its registered users. They can benefit from a welcome bonus package, deposit bonuses, birthday gifts, improved odds, free bets, etc. Punters can make deposits and withdrawals via bank transfers, Skrill, ecoPayz, Neteller, Visa, Mastercard, cryptocurrencies, etc.
Diverse betting markets
Very good in-play section
Various bonuses
Many payment options
Available in multiple languages
A long list of restricted countries
Slow verification procedures
Quick at restricting successful bettors
LibraBet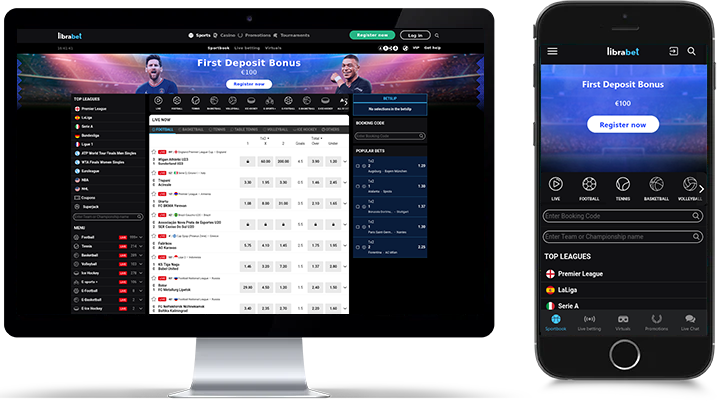 Being established in 2018, LivraBet is still considered a newcomer at the sports betting scene. This must not be taken as a drawback though, as it provides all the necessary features for a flawless and pleasant betting experience.
The bookie comes with hundreds of events in soccer, basketball, handball, American football, and even golf. Most of the leagues you can think of are featured as well as some minor competitions that are a real challenge for avid bettors. A small part of the other sports you can bet on are alpine skiing, Aussie Rules, baseball, boxing, squash, and rugby.
Punters have absolutely no reasons to complain in terms of payments selection as they can choose between bank transfers, debit/credit cards (Visa and Matercard), Skrill, Neteller, Paysafecard, ecoPayz, cryptocurrencies as well as several payment methods available to specific territories only.
If you decide to set up an account at LibraBet you can enjoy a generous welcome bonus and also different cashback and reload promotions. There is also a 5-level VIP program awarding the loyal punters higher withdrawal limits, exclusive offers, a personal manager, and other benefits on a daily basis.
Multiple deposit and withdrawal methods
Various promotional offers
24/7 customer support via email, live chat, and phone
Live streaming
Downloadable apps for Android and iOS
Low withdrawal limits
Too strict with successful bettors
No dedicated mobile applications
LVBet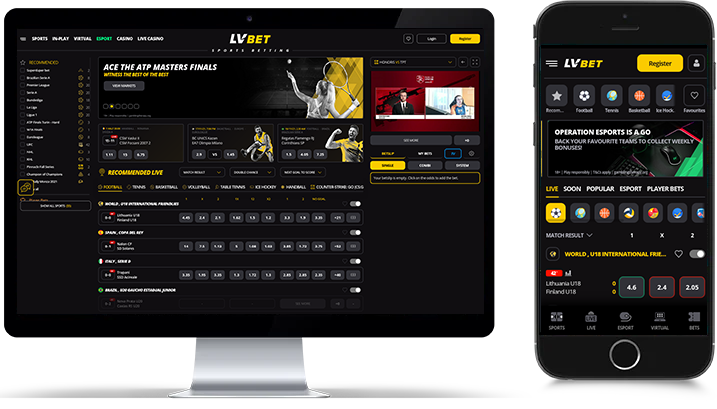 LVBet is one of the international brands that operate on the Czech sports betting market and is significantly different from the local bookies. First of all, the sports library is almost twice as large, currently comprising over 50 different sports.
There are more than 1200 events in the soccer section and some of the matches have over 300 betting markets, which is impressive. Punters can bet on events from the UEFA Champions League, the UEFA Europa League, the Premier League, La Liga, Serie A, and many more. In terms of the number of events featured, tennis is the second sport with hundreds of matches in ATP, WTA, ITF, and Challenger tournaments.
Bettors can also place their bets on multiple events in sports like basketball, American football, boxing, motorsports, darts, snooker, chess, hurling, and many more. Furthermore, you can try to guess the outcome in some special categories – politics, TV shows and movies, and the Oscars.
The sportsbook offers most of the payment methods you can think of – bank cards, online banking, and eWallets. The downside is that if you decide to make more than one withdrawal within one week, there will be an extra charge.
Vast sports selection
Diverse bet types
Classy and intuitive layout
Multiple payment methods
Different bonuses and a loyalty program
Customer support is not 24/7
Slow withdrawals
Additional charges for more than 1 withdrawal per week
BetAndYou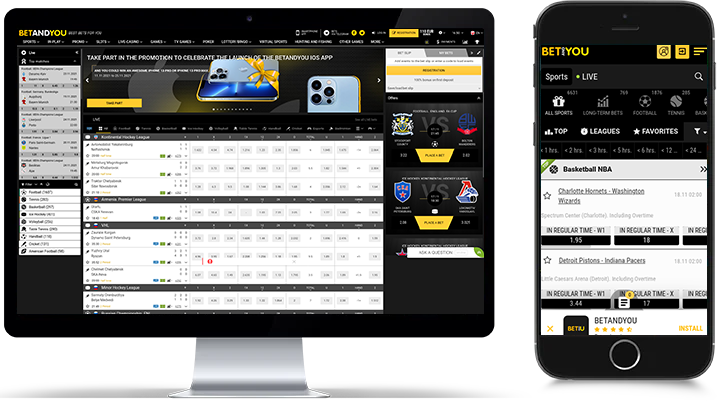 BetAndYou is an online betting platform providing a comprehensive betting experience – sports betting, slots, live casino, lottery, TV games, and virtual sports. The website is conveniently organized, simple to use, and provides loads of information with just one glance.
This online bookie provides its registered punters with attractive betting features to additionally diversify their betting on the platform. These include early cash-out, Bet Constructor for building combo bets within one match, and Bet Slip Edit enabling bettors to remove, add, and swap events in their bet slips.
BetAndYou provides more than 30 sports to bet on as the racing sections are the bookie's distinctive option. There are currently almost 400 events in horse racing and also many greyhounds and trotting competitions. All the classics are here – soccer, basketball, volleyball, ice hockey, American football, and also cricket, badminton, snooker, martial arts, figure skating, etc.
Punters whose balance is not zero can enjoy hundreds of events in the live stream section. Thanks to the multiview option they can bet on up to 10 matches simultaneously.
Registered bettors can top up their accounts via bank cards (Visa and Matercard), different eWallets, and payment systems like Neteller, Skrill, and ecoPayz as well as more than 30 cryptocurrencies.
Diverse betting markets
Multiple bonuses and promotions
Great racing section
Available in more than 60 languages
6 odds formats
No phone support
The website is quite overburdened
Slow mobile app
MostBet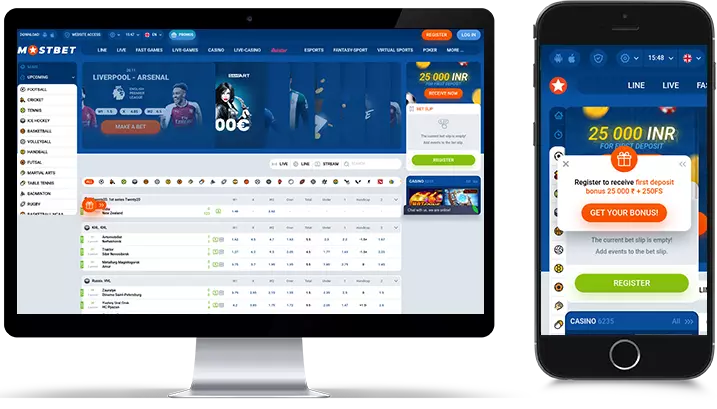 MostBet is a typical example of an online sportsbook available in different parts of the world. While this is generally considered an advantage, there are also a few minor drawbacks that should be borne in mind.
Let's first take a look at the positive things which are not just one or two. The sports betting website, as well as the dedicated mobile applications, are available in 28 languages which enables more punters to fully understand all terms and conditions. Aiming to serve as many punters as possible, MostBet accepts transactions via bank transfers, credit & debit cards, eWallets, online payment systems, and cryptocurrencies.
The number of sports is not the most impressive you can find in online sportsbooks, but still, punters can place their bets on events from about 20 disciplines supplemented by 7 eSports titles. There are hundreds of betting markets for most matches, but we were surprised not to find any players' props.
MostBet has two features that are warmly welcomed by all punters – 24/7 multi-channel customer support and a diverse promotional program including different deposit bonuses, refer-a-friend promos, accumulator boosts, etc.
Available in 28 different languages
Various bonuses and promotions
Diverse payment methods
Significant eSports section
Dedicated applications for Android and iOS
Slow payout procedures
Too strict with sharp bettors
No player props