Hungary is a smaller European country, with a population of 10 million. The country is a member of the European Union (EU), and while it is geographically located in Central Europe, it is considered an Eastern European country both culturally and economically. Before the global pandemic, the country recorded about 17 million tourist visits per year. This is quite a high number for an Eastern European country, and it is certainly a factor that also affects the gambling industry in Hungary.
Gambling was legalized back in 1991, under the Law on Organizing Gambling Activates. Prior to that period, Hungary was a part of the Soviet Union, which had deemed most forms of gambling illegal. Nowadays, sports betting, along with other variations of gambling, is monopolized by the Szerencsejáték Zrt (Games of Chance cPLC).
Currently, the only forms of gambling that are available to the private sector include land-based casino and online casino services. As of 2012, only licensed casinos, betting shops owned by the state, and horse racing betting offices owned by the Games of Chance cPLC can offer offline gambling services. Some shops are also authorized to distribute scratchcards.
Legalities of Online Sports Betting in Hungary
Overview
History
Legalization
Software
Historical Betting Overview
As mentioned above, during the Cold War period, Hungary was under the strict rule of the Soviet Union, with gambling being strictly forbidden in the USSR. The outright ban of gambling activities was the reason for the birth of a huge underground black market that was overseen by a number of illegal organizations.
Following the fall of Soviet rule, Hungary was one of the first former Soviet countries to legalize gambling. While gambling was decriminalized under a law that passed in 1991, the piece of legislation noted that all forms of sports betting must be conducted by a state-owned company. The monopoly on the gambling sector was established, with the national lottery (Szerencsejáték Zrt) being in charge of running sports betting and other gambling markets.
Up until 1998, punters in Hungary were allowed to place sports betting wagers only at designated bookmakers located on the high street. With the launch of its first websites, Szerencsejáték Zrt put the start of online betting for sports fans in Hungary. Until this day, this is still the only truly legal sportsbook that caters to the wagering needs of bettors who reside in Hungary.
Even after Hungary joined the EU in 2004, offshore operators were still not allowed to accept punters from the country. What is more, the Hungarian government implemented strict restrictions, requiring local banks to block transactions from offshore gambling companies. After several years of both domestic and international pressure, the Hungarian government finally allows foreign companies to offer their gambling services to punters located in Hungary. This, however, came with a hefty sum of $440,000 that offshore operators need to pay if they want to provide sports betting to Hungarian punters.
Even though foreign companies can now legally offer sports betting to individuals residing in Hungary, the country is still taking extra steps to block offshore websites or prevent them from operating in the country by imposing huge taxes. That said, the betting market in Hungary continues to grow, offering bettors even more options.
What You Need to Know About Sports Betting in Hungary
Before punters go for betting on sports, the first thing they should do is examine the gambling-related legislation in greater detail. When Hungary is concerned, gambling has a long history in the country, and as it was already mentioned, up until 2013, Szerencsejáték Zrt was the operator, which dominated the market.
Things quickly started to change after Hungary become a member of the EU, and overseas operators started to take steps in order to penetrate the untapped market. Before that time, the attempts of offshore operators to accommodate punters from the country were largely staved off, and the country even took legal action against one of the sports betting platforms.
The significant changes in the law that were brought about back in 2011 and 2013 determine the current gambling landscape in Hungary. In order for sports betting platforms to operate on the Hungarian market, they are required to apply for a stamp of approval from the Gambling Authority. Currently, although severely restricted, online betting on sports is legal in Hungary. Interestingly enough, the first licensed virtual casino in the country admitted its first users back in 2017.
In spite of the fact that getting started with their real-money bets is rather easy for gambling enthusiasts, the same cannot be said about operators. The licensing condition, coupled with the exorbitant fees make many operators frown upon the idea to apply for a seal of approval in order to cater to the market. As a result, the number of licensed operators is now quite limited.
It is important to note that the gambling-related legislation of the country applies to all operators, no matter if it comes to home-based sports betting platforms or overseas ones. The gambling-related legislation of the country envisages sanctions for operators that offer their services without the approval of the Gambling Authority, and the maximum fine they might face is €300,000. When it comes to offline gambling, all devices, and gambling-related materials will be confiscated, while online betting platforms will be added to the list of the blacklisted operators.
A fine is also imposed for the marketing of operators that do not abide by the regulations in the country, and the maximum penalty they might face is €30,000.
An important thing gambling enthusiasts should be aware of is that while sports betting falls under the oversight of the Gambling Authority of the country, online and offline betting on fantasy sports and eSports are not regulated separately.
Odds Format in Hungary
Decimal Odds
Fractional Odds
American Odds
Calculations
Normally, Hungary-friendly sportsbooks are looking to measure up to the requirements of all gambling enthusiasts, and in view of this, they support all three main offs formats, including decimal, fractional, and American odds. That being said, for the most part, sports bettors from Hungary tend to settle on decimal odds.
What makes most sports bettors avoid fractional odds is that working out the profit they will get if their bet becomes a winning one involves some calculations. As for American odds, some confusion might stem from the fact that the prices for the favorite are displayed with a negative sign, while the odds for the underdog are displayed using a positive sign.
The simplicity of decimal odds is what makes many punters go for it, as a single glance at the lines is what it takes to determine which bookie offers better lines for the event they prefer to bet on. As the name of this odds format hints, prices are displayed using decimals, and look like this 1.37 and 1.86, for example.
To find out what their profit will be, gambling enthusiasts will be required to multiply the amount they are about to stake by the value of the odds they see. Thus, if we assume that they prefer to stake €10 and the odds are 1.86, the return they will be in for will be €18.60.
Hungary Betting Laws and Legislation
The introduction of Act XXXIV back in 1991, is a momentous event in the development of the gambling industry of Hungary as lawmakers turned the legality of gambling on their heads. The Gambling Act provides a description of games of chance, more details on the authorization, advertisement, and taxation of gambling services, as well as the procedure operators need to abide by while offering their products.
The introduction of the Act on National Assets has caused resentment among operators as under its provisions, gambling services can only be offered by domestic operators, and lawmakers grounded this step with their effort to preserve national wealth.
Back in 2008, the Advertising Act was given the nod, and its purpose was to introduce clear-cut rules when it comes to the marketing of gambling operators.
A turning point in the development of the gambling industry of Hungary was indeed the introduction of a completely new licensing system back in 2013 and 2014. Overseas operators were not satisfied that the state-run Szerencsejáték Zrt has a monopoly when lotteries, offline, and online betting on sports are concerned. Additionally, the state had a monopoly also when betting on horse races is concerned, and such activities were only offered by Magyar Lóversenyfogadást-szervező.
Under the provisions of the Gambling Act, the number of brick-and-mortar casinos is limited to 12, while online casinos are only available through the concession holders of the 12 land-based casinos.
All these restrictions made many operators contest the licensing regime Hungary introduced before the Court of Justice of the EU, as well as before the national courts. What makes the situation in the country extraordinary is that all forms of gambling are clearly addressed in the Hungarian legislation but the national laws do not conform with the laws of the European Union.
The gambling licensing regime of the country undergoes re-regulation because of the discrepancies between the Hungarian gambling legislation and the EU laws. In fact, Hungarian courts have come to the conclusion that no sanctions can be imposed when unauthorized online gambling is concerned.
The rate of gambling taxation is also clearly determined, and when it comes to bookmaking, this rate is 20% of the net gambling revenue, without taking into consideration the invalid bets.
Hungary Betting Restrictions
As we explained already, gambling activities that are pursued without the needed Hungarian seal of approval are illegal on the territory of the country, and betting platforms that have already been identified to infringe the law are added to a blacklist. An ISP blocking system is in place in order to detect these betting sites and prevent them from accomodating users from the country.
The country decided to introduce stricter control when it comes to unlicensed sports betting platforms and voiced its intentions to introduce a blocking system for payments. The system will affect all sports betting platforms that operate without a stamp of approval from the Gambling Supervisory Authority of the country, and has to do with bank transfers, card payments as well as payment contracts with such operators.
While bank transfers will be curbed on the basis of the created blacklist, card payments will be staved off on the basis of the country code, as well as the MCC code. Yet, payment blocking is an idea, which is yet to be realized.
Online Betting Regulatory Body in Hungary
The regulatory body, which is tasked with the oversight of the gambling sector in Hungary is the Gaming Supervision Authority. This is the entity, which regulates online and offline forms of gambling in the country, and its responsibilities include supervision, licensing, and penalizing operators and those who are found to breach the gambling-related laws.
The forms of gambling that fall under the oversight of the Gambling Authority include poker, bingo, sports betting, betting on fantasy sports on the condition that a monetary prize is awarded, and lotteries.
The minister without Portfolio for Development of Public Assets, on the other hand, has taken it upon herself to deal with all gambling-related issues, along with such that have to do with concessions. The National Media and Infocommunication Authority also plays a role when sports betting in Hungary is concerned as its function is to block the infringing information.
Popular Betting Markets in Hungary
Football
Tennis
Volleyball
Basketball
When Hungarian punters are on the lookout for a sportsbook to register for an account with, the sports coverage is one of the areas they tend to put great stress on the variety of events they can bet on.
It is unlikely to come as a surprise that football is the sport, which attracts the greatest betting action and viewership in the country. The National Championship of the country is the most closely followed domestic competition by Hungarians, but international competitions, the likes of the UEFA National League, European Championship, Champions League, and FIFA World Cup, are also not off the radar of punters.
Another sport Hungarians are fond of is basketball, and gambling enthusiasts are not only interested in the Hungarian National League, but in internationally held competitions, the likes of the NBA, EuroLeague, FIBA International Cup, and others.
Handball poses as another betting option many Hungarian punters are interested in. The men's and women's teams have taken many honors throughout the years, and the country has hosted dozens of tournaments that attract lots of attention. Some of the international competitions Hungarians follow closely include EHF European League, World Women's Handball Championship, and IHF Super Globe, to name a few.
Ice Hockey is also an attention-grabbing sport in Hungary, and the betting action and overwhelming viewership such events enjoy go to show this beyond doubt. The men's national team has taken part in a number of competitions, including the Olympic Games, IIHF World Hockey Championships, and IIHF European Championships.
In spite of the fact that Hungary has not been so highly successful during volleyball competitions, this sport keeps many punters from the country interested. Hungarians do not only enjoy watching and playing volleyball, but betting on this sport as well, and the competitions they tend to look forward to are European Volleyball League, PlusLiga, Men and Women World Championship, and others.
Water-based sports are also hugely popular on Hungarian ground, and as it turns out, people from the country are most proud of their achievements in water polo. In fact, the National Men's Water Polo team is celebrated as a top power on a global scale as it has 88 titles in total, including such from the Olympics, FINA World Cup, and European Championship.
Betting on eSports has started to gain much traction in many countries around the globe, Hungary included. The competitions punters are usually interested in include Dota 2, League of Legends, and Counter-Strike.
These are not all sports gambling enthusiasts from Hungary enjoy betting on as table tennis, motorsports, and athletics, among others, also attract a great deal of attention.
Popular Betting Markets in Hungary Summary
Sport
Leagues
Football
FIFA World Cup, Premier League, Seria A, La Liga, Bundesliga, and UEFA Champions League
Basketball
The NBA, Hungarian National League, EuroLeague, and FIBA International Cup
Water Polo
FINA World Cup and European Championship
Volleyball
PlusLiga, European Volleyball League, and Men and Women World Championship
Motorsports
Formula 1, WRC, Supercard Championship, and Superbike World Championship
Hungary Online Betting Bonuses
Promotions
Match Bonus
Free Bets
Enhanced Odds
In spite of the state monopoly on sports betting, Hungarian punters will still find a number of betting platforms that are welcoming to them and even accept payments in Hungarian forints. With most sports betting platforms that are friendly to residents of the country, punters should expect to see extensive sports and events coverage, benefit from play on the go, as well as a plethora of bonuses incentives.
Usually, once punters join the community of the preferred sports betting platform, they will be treated with a sign-up deal, which is designed to give them a feel for the offered services. In most cases, such deals come in the form of deposit matches, and what Hungarian punters are most likely to be in for is a match bonus in the range of 100%. Naturally, the ceiling on the bonus amount gambling enthusiasts can get varies significantly from one bookie to another.
Free bets are among the most preferred promotional deals by Hungarian punters, and while some bookies prefer to give such bonuses upon registration, others offer them regularly. Based on the sports betting platform punters are using, they might be required to use up the free bet bonus at once or only on specific events. Additionally, there might be limitations in terms of the odds at which punters can use the bonus funds.
Reduced juice or enhanced odds are also among the special incentives Hungary-friendly sportsbooks tend to add to the schedule. With the latter, punters will benefit from better prices on specific events, while going for reduced juice means that the bookie will charge a smaller commission on the bets they place.
Reload bonuses are also widely available in the Hungary-oriented betting sites, and as their implies, such incentives are activated after punters make a deposit. In spite of the fact that they have a lot in common with deposit matches, reload bonuses usually offer less bonus cash. Other rewards punters should check for include refer-a-friend and rebates. The latter bonus type is well-liked by punters because it allows them to get back some of the funds they have lost. Yet, they should take into account that in most cases, the ceiling on the funds they can get back might be in the range of €30.
No matter what promotional deal Hungarian punters are about to redeem, the wagering requirements it goes together with are one of the first things to look at. What they should pay close attention to is whether the rollover requirements apply exclusively to the bonus amount or the bonus and deposit amounts. Of course, they should also make sure that the turnover requirements are not too steep to fulfill.
Mobile Betting in Hungary
Mobile Play
Download App
Browser In-Play
Download via QR
Under the gambling-related laws and regulations in Hungary, online gambling is both regulated and accepted. As we explained already, the legislation of the country makes no difference in terms of the registered seat of the sports betting platform, and operators need to abide by the rules if their services are accessible through Hungarian IP addresses.
To stay relevant these days, Hungary-facing operators go out of their way to provide their users with full access to their platforms, no matter the time or the place. As most Hungarians have a busy daily routine and are always in motion, it is natural that they do not want to face any hurdles when they want to bet on sports.
Gaming operators are perfectly aware of this, and to meet the growing demand, they make sure that their betting platforms are accessible either through dedicated apps or browser-based ones. No matter which option gambling enthusiasts will be offered to load the chosen sports betting platform, they can be fully confident that they will have all betting options available to desktop users at their fingertips.
Most of the time, once punters access the full-scale version of the chosen sportsbook on their tablet or smartphone, they will get to benefit from a number of features, including in-game betting, live results, bet-builder, and cash-out feature, among others. Of course, the availability of these only depends on the Hungary-friendly sportsbook punters have chosen to bet at.
Aside from the same range of sports and events punters can bet on, they will also not miss out on the prices that are offered at the desktop version of the sportsbook. The same also applies to the available bonus deals, and all the better, some operators tend to offer tailor-made bonus deals for Hungarians who are more into mobile play.
In addition to the instant access to their sports and events of choice, Hungarians also insist on instant and commission-free payments and a variety of banking solutions that are available within the country.
Naturally, the security of the sports betting platform is also among the areas operators need to excel in as mobile bettors want to have the full confidence that the used safety measures are up on scratch.
Popular Betting Banking Methods in Hungary
Bank Transfer
Credit Cards
E-Wallet
Prepaid Cards
Punters who are actively looking for a Hungary-friendly sportsbook will have a lot of choices but should not jump into registering for an account at the preferred sportsbook without looking into the accepted banking methods. Most of the time, while punters are registering for an account, the currency they will be allowed to handle their payments in will be EUR, but there is a huge number of sports betting platforms where HUF is also available.
One of the easiest ways to tell the good Hungary-facing sports betting platforms from the rest of the websites is to check how easy it is to handle your funds. In spite of the proposed legislative changes that aim at blocking unauthorized overseas operators that accommodate Hungarians, punters can still use their Mastercard, Visa, or Maestro-branded credit or debit card whenever they feel like adding some funds to their balance.
If punters want to ensure that their transactions will go through or simply do not want to lay bare their banking details, digital wallets might be the payment processors that will measure up to their requirements. Skrill and Neteller are the most widely accessible e-wallets at Hungary-facing sports betting sites, but PayPal, ecoPayz, and MuchBetter are also digital wallets many punters lean towards using.
Using Paysafecard as a deposit option is possible at a large number of Hungary-friendly sports betting platforms, and the prepaid vouchers are so frequently used because of the instant processing times and affordability. The only disadvantage the usage of Paysafecard results in is that punters will be required to pick another payment processor to get their winnings off the chosen bookie. The fact that punters will be allowed to transfer smaller amounts is not to be overlooked as well.
Bank transfers are among the options no sports betting platform goes without, and in most cases, punters can use them for deposits and cashouts. Yet, the fees that might incur, together with the longer processing times are the two major lacking points of this payment method.
The availability of these banking solutions varies substantially between the Hungary-facing sports betting platforms. The transaction limits also differ noticeably between the sports betting platforms, and together with the speed at which payments are carried out and the availability of fees are among the most essential things punters should always look into.
Popular Banking Methods in Greece
Payment Method
Fees
Deposit Limits
Deposit Times
Withdrawal Limits
Withdrawal Times
Visa
Varies
Min €10 – Max €30,000
Instant
Min €10 – Max €20,000
Between 1 and 3 business days
Mastercard
Varies
Min €10 – Max €30,000
Instant
Min €10 – Max €20,000
Between 1 and 3 business days
Maestro
Varies
Min €10 – Max €30,000
Instant
Min €10 – Max €20,000
Between 1 and 3 business days
Skrill
Commission-free
Min €10 – Max €10,000
Instant
Min €10 – Max €5,000
Several hours
Neteller
Commission-free
Min €10 – Max €10,000
Instant
Min €10 – Max €5,000
Several hours
ecoPayz
Commission-free
Min €10 – Max €1,000
Instant
Min €10 – Max €5,000
Several hours
Jeton
Commission-free
Min €10 – Max €10,000
Instant
Min €10 – Max €5,000
Up to two days
MuchBetter
Commission-free
Min €10 – Max €10,000
Instant
Min €10 – Max €100,000
Several hours
MiFinity
Commission-ffree
Min €10 – Max €10,000
Instant
Min €20 – Max €10,000
Between 1 and 2 days
PayPal
Commission-free
Min €10 – Max €5,000
Instant
Min €10 – Max €5,000
Up to several hours
Apple Pay
Commission-free
Min €10 – Max €10,000
Instant
N/A
N/A
Paysafecard
Commission-free
Min €10 – Max €1,000
Instant
N/A
N/A
Bank Transfer
Varies
Min €20 – Max €50,000
Instant
Min €10 – Max €100,000
Between 3 and 5 working days
What to Watch for When Picking Hungary Betting Site
Security
Customer Support
Mobile Compatibility
In-Play Betting
Picking a sports betting site to bet at might seem like an easy task but finding a bookmaker that cuts the mustard takes some time and involves making research. There are several touchstones of all Hungary-oriented sportsbooks that are up to the mark, and the security measures in place, together with the trustability of the operator are among the aspects gambling enthusiasts should not compromise on.
The sports that are implemented into the agenda of the sportsbook, along with the market variety will have a major impact on the betting experience of punters, and, because of this, they should always make sure that all sports they might be interested in are available. The competitiveness of the prices is easily not insignificant and is among the things that must be checked right off. The available odds formats, together with the betting features punters can make use of are also among the things proper interactive sportsbooks have in common. Live streaming, in-game betting, cash-out feature, and bet builder are only some of the weighty features punters normally look for.
Looking through the bonus schedule of the operator is something that does not slip into the memory of most punters. Of course, gambling enthusiasts should not focus exclusively on the bonus incentives that are triggered upon registration but the recurring special deals as well to ensure that they will be able to get extra value for their deposits whenever they wish.
Just like gambling enthusiasts from other parts of the globe, Hungarian punters also prefer sports betting platforms that are geared towards the needs of mobile users. Using the platform on the go should be made quick and hassle-free either through dedicated apps for iOS and Android or through browser-based apps.
While picking a sports betting platform, punters should devote greater attention to the accepted currencies, payment methods, processing times, as well as whether fees are charged on the part of the operator.
When gambling enthusiasts are trying to pick a sportsbook to bet at, they should always evaluate the performance of the customer support hosts and look into the channels of communication the sportsbook offers.
Best 10 Betting Sites in Hungary
The betting sites that are welcoming to punters from Hungary are easily not hard to find, but as we explained already, there are a number of factors that should determine the choice of gambling enthusiasts. We know that this can be a hard endeavor, and because of this, we have compiled a list of ten of the best sports betting platforms punters from Hungary can access.
Szerencsejáték Zrt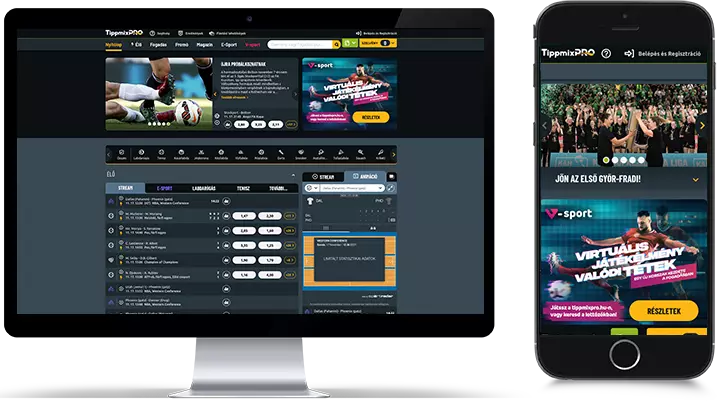 The state-run betting platform Szerencsejáték Zrt is, without doubt, one of the best choices for Hungarian punters. In terms of sports, the betting action the platform offers is sure to measure up to the requirements of all gambling enthusiasts as they will be presented with lines for baseball, rugby, handball, ice hockey, football, motorsports, MMA, and American football, among others.
For better convenience, users of the betting site can view the events based on the county, the competition, or the time when they will take place. The choice of pre-match markets is indeed rich, so is the variety of events available for live betting. The market coverage is yet another thing the betting site deserves plus points for, and to stay posted about the sports punters are keen on, they are presented with a results page.
It is not surprising that the platform manages to hold the attention of gambling enthusiasts as aside from the opportunity to bet on their sports of choice whenever and wherever they prefer, they can also take part in different limited-time and recurring promotional deals.
A reliable and established operator
Premium sports and market coverage
Different bonus deals
Multi-product platform
Offers betting on the go
Customer service is not offered around the clock
No live chat functionality
Betmaster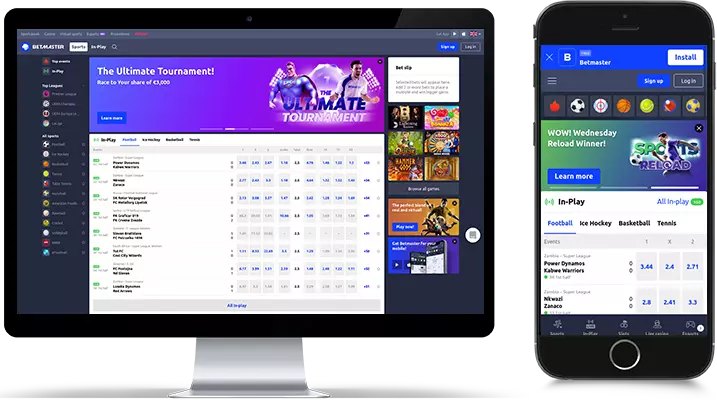 Betmaster is unquestionably a sports betting platform, which is suitable for punters from Hungary as it fulfills all of the above-mentioned requirements. It was established back in 2014, and presently, Betmaster is among the most frequented platforms by fans of betting on sports from a number of territories, Hungary included.
Loading the website of Betmaster is possible in more than a dozen of languages, and to jump into the betting action on the go, punters can use the full-size version of the bookie, which is accessible through the browser of their tablet or smartphone or one of the dedicated apps.
This bookie offers lines for most sports Hungarians have a liking for, including football, handball, ice hockey, basketball, and table tennis, among others. Football fans are bound to have a good time as, aside from prices for the domestic football leagues, they will also see lines for the UEFA Champions League, Europa League, Premier League, Copa Libertadores, and others. Virtual sports are also part of the agenda of the bookie,Betmaster and betting on eSports is also now available to members of Bemaster.
In-play betting is by no means the only feature punters should expect to see when they join the community of the sportsbook as statistics, timelines, and standings are also offered. Bonuses and promotions are easily not among the weak points of the sportsbook, and aside from the limited-time and recurring bonus incentives, punters can also take part in the tournaments the operator holds.
To cater to all its users, Betmaster supports fractional, decimal, and American odds formats and provides them with assistance at all times and through a number of communication methods.
Available in more than a dozen languages
Offers a slew of sports-related bonus deals
Extensive sports and market coverage
The customer support desk operates around the clock
Offers dedicated apps for iOS and Android-powered devices
Offers in-game betting
Some bonuses have overly restrictive terms
No telephone support
A fee of 5% might be charged on the winnings of punters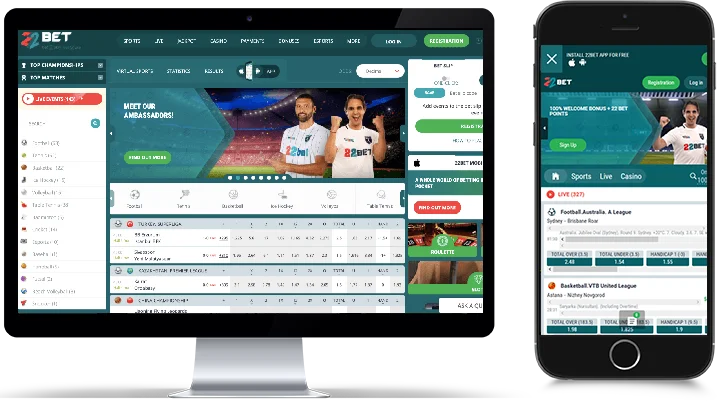 22Bet is a sports betting platform Hungarians are more partial to, and for a reason. The site loads in an overwhelming number of languages, Hungarian included, and promises to bring punters a wholesome betting session, no matter the sport they get a kick from.
Gambling enthusiasts who access the bookie from Hungary will be presented with many and various sports to have a flutter on, and some of the most attention-grabbing options for punters from the country might be football, table tennis, basketball, eSports, tennis, and horse racing.
Additionally, there is a myriad of live events that are sure to grab the attention of gambling enthusiasts. Best of all, the statistics and results sections, including live, will be on hand even if punters prefer the dedicated apps over the desktop variant of the bookie.
Becoming a member of the sportsbook goes together with a number of positives, and the slew of special incentives gambling enthusiasts can take part in are indeed one of the reasons why they tend to stick with the betting platform. The transfer of funds to and from 22Bet is far from being a headache, thanks to the established banking solutions punters can benefit from. What is even better is that HUF is added to the list of the currencies punters can use.
On top of the three main odds formats that include American, fractional, and decimal, 22Bet allows its users to switch between Hong Kong, Malaysian, and Indonesian odds.
Available for betting on the go
Superb sports and market coverage
Punters can contact the support agents via email, live chat, or over the phone
Lots of bonuses
Offers live results, statistics, and in-game betting
Slightly limited range of banking methods
Sometimes, cashouts take longer to process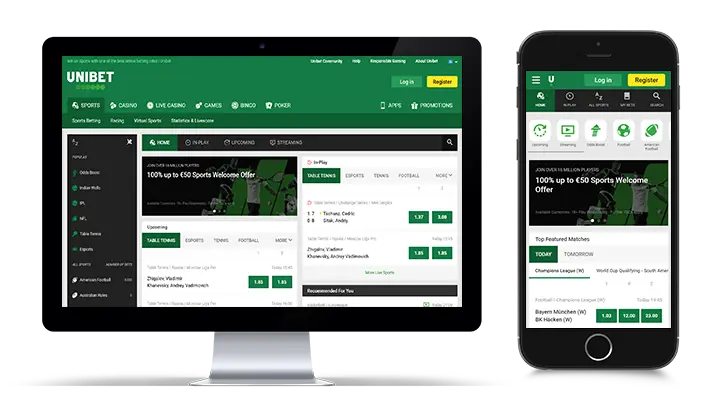 Hungarian punters who do not feel like limiting themselves exclusively to betting on sports but enjoy bingo, casino games, and poker will find that Unibet might be the right choice. It is an established operator that has been an active player on the online gambling scene since 1997. The company has made a name for itself, thanks to its reliability and fair practices, as well as the fun-filled experience it offers to all its users.
The betting operator knows that variety is the key to winning the hearts of gambling enthusiasts, and because of this provides them with heaps of sports they will be eager to have a flutter on. The sportsbook caters to punters that are keen on football, winter sports, greyhound races, tennis, rugby, politics, motorsports, and ice hockey, to name a few. In-game betting is highly popular among Hungarian punters, but the operator has made sure that its users will not be left wanting if they are looking around for live streaming, statistics, and results.
Unibet's sports betting app is a go-to option for punters who want to enjoy unlimited access to all sports and markets the bookie offers lines for. If they do not feel like getting the dedicated app, the browser-based one will provide them with the same range of betting options and bonuses.
As Hungarian punters are more than welcome to join the community of Unibet, it makes sense that the sportsbook processes payments and offers bonus deals in HUF.
Offers sports betting apps
Accepts payments through a huge number of payment methods
Covers a large number of sports and events
A reputable and licensed sports betting site
A wealth of special deals
In-game betting is offered for a smaller number of sports
A fee is charged with some banking solutions
mr.play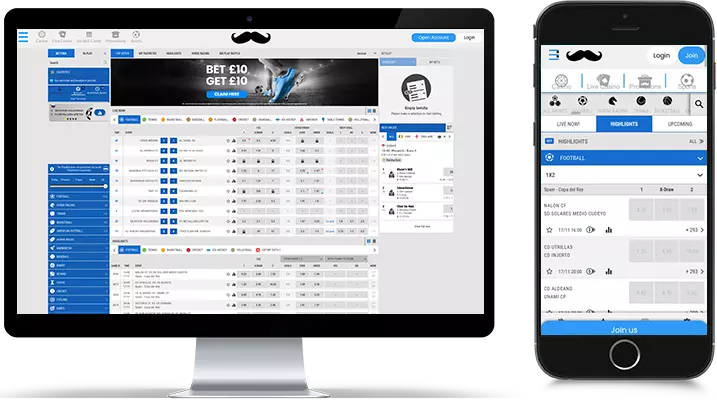 Oriented towards punters from a great number of jurisdictions, Hungary included, mr.play is a bespoke sports betting platform, which was established back in 2017. It can safely be said that the operator is a trustable one as mr.play boasts seals of approval granted by the UKGC and the Maltese Gaming Authority.
Once they are greeted on board, gambling enthusiasts are unlikely to have any time on their hands as there is an overwhelming variety of sports and events they can bet on. As usual, football offers the widest range of betting options but sports like basketball American football, tennis, volleyball, water polo, ice hockey, and rugby are also heavily accounted for. The variety of markets is undoubtedly not among the things punters might complain about as there are hundreds upon hundreds of options.
Punters can view the prices using decimal, fraction, or American odds, but in-game betting might be the option they are most interested in.
The sports bonus schedule of the betting platform is indeed a busy one, and along with the sign-up deal, mr.play's members can take part in a number of different battles almost every step of the way. If they want to get more information about these battles or they have other questions, punters can forward them via email or using the live chat functionality.
Superb sports and market coverage
Supports all main odds formats
Accepts a wealth of payment methods
The platform loads in a number of languages
Mobile-friendly
Offers a slightly limited range of in-game betting options
The help desk does not work around the clock
Does not support HUF
With some banking methods, processing times reach six days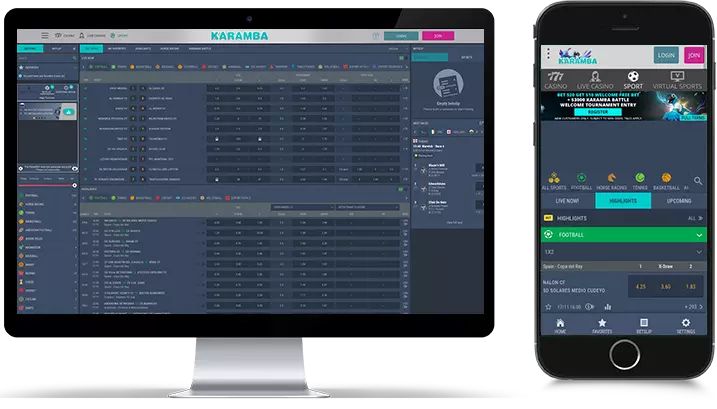 Known for its fun them, Karamba is a betting platform that can measure up to the requirements of Hungarian punters. This is a feature-rich sports betting platform as gambling enthusiasts will get to benefit from unique widgets like the odds calculator and the Karambot.
Judging from the portfolio of the bookie, there is almost no possibility of punters getting bored as lines are offered virtual sports, football, golf, ice hockey, basketball, tennis, water polo, and ice hockey. Niche sports are not missing from the agenda of the operator, and users of the sportsbook will have a slew of such to select from, including snooker, cycling, darts, winter sports, cricket, and chess. The betting markets the operator covers are plenty enough to fulfill the expectations of all punters.
The operator is looking to come up to scratch also when it comes to rewarding its users, and aside from the Daily Karamba, punters can take part in different battles, recurring, and limited-time offers.
When depositing money into their Karamba account or withdrawing their winnings, Hungarian punters can go for digital wallets, card payments, or use their online banking.
A great array of sports and markets
Good range of bonuses
Offers in-game betting
The bet placement is easy
Available for betting on the move
The help desk does not operate 24/7
Does not accept payment in HUF
Cashouts are not always time-efficient
Bwin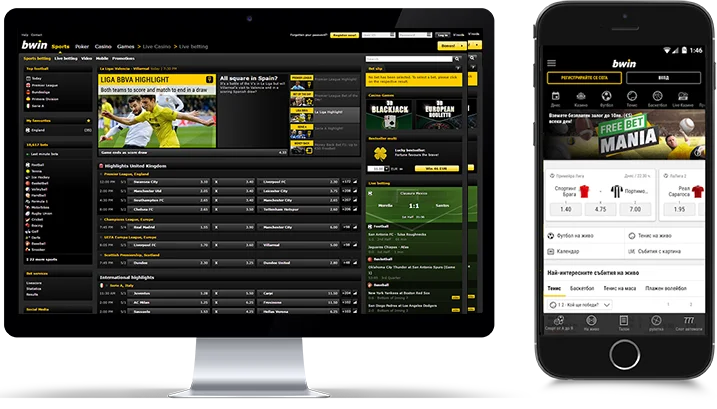 Bwin is a sports betting platform, which was formed back in 1997, and which has risen to fame, thanks to its casino, poker rooms, and its sports betting opportunities it offers. Having the approval of the Gambling Commission of the UK, Maltese Gaming Authority, and the Government of Gibraltar, Bwin is one of the best choices for Hungarian punters.
Punters who are on the lookout for a bookie, which offers lines for a staggering number of sports and competitive prices are certain to enjoy their stay at Bwin as some of the sports that are added to its agenda include baseball, basketball, football, rugby, tennis, water polo, combat sports, and table tennis, among others.
In addition to the wide and varied selection of sports, Hungarian punters might be eager to join the community of the sportsbook also because of the special deals they will be in for. The bet builder, in-game betting, results, and the daily predictions are only some of the features Bwin has on offer for gambling enthusiasts.
Hungarian punters can bet on the sport they are taken with any time and anywhere, thanks to the dedicated apps designed with Android and iOS users in mind. The best part about the apps is that no feature is left outside the options mobile users can benefit from.
Extensive event and market coverage
Offer statistics, live streaming, in-game betting, and bet builder
Several bonus deals
The help desk operates around the clock
Available for betting on the go
Cashouts might take longer
Withdrawals might remain pending for more than 48 hours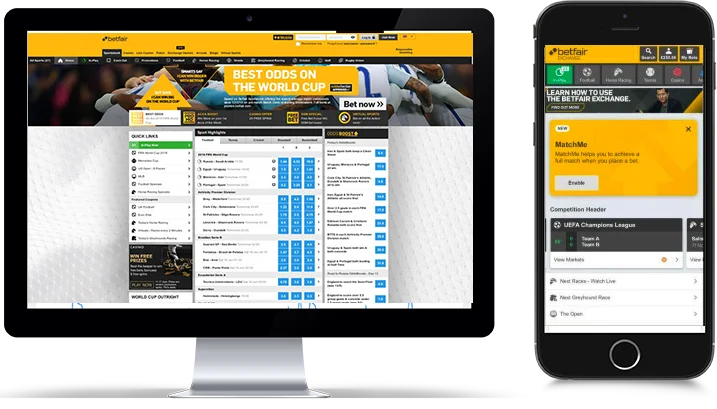 Betfair is yet another sports betting platform, which resonates well with punters from Hungary, and for a reason. This is a brand, which does not need introduction as Betfair has been operating for more than two decades.
Hungarian punters who join the community of the sportsbook are bound to have a good time as they will see lines for a number of fan-favorite sports, including football, horse racing, cricket, and MMA, among others. The sports betting platform is so frequented by punters from the country also because of the additional opportunities it offers, including in-game betting and early cashout. Holding the sportsbook in the palm of your hand is a walk in the park, thanks to the dedicated and browser-based apps Betfair has presented.
To spice up the stay of newcomers and returning users of the betting platform, the operator has prepared a slew of rewards. To get into the betting action, punters will first need to load their accounts with cash, which is made a breeze, thanks to the established banking solutions they can rely on.
If there is something punters want to ask the customer support hosts, they will have the opportunity to do so using the live chat functionality or via email.
In-play betting and early cashout
Covers multiple sports and markets
The platform loads in Hungarian and accepts payments in HUF
An established and properly licensed operator
Cashout times are a bit long
The live chat is accessible only after registration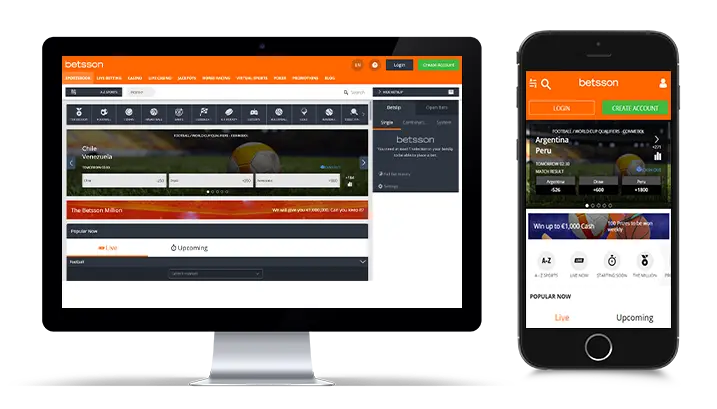 Betsson is a multi-product betting platform where Hungarian punters will find everything from sports betting options to slots and poker. This is one of the most recognizable sports betting platforms available over the Internet, which is preferred because of its reliability and the second-to-none betting experience it offers.
Hungarian punters are certain to have a good time once they join the community of the bookie because of the slew of features that will be at their fingertips. Live-betting, statistics, live scores, bet builder, and bet history are only some of the extras members of the sportsbook will be given access to. The collection of sports is indeed massive, and gambling enthusiasts will see lines for a number of sports that are popular in Hungary, including football, volleyball, and table tennis.
The operator has given its best to ensure that Betsson will not let its users down also when bonuses and special deals are concerned. Bonus deals will be unlocked upon registration and along the way, thus ensuring that Hungarian punters will have a lot to look forward to while being at Betsson.
Accessing the multi-language sports betting platform while being on the go is unchallenging, and punters are given a choice from dedicated apps and an in-browser one.
Offers betting on portable devices
Offers prices for a great number of sports
Many betting features
Many banking solutions
Offers help via email, phone, and live chat
A narrow range of cashout methods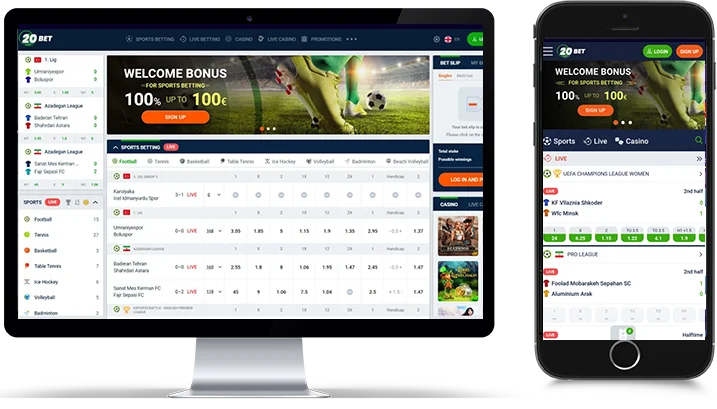 Another sportsbook, which has made it to the list of the best Hungary-friendly sports betting platforms is 20Bet. Harly there are any areas in which the sportsbook can improve upon as gambling enthusiasts will find everything they might need to have a good time, including lots of bonuses, competitive odds, a slew of markets, and multiple features.
The sportsbook offers coverage for a number of top events and fan-favorite sports, but punters can be sure that niche sports are also not left outside its portfolio. The bet slip is exceptionally easy to use, and punters will switch between single and multiple bets without any effort.
The sports betting platform accepts payments through a number of currencies, including HUF, and allows punters to carry out their payments using several banking solutions that are popular in the country. While depositing and withdrawing funds, sports bettors can opt for cryptocurrencies, digital wallets, card payments, or use their online banking.
As it befits a sports betting platform, which is looking to carve a niche for itself, 20Bet allows its users to place their bets through their tablet or smartphone. Additionally, to ensure that the list of the options it offers is complete, the bookie has added live betting, forecasts, and results.
Accepts cryptocurrencies
Extensive event coverage
Offers a slew of currencies, including HUF
Offers mobile apps
Offers a slew of sports-related bonuses
No telephone line
Cashout times are a bit long
Hungary Betting Sites FAQ